This Asian Slaw Recipe has it all! Fiery pops of color and an unreal crunch covered in a bright, punchy Asian dressing. Ready in 15 minutes from start to finish!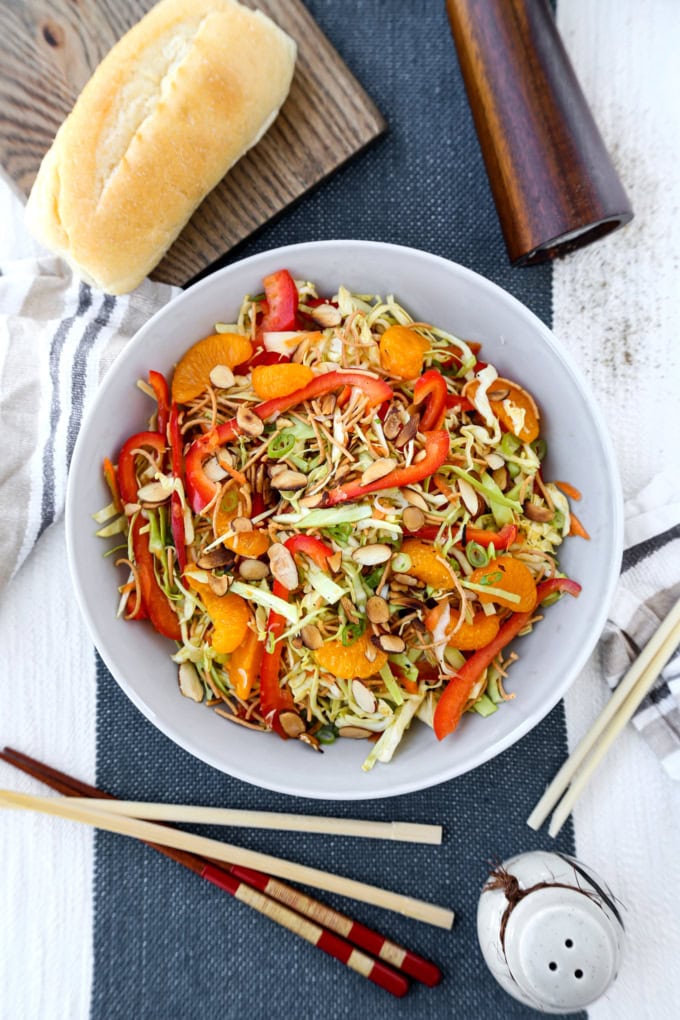 Some of my favorite lunches are the simplest to make.
I absolutely love taking a short break from work and indulging in a classic tuna salad sandwich and an ice-cold glass of Japanese barley tea.
Taking 30 minutes of me time for lunch allows me to power up – and reset my intentions for the afternoon to come.
And it was during one of these restorative lunch breaks that I started fooling around with this crunchy, tart, savory and sweet Asian slaw recipe.
You see, it was never my intention to post this Asian salad on the blog. It was just for me.
However, once I got the combination of salad ingredients (and the coleslaw dressing) right, I figured it was the perfect lunch idea to share with you.
It tastes divine! And it's so easy to whip up that this simple slaw might just become your new lunch obsession as well.
Bonus: this Asian slaw makes a great side dish to bring to a backyard BBQ or a cookout in the park with family and friends!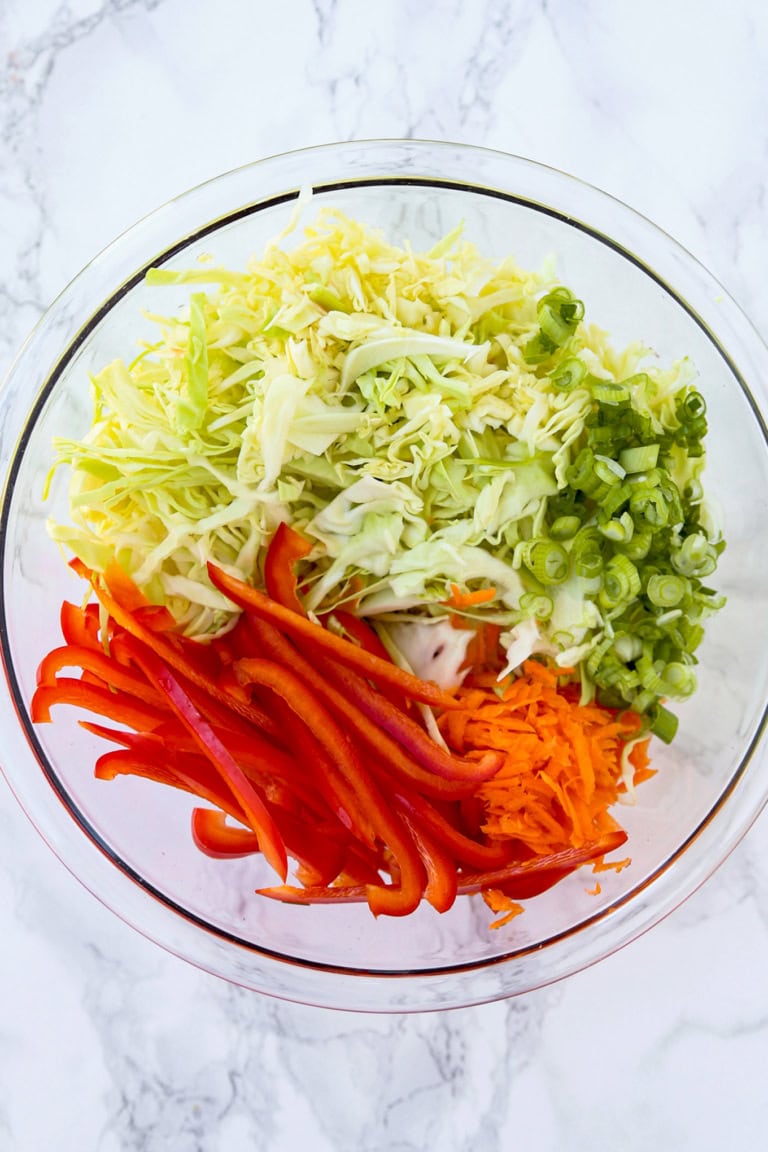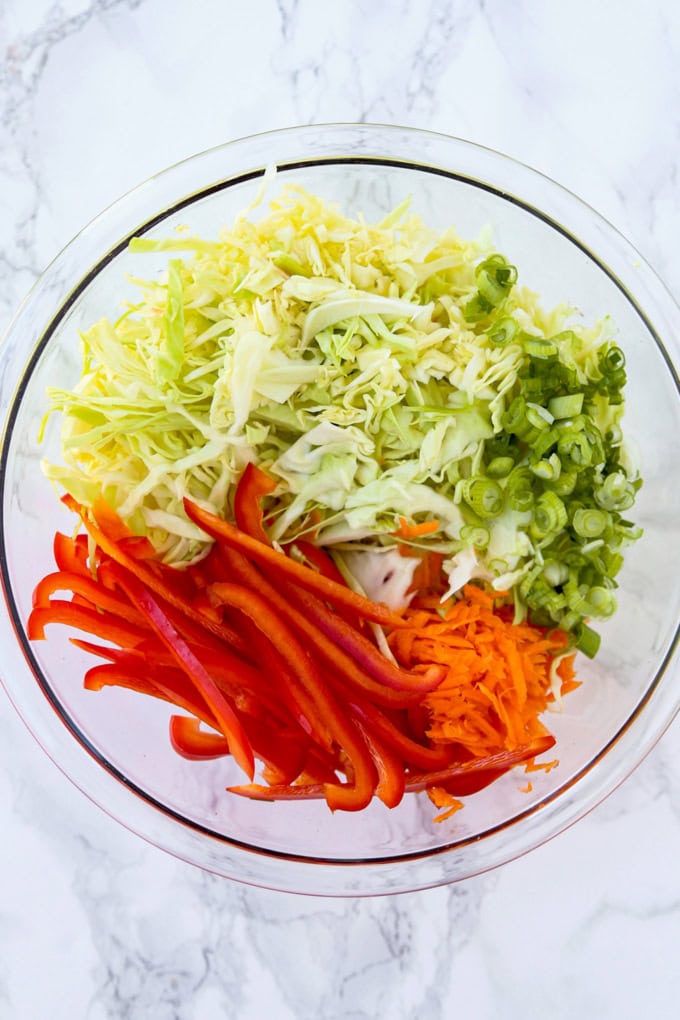 What is Asian slaw?
A slaw is kind of an all-purpose term for a salad that is a mash up of complimentary ingredients. There are no hard and fast rules to what you can or can't use.
Now, as the name would have you believe, the cabbage and carrots in this recipe are shredded like a traditional cole slaw mix. This helps the Asian salad dressing penetrate all reaches of this colorful salad.
The other crunchy ingredients are bite sized and included to introduce texture, flavor and pops of color.
Think of it as a coleslaw recipe where the ingredients work texturally in tandem with Asian dressing flavors to produce something that manages to be both familiar and new.
What does it taste like?
Expect both bright and fresh textures from the shredded veggies, along with savory, sweet and tart notes present in the dressing.
There are nutty and toasted elements from both the sesame oil and slivered almonds – and a light sweetness from canned Mandarin oranges and honey.
Now, this phrase gets a bit overused in general – but in the case of this Asian slaw, it truly has all the flavors!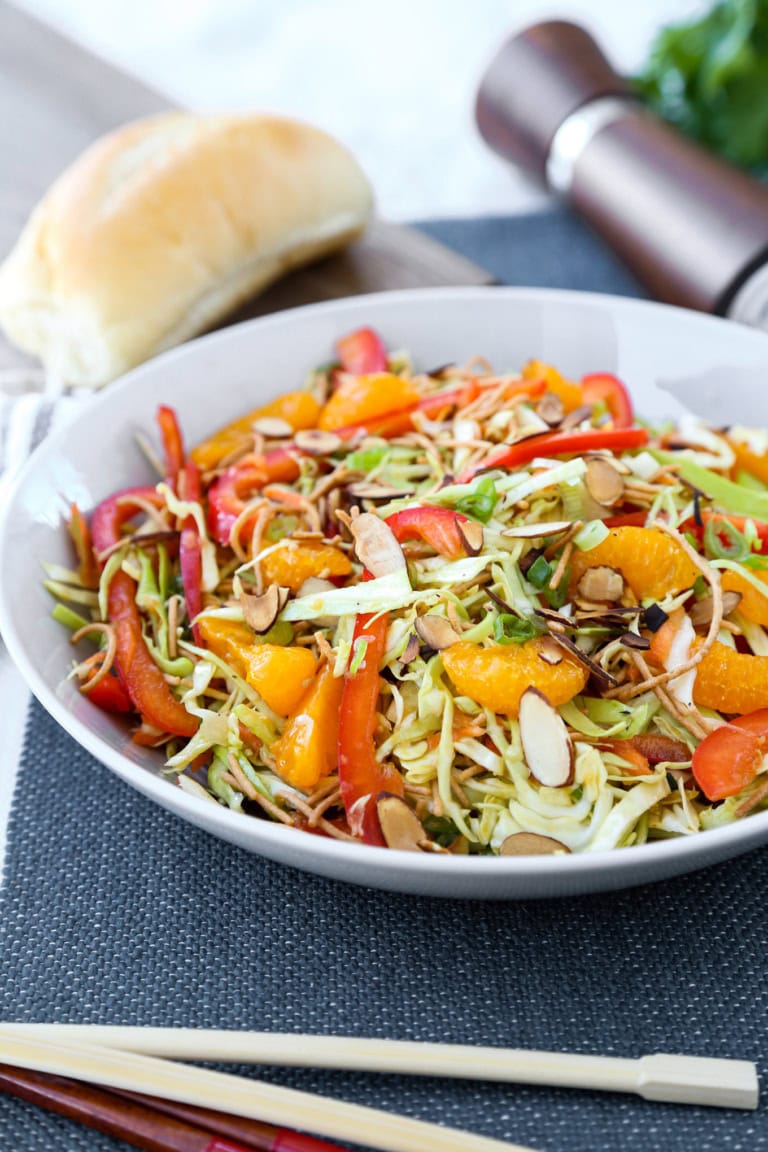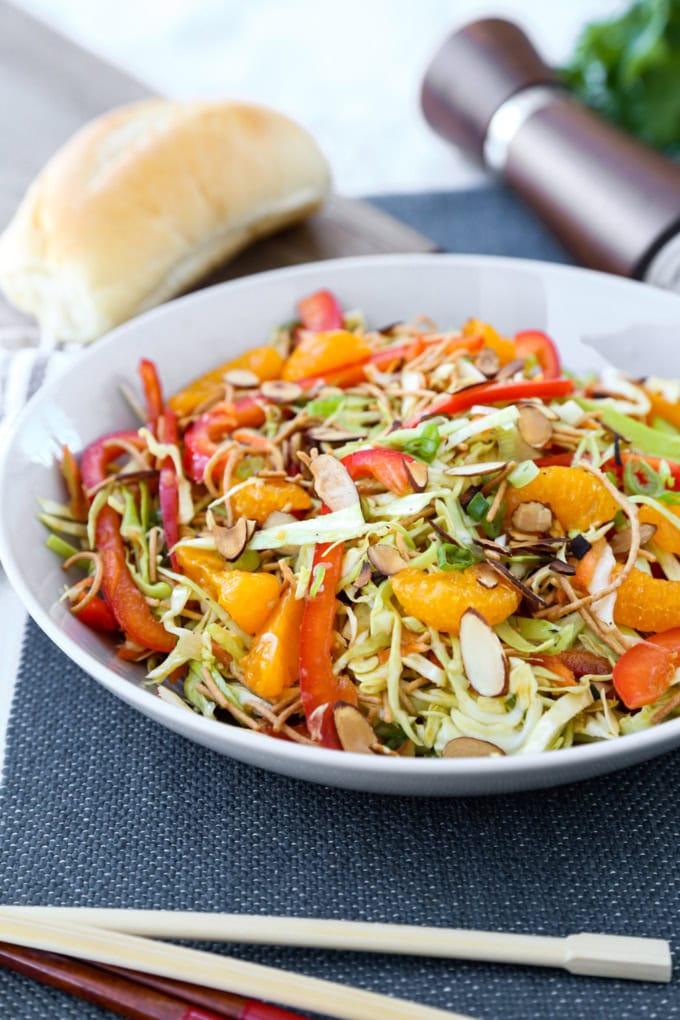 Asian slaw ingredients
Shredded Cabbage or Coleslaw Mix: Shed your own cabbage at home – or simply use a 10-ounce bag of store-bought shredded cabbage. If you shred your own, keep in mind… thinly sliced works best for absorption of the Asian dressing.
Shredded Carrot: Same goes for the carrot. Thin is best for this slaw. If you shred your own carrots, use a cheese grater to make it easy on yourself. And keep in mind that many bags of coleslaw mix at the grocery store contain carrots as well as cabbage.
Red Bell Pepper: Sliced red bell pepper imparts a natural crisp sweetness and fiery pop of color!
Scallions: Finely chopped green onion will add a sharp, vegetal bite – contrasting and complimenting the otherwise sweet, savory and tart elements of this Asian slaw.
Sliced Almonds: I like to toast these in a pan before adding to the slaw. Place them in a pan over low heat and toast them until golden brown. Slivered almonds would work as well if that's what you have handy.
Mandarin Oranges: Is there an ingredient any more endemic to the idea of an Asian salad than Mandarin oranges? Use about 1/2 cup (drained) of canned Mandarins for a blast of bright fruitiness that dances around the edges of the flavor palate.
Fried Wonton Strips: For an additional bit of crunch and texture, use about 1/2 cup of pre-packaged fried wonton strips or Asian-style crunchy noodles. It's best to add these immediately before serving so the dressing doesn't drench them. Both are easy to find in the Asian aisle at your local grocery store. Or you can grab wonton strips or thin crunchy noodles on Amazon.
How to make the Asian salad dressing
Simply whisk all the following ingredients together in a bowl – and you're good to go!
Grapeseed Oil or Vegetable Oil: Any neutral tasting oil will work for this Asian slaw dressing. Olive oil, by contrast, is too flavor-forward for this one.
Grated Ginger: This imparts a fresh and underlying slow burn to the dressing. A microplane works best for this.
Rice Vinegar: Bright, tart and mildly sweet, rice vinegar is much less abrasive than red or white wine vinegar.
Soy Sauce: This is the main source of salt and earthiness for this otherwise bright dressing. It imparts savory, umami perfection.
Honey: Raw honey is a great sweetener for this Asian style dressing without falling off a cliff into cloying territory.
Toasted Sesame Oil: The roast-y nuttiness of this magical elixir can not be overstated. It's wonderful. Use sparingly though. A little goes a long way.
Salt and Pepper: Finish off your Asian slaw dressing with a touch of the old S&P!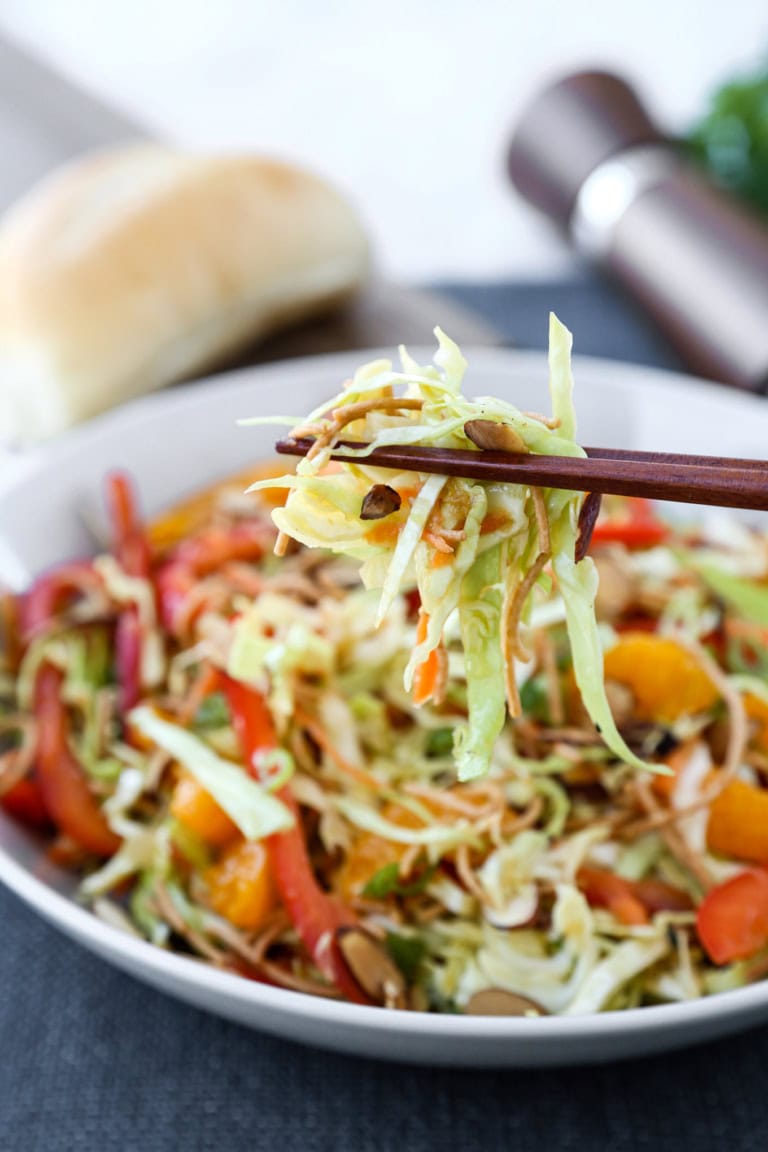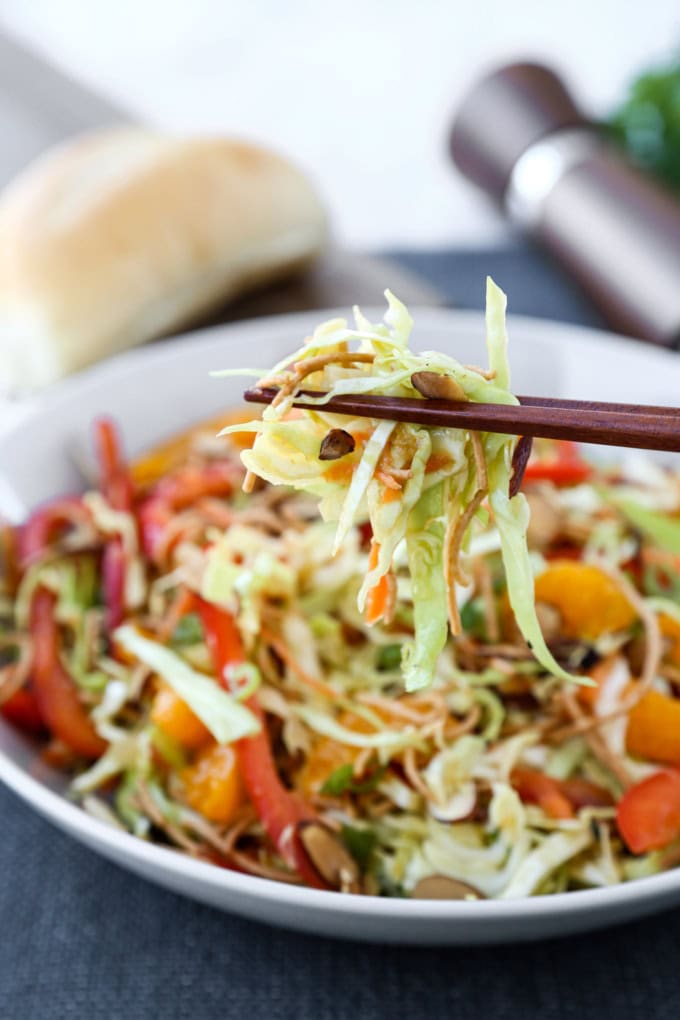 How to make asian slaw
Once you've made the dressing for your slaw, set it aside.

Then place your shredded cabbage (or coleslaw mix), red bell pepper, carrot, and scallions in a bowl and toss it all together.

Next, place the sliced almonds in a pan over low heat. Stir constantly until the almonds turn golden brown. This can happen quickly, so keep your eyes peeled and don't burn the almonds! Once finished, add them to the slaw.

Now, pour the dressing over the slaw. Toss everything until well mixed – and the dressing coats the entire salad.

Finally, top your slaw with mandarin oranges and wonton strips.
Bon appétit, friends!
A few variations
The bast part about following any recipe is having full control to veer off course to tailor the flavors to suit your taste. Same goes for making a recipe work for your specific dietary needs.
For a sweeter dressing, simply use more honey. Add a little at a time until you find your own personal sweet spot.
Not a fan of sweet canned oranges? Use thinly sliced yellow bell pepper instead. The effect on the color palate will be similar – and the sweetness of the overall salad will be muted.
Make it gluten free by using liquid aminos or tamari instead of soy sauce in the dressing. And instead of the fried wonton strips, break up your favorite gluten free crackers and sprinkle them over the top before serving.
Want to make it vegan? Simply leave out the honey and use a bit of organic unrefined, unbleached cane sugar in the dressing instead.
How about you? What are some of your tips and tricks when it comes to making Asian slaw? Tell me about them in the comments section!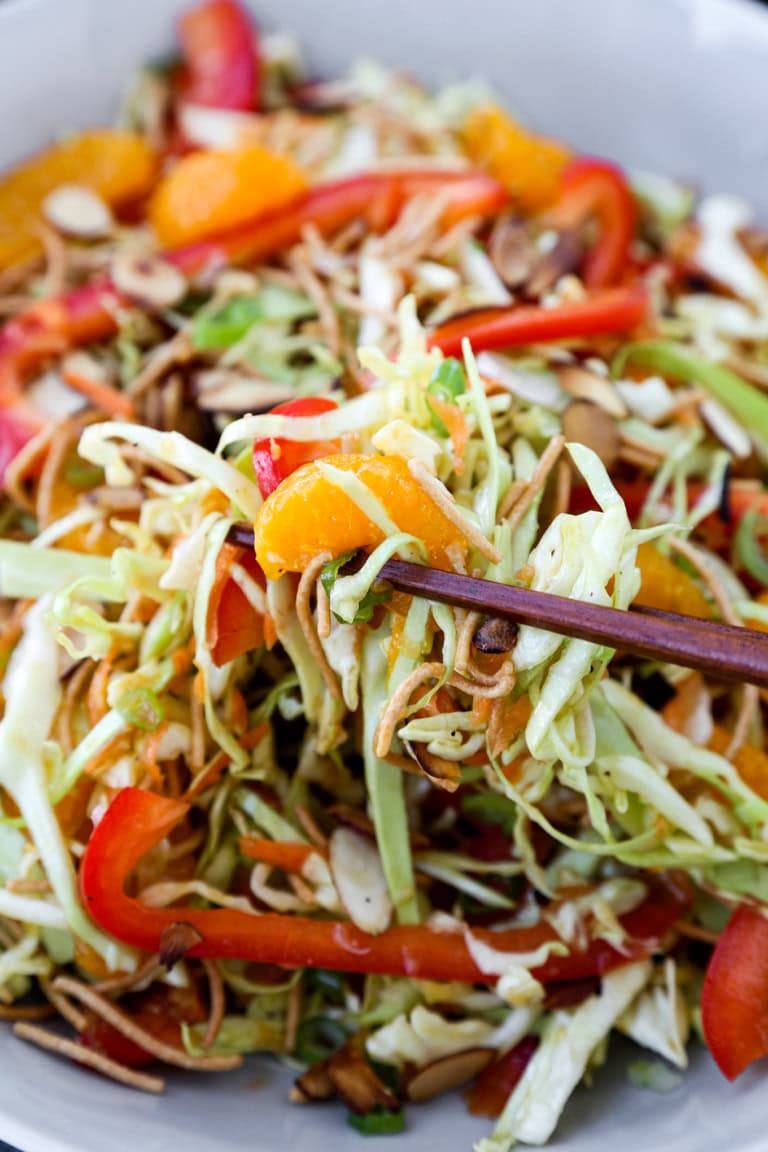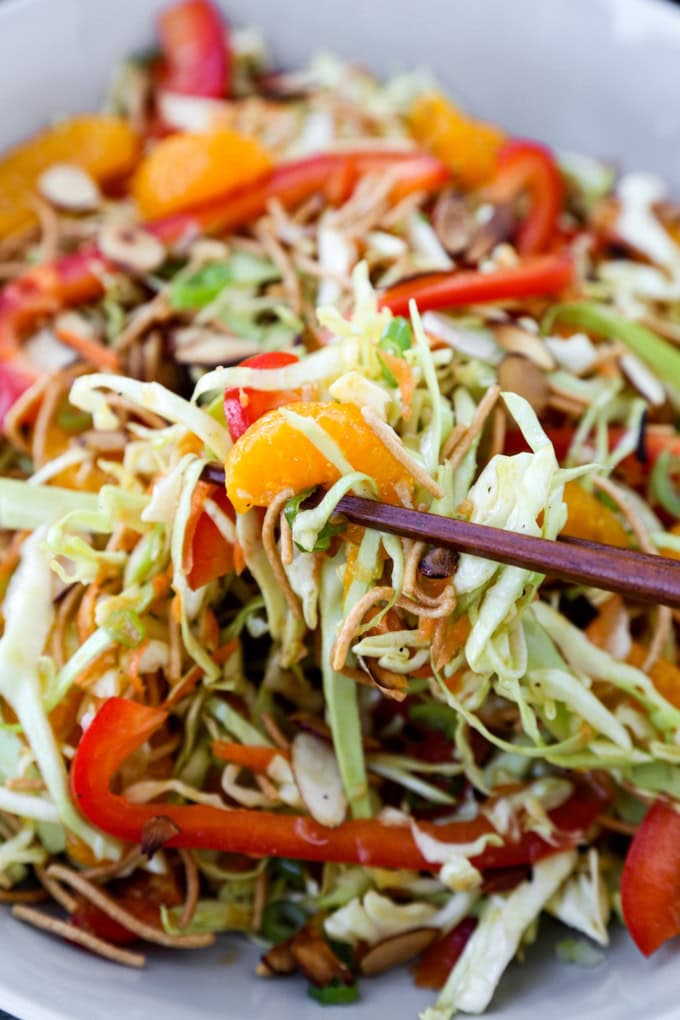 What to serve with Asian Slaw
Well, it's gotta be said that I'm a huge fan of eating this yummy Asian slaw on its own. Take it to work and never slog through another sad desk-salad again 🙂
However, this slaw works supremely well as an Asian side dish to a larger composed meal, or as a side salad at your neighbor's back yard cookout. It's super versatile!
But in the spirit of making lunch more of a thing at my house, I've been making this Asian slaw as a side when Ben and I whip up sandwiches for our afternoon break. It works so well with these bright and creamy cucumber tea sandwiches, this smoky vegan BBQ pulled jackfruit sandwich – and this sunny and crunchy California veggie sandwich.
Lunch FTW!
And check out these other delicious and easy coleslaw recipes:
Plus:
Did you like this Asian Slaw Recipe? Are there changes you made that you would like to share? Share your tips and recommendations in the comments section below!
Print
Asian Slaw
This Asian Slaw Recipe has it all! Fiery pops of color and an unreal crunch covered in a bright, punchy Asian dressing. Ready in 15 minutes from start to finish!
Author: Caroline Phelps
Prep Time:

15 minutes

Total Time:

15 minutes

Yield:

4

1

x
Category:

Salads

Cuisine:

American

Diet:

Vegan
1

10-ounce bag coleslaw or shredded cabbage

1

red bell pepper, cored, seeded, and finely sliced, lengthwise

1

small carrot, shredded

3

scallions, finely chopped

1/4 cup

sliced almonds

1/2 cup

canned mandarin oranges, drained

1/2 cup

fried wonton strips
Dressing:
4 tablespoons

grapeseed or vegetable oil

1 tablespoon

grated ginger

3 tablespoons

plain rice vinegar

2 tablespoon

soy sauce

2 tablespoons

honey (add more for a sweeter dressing)

1 tablespoon

toasted sesame oil

Salt and pepper to taste
Instructions
Make the dressing by whisking all the ingredients in a bowl and set aside.

Put coleslaw, red bell pepper, carrot, and scallions in a bowl and toss. Set aside.

Put the almonds in a pan and turn the heat to low. Stir constantly until the almonds turn golden brown and add them to the slaw.

Pour the dressing over the slaw and toss well until all the ingredients are well coated.

Top with mandarin oranges and wonton strips.
Notes
Prep ahead of time: Chop all your veggies and keep them refrigerated in an airtight container, or in a salad bowl sealed with cling wrap. Whisk all the ingredients for the dressing and save it in a jar, refrigerated. Toss all the ingredients together right before serving.
Make it gluten-free: switch the soy sauce for tamari sauce or liquid aminos. Instead of using wonton strips, break a few gluten-free crackers over the salad and serve.
Nutrition
Serving Size:
Calories:

286

Sugar:

13.6 g

Sodium:

213.2 mg

Fat:

21.9 g

Saturated Fat:

12 g

Carbohydrates:

22 g

Fiber:

4.9 g

Protein:

4.4 g

Cholesterol:

0.1 mg
Keywords: Side dish, pot luck, barbecue, appetizer, coleslaw, Asian salad
Recipe Card powered by