How do you like your carrots? Boiled, steamed, or roasted? If you're looking for a new way to enjoy this root vegetable, then you should try air frying them. Air frying is a great alternative to traditional methods of cooking – it's quick, easy, mess-free, and gives the carrots a beautiful caramelization. This colorful side dish is also vegan and can be made gluten-free!
Why Use An Air Fryer
A lot of readers have asked me if buying an air fryer is worth the money, and my answer is always "yes, it absolutely is".
Why?
Because it cooks food fast, uses little oil, and is easy to clean. Also, using an air fryer means you get to enjoy vegetables that are just the right texture because the cooking process is so straight forward. Check on them every 2 to 3 minutes until the desired texture and you will end up with the most perfect crispy fries, fork tender green beans, or carrots, like these ones, that are tender but still yielding a lovely crunch. Air fryer recipes are the best because they are so easy to make!
An air fryer is basically the smaller version of a convection oven. It uses a fan to circulate hot air around the food placed in the air fryer basket, cooking it evenly from all sides. An air fryer is great for reheating pizza slices, making fries, roasting meats, fish, and tofu, and roasting vegetables. It's a kitchen appliance loved by home chefs and people looking to lose a few pounds since little to oil is needed to cook food.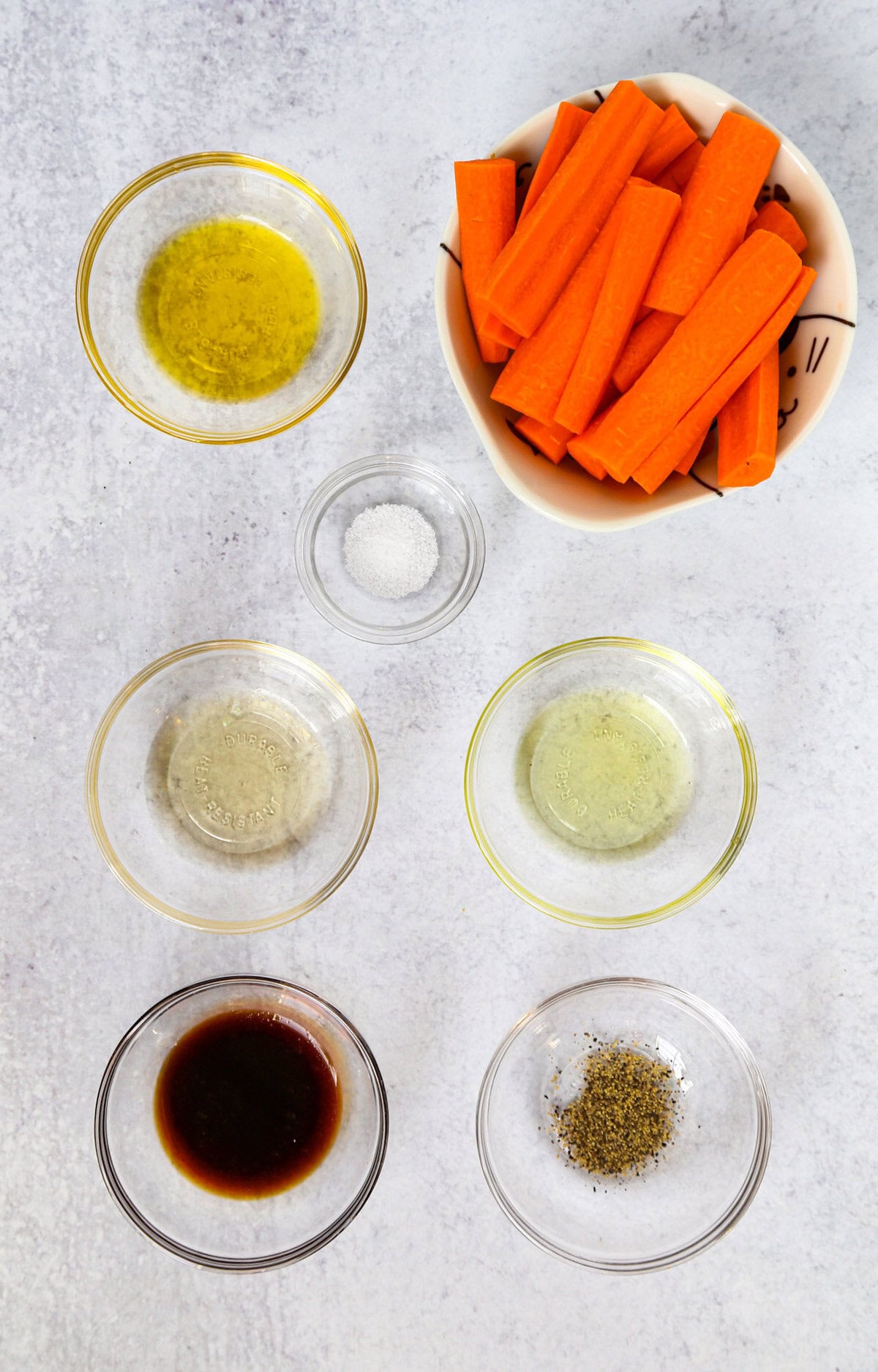 Can I Use Aluminum Foil In An Air Fryer?
Yes you can but there are a few things to remember when using foil. First of all, it makes the cleaning process even easier so I'm all for that, but there are a few things to keep in mind:
Aluminum foil should only be used inside the air fryer basket.
Do not cover the fan or heating part as this will prevent the machine from cooking the food evenly.
Only use enough aluminum foil to cover the bottom surface needed. Leave a little space open for ventilation.
Do not cover your food with foil (fold it to create a pouch) as the food will not to cook properly.
Best Oil To Use For Air Fryer
There are many different types of oil you can use for an air fryer. However, you must know what temperature your food needs to be cooked at before choosing the right one. Since every oil has a different smoke point, it can affect how your food tastes. Here is a simple list of oils that can be used for an air fryer along with their smoke point:
Avocado oil – 570ºF
Peanut oil – 450ºF
Coconut oil – 450ºF
Grapeseed oil – 420ºF
Vegetable oil – 400ºF
Olive oil and extra virgin olive oil – around 374-405ºF
As you can see, I have chosen grapeseed oil for this recipe (vegetable oil also works) because its smoke point is 420ºF and I am air frying my carrots at 400ºF. Using olive oil might have worked but I didn't want to take a chance since every olive oil has a slightly different smoke point and could have given my veggies a burnt taste.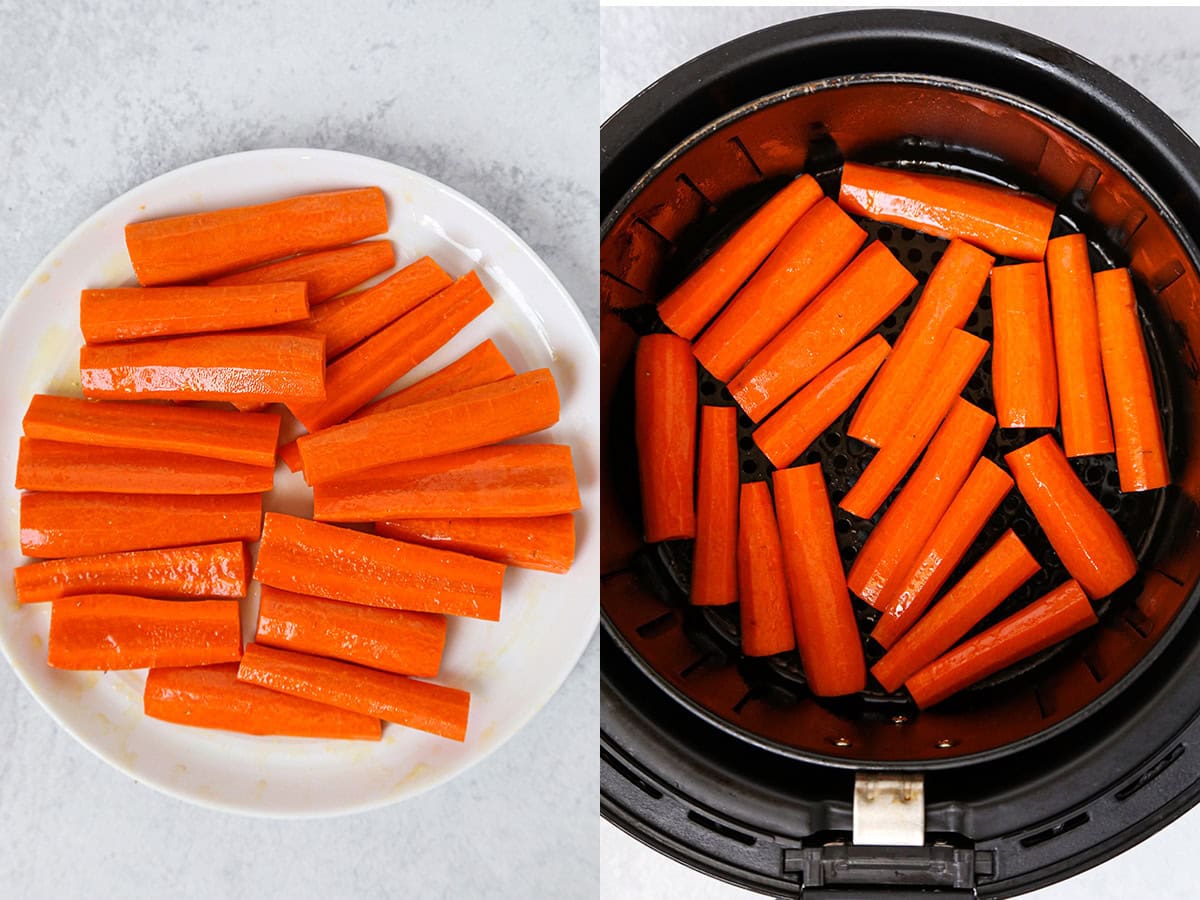 Air Fryer Carrot Ingredients
Carrots: You will need 3 to 5 medium size carrots. The fatter they are the better since it's easier to slice them into sticks. I like my air fryer carrots to be on the thicker side but feel free to slice yours like carrot fries if you prefer them that way. You can also use baby carrots if you want to keep the prep work to a minimum. However, it should be noted that baby carrots don't have the same flavor as fresh carrots that tend to be much sweeter. And keep in mind that cooking times may vary depending on the cut of the carrots.
Oil: Any oil that has a smoking point above 400ºF will work. I am using grapeseed oil but vegetable oil and avocado oil also work well.
Salt: I like to add a little salt as a seasoning to my carrots to balance their natural sweetness.
Black pepper soy sauce: This is a delicious savory, slightly sweet, and umami rich sauce I love using not only with these carrots but with many other vegetables as well. It's a simple mixture of mirin, soy sauce, oil, and ground black pepper.
Flavor Alternatives
If you'd rather skip the black pepper soy sauce and season your carrots with something more conventional, here is a list of popular ingredients that pair well with this root vegetable:
A generous squeeze of lemon juice.
Fresh herbs such as parsley, rosemary, fresh thyme, and fresh dill.
Some parmesan cheese grated on top of the carrots, while they are still warm, to allow the cheese to melt.
A sprinkle of spices such garlic powder or onion powder.
A pat of melted butter just before serving.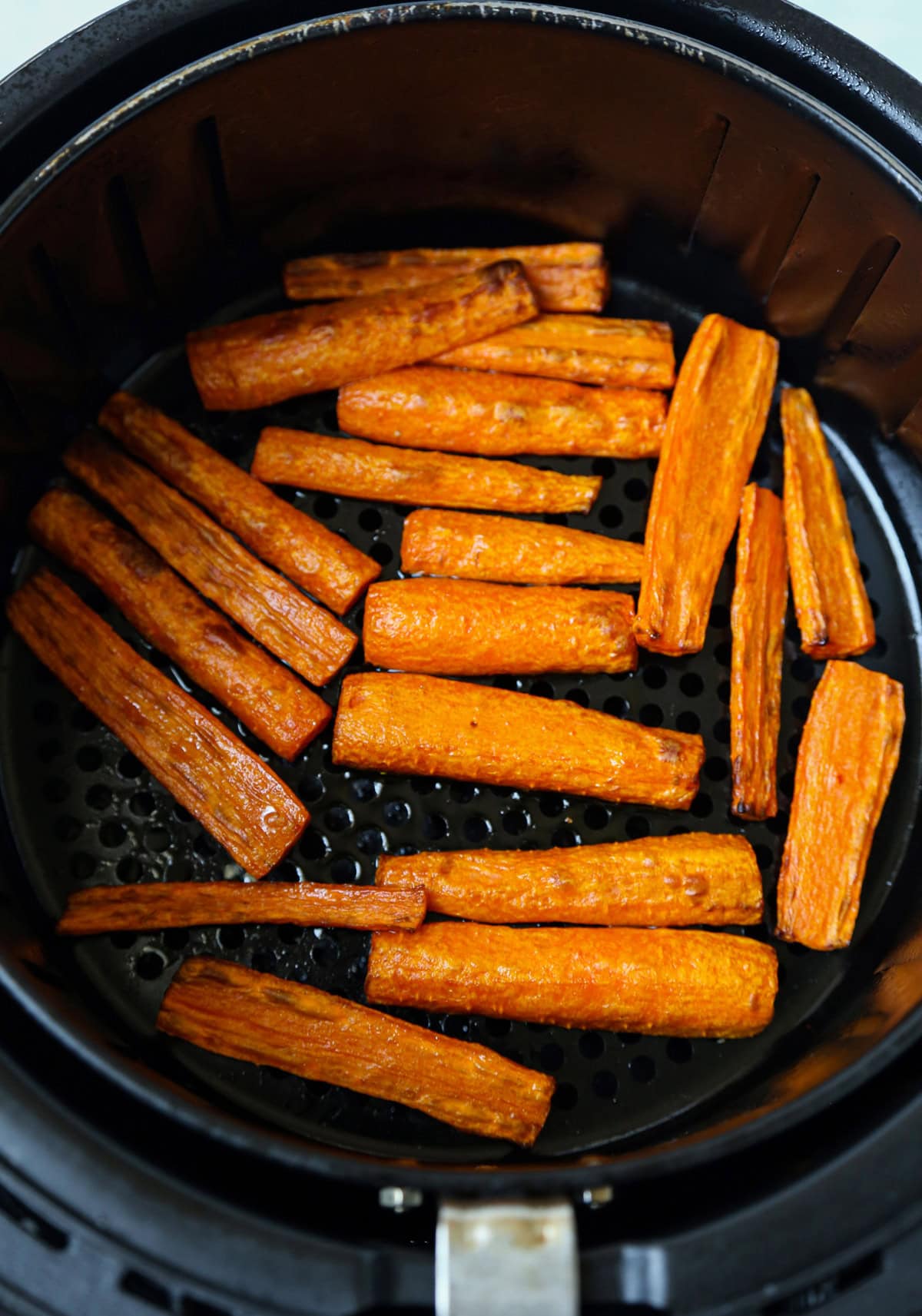 How To Use An Air Fryer
Using an air fryer is very easy! Here are the basic instructions to using an air fryer:
This one is optional but I recommend preheating the basket for a couple of minutes before using so you are roasting at the right temperature from the start. Otherwise, you might need to roast for a little longer than what the recipe calls for.
Make sure your carrots are pat dry so the oil can stick to them and yield a crispy caramelized exterior.
Brush the air fryer basket with a little oil to prevent the food from sticking. Alternatively, you can use foil as mentioned in the section above.
Add enough carrots to cover the bottom of the basket but without overcrowding it. In order for food to cook well, there must be space to allow the hot air from the fan to circulate everywhere around your food. Do not stack your food, cook in batches if needed, in a single layer.
Know your smoking point. As mentioned above, use the right oil to roast your food at the right temperature to prevent the flavor from tasting burnt.
Take the basket out a couple of times to check on your food. It's also a good idea to flip or shake your food halfway through the roasting process to ensure that all the sides will cook evenly.
When the carrots are ready, dress them with the black pepper soy sauce. Enjoy!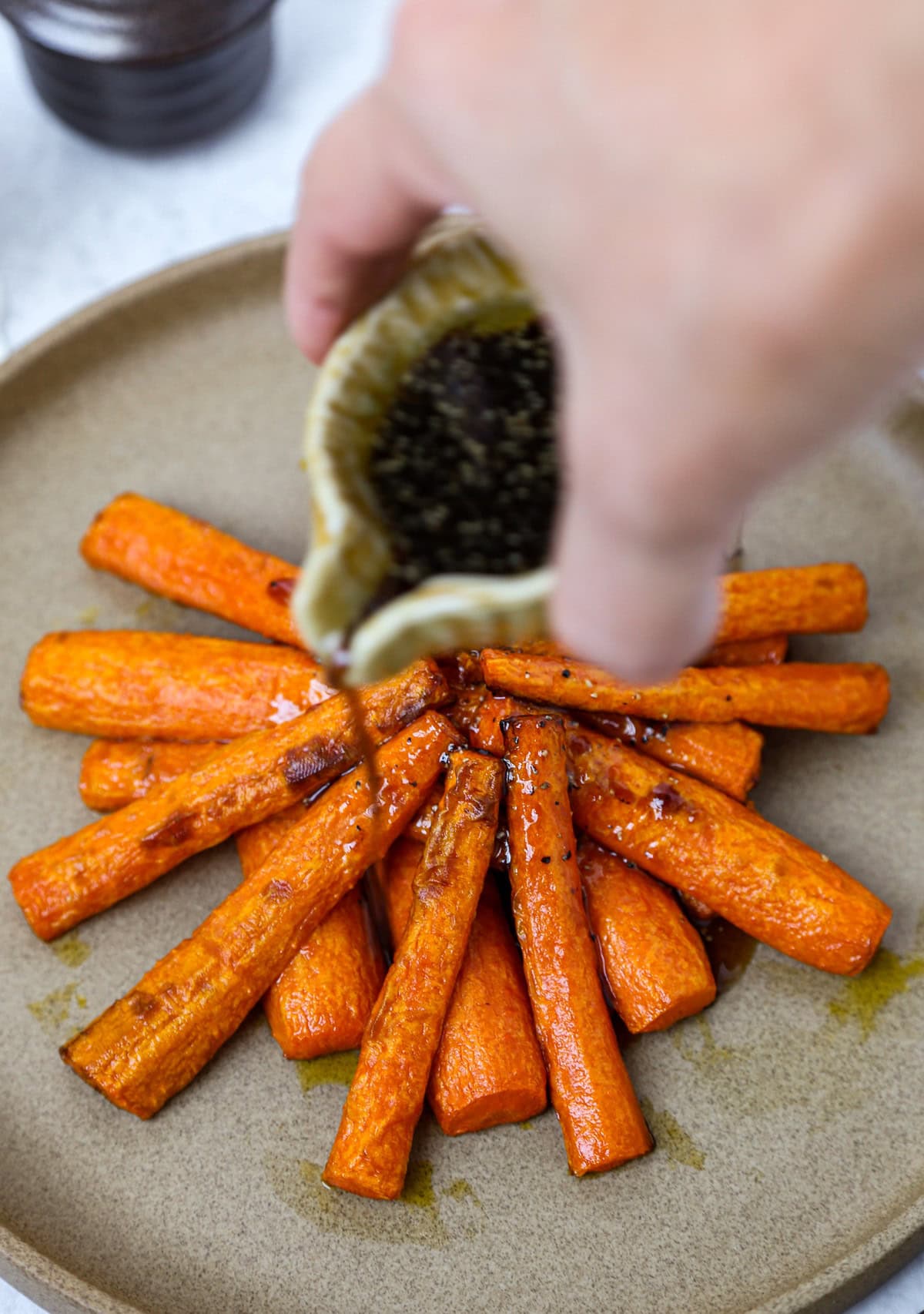 Reheating Carrots In An Air Fryer
If you happen to have leftovers cooked carrots that need reheating, you can use your air fryer to do. It will revive their texture and prevent them from getting too mushy.
The basic rule of thumb to reheating food is to set the temperature 30 to 50 degrees lower than what the food was originally cooked at. So, for these carrots, reheating them at 350-370ºF is what you are looking for. They will only need a few minutes in the air fryer before they are ready to be served.
What To Serve With Air Fryer Roasted Carrots
Air fryer carrots make a great side dish to traditional western dishes because of their natural sweetness. Adding a black pepper soy sauce gives them a Japanese flair and can pair beautifully with other Japanese dishes such as:
Other Air Fryer Recipes You Might Like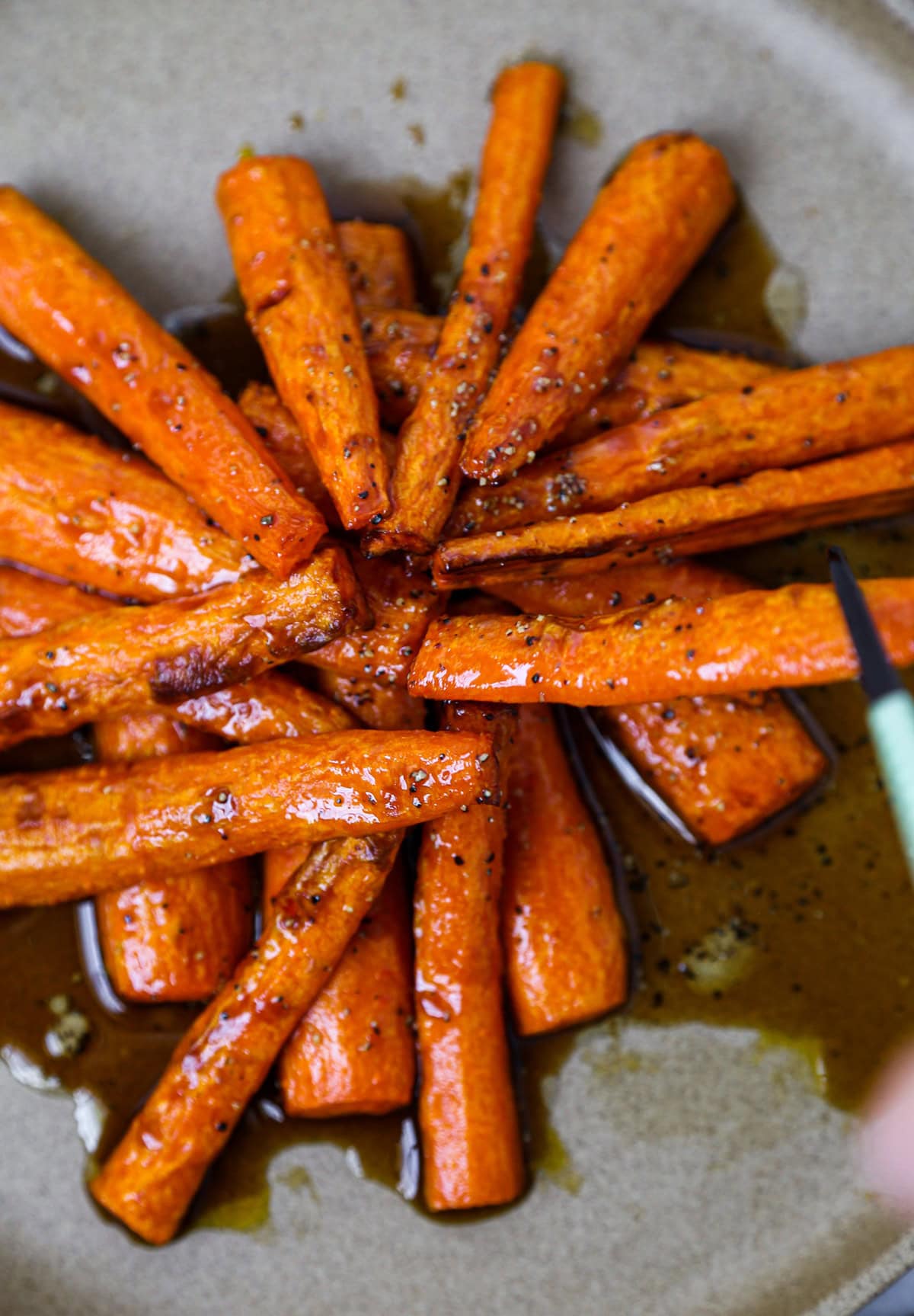 Did you like this air fryer carrots with black pepper soy sauce recipe? Are there changes you made that you would like to share? Share your tips and recommendations in the comments section below!
Print
Air Fryer Carrots with Black Pepper Soy Sauce
Air frying is a great alternative to traditional methods of cooking – it's quick, easy, mess-free, and gives the carrots a beautiful caramelization.
Author: Caroline Phelps
Prep Time:

5 minutes

Cook Time:

9 minutes

Total Time:

14 minutes

Yield:

2

sides

1

x
Category:

Side

Method:

Air fryer

Cuisine:

American

Diet:

Vegetarian
3

–

5

small to medium size carrots

1 tablespoon

grapeseed oil or vegetable oil
Kosher salt
Cooking spray
Sauce
1 tablespoon

mirin

1 tablespoon

soy sauce, or use tamari or liquid amino for a gluten-free version

1/8 teaspoon

ground black pepper

1 tablespoon

grapeseed oil or vegetable oil
Instructions
Preheat the air fryer to 400 ºF.
Peel the carrots and slice them in half lengthwise and in half widthwise (each carrot should give you 4 pieces).
Add the sliced carrots to a plate and drizzle the grapeseed oil over them. Toss the carrots using your hands to coat them evenly and sprinkle a little salt.
Take the air fryer basket out – be careful as it will be hot! – and spray with a little cooking spray.
Place the carrots flat in one layer and close the air fryer. Air fry for 5 minutes and take the basket out.
Flip the carrots over and air fry for another 3 to 4 minutes, until desired consistency.
Turn the air fryer off and transfer the carrots to a serving bowl or plate.
Mix the ingredients for the sauce and drizzle it on top of the carrots. Serve.
Notes
Reheating: Reheat these carrot in the air fryer between 350ºF and 370ºF for a few minutes.
These carrots will keep refrigerated in an airtight container for up to 3 days.
Nutrition
Serving Size:

2 sides

Calories:

206

Sugar:

10.9g

Sodium:

367mg

Fat:

14.2g

Saturated Fat:

6.6g

Unsaturated Fat:

1g

Trans Fat:

0g

Carbohydrates:

19.3g

Fiber:

4.3g

Protein:

2g

Cholesterol:

0mg
Keywords: convection oven
Recipe Card powered by