15 Labor Day Weekend Recipes
*This post may contain affiliate links. Read my disclaimer here.

Labor day weekend happens to be just a few days after my husband's birthday. Usually, we'll go away for a short trip by the beach in Newport or somewhere else in Rhode Island, eat lobster rolls and take in as many beautiful sunsets as we can. Summer is coming to an end and it's a time I really love because everything seems to slow down a little. The weather outside is so perfect it's forcing us to celebrate it one last time before the kids are back at school and work projects begin to pile up again. If like us you are staying home this long weekend, here are 15 fun, light and easy Labor Day Weekend Recipes your family and friends will love to drink and eat.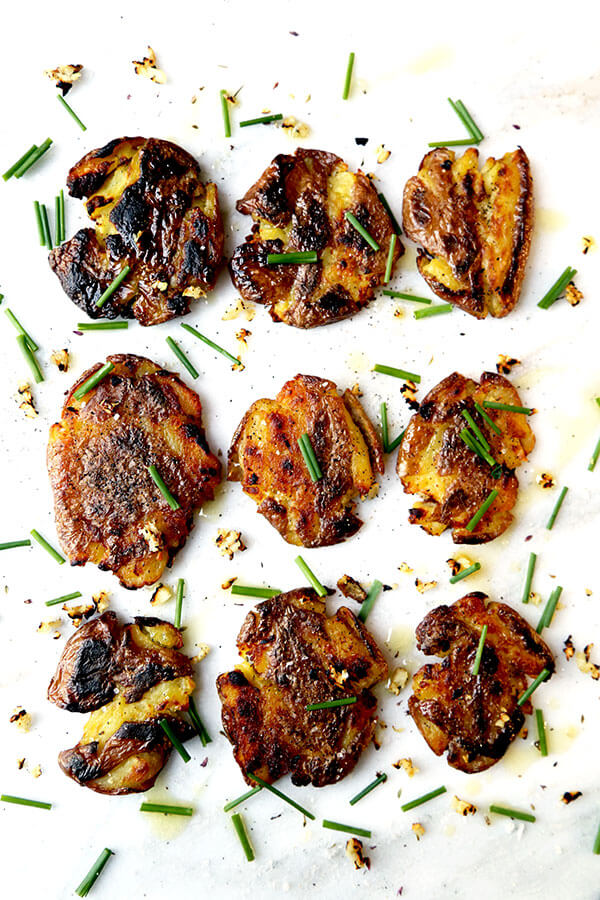 Smash'em and eat'em! Red potatoes smashed and served with garlic, coarse salt, chives and a drizzle of extra virgin olive oil. Easy, healthy and delicious! GET THE RECIPE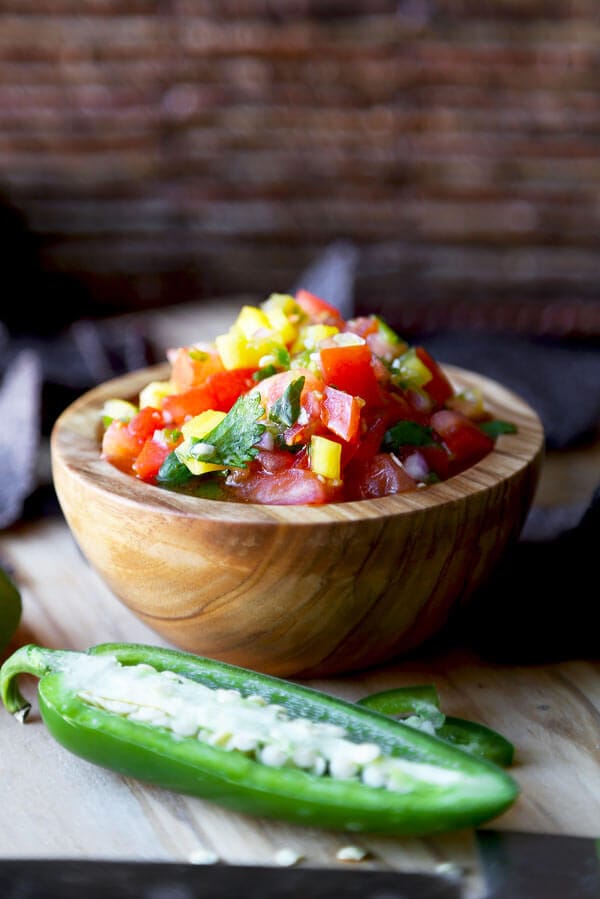 Making salsa from scratch only takes 15 minutes and tastes so much better than the store bought version! This simple salsa comes with mango for added sweetness and freshness. GET THE RECIPE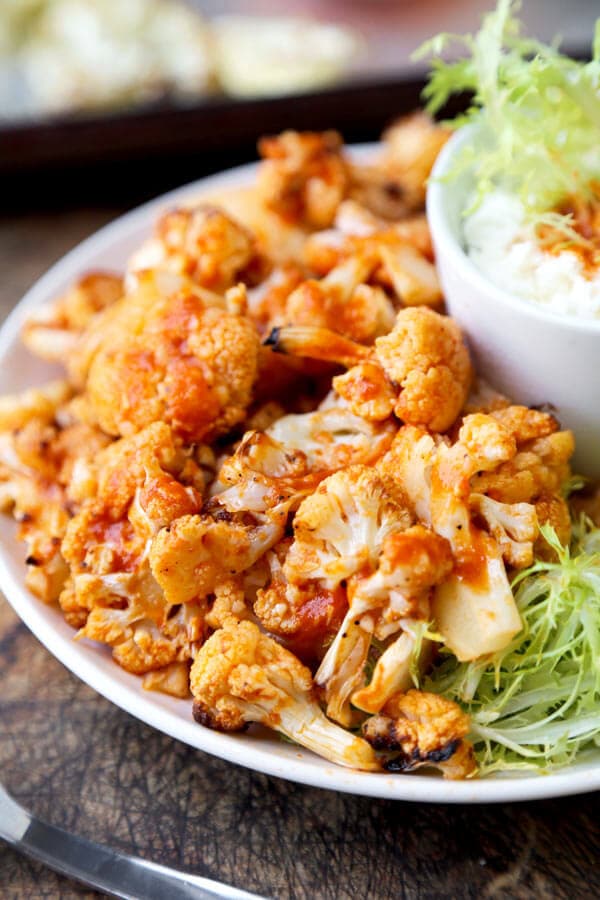 Tangy, buttery and spicy sriracha Buffalo sauce served with healthy grilled cauliflower. Substituting chicken for cauliflower is suprisingly satisfying and a healthier alternative for this long weekend's barbecue! GET THE RECIPE
This is one of my all time favorite homemade pizzas. It's light but packed with so much flavor! Spicy, savory, earthy, cheesy with a thin crispy crust. Heaven! GET THE RECIPE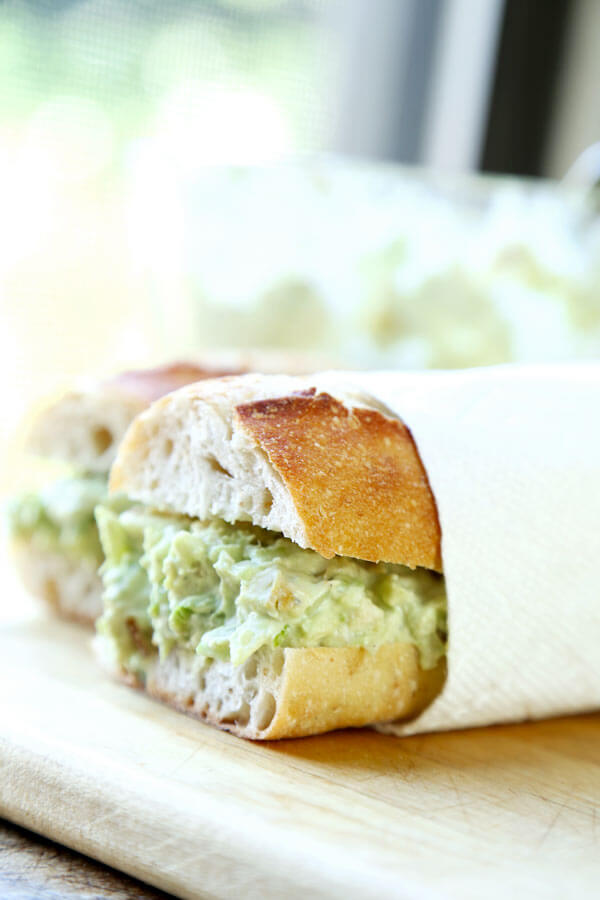 This chicken salad sandwich comes with mashed avocado, Greek yogurt, spicy jalapenos and a squeeze of refreshing lime juice. It's creamy, healthy and 100% satisfying! GET THE RECIPE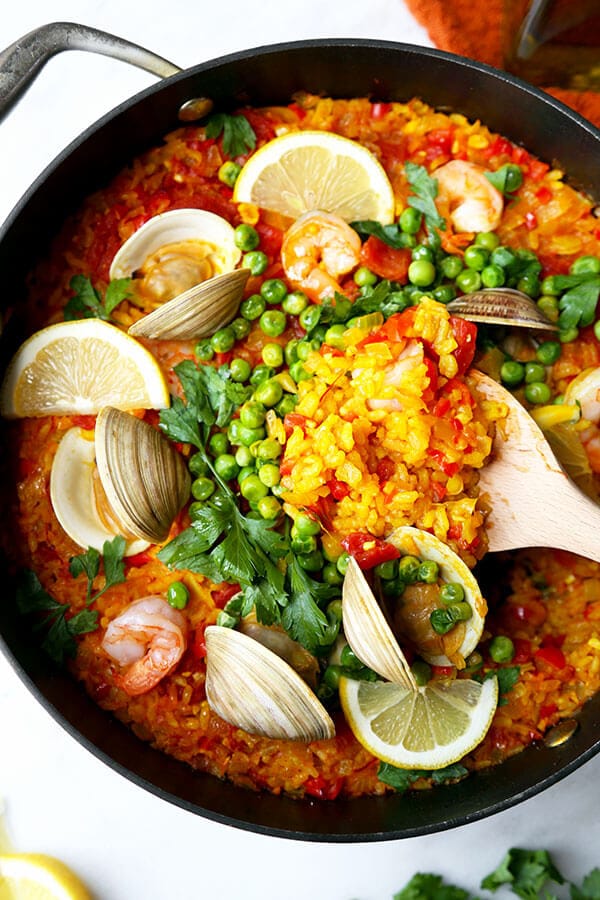 This a classic seafood paella recipe that's been simplified so it's ready to serve in just 30 minutes! Briny and smoky, this paella is packed with veggies, clams, seafood and a good pinch of saffron. GET THE RECIPE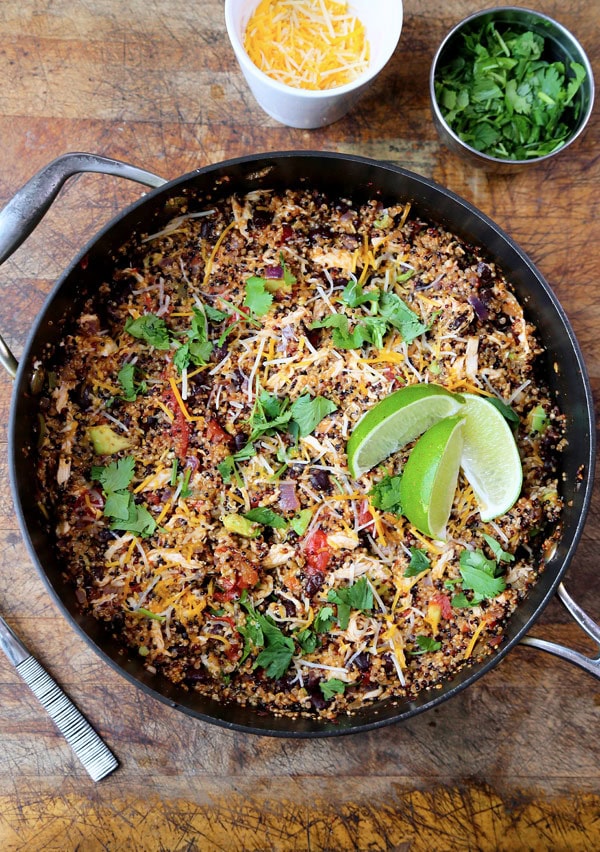 You can serve this super tasty one pot quinoa enchilada dish with shredded chicken, beef or shrimp. There is only one step required for this recipe: dump it all in a pot and cook until delicious! Finish by topping with lots of cheese and fresh cilantro leaves. GET THE RECIPE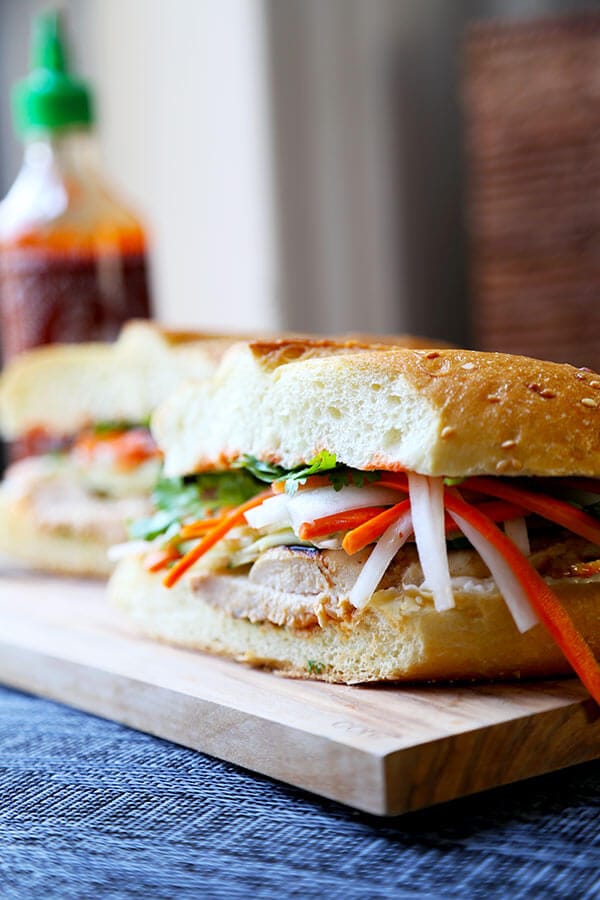 One of my favorite sandwiches of all time! This classic Vietnamese sandwich hits the spot whenever I crave sweet, tangy and pungent Southeast Asian flavors. Add a little mayo and sriracha sauce for the ultimate ban mi sandwich! GET THE RECIPE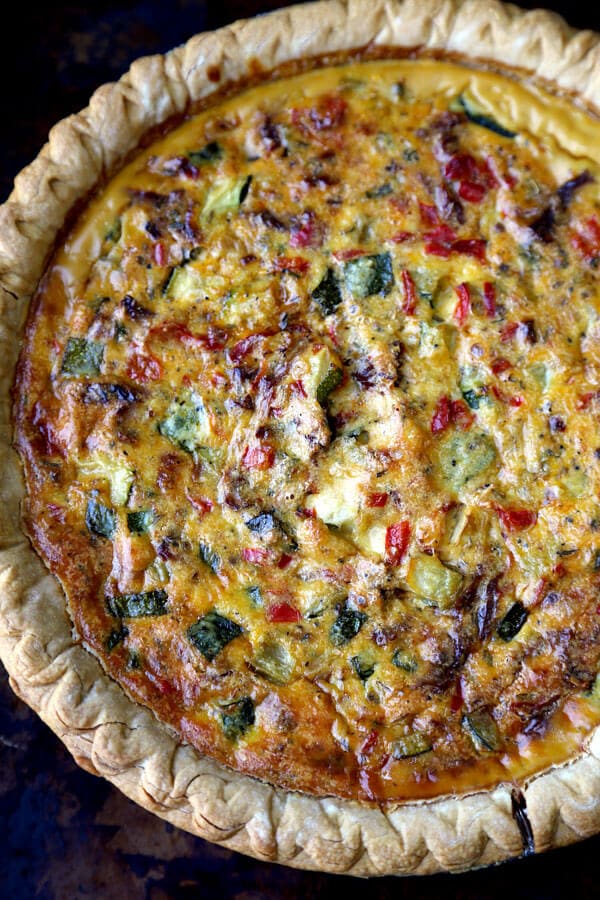 Colorful and filled with zucchini, bell peppers, sun dried tomatoes and onions, this vegetable ricotta pie is light, fluffy and the perfect companion to a simple green salad. GET THE RECIPE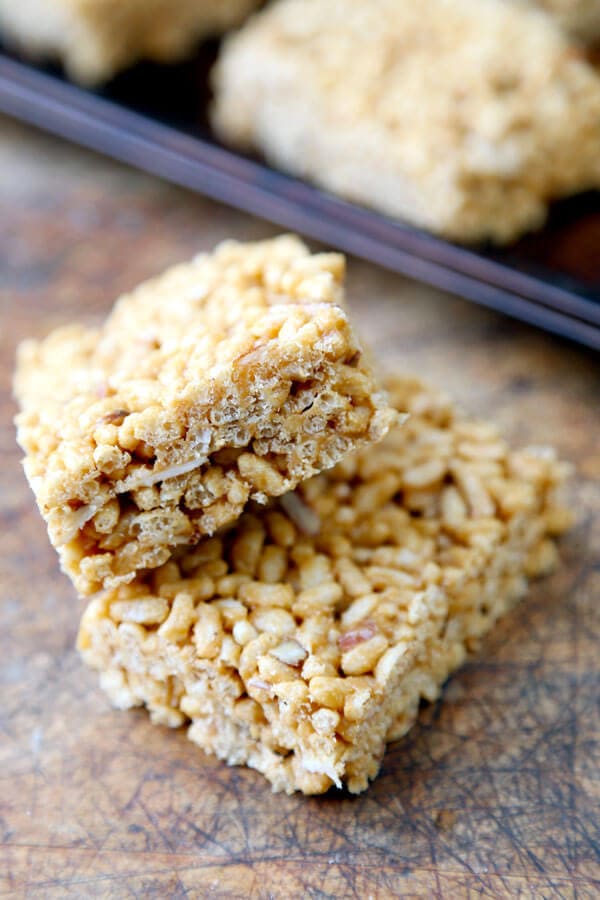 Nutty, creamy, crispy. That's all you need to know about these amazing healthy rice crispy treats. Make lots because they will disappear as soon as you serve them! GET THE RECIPE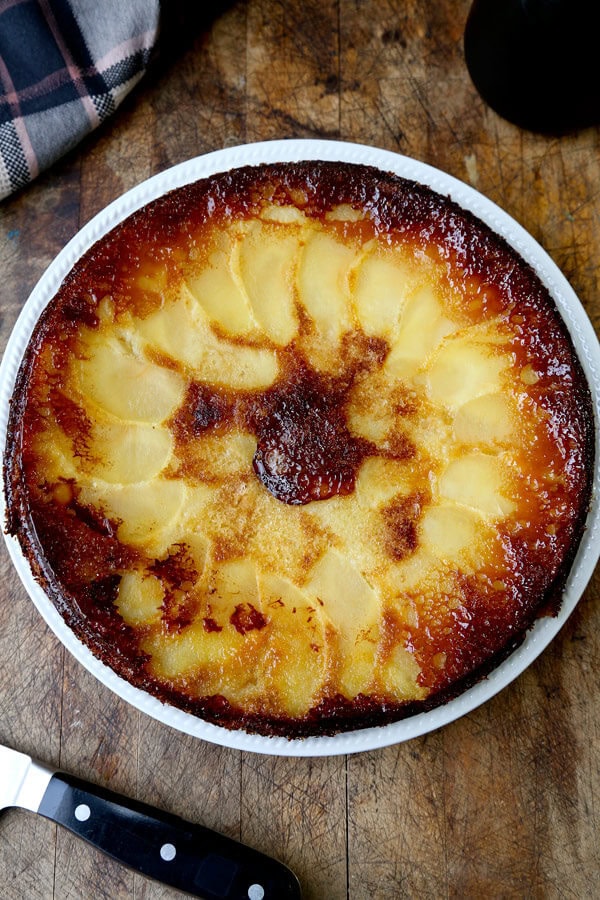 Apples, honey and olive oil make sweet music together in this French/Italian inspired cake recipe. Sweet but not too sweet, this cake has floral notes with a delicate texture you won't be able to stop eating. GET THE RECIPE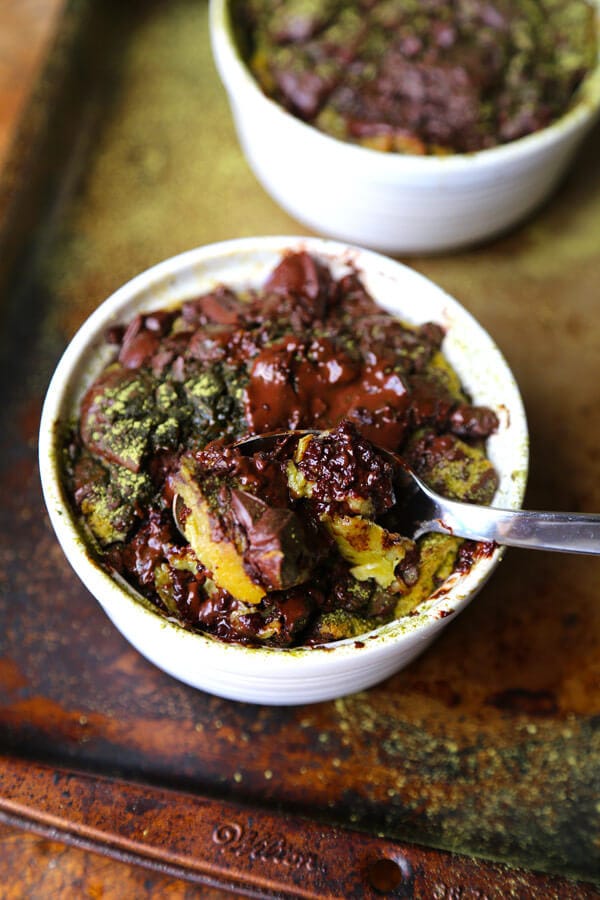 This dessert… Look at how gorgeous it is! Matcha infused sponge cake with gooey dark chocolate makes this dessert pleasurable for both adults and kids. It also pairs to perfection with a cold glass milk or sake. GET THE RECIPE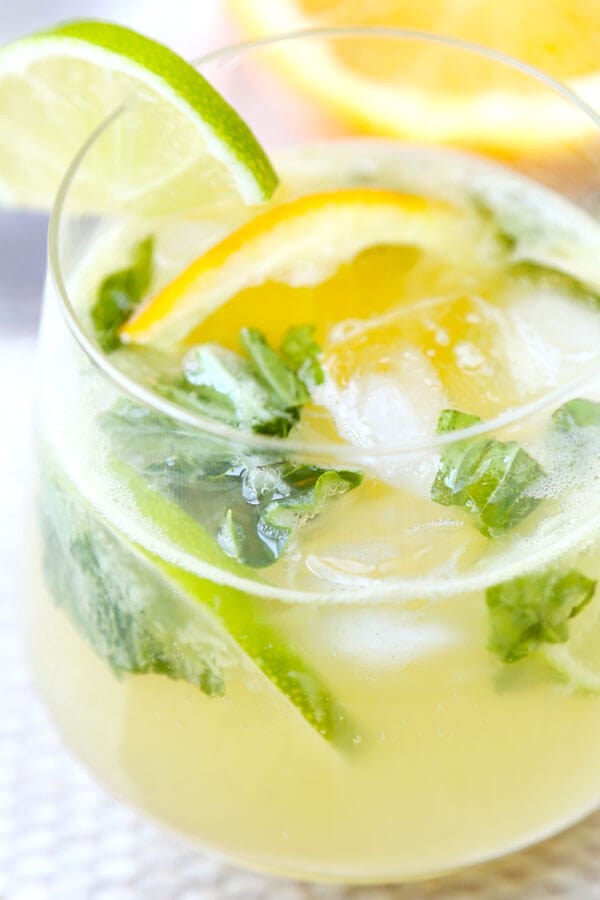 Lots of fresh ginger to add zing and a tingly feeling in your throat is used in this Moscow mule recipe. Citrus and fresh chopped basil make this cocktail refreshing and thirst quenching. GET THE RECIPE
I like lemonade but I especially love the tart and lemony ones, which is why I went easy on the sugar for this mint lemonade recipe. Less sugar also means you can have more! GET THE RECIPE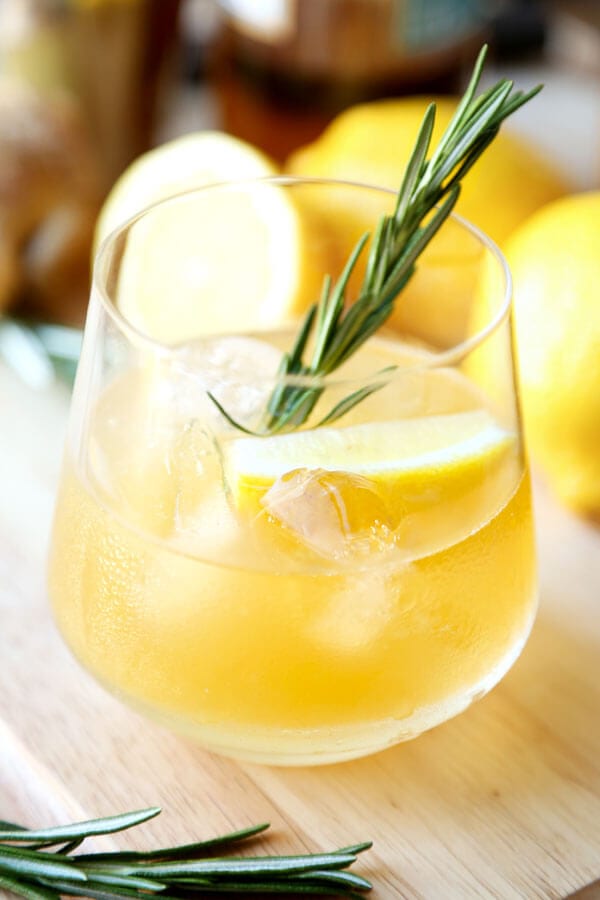 Adding a sprig of rosemary turns this classic whiskey cocktail into something a little fancier. Lemon and pine flavors are infused to create a drink that's more than enjoyable to sip on all day long! GET THE RECIPE
Pickled Plum is a participant in the Amazon Services LLC Associates Program, an affiliate advertising program designed to provide a means for sites to earn advertising fees by advertising and linking to amazon.com.