What a delicious breakfast treat! This Norwegian porridge (aka risengrynsgrøt) recipe is creamy, salty, and sweet. Served with a sprinkle of cinnamon and dried cranberries on top—who can resist?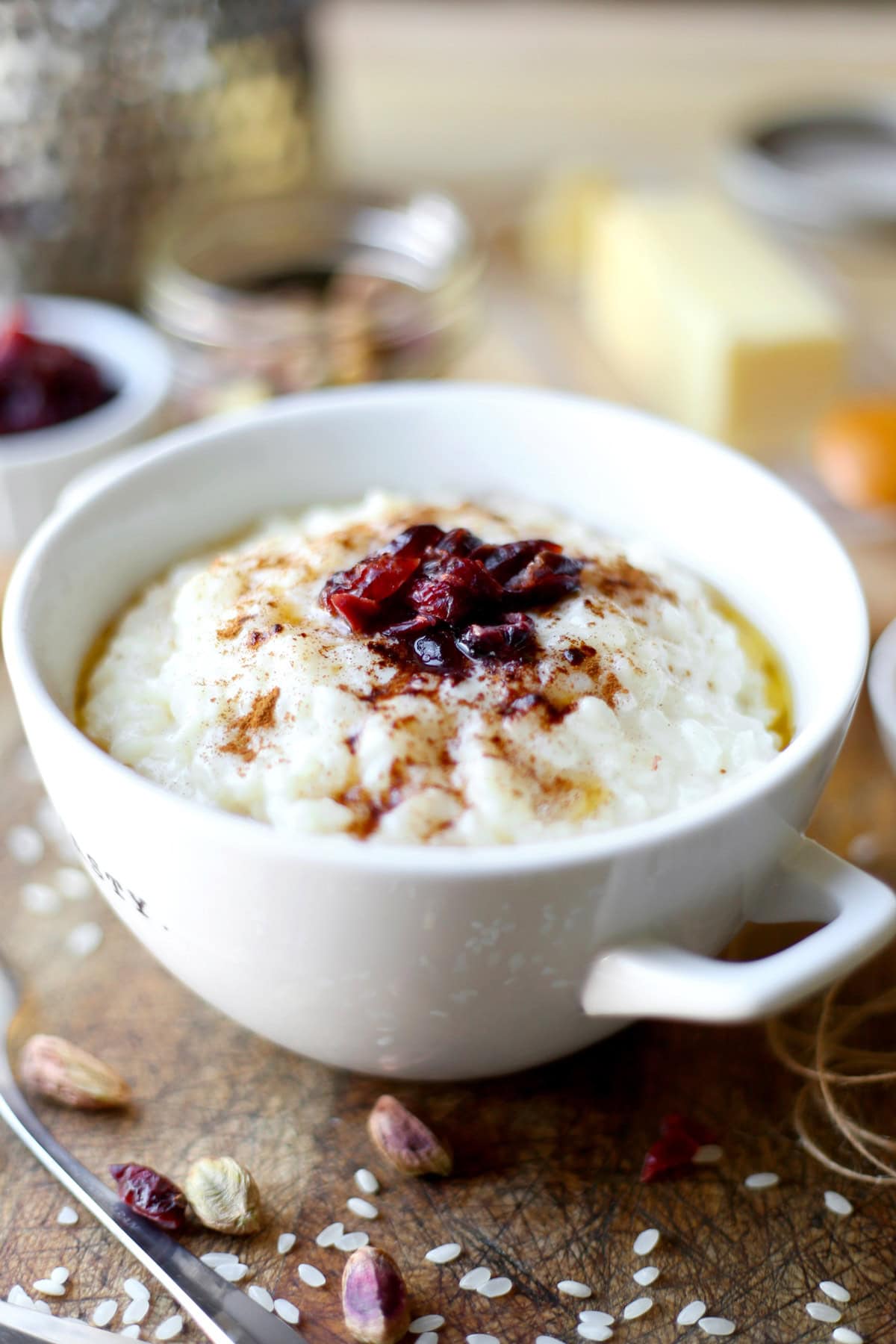 What is Porridge?
According to Wikipedia, porridge is a dish made by boiling ground, crushed, or chopped grain in water and/or milk, often with flavorings. It is usually served hot in a bowl.
Sounds bland and boring doesn't it? I think most of us associate porridge with tastelessness or something that's been overcooked and looks like baby food. Yuck!
But wait until you try good porridge because it's night and day. Let me just say, WOW! Norwegians certainly know how to turn plain rice into something truly delectable. It's so delicious in fact, that even people who aren't fans of Norwegian rice pudding, or even other rice puddings, will scarf down a bowl of Norwegian porridge in record time.
And, aside from this yummy nordic preparation, there are a ton of Asian rice porridges that I adore like congee, jook and okayu. But today is all about this delectably sweet, salty and incredibly warming Norwegian recipe.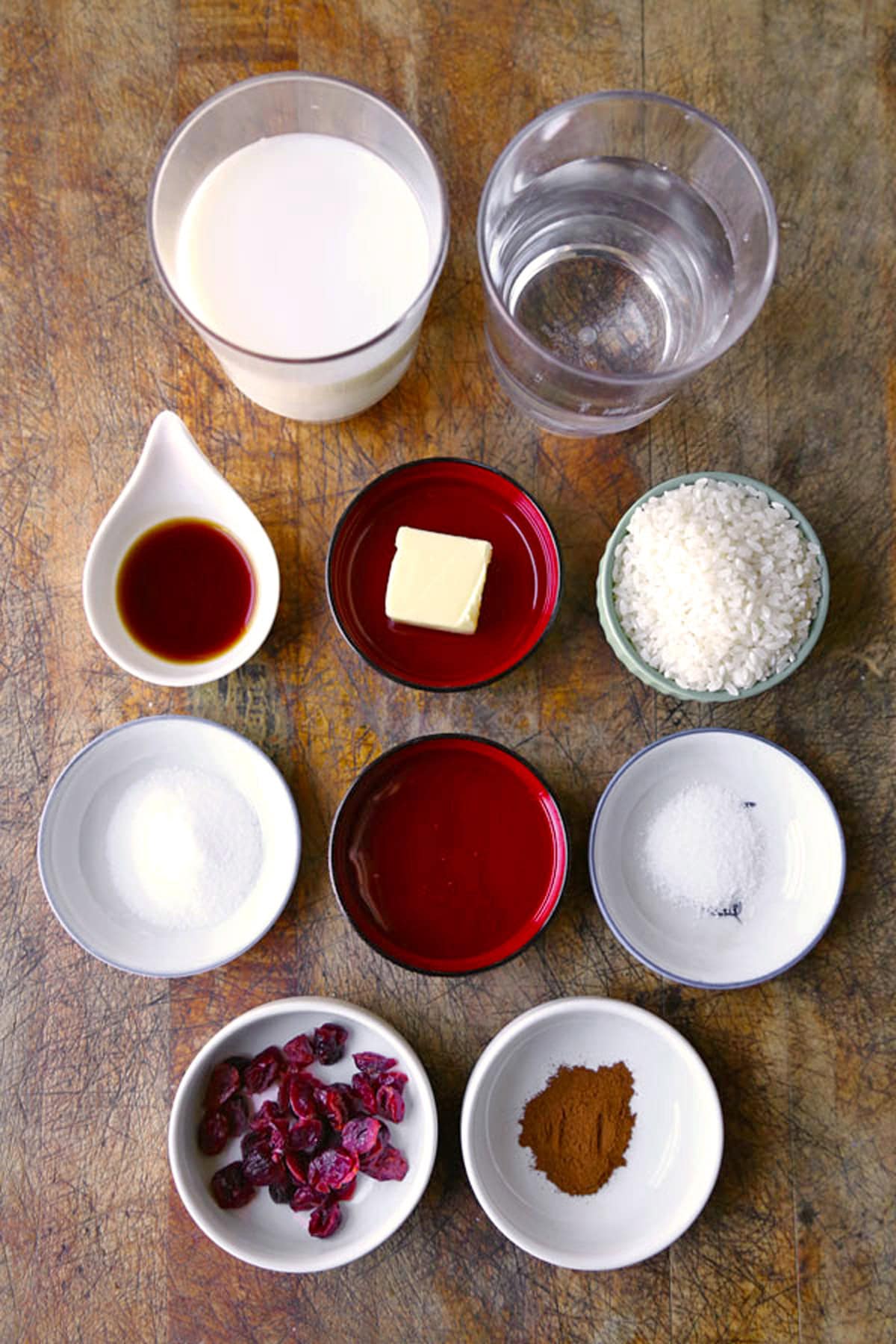 Ingredients for Norwegian Porridge
Short grain rice: Rice will be what makes the base of your porridge. Short grain rice is used because it's fatter and stickier than regular rice.
Water: The water is added to cook your rice. Simple as that!
Milk: The milk thickens the porridge and gives it a creamy texture. If you're looking to make this a dairy-free recipe, you can use plant-based milks like coconut milk or unsweetened oat milk, but it may not hold the capacity to get as thick as the original recipe intended.
Butter: Adding butter adds saltiness and richness to the dish.
Honey: Honey adds a natural sweetness and a floral element to the porridge. Make sure you use one that you like as there are many different flavors of honey.
Granulated sugar: Sugar adds sweetness without any added extras. It rounds up the dish and gives it that breakfast flair.
Kosher salt: Only a little salt is needed to balance out the sweetness of the porridge. This should also bring out more notes of flavor from the other ingredients of your bowl as well.
Vanilla extract: A little vanilla infuses the dish with a subtle caramel taste and a lovely jasmine-like aroma.
Optional but Highly Recommended Toppings
Cinnamon powder: A sprinkling of cinnamon to add spice and a clove-like taste to your breakfast bowl.
Dried cranberries: Dried cranberries will make your bowl of porridge fruity while adding more texture and color.
Butter: Can't get enough of that buttery goodness? Add more to the top if you want!
Porridge vs Oatmeal
Many people, including myself, have wondered at one point or another what the difference between porridge and oatmeal is. Are they the same?
Here are a couple of bullet points that quickly answers this question.
Oatmeal can only be made with oats whereas porridge can be made with rice, barley, oatmeal, or any other grains or legumes—as long as it's boiled in water, milk or broth.
Think of porridge as its own category. And inside that category, you will find all the types of porridges like oatmeal, cornmeal, rice porridge, etc. So while oatmeal will always be considered a porridge, porridge won't always be considered oatmeal!
When to Eat Norwegian Porridge
Traditional Norwegian porridge (AKA: risgrøt or risengrynsgrøt) is usually served for lunch the day before Christmas.
The leftovers are then used to make riskrem (rice cream), on Christmas Day, a dessert made with cold rice porridge topped with whipped cream and raspberry (or strawberry) sauce. A whole almond is then hidden in the dessert, and the person who finds it wins a marzipan candy in the shape of a pig.
Sounds like a fun and festive Christmas tradition to have with family and friends, doesn't it? Your friends and family won't forget your version of this traditional Norwegian Christmas dessert.
But let's be honest. Why limit yourself to just once or twice a year? You can impress your loved ones no matter what time of the year it is when you make this sweet rice porridge.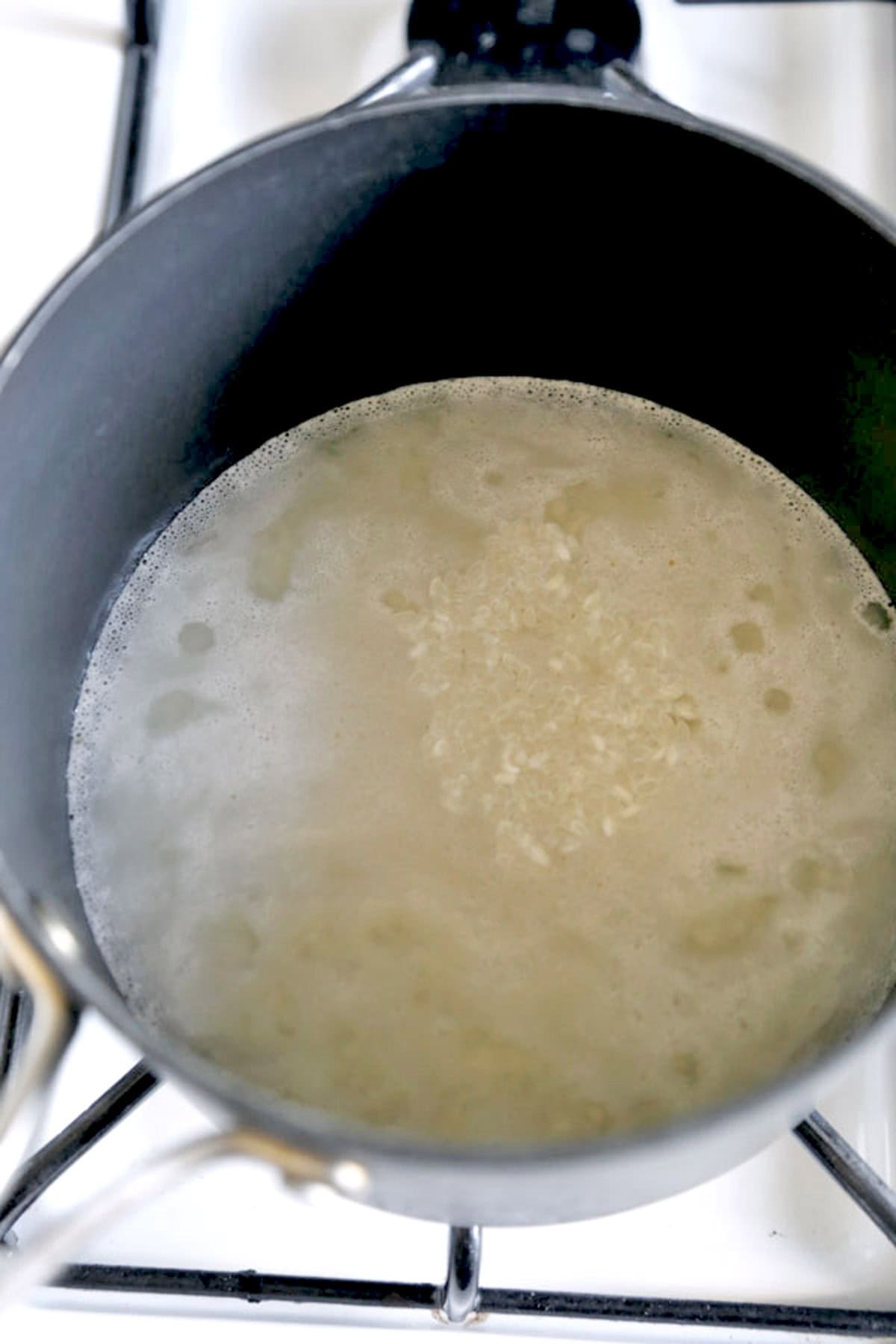 How to Make Norwegian Porridge
Gather all of your ingredients and cooking tools.
In a medium size pot, add your rinsed rice and water and bring to a boil. Lower heat to a gentle simmer. Then cover and leave to sit for ten minutes or until all the water is absorbed.
Add 1/3 of the milk and stir it in. Then cover your pot again and leave until the consistency thickens. Then add a little more milk every time the consistency of the porridge thickens. You will likely have to do this approximately every five to ten minutes or so while still on low heat. You will need to repeat this step until all the milk is used, the porridge is thick, and the rice is tender. You want this to look like the best fluffy rice pudding that has ever been made. The entire process should take 45-55 minutes. It might sound like a long time but it's going to be well worth the wait!
Then add your sweet butter, honey, sugar, vanilla extract, and salt—then stir well.
Turn the heat off and serve your porridge into your favorite bowl. Top with a small pat of butter, a little cinnamon powder, and dried cranberries to maximize flavor and appeal. Enjoy!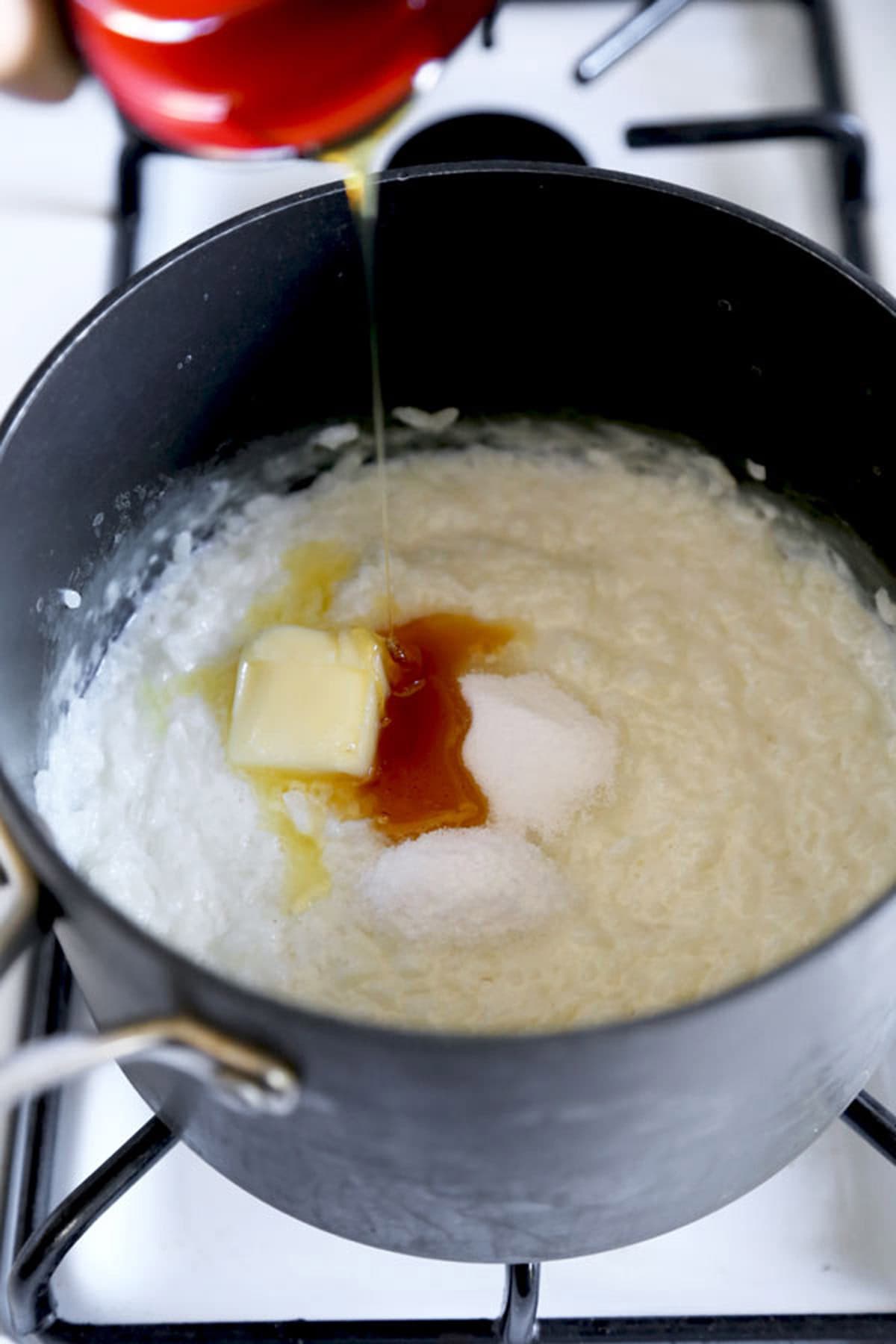 Norwegian Porridge Alternative Ingredients
I've made a few minor changes to this traditional Norwegian recipe because I wanted to give it a healthier kick. But if you would like to stick to something a little more traditional you can use whole milk as opposed to the 1% milk listed in this recipe.
You can also substitute cranberries for other dried fruits or nuts.
Using vanilla bean powder instead of the liquidized version will make the vanilla taste more prominent. And if you would like to add a garnish you can include one whole cinnamon stick in it to give an appealing visual flourish (great for those instagram photos).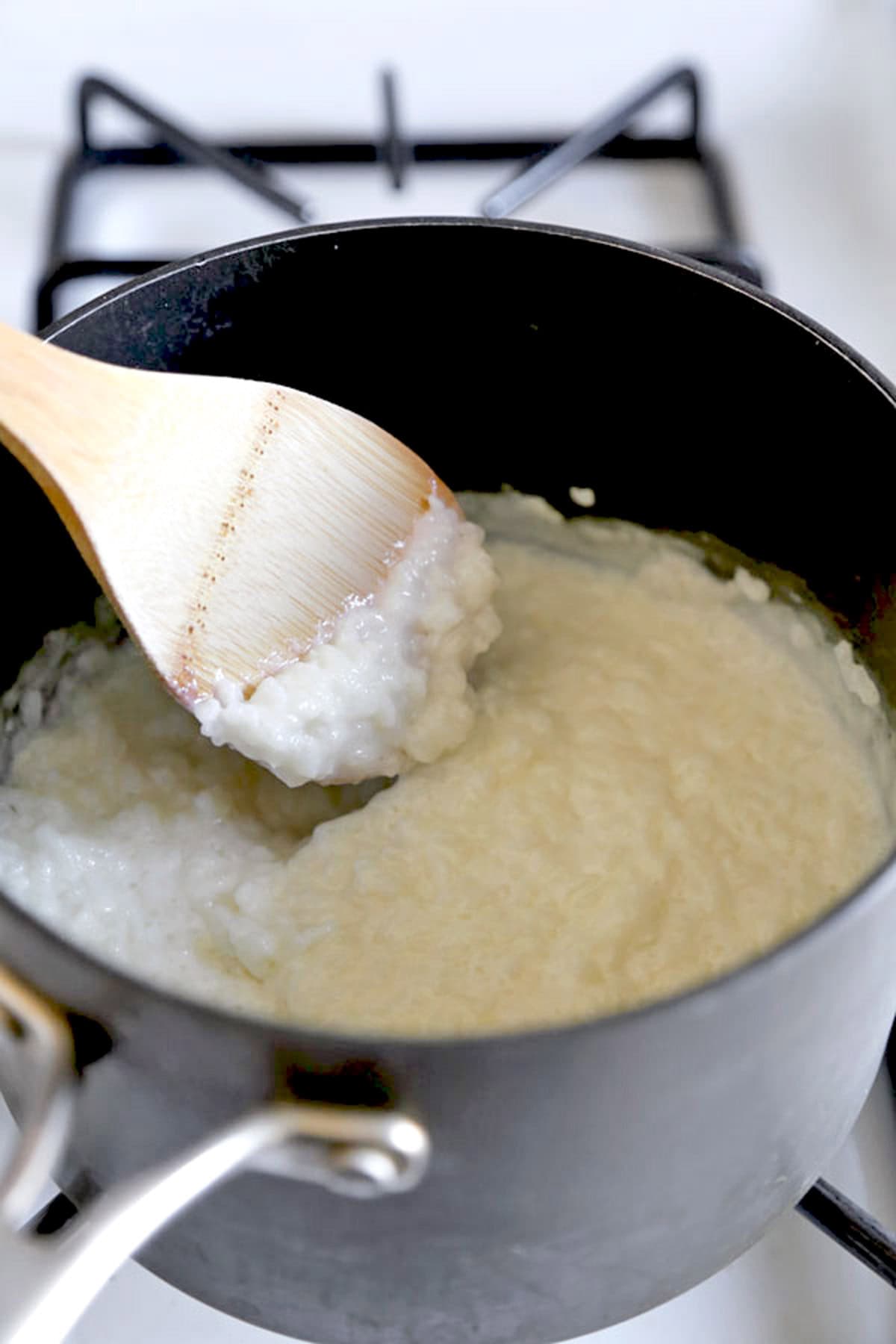 Other Porridge-Type Recipes
If you're curious about how to make other rice porridge recipes, here are a couple global porridge recipes you might be interested in too!
What are your favorite porridge or porridge-like recipes? Have you made this Norwegian rice porridge recipe yet? Are there changes you made to your own recipe that you'd like to share?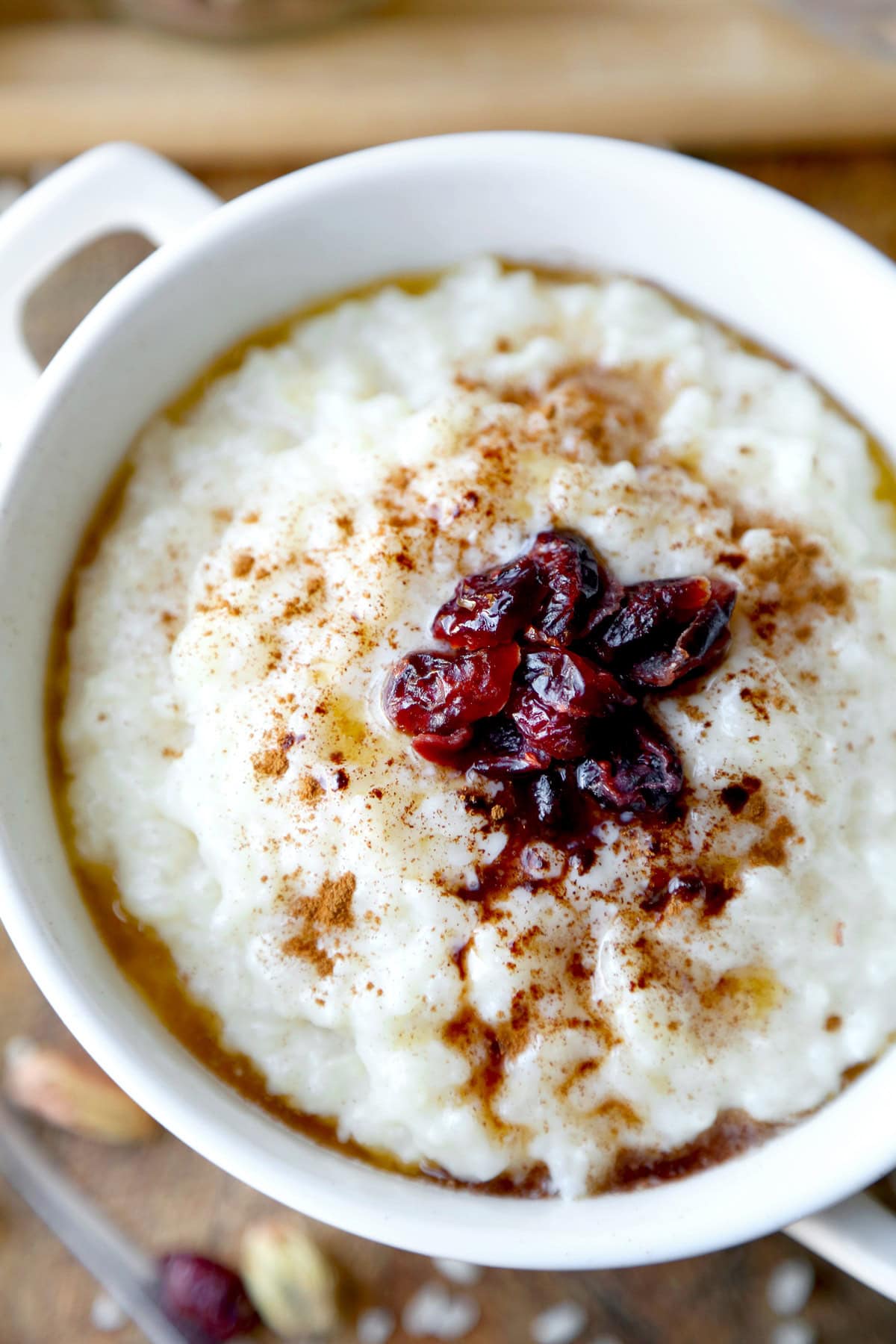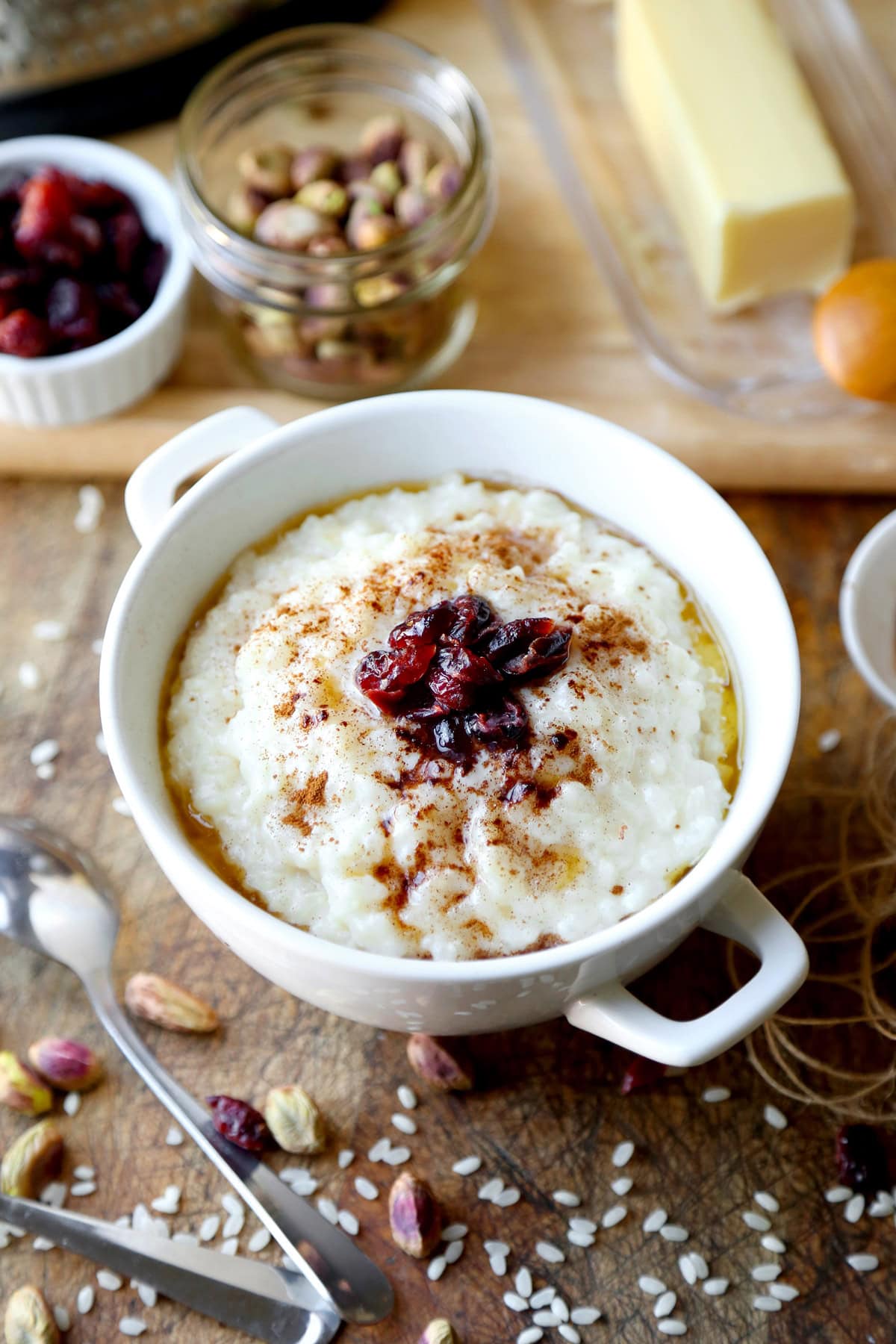 Did you like this Norwegian Porridge Recipe? Are there changes you made that you would like to share? Share your tips and recommendations in the comment section below!
---
Print
Norwegian Porridge With Dried Cranberries
What a delicious breakfast treat! This Norwegian Porridge Recipe is creamy, salty and sweet and is served with a sprinkle of cinnamon and dried cranberries on top.
Author: Caroline Phelps
Prep Time:

5 minutes

Cook Time:

60 minutes

Total Time:

65 minutes

Yield:

3

people

1

x
Category:

Breakfast

Method:

Stove top

Cuisine:

Norwegian

Diet:

Vegetarian
3/4

cup

white (medium grain rice)

1 1/2

cup

water

2 1/2

cups

1% milk

1 tablespoon

butter

1 tablespoon

honey

1 tablespoon

granulated sugar

1 teaspoon

kosher salt

2 teaspoons

vanilla extract
cinnamon powder for topping
dried cranberries for topping
butter for topping
Instructions
In a medium size pot, add rice and water and bring to a boil. Lower heat to a gentle simmer, cover and leave for 10 minutes, or until all the water is absorbed.
Add 1/3 of the milk, stir, cover and leave until the consistency thickens. Add a little more milk every time the porridge's consistency thickens – approximately every 5-10 minutes or so. Repeat until all the milk is used, porridge is thick and rice is tender. The entire process should take 45-55 minutes.
Add butter, honey, sugar, salt, and vanilla extract and stir well.
Turn the heat off and serve porridge in bowls topped with a small pat of butter (optional), a little cinnamon powder and dried cranberries.
Notes
This Norwegian porridge recipe will keep refrigerated for up to 2-3 days.
Nutrition
Serving Size:

1 bowl

Calories:

225

Sugar:

20.8g

Sodium:

870.5mg

Fat:

5.9g

Saturated Fat:

3.7g

Unsaturated Fat:

0.2g

Trans Fat:

0g

Carbohydrates:

33.7g

Fiber:

0g

Protein:

8g

Cholesterol:

20.3mg
Keywords: recipe, brunch, rice pudding, Christmas
Recipe Card powered by