Celebrate Chinese New Year with this delicious Kung Pao Chicken Recipe! Served on crispy noodle cakes, it's a fun and colorful meal to enjoy with friends and family!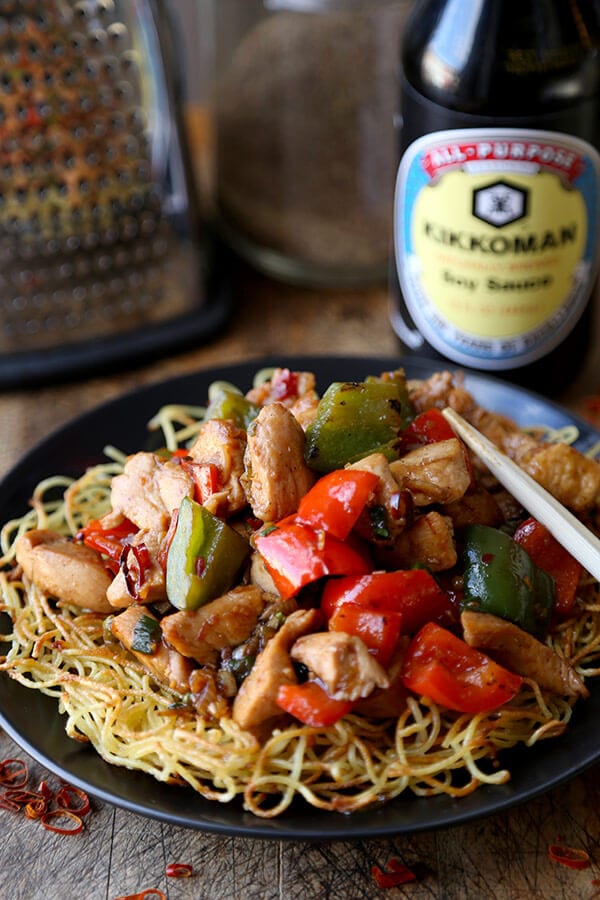 Kung Pao Chicken
As Chinese New Year approaches, my mind always defaults to this kung pao chicken recipe, served over pan-fried noodle cakes.
And whether you call it Kung Pao, Gong Bo, Kung Po or 宫保鸡丁 in your home, there's no denying that it's delicious!
Kung pao chicken is such a popular dish in American Chinese cooking that you might just think it was invented somewhere in San Francisco, back in the day, to accommodate the western palate.
However, kung pao chicken is a traditional dish that originated in the Sichuan province of south-western China. The preparation differs in that no orange juice is used (like in the western version) and lots of tongue numbing Sichuan peppercorns are added.
Now, I've left the Sichuan peppercorns out of my recipe because they're a bit strong for my taste. But if you like them – then feel free to use them!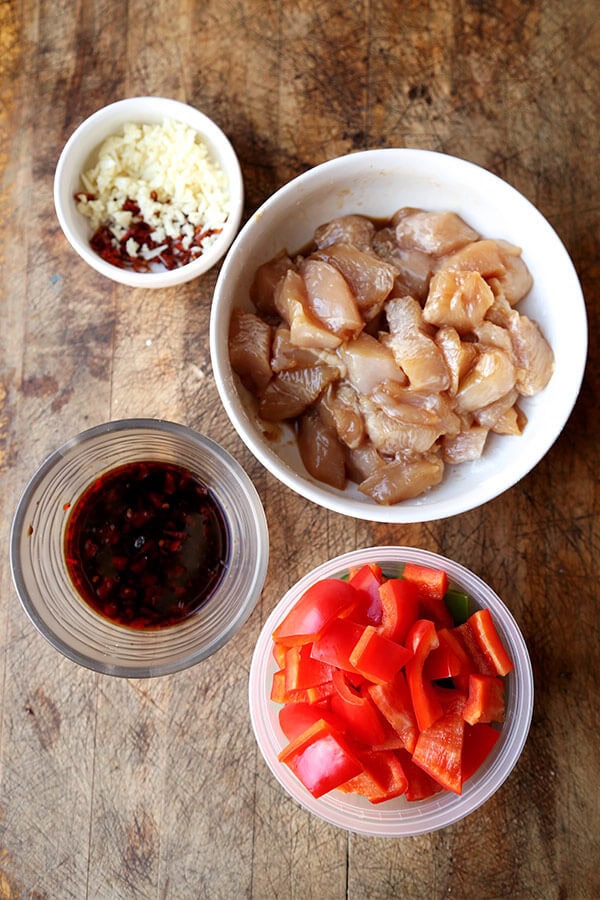 What does Kung Pao Sauce taste like?
This delicious Chinese chicken recipe has two sauces to speak of: the chicken marinade – and the sauce we'll pour over the stir fry as we cook it in the wok.
Chicken Marinade: The chicken is marinated in a mix of soy sauce, rice vinegar, sesame oil and cornstarch. Not only will this impart a savory, nutty, tangy element to the chicken, it has other uses. You see, this technique is called velveting – because the

cornstarch

tenderizes the chicken and gives it a velvety texture. It's delicious! Bonus: by using 1/2 tsp Soy Sauce in place of 1/2 tsp table salt, the sodium content of the recipe is cut by 1000 mg. Yay!
Pour Over Stir Fry Sauce: I use a combination of soy sauce, chicken stock and mirin to lay down a savory base and impart slightly sweet notes around the edges. Then I add sambal oelek to bring a bit of fire. Now, this kung pao chicken recipe isn't too spicy (to accommodate those with sensitive stomachs like mine). However, you can easily make it more fiery with an added dollop of sambal oelek.
I've found that mixing both the marinade and stir fry sauce before I start cooking to be a wonderful (and delicious!) time saver.
This chicken stir fry is savory and packed with umami – thanks to the soy sauce. It's one of those staple ingredients I can't live cook without!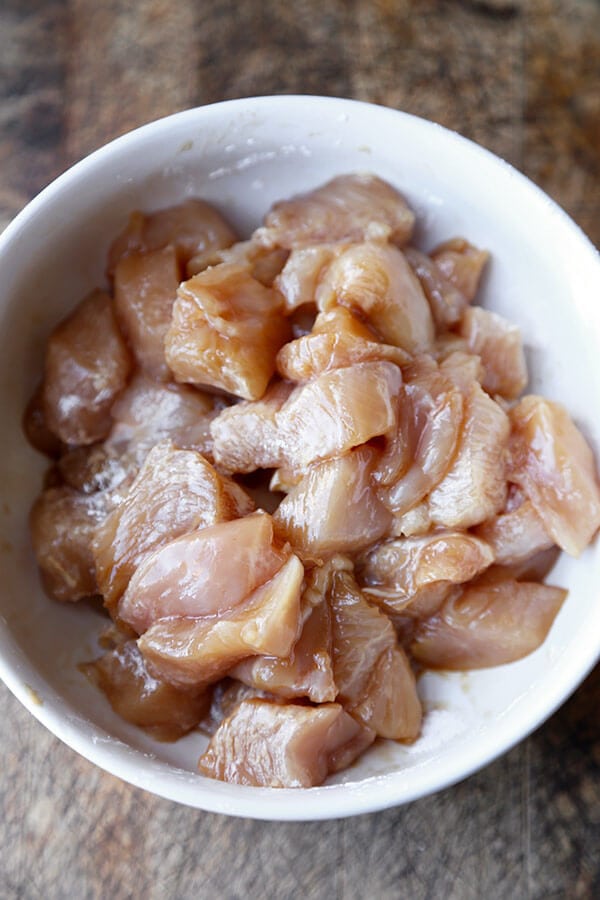 How to make kung pao chicken
I think you're going to love how easy this is! Let's cook 🙂
Once your chicken has marinated and your stir fry sauce is mixed up, get a pan going over medium-high heat and add your oil and chicken.
Cook the chicken pieces for 3-4 minutes, until almost cooked through – then pull it off the flame and place on a plate. Don't worry, we'll come back to it! This is done to get a nice caramelization on the outside of our chicken, but so we don't overcook the velveted chicken as our veggies cook through in the next step.
In the same pan, add your green and red bell peppers and cook for about 3 minutes or so, until the peppers have softened. At this point, add your garlic and red chilies and stir for another minute.
Now, add your chicken back to the pan and stir.
Immediately after, add your stir fry sauce, scallions (and peanuts if you're using them) and stir for a minute or so – until your chicken is cooked through and the sauce has slightly thickened.
Serve your kung pao chicken over rice if you prefer – or over pan fried noodle cakes like I love to prepare around Chinese New Year each year!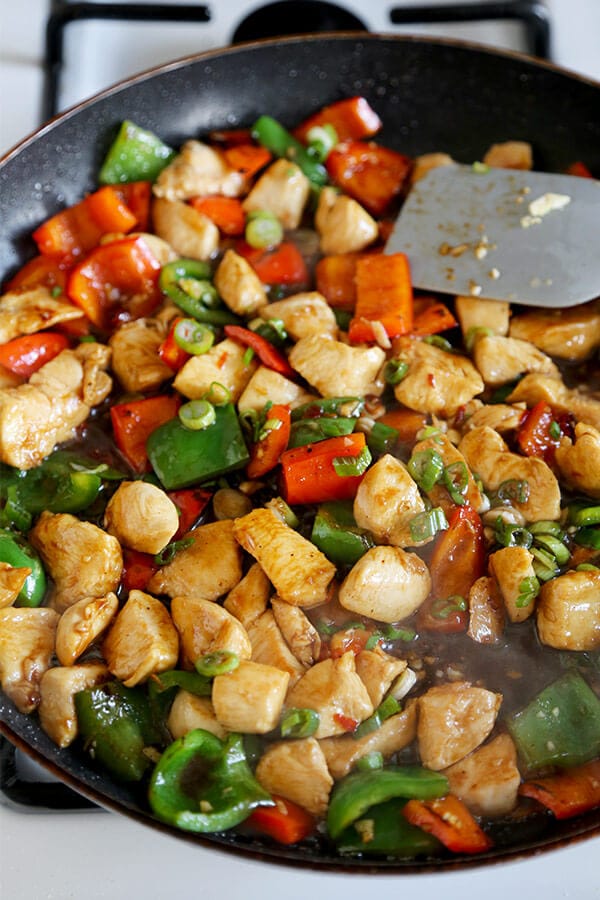 A Chinese New Year Recipe: Long Life Kung Pao Chicken
Depending on the year, around the end of January / beginning of February, it's not uncommon to hear the words: Kung Hei Fat Choy!
That's the sound of people wishing each other a wonderful lunar new year filled with happiness, prosperity and good health!
Chinese new year (also known as spring festival) is a 15-day celebration that is steeped in symbolism and ritual, and represents a fresh new start – a cleansing ceremony of sorts.
Chinese or not, this is the time when many of us will go out to enjoy dim sum with family and friends and perhaps, witness a dragon dance show. You might even be tempted to light a few fire crackers, give your house a thorough cleaning (to get rid of any ill-fortune and make space for incoming good luck), offer money in red paper envelopes, or my favorite, host a Chinese new year dinner party!
Certain foods are said to bring good luck:
fish = abundance
prawn = happiness
lettuce = prosperity
pork = wealth
And noodles symbolize longevity (which is why I call this dish long life kung pao chicken around the lunar new year) – because it's served on crispy noodle cakes.
What are the ingredients I'll need to make kung pao chicken?
Even though making kung pao chicken at home may sound intimidating the first time you try it, you shouldn't worry!
Aside from being super easy to make, almost all of the ingredients will be a breeze to find at your corner grocery store. There's nothing tough about finding ingredients like chicken, bell peppers, noodles, scallions and garlic, right!?
Having a few sauces in your pantry for the marinade and stir-fry sauce is a good idea though. Pick these up at your local market as well, or grab them on Amazon:
You'll be making delicious kung pao chicken like the champion-home-chef you are in the blink of an eye!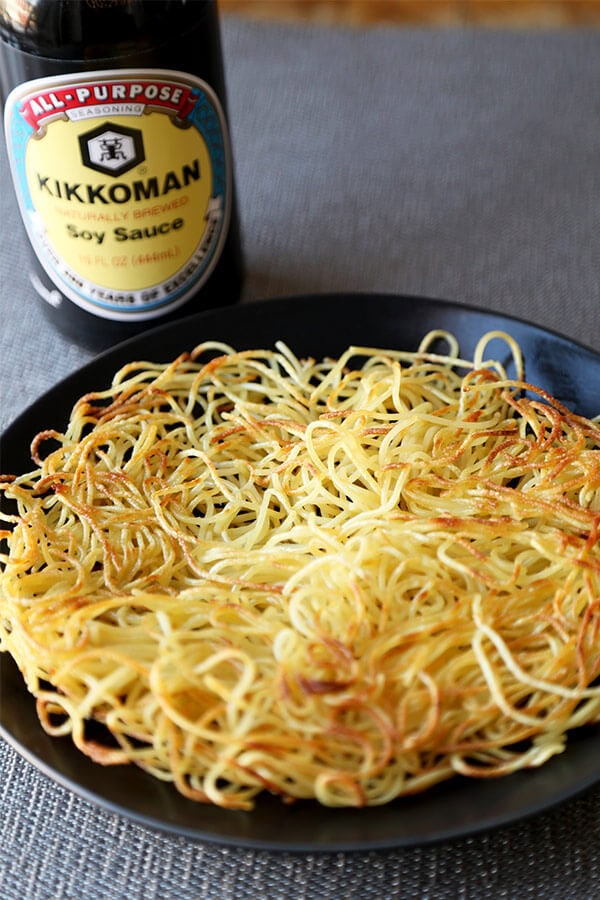 What's the difference between kung pao chicken and general tso's chicken?
While it's common to see both dishes on menus at your favorite Chinese restaurant, there are differences in flavor between kung pao chicken and General Tso chicken.
Btw…
But to oversimplify a super nuanced issue: kung pao chicken tends to be pan fried yet un-breaded with a savory, tangy and spicy sauce. General Tso chicken is usually breaded and fried and then tossed just before serving with a thick sauce that usually defaults to the sweeter side of the flavor spectrum.
Obviously, there are many variations from recipe to recipe, but those are the broad strokes.
And I love both recipes! I can't tell you how many times I've stared at a Chinese delivery menu and played the whole kung pao chicken vs General Tso chicken scenario through my indecisive head, ha 🙂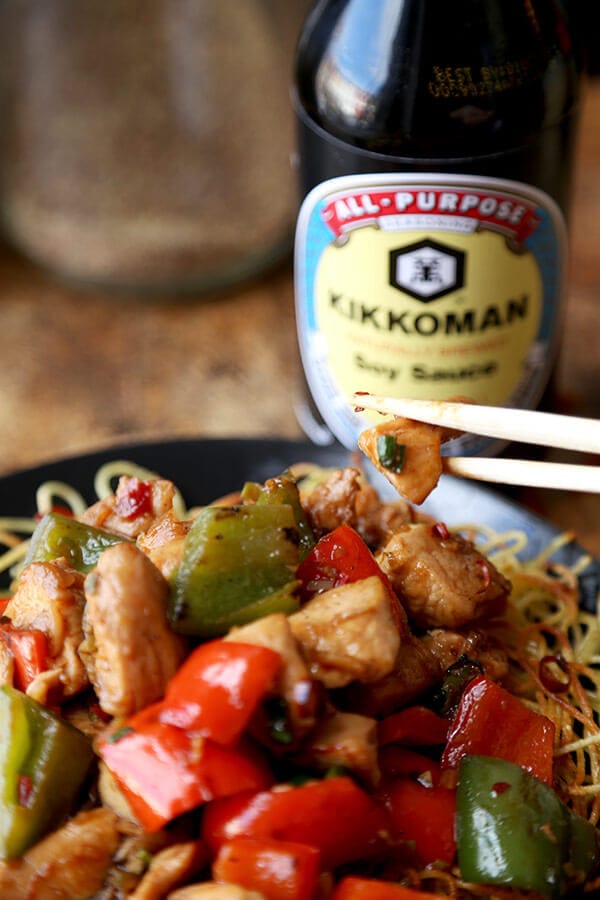 An Easy Kung Pao Chicken recipe you can whip up in less than 30 minutes
I love cooking food that is full of flavor. And, it's a wonderful thing when those tasty recipes happen to soak up relatively little amounts of time from my already busy day.
This kung pao chicken recipe is one of those things I'd be happy to cook after a long day at work. 25 minutes is all it takes.
What a wonder then, that it also tastes special enough to welcome in the new year with a bang!
What about you? Is there a specific dish you make for Chinese New Year? I'd love to hear about it in the comments!
Happy cooking!
Other delicious and easy Chinese food recipes: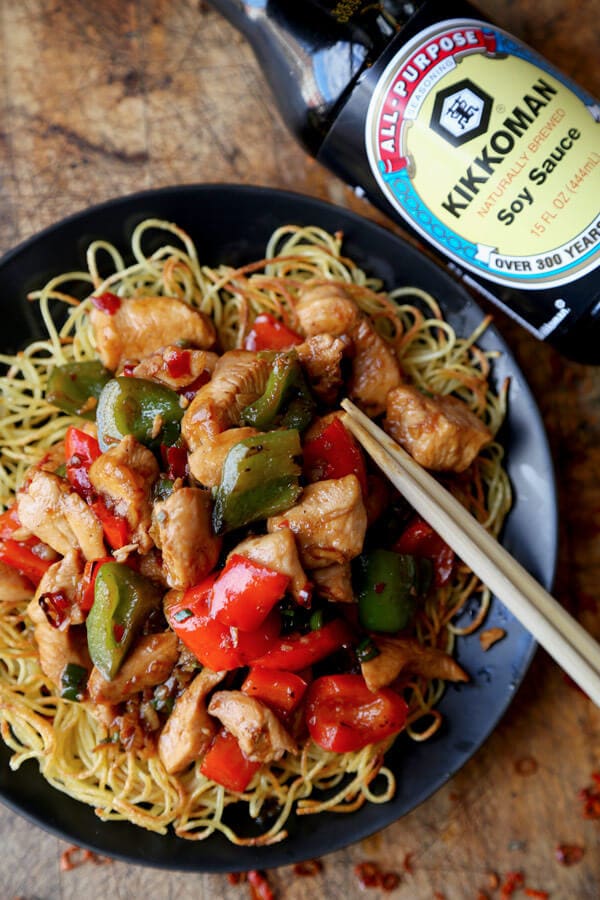 Did you like this Long Life Kung Pao Chicken Recipe? Are there changes you made that you would like to share? Share your tips and recommendations in the comments section below!
---
Print
Long Life Kung Pao Chicken
Celebrate Chinese new year with this traditional and delicious kung pao chicken recipe! Served on crispy noodle cakes, it's a fun and colorful meal to enjoy with friends and family!
Author: Caroline Phelps
Prep Time:

10 minutes

Cook Time:

15 minutes

Total Time:

25 minutes

Yield:

3

people

1

x
Category:

Main

Method:

Stir Frying

Cuisine:

Chinese
2 tablespoons

peanut or vegetable oil

1

pound boneless, skinless chicken breast (chopped into small bite sizes)

1

small red bell pepper (seeded and chopped into small bite sizes)

1

small green bell pepper (seeded and chopped into small bite sizes)

2

cloves garlic (minced)

4

dried red chilies (finely chopped)

1/4 cup

peanuts (optional)

2

stalks scallions (chopped)
Chicken marinade
2 teaspoon

soy sauce

1 teaspoon

rice wine vinegar

1 teaspoon

sesame oil

1 1/2 teaspoon

cornstarch
Sauce
2 tablespoons

soy sauce

2 tablespoons

low sodium chicken stock

1 tablespoon

mirin

1 teaspoon

hot chili sauce (such as sambal oelek)
Chinese noodle cakes
2 tablespoons

peanut or vegetable oil

2 cups

cooked angel hair pasta or thin spaghetti
Instructions
Combine the ingredients for the marinade in a bowl and add the chicken pieces. Marinate for 30 minutes.
Mix the ingredients for the sauce and set aside.
In a large pan over medium high heat, add oil and chicken. Cook for 3-4 minutes, until chicken is almost cooked through, and transfer to a plate.
Add green and red bell peppers to the pan and cook for 3 minutes, until peppers have softened. Then add garlic and red chilies, stir well, and cook for 1 minute.
Return the chicken to the pan and stir well. Add sauce, peanuts and scallions and stir well. Cook for 1 minute or until the sauce has slightly thickened. Turn the heat off and transfer to a bowl.
To make the Chinese noodle cakes
Divide noodles into four equal piles.
Add oil to a pan over medium high heat and when the oil is hot, add noodle piles to the pan. Leave space between them so they don't touch each other.
Press down on each of them with a spatula and cook until the pasta is crispy and light brown. Flip over and do the same for the other side (about 1-2 minutes for each side).
Assembling
Divide the noodle cakes among four plates and top with kung pao chicken. Serve immediately.
Notes
This Long Life Kung Pao Chicken Recipe will keep refrigerated for up to 3 days.
Nutrition
Serving Size:
Calories:

564

Sugar:

6.8 g

Sodium:

433.2 mg

Fat:

28.8 g

Saturated Fat:

4.3 g

Carbohydrates:

32.4 g

Fiber:

3.2 g

Protein:

42.7 g

Cholesterol:

110.3 mg
Keywords: recipe, Asian, poultry, Chinese New Year, easy dinner
Recipe Card powered by