Rising temperatures call for bright and refreshing fruity ice cubes to the rescue!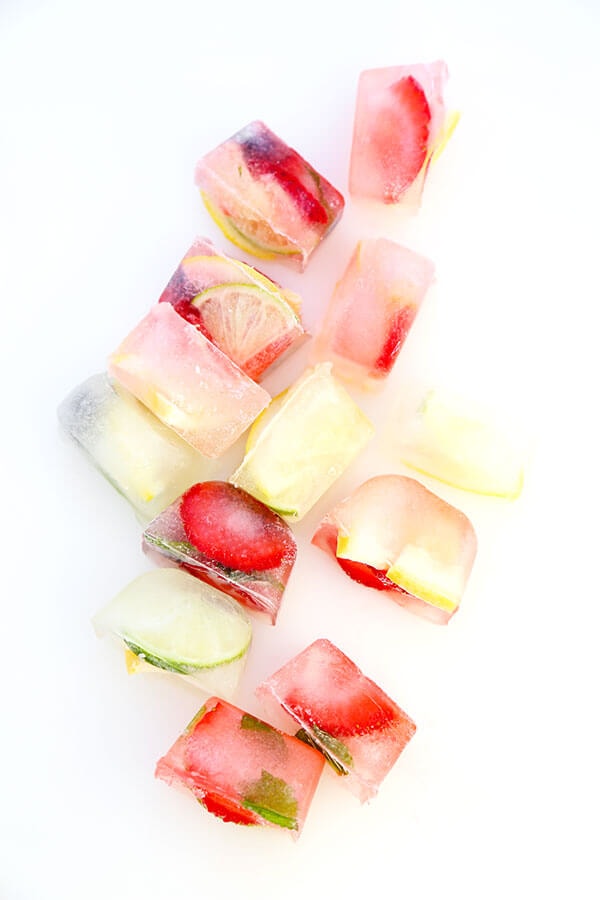 It's mega-hot out there. As we head into the weekend, the little AC window unit that normally keeps our brownstone approaching frigid is struggling to beat back the heat and humidity that just descended upon us. Our kitty is perched just under the air vent.
He's got the right idea! These are the types of days I don't really feel like cranking up the appliances to cook.
Therefore, it may be a Seamless weekend in Casa le Phelps. These fruity ice cubes came about from a need to cool off quickly after walking to a bunch of auditions this afternoon in the steamy city heat. The refreshing and cold blast they brought my way was much needed and took me from feeling wilted and fatigued, back to almost human again in record time.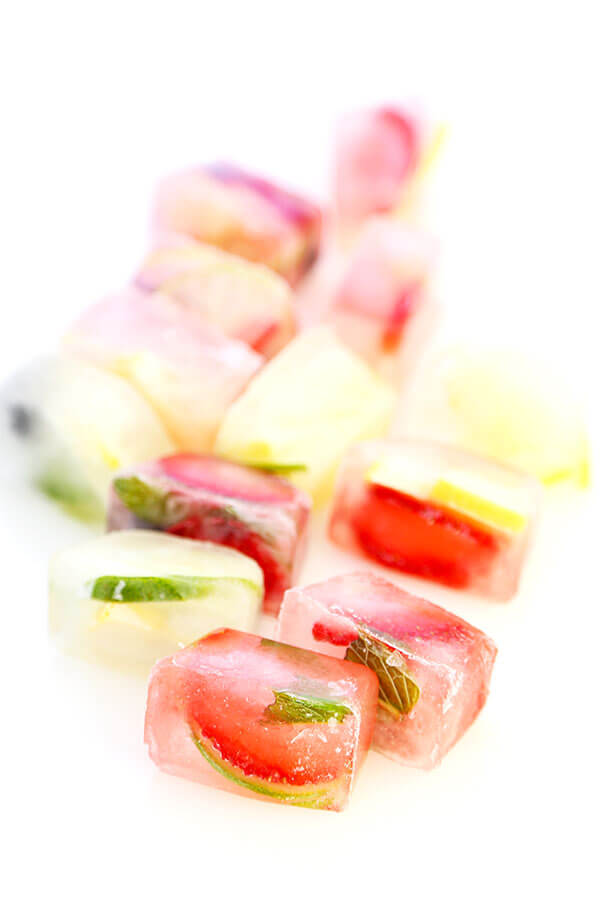 Think of these cold and fruity ice cubes as an emergency-strength version of my super easy and refreshing strawberry detox water recipe.
There's absolutely nothing more simple than slicing fruit and freezing it in an ice cube tray! The best part of this recipe is that the ingredients are totally up to you. Like mango and blueberries? Go for it! Prefer cucumber and cilantro? Hey – it's your world… have at it!
My version gets a citrus kick from red grapefruit, lemon and lime – and sweetness from sliced strawberries and blueberries. I added mint leaves to my fruity ice cubes because of the naturally cooling essence they impart. Served in a glass of water, you can really taste what each element brings to the table without being overwhelmed by any one taste.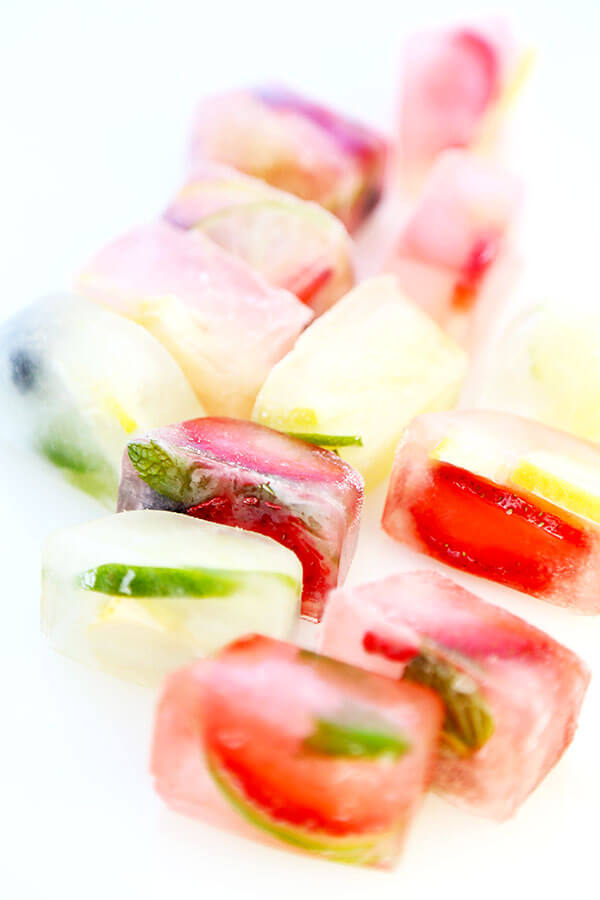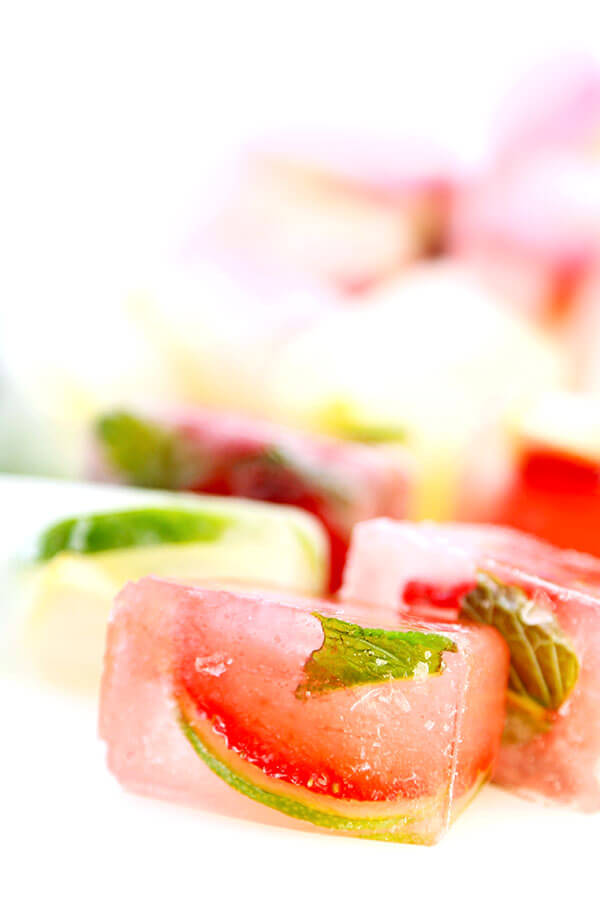 Another great aspect about the loose structure of this recipe is that you can use the fruity ice cubes however you'd like. They make a great addition to everything from plain water to seltzer, iced tea, lemonade or even a boozy cocktail.
Heck, you can even eat these fruity ice cubes directly from the freezer if you're so inclined. Icy, slushy fruit is one of my all time favorites to munch on as the cubes melt. I love it when a 'recipe' can be loosely interpreted and made up on the spot with the ingredients you have on hand.
And I can't wait to hear about your own fruity ice cubes concoctions in the comments section! Stay cool this weekend, friends.
Other simple, refreshing fruit filled recipes for the summer: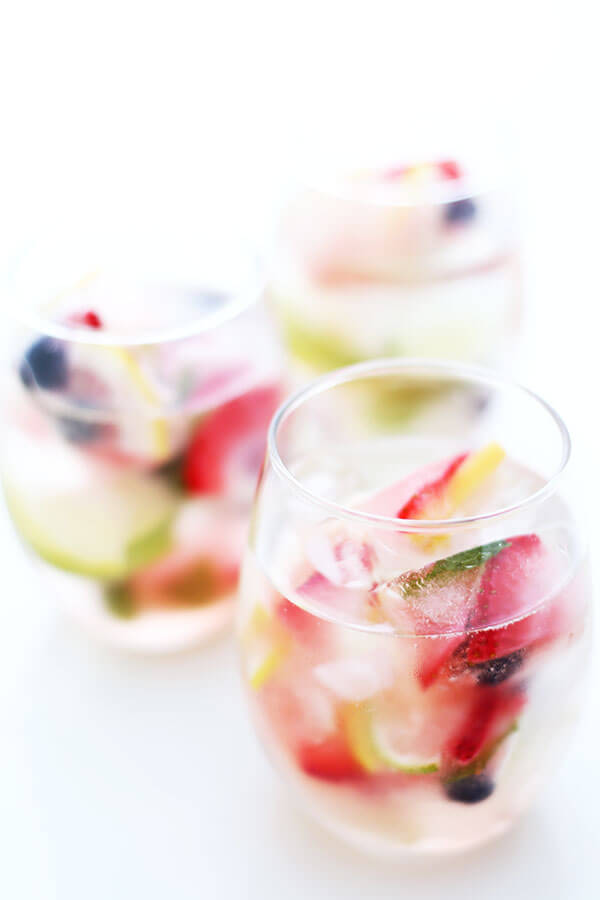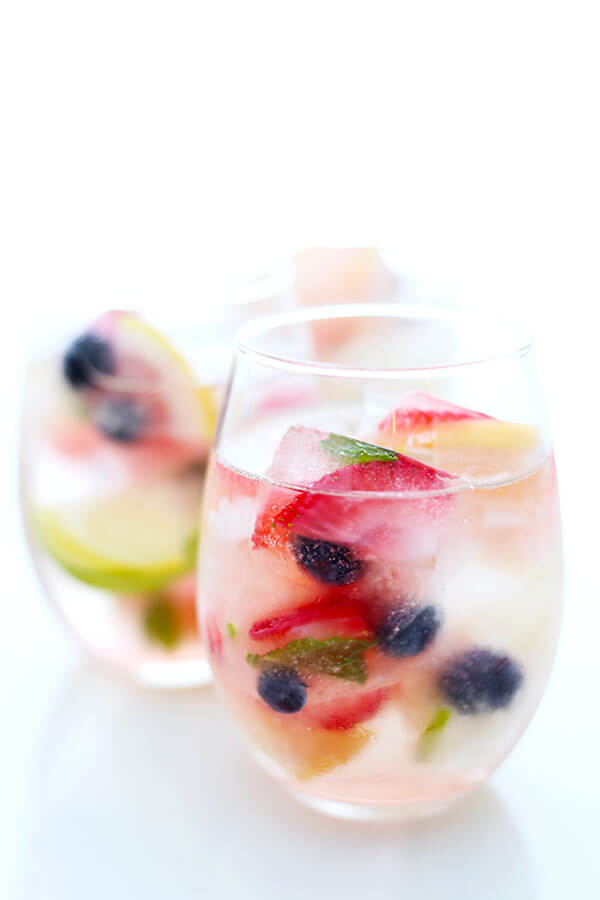 Did you like this Fruity Ice Cubes Recipe? Are there changes you made that you would like to share? Share your tips and recommendations in the comments section below!
Print
Fruity Ice Cubes
Chilly, citrus filled summer relief is the name of the game with this super simple Fruity Ice Cubes Recipe.
Author: Caroline Phelps
Prep Time:

10 minutes

Cook Time:

0 minutes

Total Time:

10 minutes

Yield:

12-24 ice cubes

Category:

Drinks

Method:

Freezing

Cuisine:

American
red grapefruit (sliced)
strawberries (sliced)
blueberries
lemon (sliced)
lime (sliced)
mint leaves
Instructions
Load your sliced fruit into dry ice cube trays.
Fill the trays with water and freeze.
Once frozen, serve with your favorite summer beverage.
Notes
These Fruity Ice Cubes will last in the freezer a looong time 🙂
Keywords: flavored ice cubes
Recipe Card powered by