This is a sweet, salty, pungent and silky Thai red curry recipe that offers traditional South East Asian flavors  – and it only takes 15 minutes to make!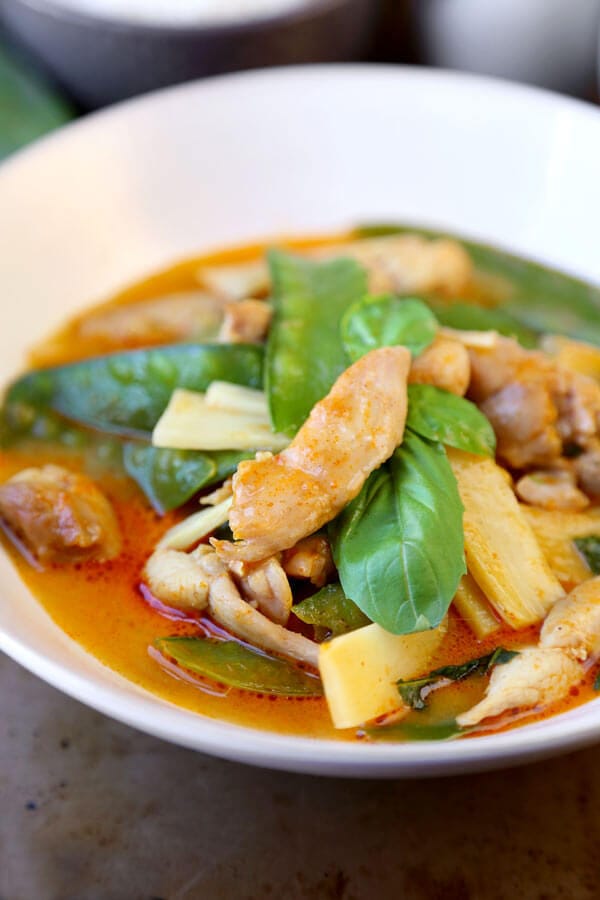 Easy Thai Red Curry Recipe
What a fun and lazy sunday yesterday was! We slept in, drank lots of coffee, played laser with our kitty Tsukune, stayed in our pyjamas and ordered Thai food from our local lunch spot, Spice. The only time I left the apartment was to go look at the lunar eclipse and marvel at its beauty. It was a very relaxing day!
Sunday is also the day when I sit down to work on dishes that I will be shooting this upcoming week.
I usually pick three recipes and go through each step and ingredients to see if they are absolutely necessary for the dishes' success.
If not, I remove it/them and keep going until I feel satisfied with the final outcome. It's the 'simplify and and make it healthy' creative process of making a balanced menu that most people can cook at home.
And lately I have been experimenting with different types of curries because they are healthy and versatile. You can make them from scratch, which can be a lot of work, or use pre-made curry paste like in this easy Thai red curry recipe, and be done in less than 15 minutes.
The result is just as delicious and the only difference is you won't have to go through your entire spice rack to achieve a smoky and spicy base for your curry. This recipe can be made using green curry paste as well although I have always preferred the red kind because they are less sweet in general.
I am only using 10 ingredients for this Thai red curry recipe: vegetable oil, light coconut milk, chicken broth, fish sauce, red curry paste, sugar, sugar snap peas, canned bamboo shoots, chicken breast and basil leaves.
These ingredients are enough to create a delicate but tasty broth that's pungent, sweet and salty – flavors that are traditional of most Thai curries.
What I love about curries is that many of the ingredients are easily interchangeable. You can substitute chicken for beef, seafood or tofu – or omit the sugar snap peas and add chickpeas and zucchini instead – and you'll still end up with a yummy bowl of curry.
We ate this Thai red curry with both rice and thin spaghetti and to our surprise found that it was better with latter one! I'm usually all about rice because of its ability to absorb the broth but the thin spaghetti made it feel like I was eating a bowl of curry noodle soup.
SO YUMMMM!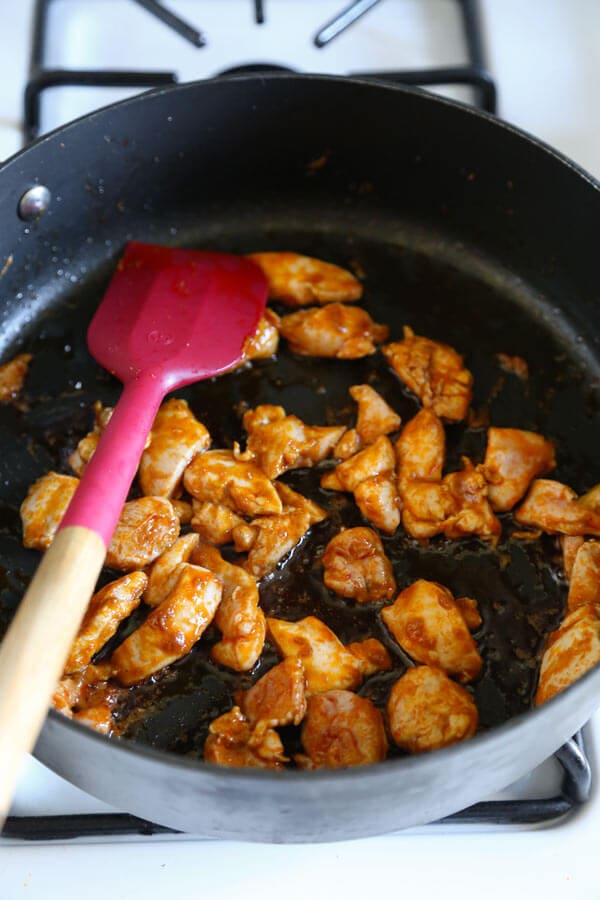 Either way I promise you'll enjoy this easy Thai red curry recipe. It's easy, tasty, filling, satisfying and healthy!
Serve this Thai red curry recipe with a side of rice or pasta (we like thin spaghetti), a tom yum soup and a refreshing glass of Thai iced tea.
Other curry recipes you might enjoy: Jamaican chicken curry, Thai jungle curry, Vegetarian curry, Japanese miso curry.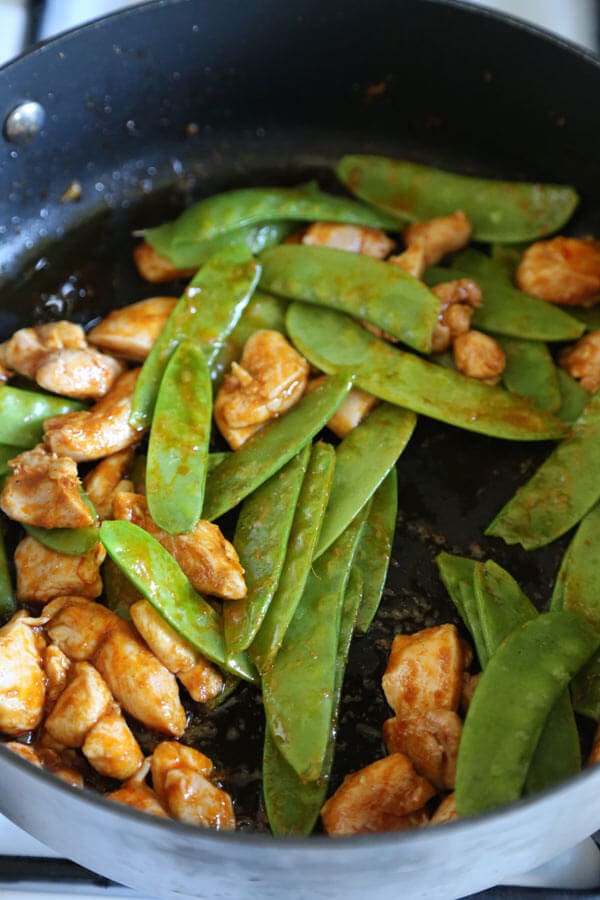 Did you like this Easy Thai Red Curry Recipe? Are there changes you made that you would like to share? Share your tips and recommendations in the comment section below!
Print
Easy Thai Red Curry Recipe
This is a sweet and silky Thai red curry recipe packed with traditional Southeast Asian flavors you'll love – and it only takes 15 minutes to make!
Author:
Prep Time:

5 minutes

Cook Time:

10 minutes

Total Time:

15 minutes

Yield:

2 people

Category:

Stews and curries

Method:

Stove top

Cuisine:

Thai
Ingredients
1 tablespoon vegetable oil
1 1/2 tablespoons red curry paste
1/2 pound boneless, skinless chicken breast (sliced bite size)
1 cup snow peas, stringy seams removed by hand (you can easily pull them)
1/2 cup sliced canned bamboo shoots (drained)
1 cup lite coconut milk
1/2 cup low sodium chicken stock
1 teaspoon granulated sugar
1 1/2 tablespoons fish sauce
4 leaves basil (hand shredded)
Instructions
Begin by snapping off the stem end of each sugar snap pea by using your finger nails and leave the stringy part attached. Pull the string in the same manner as you would unzip a bag. Throw the string away. Repeat until you've remove all the strings from the sugar snap peas.
In a deep pan or pot over medium heat, add oil and red curry paste and cook for 1 minute. Add chicken and cook for 4-5 minutes until chicken is cooked through –

cover with a lid during the cooking process to prevent curry paste from spitting out of the pan.

Add sugar snap pea and cook for 2 minutes.
Add bamboo shoots, coconut milk and chicken stock and cook for 3 minutes.
Add sugar and fish sauce and cook for 1 minute. Turn the heat off, top with shredded basil and serve with white rice or noodles.
Notes
This Easy Thai Red Curry Recipe Is:
Very high in niacin
High in phosphorus
High in selenium
High in vitamin A
High in vitamin B6
High in vitamin B12
Keywords: recipe, Southeast Asian, kaeng phet