This is a sweet and spicy Thai red curry with chicken and creamy coconut milk that offers traditional Southeast Asian flavors and all the comfort you need from a bowl of curry. Make it in just 20 minutes from start to finish!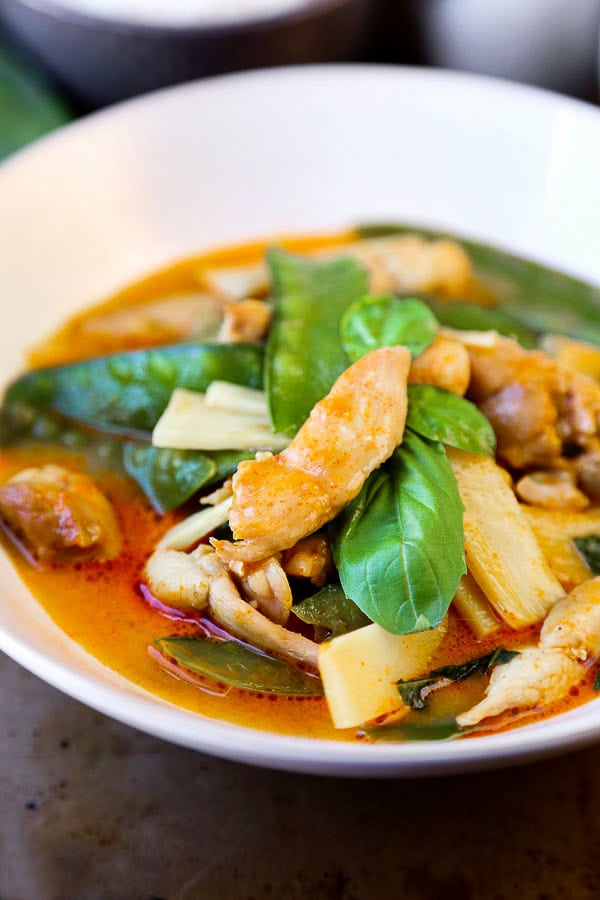 Kaeng Phet Kai
When I lived in Hong Kong I ate curry at least twice a week.
I would visit the same Thai curry shop down the street from where my apartment was and always looked forward to taking home one of their concoctions. That was before I knew how to make Thai food and only cooked when I needed to.
I've come a long way since then!
I've become so good at making curries that I can whip up a big pot with my eyes closed!
I love green curry for its creamy coconut sweetness and mildness but when I want a little heat, my heart belongs to red curry.
And when it comes to making Thai red curry at home, I like to keep it simple. I don't mess around with the formula too much because it's already so delicious!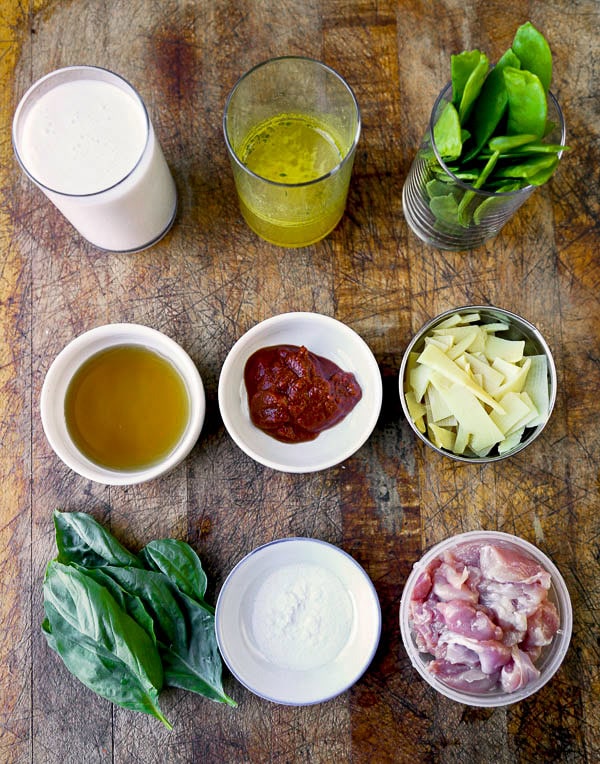 How To Make Thai Red Chicken Curry
Believe it or not, making curry is as easy as making stew!
What makes curry taste so complex and aromatic lies in the curry paste.
Technically, making the paste from scratch isn't hard but it does require ingredients that are not so easy to find. Personally, I prefer using pre-made curry paste because it's faster and mess-free. It's not as nuanced as fresh red curry paste but I like it all the same.
If you would like to make this entire curry from scratch, here's an authentic red curry paste recipe.
For those who are lazy like me, there are plenty of delicious pre-made curry pastes available in stores and online. Scroll all the way to see what brands are my favorite.
Asian curries may taste really complex but they don't have to take long to make. Once you familiarize yourself with the different types of curry pastes, you will be serving curry to your family on a weekly basis!
Take this Thai red chicken curry recipe for example – only 9 ingredients are needed and it's ready in 20 minutes from start to finish.
Easy Chicken Curry
You will need:
Red curry paste (kreung gaeng phet daeng)
Chicken
Snow peas
Canned bamboo shoots
Lite or regular coconut milk
Low sodium chicken stock
Sugar
Fish sauce
Basil leaves
Here's how to make this coconut chicken curry:
Pull the stringy part off each snow pea. Leaving it on makes chewing on snow peas very unpleasant!
Warm up the curry paste in a pan and then add your chicken. Put a lid on to avoid red curry paste splatters and leave for a few minutes.
Add the snow peas and bamboo shoots and cook for 2 minutes.
Stir in the coconut milk and chicken stock and cook for 3 minutes.
Add the sugar and fish sauce, stir and cook for 1 more minute.
Finish by topping the curry with some fresh basil leaves and serve.
That's it!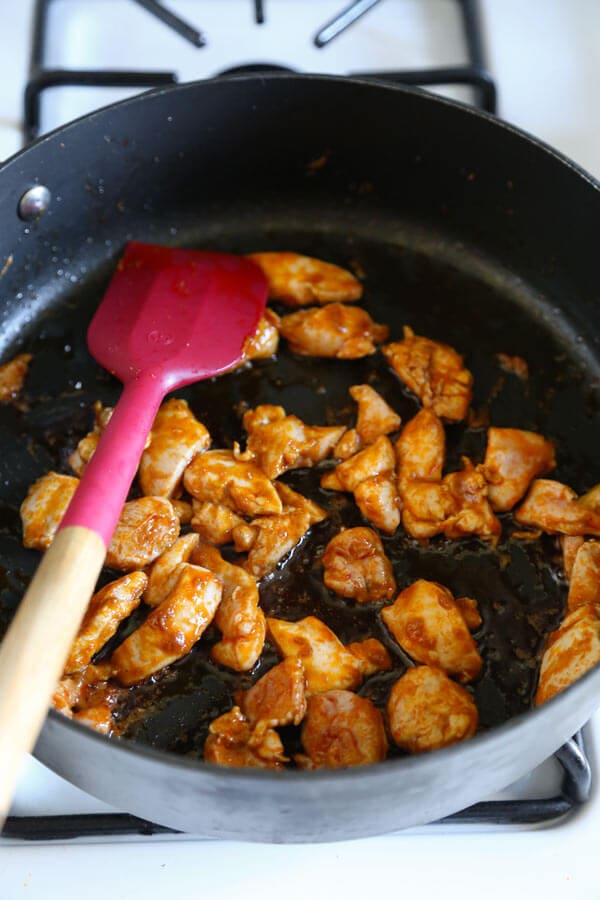 What Kind of Rice to Serve with Thai Curries
Just like curry pastes, choosing the right rice to serve your curry with can make or break the dish. While brown rice is healthier than white rice, it simply doesn't work with Thai curries. The texture of brown rice is too thick and hard, and the grains don't have the ability to absorb liquid as well as other kinds of rice.
This is one instance where I would say to focus more on the overall dining experience rather than trying to make the dish more healthy.
Jasmine rice
Jasmine rice is the norm when it comes to Thai curries. I have a post written about jasmine rice here if you are interested to know how to cook it. It's a variety of fragrant rice that smells vaguely like jasmine and popcorn and tastes a little sweet. It's a long grain rice that's a little sticky but as sticky as Japanese rice. Jasmine rice is mostly grown in Thailand, Cambodia, Laos and Vietnam.
Jasmine rice vs basmati rice
I've often wondered what the main difference was between jasmine rice and basmati rice since they look so similar. Both are long grain rice but that's about as far as it goes in terms of likeness. Jasmine rice is actually shorter and plumper than basmati rice, which is thin and long.
Basmati rice is also softer and fluffier than jasmine rice since it's not sticky at all.
Japanese rice
While most Asian curries aren't paired with short grain Japanese rice, I personally quite enjoy it! Although it can be quite sticky, it soaks up the curry sauce very nicely. If you don't have or can't find jasmine rice, Japanese rice makes a great substitute. Third option would be basmati rice and finally, all medium grain rice.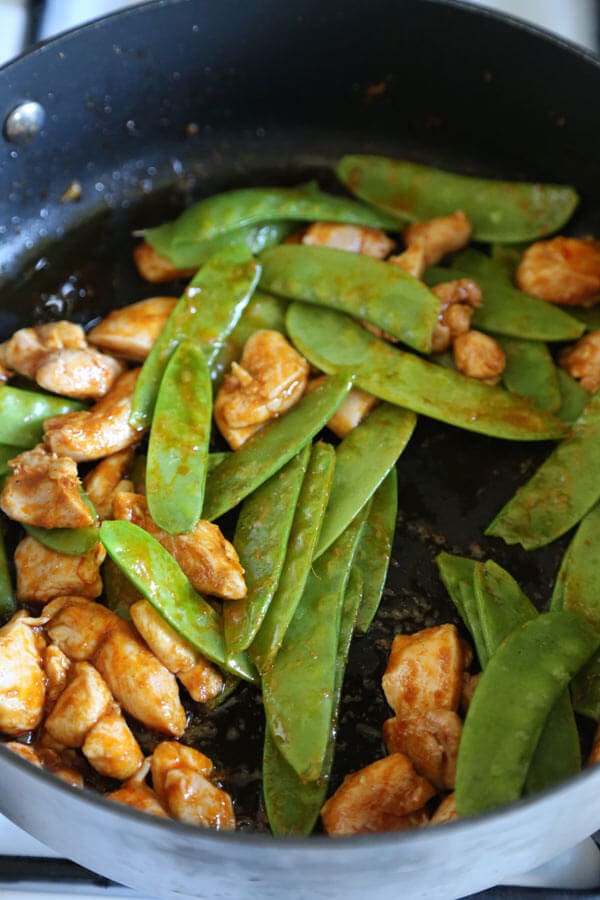 What is the Difference Between Red Curry, Panang Curry, Green Curry?
Red curry
Red chilies and chili powder are the base ingredients for red curry. It's then cooked with ingredients such as garlic, turmeric, shrimp paste, lemongrass, shallots, chilies, and coconut milk. Red curry is a little sweet, spicy and pungent.
Panang curry
Panang curry – also spelled Penang or Penaeng – on the other hand is sweeter and less spicy than red curry. That's because the main components are coconut milk and peanuts. It also contains less red chilies than red curry and get its name from the island of Penang in Malaysia, where it hails from.
Green curry
Green curry is made with fresh coriander, kaffir lime leaf, and basil. Chilies are also added for heat but it's important to point out that not all green curries are hot. I've had mild and very spicy green curry. Just like red curry, it's cooked with various other ingredients such as  garlic, shrimp paste, lemongrass, shallots, and coconut milk.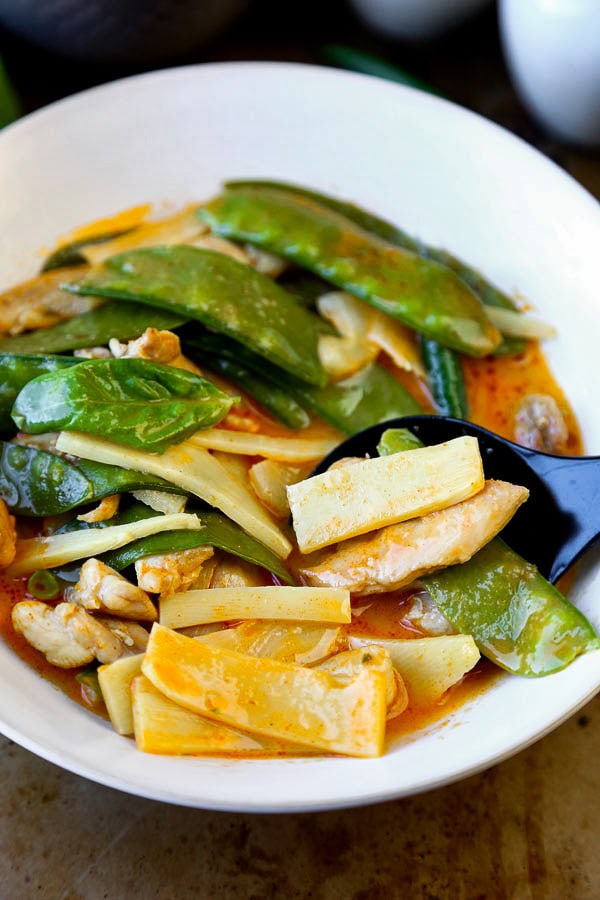 Best Red Curry Paste
There are three brands I cook with and they all taste quite different!
Mae Ploy
If you have spent time in Thailand biking through the hills of Phuket, riding horses in Pattaya, and sweating over a bowl of lip numbing curry, you will love Mae Ploy. This red curry paste is seriously pungent, salty and very spicy! Be careful not to add too much – a little goes a long way!
Maesri
Another famous Thai brand that's used by Thai chefs, Maesri has all the aromatic flavors expected to be found in a red curry. It's also quite spicy so start with a little paste and work your way up. Maesri is less salty than Mae Ploy and the aromatics a bit more complex and rounded because the paste contains more ingredients.
Thai Kitchen
This is not my favorite by any means but a good starting point for Thai food newbies.
You can find Thai kitchen in most grocery stores in the ethnic food section. This paste isn't very spicy nor is it excessively pungent. It's very easy to cook with, especially if you have some family members who cannot handle a lot of heat. If you are not used to traditional Thai cuisine which can taste funky to the western palate, this is the curry paste you want in your pantry.
An Easy Thai Curry Recipe
What I love about Asian curries is that many of the ingredients are easily interchangeable.
You can substitute chicken for beef, seafood or tofu – or omit the sugar snap peas and add chickpeas and potato instead – and you'll still end up with a yummy bowl of curry.
Either way I promise you'll enjoy this easy Thai red chicken curry recipe. It's easy, tasty, filling, satisfying and healthy!
Other yummy recipes using coconut milk: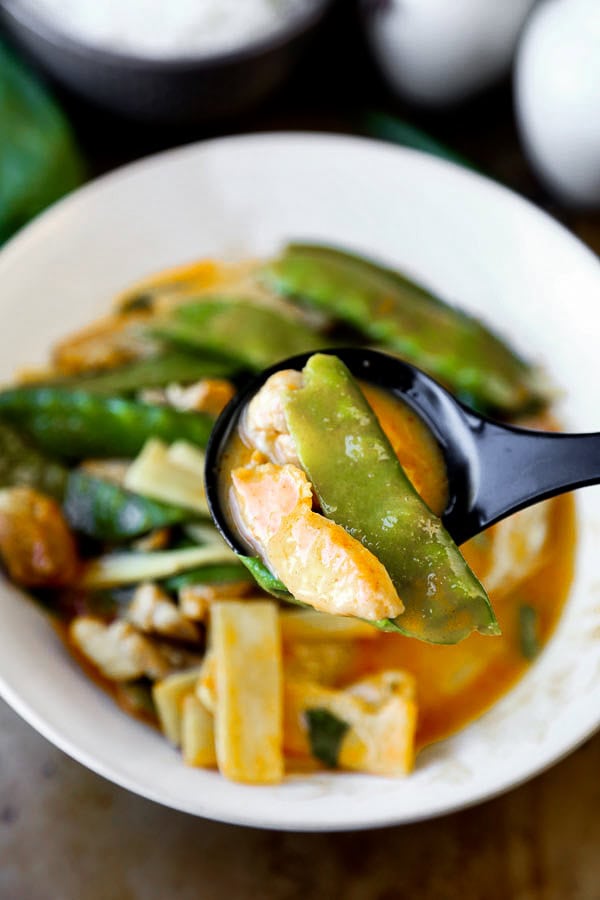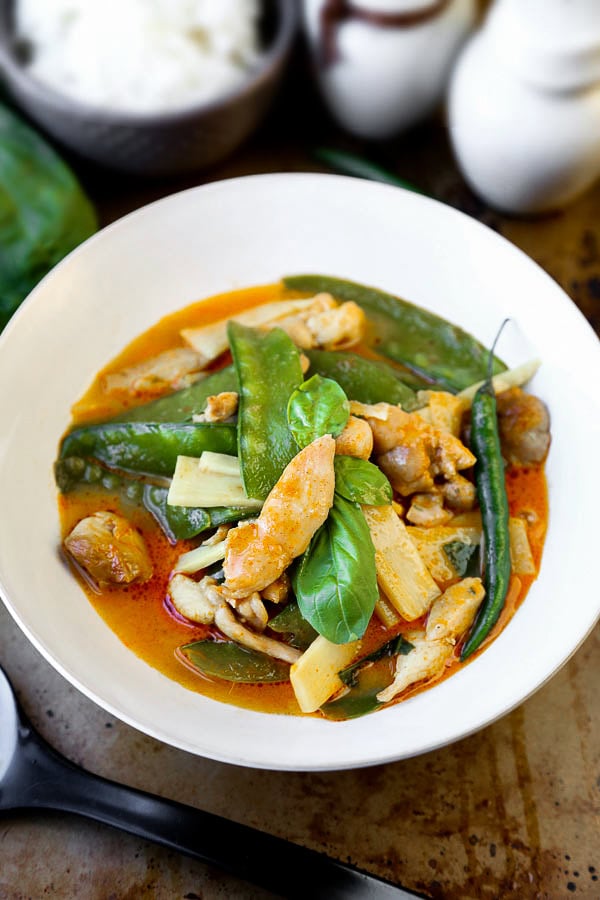 Did you like this Easy Thai Red Curry Recipe? Are there changes you made that you would like to share? Share your tips and recommendations in the comment section below!
Print
The Best Thai Red Chicken Curry
This is a sweet and spicy Thai red curry with chicken and creamy coconut milk that offers traditional South East Asian flavors  and all the comfort you need from a bowl of curry. And it only takes 15 minutes to make! 
Author: Caroline Phelps
Prep Time:

10 minutes

Cook Time:

10 minutes

Total Time:

20 minutes

Yield:

2

people

1

x
Category:

Stews and curries

Method:

Stove top

Cuisine:

Thai
1 tablespoon

vegetable oil

1 1/2 tablespoons

red curry paste

1/2

pound boneless, skinless chicken breast (sliced bite size)

1 cup

snow peas, stringy seams removed by hand (you can easily pull them)

1/2 cup

sliced canned bamboo shoots (drained)

1 cup

lite or regular coconut milk

1/2 cup

low sodium chicken stock

1 teaspoon

granulated sugar

1 1/2 tablespoons

fish sauce

4

leaves basil (hand shredded)
Instructions
Begin by snapping off the stem end of each sugar snap pea by using your finger nails and leave the stringy part attached. Pull the string in the same manner as you would unzip a bag. Throw the string away. Repeat until you've remove all the strings from the sugar snap peas.
In a deep pan or pot over medium heat, add oil and red curry paste and cook for 1 minute. Add chicken and cook for 4-5 minutes until chicken is cooked through –

cover with a lid during the cooking process to prevent curry paste from spitting out of the pan.

Add the snow peas bamboo shoot and cook for 2 minutes.
Add coconut milk and chicken stock and cook for 3 minutes.
Add sugar and fish sauce and cook for 1 minute. Turn the heat off, top with shredded basil and serve with white rice or noodles.
Notes
This Thai red chicken curry will keep refrigerated for up 4-5 days, stored in an air tight storage container.
Nutrition
Serving Size:
Calories:

293

Sugar:

6.2 g

Sodium:

1440.7 mg

Fat:

12.8 g

Saturated Fat:

8 g

Carbohydrates:

12.7 g

Fiber:

3 g

Protein:

3.9 g

Cholesterol:

78 mg
Keywords: recipe, Southeast Asian, kaeng phet kai, coconut curry, chicken curry
Recipe Card powered by