This is a quick, easy and VERY tasty recipe for chicken pho made with leftover roasted chicken. Ready in 20 minutes, this full-flavored chicken pho recipe delivers the savory promise of a slow cooked broth in about 20 minutes – the best!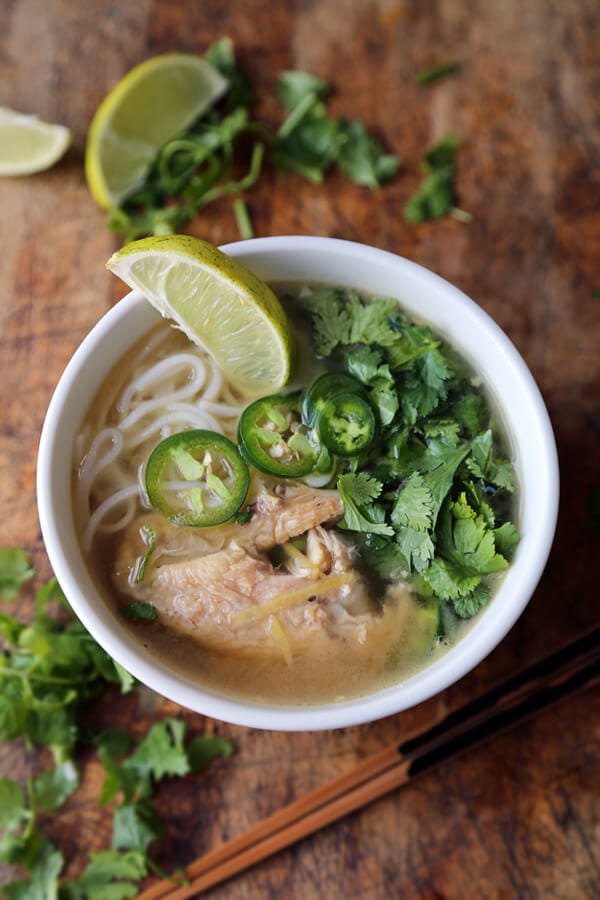 Roasted Chicken Pho Recipe
I'm a little crazy for pho.
Yep – it's just one of those Asian soup recipes I fall head over heels for in pretty much any form I find it in.
The only drawback arises when I'm totally craving pho, but am also pressed for time. Sure, I could order out and get delicious Vietnamese soup delivered to my doorstep. But Seamless already gets enough of my money 🙂
Luckily, I have a total all-pro hack for an easy chicken pho recipe that will deliver the full-flavored, savory promise of a slow cooked broth in about 20 minutes.
Seriously, this is a fun one!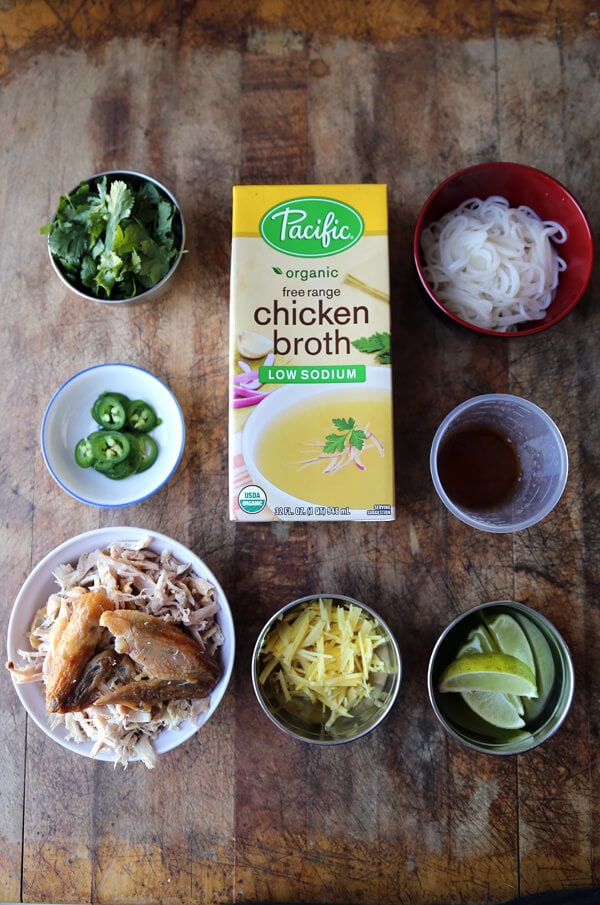 But first, what is pho?
Pho is a Vietnamese soup made up of rice noodles, herbs and a savory broth made from aromatics like charred onion, ginger, star anise, fennel seed, cinnamon and simmered beef bones.
While there are a ton of regional variations from recipe to recipe in Vietnam, the one nearly constant factor is that, in Vietnam at least, pho is breakfast food.
Wait… what?
Yep – pho is traditionally eaten in the morning. It's the perfect balance of filling yet light. Great if you're headed in to work and need fuel for your body – but don't want to be weighed down by a heavy meal.
In the West, we tend to eat it for lunch or dinner. Different strokes, right?
So is pho Vietnamese chicken noodle soup?
Not exactly. You see pho is the composed dish. And it can be served in a number of ways. Most usually, it is served with multiple cuts of beef and offal. It is wonderful with thinly sliced rare beef.
Btw… if you're looking for a simple and delicious beef pho recipe (phở bò), check this out 🙂
So then, chicken pho (aka: pho ga – or phở gà) is Vietnamese noodle soup with served with chicken instead of beef, right?
Yep!
And, while that's an oversimplification of a very layered and dense foodie topic, we're here to cook, right?! So let's get to it!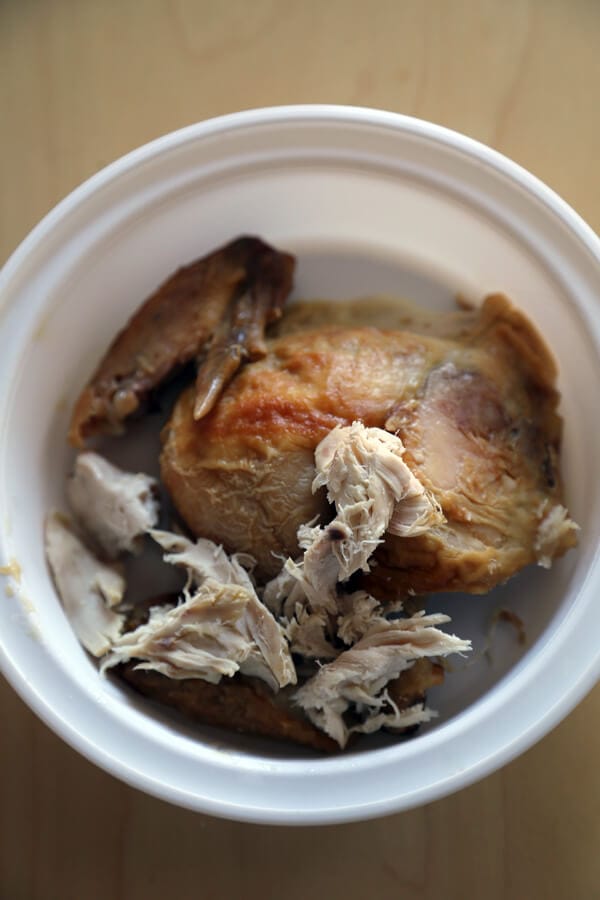 So here's the big reveal for my super easy chicken pho recipe
The set up: The night before last, I served a roast chicken (one of those pre-cooked rotisserie deals they sell at the supermarket) with lentils, roasted veggies and a big bowl of gravy.
You see, I was born in Montreal – so I need a chicken and gravy fix as often as possible, hehe! But I digress…
The dilemma: Buying a roast chicken for two means there are definitely going to be leftovers the next day.
And that got me thinking…
One of the best and tastiest ways to serve leftover chicken is by making chicken noodle soup. Classic American chicken soup is comforting and delicious.
Why couldn't the same rules apply for Vietnamese chicken pho!? I mean, the roast chicken should theoretically impart deep, smoky flavor to a broth in a super short amount of time.
The solution: So, I decided to try my theory – and, let me tell you, it did not disappoint!
Into the stockpot, that roast chicken went!
I am not exaggerating when I say this chicken pho recipe is absolutely TO DIE FOR.
In fact, this homemade pho is one of my favorite new quick chicken recipes. Perfect for those times you just need a dose of comforting, rich flavor, but don't have enough time for said flavors to develop in the normal time frame.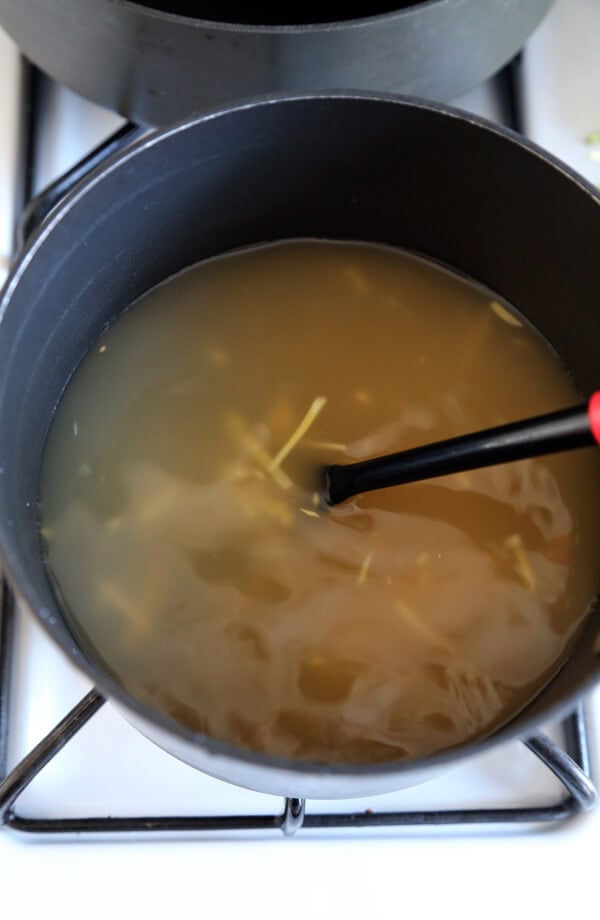 How to make pho
As mentioned, this version differs quite a bit from a traditional pho soup recipe.
In Vietnam, you'll see complex, time honored and close guarded broth recipes, handed down through the generations being prepared.
So, keeping in mind that this is a departure from the norm, let's see how we can go about making this super quick chicken pho recipe in 20 minutes. Perfect for busy work and school nights!
In keeping with the quick and easy theme of this chicken pho recipe, I am using store bought low sodium chicken stock. However I highly recommend making the broth yourself if you're so inclined. It delivers an even more chicken-y taste!
Simply add a quart of chicken broth and around two tablespoons of thinly sliced ginger to a pot – and bring to a boil.
Shred your leftover rotisserie chicken with your fingers (or two forks). Add it to the boiling stock, along with a couple tablespoons of fish sauce. Cover and simmer that savory, bubbling goodness for about 15 minutes.
Meanwhile, prepare your rice noodles according to the instructions on the package.
Once the soup and noodles are ready, just assemble your bowls: noodles, herbs like cilantro, basil and mint – and a heavy splash of broth.
Finally, just add a little fish sauce, julienned ginger strips and chiles to taste.
You totally have a bowl of savory Asian street food on the table, without even leaving your doorstep!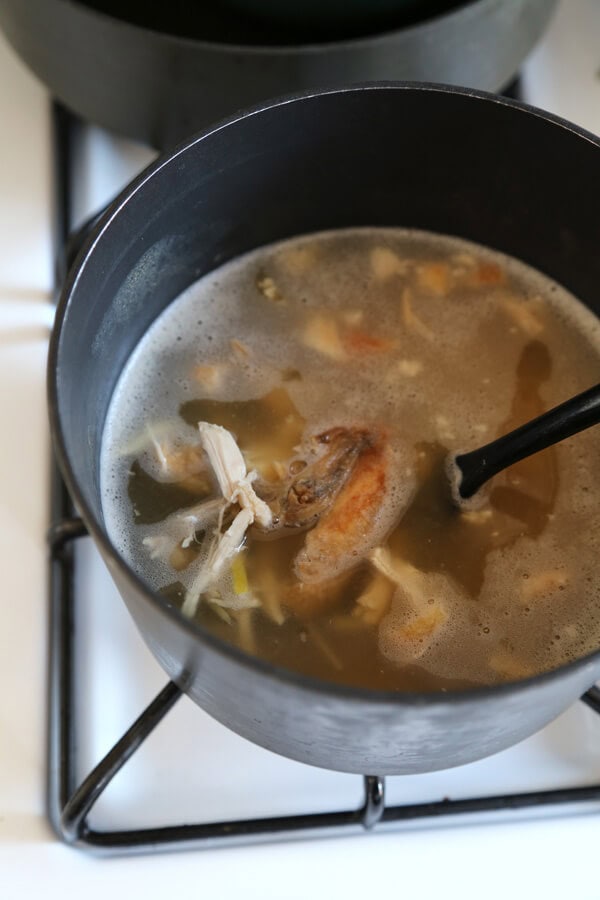 What are the best pho noodles?
Most times, you'll find pho served with rice noodles – sometimes referred to as rice stick noodles.
Most brands of Asian rice noodles will call for you to prepare them simply by soaking in hot water and draining – although some brands will call for a full boil. Read the package!
And, while some rice noodles come in thicker varieties, pho is usually served with noodles that are vermicelli thin.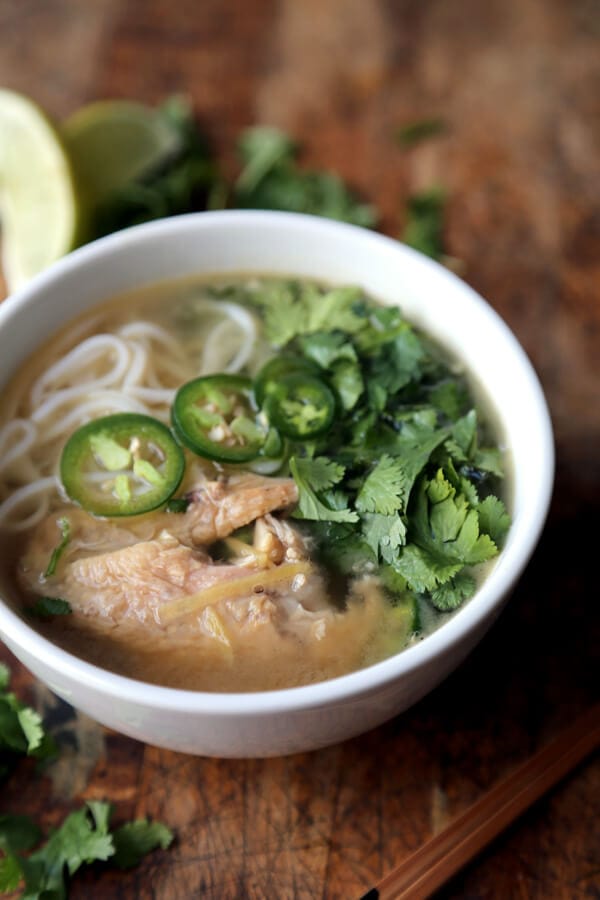 An easy chicken pho recipe you can add your own mark to
Cooking should be a fun and carefree experience. Give yourself license to play around with different techniques and ingredients.
Obviously, the more you play, the more familiar you'll become with making the things you'll LOVE to eat.
The measurements for this easy chicken pho recipe are arbitrary. You can add more or less chicken – or noodles for that matter – depending on whether you want the soup to be an appetizer or a main.
Even the type of noodles and sides are optional; my husband loves using ramen noodles with a squirt of sriracha. I gravitate towards rice noodles and a squeeze of lime.
What makes this chicken pho recipe taste so darn good is the use of roasted chicken meat instead of regular boneless chicken breasts. The broth seriously tastes like it's been simmering in a barbecue pit; intense and smoky!
That said, if you're a vegetarian you can easily make this vegetarian pho broth recipe and use it in your own homemade pho creations.
It's your world. Savor it!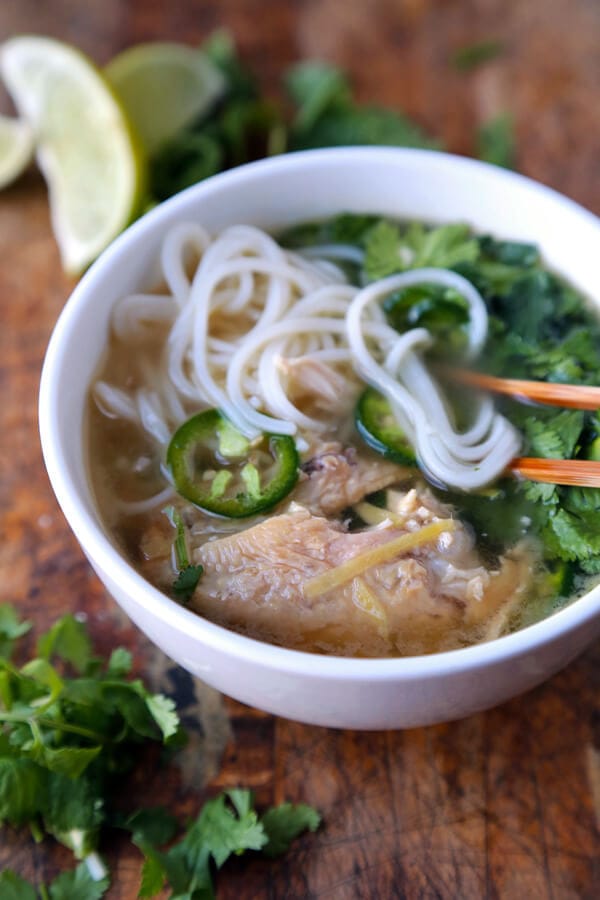 I like pairing this chicken pho recipe with a light spicy Thai mango apple salad or some quick vegetable maki rolls. The recipe for this easy chicken pho makes enough for four appetizer size bowls or two mains.
Other yummy Asian recipes:
Did you like this Easy Chicken Pho Recipe? Are there changes you made that you would like to share? Share your tips and recommendations in the comments section below!
---
Print
Easy Chicken Pho Recipe
This is a quick, easy and VERY tasty recipe for chicken pho made with leftover roasted chicken.
Author: Caroline Phelps
Prep Time:

5 minutes

Cook Time:

15 minutes

Total Time:

20 minutes

Yield:

2

people

1

x
Category:

Soups

Method:

Stove top

Cuisine:

Vietnamese
1 quart

low sodium chicken stock

2 tablespoons

ginger (cut into thin strips)

2 cups

roasted chicken (shredded or roughly chopped)

2 tablespoons

fish sauce

1/2 cup

cilantro (finely chopped)

1

jalapeno (thinly sliced)

6 ounce

rice noodles, dry
lime wedges
Instructions
In a medium pot over high heat, add broth and ginger and bring to a boil.
Shred the roast chicken using your fingers and add to the broth. Add fish sauce, lower heat and cover. Simmer for 15 minutes.
Bring a pot of water to boil and turn the heat off. Add rice noodles and let soak for 6-10 minutes or follow instructions on the package. Strain and set aside.
Put your bowl of soup together by adding noodles and topping with jalapeno and cilantro.
Serve chicken pho recipe with lime wedge and white pepper.
Notes
This Easy Chicken Pho Recipe Is:
Very low in sugar
High in manganese
High in niacin
High in selenium
Nutrition
Serving Size:
Calories:

439

Sugar:

1.9 g

Sodium:

3000.2 mg

Fat:

1.6 g

Saturated Fat:

0.6 g

Carbohydrates:

74.1 g

Fiber:

1.8 g

Protein:

27.8 g

Cholesterol:

48 mg
Keywords: recipe, main, noodle soup, chicken noodle soup, Asian
Recipe Card powered by