Crunchy, spicy, chewy inside out maki rolls you won't be able to stop eating! Sriracha flavored vegetable fried rice rolled in nori and stuffed in a cucumber – this recipe is guaranteed to wow friends and family!

Cucumber Vegetable Maki Rolls
I've been spending quite a bit of time on Pinterest lately (you can follow me here), both as a curator and a contributor (my recipe pictures). I love swiping through pages and pages or gorgeous food photos as it gives me ideas of what to cook in the kitchen. I came across a raw cucumber sushi recipe I thought looked delicious and decided to give it my own twist. What if I made some sort of fried rice, rolled it in nori and stuffed it inside a hollow cucumber? Would these cucumber vegetable maki rolls be any good? It turns out that yes, a big YES they were absolutely scrumptious!! Not only did they taste great, they felt great too, like I was feeding my body something really healthy.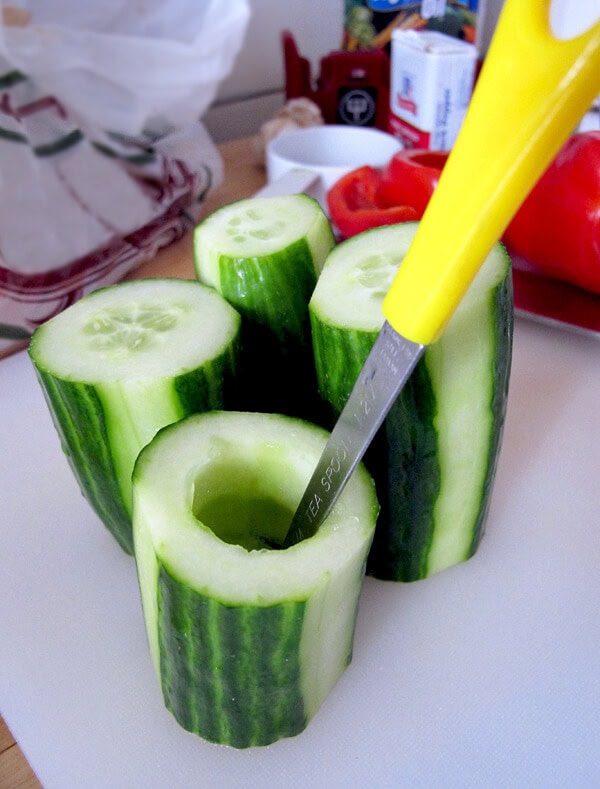 The tricky part is to make the nori wrapped fried rice nicely fit into the cucumber. I had some issues with that in the beginning but then discovered that by twisting it in, just like with a screw, it was very easy to achieve the desired result. I preferred the thinner slices while my hubby Ben loved the thick ones for having more of a crunch.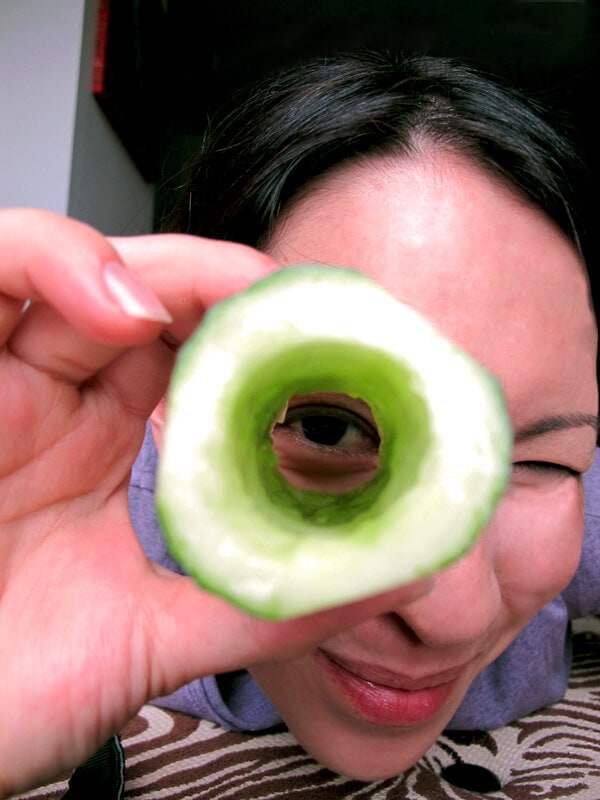 This is a perfect little appetizer or hors d'oeuvre that suits everyone; it's a vegetarian dish even the most avid meat eater will enjoy. It's colorful, light and very tasty.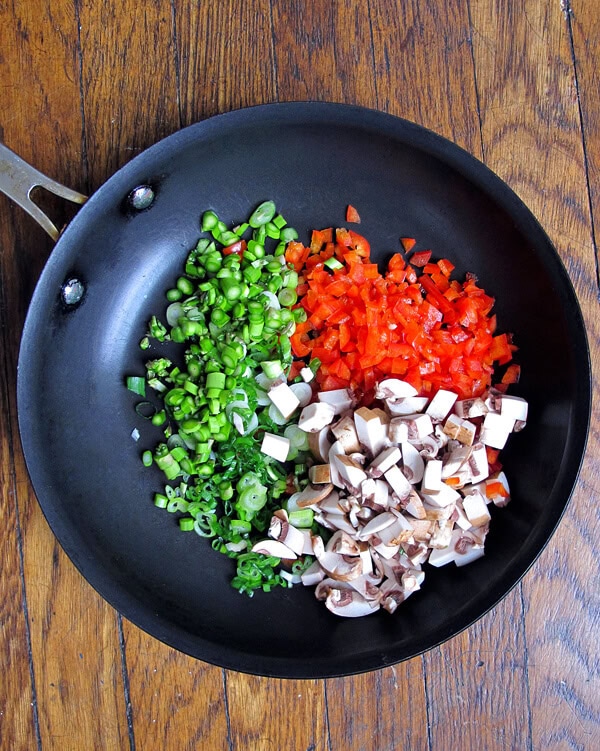 You'll be left with some extra fried rice, so lucky you, you'll have enough for tomorrow's lunch. You could use other vegetables than the ones I chose but I wouldn't advise veering off too far from this recipe.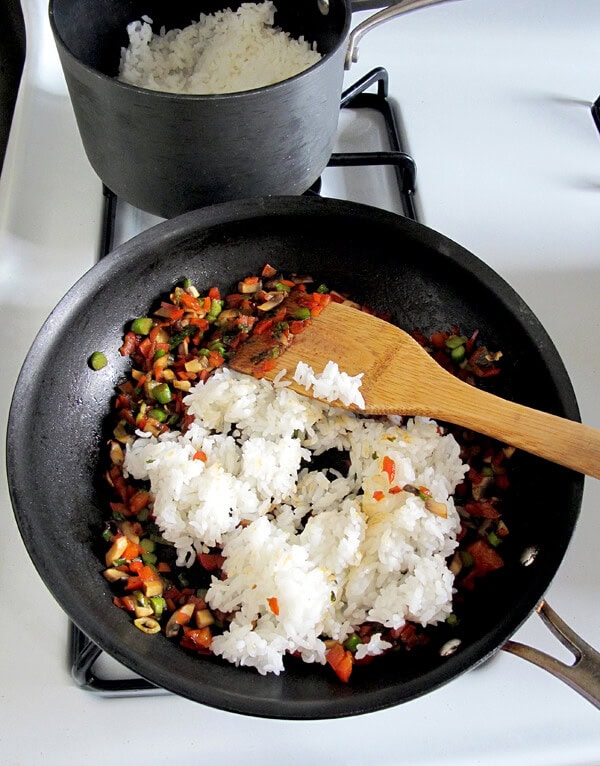 Carrots for example are too sweet to be paired with the spicy and slightly acidic fried rice and have a strong, distinct flavor. Stick with vegetables that aren't too sweet or assertive to ensure success.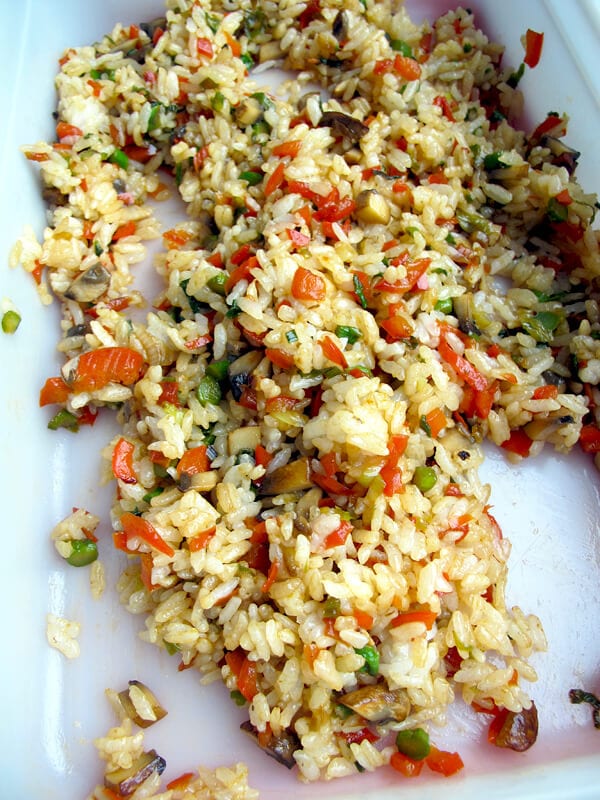 This recipe isn't enough to make a meal so I served the vegetable maki rolls as part of an izakaya style (tapas style) dinner. Quick recipes such as Japanese omelet, hiyayakko (cold silken tofu) and vegetable salad with miso lemon dip go really well with the rolls and take not time to prepare.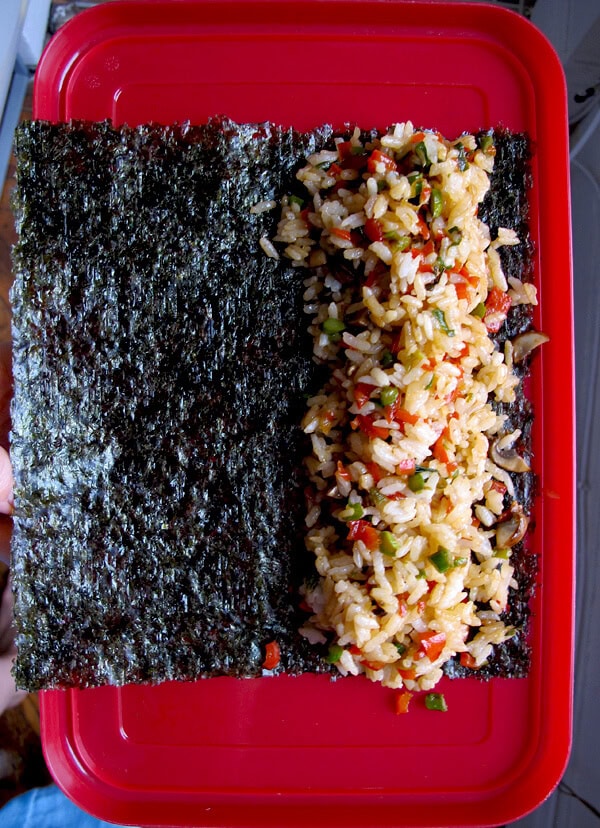 Cucumber vegetable maki rolls can keep in the fridge overnight but taste better made on the day you plan to eat them.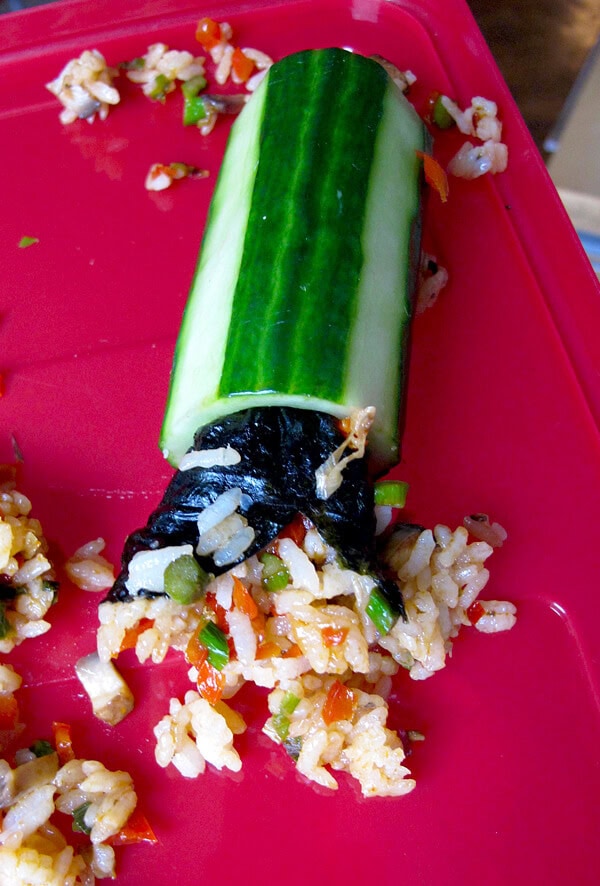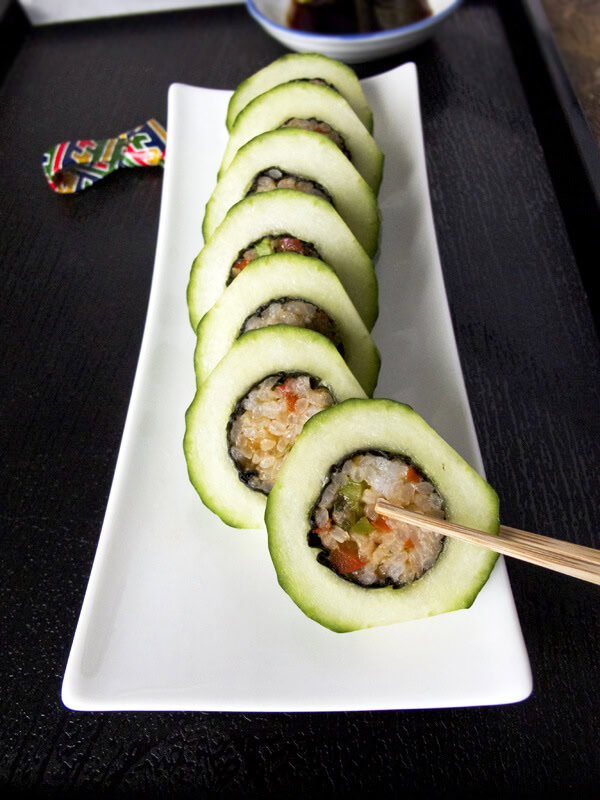 Print
Cucumber vegetable maki rolls
Colorful and healthy recipe for cucumber vegetable maki rolls
Author: Caroline Phelps
Prep Time:

15 minutes

Cook Time:

5 minutes

Total Time:

20 minutes

Yield:

2

people

1

x
Category:

Appetizer

Cuisine:

Japanese, Rice
1 1/2 cup

cooked Japanese rice

1

English cucumber (cut into quarters lengthwise)

1 tablespoon

vegetable oil

1/2

red bell pepper (finely diced)

3

stalks asparagus (stems picked and finely diced)

2

scallions (finely chopped)

4

buttons mushrooms (finely chopped)

2

sheets nori (dried seaweed)

1 tablespoon

sriracha sauce

1 tablespoon

rice vinegar

1 tablespoon

soy sauce
soy sauce and wasabi (for dipping)
Instructions
Scoop out the seeds and inside of each piece of cucumber until hollow, using a small spoon (about the size of a 1/2 teaspoon).
In a pan over medium high heat, add oil and vegetables. Cook for 4 minutes, until vegetables are cooked but still yield a crunch. Turn off the heat.
Add sriracha sauce and soy sauce and mix well. Add Japanese rice and mix well, careful not to mash the rice but rather fluff it with a wooden spoon. Turn the heat off and transfer rice to a bowl. Add rice vinegar, mix well and let cool to room temperature.
Lay a sheet of nori on a flat surface where you'll be able to roll it. Spoon some rice (about 1/2 cup) on one end of the sheet and spread evenly from top to bottom.
Roll and dab a little water to the edge of the sheet before you finish rolling (this will seal the nori and prevent it from unsticking).
Grab a piece of cucumber and twist the rice wrapped in nori into the hole, in a rotating motion. If you have used too much rice and the hole is too small, don't worry, by twisting it in, it will push out the excess rice and fit nicely into the hole.
Grab a sharp knife and cut both ends nicely. Discard the ends. Slice cucumber piece about 3/4 inch thick or desired thickness.
Serve with soy sauce and wasabi.
Recipe Card powered by