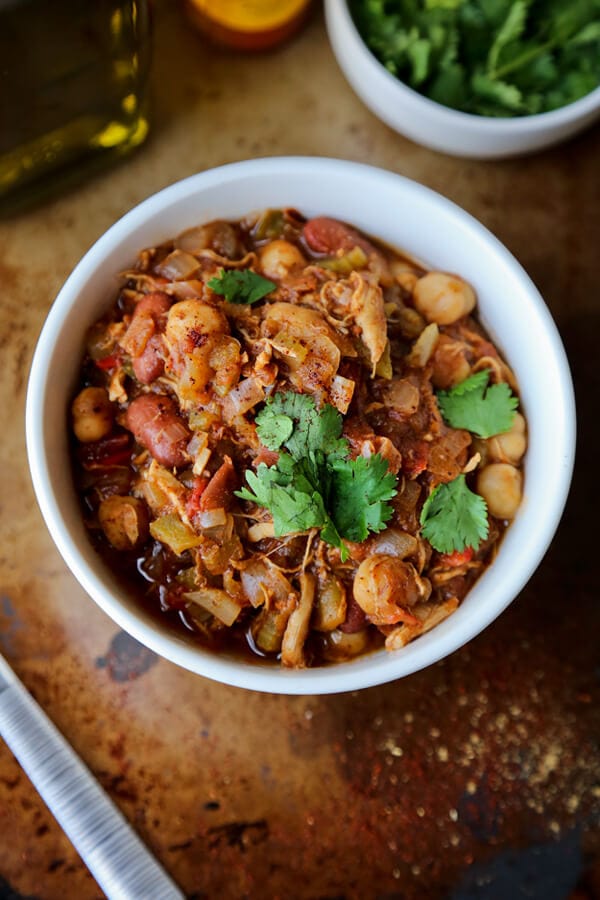 Chicken chili recipe
You know what I like about chili? How despite the fact that it's hearty and filling, it's also very healthy. Look at all the ingredients I'm using for this chicken chili; beans, spices, peppers, celery, cilantro, garlic and lean chicken! This dish can easily fool anyone who claims not to like stuff that's 'too healthy' because they believe it won't taste good. It's a colorful, tasty and nutritious lip smacking bowl of goodness.
Kheema and Vindaloo are some of the types of curries I often cook but Ben's favorite is this shredded chicken chili. He loves the texture (almost like pulled pork) and sweet kick from the cinnamon powder. This chili is quite dry as well which means a little goes a long way since the flavors are more intense.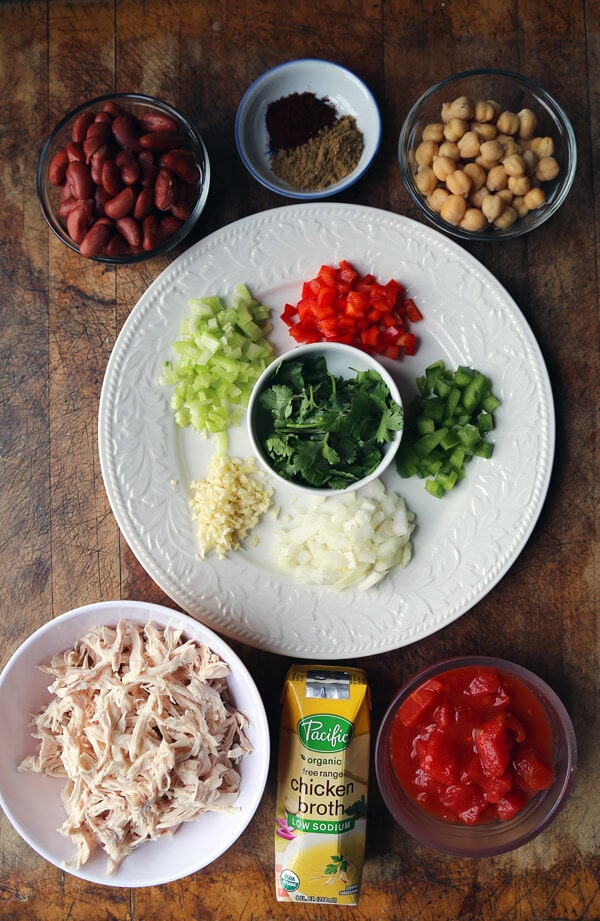 I've always loved the assertive smells of cumin and chili powder, signaling something hot and tasty is about to be served. When it's dark and rainy outside, we stock up on snacks and make a pot of something hearty and comforting like this shredded chicken chili. Rainy days (especially Sundays) forces us to sit back and relax, something we tend to take for granted after living so many years in stress inducing NYC. It's nice to spend all day in my jammies and fluffy slippers while my chili slowly simmers in the kitchen and Ben plays catch the feather with our cat Tsukune. That's how we spend family time together; good food, lots of laughter and layers of flannel clothing.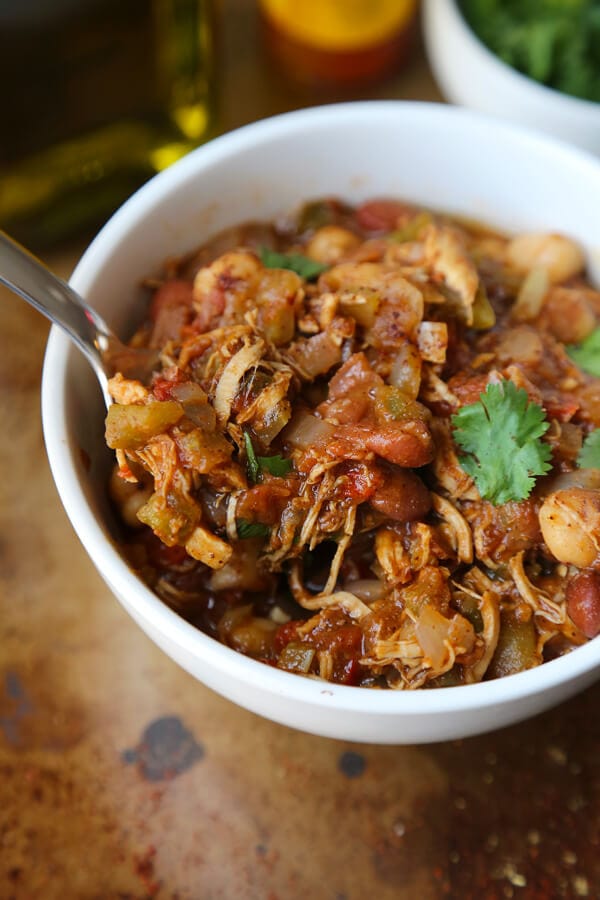 I like to eat my chili the traditional American way; with rice and topped with cheddar cheese. Ben on the other hand is more creative when it comes to how he eats his chicken chili: with spaghetti, roasted potatoes (very yummy, think patatas bravas) or as a dip for his favorite pretzel crisps. I'm the cook of the house and he's the food Picasso, always mixing ingredients or adding more flavor to his dishes while I sit back, unwilling to alter the formula to my recipes. I guess we compliment each other that way; he makes me think outside the box and I am there to pull him back whenever his plate starts to look like a pile of brown mish mash 🙂
This shredded chicken chili is enough to serve 4 to 6 (medium size servings) and can keep in the fridge for about a week. If you want to go super healthy, serve this chicken chili with a brussels sprout salad with kale and asparagus or some quinoa stuffed peppers. Or you can add a punch of flavor by topping it with some pickled daikon.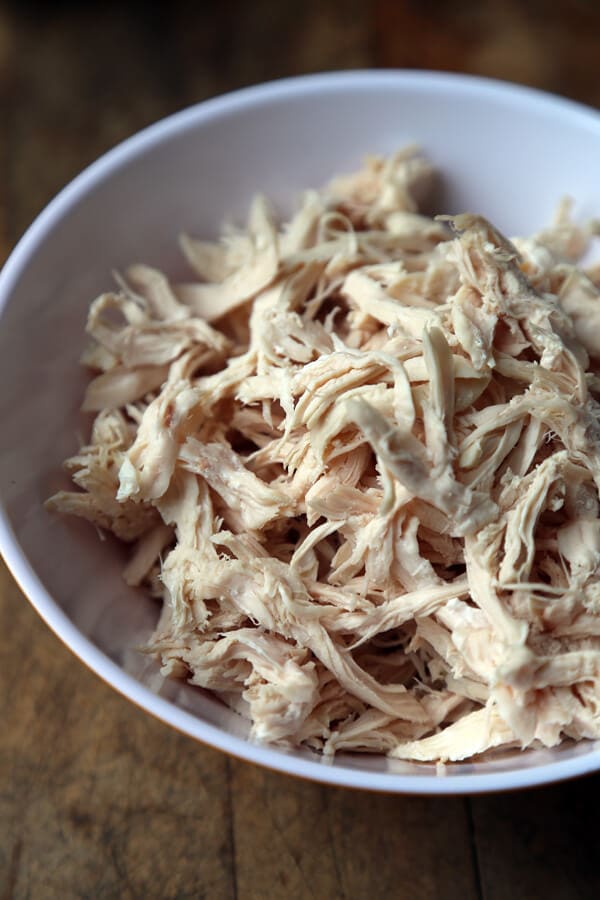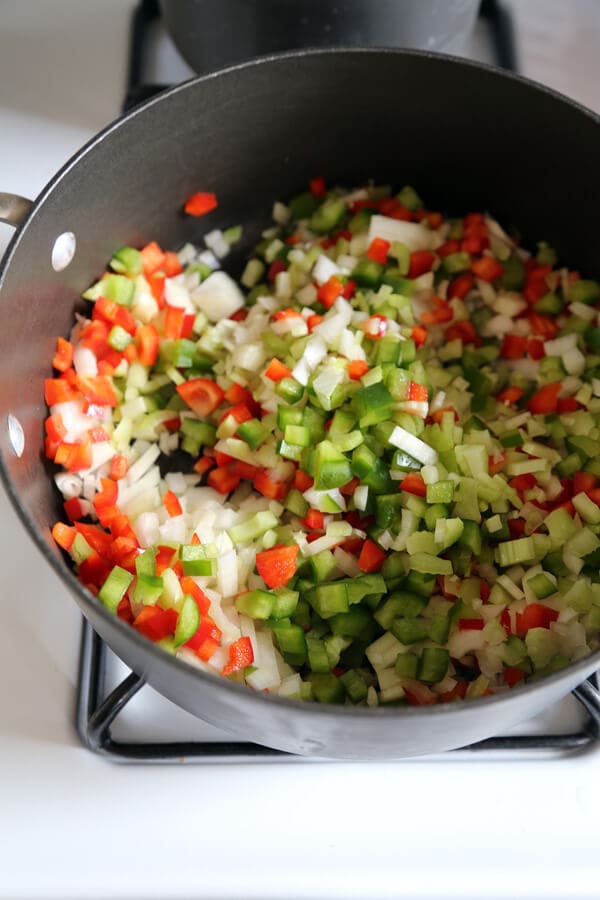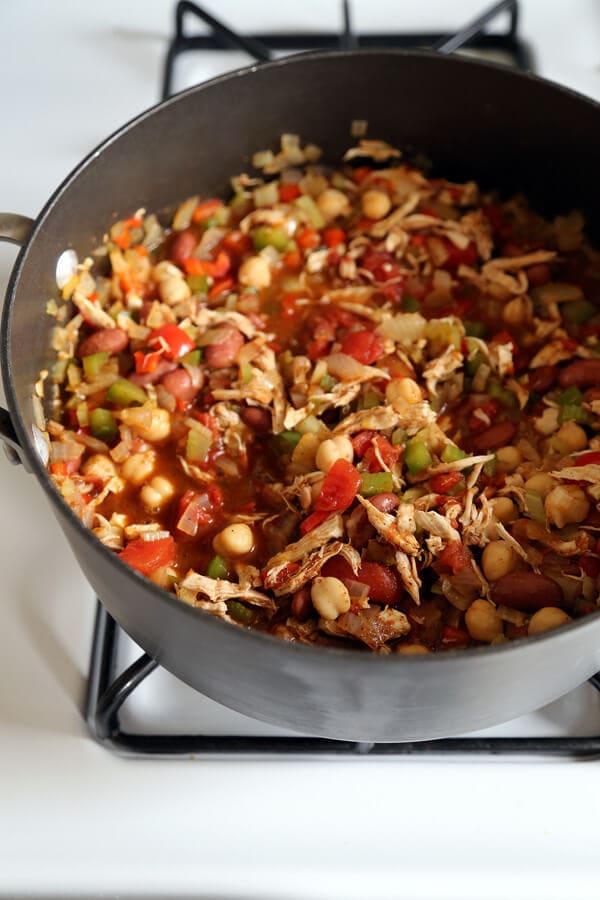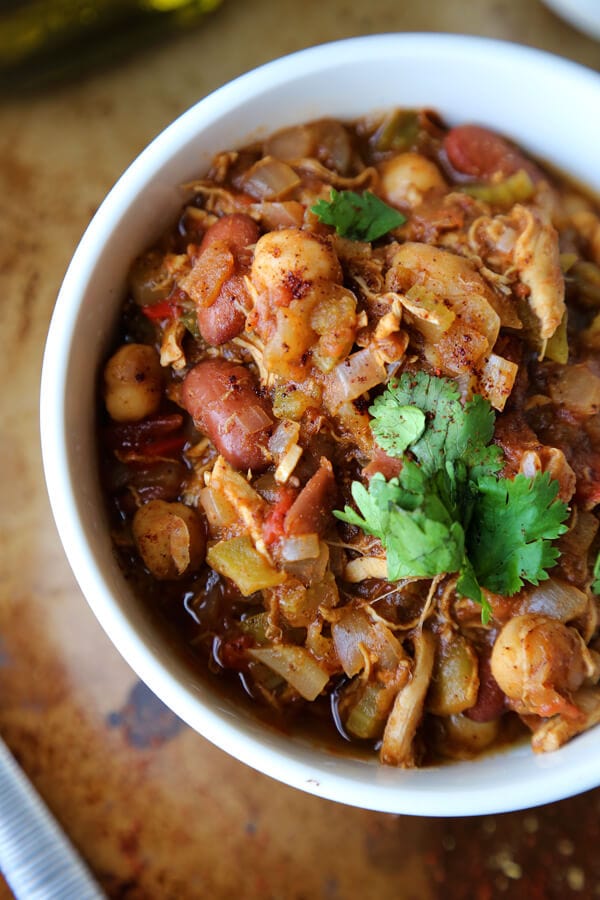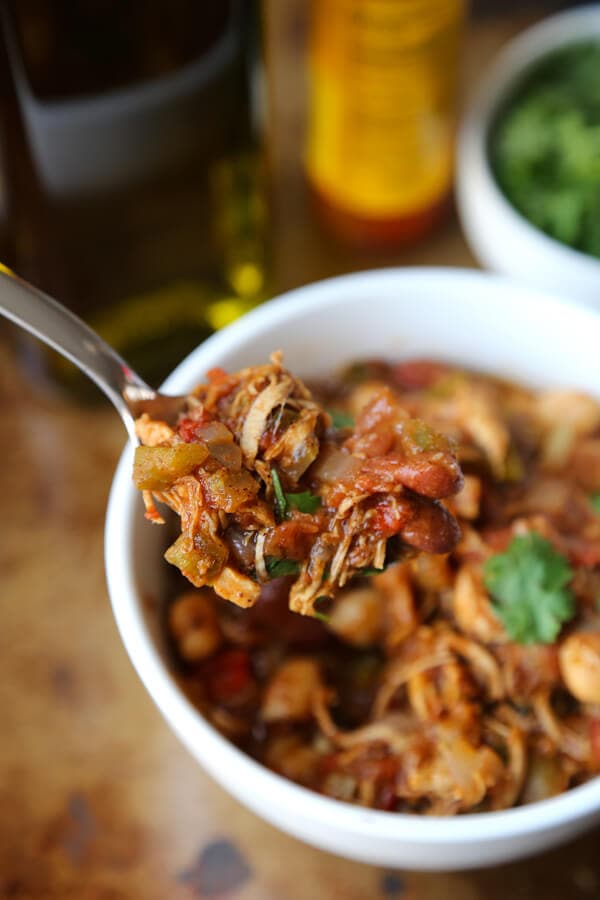 Print
Chicken Chili Recipe
Prep Time:

15 minutes

Cook Time:

30 minutes

Total Time:

45 minutes

Yield:

4

people

1

x
Category:

Main
1 tablespoon

extra virgin olive oil

3

stalks celery (finely chopped)

2

cloves garlic (minced)

1

medium onion (peeled and finely chopped)

1/2

red bell pepper (cored, seeded and finely chopped)

1/2

green bell pepper (cored, seeded and finely chopped)

3/4

pound boneless, skinless chicken breast

1 tablespoon

chili powder

1 tablespoon

cumin powder

1/2 teaspoon

cinnamon powder

1 teaspoon

kosher salt

1 cup

low sodium chicken stock

28 ounce

can diced tomatoes

10.5 ounce

can chickpeas (rinsed and drained)

10.5 ounce

red kidney beans (rinsed and drained)

1 tablespoon

balsamic vinegar

2 tablespoons

cilantro (finely chopped)
Instructions
Cook or boil the chicken breasts and finely shred using your fingers.
In a large pot over high heat, add olive oil, garlic, onion, celery, red and green bell peppers. Cook for 5 minutes, until vegetables are tender.
Add chicken, chili, cumin, cinnamon, salt and stir well.
Add chicken stock, tomatoes, chickpeas and kidney beans and bring to a boil.
Lower heat, cover and simmer for 30 minutes.
Turn off the heat, add balsamic vinegar and cilantro and stir well. Season with more salt if needed and serve.
Recipe Card powered by