Who knew that vegan chocolate chip cookies could be this addictive! Made with coconut oil and packed with semi sweet chocolate chips, they taste like the real thing. If you like your cookies on the crispy side, this is the recipe you've been looking for!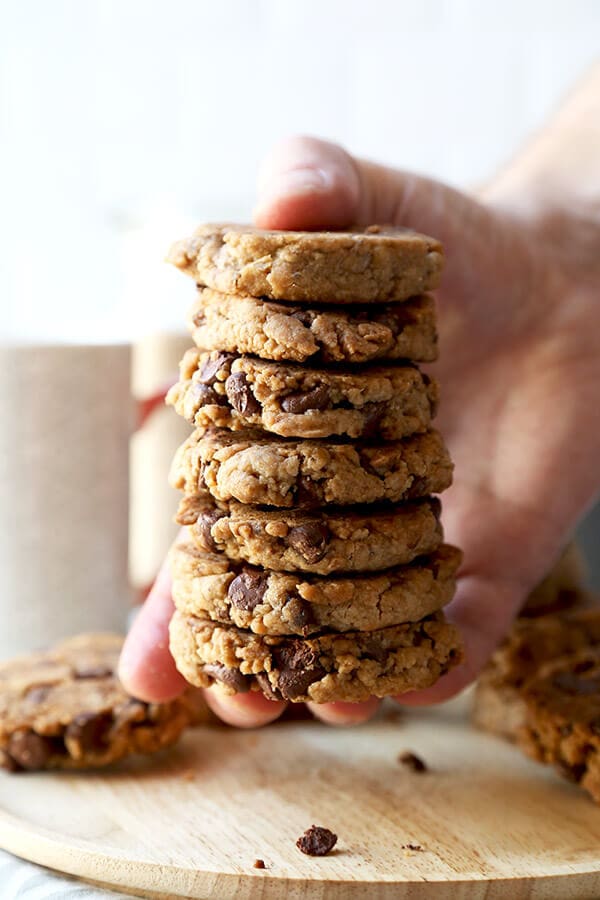 Vegan Chocolate Chip Cookies
The first time I made these vegan chocolate chip cookies, I was convinced the recipe was going to fail. The dough looked really dry and the amount of chocolate chips I used seemed over the top.
Nevertheless, I went ahead and put them in the oven to bake and hoped for the best. At 12 minutes the dough hadn't changed much, which was worrying considering most cookie recipes suggest a baking time of no more than 8-12 minutes.
It turns out that giving the cookies an extra five minutes did the trick; the cookies were perfectly baked and smelled incredible!
The worried look on my face slowly dissipated as I took the first bite: the cookie was crispy, almost crumbly, filled with melted chocolate chips and a hint of coconut flavor. The kind of cookie I like! I knew at that point that these vegan chocolate chip cookies were going to appear on my blog. Phew!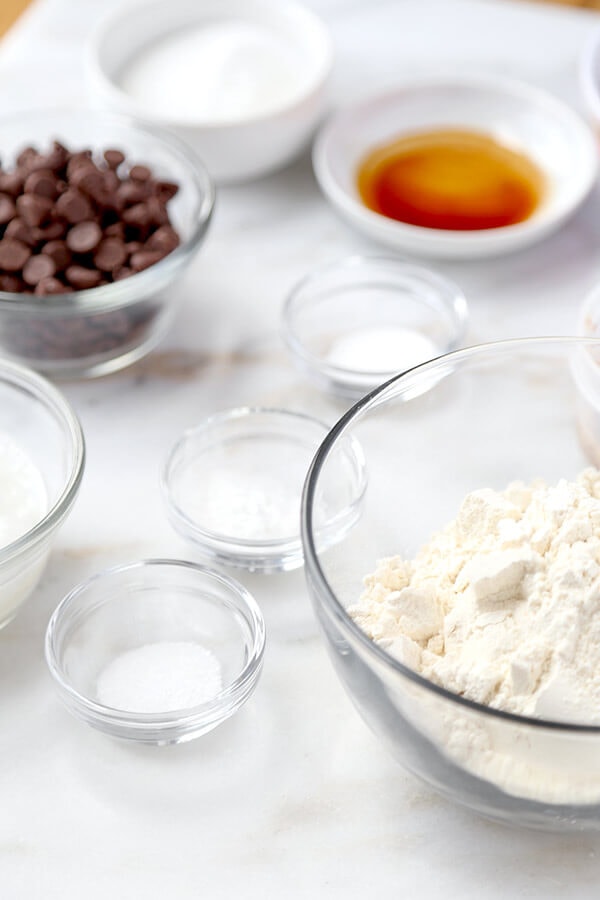 Lately Ben and I have been indulging on episodes of The Great British Baking Show (on Netflix). We will sit and watch back to back episodes during dinner time and make a day of it on Sunday.
Watching these amazing bakers create works of art is riveting! I can also see myself in them – blood, sweat and tears – and especially when someone is failing at a task. There is one episode in season 1 where Iain attempts to make a baked Alaska and the whole thing fails. The ice cream doesn't freeze and the entire cake falls apart. Iain is so upset that he throws the cake in the garbage and leaves the tent.
Now, if you cook as often as I do you know exactly how Iain felt at that moment; defeated and heart broken.
I can still see myself crying over a failed ravioli with oxtail sauce I made five years ago. I had spent so much time making individual raviolis from scratch – total cooking time was around three hours – that I broke down when I realized the recipe wasn't going to work.
The edges of the ravioli were dry and the filling bland. The only thing that turned out great was the oxtail sauce; it was thick, velvety and a beautiful red wine color.
I stood in the kitchen with tears running down my face, dirty apron wrapped around my waist and flour dust all over the floor and table. I was absolutely shattered.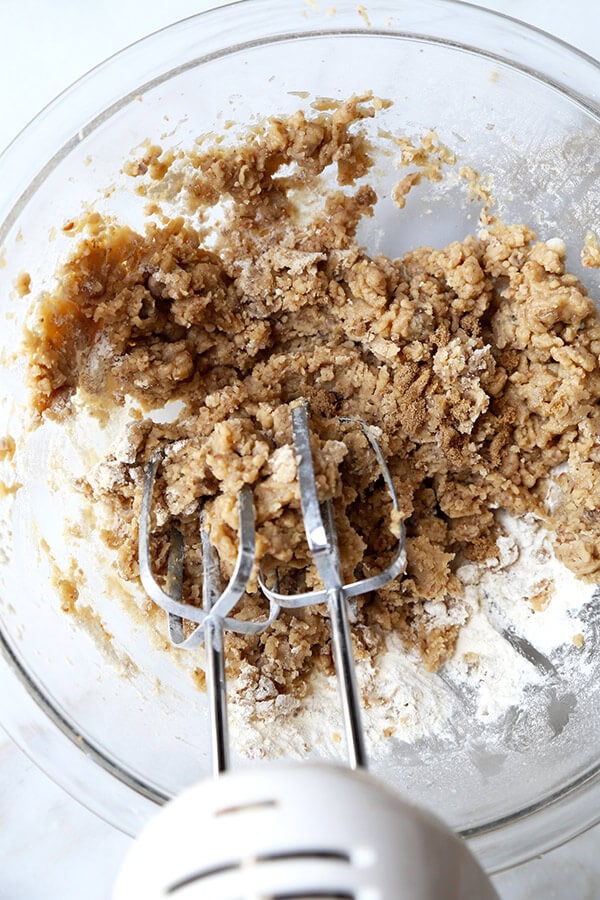 Here's the thing about us bakers and cooks: we create dishes with love and lots of passion.
What we do in the kitchen is both scientific and artistic and when a dish fails it hurts, because the level of commitment put into making it a success is very high.
We want to offer the best food we can to the people we love and let's face it, there's nothing more rewarding than seeing your food being devoured!
I don't bake very often but when I do it's usually something easy and simple. I don't understand proofing, laminating and other baking terms very well, therefore I stick to whisking, mixing and folding. These vegan chocolate chip cookies are exactly that and take around 25 minutes to make.
They taste so close to regular chocolate chip cookies that I dare you to give them to your kids and see if they can tell the difference!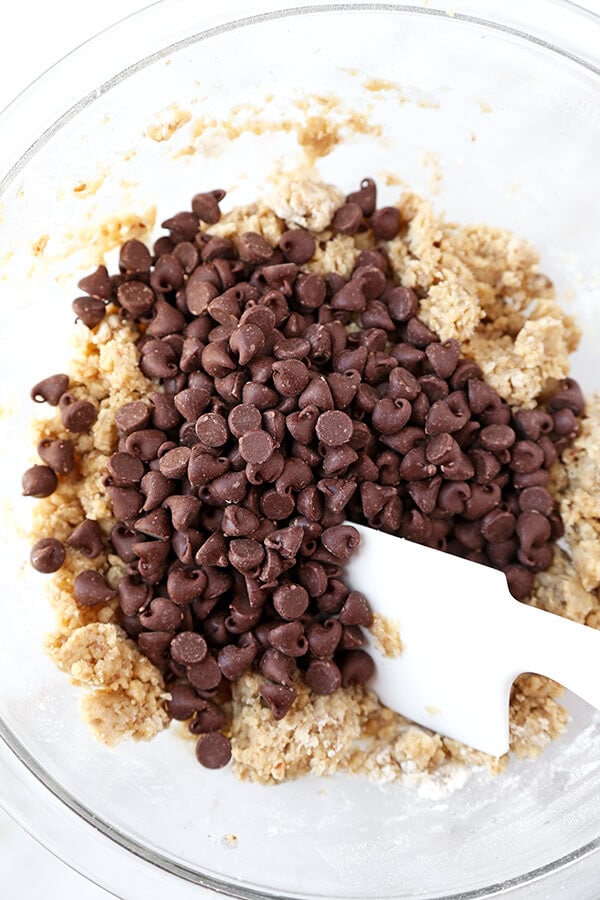 The sugar content in these vegan chocolate chip cookies is high but there are two redeeming ingredients; coconut oil and dark chocolate chips. Half a cup of coconut oil is used in this recipe which is a healthier alternative to butter.
Coconut oil is good for the skin and hair, is easier to digest, boosts the immune system, improves memory and brain functions and can help with weight loss.
The second ingredient, dark chocolate chips also contain a wealth of health benefits. Dark chocolate is high in antioxidants, is healthy for the heart, can reduce stress and protect against the sun's harmful UV rays.
Since I have no plans to give up sweet treats in the near future, the next best thing is to make them healthier. Ready, get set, bake!
Other healthier snack options: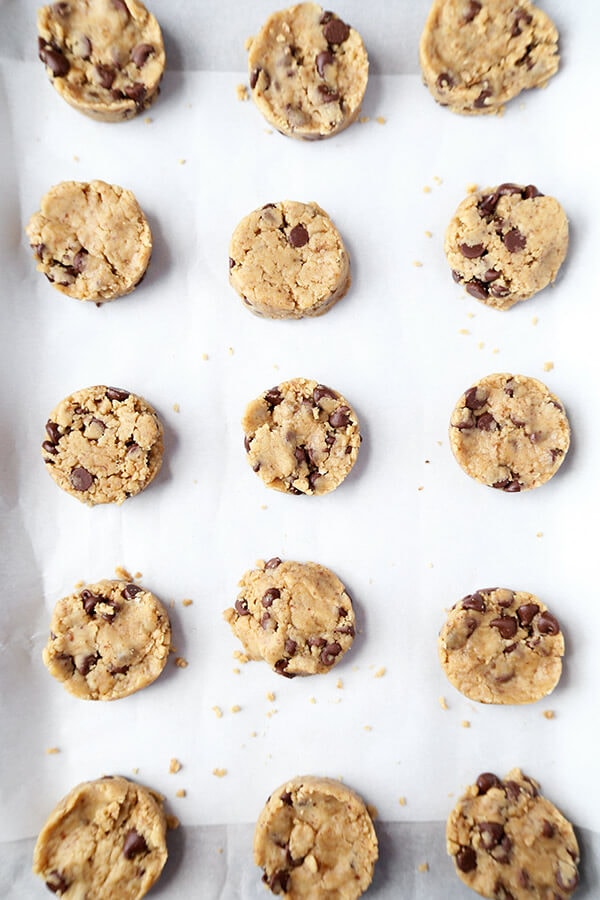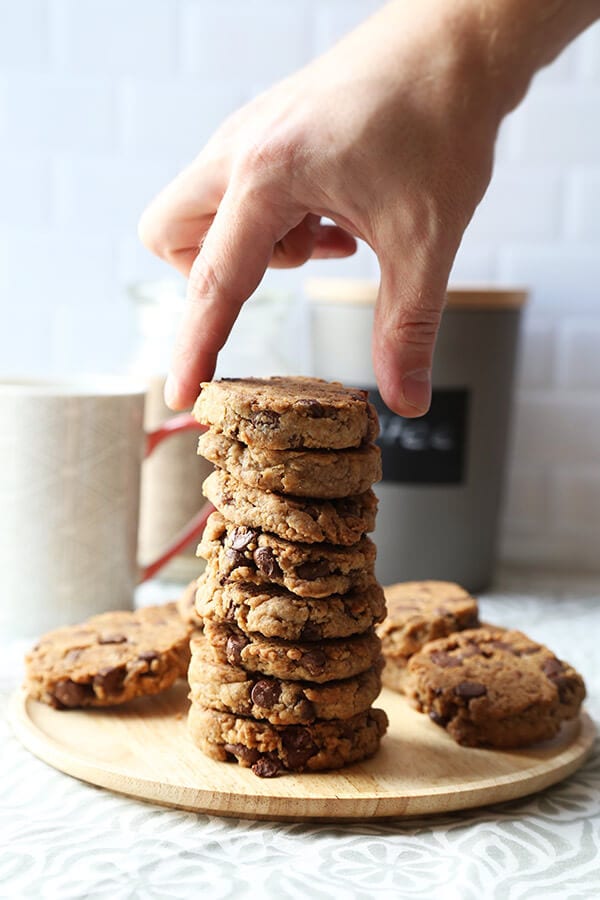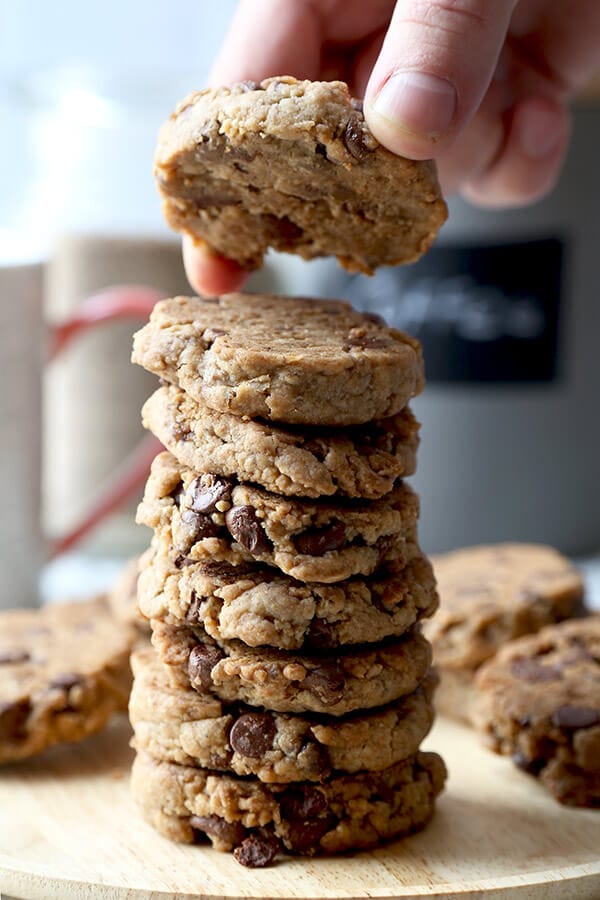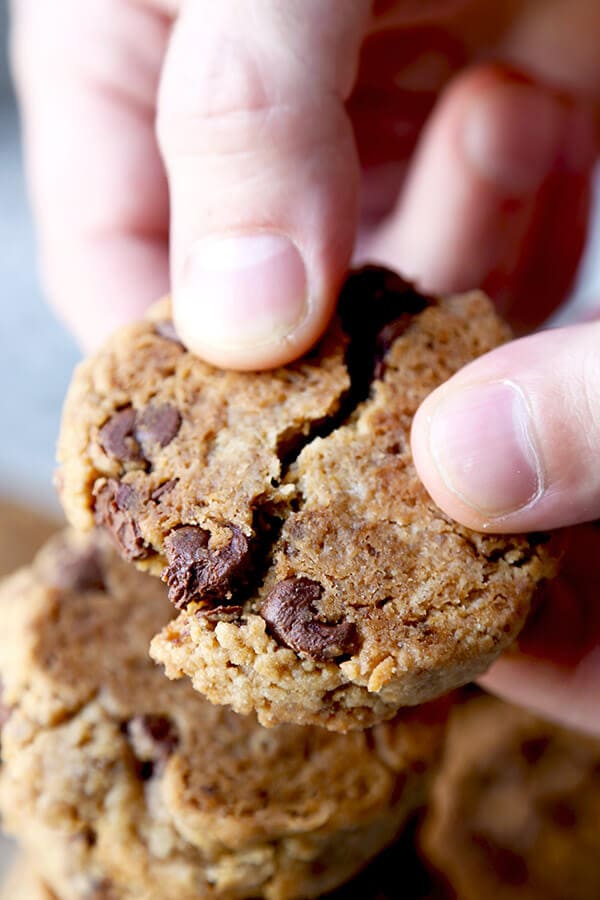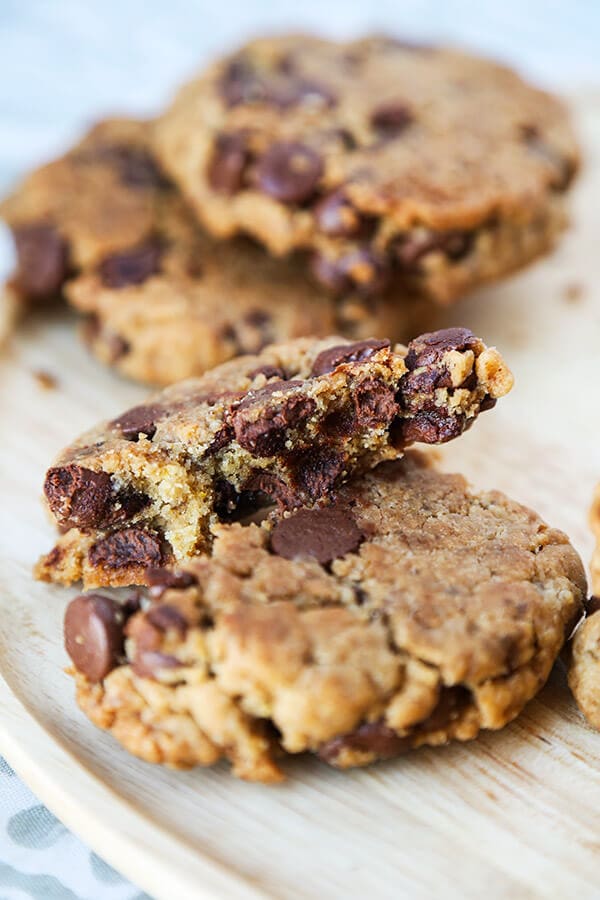 Did you like this Vegan Chocolate Chip Cookies Recipe? Are there changes you made that you would like to share?
Print
Vegan Chocolate Chip Cookies
Heavenly vegan chocolate chip cookies so good, you'll find it hard to stop eating after just one!
Author: Caroline Phelps
Prep Time:

8 minutes

Cook Time:

17 minutes

Total Time:

25 minutes

Yield:

15

cookies

1

x
Category:

Dessert

Method:

Baking

Cuisine:

American
1 1/2 tablespoon

ground flaxseed

1/4

non dairy milk

1/2 cup

organic coconut oil, melted

3/4 cup

brown sugar

1/4 cup

granulated sugar

1/2 teaspoon

kosher salt

1 teaspoon

baking soda

1 teaspoon

baking powder

1 1/2 teaspoon

vanilla extract

1 1/4 cup

all-purpose flour

3/4 cup

vegan semi sweet chocolate chips
Instructions
Preheat oven to 350ºF and line a cooking tray with parchment paper.
Add ground flaxseed in a bowl along with non dairy milk. Mix well and set aside.
In a large mixing bowl, add coconut oil, brown sugar and granulated sugar. Mix using a hand or stand mixer for about 3 minutes, until the mixture looks fluffy and airy.
Add ground flaxseed, salt, baking soda, baking powder and vanilla extract and mix for 1 minute.
Slowly add flour and continue mixing until combined (don't over mix).
Add chocolate chips and using a spatula, gently fold the chips into the batter.
Drop about 1-2 tablespoons of batter onto the parchment paper for each cookie you are baking, leaving about 2 inches of space between the cookies.
NOTE: I used a quarter cup to press the dough in before dropping it onto the tray, which is why each cookie looks uniform.
Bake in the middle rack for 15-18 minutes, until they turn a light golden color.
Take out of the oven and let cool to room temperature. Serve.
Nutrition
Serving Size:

1 cookie

Calories:

246

Sugar:

16.6 g

Sodium:

169 mg

Fat:

14 g

Saturated Fat:

9.7 g

Carbohydrates:

27.6 g

Fiber:

1.8 g

Protein:

2.3 g

Cholesterol:

1 mg
Keywords: recipe, snack, vegetarian, plant based
Recipe Card powered by