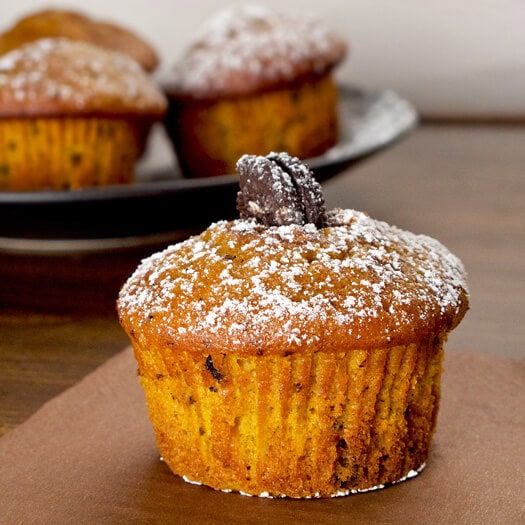 Pumpkin Oreo Muffins
I don't bake very often but when I do it has to be quick and uncomplicated. Since it's fall and Halloween is around the corner, pumpkin muffins seemed like the perfect idea for my baking endeavor. My original plan was to add white chocolate for more sweetness but finding some turned into a headache after two failed attempts at different grocery stores (looking back now, I should've gone to a drugstore, but oh well.. ) Then I came across mini Oreo cookies and thought 'there's white cream in them.. Let's give it a go!'
Wow! These muffins are mmmmgood! Extremely moist, not overwhelmingly sweet but close enough to a cupcake, they're great to have for dessert or breakfast. Wash it down old style with a glass of milk or try iced barley tea for something refreshing! They're obviously not the healthiest dessert to have but it's okay to indulge once in a while! We all deserve a decadent snack for a day, so long as we go back to healthy dishes the next.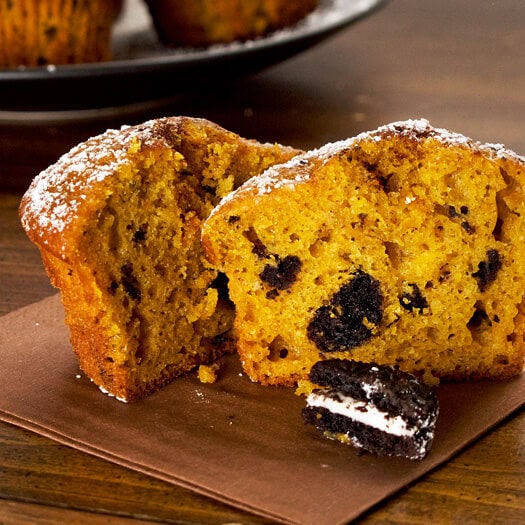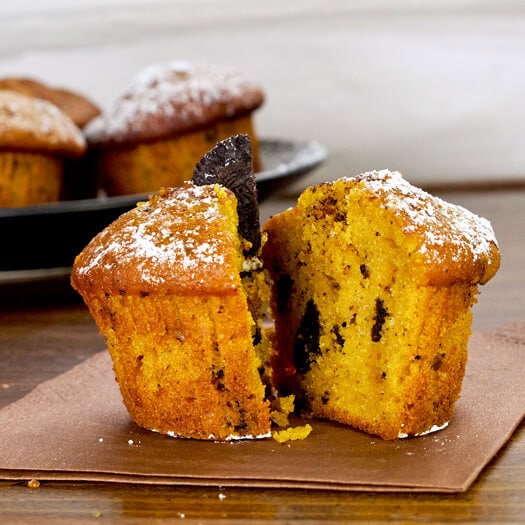 Print
Pumpkin Oreo muffins
Prep Time:

10 minutes

Cook Time:

30 minutes

Total Time:

40 minutes

Category:

Dessert, Breakfast
1 1/2 cup

all purpose flour

1 teaspoon

baking powder

1 cup

pumpkin puree

1/3 cup

vegetable oil

2

large eggs

1 1/4 cup

granulated white sugar

1/2 teaspoon

ground nutmeg

1/2 teaspoon

baking soda

1 teaspoon

kosher salt

1/2 teaspoon

cinnamon

14

mini Oreo cookies ((or

6

regular Oreo cookies))
powdered sugar (for dusting )
Instructions
Preaheat oven to 350ºF.
In a large bowl, whisk the pumpkin, eggs, oil, baking powder, baking soda, ground nutmeg, cinnamon, salt and sugar. When the mixture is smooth, slowly add the flour and whisk until smooth again. Use a resealable bag or plastic to smash the Oreo with a meat tenderizer or other heavy device. They should look like crumbles. Add the crushed Oreos to the batter and mix well.
Fill each muffin cup evenly (3/4 full) with the batter and bake for 25-30 minutes. Use a skewer or chopstick to test the doneness; if it comes out clean, your muffins are ready. Take them out of the oven and let cool to room temperature.
Notes
This step is optional: Dust with a little powdered sugar and insert 1/2 mini Oreo cookie halfway through the top of each muffin.
Recipe Card powered by