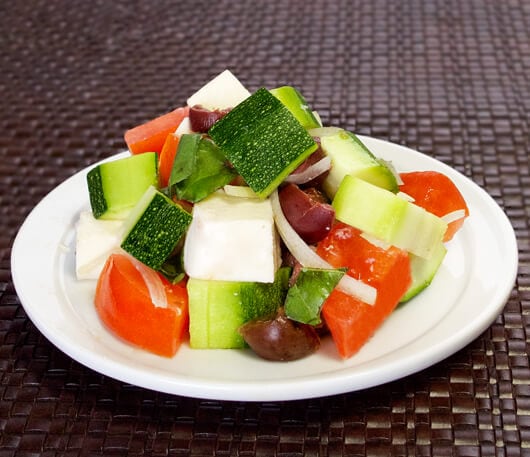 Zucchini Caprese Salad Recipe
Eating healthy snacks can be challenging if you're not too keen on cooking. Take a trip to the supermarket and you'll see shelves after shelves of low fat snacks loaded with empty calories. The problem with these is they leave you wanting more because they contain zero nutrients. Learning to cook quick, easy and healthy meals is important to keep a balanced diet, curb food cravings and avoid trips to the doctor. Eating healthy food is more than just about staying slim; it's about living a long and happy life. It's about fueling your body with tons of vitamins so you have plenty of energy to burn and accomplish all of your life's goals.
Making healthy salads like this 
zucchini Caprese salad
 is an easy way to munch on something that's low in fat and calories, but still high in nutrients. It's basically a simple 
tomato salad
 with
zucchini
, black olives, thinly sliced onions and mozzarella, dressed in this delicious red wine vinegar and sesame oil dressing, and sprinkled with fresh basil leaves. Fresh and clean! With quick and
easy recipes
like this one, you can then afford to indulge a little instead of forever forsaking some of your favorite junk foods. 80% good, 20% bad is a ratio Ben and I have lived by for years now, and it's kept our weight from yo-yoing up and down. Another upside to this ratio; you won't ever feel like you're on a diet!
Print
Zucchini Caprese Salad
Very simple, light and extremely tasty, this zucchini Caprese salad will feel like the sister to Greek salads.
Prep Time:

15 minutes

Total Time:

15 minutes

Yield:

4

people

1

x
Category:

Salad

Cuisine:

Mediterranean
1

zucchini (chopped bite size)

1

large tomato (chopped bite size)

12

kalamata olives (pitted and halved)

1/2

small onion (sliced into half moons)

8 oz

fresh mozzarella (chopped bite size)

8

–

12

leaves basil (roughly chopped)

1/4 cup

extra virgin olive oil

2 tablespoons

red wine vinegar

1 teaspoon

soy sauce

1 teaspoon

sesame oil

1/2 teaspoon

kosher salt
Instructions
In a large bowl, add zucchini, tomatoes, onions, olives and mozzarella. Toss well and set aside.
In another bowl, add extra virgin olive oil, red wine vinegar, soy sauce, sesame oil and salt. Stir well until dressing has emulsified.
Pour the dressing over the salad and toss well. Adjust flavor by adding more salt or vinegar. Sprinkle fresh basil and serve cold.
Nutrition
Calories:

336

Saturated Fat:

10
Recipe Card powered by