No batter is needed for this healthy and delicious okonomiyaki style omelet recipe. Get all the flavors of okonomiyaki minus the carbs! Ready in less than 15 minutes from start to finish.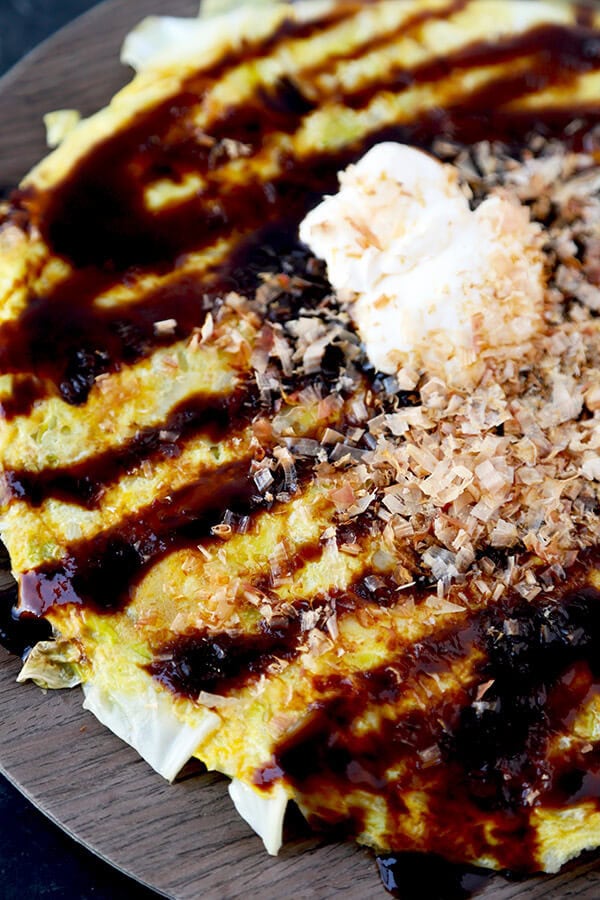 Okonomiyaki Style Omelet
When I think about okonomiyaki, the first thing that comes to mind is the sauce. The irresistible mix of sweet, smoky and tangy – almost barbecue like – flavors only okonomi sauce can deliver. I always keep a bottle of Bulldog tonkatsu sauce (okonimi and tonkatsu sauce are the same) in my fridge and use it on more than just okonomiyaki; I put it in my burgers, sandwiches and use it as a dipping sauce for chicken fingers. It's very similar to worcestershire sauce except thicker and a little sweeter.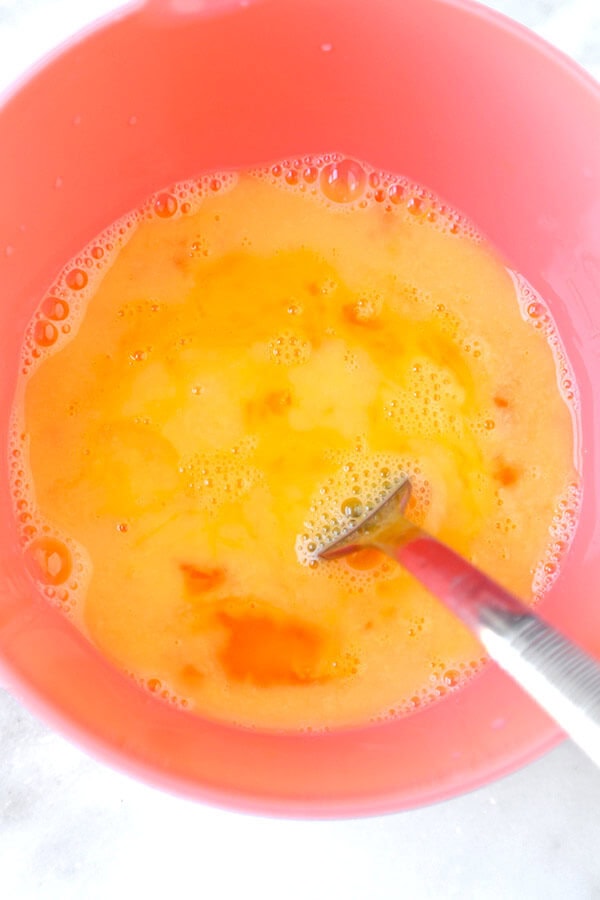 I had my first experience eating okonomiyaki (also called Japanese pizza) at the age of seven during my second trip to Japan. That time I got to see more of Japan and experience the culture to its fullest since I was older and more curious. My relatives, mother, brother and I spent the summer visiting temples, gardens, hot springs and even climbed up a mountain filled with monkeys – known as takasakiyama monkey park in Beppu. For a seven year old kid like myself, Japan felt like a magical place where I was surrounded by brand new sounds, sights, smells, and you guessed it; flavors.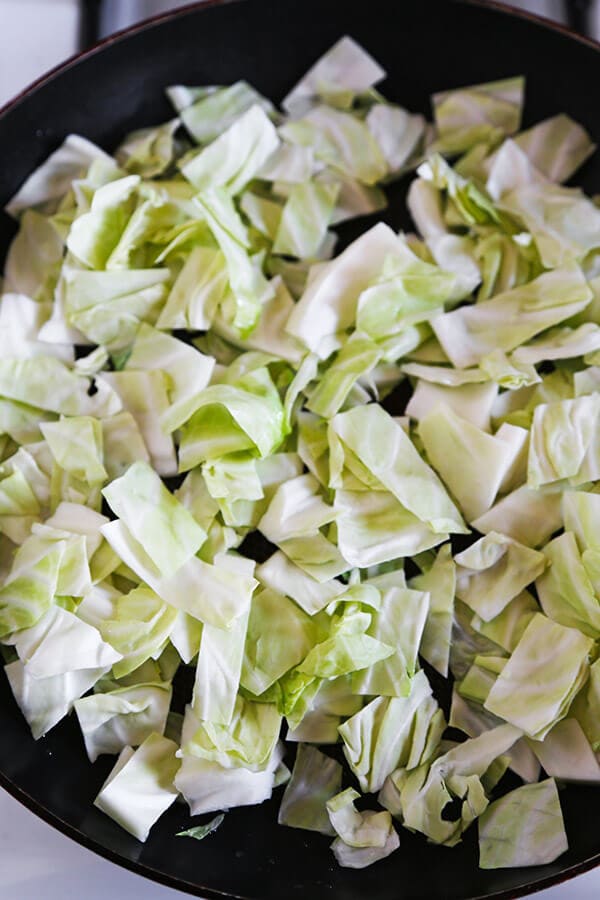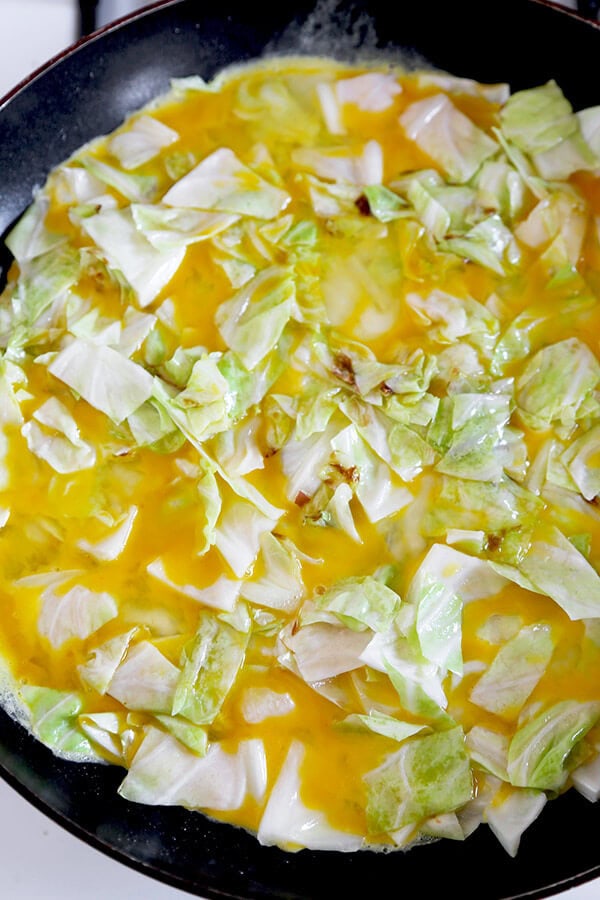 It was during that trip to Beppu that my uncle Ken introduced my brother and I to okonomiyaki. The restaurant was nothing like I had seen before; the space was separated with partitions to give each group of people privacy. The floors were tatamis with a sunken area under table to allow diners to stretch their legs comfortably. The table itself came equipped with a large hot plate in the center framed with just enough wood to rest chopsticks, plates and drinks. Clouds of aromatic smokes wafted from the neighboring table with a smell so incredible it made my stomach growl.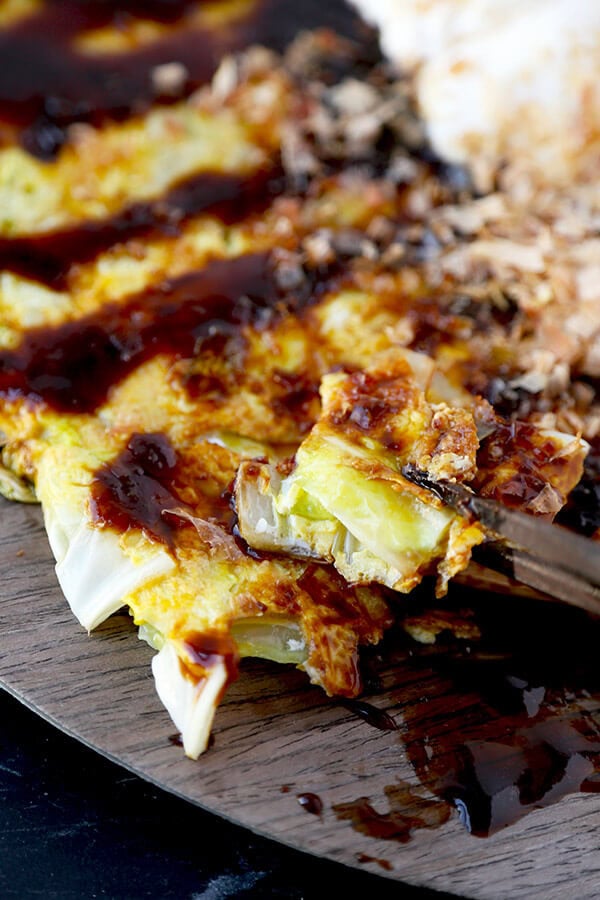 After a quick scanning of the menu my uncle put in an order for one seafood and one traditional cabbage pizza. The server came back with two bowls filled with batter, a ladle and a scraper. He turned on the hot plate, poured a ladle full of seafood batter and left. My uncle then grabbed the scraper and meticulously pressed and shaped the pizza until it was perfectly even and round. We each took a piece, brushed a layer of okonomi sauce on top and dug in.
It was perfect; the Japanese pizza was moist like a pancake and packed with squid, octopus, prawns and veggies. Combine that with a squirt of creamy mayonnaise and a good handful of katsuobushi (bonito flakes) and you have an explosion of flavors in your mouth. "Oishii!" I exclaimed while happily chewing away, this was the best pizza I had ever tasted! Since then, I've been ordering okonomiyaki every time I see it on a menu and have introduced it to my friends who have also fallen in love with the dish.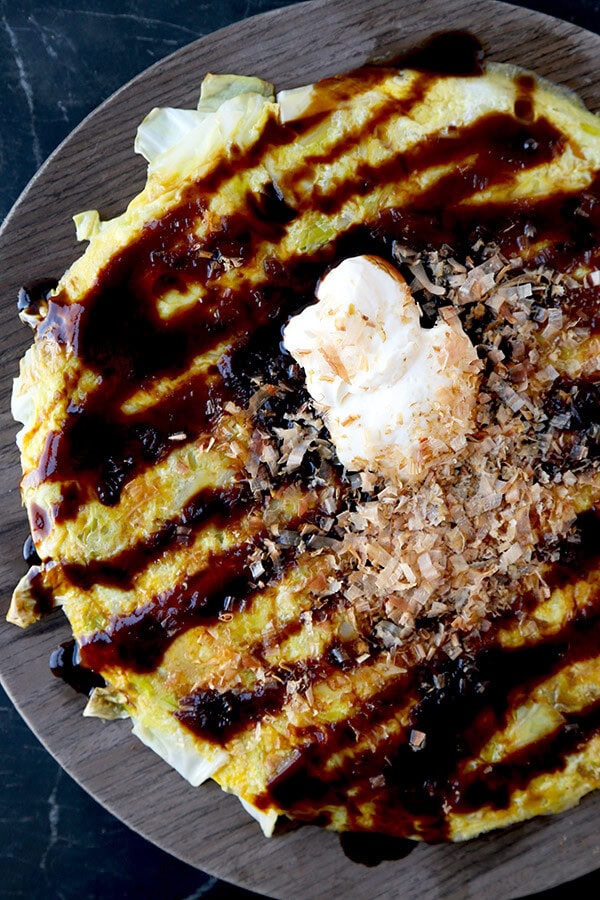 As you can tell by my story, eating okonomiyaki is an experience of its own kind. It's not only the food but also the act of sharing food and stories with the people you love that makes the meal so enjoyable. Much like the joyful and buzzing atmosphere of izakayas, it's very hard to replicate the same mood at home. Plus, I don't think my small Brooklyn apartment can handle the smoke of bubbling batter on a hot plate – that's a sure way to annoy my neighbors!
Instead, I found an easy and smoke free way to get my Japanese pizza fix – I whip up a cabbage omelet and use the traditional okimiyaki toppings to finish. It's easy and hits the spot every time I feel a craving coming on. And just like a real pizza, it's delicious hot or cold which means you can double the recipe and save some for later. Win win!
More quick and easy traditional Japanese recipes: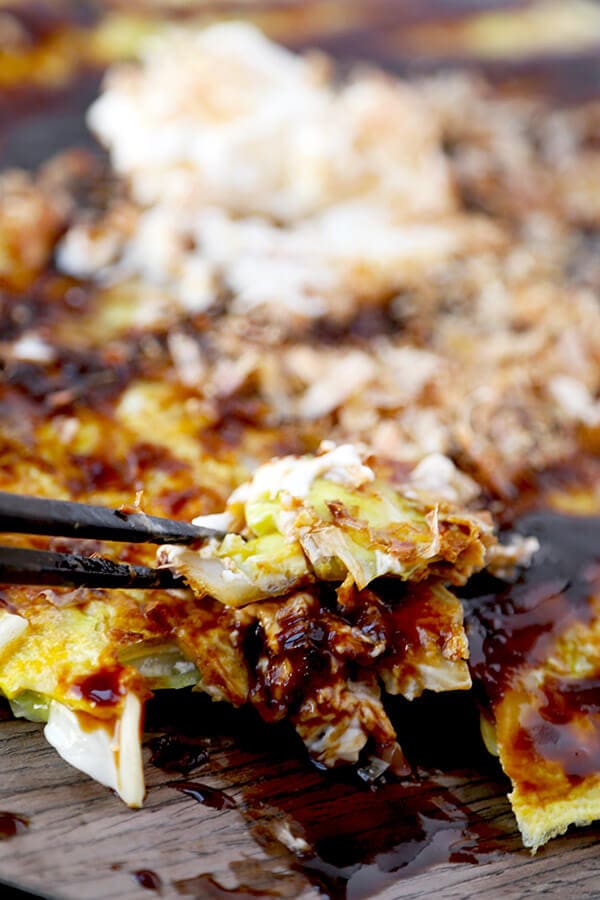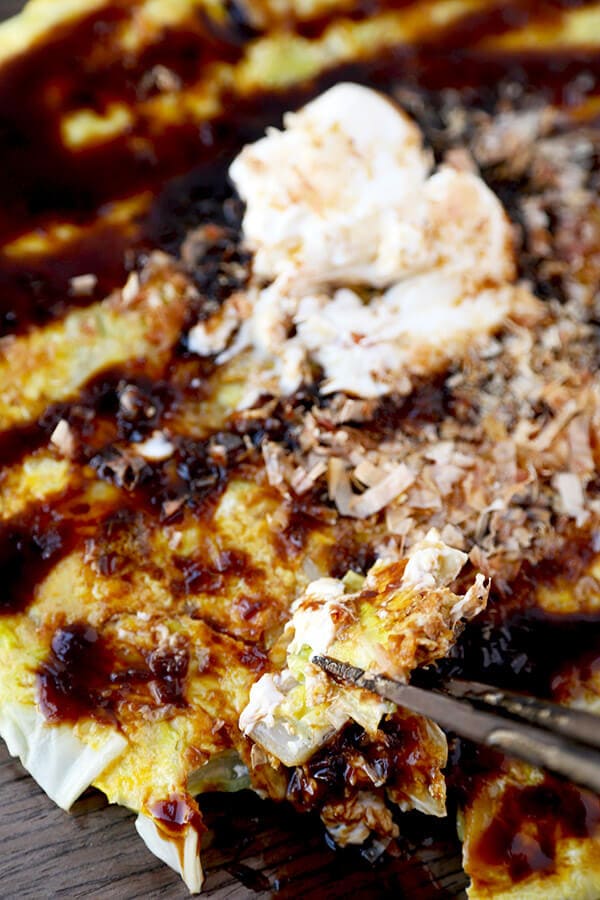 Did you like this Okonomiyaki Style Omelet Recipe? Are there changes you made that you would like to share?
Print
Okonomiyaki Style Omelet
No batter is needed for this healthy and delicious okonomiyaki style omelet recipe. Get all the flavors of okonomiyaki minus the carbs! Ready in less than 15 minutes from start to finish.
Author: Caroline Phelps
Prep Time:

5 minutes

Cook Time:

7 minutes

Total Time:

12 minutes

Yield:

4

people

1

x
Category:

Main

Method:

Stove top

Cuisine:

Japanese
4

large eggs

1/2 teaspoon

kosher salt (chopped)

1 tablespoon

vegetable oil

8

leaves cabbage (chopped)
Toppings:
okonomiyaki sauce
mayonnaise
katsuobushi (bonito flakes)
Quick homemade okonomiyaki sauce:
3 tablespoons

ketchup

1 tablespoon

Worcestershire sauce

1 tablespoon

soy sauce

1/2 teaspoon

honey
Instructions
Whisk in eggs and salt in a bowl and set aside
In a large frying pan over medium high heat, add oil and cabbage.
Stir fry until cabbage is beginning to soften (2-3 minutes)
Add eggs and move the pan from left to right to evenly spread the mixture. Lower heat to medium low, cover and cook for 5-6 minutes, until eggs are completely cooked.
Serve topped with a good amount of bonito flakes, okonomiyaki sauce and mayonnaise.
Quick okonomiyaki sauce:
Mix all the ingredients and serve.
Nutrition
Serving Size:
Calories:

190

Sugar:

11.4 g

Sodium:

720.6 mg

Fat:

9.4 g

Saturated Fat:

2.6 g

Carbohydrates:

19.3 g

Fiber:

3.8 g

Protein:

9.2 g

Cholesterol:

189.2 mg
Keywords: recipe, izakaya
Recipe Card powered by