This savory Leftover Turkey Dinner Hash is a delicious way to repurpose a fridge full of leftovers after a big feast. 15 minutes and done. Brunch is served!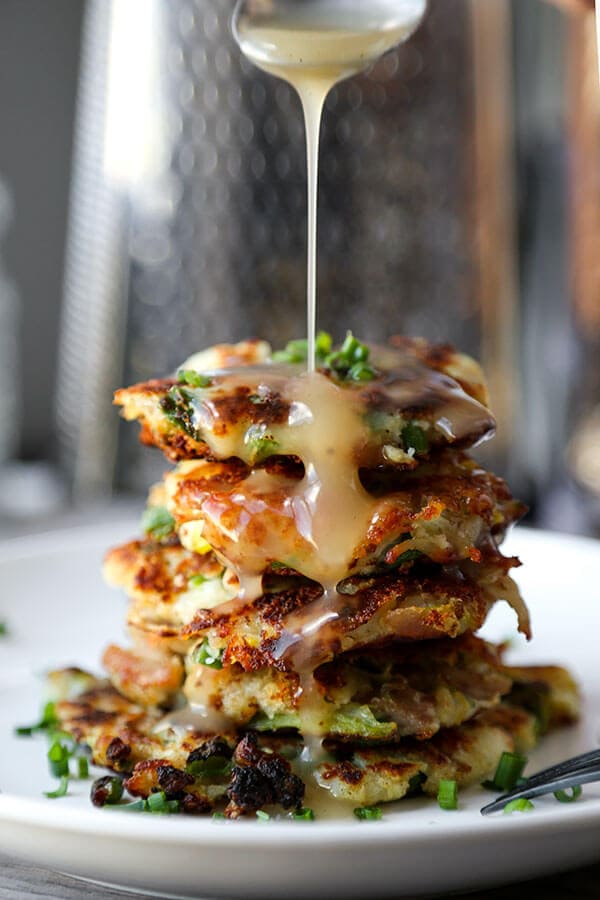 Leftover Turkey Dinner Hash
Hey everyone! I'm Ben – Caroline's husband, and the official taster in the Pickled Plum kitchen. You guessed it… Caroline is off today. She's taking a much deserved break after creating a massive, delicious Thanksgiving feast yesterday for a whole brownstone full of friends. Was there corn casserole on yesterday's menu? Why, yes there was… and now it's my new favorite turkey-day side dish. My own prowess in the kitchen is pretty limited, but I wanted to whip up brunch in bed for the busy chef on one of her rare days off. Bonus, our fridge was PACKED with leftovers. We'll call my creation Leftover Turkey Dinner Hash – but, really, what is it?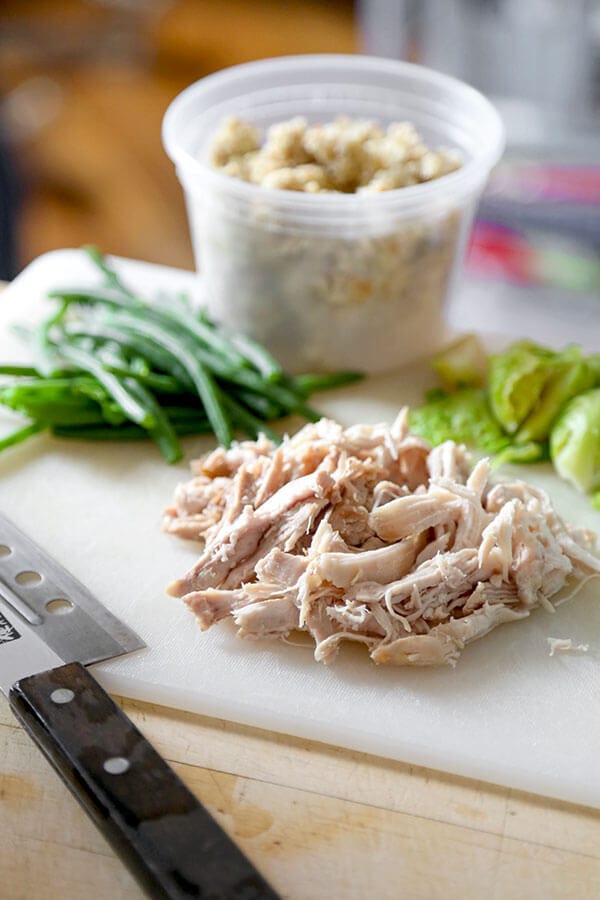 It's Not a Turkey Sandwich
Are they latkes? How about hash-browns? Hmmmm… That's a tough one. While visually similar to potato pancakes, these golden brown nuggets of leftover turkey dinner hash hold a secret. They are literally the remnants of our delicious Thanksgiving dinner. Leftovers that I kinda struggled to get into storage containers last night after one piece of Dutch apple pie too many (and, let's admit it, way too much bourbon). I only slightly re-purposed our already delicious leftovers for a lazy Black Friday brunch, while Caroline slept in. Limited effort. Maximum deliciousness. Yay me!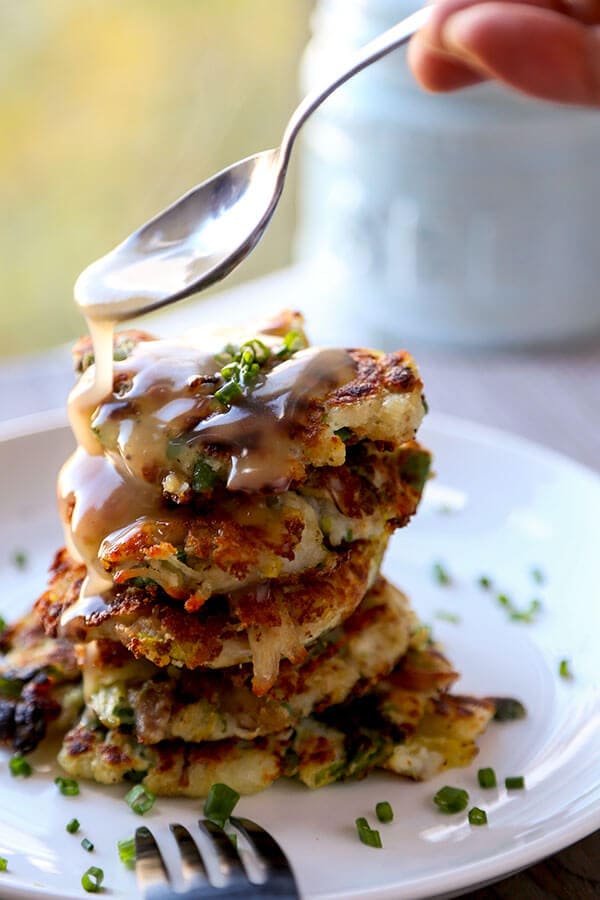 No Experience Required
Cool fact: when whipping up a dish completely comprised of leftovers, you don't have to be a master of the spice rack. Every element of this leftover turkey dinner hash was previously seasoned to stand on it's own. Stand down with that salt shaker! Shredded turkey was an obvious choice – as was a bit of (but not too much) stuffing. Chopped French beans and brussels sprouts brought a healthy, green crunch. Leftover mashed potatoes acted as a binding agent and picked up a fantastic golden-brown crust. I'd be remiss if I hadn't drizzled a little gravy over the top. And – let's face it – sriracha makes almost everything better.
Use it If You Got It
I'm a big proponent of using up those leftovers. There's something that just feels good about eating up everything we cooked – and not letting it go to waste. That's especially true on the rare occasions we eat meat. This leftover turkey dinner hash is pretty dang delicious and is NOT another post-Thanksgiving dry turkey sandwich on your road to cleaning out the fridge before Christmas rolls around 🙂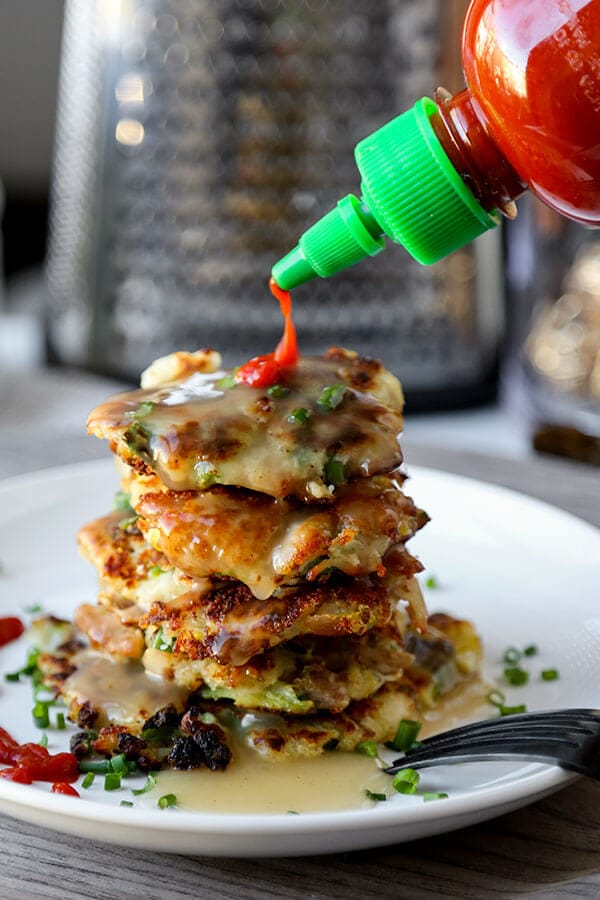 Get Eggy With it
It took all of my very limited willpower to not put an egg on top of this leftover turkey dinner hash. Yep – I'm a total sucker for a runny egg yolk doing it's thing. But it could also be said that I'm sort of a one-trick-pony when it comes to cooking. The last recipe I posted on Pickled Plum totally had an egg on top. My bag of tricks in the kitchen is crazy limited! That said, you should feel free to get eggy with your own homemade leftover concoctions. This 'recipe' is a free form suggestion at best!
A Chill Morning in The Kitchen
There was something super fun about getting up before Caroline (the resident chef) and Tsukune (the resident kitty) and heading to the kitchen to contemplate copious amounts of coffee and the even more copious leftover situation. I listened to some great podcasts and sharpened the chef's knife – all while turning over combination possibilities in my brain. Would Brussels sprouts overpower the stuffing? (probably not). Should I add black pepper to the gravy? (duh, YES!). Once I realized there were no wrong answers, it freed me up to experiment a little bit, without the usual worry of will this work?!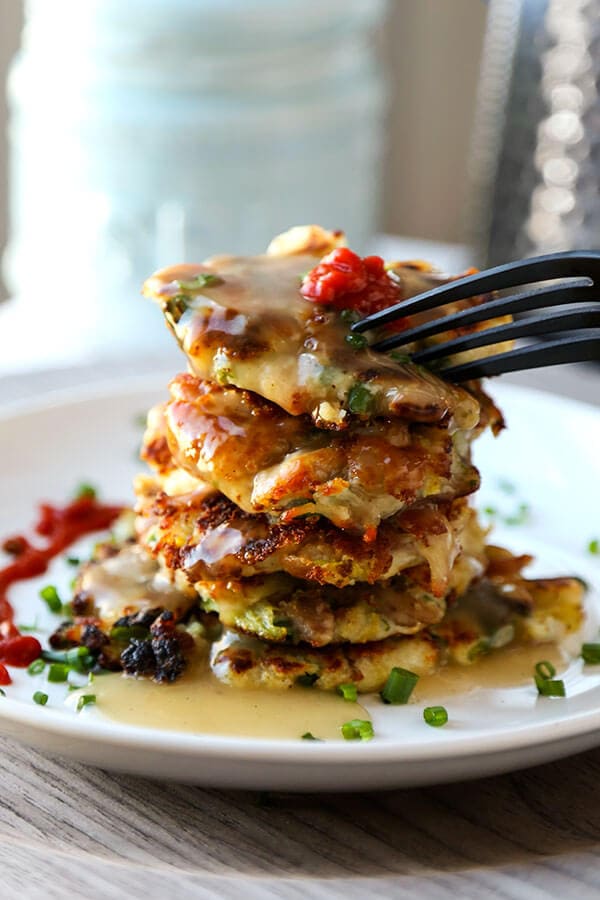 Basically, Have Fun
In fact, the most fun thing about this leftover turkey dinner hash recipe is that it's not much of an actual recipe at all. It's literally putting a bunch of already delicious stuff together and using a binder like mashed potatoes to keep it all together in the saute pan. Easy, right? Top with cranberry relish, gravy or sriracha or gochujang or ketchup or… well, you get the point.. It's your world! So feel free to use whatever you have handy. This trick obviously works with all sorts of leftovers (not just Thanksgiving), so I hope to hear about your awesome personalized creations soon! Brunch on.
Other simple, delicious breakfast and brunch recipes: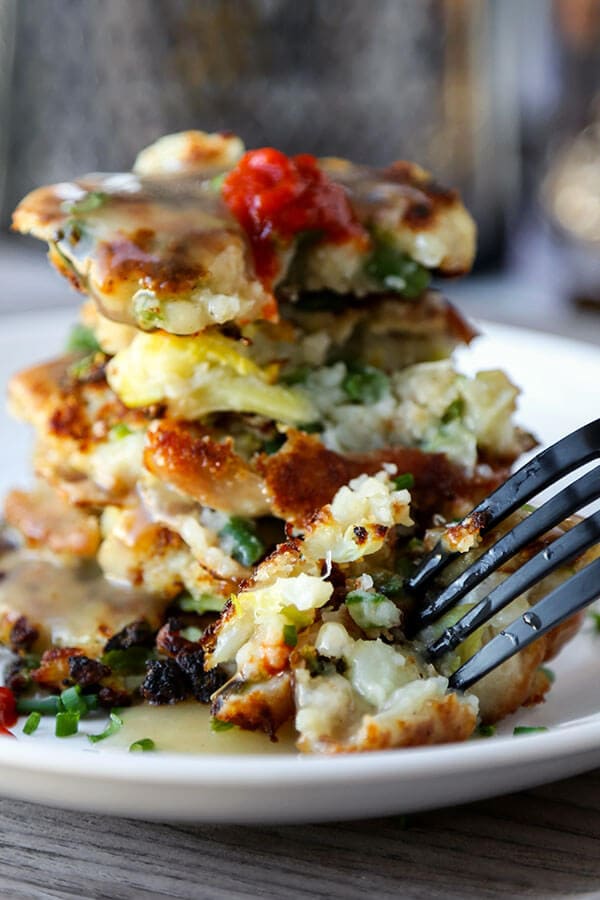 Did you like this Leftover Turkey Dinner Hash Recipe? Are there changes you made that you would like to share? Share your tips and recommendations in the comments section below!
Print
Leftover Turkey Dinner Hash
This savory Leftover Turkey Dinner Hash is a delicious way to repurpose a fridge full of leftovers after a big feast. 15 minutes and done. Brunch is served!
Author: Ben Phelps
Prep Time:

5 minutes

Cook Time:

10 minutes

Total Time:

15 minutes

Yield:

3

people

1

x
Category:

Breakfast

Method:

Pan frying

Cuisine:

American
1 tablespoon

organic canola oil

1 cup

leftover turkey (shredded, cooked chicken would work as well)

1/2 cup

cooked Brussels sprouts (leaves separated)

1 1/2 cups

mashed potatoes

1/2 cup

cooked French beans (chopped, or green beans)

1/2 cup

leftover stuffing

1 tablespoon

finely chopped chives

1/4 cup

gravy

1

–

2

tablespoons sriracha
Note: These are general guidelines. This is more a mash-up of leftovers than an actual recipe. So use what you have handy after your big turkey feast.
Instructions
Mix mashed potatoes, Brussels sprouts, green beans, stuffing and shredded turkey in a bowl.
Form small patties of the mixture, about the size of your palm.
In a pan over med-high heat, heat the oil and add patties. Cook 4-5 minutes on each side until golden brown on the outside and hot on the inside.
Serve with chopped chives, gravy and a squirt of sriracha.
Notes
This Leftover Turkey Dinner Hash Recipe is:
Low in sugar
High in vitamin c
Nutrition
Serving Size:
Calories:

236

Sugar:

5.7 g

Sodium:

417.8 mg

Fat:

10.3 g

Saturated Fat:

1.9 g

Carbohydrates:

28.6 g

Fiber:

4.4 g

Protein:

8.5 g

Cholesterol:

17 mg
Keywords: recipe, leftovers, Thanksgiving, brunch
Recipe Card powered by