Ever wonder How To Make Buttermilk in your home kitchen? It's easier than you think! Detailed instructions on multiple methods. Your pancakes thank you!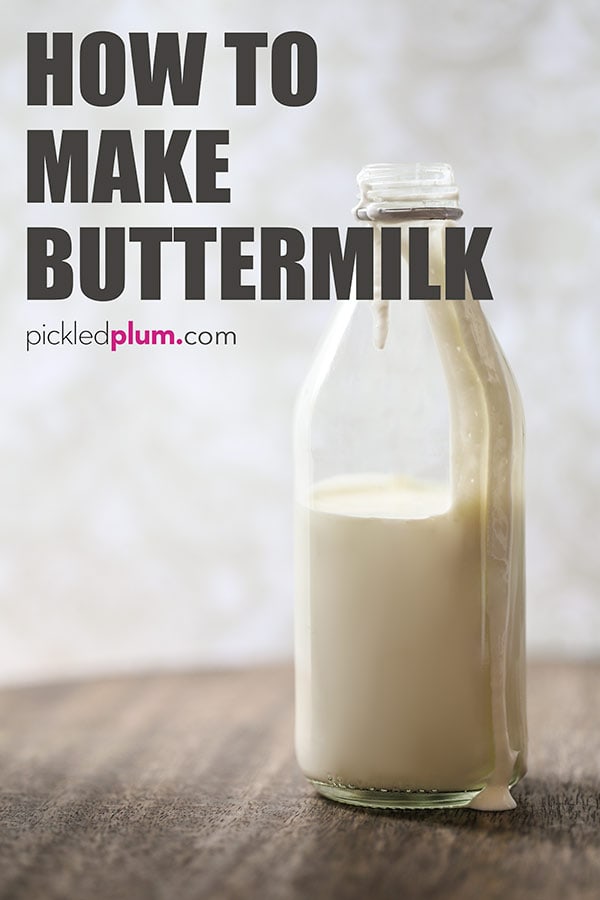 How To Make Buttermilk
Buttermilk is a key ingredient in a TON of recipes. Used in everything from biscuits to pancakes to buttermilk brined fried chicken, chances are you've had buttermilk, even if you weren't aware of it.
There's a subtle tang in buttermilk not found in regular milk. It not only delivers a tart depth to your waffle batter – buttermilk also assists you in getting a good rise when using baking soda in a dough.
Super versatile. Super delicious!
And, of course with so many uses, you're bound to one day find yourself asking the age old question that confounds home chefs all the time… What can I do if I need buttermilk for a recipe right now and the grocery store is already closed?
Well, in this case, the answer is as simple as it gets!
I'm going to break the process down for you with multiple methods on how to make buttermilk. They range from so-easy-you-can't-really-call-it-a-recipe, to buttermilk recipes that are super easy but slightly more time consuming.
No matter which method you choose, EASY is the word of the day!
But first, what is buttermilk?
Traditionally, buttermilk is the liquid that remains after butter is churned. The liquid is then left out to ferment for anywhere from 12-24 hours. This fermentation process, which creates lactic acid, is what lends buttermilk its trademark tang.
Now, you might think that this milk, as a byproduct of butter, would be full of fat – but that's not the case. Buttermilk happens to be lower in fat than traditional milk and is full of probiotics.
You see, traditional buttermilk is full of active cultures that aid in digestion and can reintroduce the 'good bacteria' your gut needs after a round of antibiotics or an illness.
When making baked goods, buttermilk's lactic acid interacts with baking soda and causes doughs to achieve a monumental rise. Like that flaky exterior on your pancakes? That's probably due to buttermilk's lactic acids as well!

How does buttermilk taste?
In general, I find that buttermilk tastes most like plain yogurt. Or you might say that it tastes like the love-child between yogurt and sour cream.
There's a tart tanginess that accompanies the dairy element that you don't normally expect in regular milk.
Generally, I find buttermilk to be thicker than cow's milk – but slightly more watery than cream.
Using this tangy staple in desserts can deliver a tart counterpoint to the usual sweetness. Buttermilk can also be used as a mega-flavorful meat tenderizer.
From sweet to savory – from baked to fried – you'll find buttermilk in many of the iconic recipes we all know and love!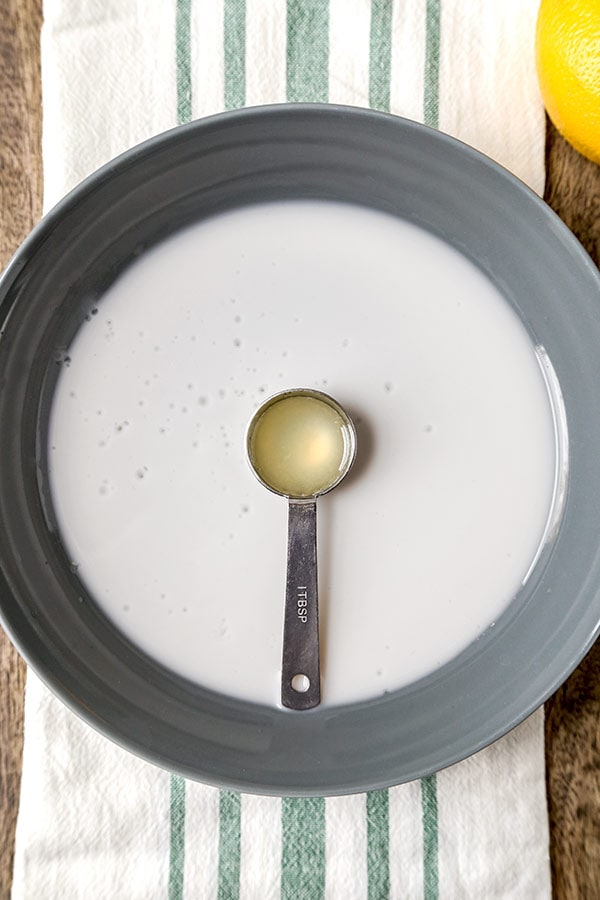 The easiest way to make buttermilk at home is to make a buttermilk substitute
Lemon juice to the rescue! I think you'll be surprised to learn that making buttermilk in your own home kitchen is as easy as combining two staple ingredients most people have on hand, and then waiting 10 minutes.
Yep – simply add 1 tablespoon lemon juice to one cup of milk. Stir and then wait around 10 minutes for the magic to happen. The milk will begin to curdle and will be tart like the real deal.
However, this isn't real buttermilk made from active cultures. It's just a supremely good knockoff that will deliver the tart punch you need when making cornbread or buttermilk pancakes.
In fact, I actually prefer the taste and texture of this buttermilk replacement to the real deal!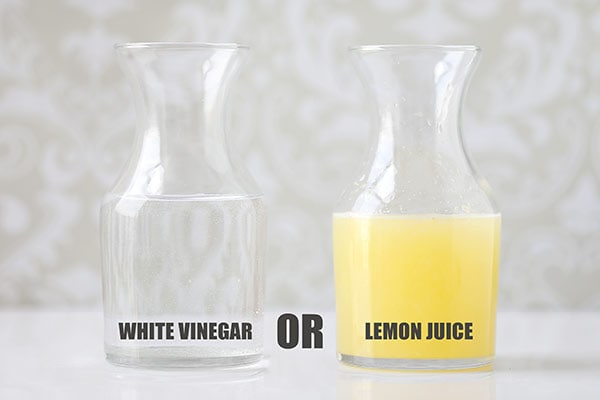 So, how do you make buttermilk with vinegar?
Good news: you can easily make buttermilk with vinegar instead of lemon juice. The same rules apply: 1 tablespoon of vinegar for each cup of milk you use. And, again, this is just a great tasting stand-in for actual cultured buttermilk.
Obviously, no matter how much buttermilk you need, just keep the ratios the same. 3 tablespoons of vinegar or lemon juice to 3 cups of milk, and so on.
You get it!
Confession: this method is so simple that I haven't actually purchased buttermilk at the store in years 🙂
How to make buttermilk from yogurt or sour cream
Wait, you can do that!?
Yes – this is totally a thing! Another kitchen hack on the how-to-make-buttermilk-train is to take ¾ of a cup of plain yogurt or sour cream and add ¼ cup of milk. (Secret: instead of milk, you can use water as well).
This method will give you a useable substitute to real buttermilk with a consistency and tang that approaches the real thing.
Added bonus with this method, the yogurt cultures are good for the tummy!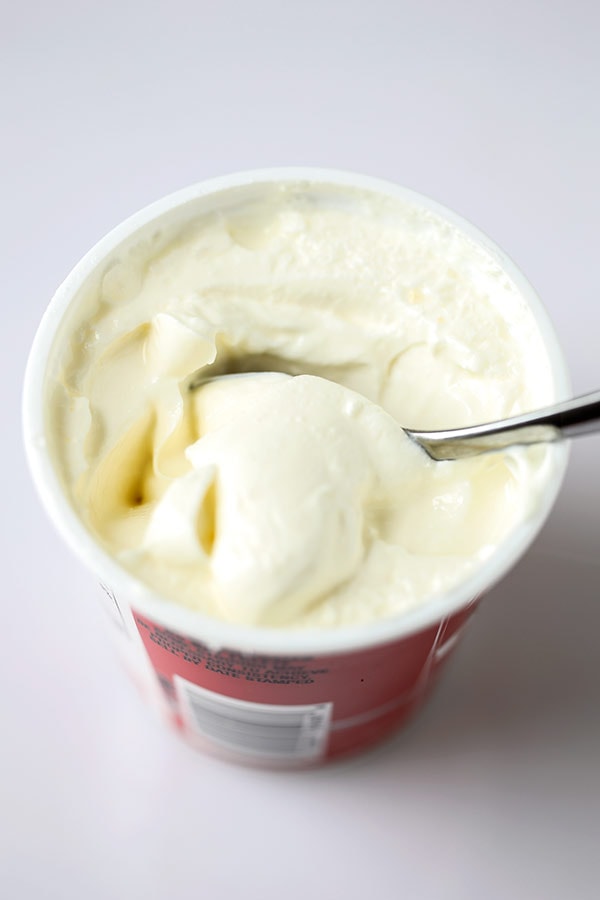 Can I make buttermilk with actual buttermilk cultures?
You bet! If you pick up freeze dried buttermilk cultures online and combine with whole milk, you can make the real thing in your home kitchen.
This isn't a buttermilk substitute. This is the real deal.
In fact, if you make sure to always keep the last bit of buttermilk around after you've cultured your own, you can use it as a base to make more!
To do this, just add three cups of whole milk to the last 6 ounces in your jar of cultured buttermilk. Seal it up, shake it up – and store it at room temperature for around 24 hours. Once it has thickened, refrigerate and use as needed.
The most important thing about reusing the last bit of your buttermilk as a base for a new batch is that the buttermilk you use as a starter needs to be fresh.
It's really a cool way to make sure this iconic ingredient is always around when you need it!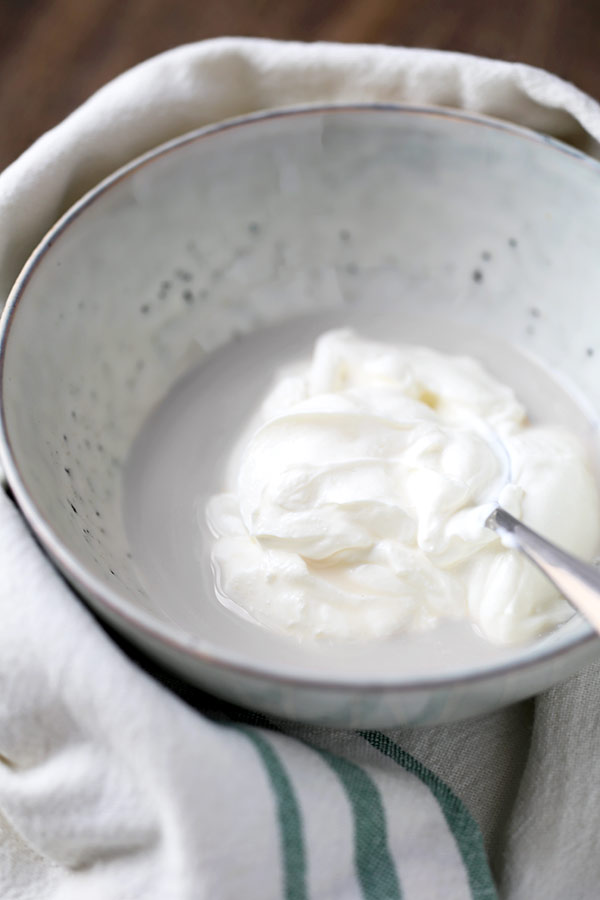 Can I make vegan buttermilk?
YES! It's totally possible to make a plant based substitute for buttermilk. And it's just as easy as the first method I mentioned above.
Simply add about a tablespoon of lemon juice to a cup of your preferred non-dairy milk of choice. Stir, and wait for 5 minutes or so – and, viola: vegan buttermilk!
I've tried it with soy milk and cashew milk, and it worked like a dream each time. Your mileage may vary depending on your non-dairy milk of choice. However, I did find that using the slightest bit under a cup of soy milk mixed with lemon juice worked best. The cashew milk worked perfectly at a full cup.
How long does buttermilk last?
While the internet is awash with information that states buttermilk stays fresh anywhere from two-weeks to a month-and-a-half, it's always best to just place your faith in your nose. Here's where trusting your gut (and your sense of smell) comes in real handy.
Does it smell off? Toss it. Better safe than sorry.
Smell good? Let's roll!
That's less than scientific, I know. But, with almost all ingredients, trusting my nose has never steered me wrong in my kitchen!
What are some recipes with buttermilk in them?
It's almost shocking how often buttermilk is used in many of the recipes we eat on a daily basis. And that's why learning how to make buttermilk in your kitchen can be such a life-saver in a pinch.
Here are a few delectable recipes that call on buttermilk to deliver its trademark tang from around the web:
That's a lot of good stuff, and it barely scratches the surface of what's out there! Obviously, buttermilk has secured its lasting position in the food lexicon.
And whether you decide to make a buttermilk replacement with lemon juice and milk – or you're going full on kitchen-scientist with your own buttermilk cultures, learning how to make buttermilk can be a huge time-saver when you're whipping up dinner for your hungry friends and family and don't feel like a last minute trip to the store.
Bon appétit, friends!
Other easy to follow instruction posts on how to get it done in the kitchen: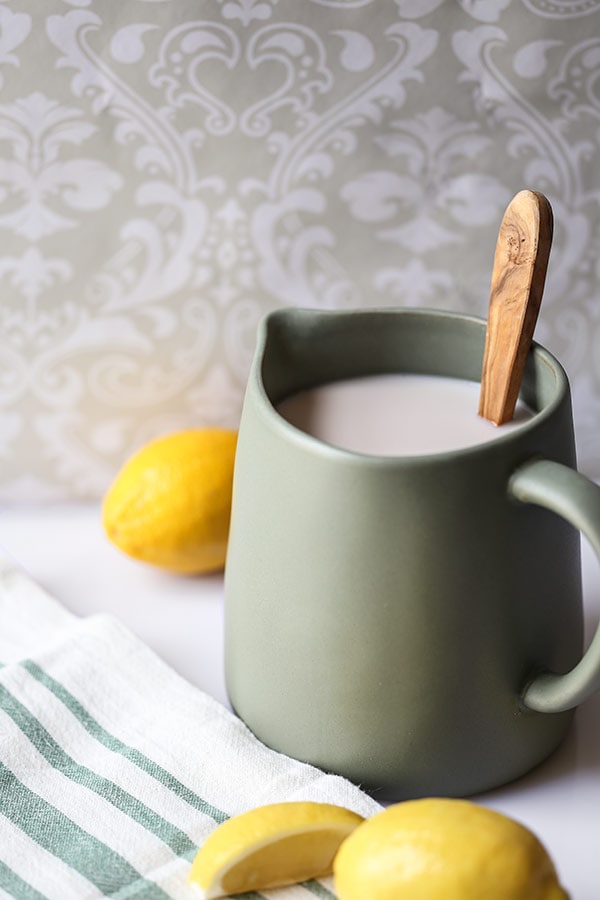 Did you like this How To Make Buttermilk Tutorial? Anything else you'd like me to make for you? Share your thoughts in the comments section below!
Print
How to Make Buttermilk
Make buttermilk at home with just 2 ingredients!
Author: Caroline Phelps
Prep Time:

2 minutes

Total Time:

12 minutes

Yield:

1 cup

1

x
Category:

How to

Cuisine:

American
1 cup

milk (I used 2%)

1 tablespoon

lemon juice OR white vinegar
Instructions
Add lemon juice OR vinegar to milk and stir.
Let sit for about 10 minutes at room temperature until milk starts to curdle and becomes acidic in flavor.
Use it in any recipe that calls for buttermilk as an ingredient!
Nutrition
Serving Size:

1/4 cup

Calories:

32

Sugar:

3.2 g

Sodium:

28.9 mg

Fat:

1.2 g

Saturated Fat:

0.8 g

Carbohydrates:

3.2 g

Fiber:

0 g

Protein:

2 g

Cholesterol:

4.9 mg
Keywords: recipe, tutorial, diy
Recipe Card powered by