How To Cook Asparagus
*This post may contain affiliate links. Read my disclaimer here.
Ever wonder How To Cook Asparagus? Concise, step by step instructions for grilling, air frying, roasting asparagus – plus many more cooking methods. Easy to follow tips on how to pick the freshest asparagus spears on your next trip to the market – and yummy asparagus recipes you can make at home!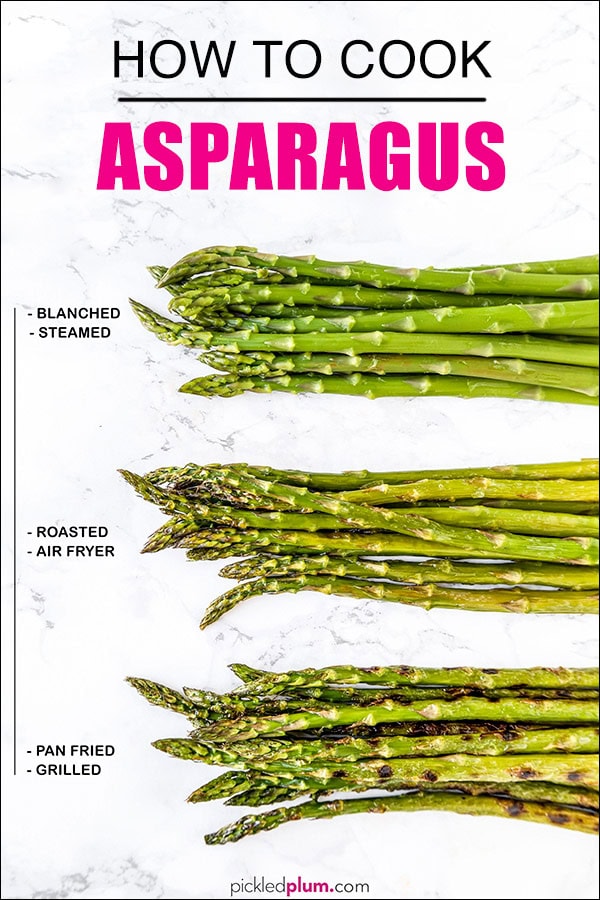 How to Cook Asparagus
Asparagus just happens to be one of those veggies that might change my mind when ordering an entree at a restaurant.
You see, when eating out, if I'm stuck between two things I think I'd like to order – and one comes with a side of grilled asparagus, I'm probably going with that one.
Yep… Asparagus: The Great Decider!
Well, maybe that's a bit much. But it's fair to say I'm a lover of those bright green stalks! Not only are they a fresh and delicious addition to any meal, they are loaded with a TON of great stuff your body needs.
Seriously – anti-inflammatories, antioxidants and vitamins galore.
Asparagus is a spring vegetable – and is a close relative to the onions and garlic family. It has a meaty bite – and tastes both bright and slightly grassy.
Only the young shoots are eaten typically. Once the shoots get older, they tend to get a bit woody.
I think you'll agree with me that there's nothing worse than picking up asparagus at the store, preparing it – only to get a disappointing, reedy, unchewable mouthful halfway down the stalk… ugh.
Not to worry!
Luckily today's post is all about all the different methods on how to cook asparagus – with details thrown in on how to choose it at the market – and some great asparagus recipes.
So let's get cooking, friends!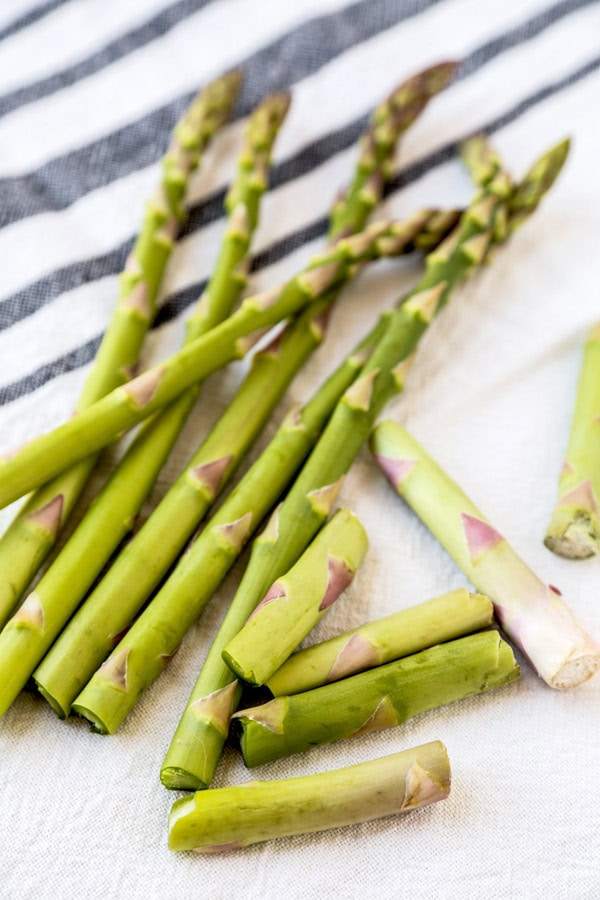 How can I tell if Asparagus is fresh?
If you're at a local farmer's market, chances are your asparagus is as fresh as it gets.
However, choosing it at the grocery store can seem tough at times.
I used to think that only thin asparagus was fresh – and that by the time it reached those mammoth tree-trunk proportions it was bad.
Well, that's not entirely true.
You see, while thin asparagus is younger – and thick asparagus is more mature – both can be fresh.
So thickness is more an indicator of cooking time. Obviously, the thicker the spear, the more time it's going to need on the grill or in the air fryer.
The best way to tell if asparagus is fresh is to look for bright green or slightly purplish spears with the tips compact (the more closed the better).
Also, test the stems. Are they firm? That's good!
Avoid stems that are limp or appear 'woody'.
My favorite trick to tell good vs bad asparagus is to give it a little squeeze.
Seriously! Squeeze a bunch together. If it's squeaky that's a great indicator that it'll be good to go for tonight's dinner.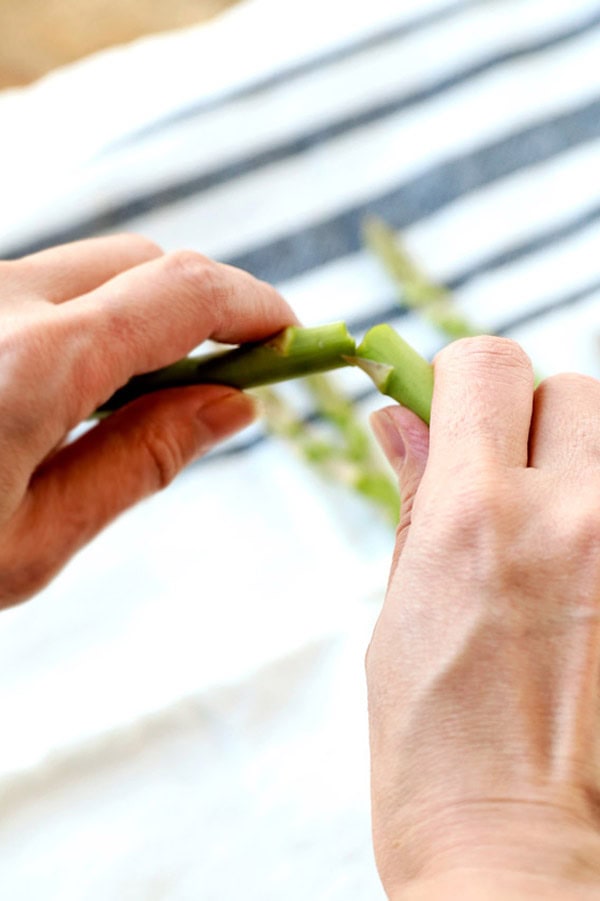 How to trim asparagus
Since asparagus is tender nearer the tips and woody and fibrous nearer the ends, we're going to want to separate the good from the not-so-good before cooking.
But… to snap or cut?
Historically, I've always been a snapper. The logic goes that if you bend a fresh asparagus spear, it will naturally snap right where the fresh and tender bit meets the reedy, unusable section.
It seems as if those lovely, green stalks have just been waiting for you to come around and lend mother nature a hand!
The snap is one of those oddly satisfying bits of kitchen magic.
However, the drawback with this method is that you may end up inadvertently wasting too much of the edible bit of the spear. And you'll definitely end up with some asparagus spears that are… ahem, shorter than others.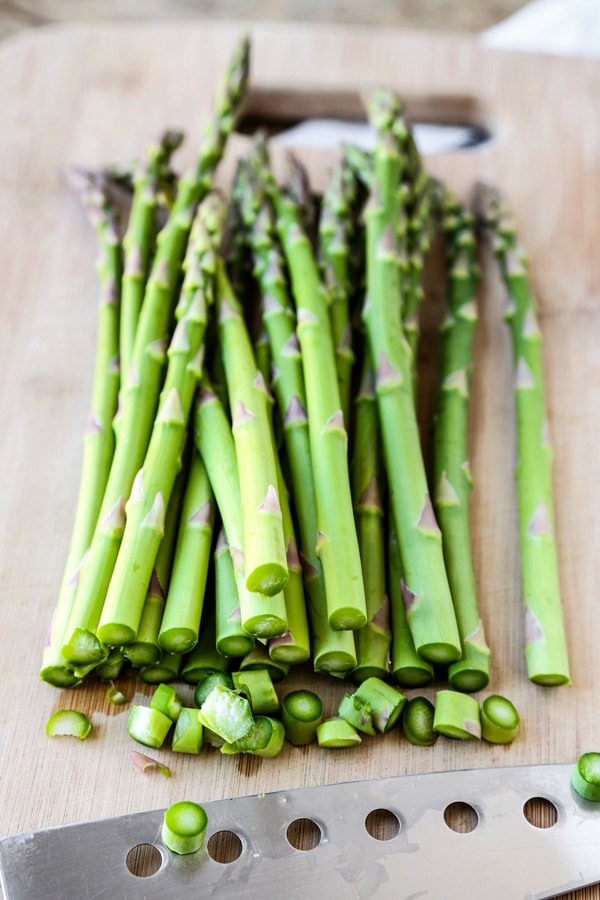 The other method is to eyeball it and use a chef's knife to cut where the green bit of the edible stalk turns to the white, inedible part.
While not as satisfying in that mysterious snappy way, it's definitely quicker. And the times I've tried it at home, I didn't notice a difference at all in the finished dish.
The added advantage of the cutting method is that your spears will be way closer to a uniform length.
Plus you can always take a vegetable peeler to a stem or two that seems unusually reedy.
That said, use what works for you.
Snap OR cut away!
Both methods have been reliable for ages – and are in use all the way from professional restaurant kitchens to home kitchens like yours and mine.
Trust your instincts in the kitchen. They are usually right!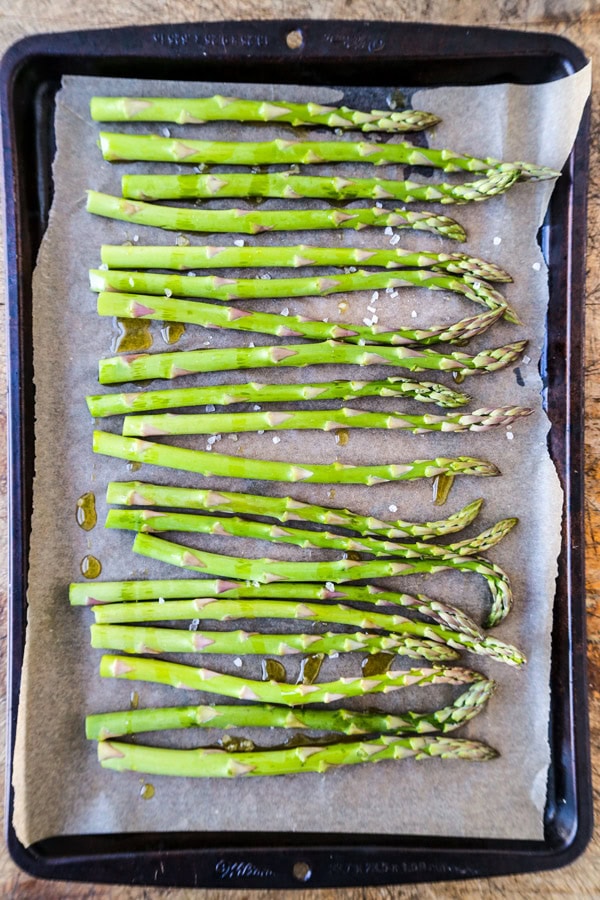 How to bake asparagus… er, how to roast asparagus
Welp. You learn something new every day!
I must have made oven roasted asparagus a thousand times. No exageration!
It's one of those easy, no-fuss preparations you can fall back on when you're drawing a blank on ideas – but want classic, broiled asparagus perfection on your dinner plate in a short time.
However, when gathering my thoughts on all the different ways to prepare asparagus in the oven, I actually googled 'how to make baked asparagus.'
And there were a ton of results. No surprise.
However, what did come as a bit of a surprise is that baking asparagus is a complete misnomer.
You see, baking is what happens on the oven when something like a dough (like cakes or cookies – or even casseroles or meatloaf!) or a liquid (like eggs, a souffle or a meringue) is transformed into a solid in the oven.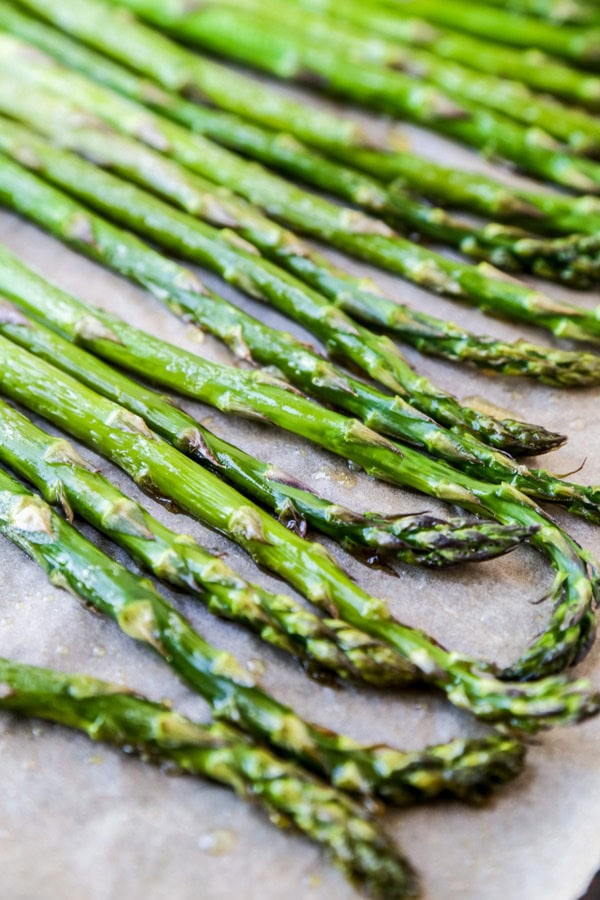 If you're cooking anything in the oven that already has a solid structure, like in the case of asparagus, you're roasting it.
Check out this super concise breakdown on the differences between baking and roasting.
I LOVE learning new things about cooking!
Anyhow… no matter what we end up calling it, roasting asparagus is easy and delivers a super flavorful and texturized result.
How to cook asparagus in the oven: Preheat your oven to 400°F. Toss asparagus in a little olive oil, salt and pepper. Roast for 10-15 minutes.

How to Air Fry Asparagus
It's no secret that I'm a HUGE fan of my air fryer.
And, aside from the unreal flavor you get on everything from air fried asparagus to decadent fast-food-esque French fries, my favorite aspect is how healthy everything actually turns out.
The fact that you can fry anything with hot circulated air and a tiny bit of olive oil is a bit of magic already. But the fact that 'fried' food can actually be healthy is music to my ears!
In case you were wondering, the browning that happens when cooking asparagus in a air fryer is called the Maillard effect.
Yeah… it sounds pretty 'sciency' – but it's the chemical reaction that creates all those delicious browned, charred-tasting bits on meats and certain veggies.
When experimenting with different techniques on how to cook asparagus, this was both the newest – and the nicest surprise.
It's almost as if the browned bits you get when making asparagus on the grill – meets the ease of roasting asparagus on a sheet pan. YAY!
How to cook asparagus in an air fryer: Preheat your air fryer to 400°F. Toss asparagus in a little olive oil, salt and pepper. Air fry for 10-15 minutes, or until light browning occurs.

How to Pan Fry asparagus
I've been working on my pan flip.
You know, the technique that pro chefs use to stir up food (without a spatula of course) to make sure that everything in their saute pan cooks evenly.
While it may not be necessary to use the flip when making an easy asparagus recipe at home, it doesn't hurt either.
I love pan frying because I feel super involved with my food.
You see, it's not out-of-sight like when using an air fryer or oven. It's quite visible indeed!
My asparagus' wellbeing is solely in my hands. And I take that seriously 🙂
One thing about pan frying that is super great is that you get to keep an eye on your asparagus as it cooks and give the pan a toss when one side appears to be getting some color.
Another advantage is that your asparagus will be ready in no time!
How to cook asparagus in a fry-pan: Add 1 tablespoon olive oil to a pan over medium heat. When the oil is hot, add asparagus. Pan fry for about 10 minutes, until tender. Add salt and pepper and maybe a little lemon. YUM!

How to Grill Asparagus
Spring has sprung – and summer is fast approaching.
We're entering prime grilling season, friends!
And whether you're grilling in the park over charcoal, in your backyard with gas – or using a grill pan over a burner in your kitchen, grilled asparagus is a fantastic addition to any meal or cookout.
The key to getting a good char on your asparagus is cooking over high heat.
Add a bit of olive oil to your asparagus spears and hit them with some salt and pepper. If the heat is high on your grill, you're ready to put them on.
Since the long spears are more slim than the most of the gaps on grill grates, it's a good idea to lay them sideways or diagonally.
Also, since we're using super high heat to grill our asparagus, it'll cook super fast.
Keep an eye on your asparagus spears so they don't overcook. 2-3 minutes should about do the trick on thinner ones. 5-6 minutes should be fine for thicker asparagus.
If you're grilling, it  poses an opportunity to use the larger, more hearty stalks. They'll withstand the heat better than the thin spears – and may not have you fishing as many of them out from between the grates!
A great way around the asparagus-falling-through-the-grate thing on your grill is to skewer five or six of them together.
Just soak bamboo skewers in water for about an hour – then skewer 5-6 asparagus spears together at the top, bottom and through the middle.
Then grill your bunches without fear that they'll fall through!
How to cook asparagus on the grill: Preheat grill or grill pan. Toss asparagus in a little olive oil and salt and pepper. Grill over direct, high heat 2-3 minutes for thin spears; 5-6 minutes for the thicker ones.

How to blanch asparagus
Ever have asparagus in a frittata? Or a salad with perfectly cooked yet cool, vibrant green asparagus on top?
Chances are the asparagus in those dishes was blanched.
Blanching is a technique that delivers veggies in a cooked state, while still retaining their vibrant color and a bit of its natural crunch.
In this case, the asparagus is scalded in salted boiling water and then cooled in an ice water bath (or just super cold water if you don't have ice handy) to immediately stop the cooking process.
I use this easy technique anytime I'm making a crudité platter or some simple asparagus maki to pass around at a dinner party.
It's a surefire way to prepare asparagus that you may not be eating immediately after cooking – or have plans for in other dishes.
What you're looking for is asparagus, very lightly cooked with a perfect crunch and a vibrant green pop.
How to blanch asparagus: Fill a medium pot with 4-6 cups water and 1 tablespoon salt. Bring to a boil, add asparagus and cook for 3-4 minutes (depending on thickness), until tender but still yielding a crunch. Immediately after, drain and shock asparagus in ice cold water to halt cooking and for vibrant color.

How to steam asparagus
It's way too easy to associate steamed veggies with food served on plastic trays. Like school lunch :/
Or a hospital cafeteria.
But this isn't fair in the slightest!
Properly steamed veggies keep a bit of their crunch – and retain a ton of their natural goodness that you might lose if boiling.
You see, cooking without water prevents nutrient loss in veggies. Water soluble vitamins like (B and C) are leached out in cooking water when boiling.
Not so with steaming!
The boiling water sits below and provides heat and moisture to your asparagus, which is hanging out safely above the water in a steam tray.
Again, thickness will play a role in how long you'll want to cook your asparagus spears. The key is to steam your veggies long enough that they're supple, but not so that they overcook and become mushy.
A big benefit of steaming your asparagus is that you can cook it without fatty cooking oils like butter.
How to cook asparagus in a steam tray: Place 3-4 cups of water at the bottom of a steam pot and bring to a boil. Insert steam basket with your asparagus spears in the tray. Cover and cook for 3-5 minutes for thin asparagus; 6-8 minutes for thick.

How to steam asparagus in the microwave
OK… This is one of those cooking techniques that, at first glance, seems like it might be a bit of a cooking-cop-out.
I mean, microwaves are for movie-night popcorn and heating up leftovers, right!?
Well, I'm here to tell you, friends, that microwaving fresh asparagus may just be one of the best ways to steam those verdant green stalks.
It's definitely the easiest!
Dinner is ready to go, but you're missing veggies on the plate? Nuke (gently, ha!) that bundle of asparagus you picked up at the farmer's market and add it to the plate in a matter of a few short minutes 🙂
If you haven't tried this method before, I think you'll be pleasantly surprised to find that a couple minutes in the microwave is all it takes. AND it won't obliterate your asparagus and turn it into a mushy mess.
Nope – you'll still get the perfect light crunch.
The secret is in the paper towels!
Wet – but not soaking – paper towels to be exact.
Simply roll your trimmed and salted asparagus in about 4 or so wet paper towels, and head to the microwave.
You see, asparagus already has almost enough water inside itself to steam in a hot environment. Adding wet paper towels provides the rest of the moisture it's going to need.
Bonus: its FAST!
How to cook asparagus in the microwave: Lay your trimmed asparagus flat on about 3-5 wetted and wrung-out paper towels. Add a bit of salt – and roll paper towels and asparagus into a bundle. Cook in the microwave for around 3 minutes. Test doneness and add more time in 20 second increments if needed.

How do you know if asparagus has gone bad?
Wondering if you've waited too long to cook the asparagus you bought a while back?
If a dull green hue appears – or you see wrinkles in the stem, it may be time to part ways and pick up a fresh bunch.
In the same vein, dry or flaky stems is a bad sign. Same if you squeeze the bunch and there isn't an audible squeak.
Also, is it wilting and limp – or super bendy without snapping? Buh-bye.
Now, I'm not saying you can't cook and eat bendy asparagus in a pinch – but it's not nearly as enjoyable.
And if you see mold appearing anywhere on the spear, that's an instant dump in the trash can moment!
Now – if you cooked up a big feast and have leftovers, you can store cooked asparagus in the fridge for a day or two at the most.
Secret: I actually like eating cold leftover grilled asparagus.
However, after cooking, refrigeration and a possible reheat in the microwave, all bets are off from a crispiness perspective!
And if your leftovers have been in the fridge for three days, that's when I'd cut my losses and pitch it.
But you're gonna be the best at deciding that!
Again, trust those instincts 🙂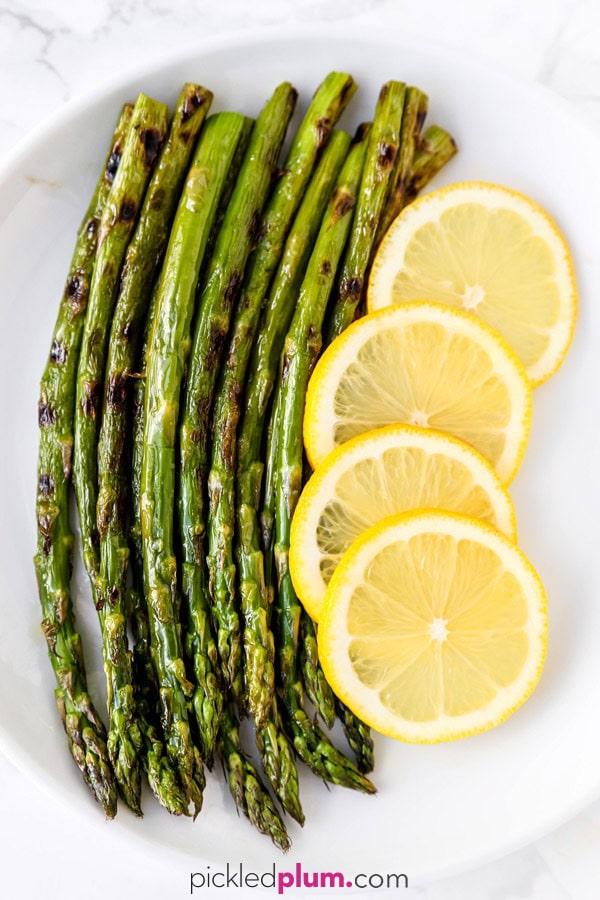 Some delicious asparagus recipes
Looking for some easy recipes for asparagus you can whip up in your home kitchen? Here are a few to try!
Other simple, easy, step-by-step 'how to' guides: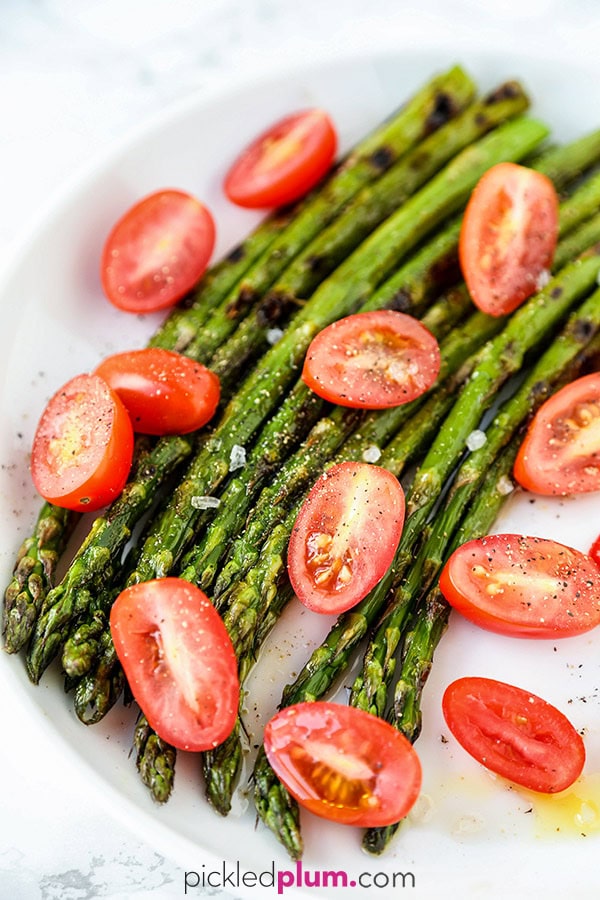 Did you like this tutorial on How to Cook Asparagus? Are there methods you use that you would like to share? Share your tips and recommendations in the comments section below!
Pickled Plum is a participant in the Amazon Services LLC Associates Program, an affiliate advertising program designed to provide a means for sites to earn advertising fees by advertising and linking to amazon.com.