A Sauteed Asparagus With Garlic and Oyster Sauce Recipe that is packed with bold yet delicate flavors. With minimal steps and a simple ingredients list, this savory, peppery and nutty Asian veggie recipe is ready in 10 minutes from start to finish!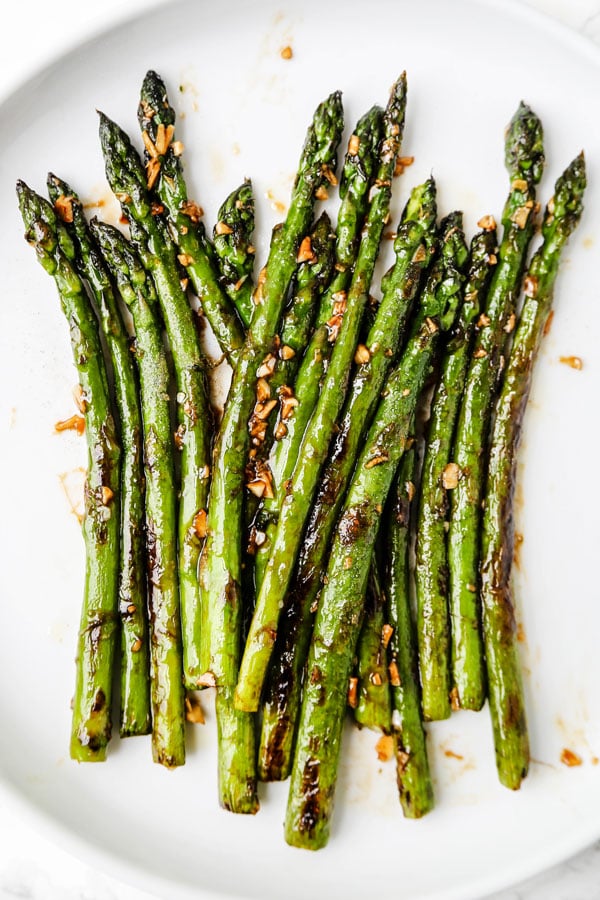 Sauteed Asparagus With Garlic and Oyster Sauce
Ben and I returned recently from a pretty epic trip abroad.
Yep – we spent a couple blissful weeks in Portugal and Iceland to celebrate a decade of marriage. We had so much FUN exploring two parts of the world that were unknown to us – and, in Iceland, dropping in on dear friends.
Trying new food is one of my favorite past times (obviously). I had my fill of Bacalhau à Brás, the BEST Plokkfiskur and a ton of other newfound delights.
But what really struck me amongst all that delicious abundance, was that something seemed to be missing from my personal flavor-reservoir. You see, it only took about a week for me to crave Asian flavors in a big way!
I never really think about it at home in Brooklyn. My pantry is stocked with everything from fish sauce to oyster sauce to sambal oelek – and we are flanked by great Japanese, Thai and Vietnamese restaurants.
So, at home at least, the Asian flavor gamut is in our lives everyday.
Not to fear! Between trips to Portuguese bakeries and charming cafes, we hit up a delicious Japanese restaurant in Lisbon and replenished our quota of umami. Then it was back to the traditional home-spun spots!
You better believe that when we got back to Brooklyn, our jetlag dictated the difficulty factor of the recipes we were willing to undertake for the next few days.
This sauteed asparagus with garlic and oyster sauce recipe made it on the menu a couple of nights in a row.
Not only was this Chinese asparagus recipe a breeze to whip up – with minimal steps and simple ingredients – it gave us a welcome-home-shot of the savory Asian flavors that have always been a big part of my life.
Have 10 minutes? Then let's cook!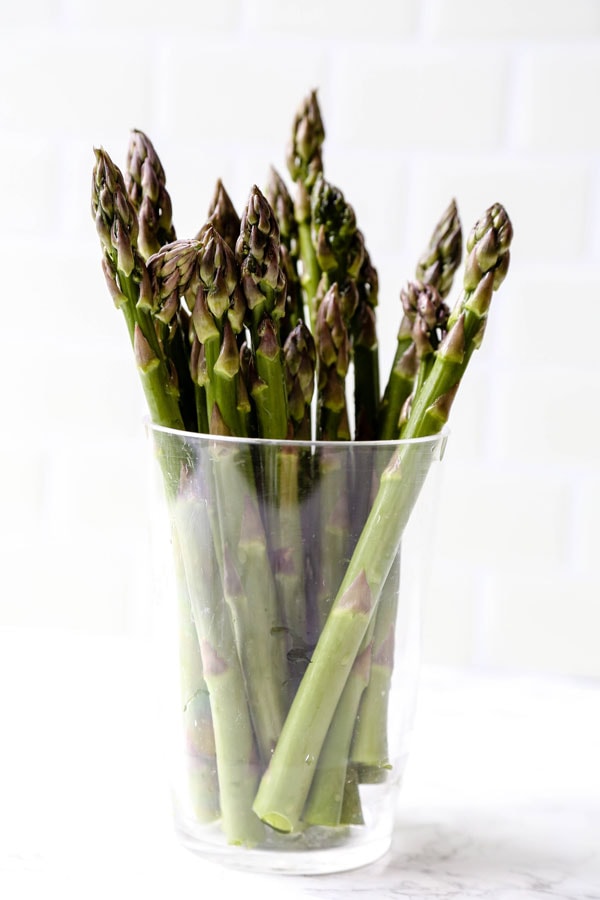 How to cook asparagus
While pan sauteed asparagus is my preferred method for this Chinese garlic asparagus recipe, the savory, peppery and nutty flavors would go with many other preparations.
One of the best things about cooking asparagus is that you are literally beset on all sides with cooking options that will deliver yummy spears to the table.
Check out my detailed post on how to cook asparagus here.
It's loaded with information on how to pick the best fresh asparagus, how to trim asparagus and the many ways to prepare asparagus with down-to-the-minute cooking times.
We're at the tail end of the traditional asparagus season months. However the bunches at my local grocery store are still squeaky, bright and fresh. Perfect for the grill as summer approaches!
Is there an actual best way to cook asparagus? Well, I'd argue that they're all the best way! Just depends on your taste and preferences in the kitchen.
As always, experiment until your results satisfy your unique palate!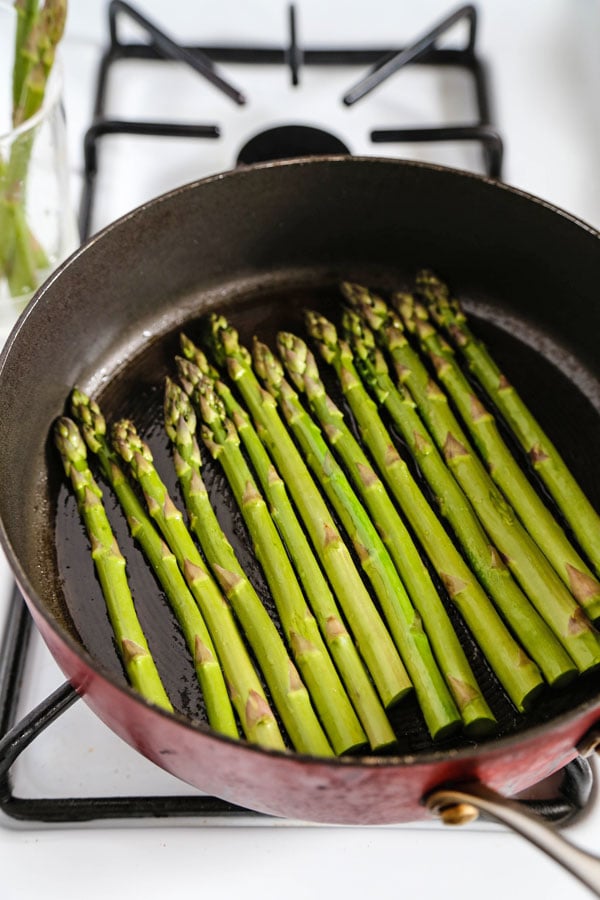 How to make this Sauteed Asparagus recipe
For this savory sauteed asparagus recipe, I like to trim the ends and add the spears to a hot pan with a little vegetable oil.
The trick is getting a slightly browned exterior without losing all of the natural crunch. I LOVE asparagus that has just a slight bit of fight left in it 🙂
After about five minutes or so, I add my oyster sauce, garlic and sake and coat the outside of the spears for about 30 seconds.
The smell from the fragrant garlic and bubbling sauce is out of this world!
Once you plate the spears, a dash of white pepper and a drizzle of sesame oil completes the recipe and rounds out the flavor profile so well.
While not an Asian asparagus stir fry, the Asian flavors are on-point. Plus, cooking with high heat means that there are taste and texture elements you might get when making a wok recipe.
The outsized and aggressive flavor is at odds with the time you spent making it in the kitchen.
It only takes 10 minutes from start to finish!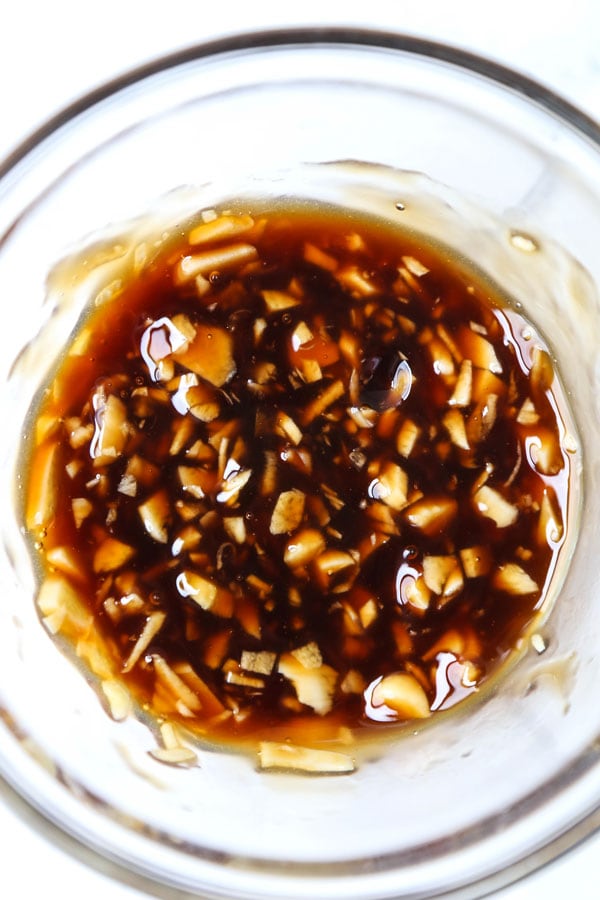 What is oyster sauce?
Oyster sauce is a viscous, dark brown (almost purple) sauce made of – you guessed it – oyster extracts.
The ingredients list is usually rounded out with a bit of sugar for sweetness, additional salt for that assertive savory element and a thickener like corn starch to give oyster sauce its trademark thickness.
Lee Kum Sheung invented oyster sauce in the late 1800s in Guangdong Province in China. And now, it's that sauce in the glass bottle on many Chinese, Vietnamese and Thai restaurant tables.
The use in traditional and modern Asian cooking cannot be overstated. Oyster sauce provides a ton of the assertive flavors we've come to know and love across all walks of Asian recipe preparation.
And if you're looking for a vegetarian oyster sauce option, there are some versions that approximate the flavor of the original by using a base of mushrooms.
In fact mushroom based oyster sauce is one of the truly wonderful plant based alternatives in the sauce world.
So whether you go for the original oyster based sauce, or the vegetarian alternative, your sauteed asparagus will be absolutely loaded with assertive flavors!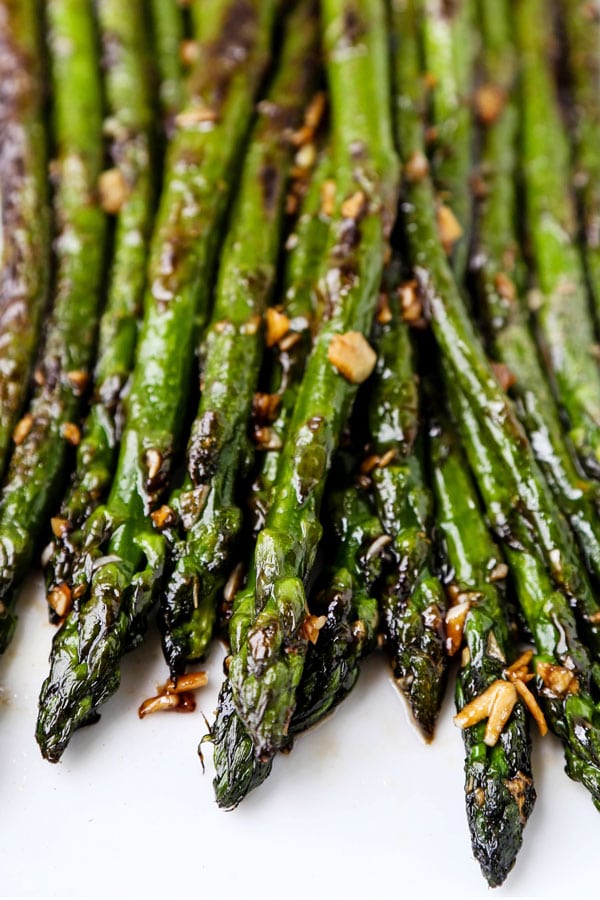 How does oyster sauce taste?
In a word: magical.
OK – in three words: briny, salty, strong.
In fact, oyster sauce is the perfect sauce for sauteed asparagus. It coats the exterior of the asparagus with a pungent, savory, slightly sweet glaze that is powerful but not cloying.
It also does the heavy lifting in the flavor department in this easy-to-make bok choy with garlic and oyster sauce recipe.
However, a little goes a long way!
It would be pretty easy to go overboard without even trying. So use your measuring spoons when using oyster sauce.
If you're like me, and like things a bit… ahem, stronger, you can always add more after you've had a taste. But if you pour with abandon, you may find yourself regretting the momentary lapse of quantity control, hehe.
A healthy Asian asparagus recipe
Aside from the fact that asparagus is packed with fiber, vitamin K and a multitude of anti-inflammatory properties, it's also a low calorie food!
Seriously. There are approximately three calories in asparagus (per medium sized spear).
So, feel absolutely no guilt about indulging in this flavor forward vegetable recipe. Both the delicious taste and health benefits are firmly within the wheelhouse of a healthy, balanced diet.
Now, in all fairness, oyster sauce can be a bit high in the sodium department. However there's only a tablespoon and a half used in this sauteed asparagus recipe. Not a ton.
If you're on a low sodium diet, it might be best to augment the amount of oyster sauce you use to fit into the guidelines your doctor or dietitian has laid out for you. (As always, consult a professional when it counts!)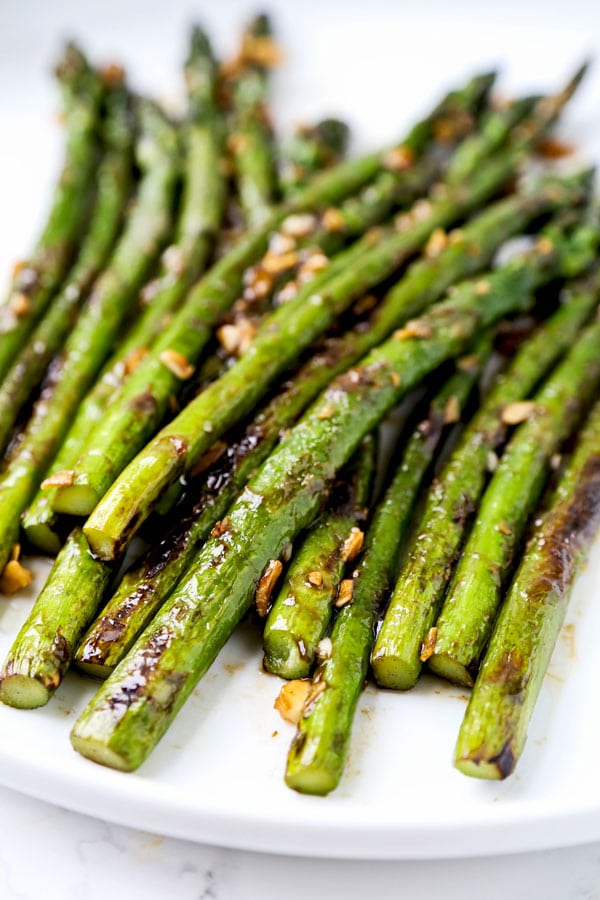 Veggies FTW!
This 10 minute oyster sauce loaded sauteed asparagus recipe has been in heavy rotation at our place since we returned from our trip.
Not only is it easy to make, it just happens to be my new favorite recipe for asparagus for the simple fact that it is packed with all the deep Asian flavors that I crave on the regular.
Now there are some obvious shared visual similarities between this asparagus recipe and my dry-fried green beans with garlic sauce recipe. That's one of my all-time favorite better-than-takeout, easy Asian veggie dishes.
However the flavors in this savory sauteed asparagus are different enough that you could serve both aggressively seasoned, garlic spotted vegetable dishes at the same meal and still be surrounded by variety.
I'm all about veggies in any form. But when those veggies are loaded with Asian flavors, that's when my pulse really quickens!
What about you? Is there a flavor you miss almost immediately if it's suddenly missing from your daily food routine? I'd love to hear about it in the comments!
Other delicious and easy asparagus recipes:
Plus: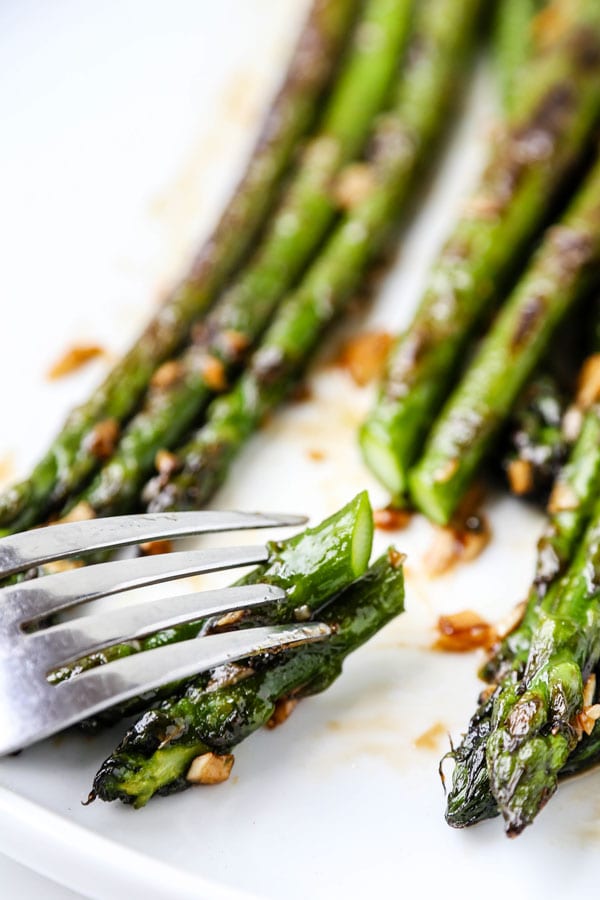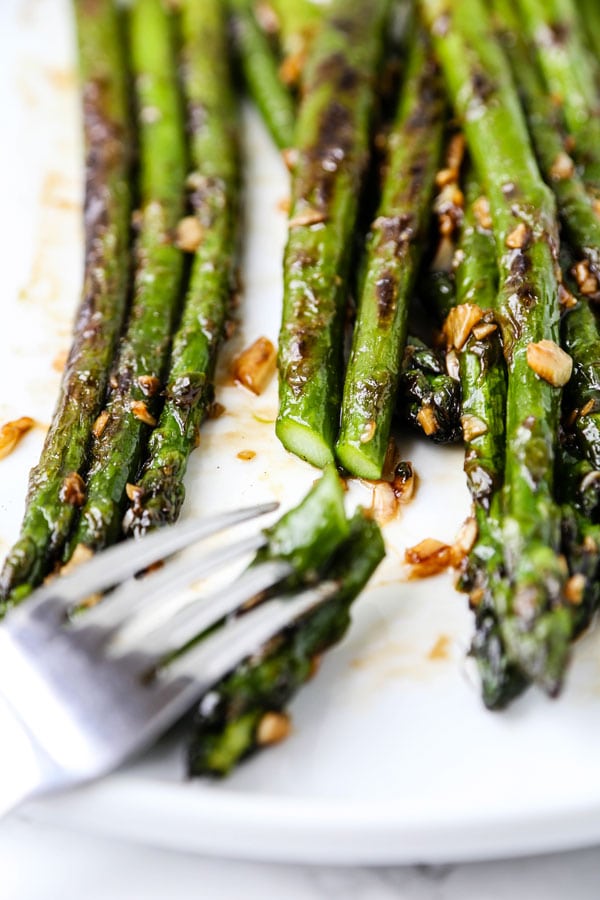 Did you like this Sauteed Asparagus With Garlic and Oyster Sauce Recipe? Are there changes you made that you would like to share? Share your tips and recommendations in the comments section below!
Print
Sauteed Asparagus With Garlic and Oyster Sauce
Frangrant and savory asparagus briefly sauteed and perfectly crunchy!
Author: Caroline Phelps
Prep Time:

5 minutes

Cook Time:

5 minutes

Total Time:

10 minutes

Yield:

4

people

1

x
Category:

Side

Method:

Pan frying

Cuisine:

Chinese
1

garlic clove (minced)

1 teaspoon

sake

1.5 tablespoons

oyster sauce

16

–

18

asparagus spears (ends trimmed)

1 tablespoon

vegetable oil (or peanut oil)
ground white pepper (optional)

1/2 teaspoon

sesame oil
Instructions
Mix garlic, sake and oyster sauce in a small bowl and set aside.
In a large skillet over high heat, add oil and swirl to coat the pan.
When the oil is hot, add asparagus and saute, turning frequently, until the stalks are crisp-tender, about 4-5 minutes.
Add oyster sauce mixture and swirl to coat the asparagus stalks. Cook for 30 seconds.
Turn the heat off and transfer to a plate. Drizzle sesame oil on top and season with a little white ground pepper. Serve.
Nutrition
Serving Size:
Calories:

47

Sugar:

1.2 g

Sodium:

204.9 mg

Fat:

2.4 g

Saturated Fat:

0.7 g

Carbohydrates:

3.8 g

Fiber:

1.4 g

Protein:

1.6 g

Cholesterol:

1.8 mg
Keywords: Recipe, quick, easy, vegetables, meatless
Recipe Card powered by