This is a gentle homemade houjicha sugar scrub that will make your skin silky smooth. The aroma will take you on a trip to Japan and leave your body and mind feeling relaxed. It also makes a wonderful gift to give to your favorite guys and gals!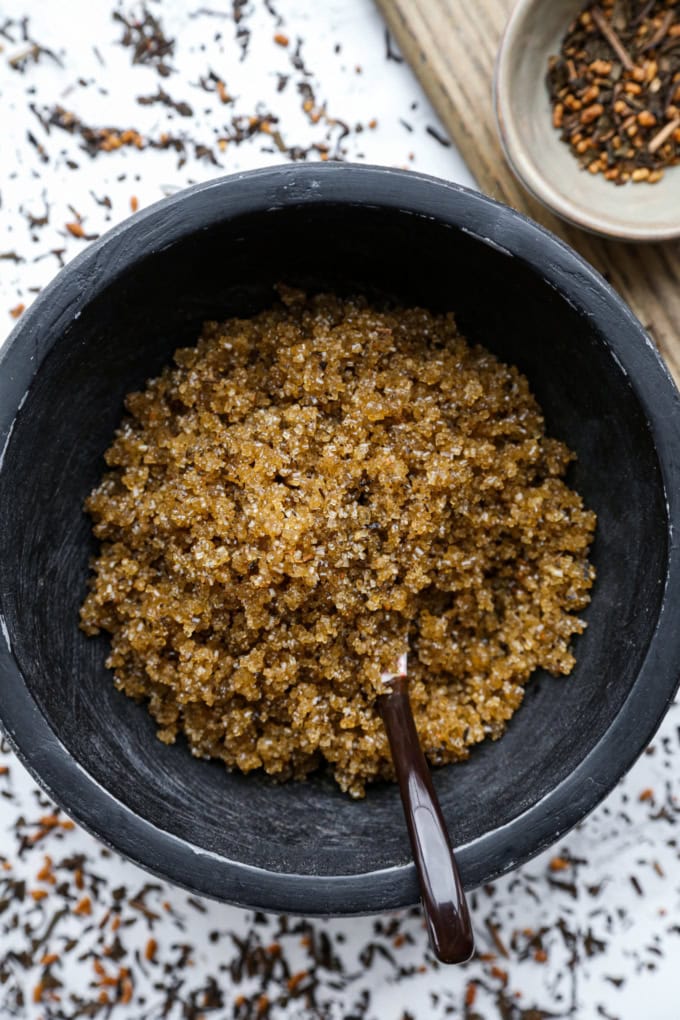 Winter is upon us which means it's time to bundle up and get ready for the cold and dry season.
It also means we must take better care of our skin by exfoliating and moisturizing it on a regular basis. The more we feed our skin with nutrients and keep it hydrated, the happier it will be. Creams do a good job at locking in moisture but nothing feels as good as a homemade sugar scrub to keep my skin glowing all winter long!
Making your own sugar scrub is very easy. So easy in fact that you may never buy another one again! I started my own diy scrubs a few months ago after learning how to make skincare products at home. I couldn't believe how easy some of the products were to make – a sugar scrub being the simplest of them all!
There are many different ways to make a scrub and today I'm showing you the quickest and cheapest method. All you need are 3 ingredients and 5 minutes to make this beautiful houjicha body exfoliator.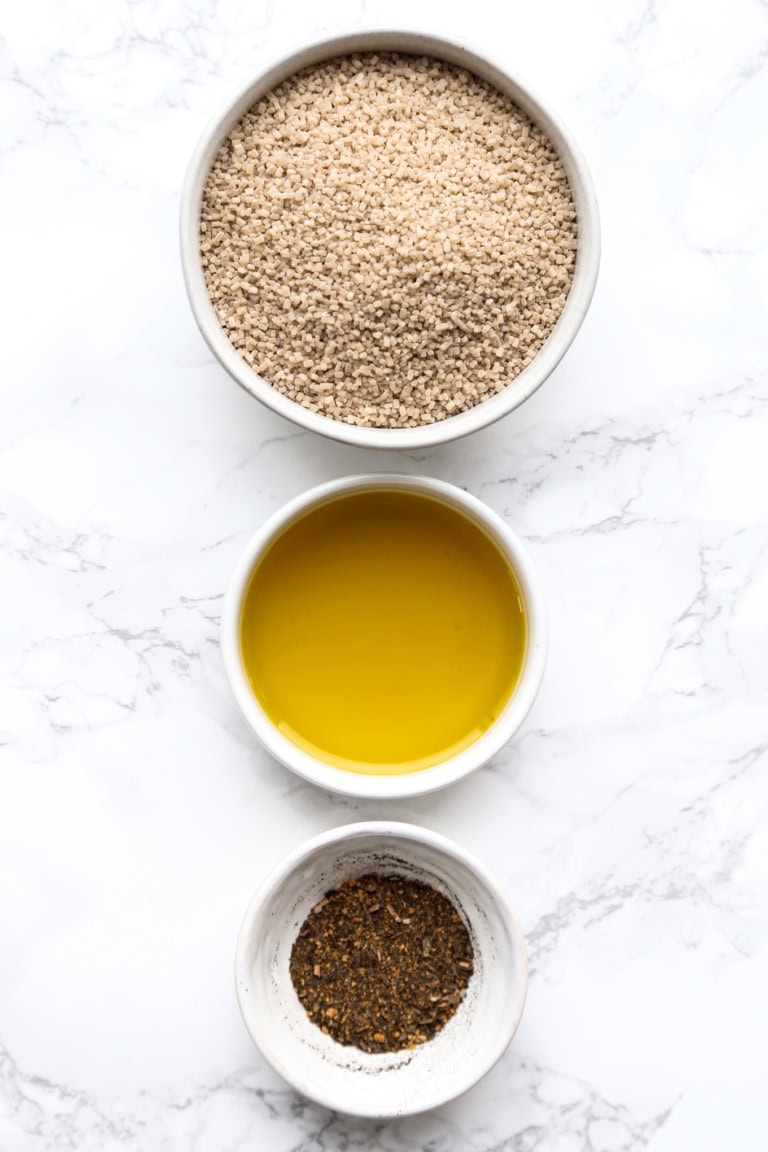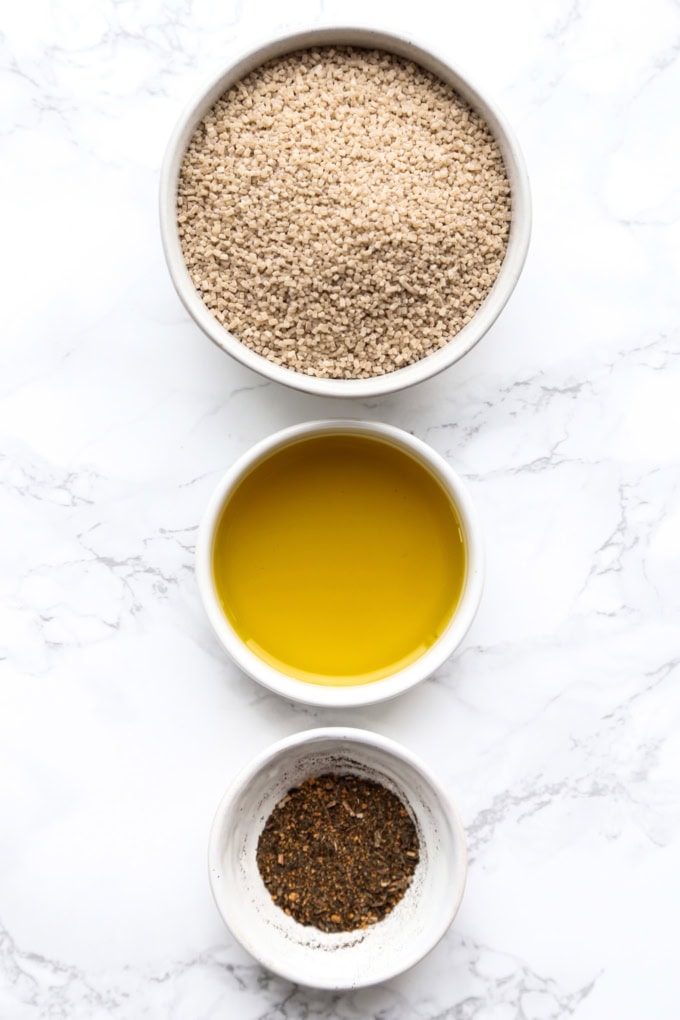 Benefits of Using a Sugar Scrub
Exfoliating your skin on a regular basis is great for many reasons. The scrubbing motion stimulates circulation while getting rid of dead skin cells and impurities that could otherwise clog pores and cause breakouts.
It's also great at preventing ingrown hairs and softening razor bumps. The oil keeps the skin hydrated by drawing moisture into your skin and giving it a healthy glow.
Tools Needed
Spice grinder
Bowl
Spoon
Jar or storage container with a lid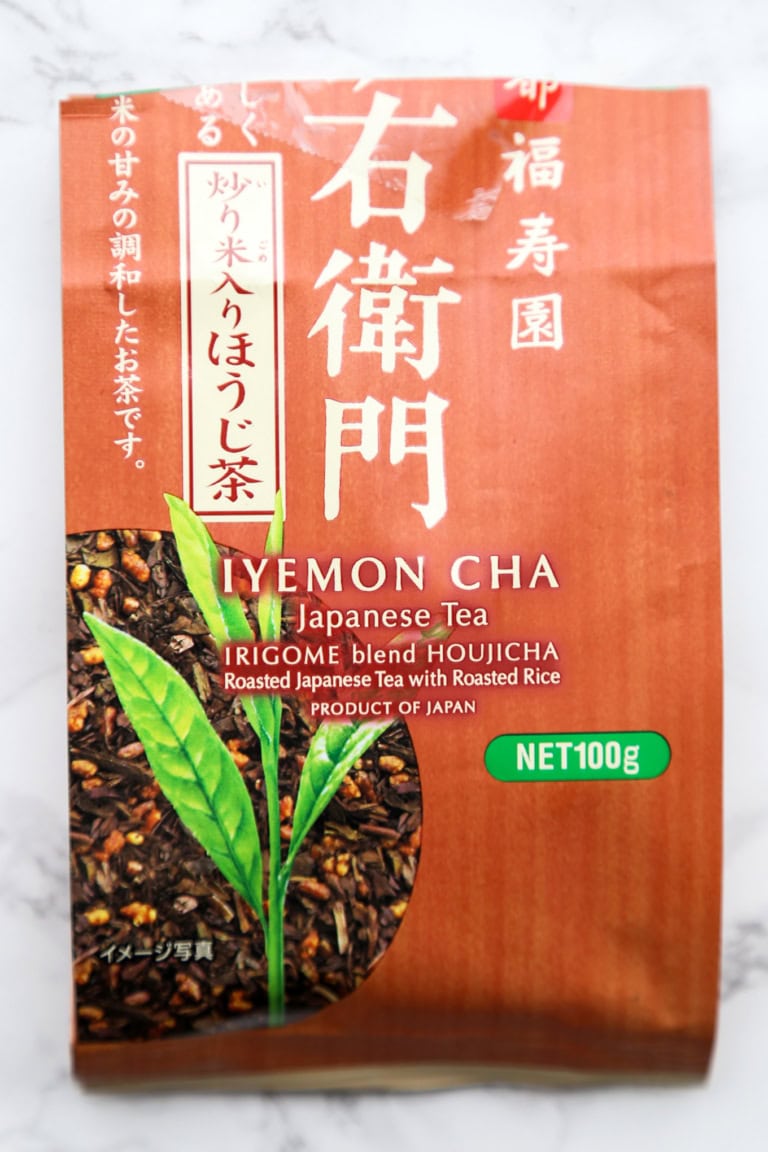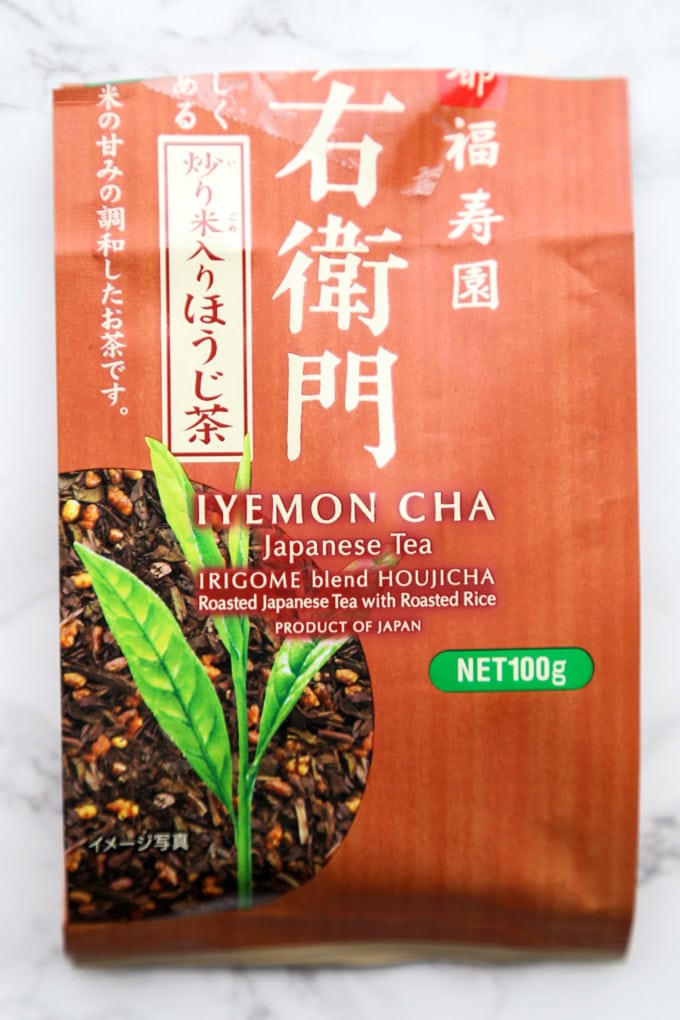 Ingredients for Sugar Scrub
Oil: I personally like the combination of olive oil and houjicha since I'm not big on sweet smells. You can really smell the roasted tea leaves and roasted rice, which blend beautifully with the floral scent of the olive oil. But if you prefer sweet smells, try using almond oil or coconut oil for this recipe.
Sugar: There are three types of sugar you can use for this sugar scrub – cane sugar, brown sugar, or turbinado sugar. Cane and brown sugar have smaller grains than turbinado sugar,  which is what I'm using in these pictures. Basically it comes down to the type of texture you like to scrub your body with.
Houjicha: You can use any type of houjicha for this diy sugar scrub but I highly recommend trying the irigome blend if you can find it, which is a blend of roasted green tea leaves and roasted rice. The aroma is absolutely gorgeous, you will feel like you are in an expensive spa somewhere in Japan!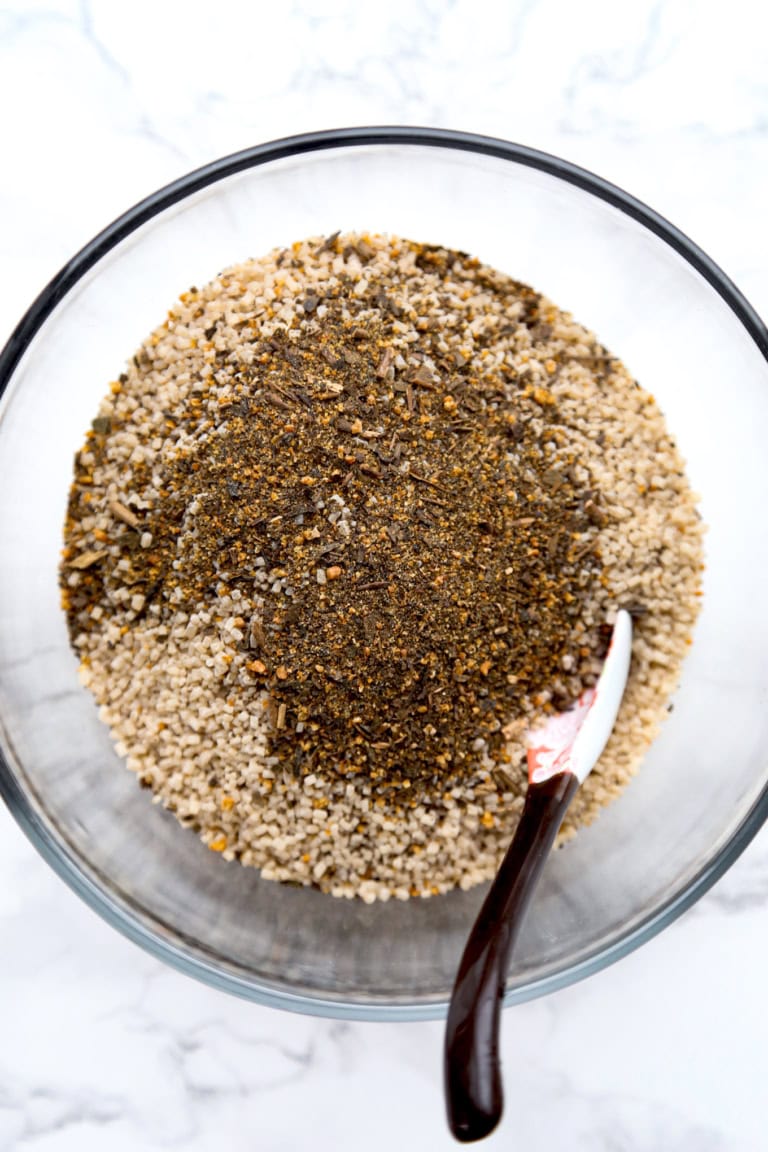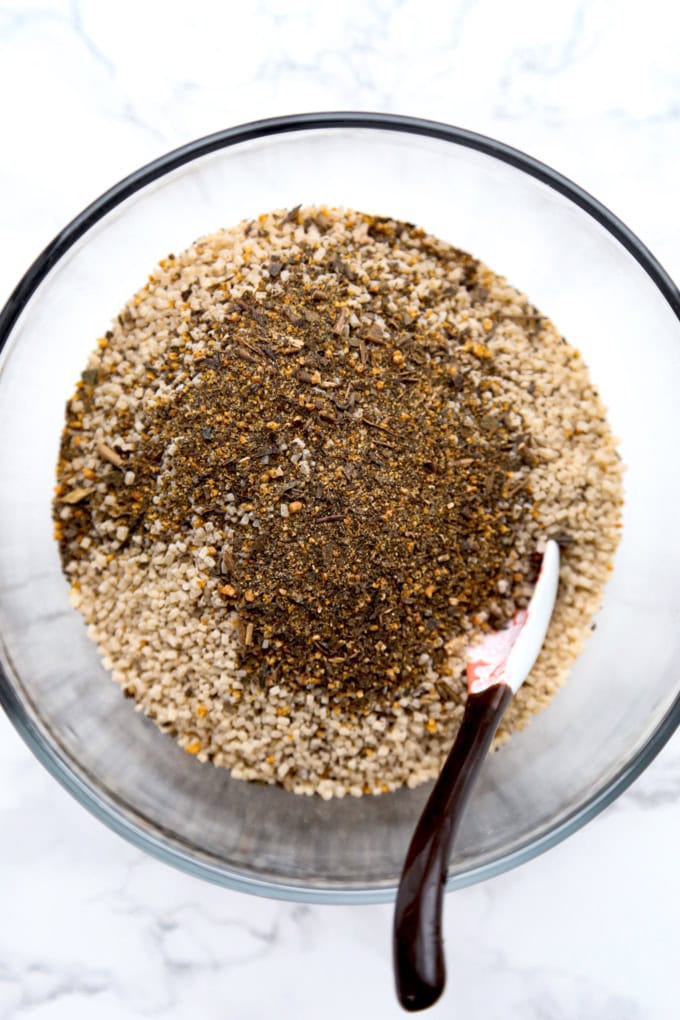 How to Make Sugar Scrub
Gather all of your ingredients and kitchen tools.
Pour the houjicha in a spice grinder and put the lid on. Grind until the tea leaves are pulverized into small grains.
Pour the sugar in a bowl and add the houjicha. Stir well.
Drizzle one tablespoon of olive oil into the bowl and stir until all the sugar is coated with the oil. Add another tablespoon of olive oil and do the same thing. Repeat this step with the remaining olive oil.
Transfer the sugar scrub to a jar or storage container. Use up to 3 times per week.
You can adjust the amount of oil according to your personal preference – 4 tablespoons is on the dryer side but it's still plenty to keep your skin moisturized. Add an additional 1-2 tablespoons if you prefer a more luxurious scrub.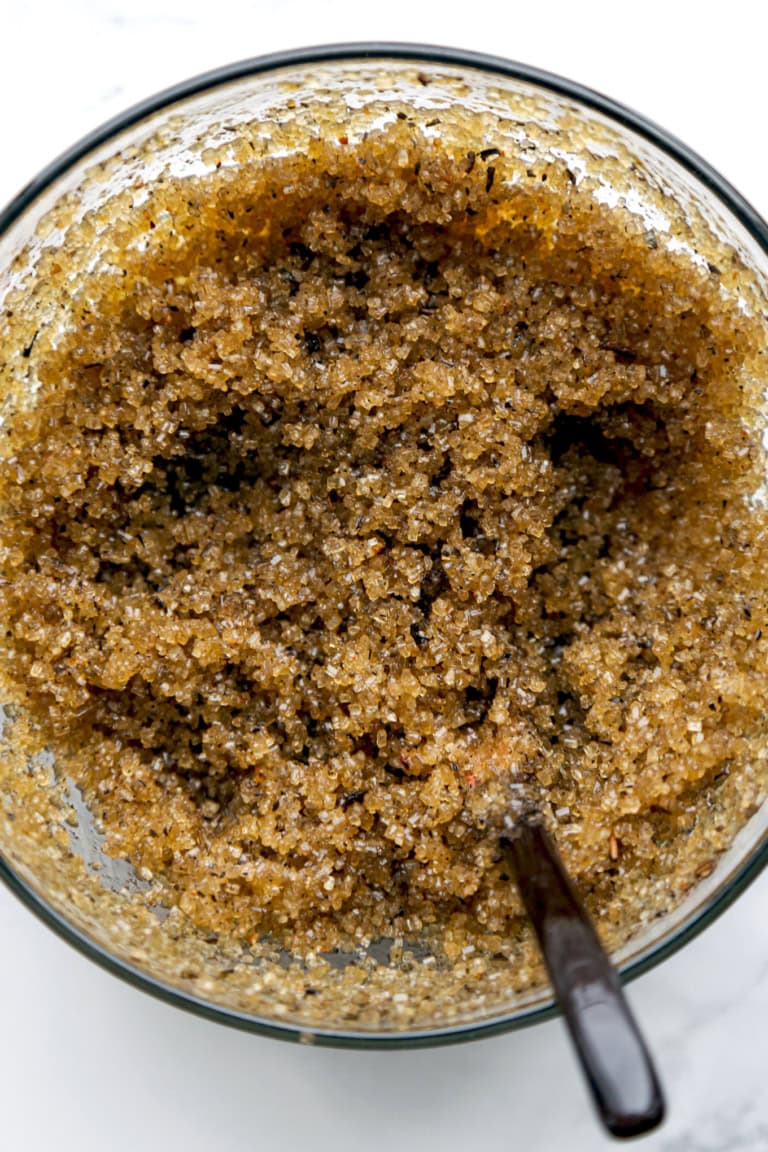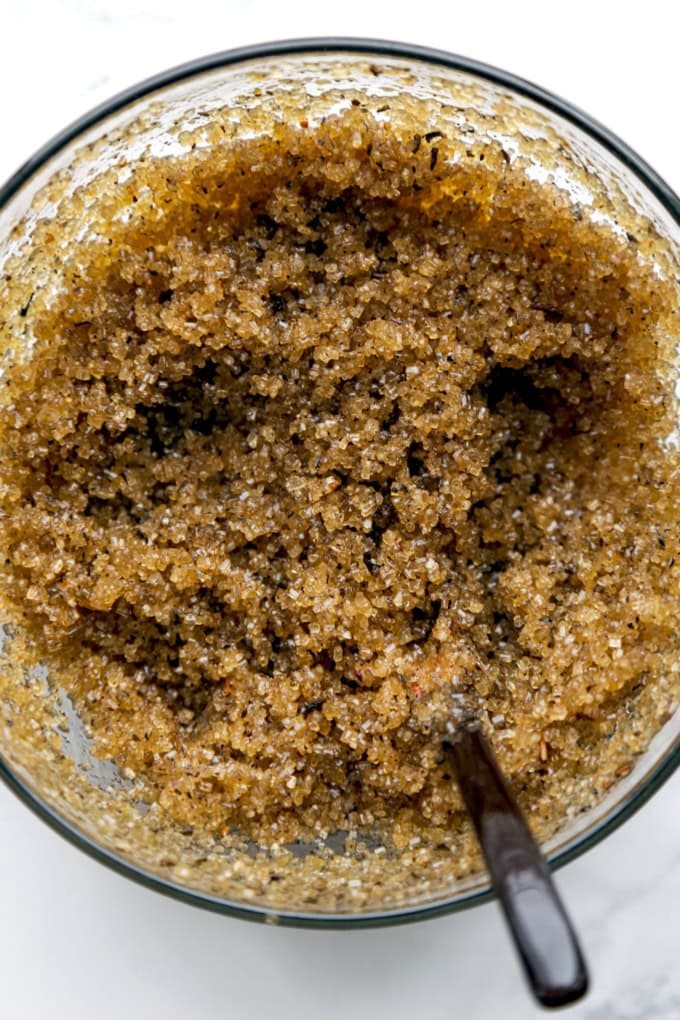 Is Homemade Sugar Scrub Good For Your Face?
That depends on the type of sugar you are using.
Turbinado sugar: Turbinado sugar has the coarsest grains and therefore should not be used for the face. It's not gentle enough for the delicate areas around the eyes and is too abrasive in general. However, it's also the least processed sugar and contains the highest amount of essential minerals which are great for the skin. Use this sugar to make a scrub for the body, neck, hands and feet.
Brown sugar: Brown sugar can be used to make a face scrub. It's great for sensitive skin and is the least abrasive type of sugar. If you would like to make an all-purpose sugar scrub that can also be used for the face, use brown sugar.
Cane sugar: Cane sugar is more gentle than turbinado but not as gentle as brown sugar. But it can also be used as a face scrub, and the best part is that it contains some essential minerals too!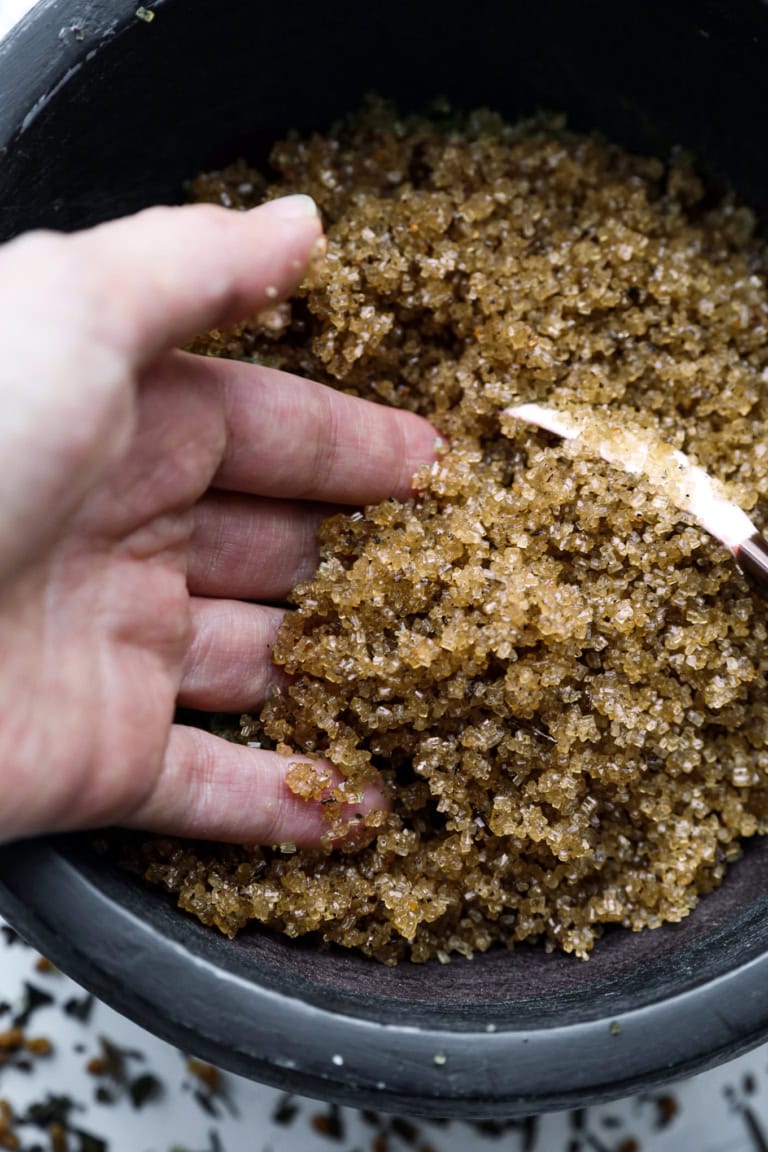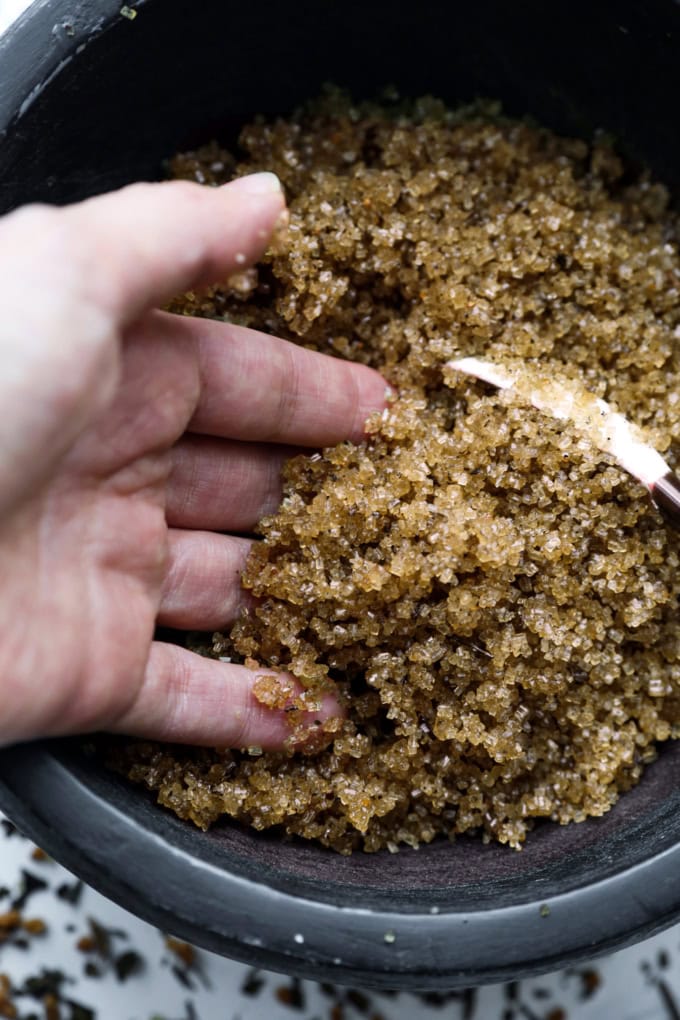 Which Oil is Best for Your Skin?
As I previously mentioned,  I love using olive oil for my homemade scrubs because of its mild floral scent, but also because I find it really hydrating for my skin. I have combination skin on my face but when it comes to my body, I would say it's definitely more toward the dry side.
Keeping my skin moisturized is essential for my well being – there's nothing worse than feeling itchy in the middle of the night – and also makes it look younger and healthier.
But you may not have that problem – maybe you have oily skin and break out easily, which means you should avoid using olive oil and choose something that won't clog your pores.
Here's a quick guide to choosing the best oil for your skin type so you can get the best result when scrubbing away in the shower.
Almond oil: Is high in vitamin E and good for all skin types.
Avocado oil: Avocado oil is very rich and hydrating and is good for people with dry skin and mature skin.
Unrefined coconut oil: Coconut oil is good for people whose skin break out easily. It's high in antibacterial properties and doesn't clog pores.
Hazelnut oil: Because of its astringent quality, hazelnut oil works beautifully for people with oily skin or acne prone skin.
Olive oil: Great for people with very dry skin, olive oil is known for it strong humectant properties, which draws moisture into the skin and retains it.
Sesame oil: Sesame oil is very high in minerals that combat skin problems such as eczema and psoriasis. It also has skin softening properties and can help with arthritis because of its anti-inflammatory properties.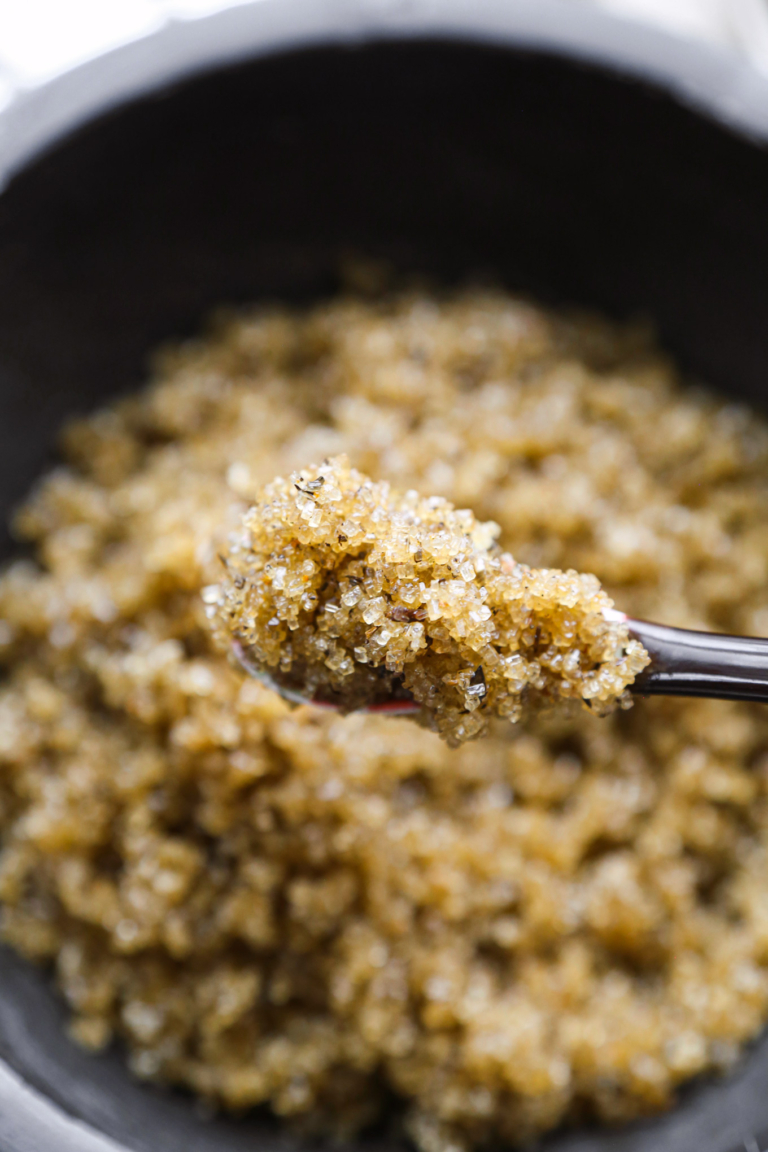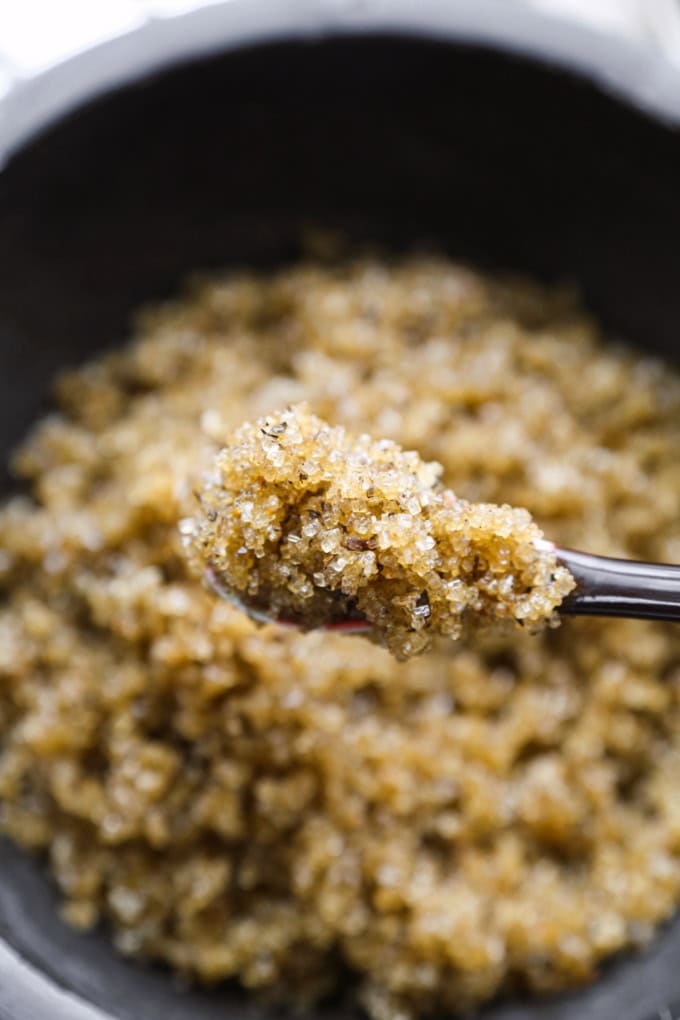 Benefits of Green Tea on Your Skin
We already know that drinking green is excellent for our skin and health, but did you know that it's also excellent for the skin?
Because green tea is high in antioxidants and anti-inflammatory properties, it can protect your skin from free radicals, which cause aging, and can fight bacteria from entering your skin (and cause breakouts).
Using this simple houjicha sugar scrub recipe will help protect your skin from the harsh weather all winter long while nourishing it with minerals and vitamins.
And if you would like to add more green tea to your everyday life, here are some of my favorite green tea based recipes: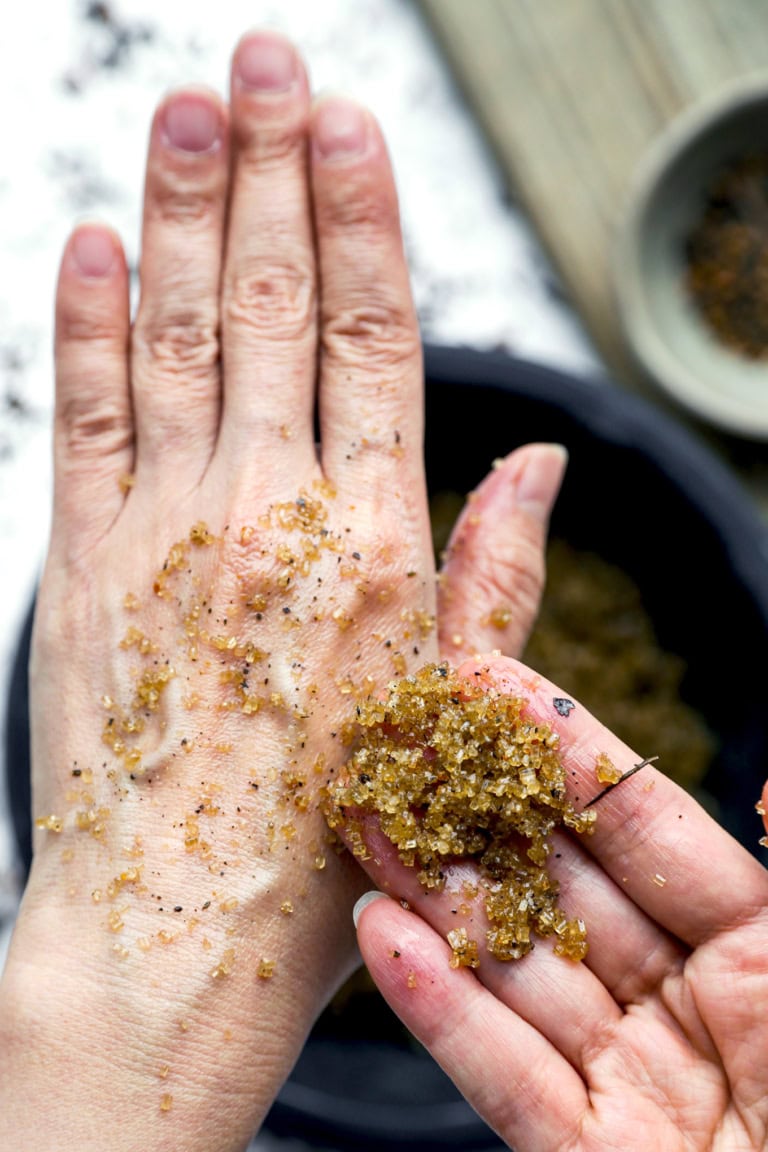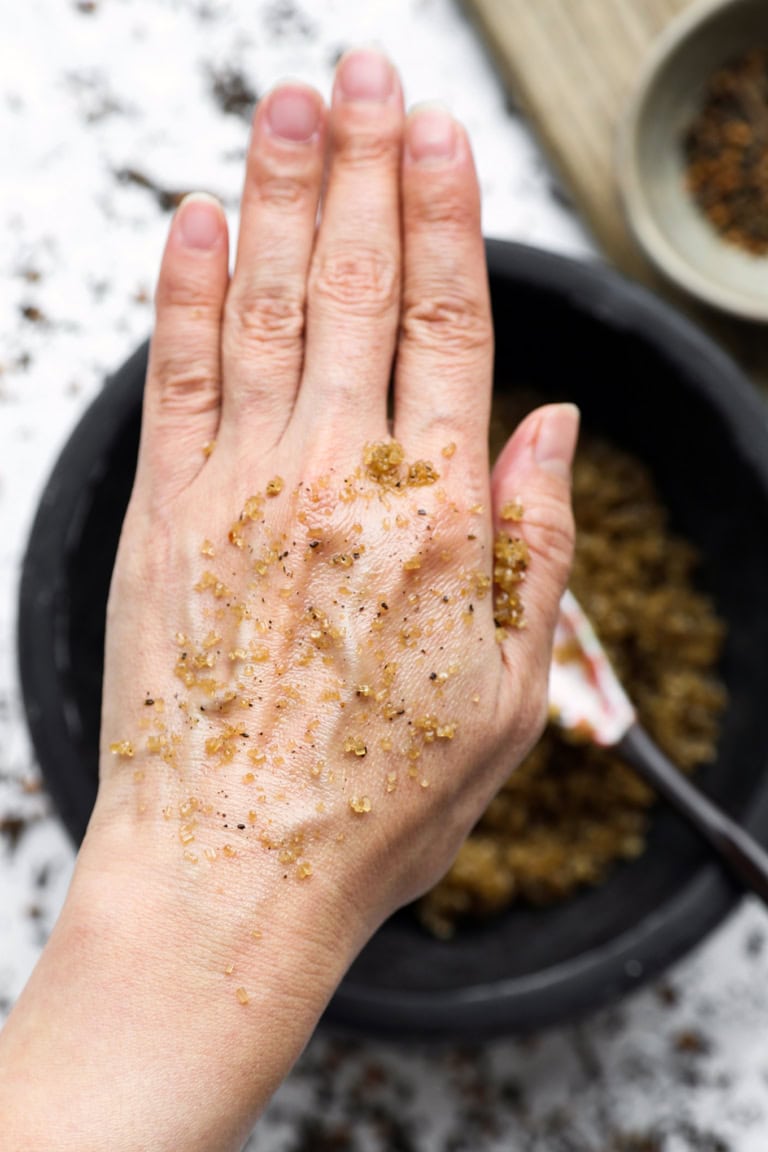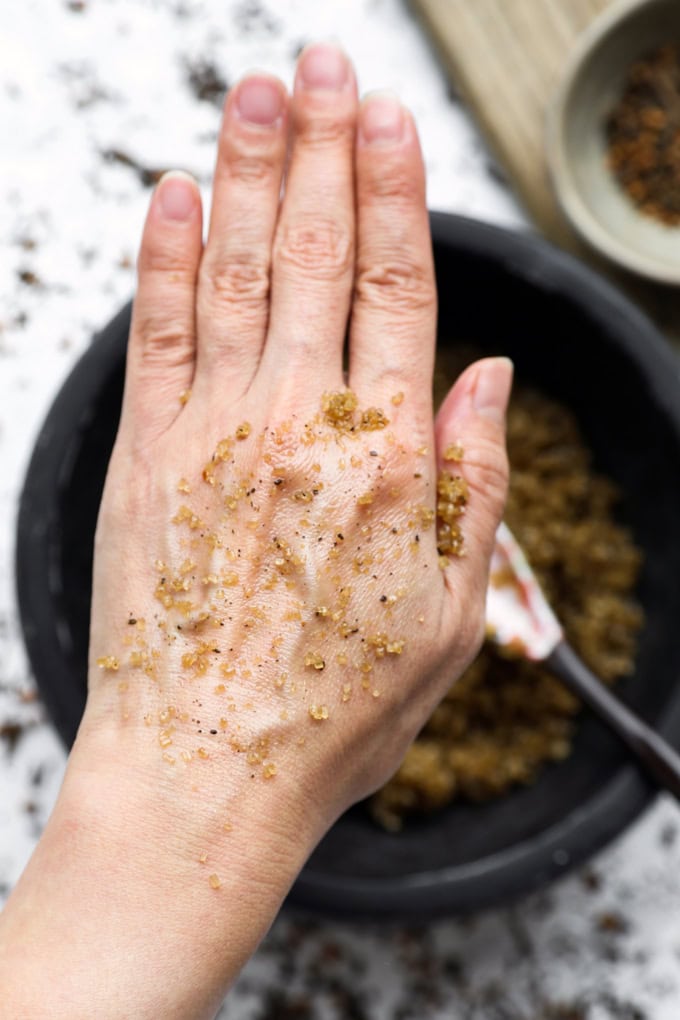 Did you like this Houjicha Sugar Scrub Recipe? Are there changes you made that you would like to share? Share your tips and recommendations in the comments section below!
Print
Houjicha Sugar Scrub
This is a gentle homemade houjicha sugar scrub that will make your skin silky smooth. 
1 cup

organic cane, turbinado, or brown sugar

2 teaspoons

houjicha tea leaves

4

–

5

tablespoons extra virgin olive oil, almond oil, hazelnut, avocado oil, sesame oil, or coconut oil
Instructions
Place the houjicha in a spice grinder and grind until the leaves have become small grains.
Transfer the houjicha to a glass jar or other storage container, and add the sugar. Stir to combine.
Stir in 1 tablespoon olive oil until it's fully mixed and add another tablespoon. Keep adding and stirring slowly until you get the grainy/sandy texture of a scrub.
Close with a lid and use up to 3 times a week.
Notes
Add 1-2 extra tablespoons of oil for a more luxurious scrub.
Recipe Card powered by