Make your own fajita seasoning in less than 5 minutes, using 7 spices that are most likely in your pantry! It's cheaper, healthier (no additives) and just as tasty!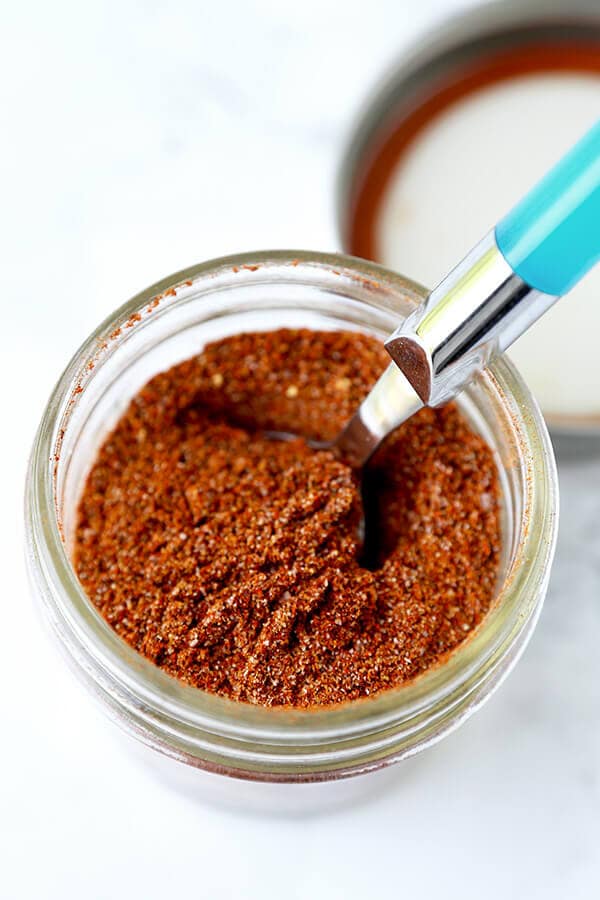 Remember the first time you had fajitas?
I sure do!
My mother and I were nibbling tortilla chips and sipping iced teas (at a yummy chain restaurant that shall remain nameless here). That's when I first heard the approaching sizzle.
Everyone else in the restaurant seemed to have their heads on a swivel as the waiter set the cast iron skillet of beef and chicken fajitas on our table. (Btw… this is what a fajita skillet looks like.)
No lie: I'm pretty sure my jaw hit the floor, hehe.
There's just something so mesmerizing and visceral about a sizzling platter of meat and veggies! We quickly got to work, loading up our tortillas with creamy guacamole, peppers, onions and meat.
The DIY aspect of assembling my own fajitas quickly became my second favorite thing about the whole experience.
The BEST part, however, was the taste! I found myself wondering what went into making something that delicious?
Even at that young age, I knew there just had to be some sort of special fajita seasoning mix at play. And I wanted to discover it for myself. Although, I guess it was never lost 😋
So let's take a look at how easy – and rewarding – it can be to make your own fajita seasoning mix. That way, it's always at the ready when the mood for fajitas strikes!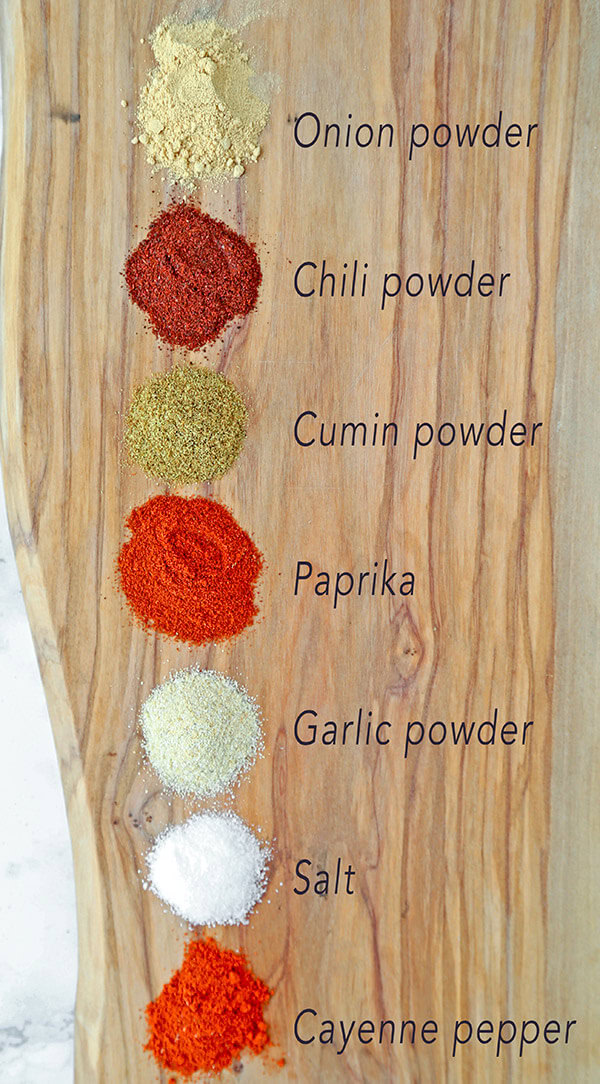 But first… What are fajitas?
Fajitas are Tex-Mex food royalty.  If you've ever rolled up strips of grilled meat with pan-fried peppers and onions in a soft flour or corn tortilla, you've likely had fajitas.
The term fajita is a bit of slang that originated from the Spanish word faja which loosely translates into 'belt' or 'strip'. And thats because the first fajitas were made with skirt steak.
These days, however, aside from the original skirt steak fajitas, you're likely to find everything from chicken to shrimp to tofu and veggies being used as the main elements in an order of fajitas.
Since skirt steak is a relatively tough cut of meat, it is typically sliced against the grain into strips to make it easier to chew. And, stylistically, that may very well have unintentionally translated into other meats, like chicken fajitas, being served in thin strips as well.
It is common to eat fajitas at restaurants with added condiments like guacamole, salsa, shredded lettuce, sour cream and refried beans. And, while there are probably preparations that err on the more authentic side of things, I've always had the impression that there were no hard and fast rules about what you could and couldn't dress your fajitas with.
However, when I was a kid, I always thought that eating fajitas was the act of biting into a soft tortilla loaded with meat, peppers and onions and all the fixings. But, fajitas is not a composed dish. Fajitas refers to the actual filling (or the original skirt steak).
So, how are we going to prepare a full-flavored batch of fajitas to load into our warm tortillas at home?
We'll whip up a bold spice mix so simple it almost defies reason!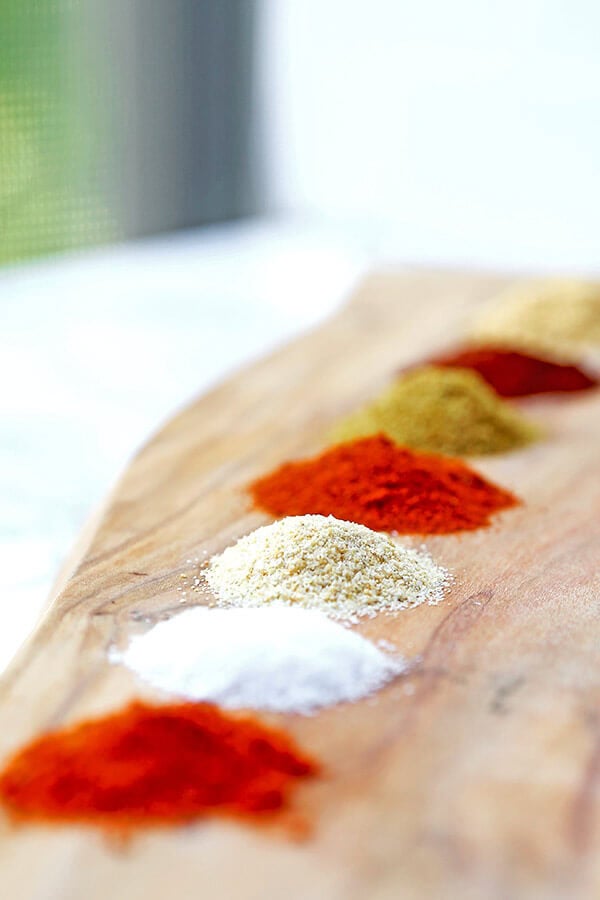 DIY Fajita seasoning: Way Easier Than it Sounds
Let's get this out of the way: making homemade fajita seasoning in your kitchen is pretty darn easy.
In fact, you may have the lion's share of the ingredients you'll need just hanging out on your spice rack already.
Luckily, there's no need to buy a pre-made packet of fajita mix at the grocery store anymore.
The savory, smoky and spicy flavor beats the store bought versions any day. Plus, there are absolutely no additives or preservatives in this fajita seasoning recipe. Can't say that for the brightly colored, pre-sealed spice packet at the grocery store 🙂
And the best part – especially if you love fajitas as much as I do: you can double up the recipe and keep your mixed spices in any old tupperware container – or pick up a spice bottle – for future use.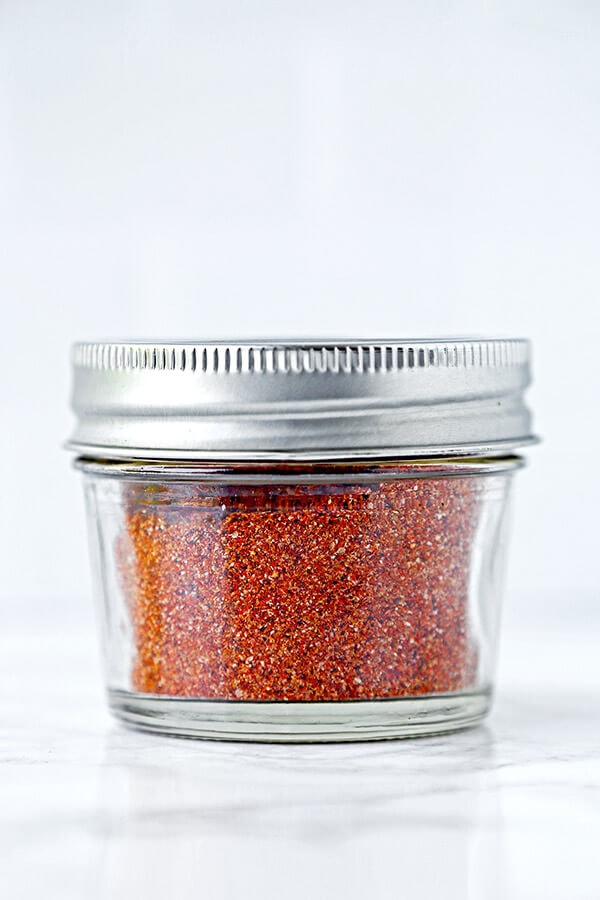 How to Make Fajita Seasoning at home
This is the easy part!
To make fajita seasoning at home, all you have to do is combine a few spices together (7 spices to be exact) and you're off to the races!
Now, you probably have all of these spices sitting on your rack right now. If not, they're all super easy to find at the grocery store. I'll also link to them on Amazon in case you prefer to order them online. So, without further ado, measure out:
Just mix it all really well and, if you're not planning to use all of your fajita seasoning immediately, store it in an airtight container. That's it! So easy right!?
A good rule of thumb is to use about 1½ tablespoons of the fajita spice mix for every pound of protein you're cooking.
Something magical happens when the bite of chili powder, the spiciness of cayenne pepper and smokiness of paprika all meet!
If you're wondering why I use kosher salt in this seasoning mix, it's because kosher salt is comprised of larger crystals.
You see, it's too easy to over-salt a dish when using the teeny-tiny crystals in iodized salt. In this home chef's opinion, iodized salt doesn't taste super great either. And since the larger crystals in kosher salt take up more space (and taste better), there's no chance of accidentally adding way too much in the savory department.
This spicy and smoky fajita seasoning has a balanced savory element that allows the other spices to shine as well!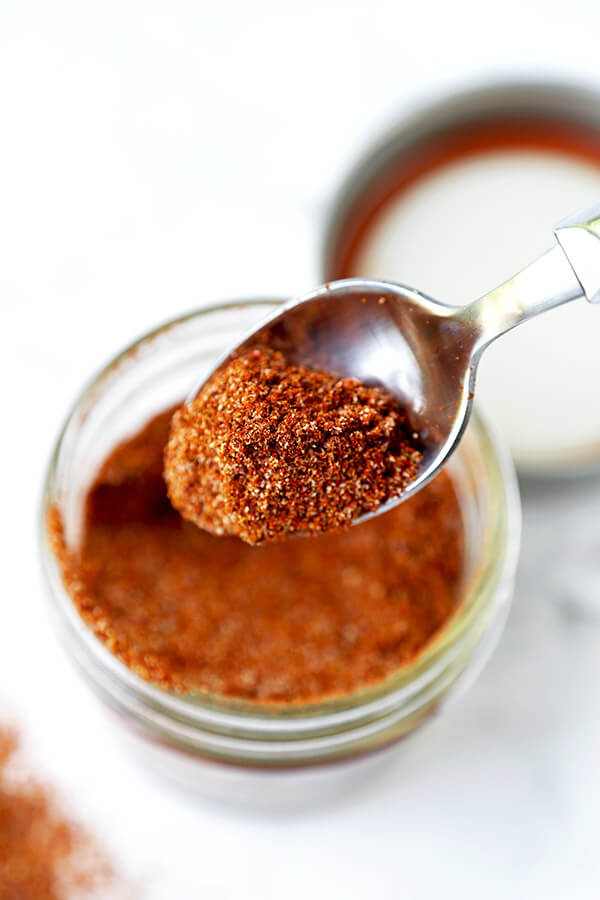 How to make fajitas: Flame and Flavor
The secret to making great fajitas isn't much of a secret at all. You just need a smoking hot skillet and tons of flavor.
This south-of-the-border spice mix is the flavor portion of that easy two-part-equation. It's pretty amazing how a few simple simple spices mixed together can form something so deeply flavored.
Again, when making fajitas at home, I use about 1½ tablespoons of fajita seasoning per pound of protein.
Whether you're making steak fajitas or chicken fajitas – or you're going with tofu or seitan for a vegetarian version – the ratio should be roughly the same. 
Pro tip: If you're preparing your veggies separately from the protein, you can also use a bit of your fajita seasoning mix when cooking the bell peppers and onions!
While not quite a dry rub, this homemade fajita seasoning mix could be used that way if you want to pre-treat your chicken or beef. Otherwise, just add this spice mix as you cook – and you'll be rolling up delicious tortillas full of meat and veggies that are so good they'll make your head spin!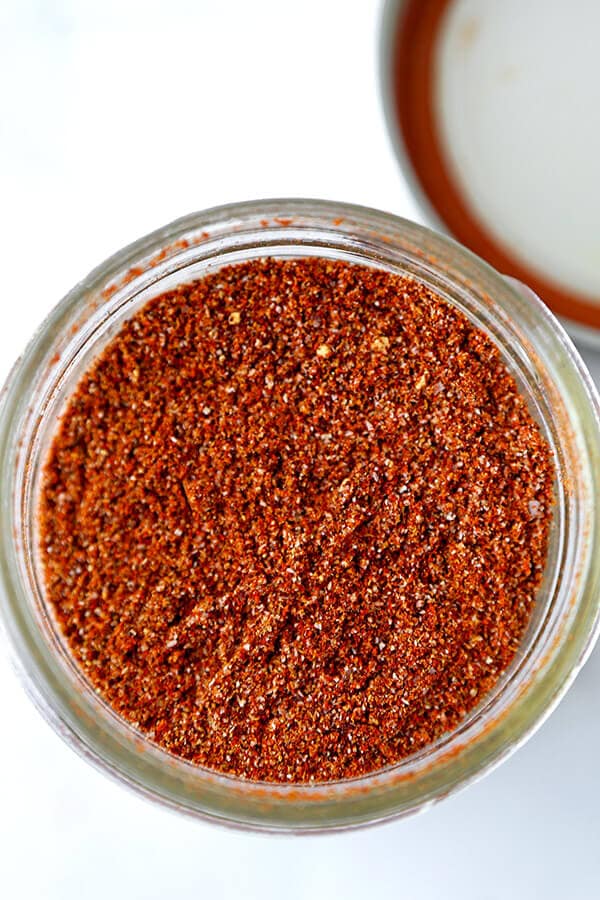 The spice mix behind one one of my favorite Mexican dishes of all time
While there's nothing simple about the deep flavors you'll find in a good fajita recipe, I find it pretty cool that the key to the outsized smoky, savory flavor is so easy to recreate in a humble home kitchen!
I mean, when literally any night can be fajita night with the mixing of a few simple, everyday spices, you're probably going to want to make extra. Better double (or triple) up!
Every time I use this delicious fajita seasoning mix at home to whip up seitan or chicken fajitas, I think of that epic first Mexican meal with my mom.
That's when the sizzle really got into my bones.
What about you? Do you think this is the best fajita seasoning? Or do you have your own home-chef tricks up your sleeve? I'd love to hear about what is in the fajita seasoning at your house! Tell me about it in the comments 🙂
Happy cooking!
Other simple, delicious recipes packed with south-of-the-border flavor: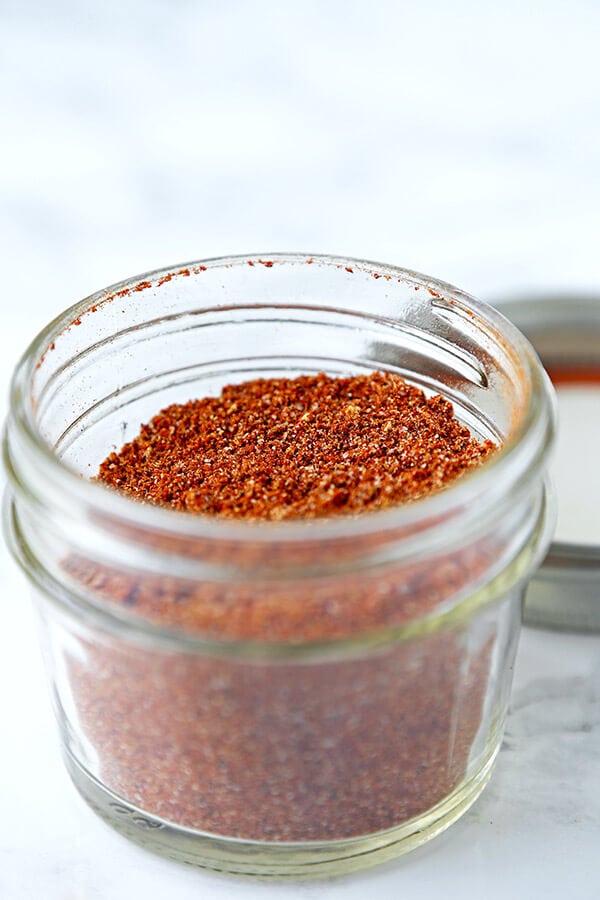 Did you like this Fajita Seasoning Recipe? Are there changes you made that you would like to share? Share your tips and recommendations in the comments section below!
Print
Homemade Fajita Seasoning
Homemade fajita seasoning is easy to make and tastes much better than store bought seasoning!
Author: Caroline Phelps
Prep Time:

5 minutes

Total Time:

5 minutes

Yield:

1 cup

1

x
Category:

Seasoning

Cuisine:

Mexican
3 tablespoons

chili powder

1 tablespoon

kosher salt

1 tablespoon

cumin powder

2 teaspoons

garlic powder

2 teaspoons

onion powder

1 tablespoon

paprika

1 teaspoon

cayenne pepper
Instructions
Mix all the ingredients in a bowl and transfer to a jar or air tight container.
Use about 1 1/2 tablespoons fajita seasoning per 1 pound of protein.
Notes
Keep fajita seasoning spice in a dry, cool place.
Nutrition
Serving Size:

1 cup

Calories:

152

Sugar:

3.2 g

Sodium:

7687 mg

Fat:

6 g

Saturated Fat:

0.9 g

Carbohydrates:

27.6 g

Fiber:

13.1 g

Protein:

7 g

Cholesterol:

0 mg
Keywords: recipe, spices, condiment, burrito, taco, mix
Recipe Card powered by