Homemade cranberry relish requires few ingredients and little time and effort to make. It's also healthier, tastier and much prettier!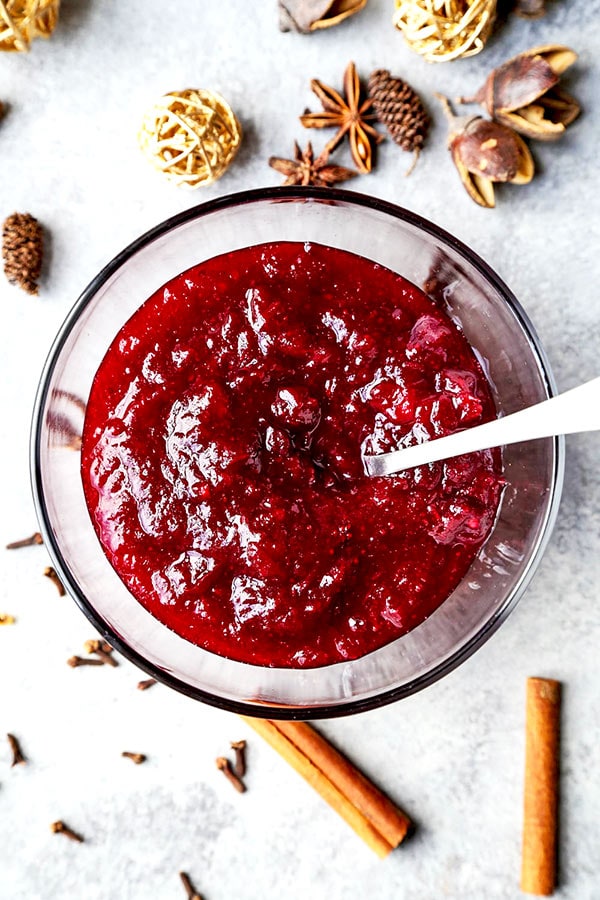 Tastier, Healthier Cranberry Relish
It's November.
I bet you're already thinking about Thanksgiving. And if you happen to be hosting this year, what kind of menu you want to serve. Are you sticking to your greatest hits list or wanting to try a few new dishes?

MY LATEST VIDEOS
I personally love to mix a little bit of the old with the new. Classic dishes like green bean casserole, stuffing and Brussels sprouts always have their place at the table because they are a hit. Turkey also always makes an appearance although we might do without it this year. I know, plant based people – sheesh! 😉
From there I like to add a few new side dishes I think will pair well with the rest. Last year I had skillet baby onions and mushrooms, a turkey meat pie, some olive oil mashed potatoes and glazed carrots. This year I want to keep the buffet colorful so I will be serving lots and lots of vegetable based dishes. I am also serving homemade cranberry orange relish which is a first for me! I usually open up a can of cranberry jelly, which I love, and mush it to make it look less store bought.
Not this year though! This year, I'm going all the way with cranberries!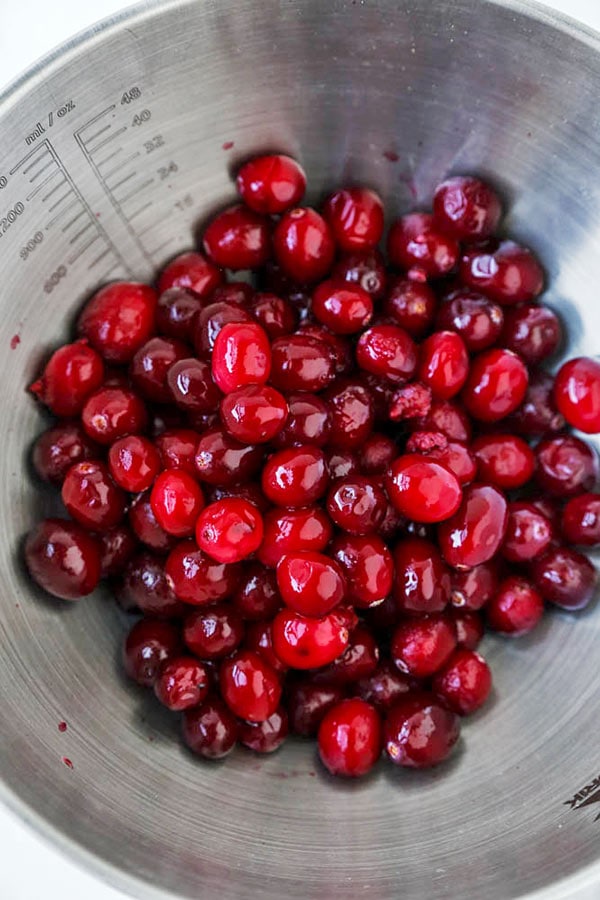 Is Cranberry Relish the same as Cranberry Sauce?
No.
Cranberry sauce is sweet and is a mix of cranberries, sugar and water. It's then cooked for at least 30 minutes, until the cranberries are tender.
Cranberry relish on the other hand is served raw (not in my case) and is on the tart side. It's made with cranberries, some sort of citrus like orange or lemon and a little sugar. Spices and nuts can also be added. Everything is blended in a food processor and served as a, well, relish!
My recipe?
It's a little confusing because it's a bit of both. My dish is on the tart side, cooked with citrus and spices and simmers for only 15 minutes. To me, that sounds more like a relish than a sauce and therefore – cranberry relish y'all.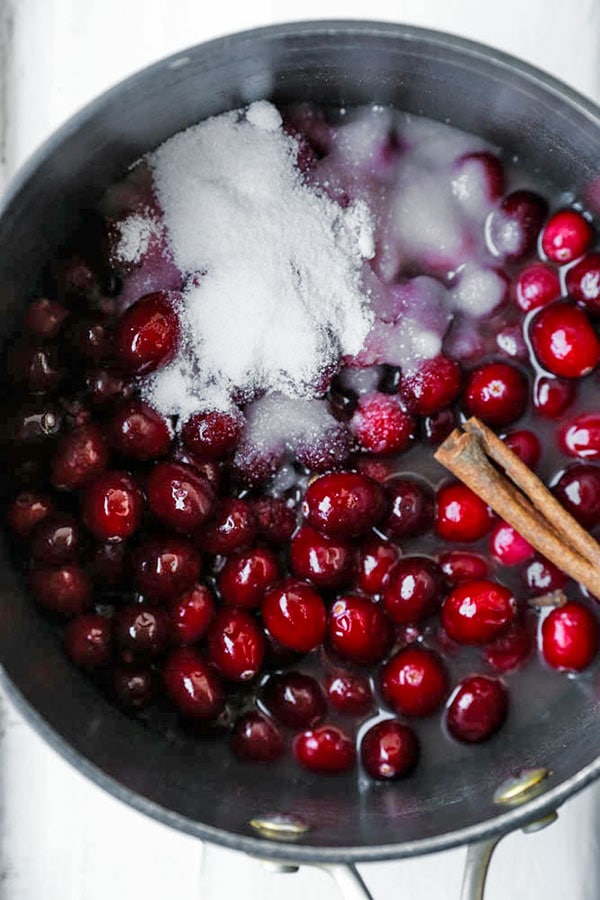 Adding spices to my cranberry relish
I added a cinnamon stick and a couple of cloves to the cranberry relish to give it more depth of flavor. I was a little hesitant at first since I'm used to eating plain cranberry sauce and jelly. But wow! It was so worth it.
The cinnamon, especially, added a beautifully sweet and aromatic flavor to the relish. It took it to another level – a very merry level!
This cranberry relish tastes like the holiday season – comforting, festive, spiced up and bright red. It goes well with everything, even with vanilla ice cream!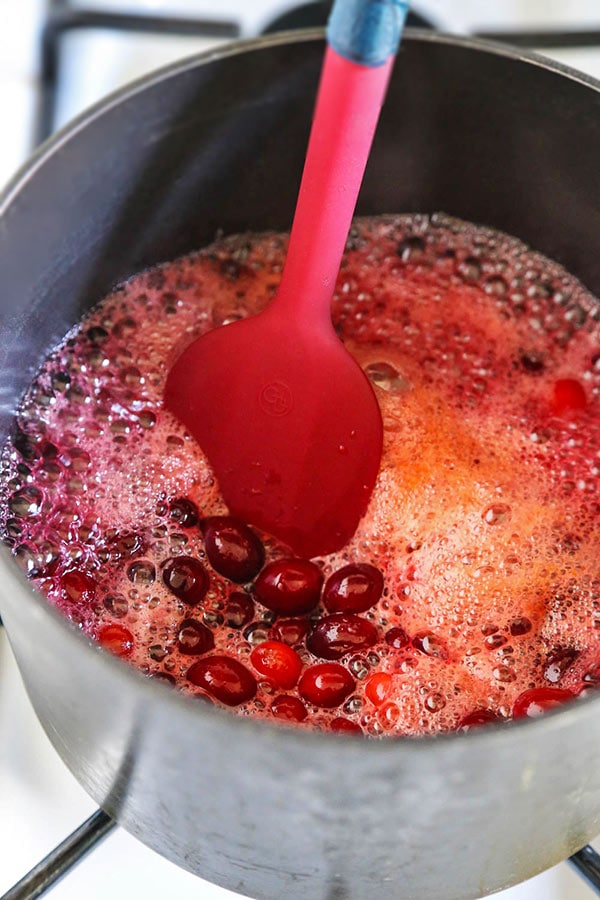 How To Make This Cranberry Relish
Just like most of my recipes, I'm keeping it simple, quick, healthy, yummy.
I'm using frozen cranberries because I cannot find fresh ones. I don't think I've ever seen fresh cranberries in my neck of the woods – isn't that crazy?
But if you do happen to have fresh ones, you can use those for this recipe.
Most recipes call for about a cup of sugar but I've lowered mine to 3/4 of a cup. I like my relish to be more tart than sweet. I then added some fresh lemon juice, orange juice, cloves and a cinnamon stick.
You guys, this is seriously easy to make. Throw all the ingredients in a pot, bring to a boil, lower and simmer, covered, for 15 minutes. Then transfer half of the mixture into a blender and blend. This plays up with the textures a little, making the relish a little more interesting.
That's it. Your cranberry relish is ready to be served!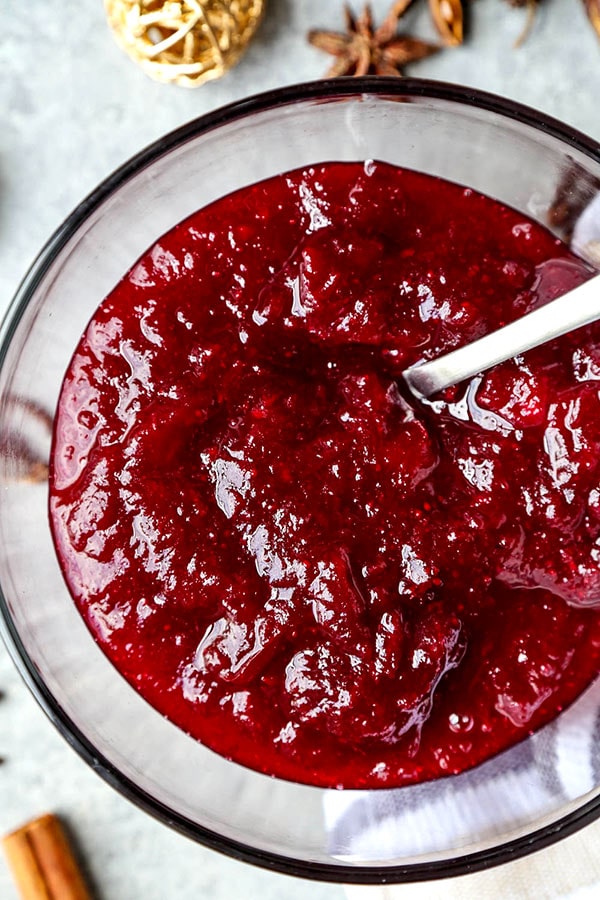 Because every Thanksgiving dinner is elaborate and time consuming, make this relish a day or two ahead. This way you won't have to worry about it the day of. Beside, you will need every burner on that stove to boil, steam, fry, etc…
This cranberry relish will keep in the fridge for up to a week.
Other Thanksgiving-ey recipes: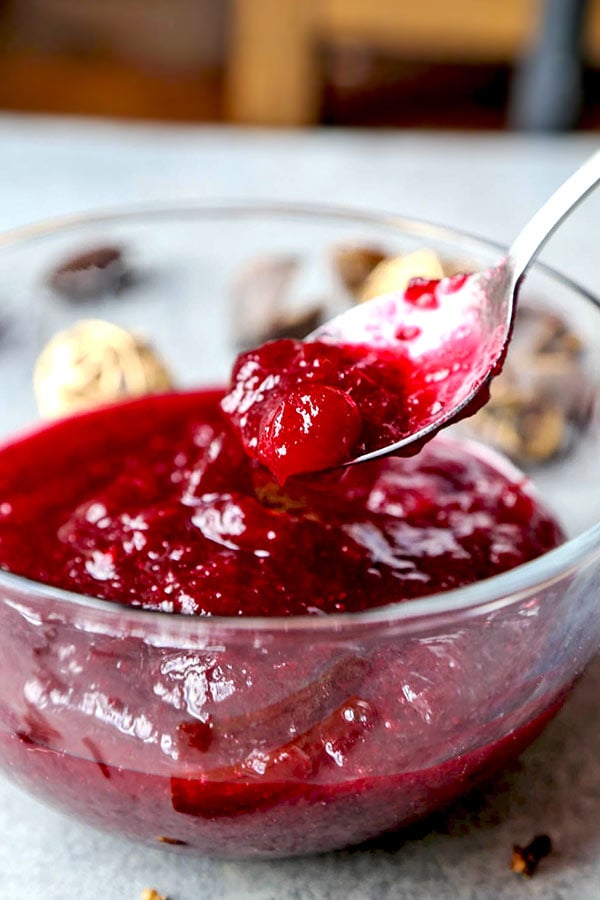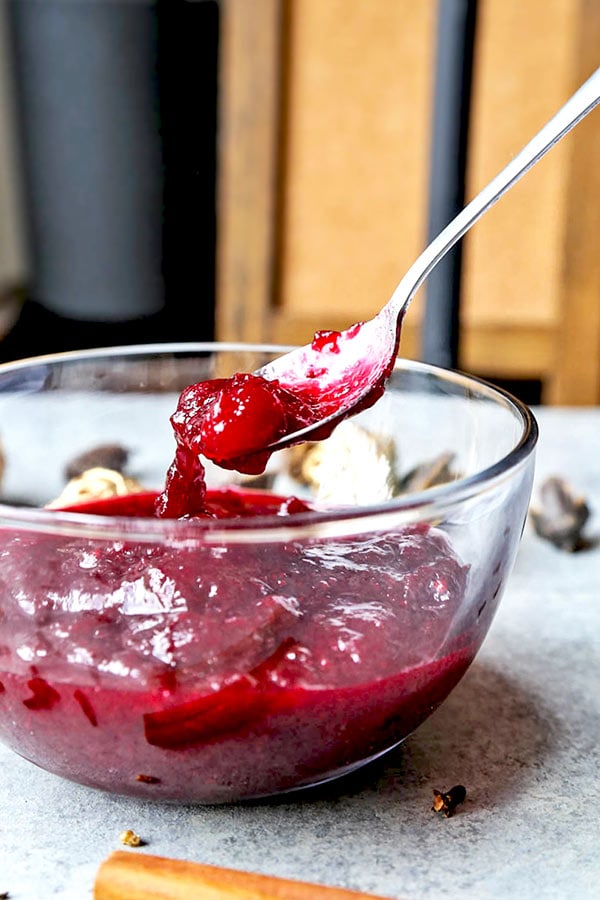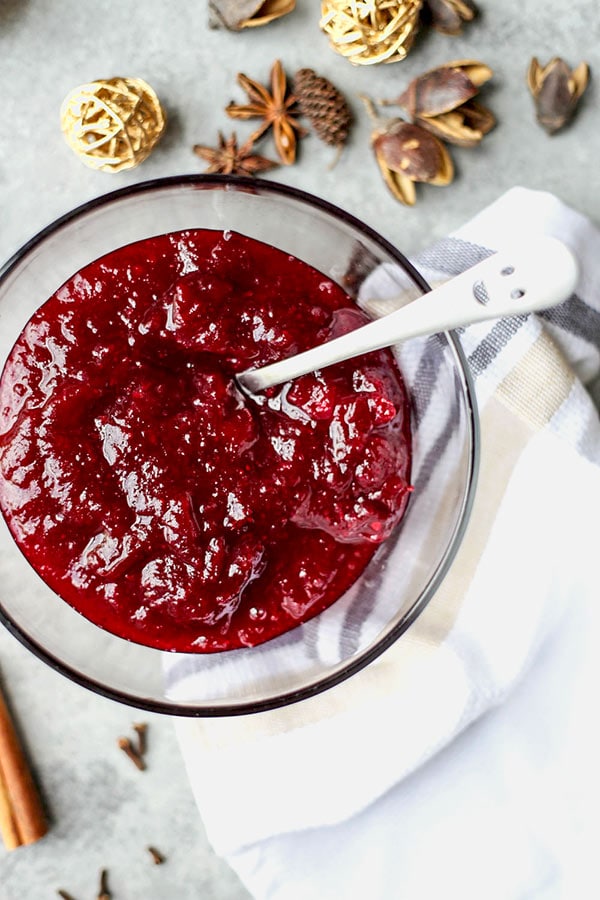 Did you like this Tarter Than Sweet Cranberry Relish Recipe? Are there changes you made that you would like to share? Share your tips and recommendations in the comments section below!
Print
Tastier, Healthier Cranberry Relish
Tart, sweet homemade cranberry relish. So much better than store bought!
Author:
Prep Time:

5 minutes

Cook Time:

15 minutes

Total Time:

20 minutes

Yield:

2 cups

Category:

Side

Method:

Boiling

Cuisine:

American
Ingredients
12 ounces frozen cranberries
3/4 cup granulated sugar
2 teaspoons fresh lemon juice
1/4 cup fresh orange juice
2 cloves
1 stick cinnamon
Instructions
Put all the ingredients in a saucepan and bring to a boil. Lower the heat, cover and simmer for 15 minutes.
Turn the heat off, discard the cloves and cinnamon stick. Transfer half of the mixture to a blender and pulse until finely chopped.
Return the chopped mixture to the saucepan and stir well.
Transfer cranberry relish to a bowl and serve.
Notes
This cranberry relish will keep in the fridge for up to a week.
Keywords: recipe, Thanksgiving, Christmas, sauce, vegan, vegetarian, gluten-free