This roasted acorn squash with cheese and mushroom sauce sauce is so addictive, you'll be scraping the bottom and fighting for the last bit of chewy melted cheese. Healthy comfort food has never tasted so good!

It's that time of the year again when the leaves change colors and the days get shorter. Our bodies start craving heavier foods that bring comfort to the soul. We bring out the slow cooker to make soups and stews and turn on the oven for some delicious roasted dinners.
Every year when autumn rolls in, I get a little excited because I look forward to the long evening walks when the weather is cool enough for long sleeves but not so cold that I need to put on a heavy coat. My neighborhood looks like something out of a Woody Allen movie with its colorful brownstones and streets lined with tall trees, dressed in their brightest reds and yellows.
I also get excited about seasonal ingredients such as apples, cranberries, and my favorites, squashes of all shapes and sizes!
I especially love acorn squash for its beautiful exterior and mildly sweet flavor.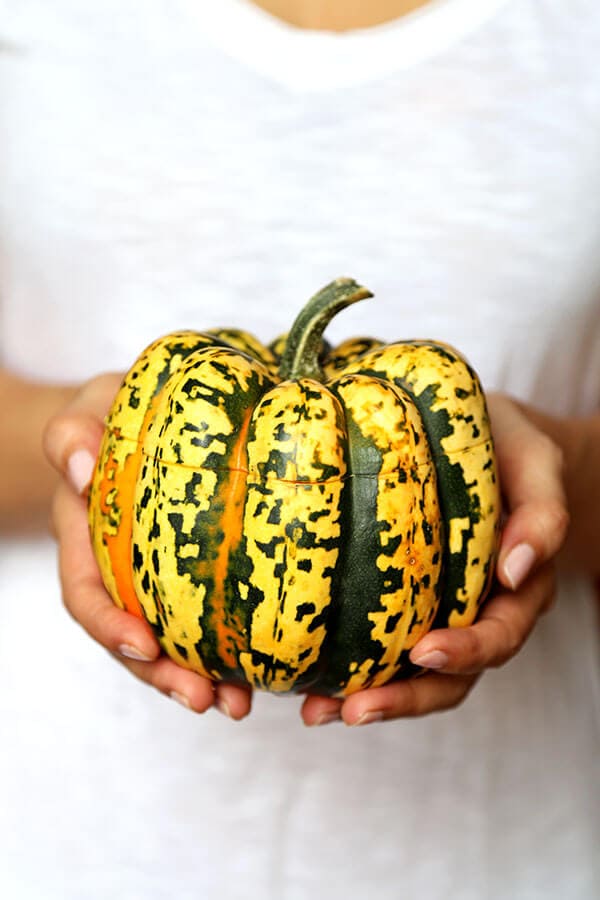 A few days ago I got the itch for something gooey and creamy. I wanted major comfort food like mac and cheese but without going overboard with calories and fat. But I quickly changed my mind when I saw the most gorgeous acorn squash plopped right there in front of me at the grocery store. Perfectly shaped with a fiery yellow and orange exterior, it gave me the idea to create some kind of gratin recipe using the squash as a vessel for it.
How about a roasted acorn squash stuffed with baby kale in a creamy mushroom sauce?
Yes, that sounds amazing!
This acorn squash recipe may be simple to make but the result is outstanding!
How To Cook Acorn Squash
Cooking acorn squash is as easy as cooking any other type of squash.
You can pan fry, microwave, steam and roast it. And because the skin of an acorn squash is relatively thin, you can eat it once it's been roasting for long enough. The seeds are also edible. They are packed with protein and also high in unsaturated fatty acids and dietary fiber, which are both good for the heart. Just make sure you rinse them well under water to remove the slimy layer and stringy fiber. Let the seeds dry thoroughly on a towel and enjoy!
How To Roast Acorn Squash
For this oven roasted acorn squash recipe I've set the oven to 375ºF.
I didn't want to set the temperature too high because I wanted to give the inside enough time to cook without having to worry about the skin burning.
I sliced the top portion of the acorn squash to use as a lid and scraped out the seeds.
Before I forget I should mention that I always throughly scrub my vegetables before using them. It removes hidden bits of dirt and gives them a nice shiny look.
I then placed the acorn squash on a sheet pan and roasted it on its own for 40 minutes, until the flesh became tender. I then filled it with the baby kale and mushroom sauce.
The sauce is a simple combination of baby kale, red onion, button mushrooms, flour, a little butter and 2% milk. The vegetables are pan fried and mixed with flour to create a basic roux for the sauce. The mixture is then poured inside the acorn squash and topped with a handful of shredded cheese. Then all that's left to do is to put it back in the oven and leave it to roast for about 10 minutes.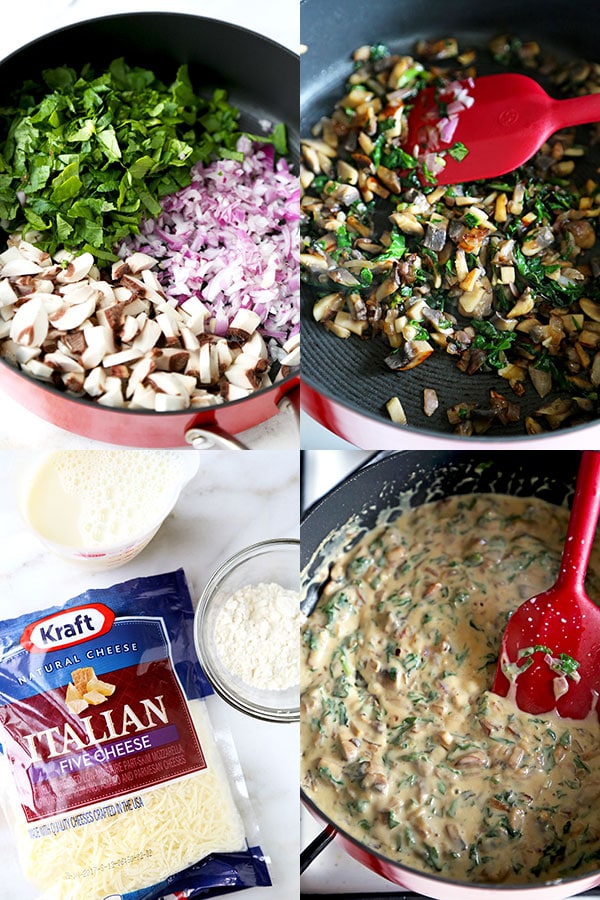 At this point the dish is ready, you can serve it.
But I recommend turning on the broil setting for a few more minutes to give the cheese that classic golden brown color we've come to associate with gratins.
The taste?
Like the yummiest cream of mushroom soup you've ever had! Sweet bites of baked acorn squash dressed in creamy sauce and melted, chewy golden brown cheese. How can you not drool over this!
How To Choose Acorn Squash
Here are a few tricks to keep in mind next time you go grocery shopping for acorn squash, so you can bring home the sweetest and juiciest squash.
Pick heavier acorn squash. Heavy means it's high in water content which means it's moist and juicy.
Look for an acorn squash that has 50/50 green and orange. Too green and it won't be ripe, too orange and it will be over-ripe (super stringy).
The skin should be dull and not shiny. Shiny means it was picked before it was ripe.
Look for smooth and firm skin.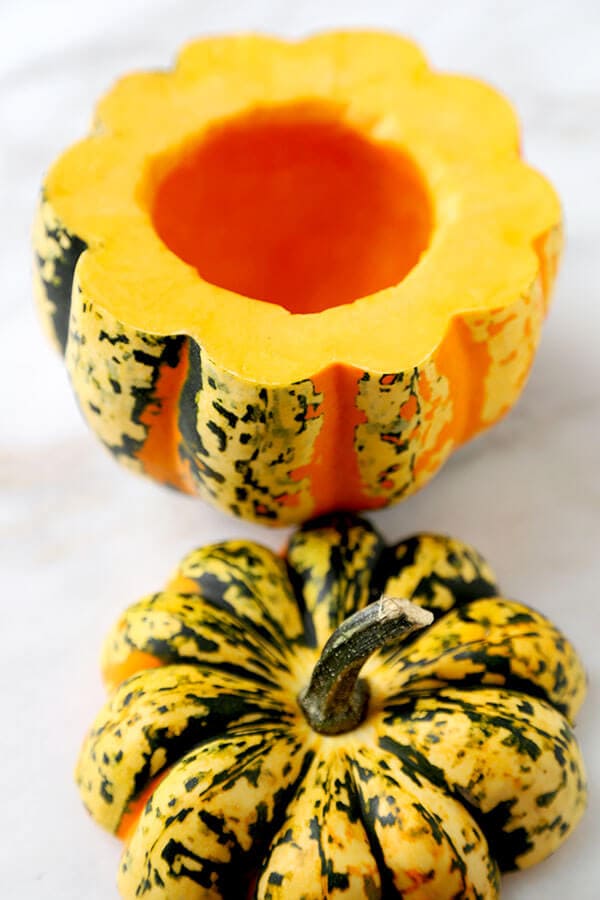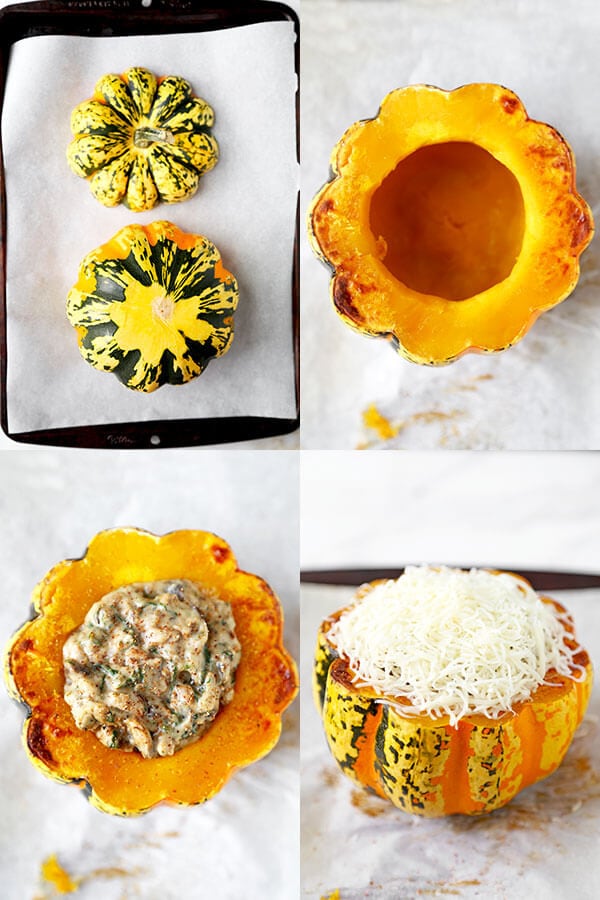 How To Serve Squash
I love finding different ways to serve acorn squash since it's such a visually attractive root vegetable. It's often under used or treated as an after thought.
This season, why not dress it up a bit and show your guests how versatile it can be by making it the star of your next dinner party.
Serve it whole or slice it into half moons to use as a topping for salads or as a side dish. It's extremely versatile and because the flavor is relatively mild, it pairs beautiful with just about anything!
Serve it with other colorful sides such as: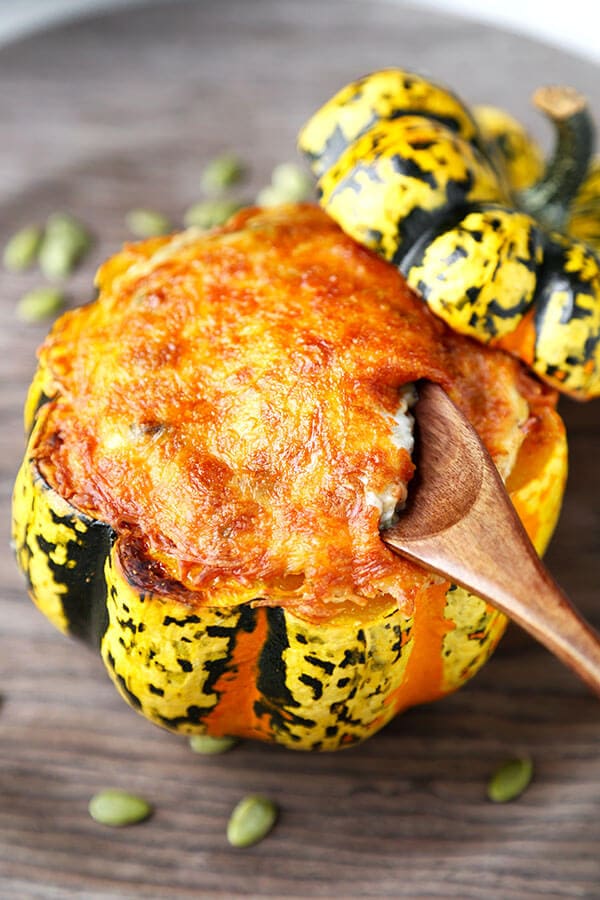 Acorn Squash Nutrition
As I previously mentioned, acorn squash is packed with nutrients and vitamins.
It's high in protein and fiber, vitamin A, folate and vitamin B-6. It's also very high in vitamin C – 1/2 cup of cooked acorn squash provides approximately 20% of the daily recommended allowance of vitamin C.
It's also one of the top 10 foods rich in potassium, which is essential for maintaining normal blood pressure levels.
Acorn squash is low in calories, only 56 calories per 1 cup (140g) and low in fat (0.1g), which makes it an ideal food for weight loss. It's also low in carbs – 1 cup (140g) of acorn squash contains 15 grams of carbs.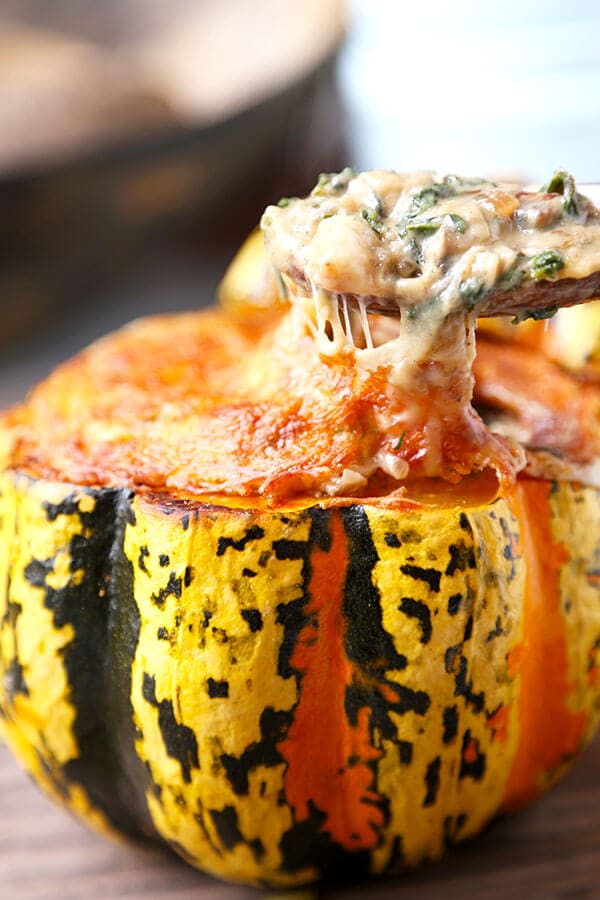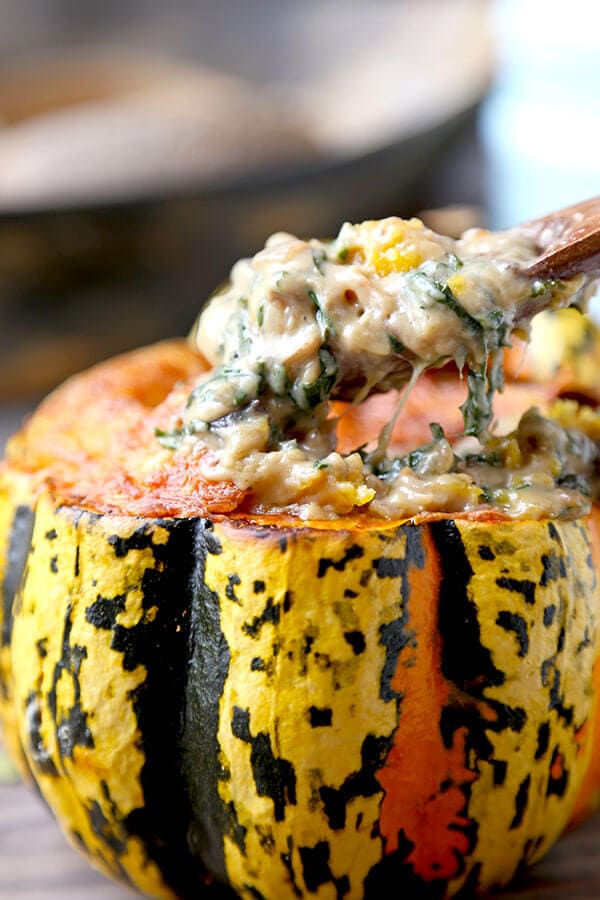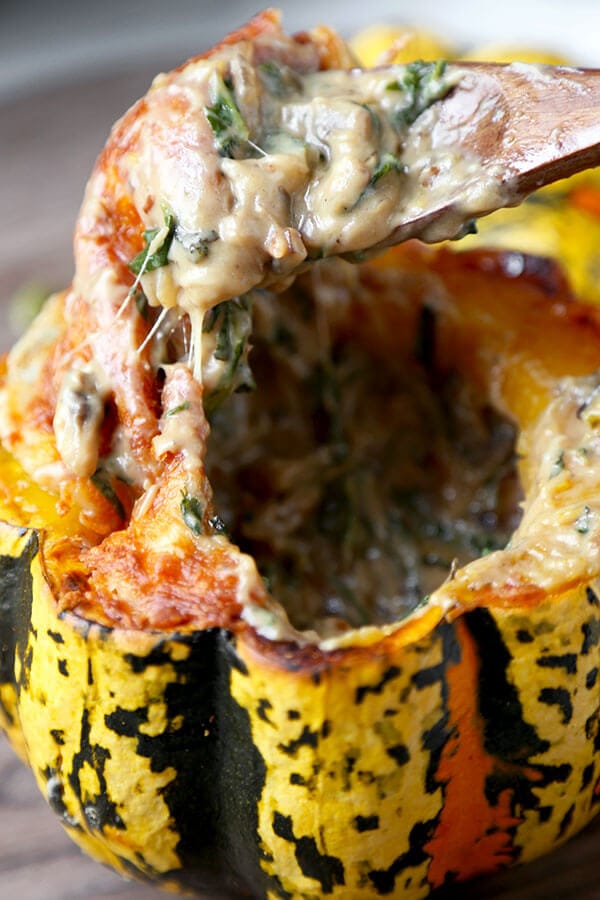 Did you like this roasted acorn squash with cheese and creamy mushroom sauce recipe? Are there changes you made that you would like to share? Share your tips and recommendations in the comments section below!
Print
Roasted Acorn Squash With Cheese and Creamy Mushroom Sauce
This baked acorn squash with baby kale and mushroom sauce is so addictive, you'll be scraping the bottom and fighting for the last bit of chewy melted cheese!
Author: Caroline Phelps
Prep Time:

10 minutes

Cook Time:

45 minutes

Total Time:

55 minutes

Yield:

4

people

1

x
Category:

Side dish

Cuisine:

American
2

pounds

acorn squash

2 tablespoons

extra virgin olive oil

1

cup

baby kale (finely chopped)

1/2

small red onion

8

button mushrooms (finely chopped)

1 tablespoon

butter

2 tablespoons

all-purpose flour

200

ml

2% milk
pinch nutmeg

1/3

cup

shredded cheese such as Italian Five Cheese, Mozzarella or Monterey Jack
Instructions
Preheat oven to 375ºF.
Slice the top of the acorn squash and set aside – you will be using it as a lid later on.
Scoop out the seeds and put the squash, along with the top, facing down on a cooking tray lined with parchment paper. Bake for 40 minutes.
In a pan over medium high heat, add olive oil, kale, onions and mushrooms and cook for 10 minutes, until mushrooms are golden brown.
Add butter and stir.
Sprinkle flour while constantly stirring and cook for one minute.
Slowly add milk while stirring and cook until sauce thickens. Season with nutmeg, salt and pepper and transfer mixture to a bowl. Set aside.
Take acorn squash out of the oven and transfer the top part to a plate. Set aside.
Spoon the kale and mushrooms sauce into the squash and top with cheese.
Bake for 5 minutes.
Turn the oven to broil and broil for 4-5 minutes, until cheese is golden brown and bubbling. Top with the lid and serve.
Nutrition
Serving Size:
Calories:

285

Sugar:

6.4 g

Sodium:

154.1 mg

Fat:

13.5 g

Saturated Fat:

4.7 g

Carbohydrates:

36.1 g

Fiber:

5.4 g

Protein:

11.2 g

Cholesterol:

16.6 mg
Keywords: recipe, appetizer, main, easy
Recipe Card powered by