10 Easy & Light Vegetable Recipes
*This post may contain affiliate links. Read my disclaimer here.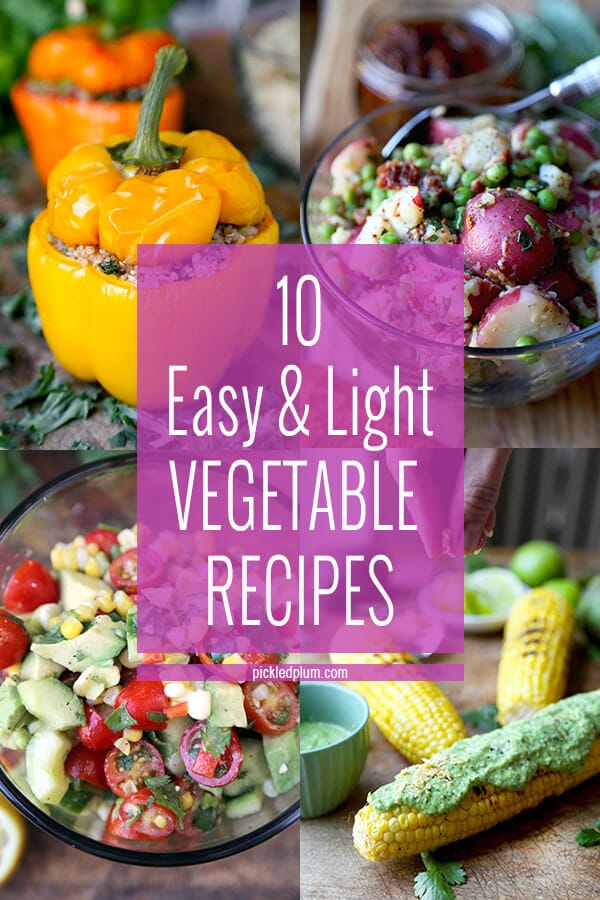 I've rounded up some of the best vegetable recipes from the blog. Since it's May and the sun's rays are finally peeking through the clouds, our bodies begin to crave more fruit and vegetable based dishes in preparations for the hot summer ahead. Some of us want beach bodies while others are simply less hungry and looking for a lighter fare – that would be me. Here are at 10 easy and light vegetable recipes to help you slim down and keep you energized throughout this season.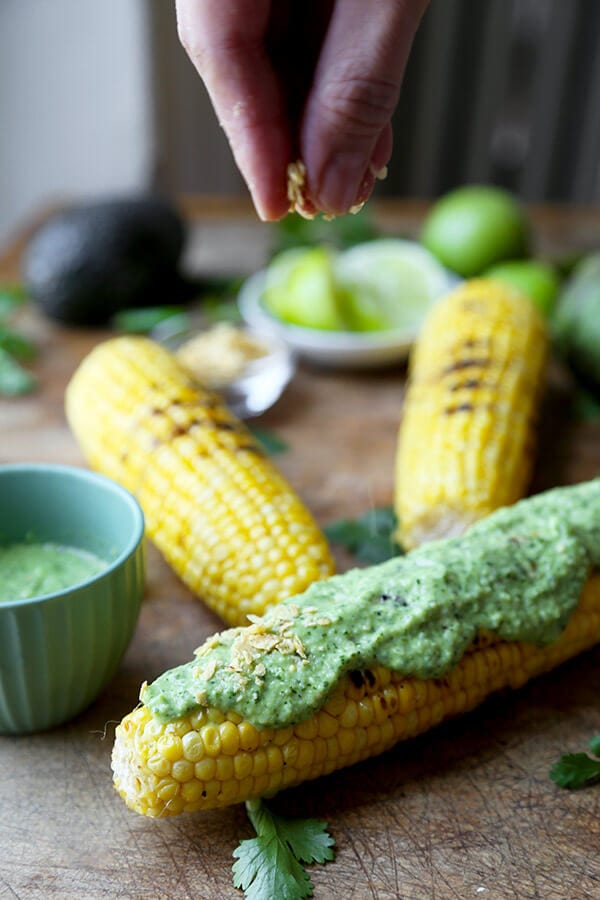 Memorial Day and summer are almost here and what better to grill on the barbecue than sweet corn on the cob. Top them with a layer of fresh tomatillo dressing and crushed tortillas for the ultimate corn dinner! GET THE RECIPE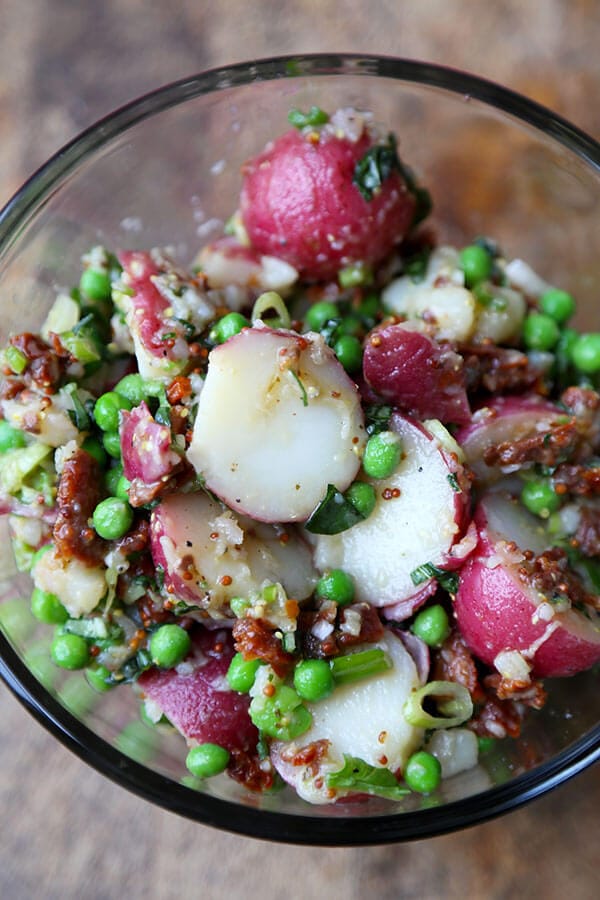 This is a traditional red potato salad perfect to serve as a side dish or along with a green salad. The potatoes are tossed with sun dried tomatoes and green peas and a simple dijon and vinegar dressing. GET THE RECIPE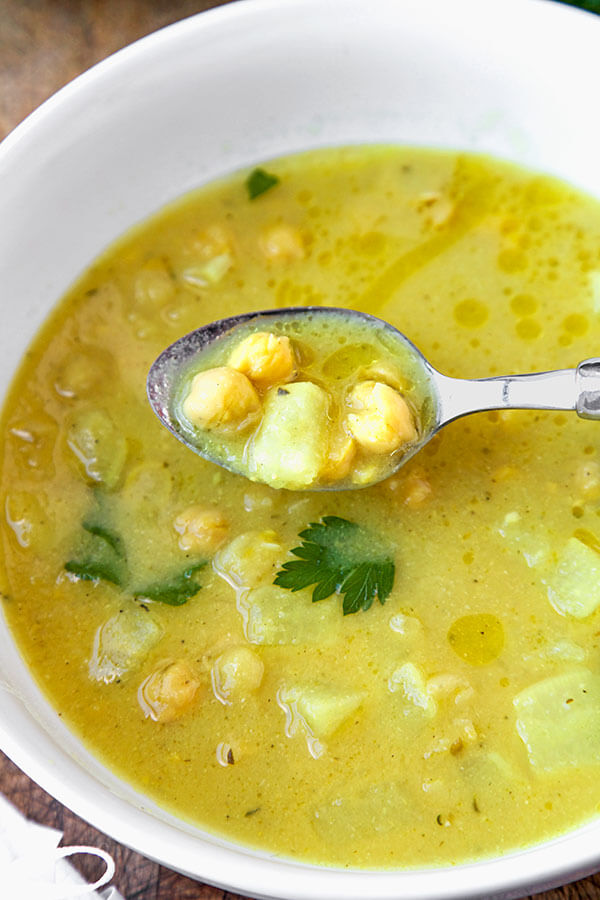 Bright, oh so bright! The taste of lemon is at the forefront of this recipe. Chickpeas and pieces of turnips are cooked in water until tender, then half of the soup is blended to thicken the texture. Fresh lemon juice is added last to give the soup plenty of zing! GET THE RECIPE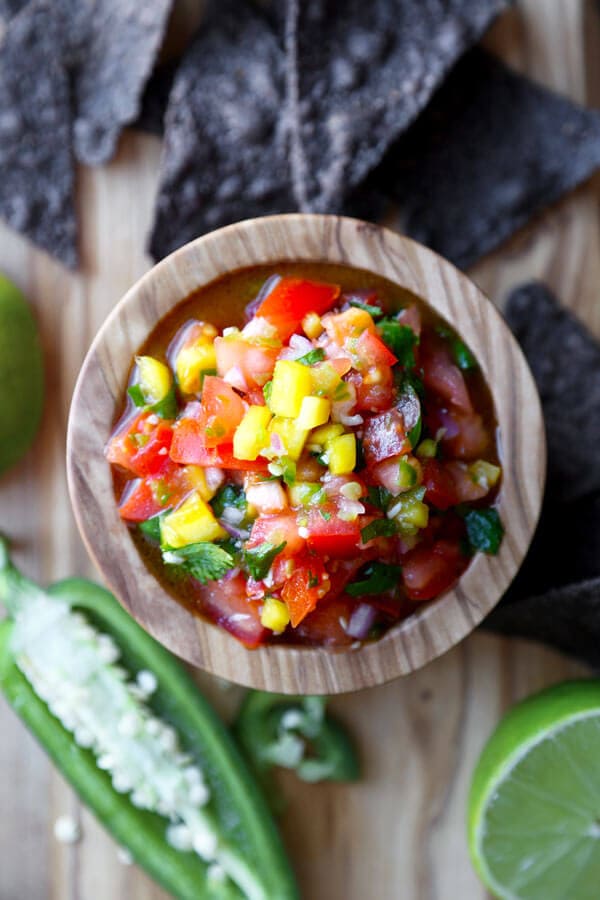 This salsa would make a great side to the corn with tomatillo dressing dish above! I love the simplicity of this recipe – only fresh ingredients are used along with some chopped mango for sweetness. GET THE RECIPE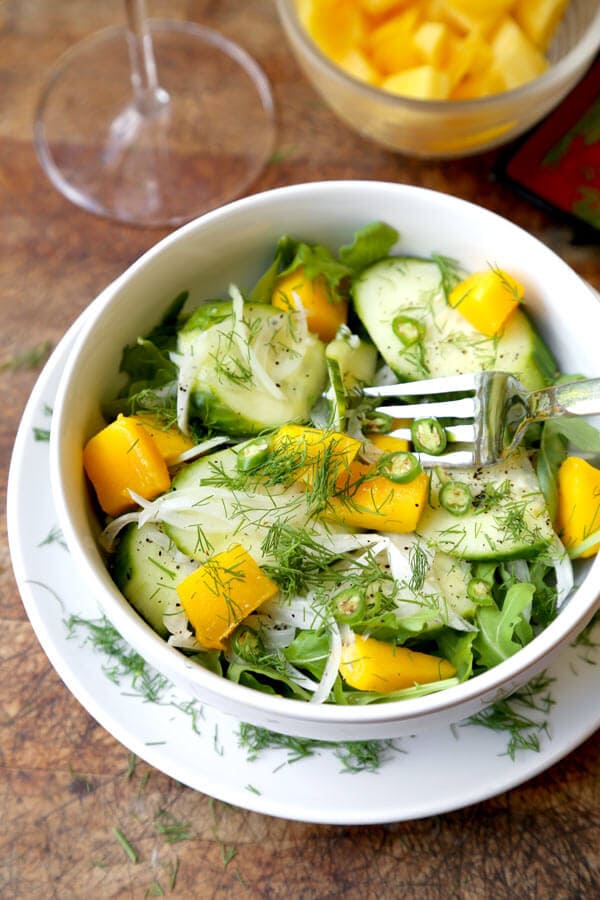 This is a classic southern salad I discovered while surfing the net one day. As soon as I saw the words pickled cucumber I knew I had to make it – and I'm very glad I did! This salad is very refreshing and goes so well with a burger or sandwich. I could eat this all day long! GET THE RECIPE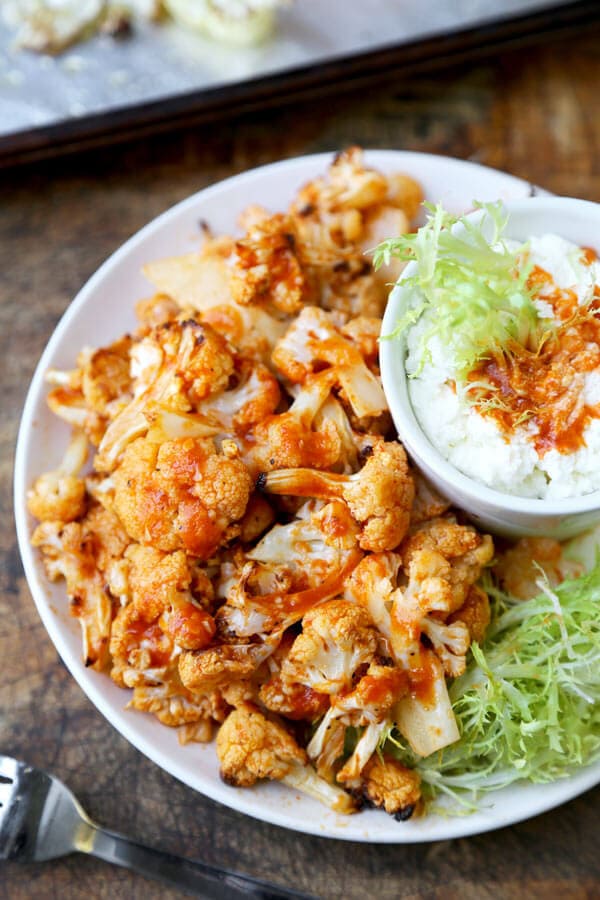 Skip the wings and go lighter with cauliflower. The flavors are exactly the same as what you would get at a sports bar minus the extra fat and calories. This is a great example that fast food can be made healthier and just as delicious! GET THE RECIPE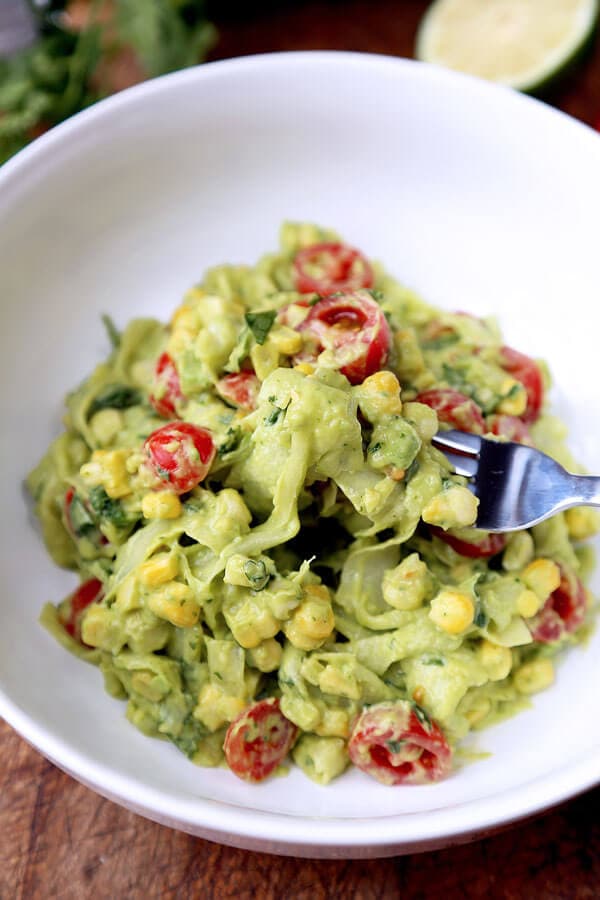 This is a carb-free and cream-free zoodles recipe. I've swapped pasta for daikon ribbons and tossed them in a mashed avocado sauce to give the dish a luxurious texture. The zoodles are then topped with sweet corn and cherry tomatoes. Yum! GET THE RECIPE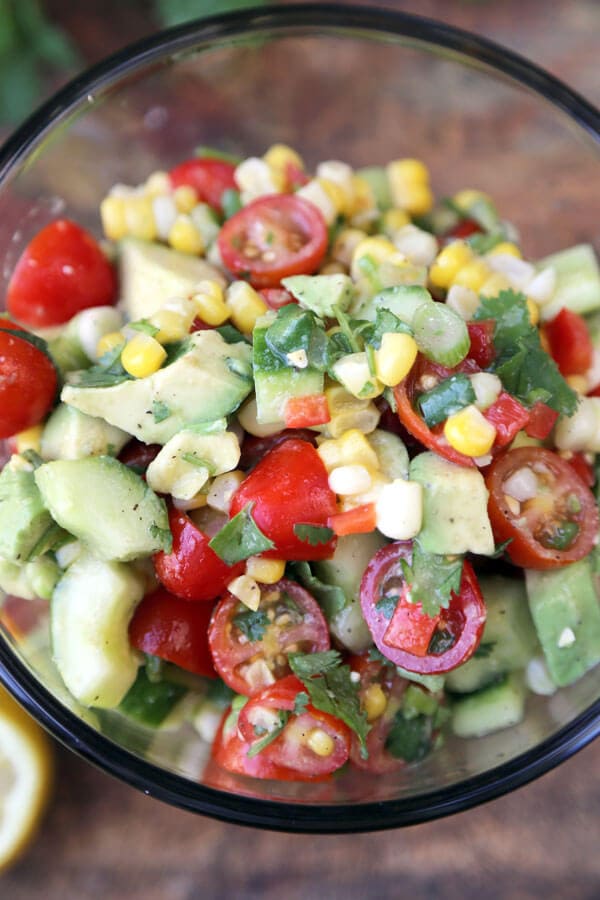 Simple is better sometimes and in this case, most definitely! Find all the traditional flavors of the summer in this rainbow salad made with cucumber, bell pepper, tomatoes, corn, avocado, and cilantro. Light and refreshing – it's a summer must! GET THE RECIPE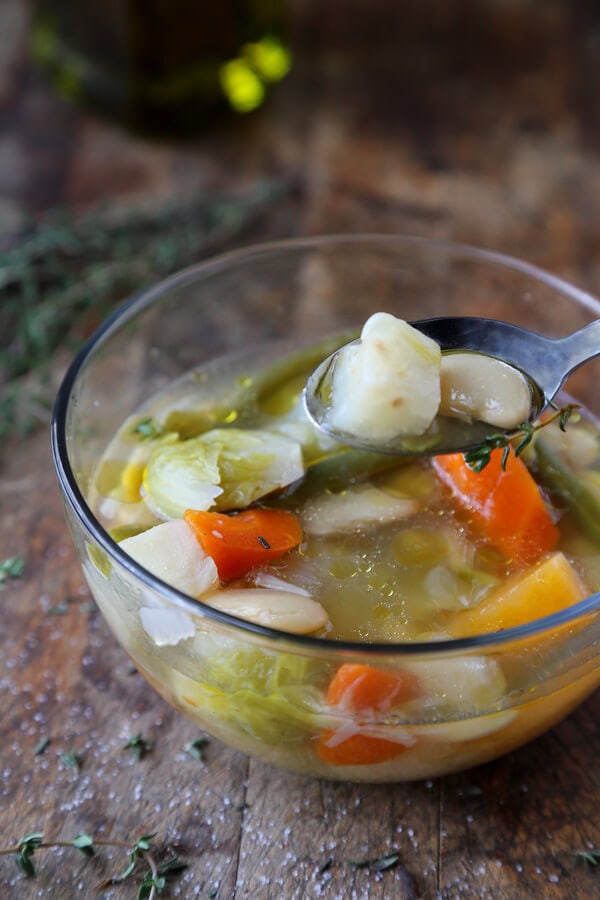 Pot-au-feu is something I grew up eating frequently as a child. It's a traditional French stew of vegetables cooked in water and salt and seasoned with thyme and bay leaves. I'm a big fan of this dish because of its clean flavors and the fact that it's very low in calories and fat. It's the perfect late night snack! GET THE RECIPE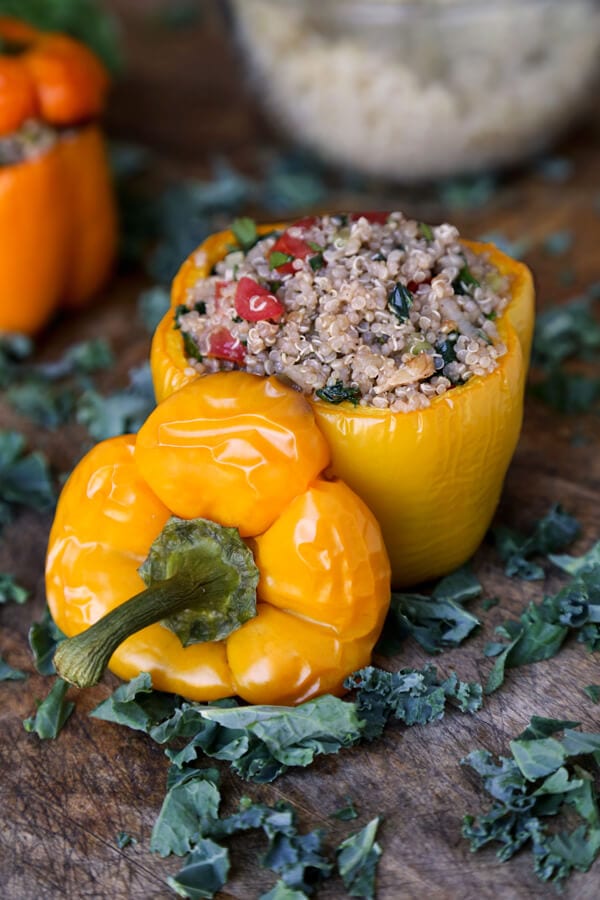 I have a confession to make: I hate bell peppers. But because they are so healthy and are known to reduce wrinkles and fine lines, I make a habit to eat them as often as possible. One way I find eating peppers enjoyable is by stuffing them with ingredients that balance out their bitterness. This quinoa stuffed pepper recipe is absolutely delicious and filling. It's sweet, savory, nutty and also great for your skin! GET THE RECIPE
Pickled Plum is a participant in the Amazon Services LLC Associates Program, an affiliate advertising program designed to provide a means for sites to earn advertising fees by advertising and linking to amazon.com.