Are you ready to make the best Thai curry to rival all Thai curries? Savory, pungent, and spicy, this Southeast Asian favorite only takes 25 minutes to make from start to finish.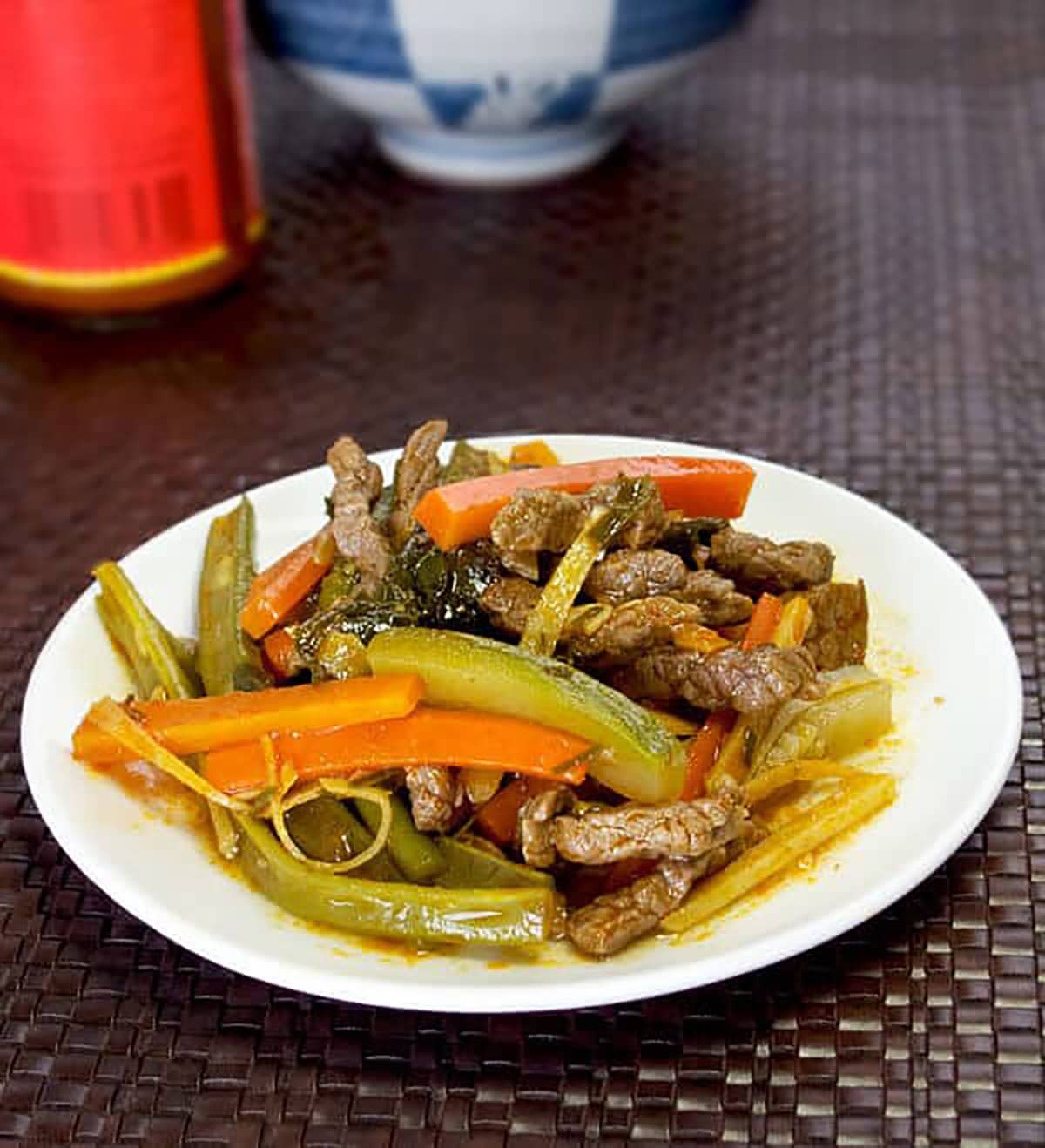 I'm very picky when it comes to eating Thai food because I was there for almost a whole year. I spent many months modeling and eating my way across Thailand for work and pleasure. I tasted flavors from cities like Bangkok and Pattaya, fresh seafood by the beaches in Phuket, Northern delicacies in Chiang Mai, and street food noodle soups and stir fries near the Golden triangle, where Laos, Burma and Thailand meet by the Mekong river. Thailand has some of the best food I've ever had so it was a pleasant surprise to find out that I could recreate some of these flavors here at home.
I like this particular Thai jungle curry because of the strong floral aromatics the kaffir lime leaves bring to the dish: It's what makes this jungle curry dish distinctively Thai. It's filled with so many other flavors that just so happen to work seamlessly together to create a distinctive curry dish. Also, be prepared: the peppercorns pop into your mouth and release heat, so get ready for plenty of interesting flavors to hit your palate when eating this Thai jungle curry recipe!
What is Thai Jungle Curry?
Thai jungle curry originates from the mountain city of Chiang Mai. It's called 'jungle' curry because it's made with ingredients that can be found all throughout the jungles of Thailand. While my recipe does differentiate from the traditional one in slight ways—it still offers the same essence and the same spice!
The original Thai curry recipe calls for small green eggplants (Thai eggplants) but they can be very hard to find here in North America, so I've substituted them for zucchini, as the texture is similar. Unfortunately, American eggplant is too spongy and seedy. I've also chosen to add beef to this recipe but you can take your pick from any choice of meats, or opt to add some well cooked tofu as well! No matter which protein you use, the flavor is going to remain the same because the spice in this easy recipe is unmatched. Alternatively, if you want to tamper down the spice in this dish, try adding coconut milk to your curry. This should take it down to a more moderate heat!
Ingredients for Thai Jungle Curry
Beef steak: I'm using beef for this recipe but feel free to use any protein you like.
Garlic cloves: Garlic adds a slightly sweet and pungent taste to this Southeast Asian curry.
Fresh ginger: Ginger brings a slightly peppered spice while infusing the dish with some heat. It carries a bold taste and aroma that many enjoy!
Carrots: While carrot strips often lack in taste, they make up for in texture and the ability to take on the broth and spices around it. Carrots are often known for their crunch but they can and will soften when soaked.
Zucchini: Zucchini is a summer squash that's known to be a very mild-tasting veggie. This is what makes it great to add to dishes—because it holds a lot of great elements on its own but can take on the flavors of the spices and broth around it to seamlessly blend in.
Green beans: Green beans add crunch and color to this dish.
Vegetable oil: I'm using vegetable oil but free free to use any other neutral oil, such as grapeseed or canola oil.
Granulated sugar: Adding a small amount of sugar helps round out the flavors of the dish. While sugar is usually added to sweeten up a dish, it's barely noticeable here since it's mainly use to bring balance between the various flavors of this curry.
Red curry paste: Red curry is made from red chillies so it's naturally spicy, smokey, and rich in flavor. This will be the base of your curry sauce.
Water: No need to use broth to add flavor to the curry as already is packed with plenty of aromatics. You will need about a cup and a half of water.
Fish sauce: Fish sauce is very fishy and a salty and is one of the most used condiments in Southeast Asian cooking.
Chopped basil: Add chopped basil to infuse the curry with a hint of peppery herbaceousness.
Leaves kaffir lime: Kaffir lime, while more difficult to find, is an aromatic Asian leaf that has a spiced-citrus flavor and a strong floral aroma. It's known to be zestier than a curry leaf — adding a unique taste to this dish.
Whole black peppercorns: Black peppercorn gives this curry plenty of spice and heat that will be sneeze worthy.
Thai Jungle Curry Directions
Gather all of your ingredients and cooking tools.
​​First, ​​take your fresh ingredients and chop those veggies up.
Then, heat your vegetable oil in a pan (any large nonstick skillet will do) over high heat and add garlic, and ginger. Then cook for two minutes.
Now add the curry paste and stir it in well. Cook for one minute and add the juicy beef strips. Cook for another few minutes (until beef has cooked through) and then add water.
Stir well and then add the fish sauce, sugar and lime leaves. Stir well once again to ensure all ingredients are evened out throughout the pan.
Add the vegetables and peppercorns, and cook for another three to four minutes, until the vegetables are softer but still yield a slight crunch.
Turn the heat off and add in the basil. Stir well and serve.
Where to Find Kaffir Lime Leaves
Kaffir lime leaves can be hard to find but the good news is they keep in the freezer for a very long time. Whenever I visit a Thai grocery store, I stock up on lime leaves and put them in my freezer. As long as they're tightly sealed, they'll keep for a few months. I am usually able to make a few batches of Thai jungle curry with one small bag of fresh lime leaves.
What to Pair with Jungle Curry
When it comes to the type of rice to be served with Southeast Asian curries, I recommend using jasmine rice. If you're looking to add sides to this meal, here are some of my favorites:
Did you like this Thai jungle curry recipe? Are there changes you made that you would like to share? Share your tips and recommendations in the comments section below!
Print
Thai Jungle Curry
This is a classic recipe for Thai Jungle Curry. The presence of peppercorns gives this Thai curry pops of heat with every bite taken.
Author: Caroline Phelps
Prep Time:

15 minutes

Cook Time:

8 minutes

Total Time:

23 minutes

Yield:

4

1

x
Category:

Curry

Cuisine:

Thai
1

thumb size fresh ginger (cut into strips (julienned))

2

cloves garlic (finely chopped)

2 tablespoons

red curry paste

2 tablespoons

vegetable oil

1 teaspoon

granulated sugar

1/4

cup

fish sauce

1 1/2

cup

water

2

small carrots (peeled and cut into strips)

1

small zucchini (cut into strips)

20

green beans (cut in half lengthwise)

3/4

lb

lean beef steak (cut into strips)

15

leaves basil (roughly chopped)

6

leaves kaffir lime (finely chopped)

1 tablespoon

whole black peppercorns
Instructions
Heat vegetable oil in a large pan over high heat, then add garlic, ginger and cook for two minutes.
Add curry paste, stir well, cook for a minute and add beef strips. Cook for a few minutes (until beef has cooked through) and add water.
Stir and add fish sauce, sugar and lime leaves. Stir well.
Add vegetables and peppercorns, and cook for 3-4 minutes, until vegetables are softer but still crisp.
Turn the heat off, add basil, stir and serve.
Recipe Card powered by