Thai Egg and Brussels Sprout Salad
There may be a blizzard happening outside my window but in here it's warm and toasty, and Thai food is on today's menu! I have been on a Thai food kick lately, topping my dishes with tons of fresh cilantro and Thai chiles, and finishing up with a good squeeze of fresh lime juice.
I know I have said this before (more than once!) but Thai food IS very easy to make! All you need are the basic Thai ingredients and you can pretty much cook a Thai feast that will be way better than anything you order! Grab one of chef Vatcharin Bumichitr's cookbooks and follow his easy recipes. They are simple to execute and deliver big on true, authentic Thai flavors.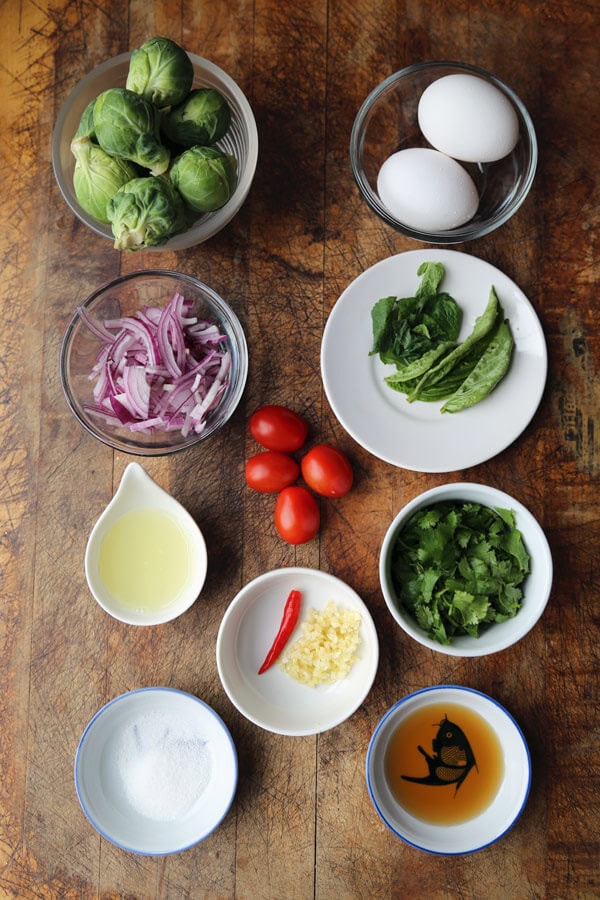 This Thai egg and Brussels sprout salad isn't one of his recipes but I'll be the first to admit he has been a big influence in the way I cook Thai food at home. I will also admit to the fact that I never thought I would be able to make Thai food.
After living in Bangkok off and on for about a year and tasting so many different flavor combinations, I was convinced only Thai people could make excellent Thai food – it looked so complex and intimidating! But as long as I lived somewhere in Asia I was able to find good, solid Thai food. And as I traveled around I dug deeper and deeper into Asian cuisine and their superb preparations. I was spoiled with amazing food every single day!
I spent the next few years working and living in places like Thailand, Hong Kong, Singapore, Malaysia, Japan, Sri Lanka, China and Taiwan. Eight wonderful years went by and for reasons I can no longer recall, I felt it was finally time to go back to my roots.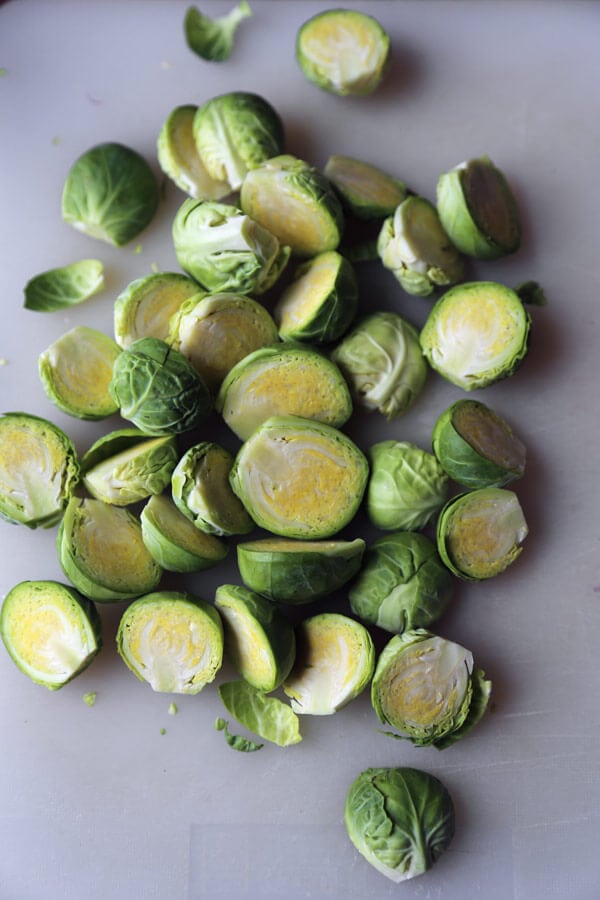 I chose Toronto as my home base and spent five amazing years there. I made really good friends and still go back from time to time. It's such a fun city! Thai food however was a disaster. I couldn't find anything remotely close to the flavors I had tasted back in Thailand. EEK!
Everything seemed overcooked (chewy and oily pad thais), watered down and gloppy.
Then I thought a move to NYC, one of the world's food capital, would solve this problem but once again I was let down by the over sweetness and lack of pungency I tasted time and again. All the dishes lacked oomph and freshness. Nothing took me back to the beaches of Phuket or felt as refreshing as a fresh bag of green mangoes with sweet and salty chili dip. I was yearning really bad for something authentic.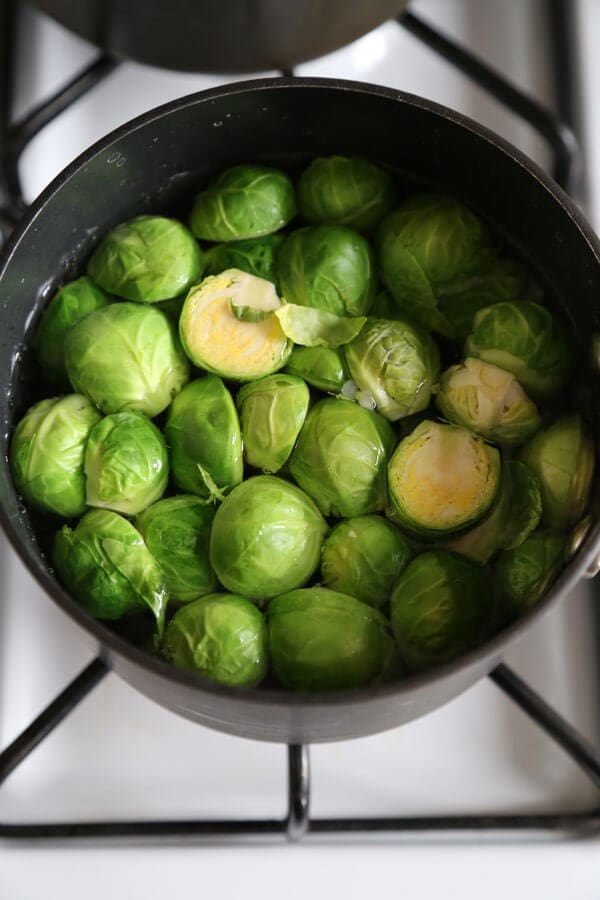 I was left with a sense of sadness, like I would never find those mind blowing, earth shattering, eye opening flavors again unless I went back to Thailand. And then one day, after another disappointing meal at a Thai restaurant I said "enough." That was back when bookstores still owned real estate and I made my way to the now defunct Borders store inside the Time Warner building. I walked toward the cookbook section and feeling determined, decided I was going to learn how to cook Thai food.
And I did.
And if you told me a few years ago that I would be able to whip up something like this Thai egg and Brussels sprout salad, I would have called you crazy.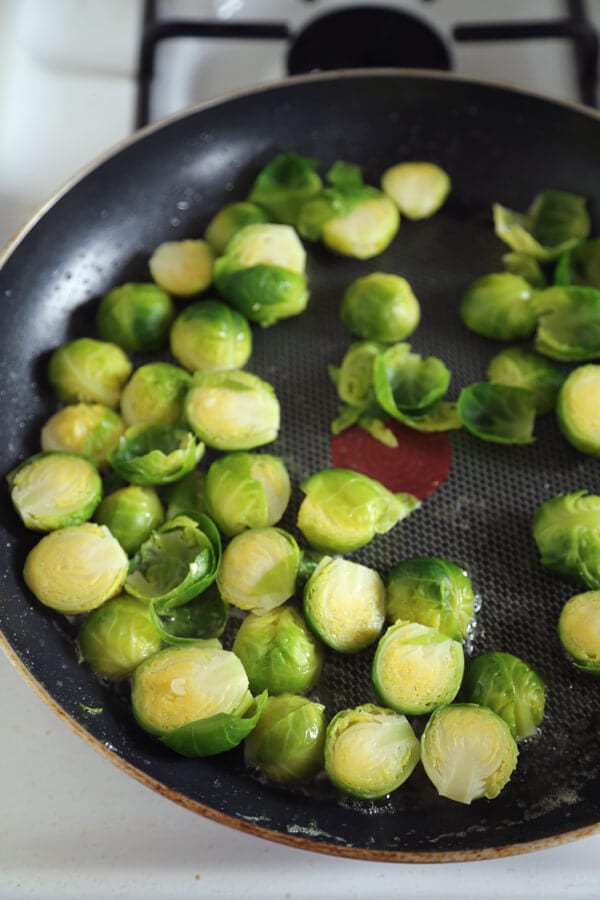 This recipe for Thai egg and Brussels sprout salad popped into my head after seeing family and friends devour my Brussels Sprouts with Maggi Seasoning dish on Christmas Day. Because the dish was so Un-Christmas-Like, I thought for sure it was going to sit in a corner, forgotten and cold. But instead, my Brussels sprouts were gone in less than 30 minutes!
I thought if Brussels sprouts, a vegetable many people dislike so much, have the potential to become a star ingredient, what else could I concoct with them?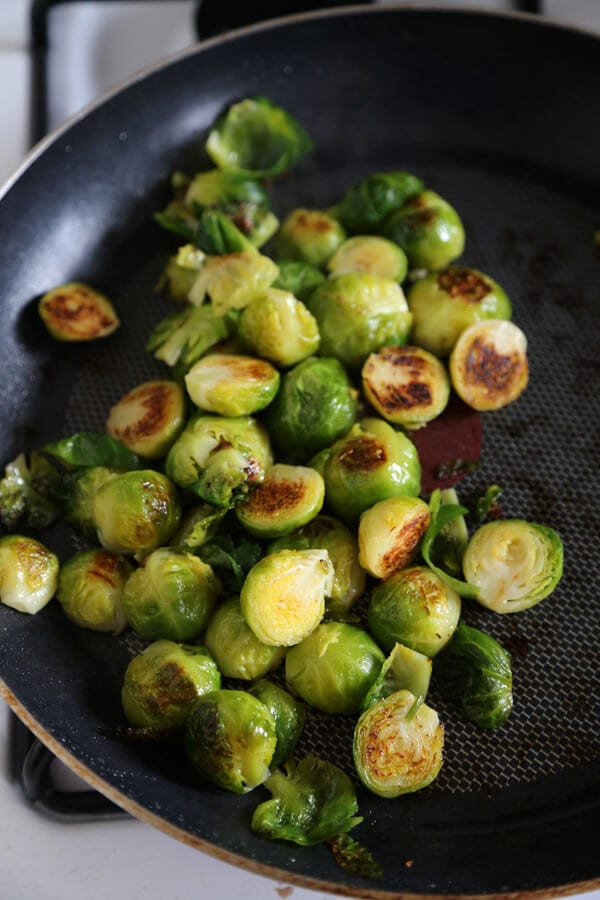 With that in mind I added a fried egg, some fresh herbs and made a quick dressing with Thai chiles, garlic, fish sauce, sugar and lime juice. I wanted to add a nice pop of color so I dropped a few cherry tomatoes and just like that, a Thai egg and Brussels sprout salad was born. Hot, pungent and salty with hints of sweetness from the cherry tomatoes and red onion… This salad has it all. It's also pretty filling yet is still light and refreshing!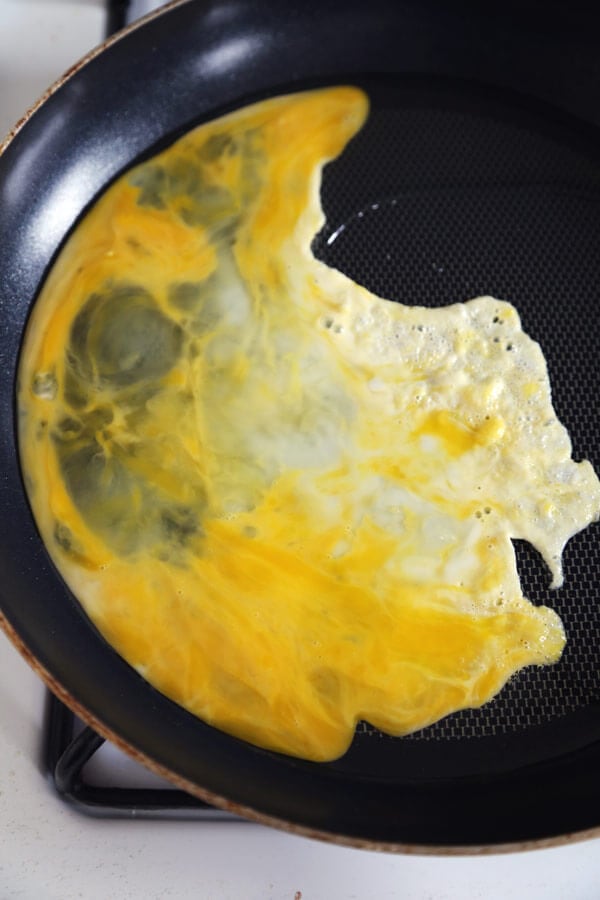 If you are looking for a completely unique way to present Brussels sprout to your dinner table, look no further – this recipe has your name written all over it. And if I can make Thai food like this, believe me, you can too!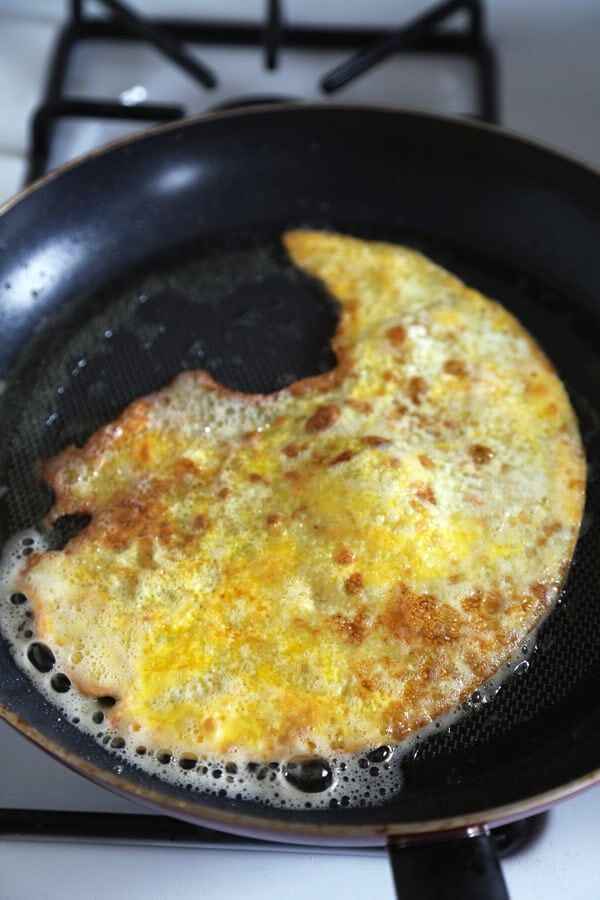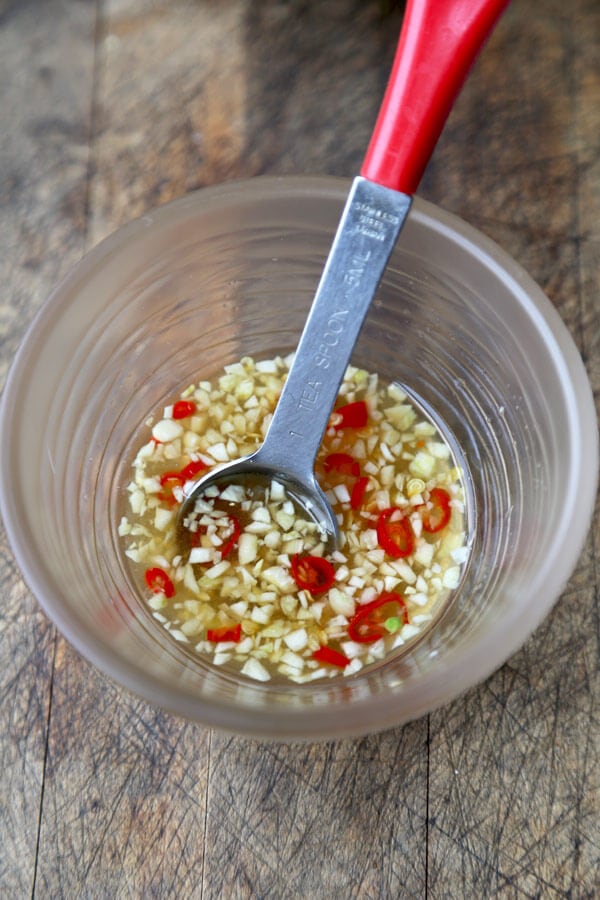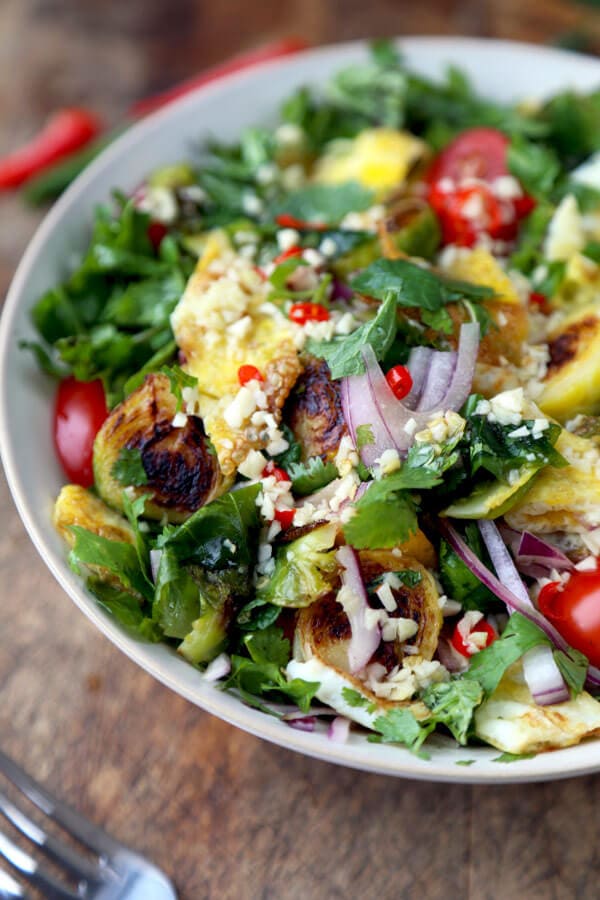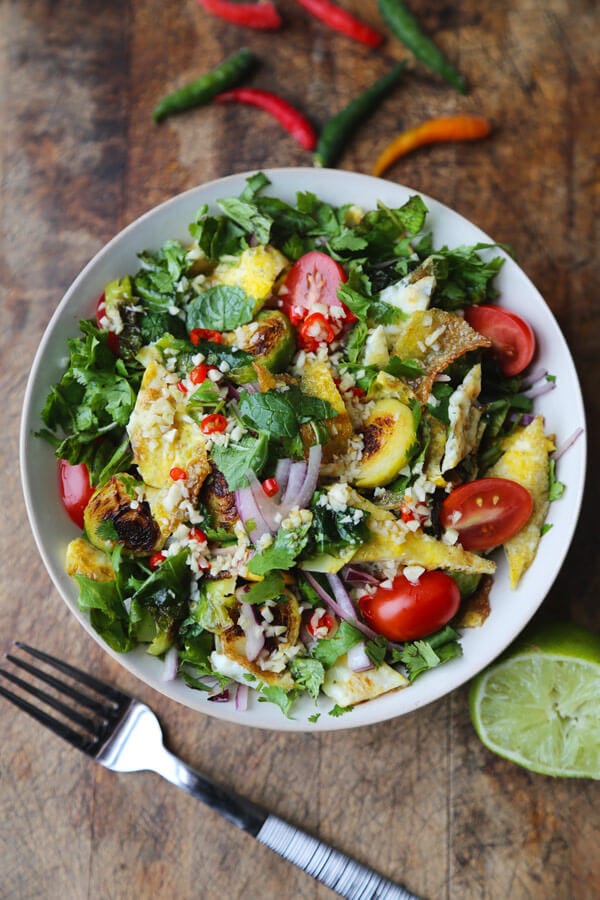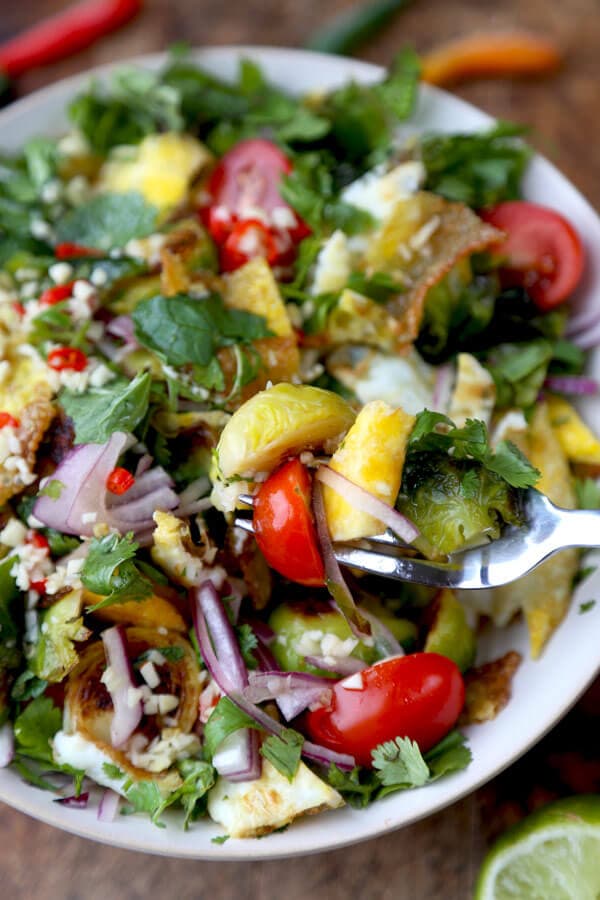 Print
Thai Egg and Brussels Sprout Salad
A hot and pungent Thai Egg and Brussels Sprout Salad with authentic Thai flavors.
Author: Caroline Phelps
Prep Time:

10 minutes

Cook Time:

5 minutes

Total Time:

15 minutes

Yield:

4

people

1

x
Category:

Salad

Cuisine:

Thai
1/2

pound Brussels sprouts

2 tablespoons

vegetable oil

2

large eggs

4

cherry tomatoes (halved)

1/2

small red onion (finely sliced)

1/2 cup

cilantro (roughly chopped)

1/4 cup

mix of fresh basil and mint leaves (roughly chopped)
For the dressing:
2

cloves garlic (finely chopped)

2 tablespoons

fresh lime juice

1 tablespoon

fish sauce

1 teaspoon

granulated sugar

1

Thai chili (finely chopped)
Instructions
Bring a medium size pot of water to boil.
Sliced Brussels sprouts in half and add to the boiling water. Cook for 5 minutes, drain and set aside.
Whisk the eggs in a small bowl.
In a medium size pan over high heat, add oil and eggs and fry for on each for about 2-3 minutes, until the omelet is golden brown.
Transfer the omelet on to a plate and add Brussels sprouts to the pan. Fry for 5 minutes, until they are lightly charred. Turn off the heat and transfer the Brussels sprouts on to a plate.
Slice the omelet into bite size pieces and set aside.
Mix all the ingredients for the dressing in a bowl and stir well, until the sugar has dissolved.
Put all the ingredients for the salad in a mixing bowl, pour the dressing over and toss well.
Transfer to a serving bowl or plate and eat warm or cold.
Notes
This Thai Egg and Brussels Sprout Salad can make two full servings or four small ones you can serve as a side.
Nutrition
Serving Size:
Calories:

112

Sugar:

4 g

Sodium:

443.7 mg

Fat:

6.1 g

Saturated Fat:

2 g

Carbohydrates:

10.3 g

Fiber:

2.8 g

Protein:

5.6 g

Cholesterol:

96.5 mg
Keywords: recipe, appetizer, side, Asian
Recipe Card powered by