Got a sweet tooth? This simple compote is made with sweet strawberries and tart apple cooked with spices and a little butter to create the most delicious compote. Spread your daily dose of vitamin C over toast, waffles, even pancakes!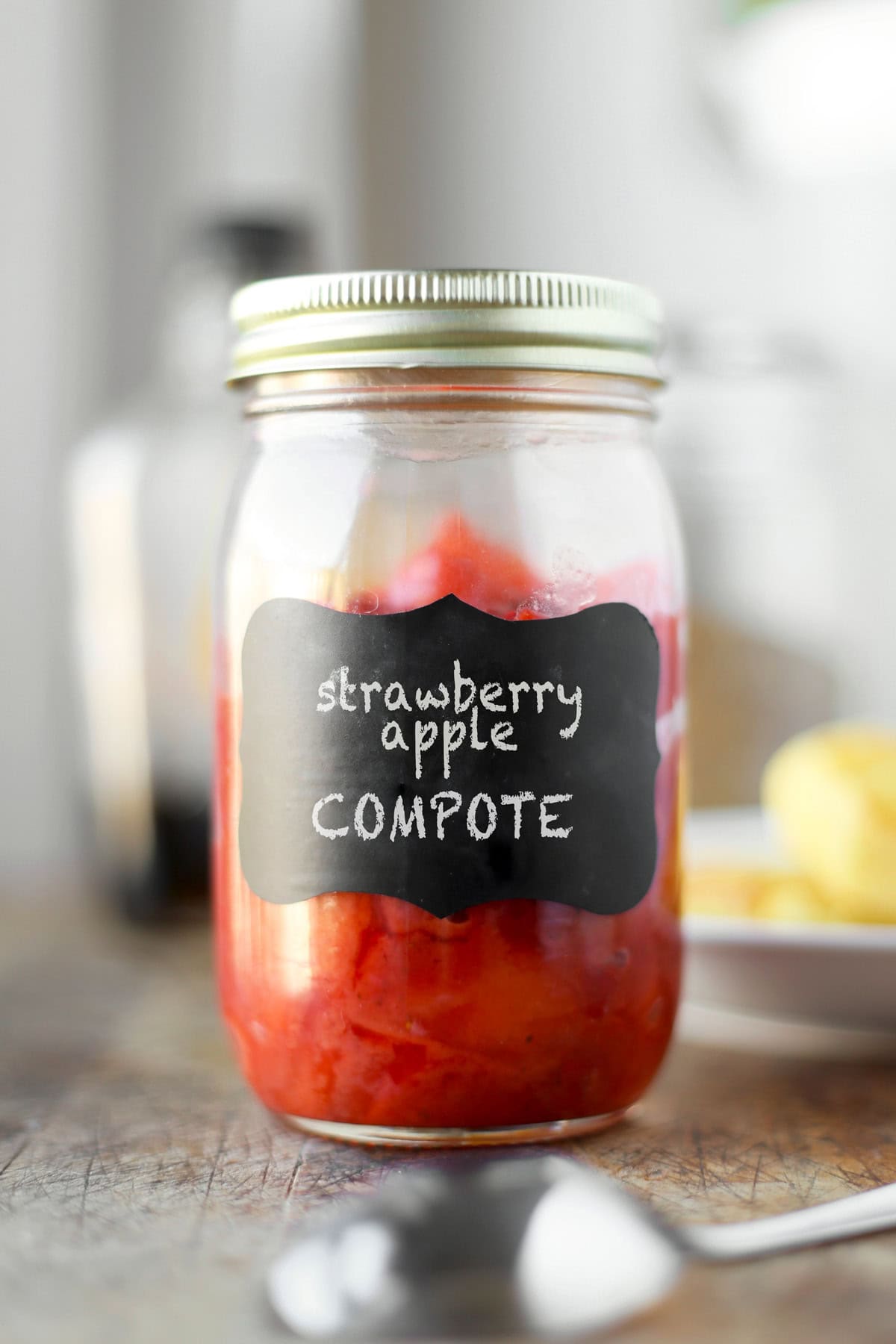 I'm a big fan of fruit compotes and pies, especially those with sweet and tart flavors. I love a good apple pie that's both tart and sweet, and the same goes for strawberry and rhubarb. I also like to pair strawberries with apples for a similar play on flavors. My go to apple is the Honeycrisp because it's light, juicy, crisp, and sweet. My second option is the good old Granny Smith apple.
This strawberry apple compote recipe makes enough to fill a small jar but I highly recommend doubling, if not tripling the recipe so you can save some for later.
This easy recipe only takes 10 minutes to prep and 20 minutes to cook. This means if I stop writing this second I will have a fresh new jar of strawberry apple compote ready to eat this evening. Let's start cooking!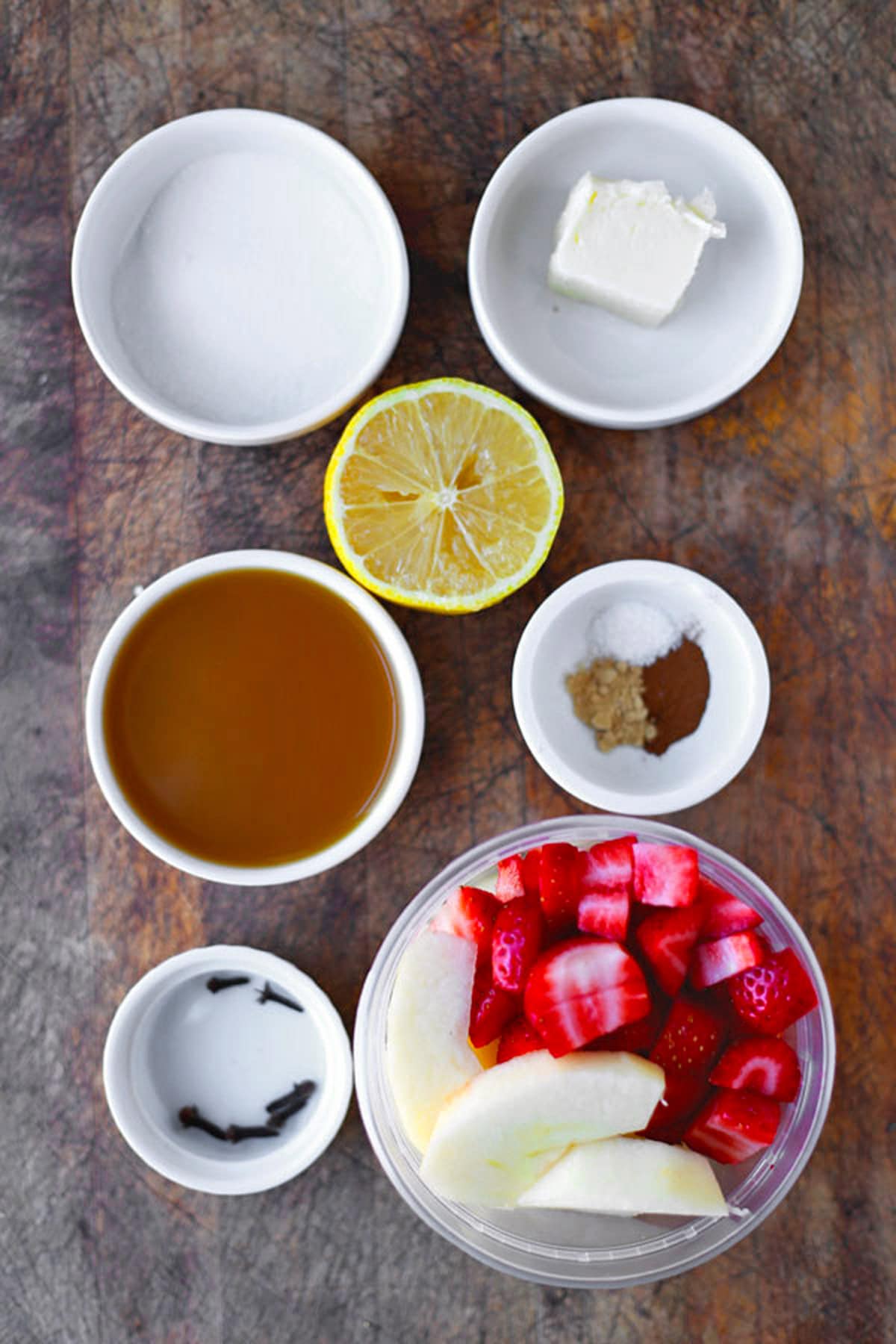 Best Apples To Use
My two favorite kinds of apples for this recipe are Honeycrisp and Granny Smith because of their tartness. The Honeycrisp has a perfect balance of sweet and tart, while the Granny Smith is mostly tart.
Obviously, I recommend that you use your favorite kind of apple since the flavor of this compote is 50% apple. Therefore, if you prefer Fuji, Cortlands, Gala, or Jonathan, over a Honeycrisp, then please go ahead and use that.
Ingredients For Strawberry Apple Compote
Apples: I used Honeycrisp apples for this recipe but feel free to use any of the ones listed above.
Strawberries: Look for beautiful bright red strawberries for this compote recipe. The sweeter the strawberries, the sweeter the compote since we won't be using a ton of sugar.
Cloves: Cloves have an intense warmth and a hint of sweetness that marries so well with apples and strawberries. I'm using 6 for this recipe.
Ground ginger: Ground ginger adds a hint of spiciness. If the ground ginger you have has been sitting in your pantry for over six months, I recommend getting a new one since ground spices lose their flavor after the six month mark.
Ground cinnamon: Same goes for ground cinnamon although I personally find that it has a longer shelf life if kept in a cool dark place.
Salt: A pinch of kosher salt is added to balance the sweet and tart elements of this recipe.
Sugar: Granulated sugar, light brown sugar, or natural sugar can be used.
Butter: Regular butter or vegan butter can be used.
Apple cider (alcohol-free): Apple cider adds tanginess and sweetness. My favorite brand is Martinelli's Sparkling Apple Cider Juice.
Lemon juice: Fresh lemon juice brightens up this compote and give it a refreshing note.
Ingredient Variations
Apple juice can be used instead of apple cider if necessary but won't taste as tangy and bright.
Maple syrup and honey can also be used to replace sugar if you're looking to cut back. But keep in mind that both of these ingredients have strong floral notes which will add to the final taste of your compote.
A little nutmeg can be added to add warmth and nuttiness.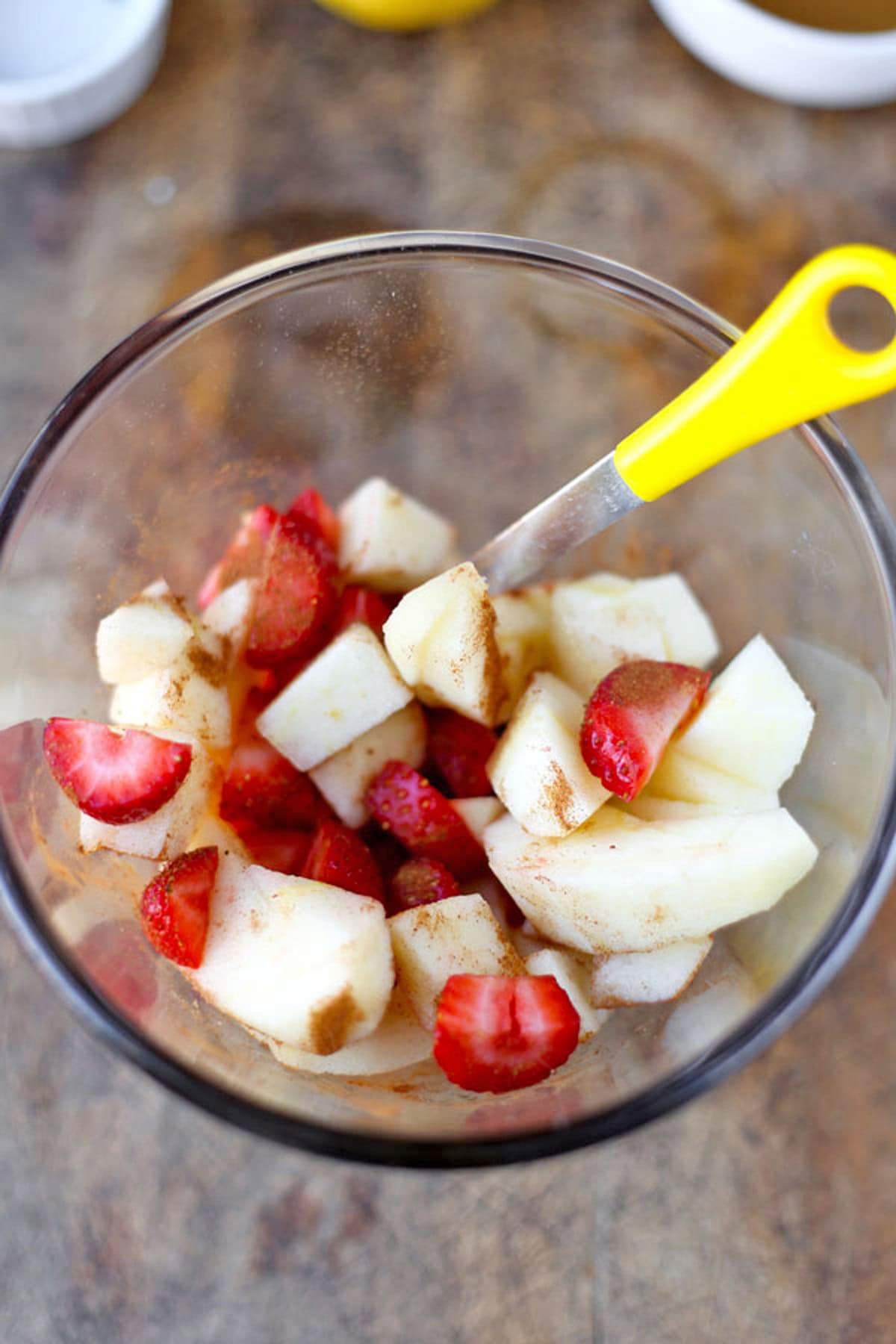 How To Make Strawberry Apple Compote
Prep all the ingredients for this recipe.
Gather your cooking tools and prepped ingredients.
Add the apples, strawberries, cloves, ground ginger, ground cinnamon, sugar, and salt to a bowl. Using a spoon, mix until the fruits are evenly coated with the spices, sugar, and salt, and set aside.
Add the butter to a deep skillet or saucepan over medium heat. When the butter has melted, swirl it around to coat the bottom of the skillet and add the fruit mixture. Stir and cook for 6 to 7 minutes, until the fruits have caramelized.
Stir in the apple cider and lower heat to a bubbling simmer. Cook for 15 to 20 minutes (cooking times vary depending on the type of stovetop you have), until the apples are tender. If the mixture looks dry, add 2 tablespoons of water. You can add more water if you prefer your compote to be more syrupy.
Turn the heat off and stir in the lemon juice. Let the compote cool until it's about room temperature.
Suggestions
If you find this compote too chunky, feel free to use a food processor to blend the mixture and to make it more like a jam.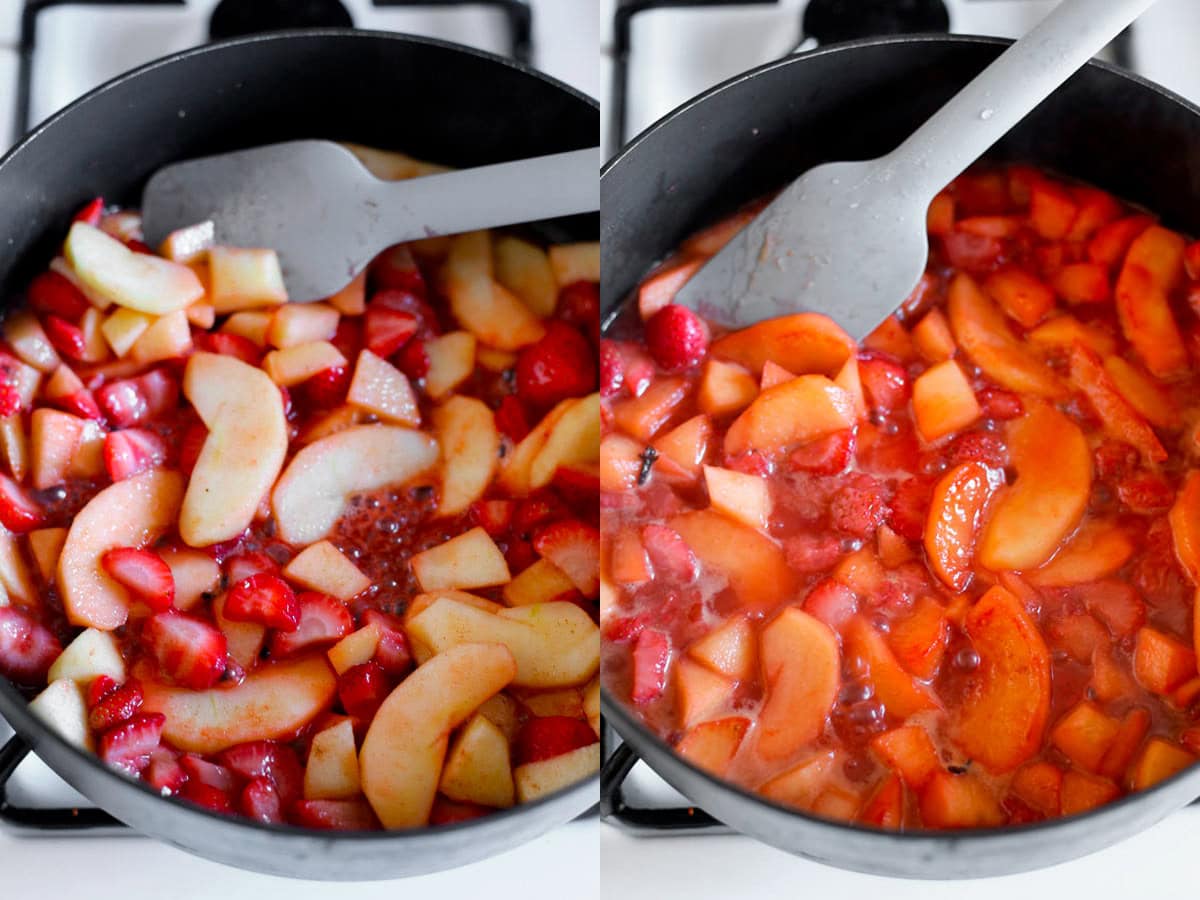 Compote Versus Jam
Since I wasn't sure whether to name this a compote or a jam, I dug a little to find out what the differences were between the two. And this is what I found:
Jam: A jam is made of crushed or chopped fruit cooked with sugar (acid and pectin can also be added) until they are completely soft and mushy, and have lost their shape. The mixture loses water and becomes thicker and easily spreadable.
Compote: A compote can be made with fresh or dried fruits and slowly cooked in sugar (with liquor and spices too sometimes). The fruits hold their shape making the mixture chunky, tender but not mushy.
How To Store Compote
Once you've made your compote, you can store it in a mason jar with a lid—or any airtight container will do. Especially if you make several servings, you might need a larger container! It will last up to two weeks in the refrigerator as long as it's sealed properly.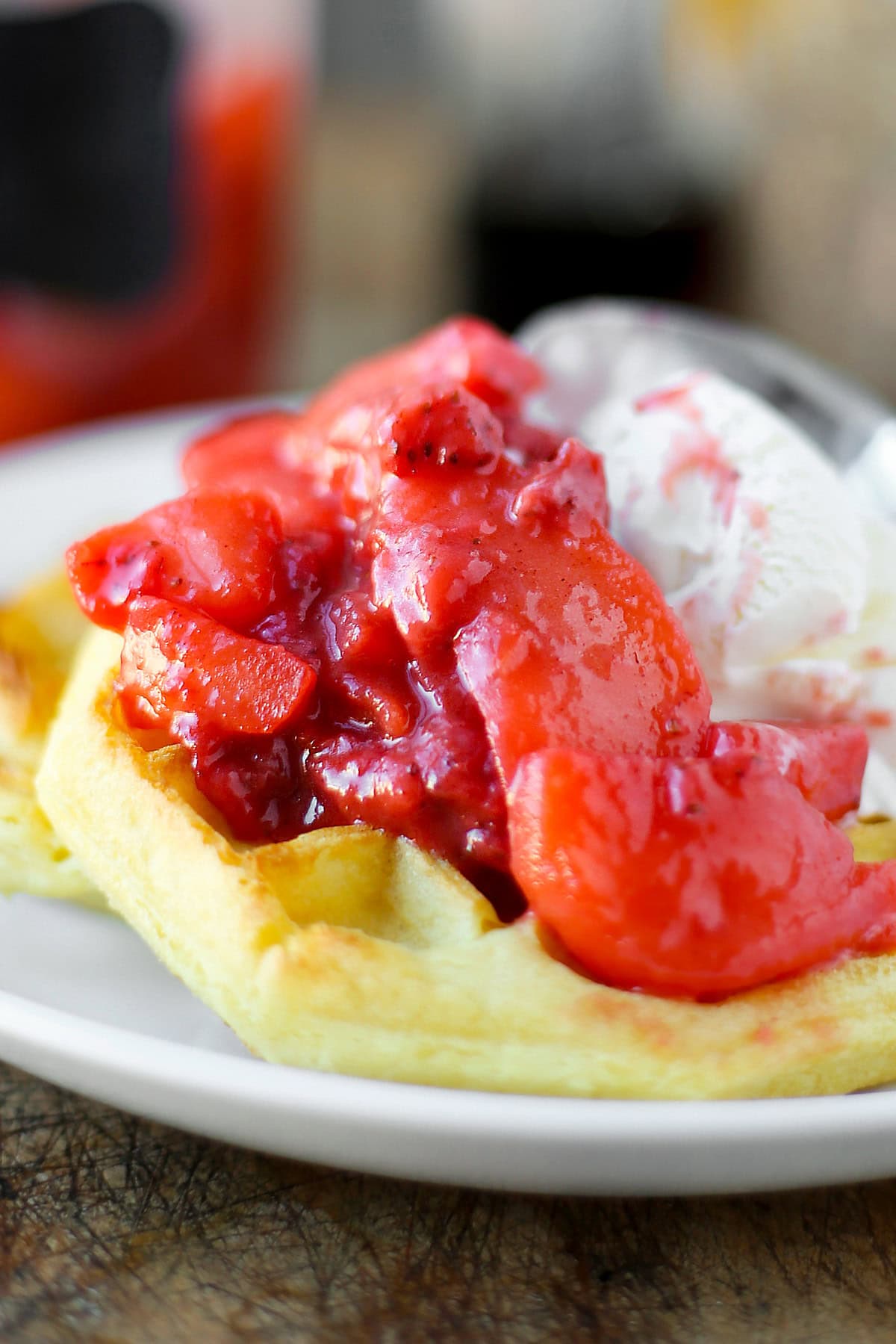 What To Eat With This Compote
There are so many ways to use this compote!
As previously mentioned you can use it like a jam with bread, pancakes, waffles, french toast, oatmeal, as a topping for yogurt, vanilla ice cream, or other desserts. It can also be used to pair with steak or roast pork chops.
Love a good fruit dessert? Check out the following flavorful and fruity desserts!
More Delicious Fruit-Based Desserts You Might Like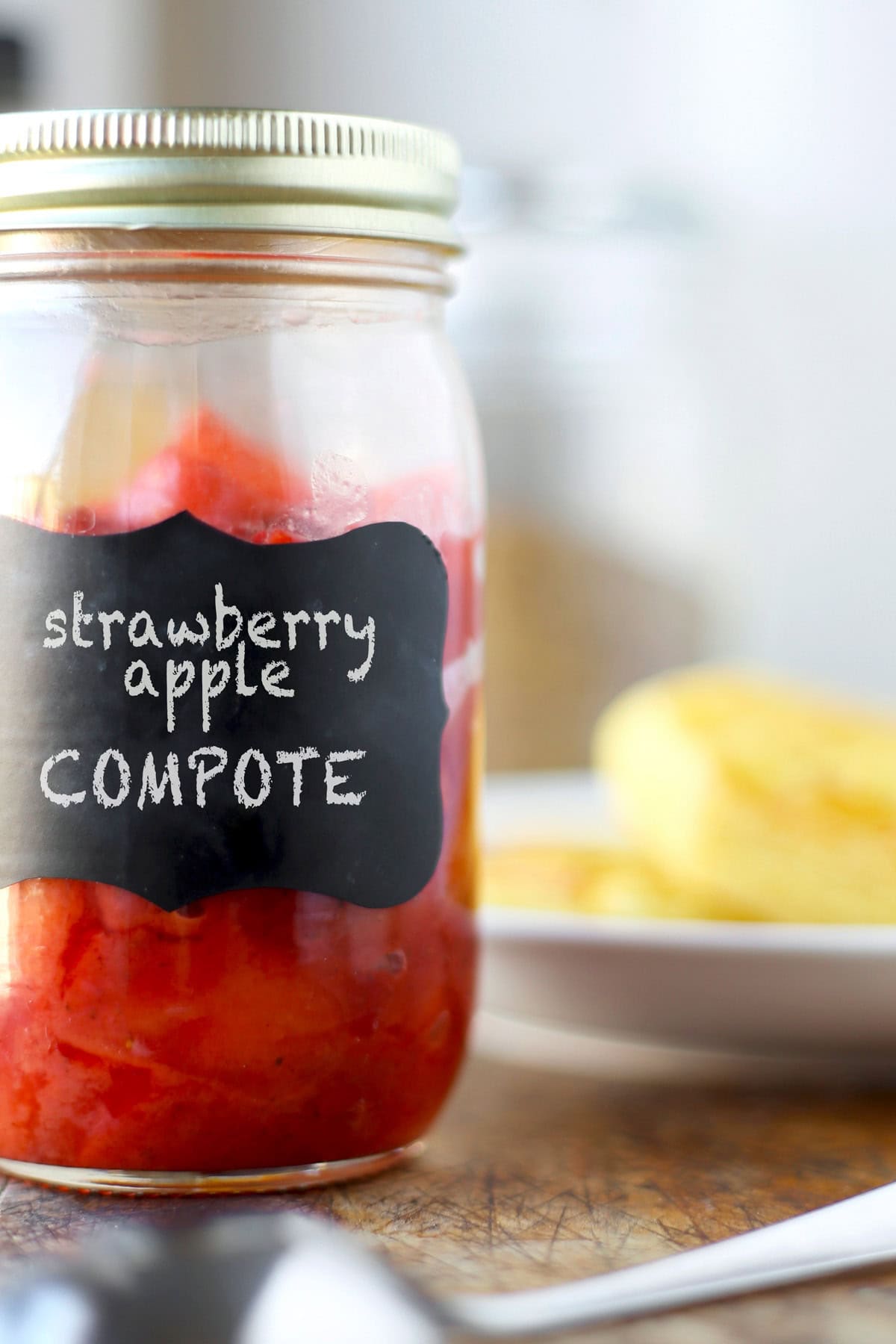 Did you like this strawberry apple compote recipe? Are there changes you made that you would like to share? New ways you'd shake up this recipes? Which fresh fruit do you love making compote out of?Share your tips and recommendations in the comments section below!
Print
Strawberry Apple Compote
This is a simple and delicious sweet and tart strawberry apple compote that pairs beautiful with bread, waffles, ice cream, or as a topping for other desserts.
Author: Caroline Phelps
Prep Time:

10 minutes

Cook Time:

35 minutes

Total Time:

45 minutes

Yield:

1 cup

1

x
Category:

Sauce

Method:

Boiling

Cuisine:

American

Diet:

Low Fat
2

apples (peeled, cored and sliced into

1/2

-inch wedges)

2

cup

strawberries (hulled and sliced in half)

6

cloves

1/4 teaspoon

ground ginger

1/4 teaspoon

ground cinnamon

1/4 teaspoon

kosher salt

1 1/2 tablespoon

sugar

2 tablespoons

butter

1/2

cup

apple cider (alcohol-free)

1 tablespoon

lemon juice
Instructions
Put apples and strawberries in a bowl and add cloves, ground ginger, cinnamon, salt and sugar. Mix well with a spoon and set aside.
In a deep skillet or saucepan over medium heat, add the butter, and once the butter has melted, add the fruit mixture. Stir and cook for 6-7 minutes, or until the fruit has caramelized.
Add apple cider, stir and lower heat to a simmer. Cook for 15-20 minutes or until fruit is tender. You may need to add a little water if the mixture looks dry (start with 2 tablespoons and add more if needed).
Turn the heat off, add lemon juice and stir. Let the compote cool until it's still warm but cool enough to the touch.
Notes
Store this compote in a glass jar or an airtight storage container and refrigerate for up to 2 weeks.
Nutrition
Serving Size:

2 tablespoons

Calories:

41

Sugar:

6.7g

Sodium:

44.4mg

Fat:

3.3g

Saturated Fat:

1.9g

Unsaturated Fat:

0.2g

Trans Fat:

0g

Carbohydrates:

10.5g

Fiber:

2.4g

Protein:

0.5g

Cholesterol:

7.6mg
Recipe Card powered by