Apples and strawberries are cooked in a thick syrup with spices and a little butter. It pairs beautifully with waffles, oatmeal, duck or pork – the options are endless!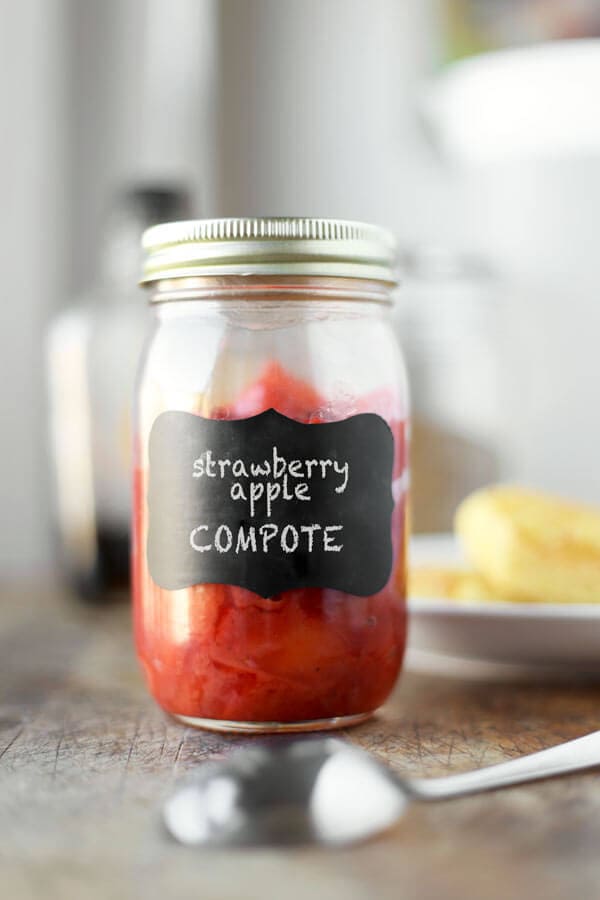 Sweet-Tart Strawberry Apple Compote
So sweet! So tart! So comforting and satisfying I can't stop thinking about this strawberry apple compote! And I can't believe how easy it is to make either! ♥ ♥ ♥
I'm all over strawberry rhubarb pies and jams because I love the combination of sweet and tart flavors. But since I'm too lazy to go looking for rhubarb and if I may be completely honest – to learn to cook it (I've never used it as ingredient!) – I chose to pair my gorgeous strawberries with the classic apple. I should mention that I only eat and use Honeycrisp apples for the simple reason that they are always perfectly light, juicy, crisp and sweet. They are expensive indeed but I'd rather pay a little more to take home consistent high quality apples.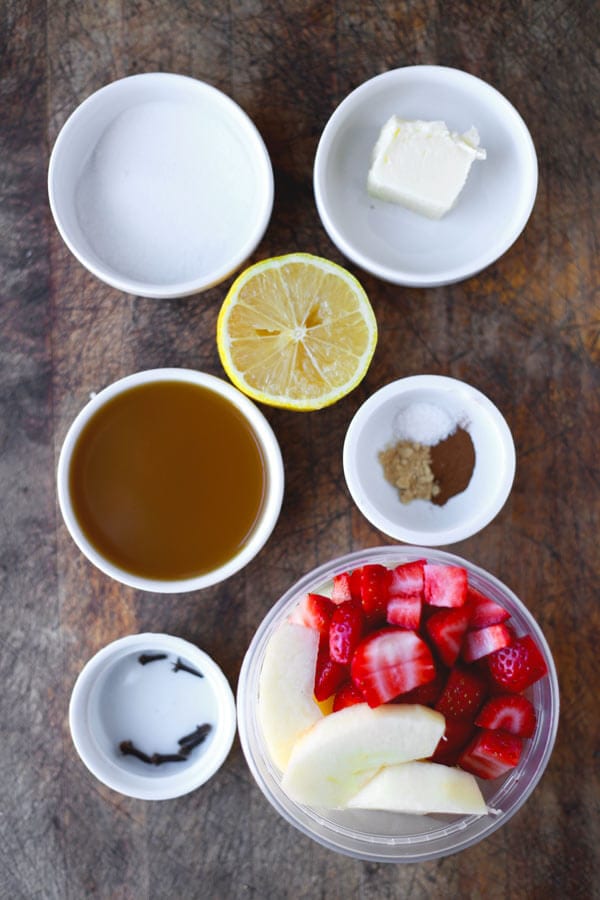 Now why didn't I call this jam instead of compote?
Because I did a little research and found out that there is a difference between jams and compotes – aha! I had written jam on my black sticker but was quick to erase it after realizing that my fruit mixture was 100% compote. Here's the difference:
Jam
Crushed or chopped fruit cooked with sugar (acid and pectin can also be added) until they are completely soft and mushy, and have lost their shape. The mixture loses water and becomes thicker and easily spreadable.
Compote
Can be made with fresh or dried fruits and slowly cooked in sugar (with liquor and spices too sometimes). The fruits hold their shape making the mixture chunky, tender but not mushy.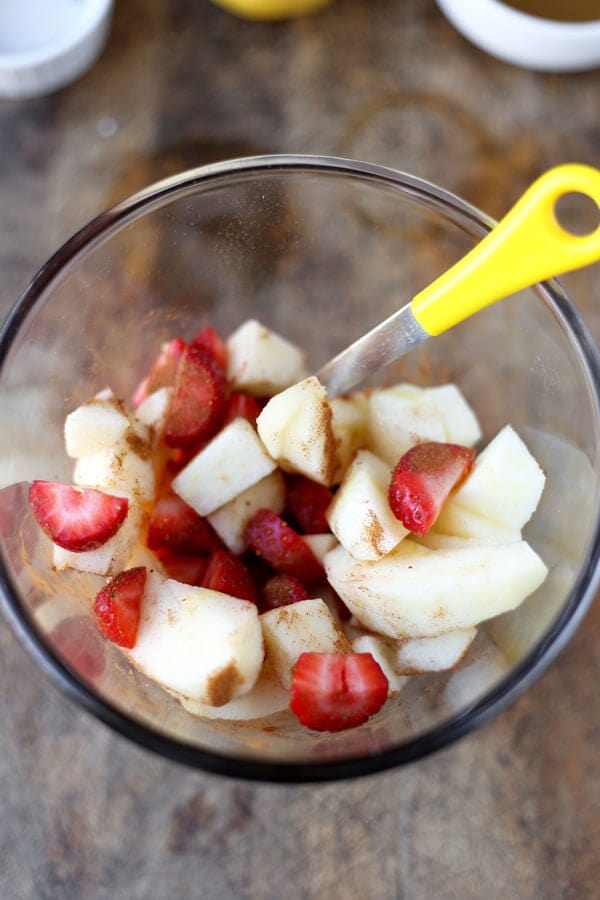 I can see myself serving this strawberry apple compote with a juicy pork chop, balancing fatty and heavy with sweet and tangy… A match made in heaven! Served with a side of crunchy Brussels sprouts and a potato… Yes please, now please.
This strawberry apple compote recipe makes enough to fill a small jar but I highly recommend doubling, if not tripling the recipe so you can save some for later. I wish I had done that since I scarfed down the waffles in the picture as soon as I was done shooting the dish, and made my hubby a plate about an hour later. Now we only have enough to share one more utopic plate of sweet and tart goodness before hearing the hollow sound of the spoon hitting the bottom of the jar. Sadness.
The good news is that it only takes 10 minutes to prep and 20 minutes to cook. This means if I stop writing this second, I could have a brand new jar of sweet-tart strawberry apple compote ready to eat this evening 🙂 🙂 🙂
Goodbye.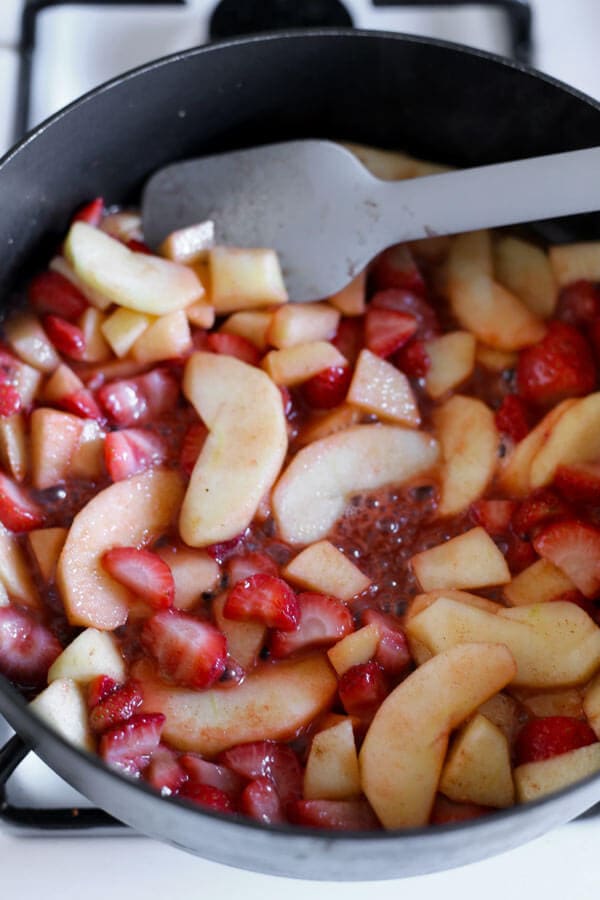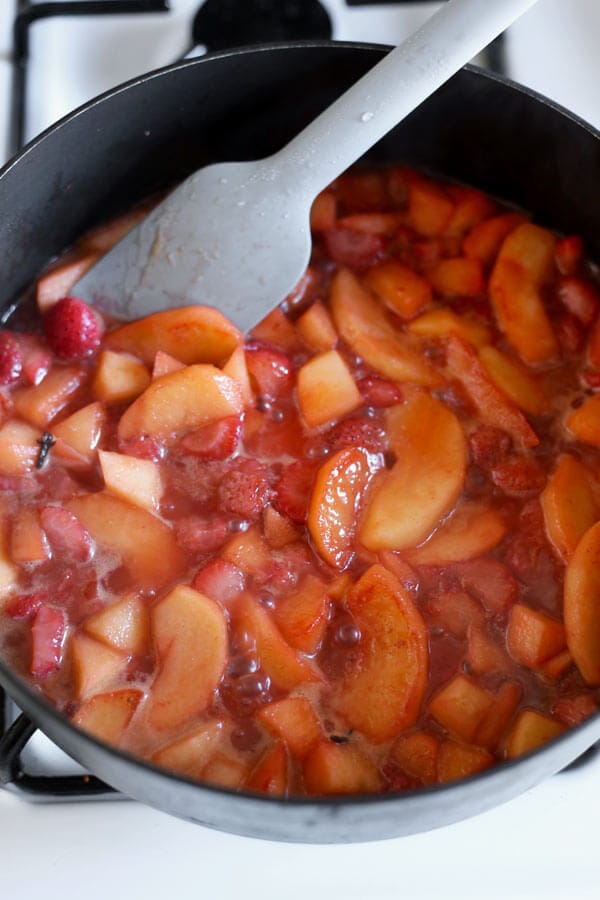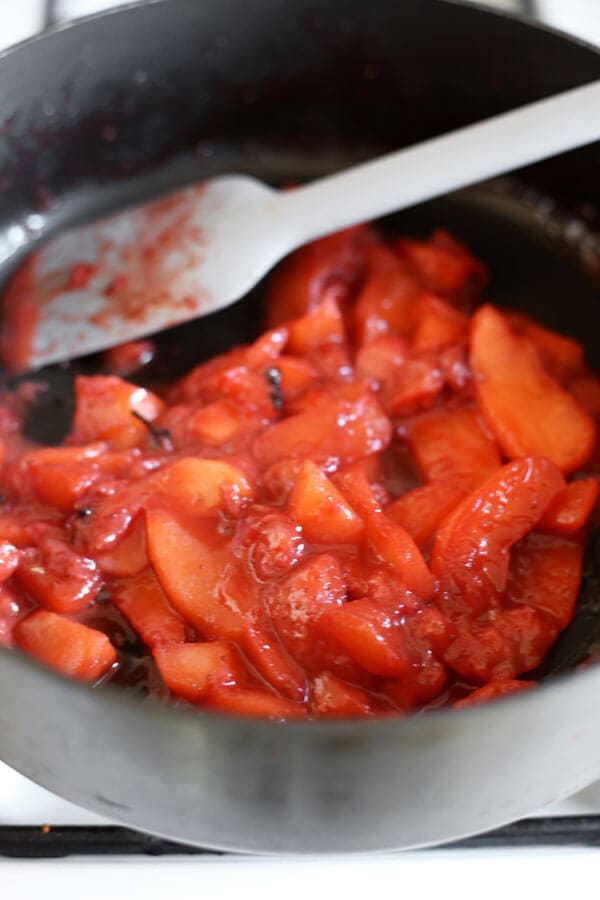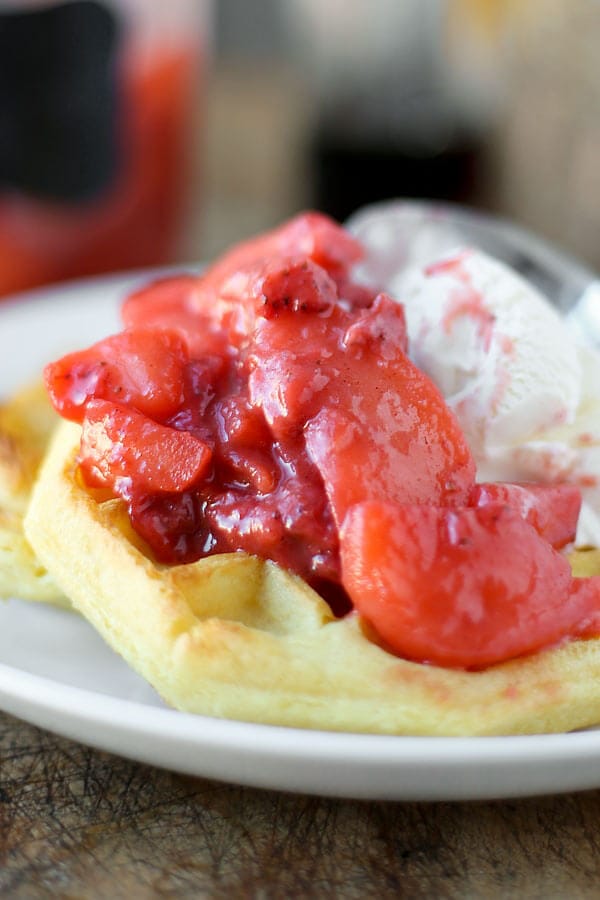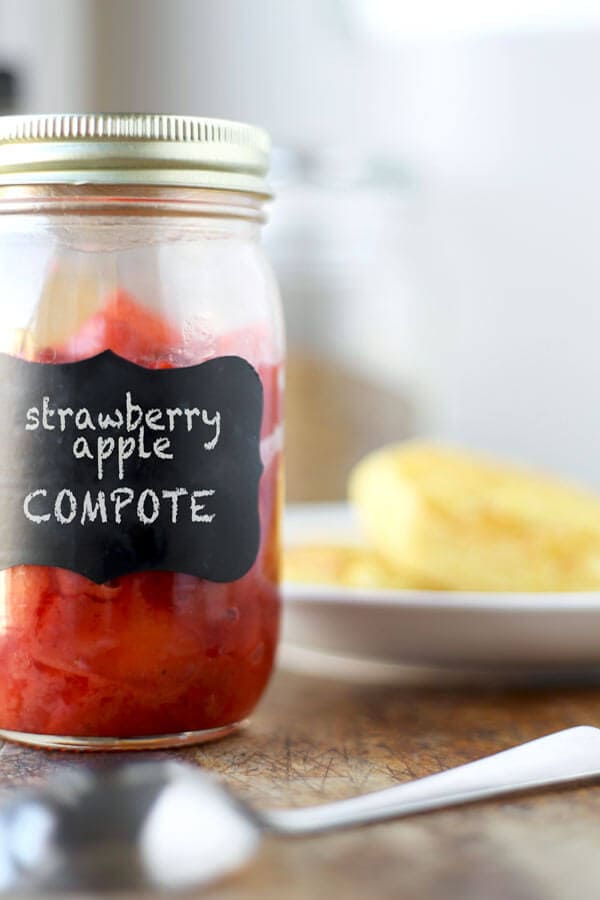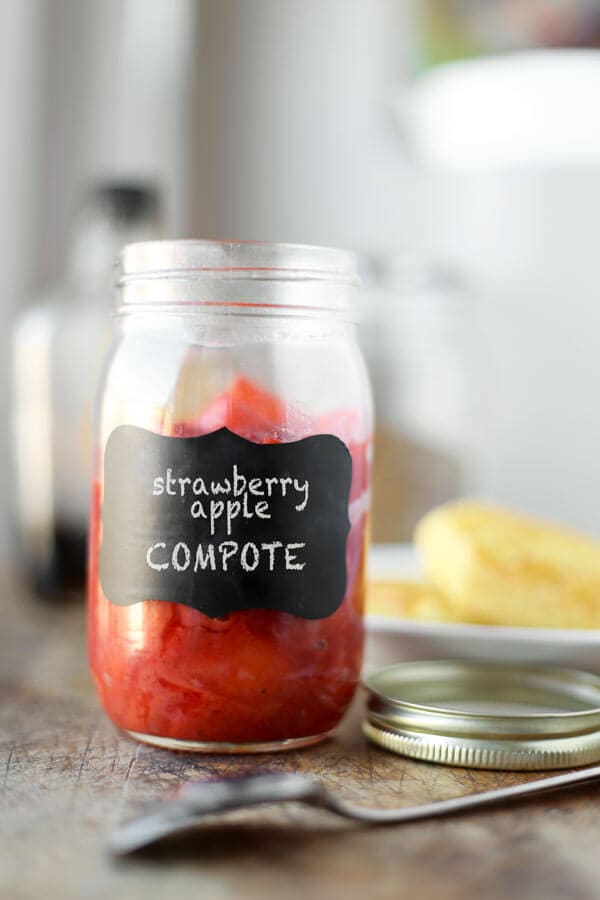 Did you like this Sweet-Tart Strawberry Apple Compote Recipe? Are there changes you made that you would like to share? Share your tips and recommendations in the comments section below!
Print
Strawberry Apple Compote
This is a simple and delicious sweet-tart strawberry apple compote recipe that only takes 10 minutes to prep! Apples and strawberries are cooked in a thick syrup with spices and a little butter. It pairs beautifully with waffles, oatmeal, duck or pork – the options are endless!
Prep Time:

10 minutes

Cook Time:

35 minutes

Total Time:

45 minutes

Yield:

1 cups

1

x
Category:

Side, Easy, Healthy

Cuisine:

American
2

apples (peeled, cored and sliced into

1/2

-inch wedges)

2 cup

strawberries (hulled and sliced in half)

6

cloves

1/4 teaspoon

ground ginger

1/4 teaspoon

ground cinnamon

1/4 teaspoon

kosher salt

1 1/2 tablespoon

sugar

2 tablespoons

butter

1/2 cup

apple cider (alcohol-free)

1 tablespoon

lemon juice
Instructions
Put apples and strawberries in a bowl and add cloves, ground ginger, cinnamon, salt and sugar. Mix well with a spoon and set aside.
In a large pan over medium high heat, add butter and once the butter has melted, add fruit mixture. Stir and cook for 6-7 minutes, or until fruit has caramelized.
Add apple cider, stir and lower heat to a simmer. Cook for 15-20 minutes or until fruit is tender. You may need to add a little water if the mixture looks dry (2-3 tablespoons should be enough).
Turn the heat off, add lemon juice and stir. Let the compote cool until it's still warm but cool enough to the touch.
Serve with waffles and top with ice cream (optional). You can save it for later by transferring the strawberry apple compote to a jar or other container with a lid. Keep refrigerated.
Recipe Card powered by