Written by: Ben Phelps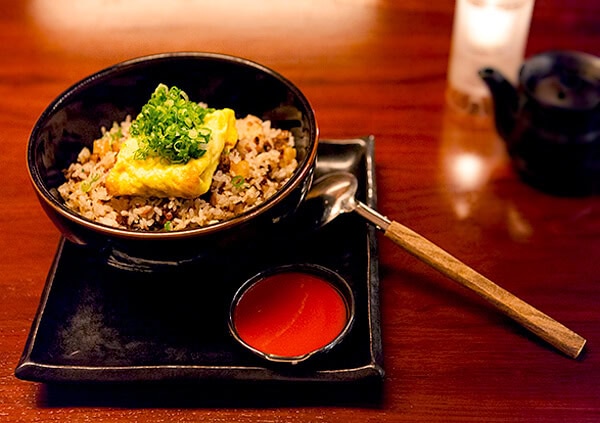 Oxtail fried rice at Blue Ribbon Sushi Bar and Grill
"So, you just break the omelet – and mix in the bone marrow," the waitress explained. We took the long spoon, did as we were told, cutting into the folded egg and mixing the velvety cubes of fat into the fried rice that was already loaded with oxtail. I looked at Caroline with a mixture of trepidation and wonder. Could this taste as rich and decadent as it looked? I figured there was no way. But one bite in and we were rolling our eyes in beatific joy. The waitress said, "Told you it was good – try it with the chili sauce," and walked off to refill waters. We didn't say much at all for the next ten minutes as we spooned in bite after bite. Silence around the dinner table either means the relationship is on the rocks or the cook did a good job. Luckily, we're a few decades away from getting in an argument in public over the-annoying-way-you-slurp-your-damn-coffee; and it goes without saying that the oxtail fried rice at Blue Ribbon Sushi Bar and Grill would be spoken about in reverent tones for days to come. The perfectly cooked rice was inundated with chewy, satisfying soy and mirin marinated oxtail and coated with the luxurious, fatty mixture of bone marrow. This was all undercut (but not undermined) by a splashy punch delivered by the acidic, vinegary chili sauce we mixed in with abandon.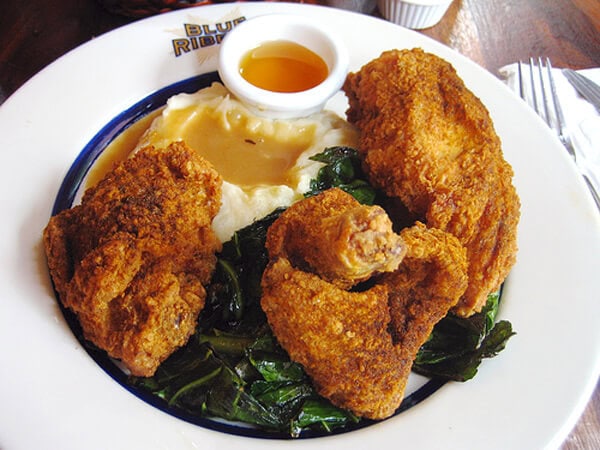 I am extremely wary of Pan-Asian restaurants. Anytime I see a menu overloaded with pad Thai, pho, sushi rolls, bibimbap and general Tso's chicken – that's one place I will not be going. In trying to homogenize Asian food and make a menu that appeals to anyone who might walk in off the street, the outcome is usually uniformly abysmal. That doesn't mean, however, that there aren't restaurants introducing new ingredients or influences into Asian cooking in exciting ways. Our recent past is loaded with cultures that did an amazing job food-wise, with the lousy hand of cards that history was busy dealing them. The Vietnamese did wonders incorporating the coffee and bread of their French colonizers. And we wouldn't have Japanese comfort food like Napolitan spaghetti and flashy Teppanyaki if it wasn't for crafty use of Western war rations, flavored and altered to still appeal to the Japanese palate, after WWII.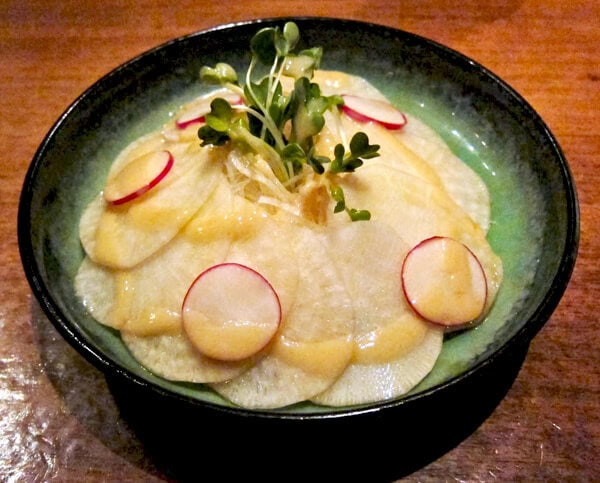 Blue Ribbon is one such successful anomaly. The Bromberg brothers somehow found the magic mix when they created their Blue Ribbon empire. There are classics like the astringent and cleansing san daikon (three radish) salad. And you would be hard pressed to find sea urchin (they have both California and Hokkaido uni) nigiri with a more honest Japanese taste and texture. But then you take their insane fried chicken – and the succulent, piquant and toothsome oxtail fried rice, and we've crossed some invisible culinary border so smoothly and willingly that, even though we aren't in Osaka anymore Toto, it isn't something we have a problem with.
Blue Ribbon Sushi Bar and Grill is located at 308 West 58th Street (inside the 6 Columbus Hotel) in NYC http://www.blueribbonrestaurants.com