Learn all about konjac (konnyaku) and how you can use this bouncy, low calorie ingredient in your kitchen. While most commonly used in Japanese simmered dishes like oden and hot pot, this is a versatile addition to any dish you want to lighten up without sacrificing flavor!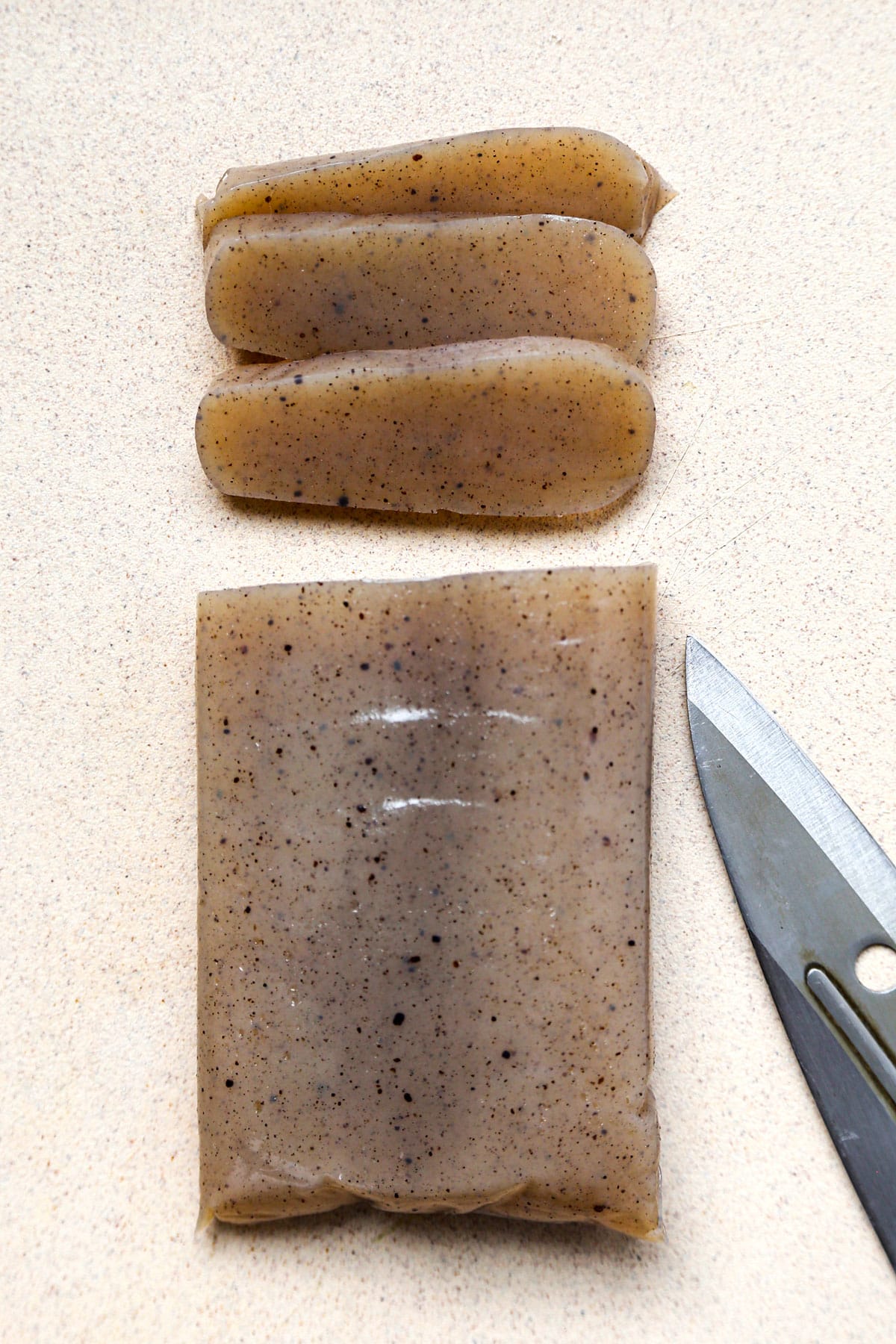 What is Konjac?
Konjac (aka: konnyaku) is an edible plant derivative from the yam/taro family. You may also hear this bulbo tuber referred to as devil's tongue or yam cake.
This rubbery, gelatinous food has a unique, bouncy chew that is used in many Japanese soups and simmered dishes such as oden and sukiyaki (more on this in a sec).
Made of mostly water and pulverized konnyaku powder, konjac is vegan and is a great alternative to meats, seafood and pasta. It can also be used as a substitute for gelatin.
The main benefits of this zero-calorie food are that it is high in a dietary fiber called glucomannan – and aids (greatly) in digestion. Your clean gut thanks you in advance!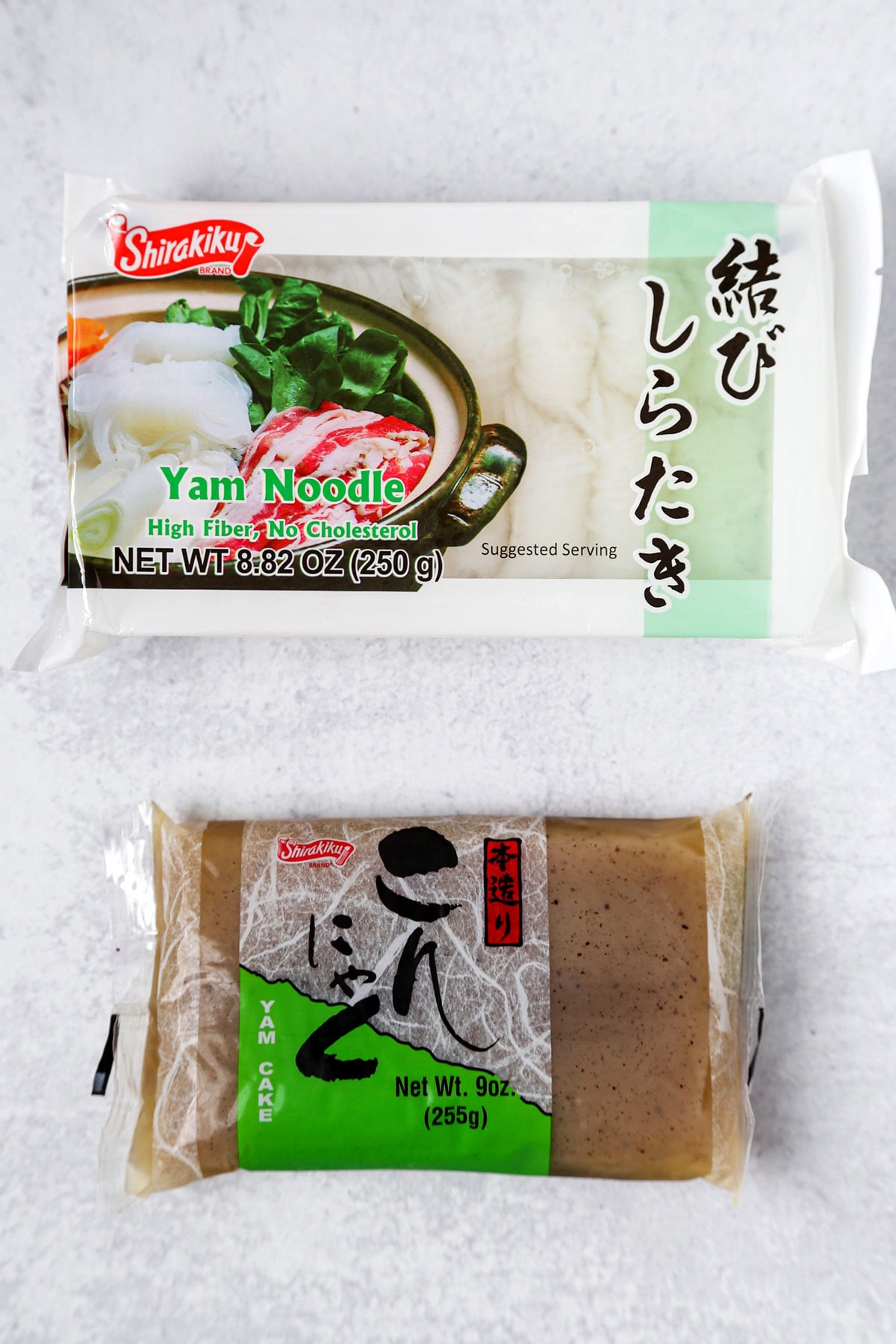 Konjac Comes in Many Forms
The blocks you'll typically find in the Japanese grocery store are known colloquially as yam cake. These come in two basic forms.
White Konjac is made of the pulverized yam powder and water. Like you'd assume, it has a white, translucent appearance.
Grey Konjac contains the same basic ingredients and preparation – however also contains seaweed powder.
But, aside from the blocks of yam cake, konjac comes in a few less common forms:
Shirataki Noodles: These commonly come in cute, tied little bundles, meant to be used in stewed Asian dishes like hot pot. They have a great almost crunchy texture. Some versions add bean curd to the manufacturing process for a boost of protein.
Konjac Jelly: This jiggly treat is typically flavored with fruit juice. Solid versions can be found wrapped as individual candies. And there are single serving fruit drinks that utilize a more liquified version. Some drinks include fruity additions like nata de coco.
Rice and Western Pasta Substitutes: Spaghetti and fettuccini shaped noodles are a great low-cal / low-carb alternative to the usual suspects. And, much like it sounds, shirataki rice mimics the shape of rice grains.
Vegan Seafood Alternatives: Most notable of these is konnyaku sashimi – which is tender, thinly sliced konjac you can serve with wasabi and soy sauce.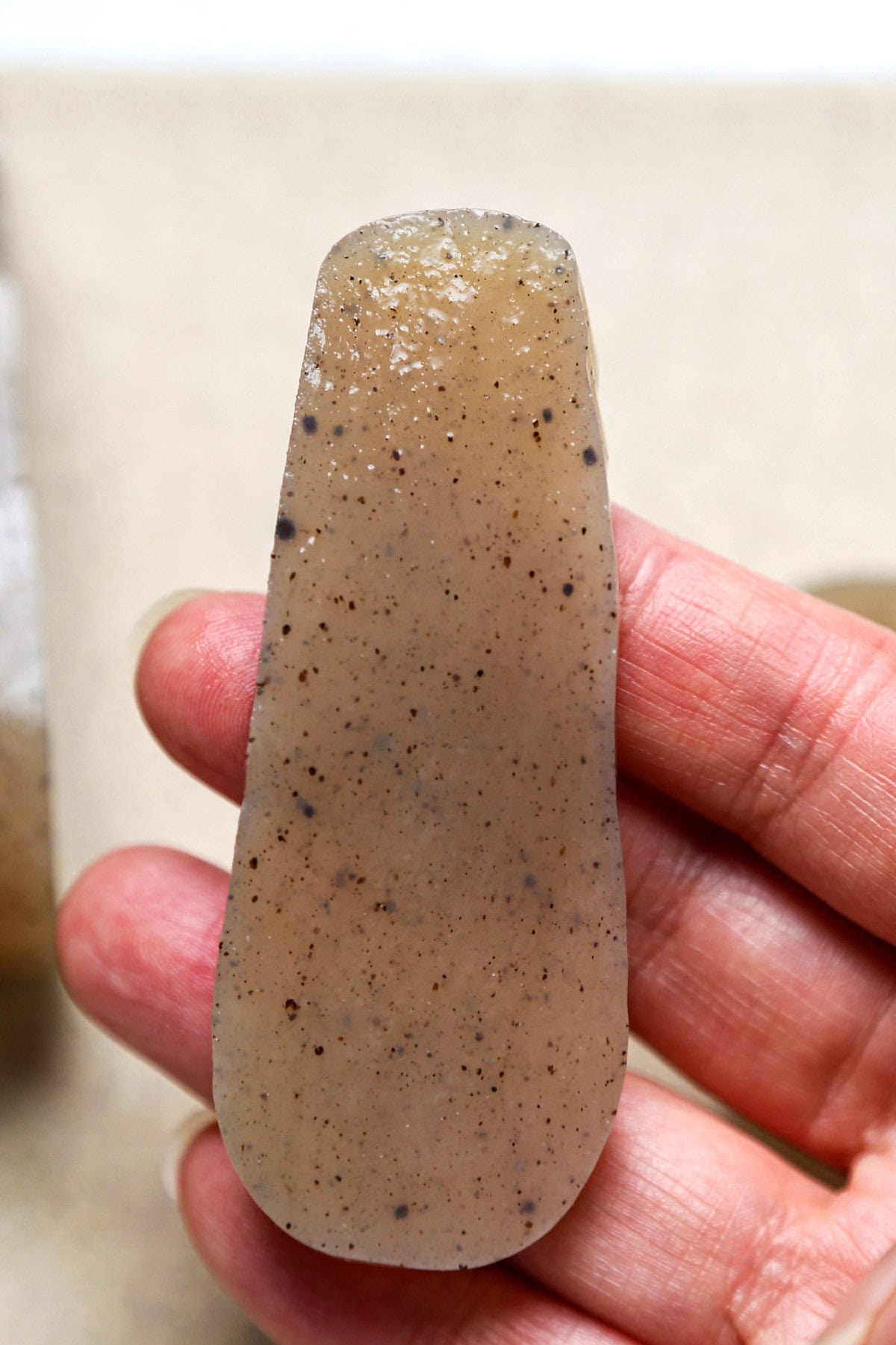 Cooking Benefits of Konjac / Konnyaku
I personally love using konnyaku whenever I want to make a typically hearty dish just a little lighter than usual (without sacrificing flavor).
Konjac is substantive, but low in calories. Therefore, it tells your digestive system that you're getting full, without the typical influx of high-caloric matter.
Now, konnyaku doesn't absorb flavor when stewed – or have much of a flavor of its own. However it is the perfect blank slate for dishes that are assertively flavored.
So it stands to reason that you could use shirataki noodles in a spicy and pungent pad Thai (instead of the typical rice-stick noodles). The dish would retain the same flavor profile – while taking it a bit easier on your waistline.
What Japanese Recipes is Konjac Used In?
My all-time favorite is a Japanese nabemono recipe called oden. In the winter months in Japan, convenience stores sell skewers of fish cakes, eggs, daikon and konjac that have been simmered in a soy sauce and dashi broth.
Check out my post on how to make dashi from scratch at home.
And check out some other common Japanese uses for konjac:
Hijiki No Nimono
Nishime
Kenchinjiru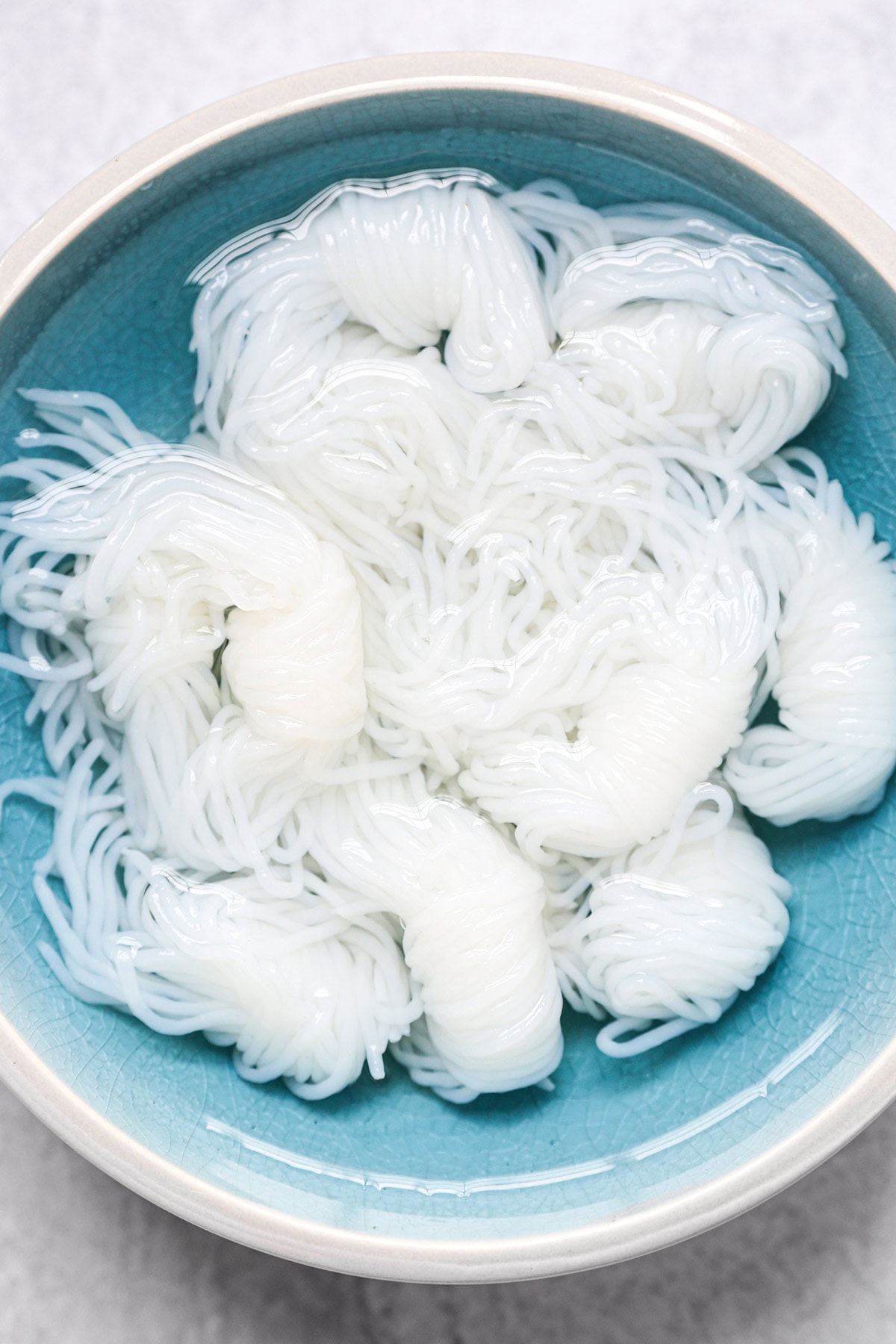 Where to Buy Konnyaku Noodles
You'll find konjac noodles most commonly sold under the name shirataki noodles.
If you're in your local grocery store, the best place to start looking is in the refrigerated produce section – typically next to the tofu and meat alternatives. You might also check in the Asian foods aisle.
Most large grocery chains sell shirataki noodles. Whole Foods, Publix and Wegmans all stock shirataki in the refrigerated produce sections – or you can have konnyaku noodles delivered from Amazon Fresh.
If you're looking for a solid konjac block (yam cake), you'll typically have the best luck at an Asian grocery store.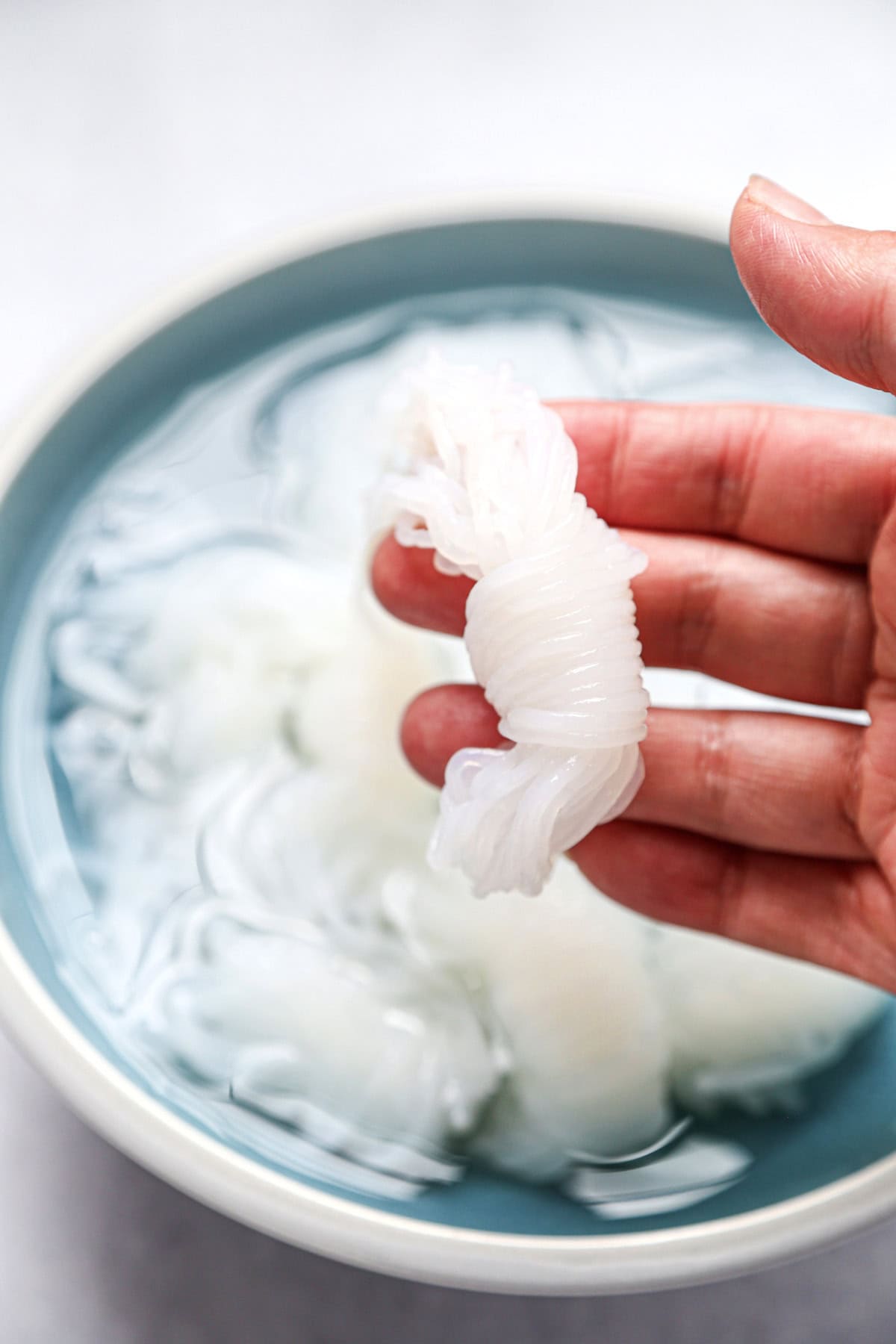 How to Store Konjac
You can store any leftover konnyaku submerged in water in an airtight container in the fridge for up to about a week.
That said, you will want to change the water every two days or so.
Since the texture will change for the worse if frozen, it's best not to freeze konnyaku.