A hearty yet light daikon soup with chicken, ginger, and spinach. This is one of my favorite soups to have whenever I feel like I need a boost of nutrients! Ready in 40 minutes from start to finish.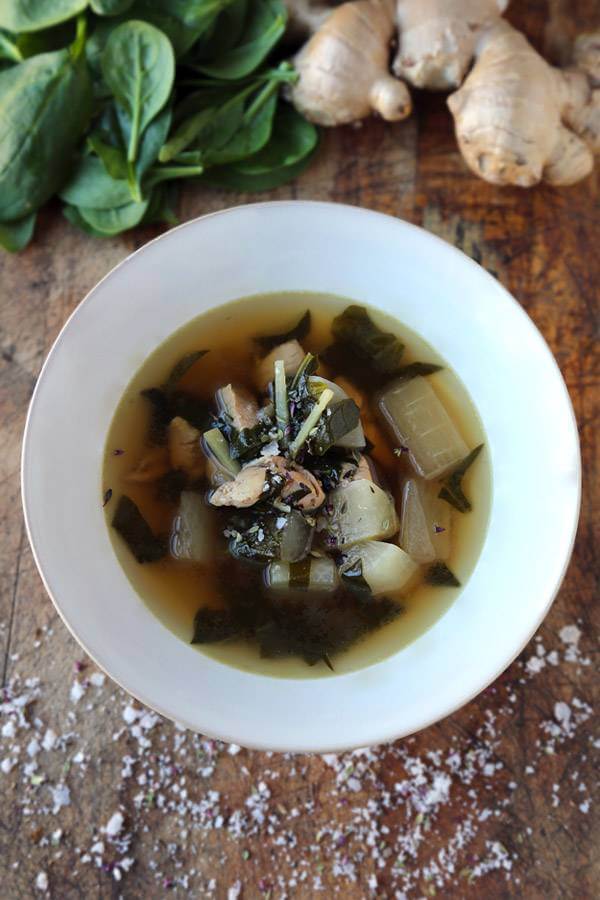 Whenever I catch a bad cold, I crave a big bowl of soup. Last week, with temperatures hitting below zero, I caught a bad cold that left me feeling pretty weak.
My husband Ben, who also felt under the weather, brought home chicken and noodle soup from our favorite neighborhood restaurant. We sat and devoured it while watching several episodes of Downton Abbey, under the covers, with a kitty cat sleeping between us.
The next day, I made my own chicken soup with ginger, spinach and yummy daikon radish. That's the kind of soups I got used to eating during the eight years I spent living in Asia. Light, savory, and comforting.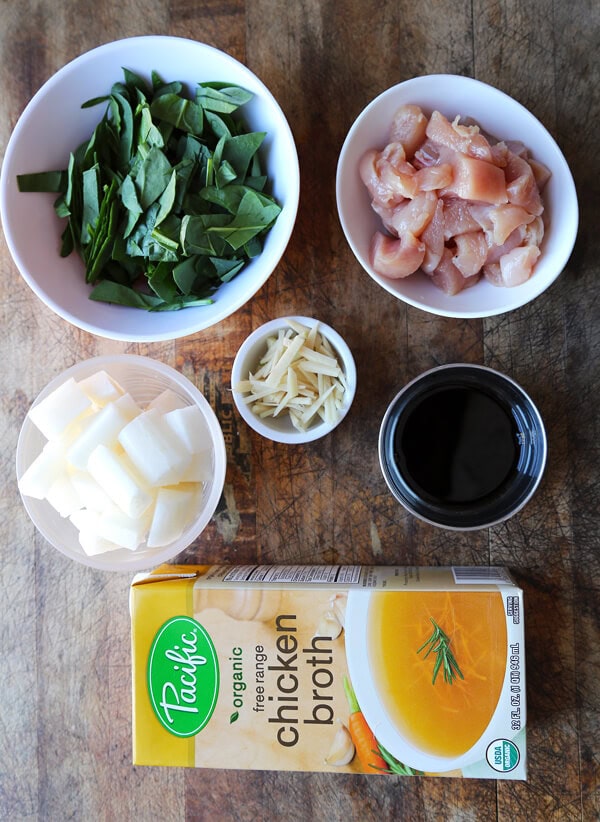 One of my favorite soups was by a vendor out in the the Golden Triangle in Thailand. I only ate her soup twice but it left such a strong impression that I still drool every time I think about it.
The soup couldn't have been simpler – chicken broth, shredded chicken, thin rice noodles and fresh cilantro. I don't know what the vendor did to her broth but it was spectacular; deep yet mild flavors of chicken (bones that must have cooked for hours), so layered and savory that I ordered two bowls both times.
I also love French creamed chicken and noodle soup with carrots and peas – hearty, milky deliciousness that reminds me of Japanese white stew. Or a slow cooked Southwestern chicken soup with creamy avocados and sweet corn.
Stomach growling.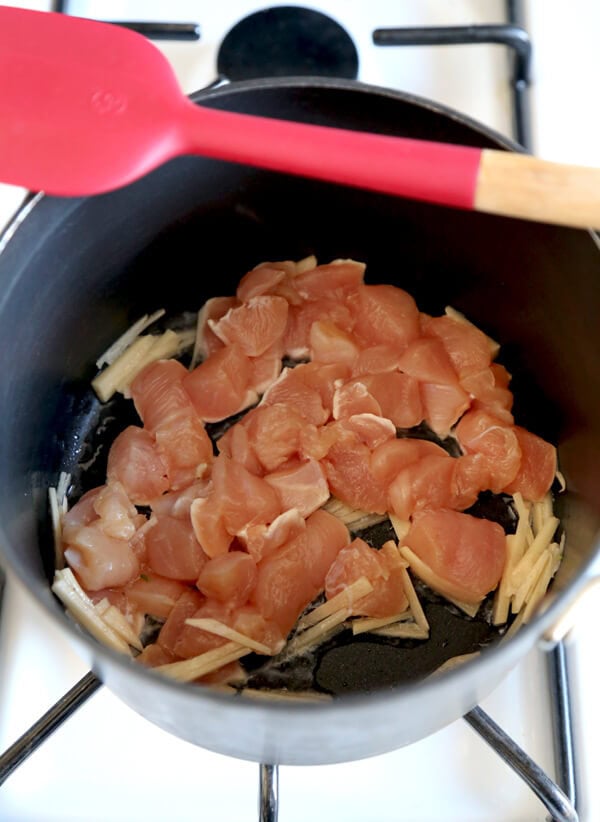 But back to the soup I made last week – it's a Japanese-influenced daikon soup that's simple and light.
It requires little work and is perfect if you feel a little tired and weak and in need of something re-energizing. It's a bit of an energy booster because of the zingy ginger and protein-packed chicken pieces. Quite invigorating if you ask me!
Ginger is very helpful for the throat and nose if you are badly congested and can also soothe an upset stomach.
I made a big pot of it and added a ton of ginger (more than the recipe calls for so if you are sick and making this to feel better – add more ginger). I served this daikon soup with a baguette and a chopped salad (we are obsessed with chopped salads) and we continued our Downton Abbey marathon. A couple of episodes later we had finished the entire pot! We fell into bed and slept like babies, with a kitty between us of course.
I couldn't say exactly if it was because of the soup, but we woke up the next day feeling much better!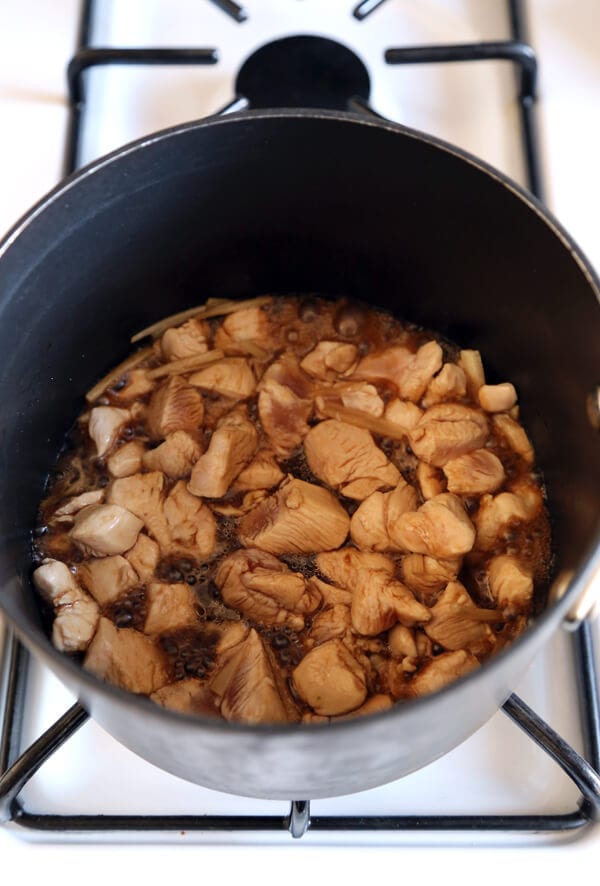 Make it Meat-Free
You can make this daikon soup without the chicken, just add double the amount of daikon, use vegetable broth instead of chicken broth, and add extra veggies such as carrots and celery. Adding a few tofu cubes is also really delicious!
Make it Gluten-Free
All you need to do to make this soup gluten-free is to swap soy sauce for liquid amino or tamari sauce. I personally prefer liquid amino, the taste is very similar to soy sauce and has more punch.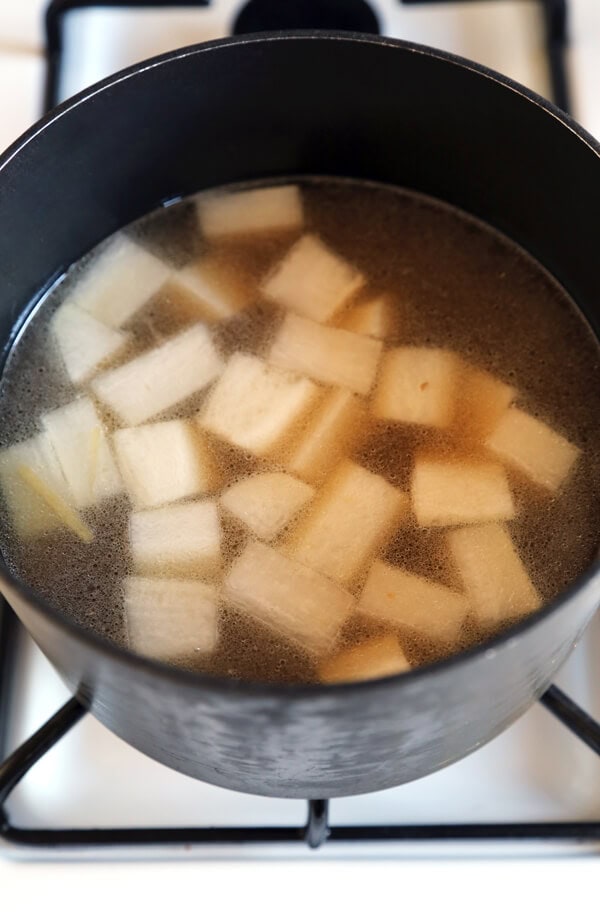 What to Serve with Daikon Soup
For those under the weather, stick to easy-to-digest foods such as plain white rice and bread. For those looking to make a fun Asian-style dinner, here are some of my favorite dishes that I like to serve with this simple daikon soup: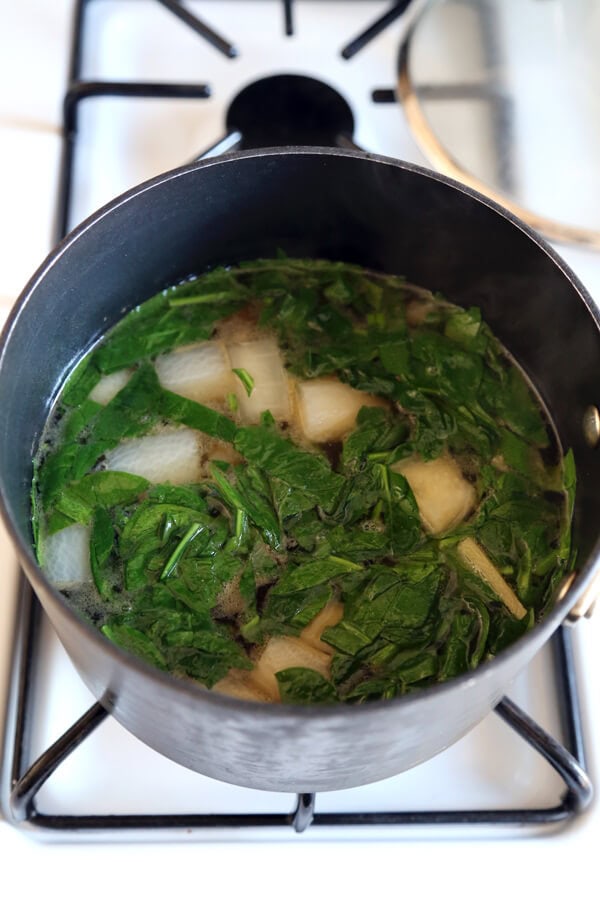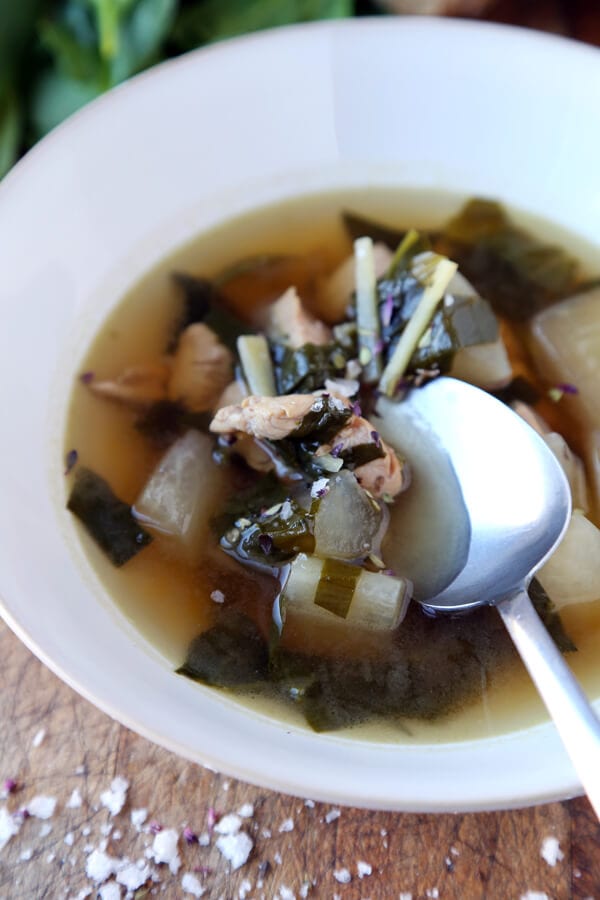 Did you like this Daikon Soup Recipe? Are there changes you made that you would like to share? Share your tips and recommendations in the comments section below!
Print
Daikon Soup
Author: Caroline Phelps
Prep Time:

10 minutes

Cook Time:

30 minutes

Total Time:

40 minutes

Yield:

4

people

1

x
1/2

pound skinless, boneless chicken breast (chopped bite size)

1 tablespoon

vegetable oil

2 tablespoons

ginger (peeled and cut into strips)

1 cup

daikon (chopped bite size)

4 cups

low sodium chicken broth

2 cups

spinach (roughly chopped)

2 tablespoons

sake

2 tablespoons

light soy sauce
Instructions
In a pot over medium/high heat, add oil, ginger and chicken. Cook for 5 minutes or until chicken is cooked through.
Add sake and soy sauce and cook for one minute.
Add chicken broth and daikon and bring to a boil. Lower heat, cover and simmer for 20-25 minutes, until daikon is tender.
Add spinach and cook for 5 minutes. Serve hot.
Recipe Card powered by