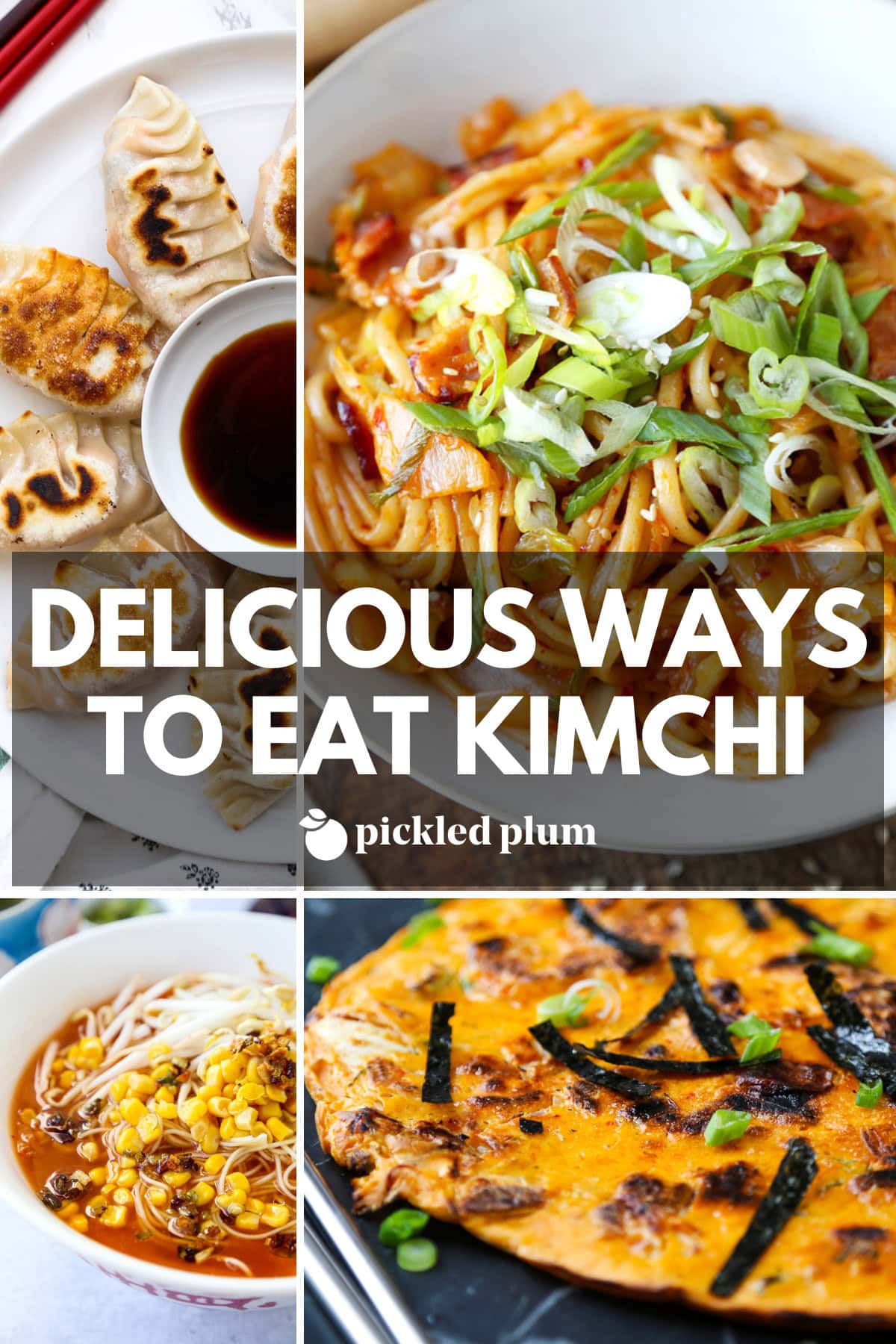 Kimchi is a staple ingredient in Korean cuisine. Its pungent and smoky notes perfume kitchens all over Korea and has quickly become a favorite in the west, too. Kimchi is a traditional Korean dish made from fermented vegetables, primarily Napa cabbage and Korean radishes, infused with a blend of spices. This centuries-old preparation method involves salting, seasoning, and leaving the vegetables to ferment, anywhere between 1 day and up to two weeks.
Not only is kimchi delicious, it's also a nutritional powerhouse packed with several health benefits! The fermentation process that kimchi undergoes introduces beneficial bacteria into the mix. These probiotics promote a healthy gut microbiome, as well as aiding digestion and improving skin health. It may also help regulate blood sugar, prevent against certain types of cancer, and reduce inflammation.
It's important to note that while kimchi offers numerous health benefits, it is also high in sodium due to the fermentation process. Individuals with high blood pressure or sodium-sensitive conditions should consume kimchi in moderation.
If you would like to make your own kimchi, scroll down to the bottom of this post for a delicious vegan cabbage kimchi recipe! Or click here for an easy cucumber kimchi recipe.
Now that we have gone through some of the benefits of kimchi, here are some easy ways to cook with kimchi and what to eat kimchi with.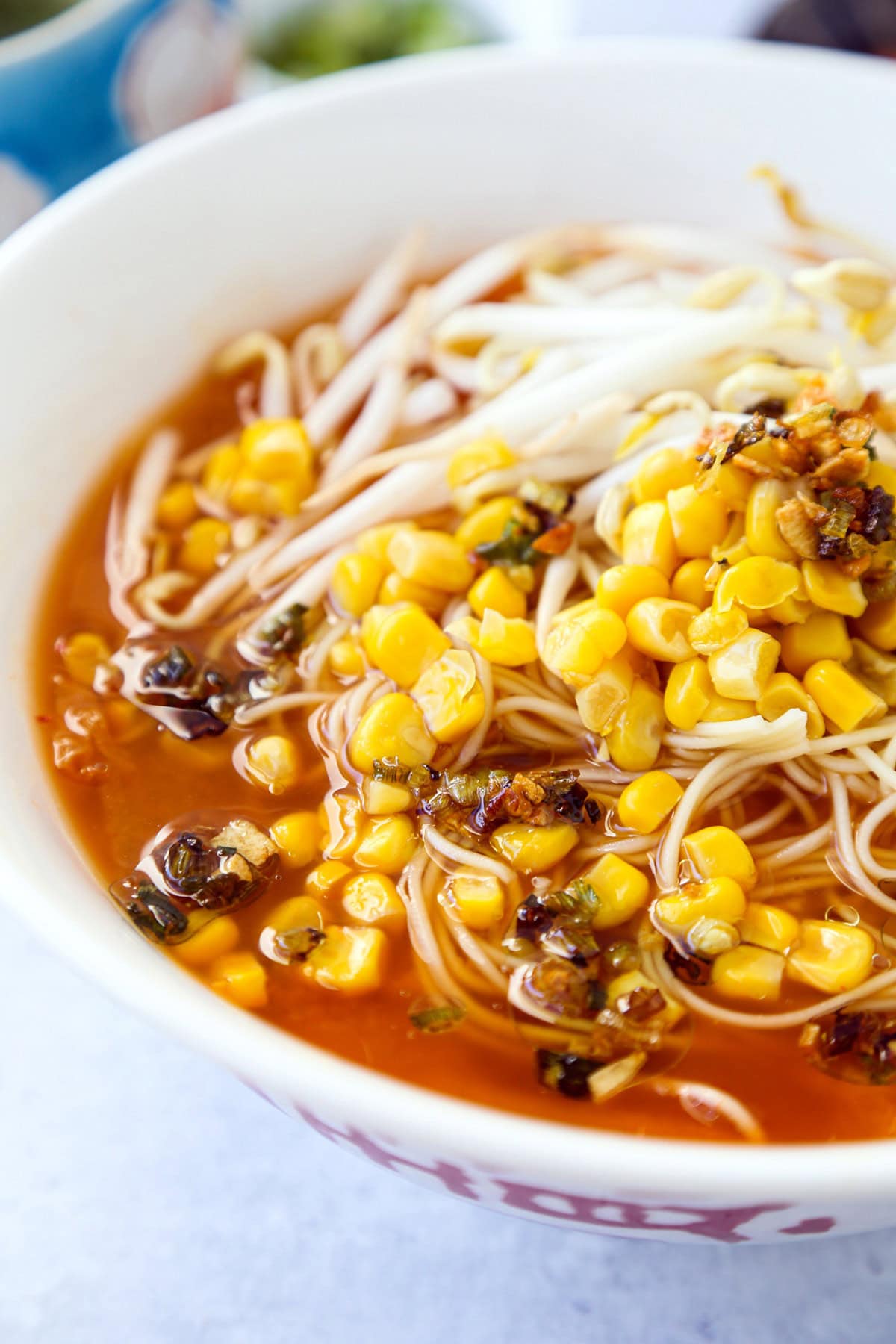 Miso Kimchi Ramen
Upgrade your ramen game by adding kimchi to the broth. Adding kimchi to a bowl of ramen noodle add a really nice balance of smoke and heat and turns the broth a beautiful fiery red color. It's an easy way to infuse extra flavor to this popular Japanese noodle dish and pairs beautifully with sweet corn and refreshing bean sprouts.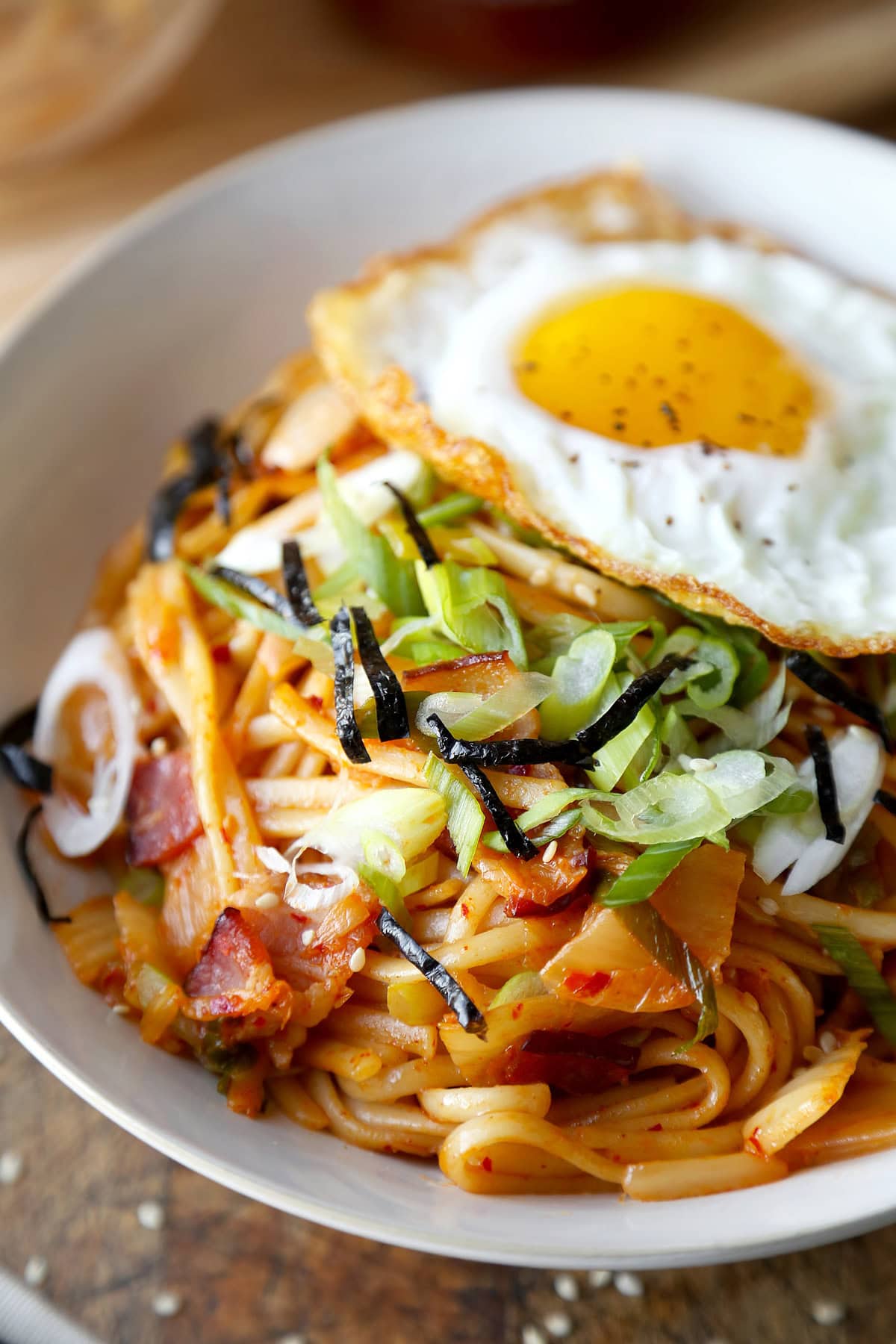 Kimchi Udon Stir Fry
I served this kimchi udon stir fry at a dinner party I once hosted at my house. Everyone invited loved it so much that they all ended up making it at home a few days later! Not only is this stir fry very easy to make, the combination of salty bacon and pungent and smoky kimchi make for a dish that's perfectly seasoned and balanced. Topping the noodles with a fried egg is optional but makes the dish creamy!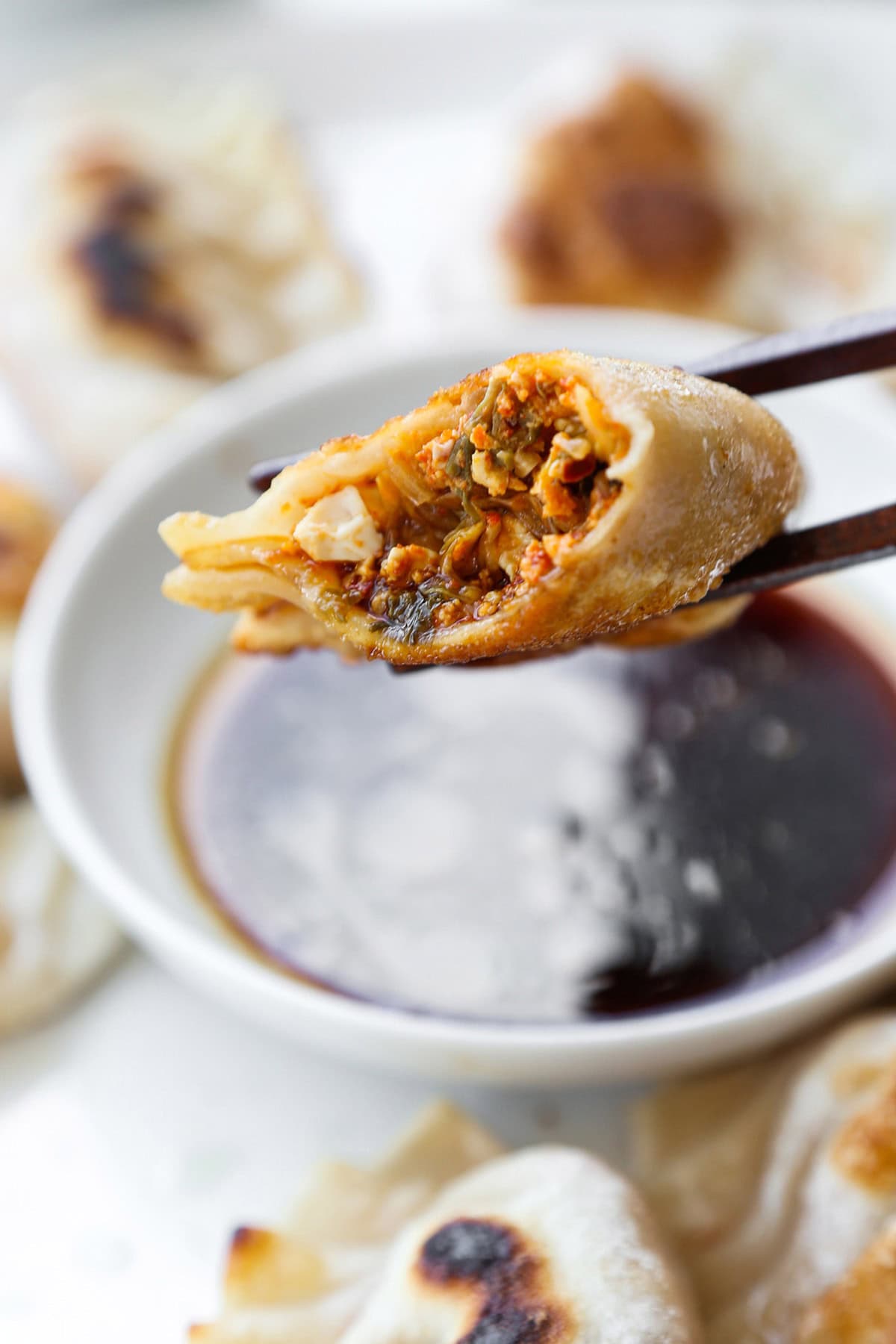 Kimchi Mandu (Kimchi Dumplings)
Looking for something to pair with a cold beer or glass of sake? Give these kimchi tofu mandu a try! Mandu is the Korean version of Chinese jiaozi or Eastern European pierogi. My recipe for these Korean dumplings is vegetarian and uses plenty of kimchi to get the most amount of salty and smoky flavor per bite.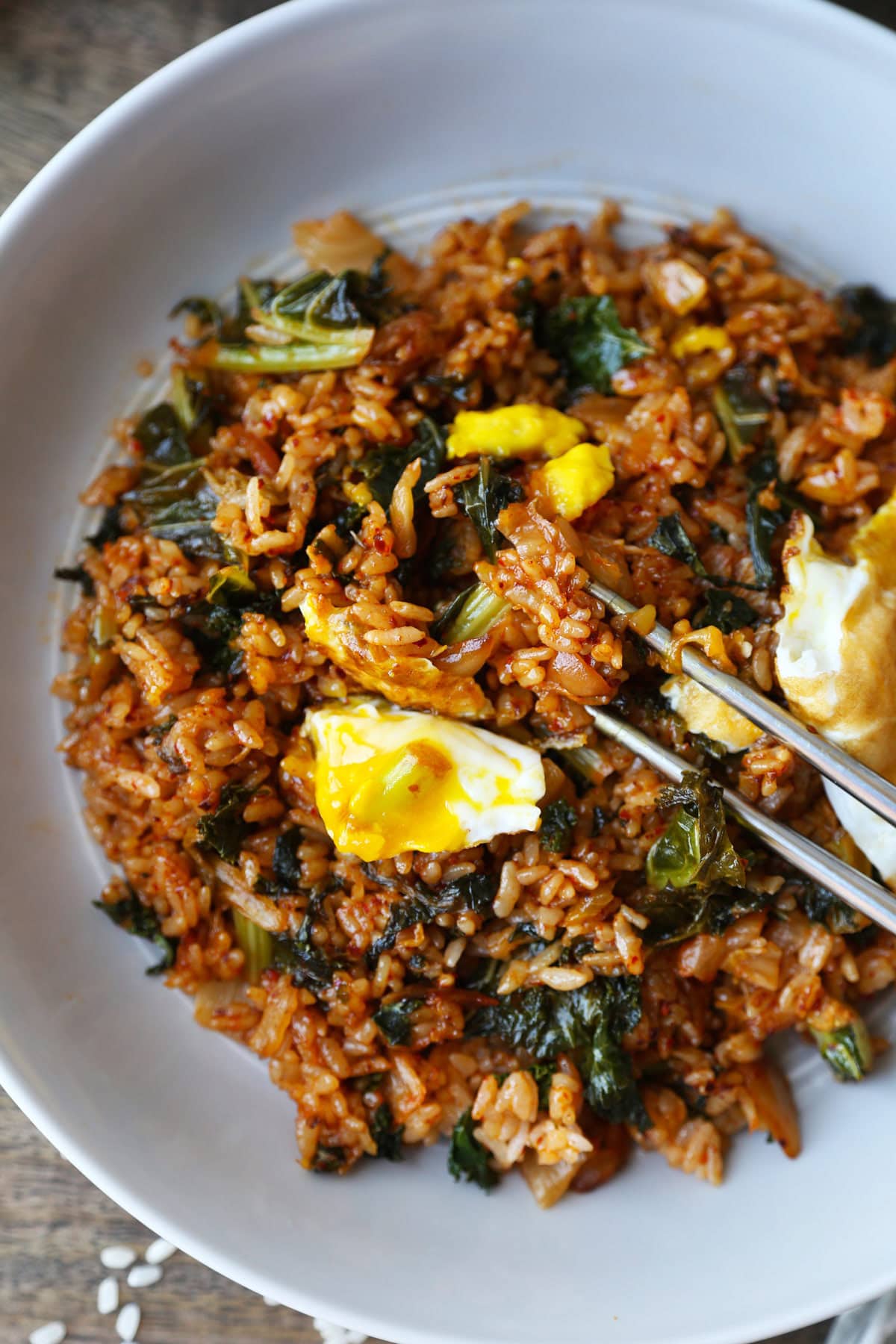 Kimchi Fried Rice (Kimchi Bokkeumbap)
This is a quick and satisfying fried rice that's packed with flavor. Sauté your kimchi with some day old cooked rice, add a bit of soy sauce, rice vinegar, Korean pepper flakes (gochugaru), and a dash of sesame oil. Top with a fried egg and serve!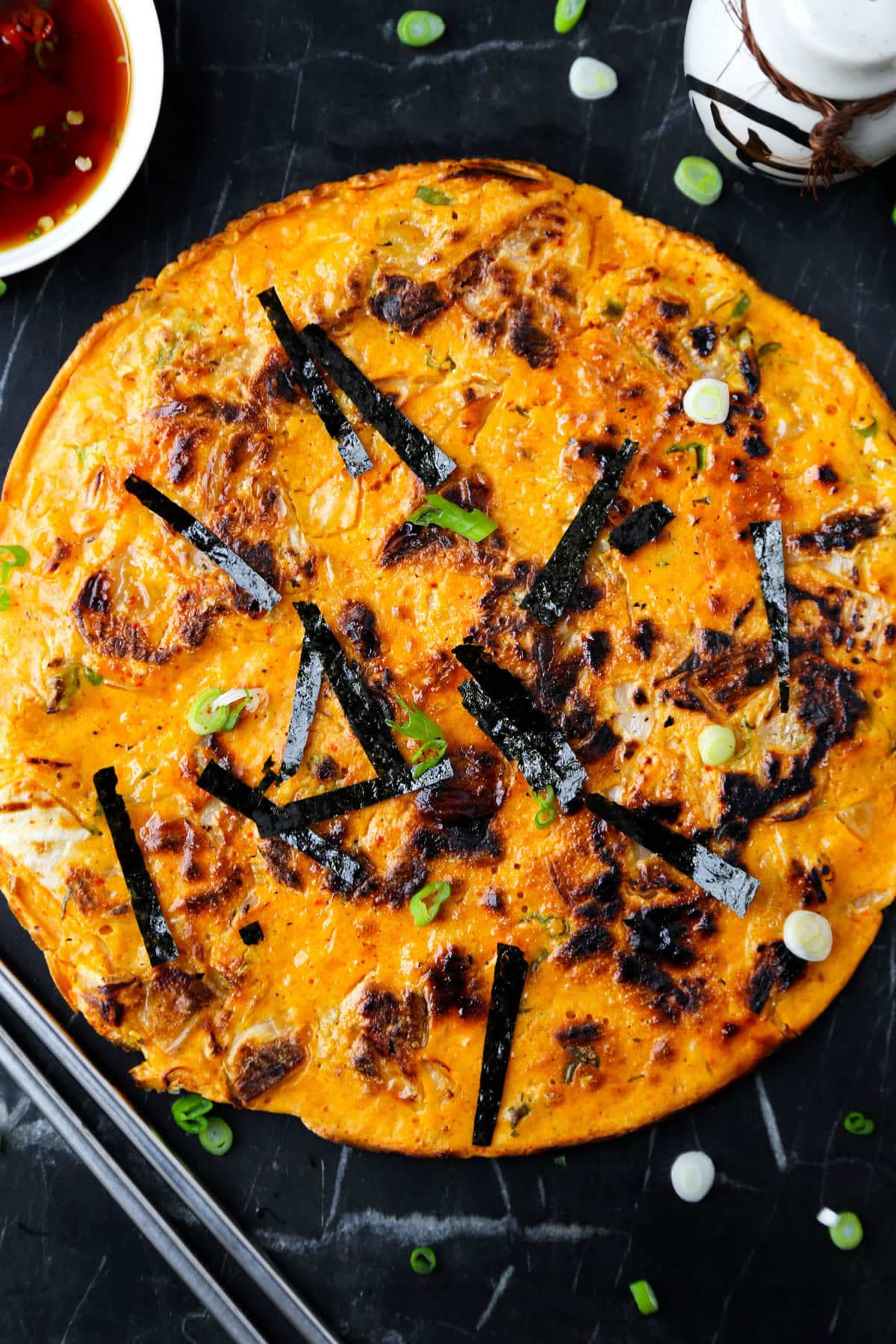 Kimchi Pancake (Kimchijeon)
Kimchijeon makes a delightful appetizer or snack. Little prepping is required to make this sumptuous kimchi pancake. All that's needed is a cup full of chopped kimchi, a simple batter made of Korean pancake mix or regular flour, water, and egg. Pan-fry until the savory pancakes are nice and crispy and top with some crunchy green onions and shredded toasted nori. Delicious!
Kimchi Soup (Kimchi-Guk)
Another recipe that's easy and packed with flavor is this simple kimchi soup, called kimchi-guk. It's a popular dish served in the winter for it comforting properties and also because it's filling. Tender pork belly and silken tofu are cooked and served in a kimchi juice broth seasoned with soy sauce and a little sugar. It's very similar to kimchi jjigae (kimchi stew), but is milder in taste and contains less ingredients. Beef can also be used as another protein option.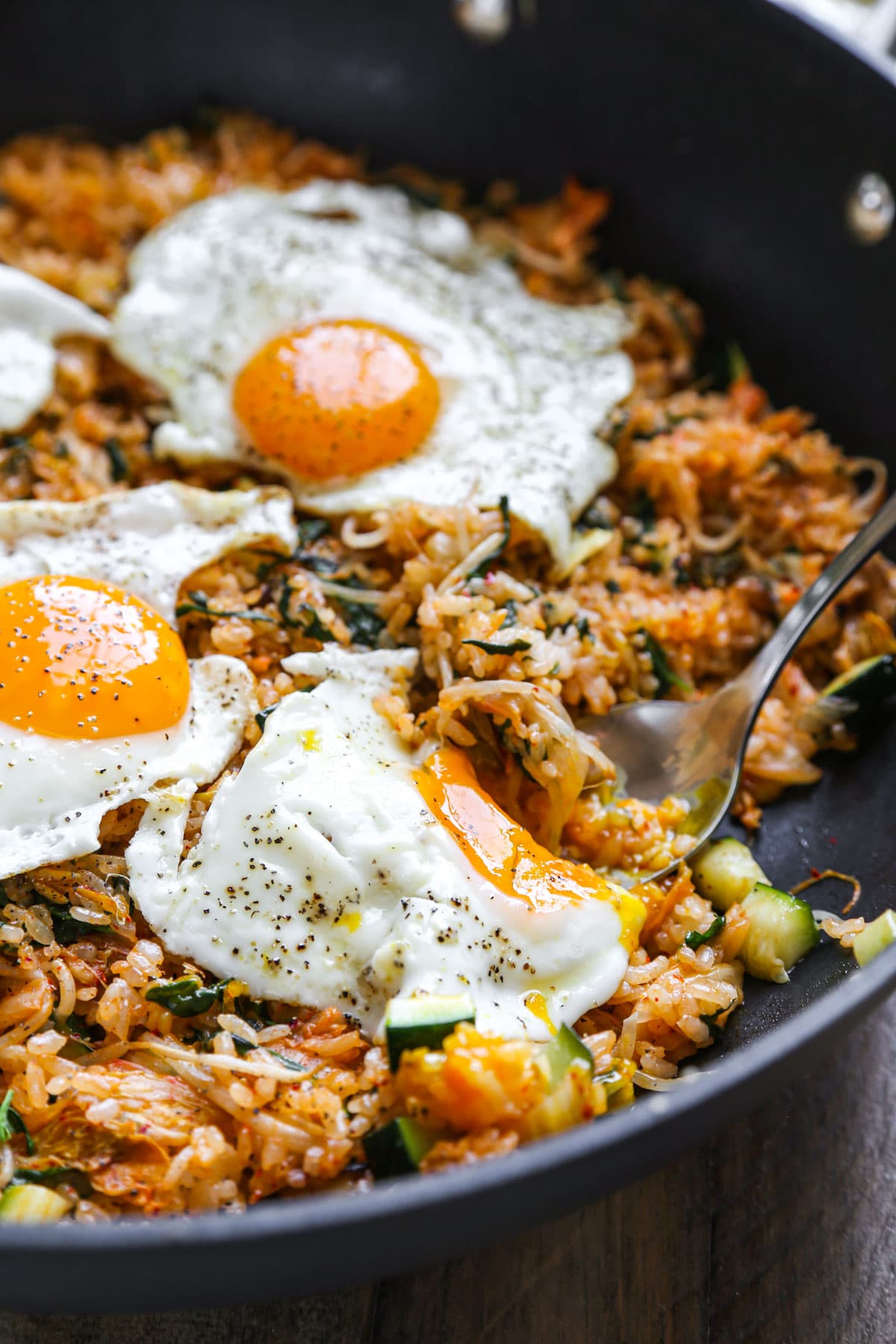 Kimchi Dolsot Bibimbap
Instead of using the traditional stone bowl to make this bibimbap recipe, all you need is a deep skillet. Lots of cabbage kimchi is used to add salty, savory, and spicy notes to the dish.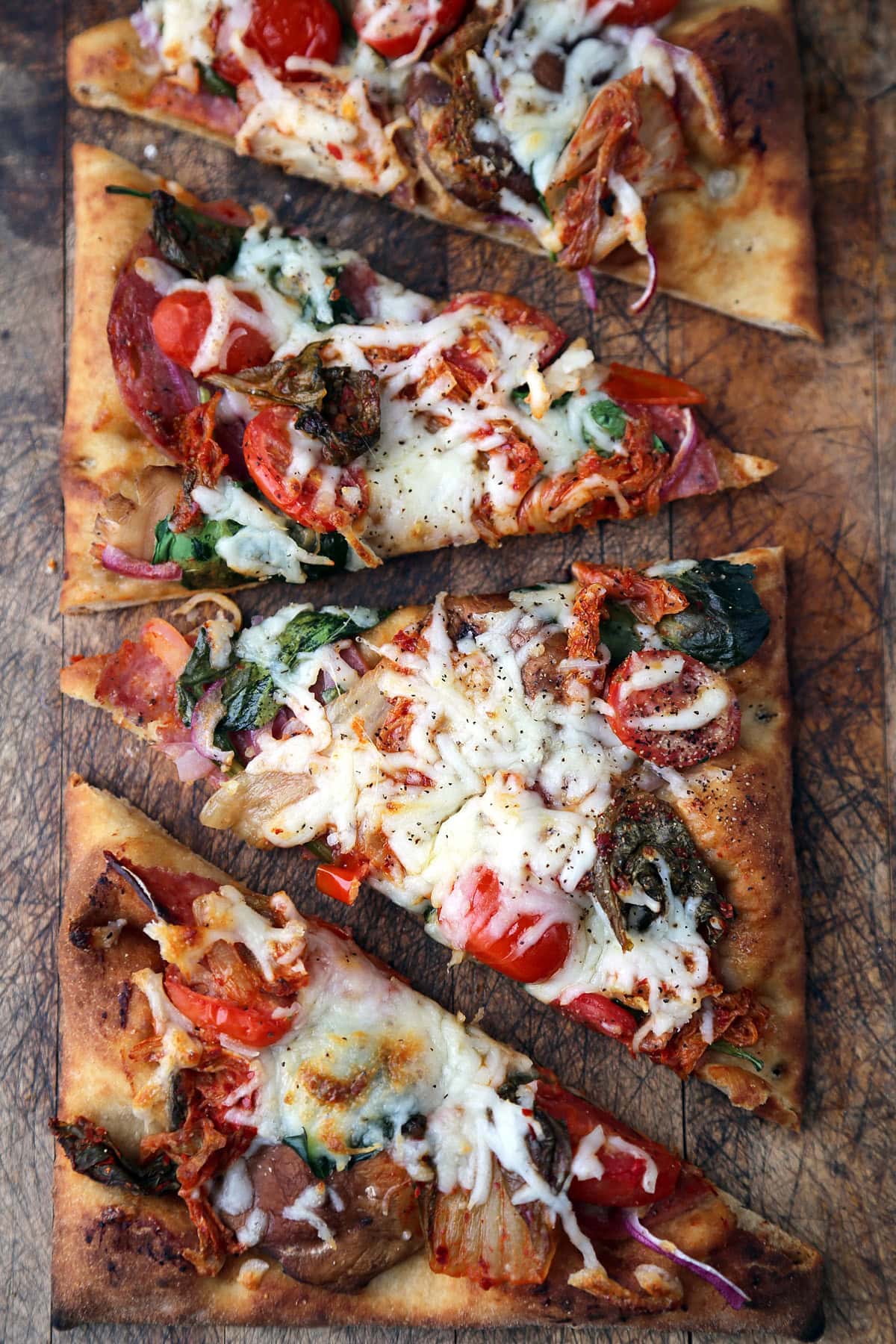 Kimchi Pizza
Using kimchi as a topping for pizza is a fun and unique way to serve this classic Italian dish. Combining salty salami, sweet tomatoes, earthy miso paste, gooey cheese, with pungent kimchi, result in a flavor bomb you won't be able to stop eating!
What To Eat Kimchi With
In Korean meals, kimchi often takes center stage as a side dish and is served alongside rice and other banchan (side dishes) such as garlic bean sprouts (sookju namul), spicy cucumber salad (oi muchim), and seasoned spinach (sigeumchi namul). But there are many other ways to enjoy this fermented food. Here are some of my favorites:
As a condiment for sandwiches. I love using kimchi in tacos and subs for it tangy, salty, and smoky notes that no other ingredient can match.
As the filling for kimbap, maki rolls, and onigiri. Rice and kimchi make the perfect pair so it only makes sense to use it as a filling for Japanese rice balls and sushi rolls.
With grilled meats. Whether you're grilling chicken, pork, or beef, kimchi makes the perfect accompaniment to cut through the richness of the meat.
With noodles, Kimchi pairs wonderfully with various noodle dishes such as ramen (like the recipe above), stir-fried noodles, or even cold sesame noodles for an extra kick of flavor.
With eggs. Kimchi can be folded into an omelet or mixed with scrambled eggs for a spicy and savory breakfast.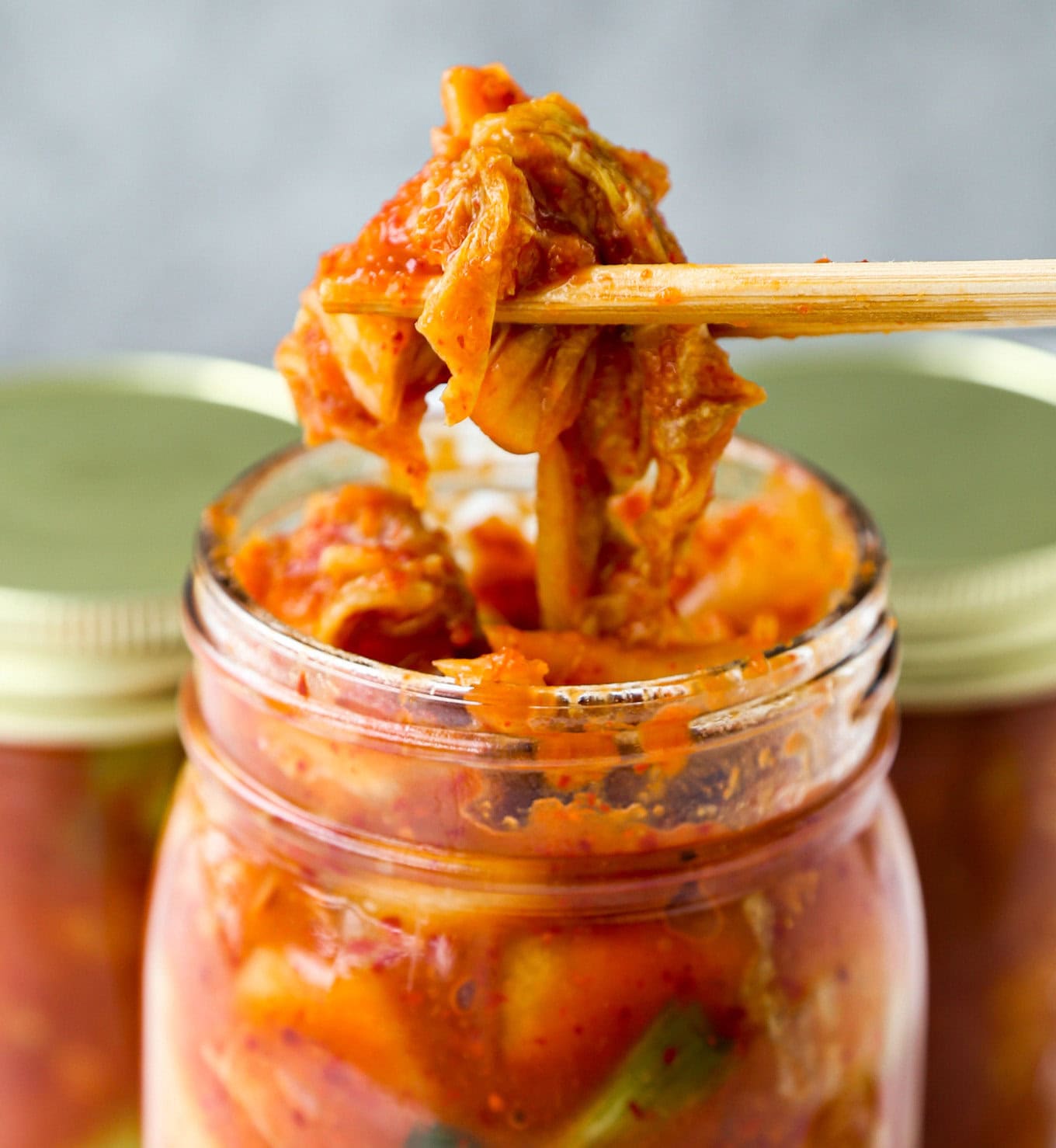 Remember that the versatility of kimchi means you can experiment with it in countless ways. Whether you're creating fusion dishes or enjoying it in traditional Korean meals, kimchi's bold flavors can enhance a wide range of culinary experiences!
Print
Homemade Kimchi (Vegan)
This delicious jar of kimchi recipe is pungent, spicy and smoky just like the real thing!
Author: Caroline Phelps
Prep Time:

20 minutes

Cook Time:

48 hours

Total Time:

48 hours 20 minutes

Yield: about

6

to

8

cups

1

x
Category:

Pickles

Method:

Fermenting

Cuisine:

Korean

Diet:

Vegan
1

napa cabbage (

2

–

3

pounds)

1/2

cup

coarse sea salt
Kimchi Sauce
1

small kabocha squash or acorn squash (about

1

pound), peeled, seeds scooped out, and roughly chopped.

1

Asian pear, peeled, cored, and roughly chopped

1

medium onion, sliced into chunks

1

thumb size piece of ginger, peeled and roughly chopped

6

garlic cloves, peeled

3 tablespoons

soy sauce

1 tablespoon

kosher salt

1 tablespoon

sugar

1/2

cup

gochugaru (Korean chili pepper flakes)

1/4

cup

water

3

scallions, ends trimmed and sliced in half
Instructions
Cut the cabbage in half lengthwise and  in half again. Remove the core and add them to a large bowl along with the salt.
Using your hands, toss the cabbage and rub each leaf with salt. Let sit for 1-2 hours, tossing the leaves occasionally to make sure all sides are coated.
Meanwhile, bring a medium size pot of water to boil and add the kabocha squash. Boil for 7-10 minutes, until the pieces are tender. Drain well and let  cool to room temperature.
In a blender, add the kabocha squash, Asian pear, onion, ginger, garlic, soy sauce, salt, sugar, gochugaru, and water. Blend until smooth and set aside.
When the cabbage leaves have wilted, rinse them under cold water to remove the salt. Take your time to go through the leaves to remove the excess salt hidden in the creases. Rinse one more time and using your hands, gently squeeze out excess water. Transfer the cabbage leaves to a large bowl.
Add the kimchi sauce to the bowl along with the chopped scallions and mix very well to make sure all the leaves are evenly coated.
Cover with plastic wrap and let sit at room temperature, away from direct sunlight, for 1 or 2 days. Give it a taste and if you are satisfied with it, transfer to a jar and refrigerate for up to 1 month.
Notes
Make it sugar-free by omitting the sugar and salt in the kimchi sauce. Removing the salt helps to balance the flavors.
Make it lower in sodium by taking out 1/4 cup salt to rub the cabbage leaves, and taking out the salt in the kimchi sauce.
This kimchi recipe doesn't freeze well, it's best to eat it fresh.
Nutrition
Serving Size:

about 100 grams

Calories:

59

Sugar:

2.1g

Sodium:

1403.2mg

Fat:

0.2g

Saturated Fat:

0g

Unsaturated Fat:

0g

Trans Fat:

0g

Carbohydrates:

7.3g

Fiber:

0.7g

Protein:

1.6g

Cholesterol:

0mg
Keywords: pickled cabbage
Recipe Card powered by