This is a lightened up squash recipe you can make all year round! The combination of sweet delicata squash, savory miso and salsa-like stuffing puts this healthy comfort food in its own category. Delicious with fish, pasta or rice!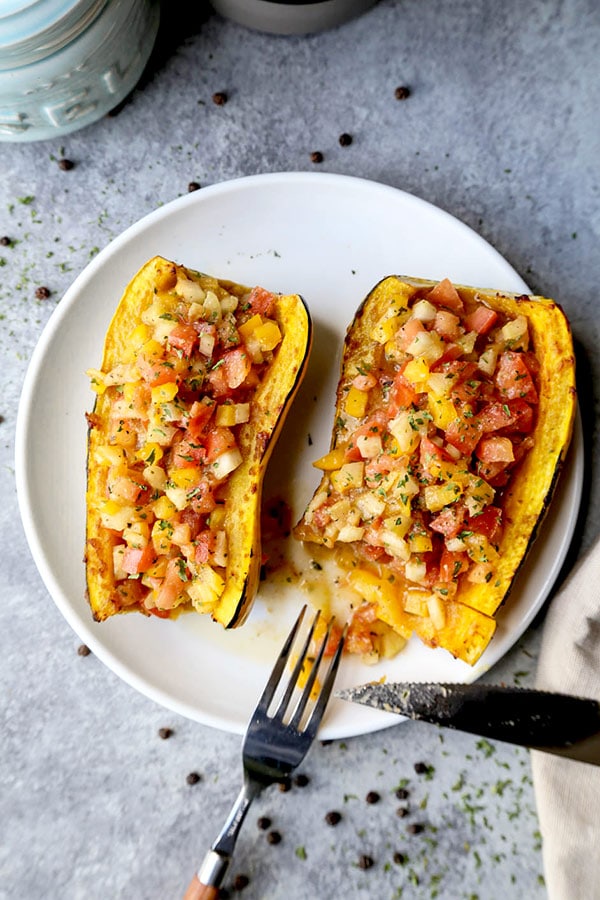 Roasted Delicata Squash With Miso Salsa
I go a little weak in the knees when I see the autumn produce start to hit the shelves at the grocery store and at the weekend farmer's market.
Nothing inspires me more than heading home with an arm load of fresh veggies to see what I can come up with in the kitchen. And, it was one such trip to the farmer's market that had me face to face with some of the best looking delicata squash I've ever seen!
For this recipe, I wanted to create something totally different than what you are used to seeing when Googling squash recipes.
Therefore I decided to take a break from the usual suspects in the ingredients department. You won't find the ubiquitous cheese, bacon and scallions here. While that combination is so iconic and delicious, I went with something much more simple. Oddly enough though, this preparation is just as aggressively flavored.
You'll only find fresh veggies tossed in a white miso and vinegar sauce in this oven roasted delicata squash recipe.
And the end result is an impossibly soft and satisfying roasted delicata squash that's tender, light, savory, sweet and tangy.
And yes, of course, it's super healthy!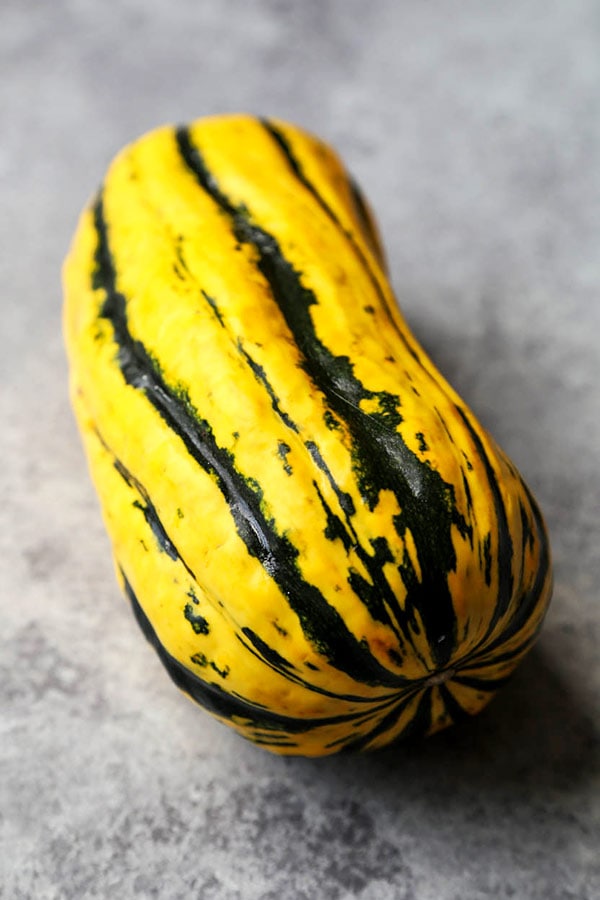 First, A few types of squash…
What is your favorite winter squash?
Butternut? Acorn? Spaghetti?
We all seem to have one or two types we feel more comfortable cooking with.
In my case, I'd say it's a toss between delicata, spaghetti and kabocha squash.
The stringy, pasta-like element of spaghetti squash means it can be used as a substitute for noodles. Great for those days I want to lower my intake of carbs. You'll love this spaghetti squash Alfredo recipe!
I love kabocha squash because the skin doesn't need to be peeled which makes cooking super quick and easy. Have a look at this savory eggplant and kabocha miso gratin.
The same can be said about delicata squash. But what I love MOST is how pretty it looks on a plate. Check out this delicata squash loaded Thai green curry recipe.
Yep – those beautiful green stripes brushed against a bright yellow background make it impossible to resist. It's nature's best piece of rustic art!
What is Delicata squash?
Delicata squash (sometimes also called Bohemian squash and peanut squash) has a soft, edible skin. Indigenous to North and Central America, this winter squash actually belongs to the same species as zucchini (which happens to be a summer squash).
How to tell if delicata squash is ripe
Look for a stem that is firm and dry. Also, when this squash is ripe, there will be deep green stripes running over a yellow/cream colored background. You might even see hints of orange in the green. If you can easily pierce the skin with your thumbnail, it's probably too young. The skin shouldn't have any large blemishes on it.
Delicata squash nutrition
This healthy squash has very few calories and next to no fat. Absolutely packed with vitamin A (great for eyesight), and a good source of vitamin C (an excellent antioxidant that helps our bodies fight free-radicals), it's even a great source of fiber.
Verdict: delicious and good for you!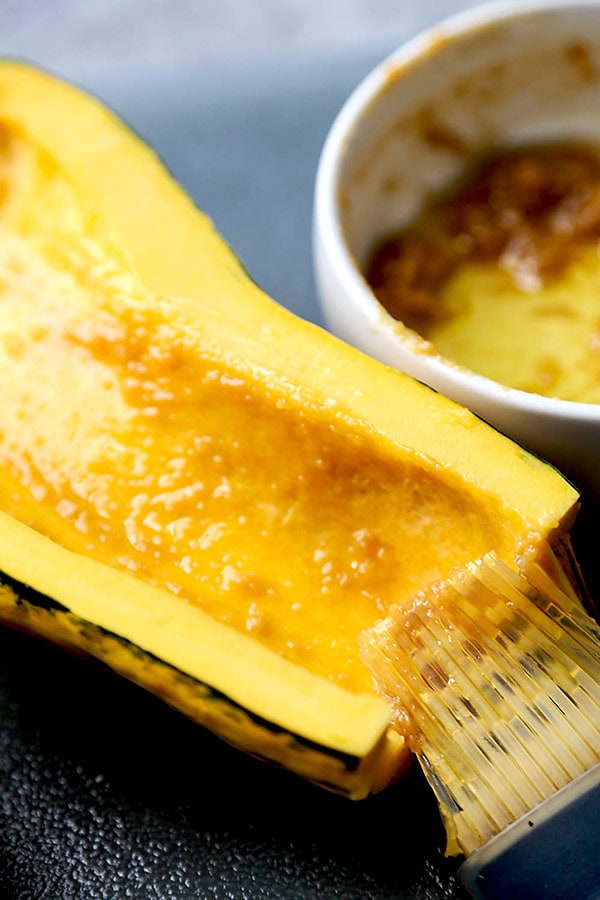 How to cook delicata squash
Cooking delicata squash is E-A-S-Y!
Because of its smaller size and softer skin, you won't need to flex your muscles to slice through it.
Also, the skin is edible – which makes it a real time saver in the kitchen!
All you need to do is slice it in half and scoop out the seeds. Then you can leave it as-is, or slice into half moon pieces. Just drizzle a little olive and throw the whole thing in the oven for 20-30 minutes, at 350ºF.
It's a no fail technique for roasted squash that always yields great results!
The taste is sweet but much milder than butternut squash. It goes well with just about anything – I've added roasted delicata to curries, farro bowls, even soups!
But there's one ingredient that I think walks hand-in-hand with delicata… and it might surprise you!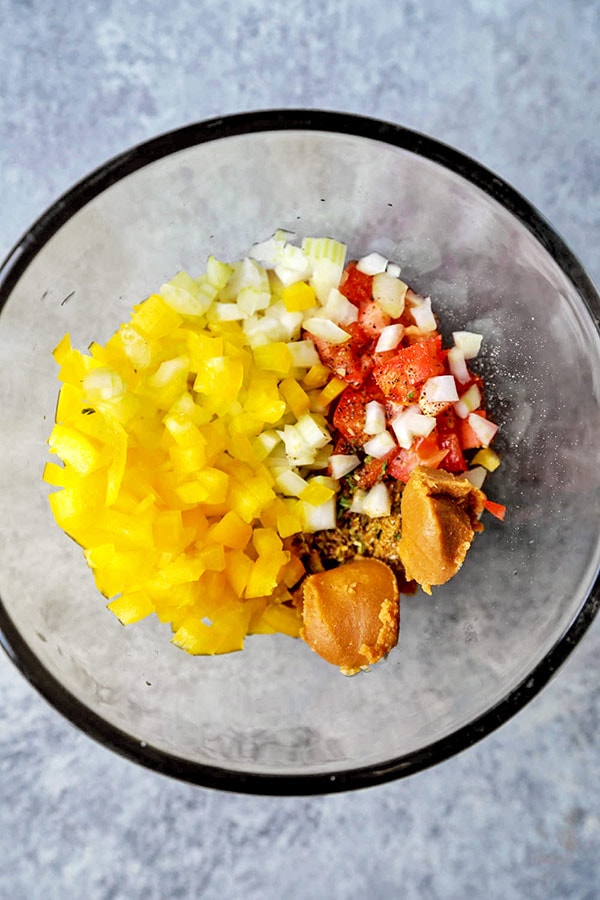 The magic of miso paste
My pantry is always stocked with two different types of miso pastes: white miso paste and awase miso paste.
Miso paste is a powerful flavor booster that can add a completely unique dimension to a dish. You know when you make something that's yummy but lacks a certain je ne sais quoi?
Miso paste can probably fix it.
What is miso paste?
Miso paste is made from a mixture of fermented soybeans, rice koji, water and salt. There are many different types of miso pastes but the three most popular are:
White miso (shiro miso – 白味噌)
The mildest, sweetest type of miso paste. It's light yellow and has the shortest fermentation period. This is the most versatile miso paste of all, and can be added to soups, salad dressings, sauces, marinades and glazes.
Awase miso (合わせ味噌)
This is a mix of red and white miso paste. It's the one I most often use as I find the balance between sweet and salty to be just right for my dishes. It goes well with just about anything.
Red miso (aka miso -赤味噌)
The most pungent variety. I don't use this one very often because I find the taste to be almost too smoky. Needless to say a little goes a long way! Red miso paste is excellent in heartier dishes such as stews, sauces and marinades for red meats.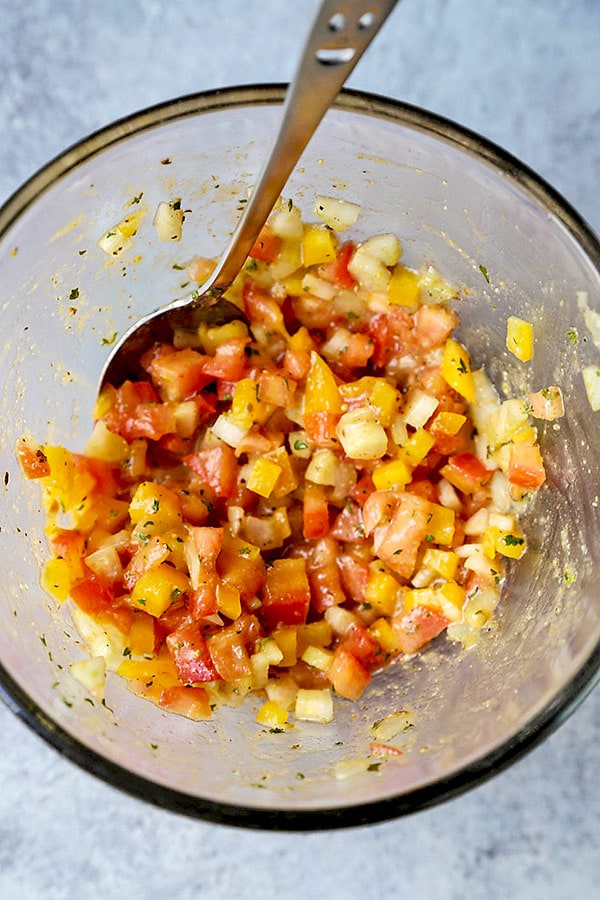 Health Benefits of miso paste
Miso paste is high in protein, vitamin K and zinc. It's also packed with probiotics, and can help lower blood pressure. This wonder-food can also fight heart diseases and certain types of cancer.
And here's one fact you probably didn't know about miso paste: it's great at relieving fatigue. So, think of miso soup as the ideal mid afternoon snack next time you suffer from the 4 o'clock slump!
Unfamiliar cooking with miso paste? No Problem
Fear not! Miso is one of those ingredients that's very easy to use!
You see, it goes particularly well with dishes that need an extra kick of umami, a hint of smokiness or something more complex than plain old salt. It can also complement sweeter dishes too (just go easy on the amount you use). Start with as little as 1/2 teaspoon and work your way up until you find your desired taste.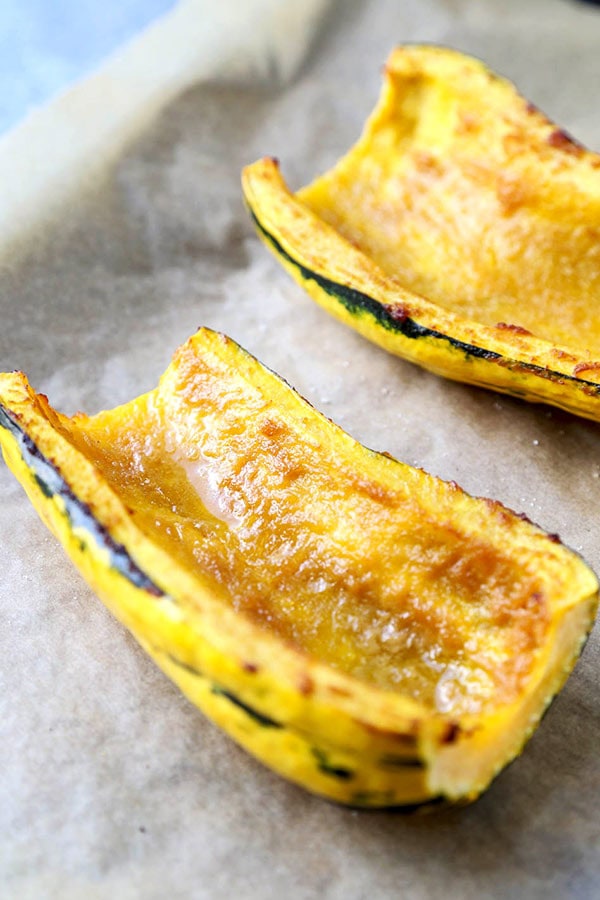 Only a tablespoon of miso paste is needed for this squash recipe.
I've become so enamored with the combination of sweet tomatoes and awase miso that I even use it on avocados and as a topping for burgers!
For this roasted delicata squash recipe, I've added a few additional ingredients; chopped yellow bell peppers and celery for crunch, plus a little rice vinegar to round out the flavors and textures nicely. The flavors are aggressive enough to take note of – yet still subtle and layered.
There's the sweet, nuttiness from the perfect roasted delicate squash, the savory and earthy notes from miso – and an outsized garden freshness from the tomatoes, celery and peppers.
In short: yumminess!
The miso salsa can be made ahead of time and kept refrigerated for up to 6 hours before serving. Leaving it for too long will ruin the texture of the tomatoes which is why I'm suggesting a 6 hour guideline. The fresher the salsa, the better the salsa!
I hope this squash recipe excites you about the fresh produce hitting the farmer's market this fall!
Other delectable squash recipes: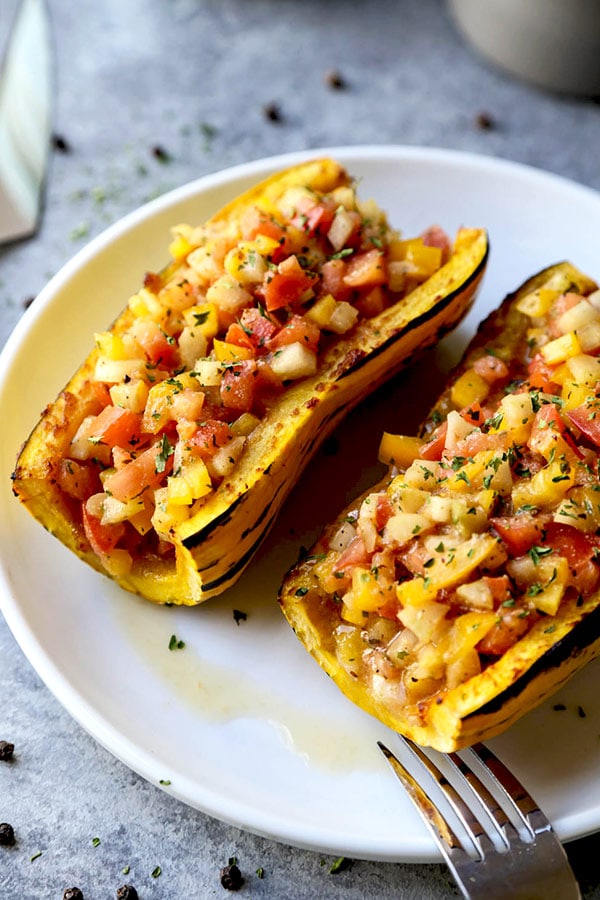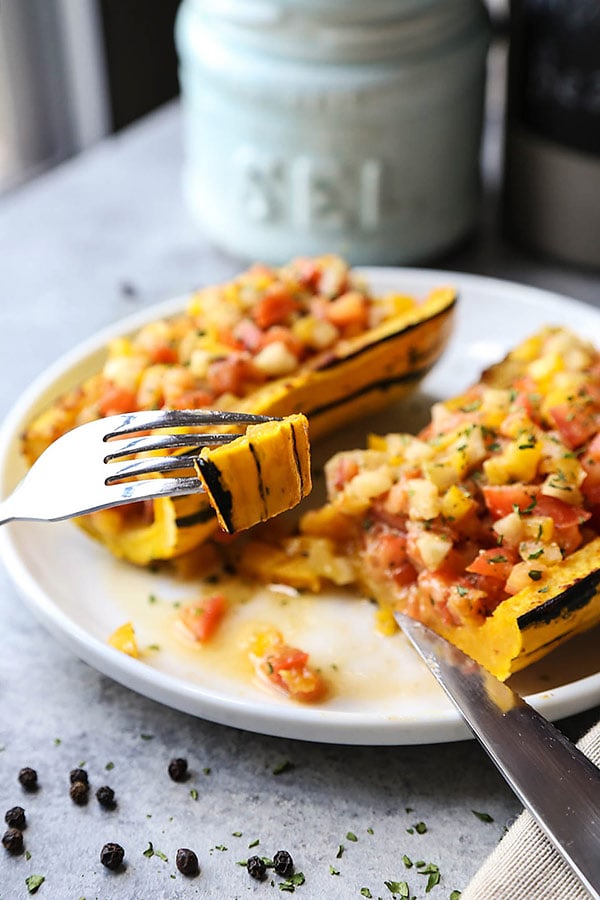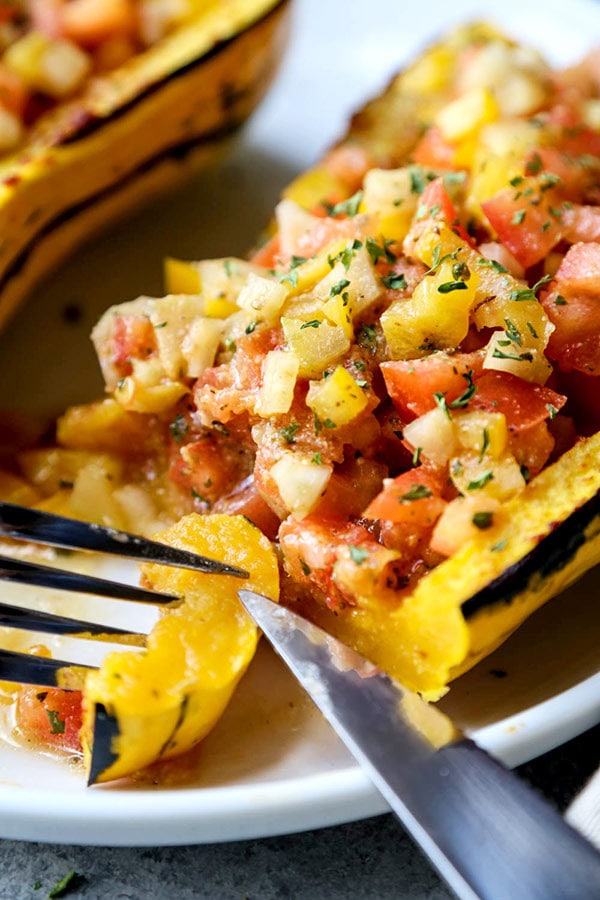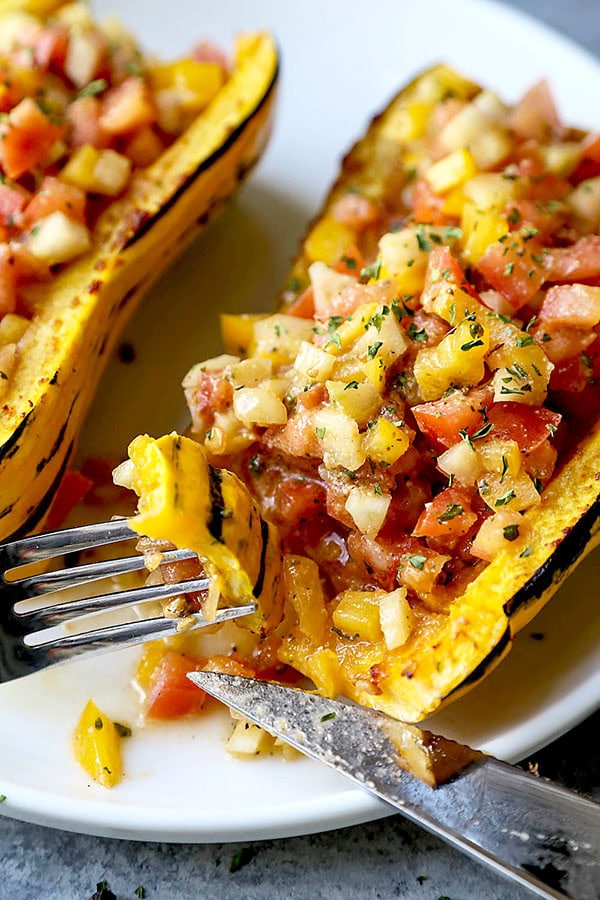 Did you like this Roasted Delicata Squash With Miso Salsa Recipe? Are there changes you made that you would like to share? Share your tips and recommendations in the comments section below!
Print
Roasted Delicata Squash With Miso Salsa
You're going to love the combination of sweet delicata squash, savory miso and salsa-like stuffing!
Author: Caroline Phelps
Prep Time:

15 minutes

Cook Time:

30 minutes

Total Time:

45 minutes

Yield:

2

people

1

x
Category:

Vegan

Method:

Roasting

Cuisine:

American
15 ounces

delicata squash

1 1/2 teaspoon

white miso or awase miso paste

1/2 teaspoon

granulated sugar

1 tablespoon

extra virgin olive oil
For the miso salsa
1

small plum tomato (diced)

1

stalk celery (diced)

3 tablespoons

green, red, yellow or orange bell pepper (diced)

1/2 teaspoon

dried oregano

1/2 teaspoon

dried parsley

2 teaspoons

white or awase miso paste

1 tablespoon

rice vinegar

1 tablespoon

extra virgin olive oil

1/4 teaspoon

salt
Instructions
Preheat oven to 350ºF.
Cover a small baking sheet with parchment paper.
Cut the delicata squash in half lengthwise and scoop out the seeds with a spoon.
In a small bowl, mix miso sugar and olive oil. Brush the inside of each half of the squash and place them, brushed side up, on the parchment paper.
Baked for 30 minutes, or until tender.
Meanwhile, put all the ingredients for the miso salsa in a bowl and whisk until the miso paste has dissolved. You can whisk with or without the vegetables, it works both ways. Set aside.
Take the delicata squash out of the oven, transfer to a plate and fill each half with miso salsa. Serve.
Notes
You can make the miso salsa up to 6 hours before serving.
Nutrition
Serving Size:
Calories:

274

Sugar:

10.7 g

Sodium:

700.7 mg

Fat:

15.4 g

Saturated Fat:

2.1 g

Carbohydrates:

35.5 g

Fiber:

6 g

Protein:

4.7 g

Cholesterol:

0 mg
Keywords: recipe, vegan, vegetarian, healthy, plant based, comfort food
Recipe Card powered by