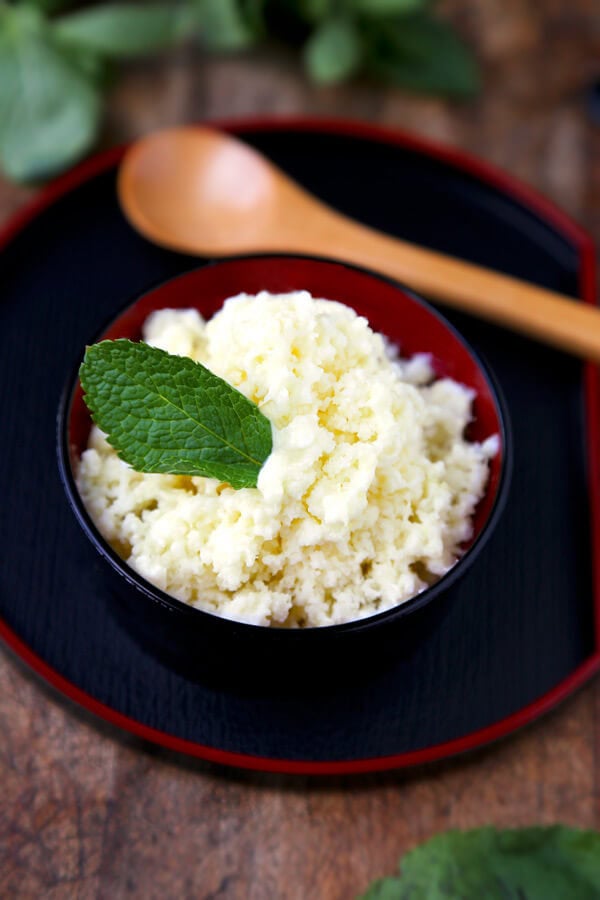 Pineapple yogurt ice cream recipe
Well that was a long vacation in Japan! I was there for just over five weeks and now that I am back in Brooklyn, I feel refreshed and ready to get back on the food blogging horse. I spent most of my vacation in the south of Japan, Fukuoka to be precise, with my mother, a wonderful and funny woman I wish I could see more often. I got my fill of Japanese food feasting on nigiri zushi, ramen, soba, curry rice, bread and pickled plum 😉 . We took a short trip to Yufuin where the hot springs are stunning, saw a baseball game (go Hawks!), had coffee and pasta in a famous cat cafe and of course, shopped until we dropped. We also watched a lot of TV since I love Japanese quiz shows!
While I was there relaxing on my mother's couch I had plenty of time to flip through Japanese cookbooks and magazines. The idea to make a pineapple yogurt ice cream sprouted from a shaved ice cream recipe I saw in one of them. There is nothing more refreshing than a big pile of shaved ice topped with sweet syrup and a little condensed milk in my book! When it's 90 degrees and not a cloud in the sky, my diet consists of ice pops, ice cream sandwiches, chocolate sundays and now that I have something healthier, pineapple yogurt ice cream.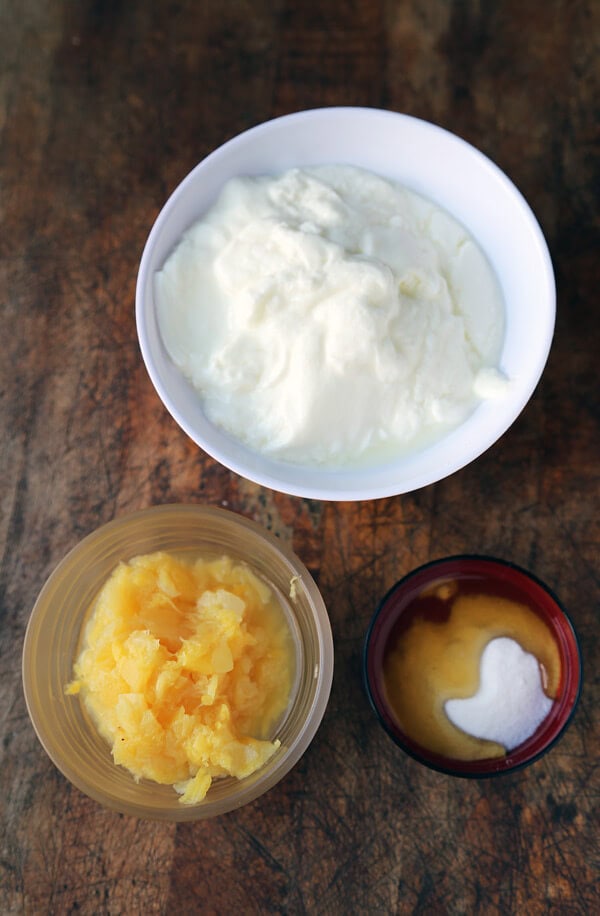 You see the picture above with only four ingredients? That's all you need to make this recipe! The texture is like a creamy version of a granita and its taste is mild with a hint of sweetness. Both Ben and I instantly fell in love with this dessert as soon as we took a bite. You can certainly use other fruit to create this yogurt ice cream recipe but I chose pineapple because of its bright yellow color and refreshing taste. I think about Hawaii and palm trees when I see pineapples!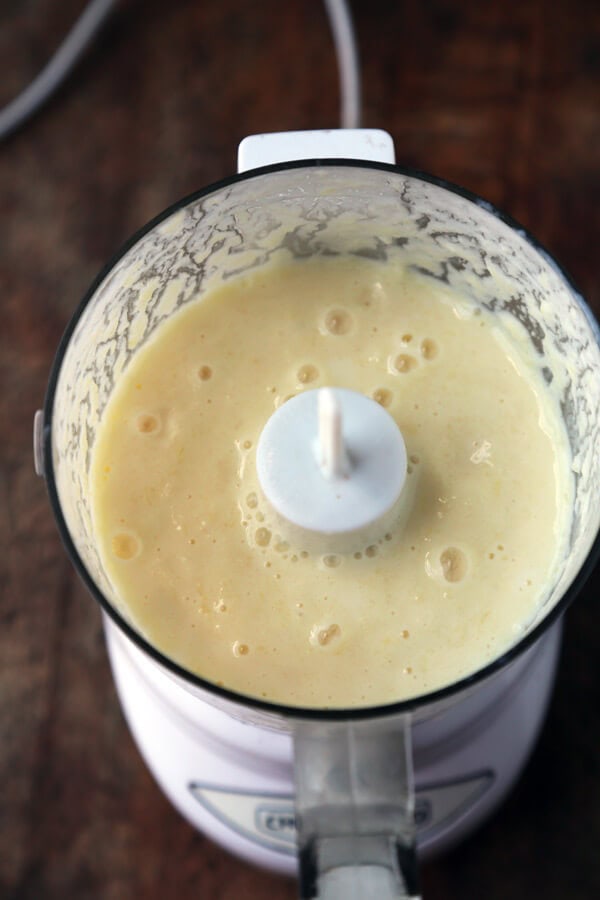 The trick to achieving this texture is to fluff the frozen mixture a few times using a fork – this gives it volume, lightness and creaminess. It pairs really well with a baseball game, a purring kitty and the sound of wind chimes 🙂 .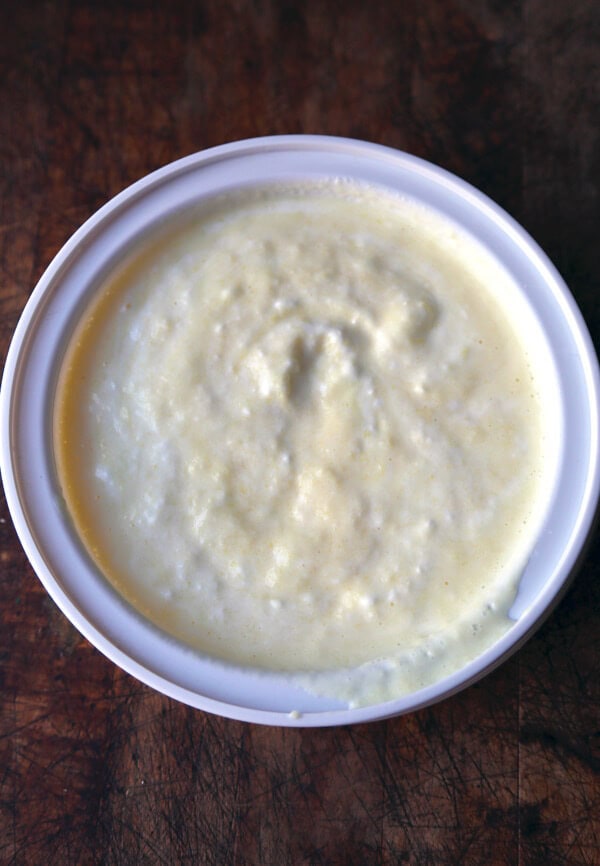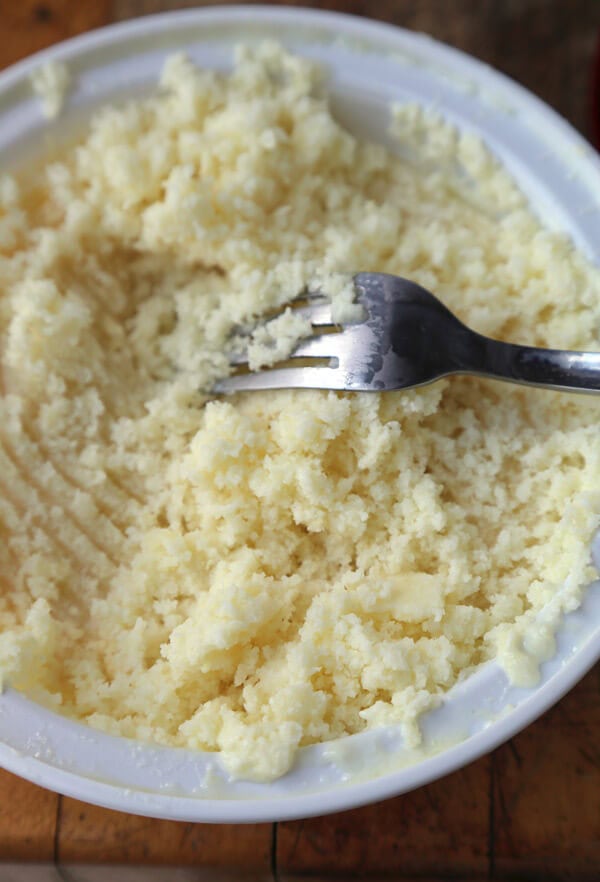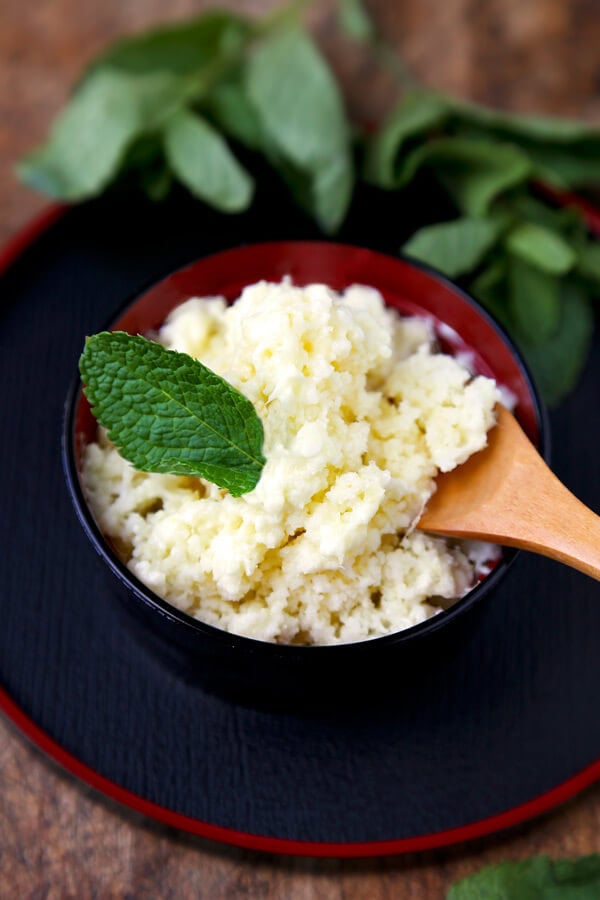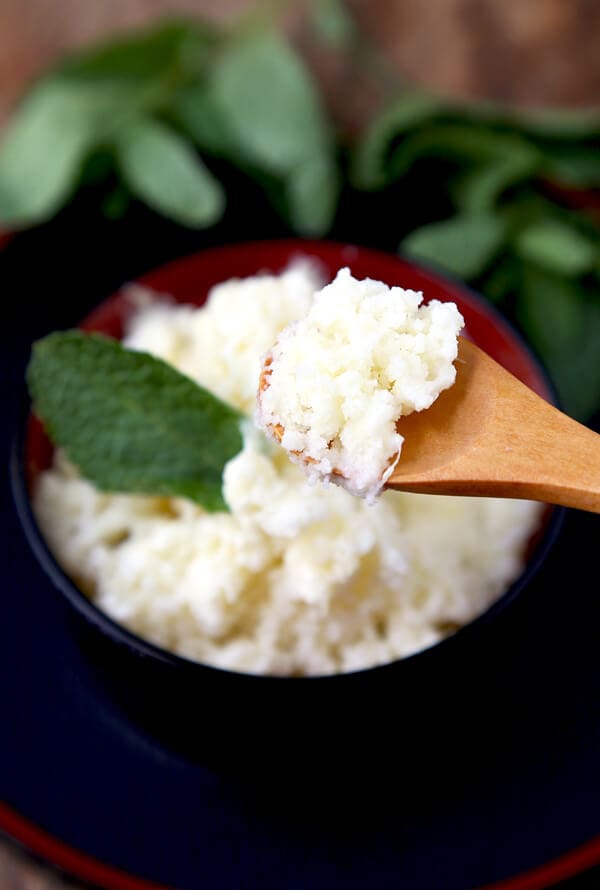 Print
Pineapple Yogurt Ice Cream
Prep Time:

5 minutes

Total Time:

5 minutes

Yield:

4

people

1

x
Category:

Dessert
8 ounce

can crushed pineapples

1 1/2 cup

plain yogurt

2 tablespoons

sugar

1 teaspoon

water

3 tablespoons

honey
mint (as garnish)
Instructions
Put pineapple and yogurt in a blender and blend until smooth.
Put sugar and water in a microwave safe bowl and zap for 15 seconds. Stir until sugar has completely melted.
Add honey to yogurt and pineapple and blend.
Add sugar mixture to blender and blend for a few seconds.
Put mixture in a tupperware, cover with a lid and put in the freezer for 3 hours.
Using a fork, fluff up the mixture, return to freezer and leave for another 2 hours.
Fluff with a fork again and serve topped with mint.
Recipe Card powered by