5 makeup tips for glowing skin
These aren't specific anti-aging makeup tips but they do benefit older women in achieving a flawless look. I picked up these terrific tricks throughout my 20 years in the modeling industry.
Use duct tape to remove dry, flaky skin. 
This happens to all of us when we have a cold or harsh weather is dehydrating our skin (read about skin softeners) – duct tape is a quick and cheap way to solve this problem. It's not great for the skin so don't use it every day, but it provides a quick fix for those flaky bits. Use a little duct tape and gently tap the area with dry skin. You'll have smooth skin again in no time.
Covering acne, scars and other imperfections.
The no.1 rule is to not overdo it. The thicker the foundation gets, the more obvious imperfections become. First, use a moisturizer and apply a light layer of liquid foundation (it looks more natural than compact). Use a small clean brush (or Q-tip), a concealer that matches your skin color and apply on imperfections until fully covered. Pat a few times (do not swipe) with your fingers to blend in. Use a loose translucent powder (I only use Laura Mercier's translucent loose setting powder because of its barely there effect) and with a small powder puff, pat over the covered spots to set the concealer in place. Finish by powdering the entire face with a large powder brush.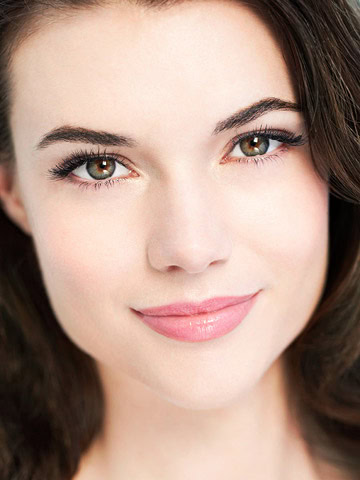 Keep an oily t-zone shine free.
For those like myself who have this problem, a makeup primer will become your best friend. I use Make Up Forever HD Primer for my t-zone and it's worked wonders. I then apply my own mixture of BB cream and liquid foundation and finish with a loose powder. I also carry Boscia's blotting paper in my bag whenever the weather gets intensely humid.
Keep forehead, nose and chin clear when using bronzer.
Don't use bronzer in areas above the eyebrows, middle of the forehead, nose and chin, clear. Instead, swipe a little white (matte) eye shadow and blend it in with your fingers. This will brighten up these areas for a youthful and healthy look. The most important part about a flawless look is how well blended and natural it looks. Your fingers are the best tools because they have natural oils that help makeup blend very naturally into your skin. Just make sure they're clean.
Highlight for a healthy glow.
Highlighting is a great way to make the skin look like it's glowing. Use a blush like Nars' Orgasm (bestselling blush in history! I can't live without it) and brush the top of your cheeks, just below the eyes. Apply a little to the temples and on the chin as well and blend well.
My favorites (I use daily) in order of application.