Move over pumpkin pie, it's time to get cozy with some hot chocolate bombs! These fun and decadent cocoa treats are the perfect way to get your chocolate fix and are a sure way to impress family and friends during your next celebration or holiday meal. They are easy to make and kids absolutely love them! Keep reading for the recipe.
What Are Hot Chocolate Bombs (Hot Cocoa Bombs)?
Hot chocolate bombs, also called hot cocoa bombs, are shiny hollow chocolate balls filled with hot cocoa powder, marshmallows, sugar sprinkles, and other sweet cookie and cake decorations. They have become a popular sweet treat served in cafes and coffees shops during the holiday season. They can also be found in high end department stores and other chain retailers.
How To Use Hot Chocolate Bombs
Chocolate bombs are used to make, well, hot chocolate!
All you need to do is place one hot chocolate ball in a mug and pour hot milk over it. The milk will melt the chocolate and other ingredients inside the bomb to create a cup of hot chocolate that's more rich and decadent than your classic cup of hot cocoa. It's the most delicious cup of hot chocolate I have personally tasted and the sweetness can be adjusted based on the ingredients used.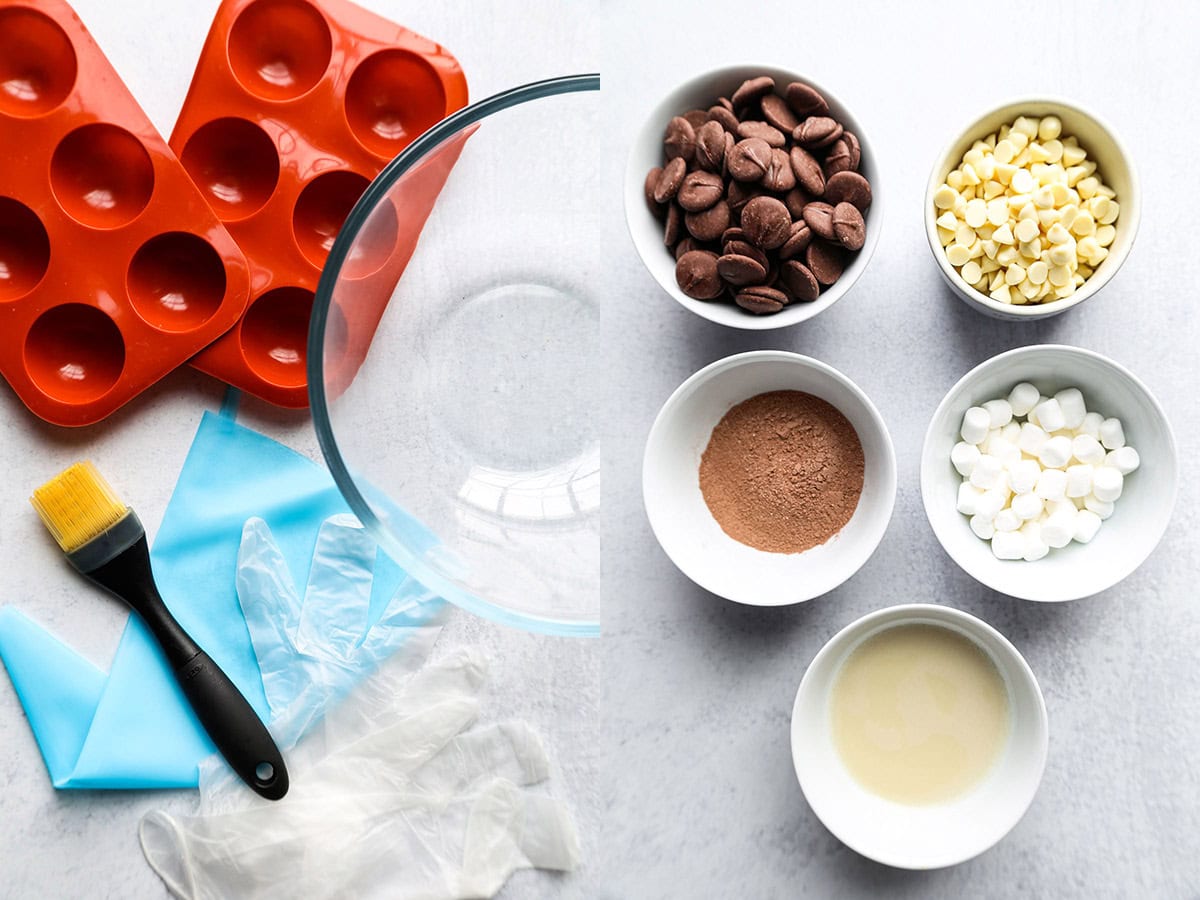 Hot Chocolate Bombs Ingredients
The list of ingredients is very short but you must also have a few kitchen tools to be able to make them.
Equipment
To make hot chocolate bombs you will need:
Glass bowl: You will need a medium size microwave-safe bowl to melt the chocolate. We won't be using the double boiler method for this recipe.
Round chocolate mold: Look for half sphere silicon molds like the one in the images below. Make sure that the molds you are using are very flexible as you will be popping the delicate chocolate half spheres out of their cavities.
Pastry brush: A pastry brush or basting brush is needed to brush the melted chocolate inside each mold shell.
Piping bag: Using a piping bag is optional but recommended if you are planning on decorating your cocoa bombs.
Latex gloves: Using latex gloves keeps fingerprints at bay. They are optional but do help to keep the hot cocoa bombs looking shiny and smooth.
Ingredients
Chocolate: I am using semi sweet candy-melts but I encourage you to use the type of chocolate you like to eat (dark chocolate, milk chocolate). It can even be white chocolate if you like to drink white hot chocolate!
Hot cocoa mix (hot chocolate mix): I love 365 by Whole Foods hot cocoa rich chocolate organic powder because of its deep and rich cocoa flavor. It's sweet but not as sweet as other commercial brands. But feel free to use whatever brand you like to drink.
Mini marshmallows: Since regular size marshmallows are too big to fit into the cavities, we are using the mini version.
Milk: You can use whole milk, regular milk, low fat milk, any milk you like! Or go with a dairy-free option such as unsweetened oat milk.
Decorations: This is the fun part of the recipe! Add any type of decorations you like to to your chocolate balls. Use whatever you already have in your pantry or visit the baking aisle at your local grocery store, or somewhere like Target, to find festive and colorful sprinkles. For a winter look and taste, I recommend using crumbled peppermint bark as a topping.
Are Hot Cocoa Bombs Better with Water or Milk?
It depends on how you like your hot chocolate to be. Milk, or a mixture of milk and water, is the traditional way to serve a hot cup of cocoa. So, if you are looking to keep it as authentic as possible, use milk.
Using only water will make the drink less creamy and rich. If you are avoiding dairy, I recommend using unsweetened oat milk as it's very close to milk in flavor, as opposed to almond milk or soy milk, which tend to affect the overall taste of the drink.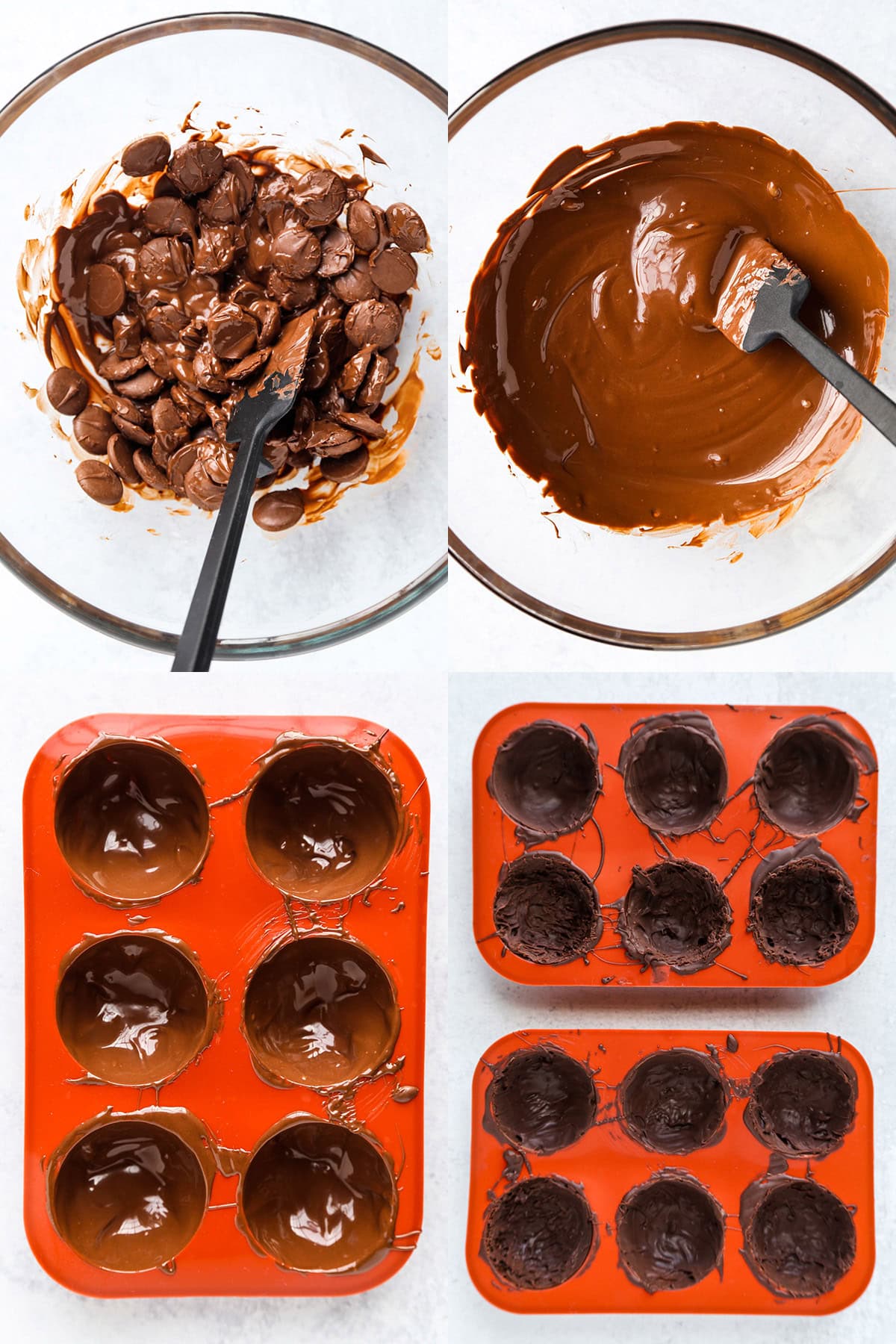 What Size Mold Do I Need To Make Hot Chocolate Bombs?
Here are the specs of the mold I am using:
One mold comes with six cavities and is 19.5 centimeters (7.68 inches) in length and 13.3 centimeters (5.24 inches) in width. Each cavity is 5 centimeters (2.04 inches) in diameter, so you need two molds to make six chocolate balls. You can purchase it here through Amazon, they are sold in pairs so you only need to place one order.
What Kind of Chocolate Should I Use?
As I previously mentioned, you can technically use any type of chocolate as long as it's pure. What I mean by "pure" is that it shouldn't contain any nuts or be filled with ingredients like caramel or fudge. A simple all chocolate candy bar like Hershey's Milk Chocolate bar will do the trick. You can also use chocolate chips or candy-melts, which are easy-to-melt chocolate wafers (these are the ones I am using).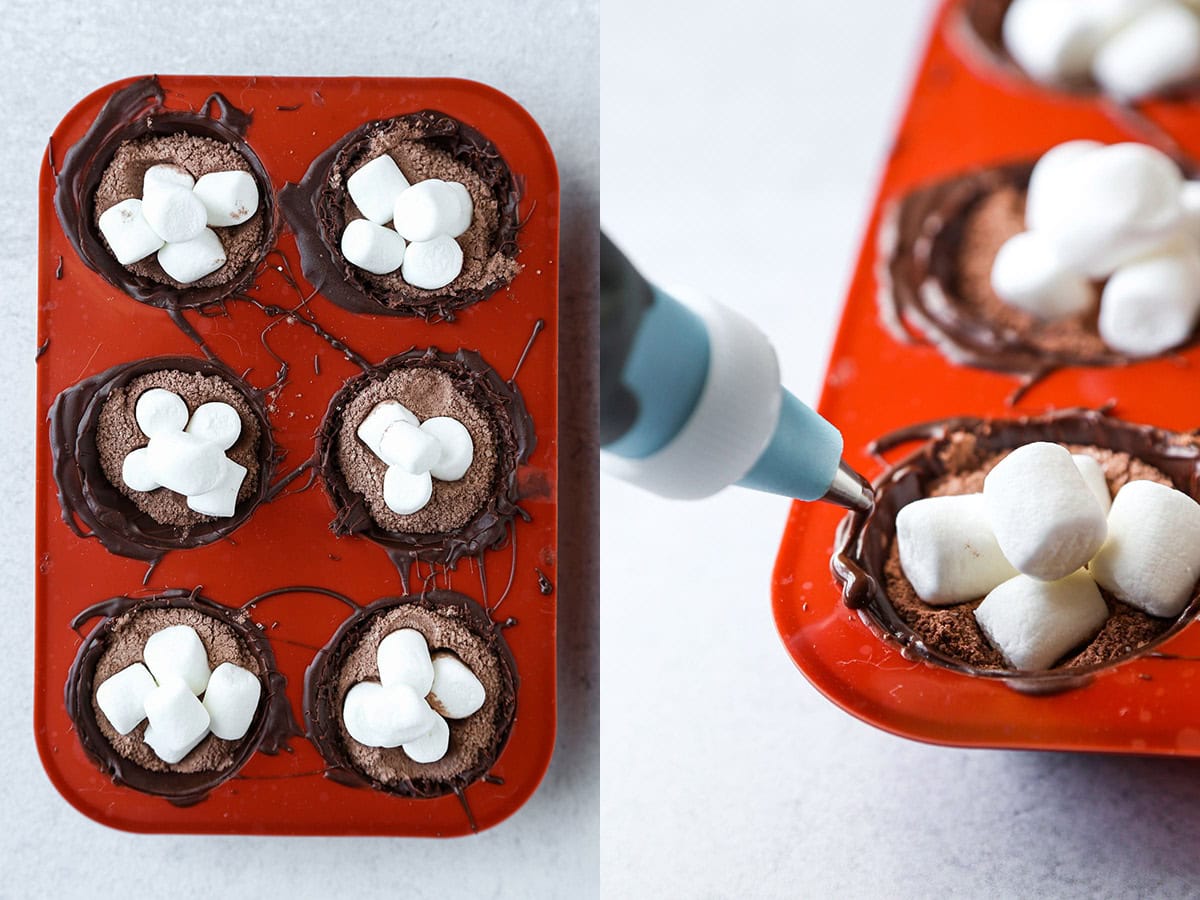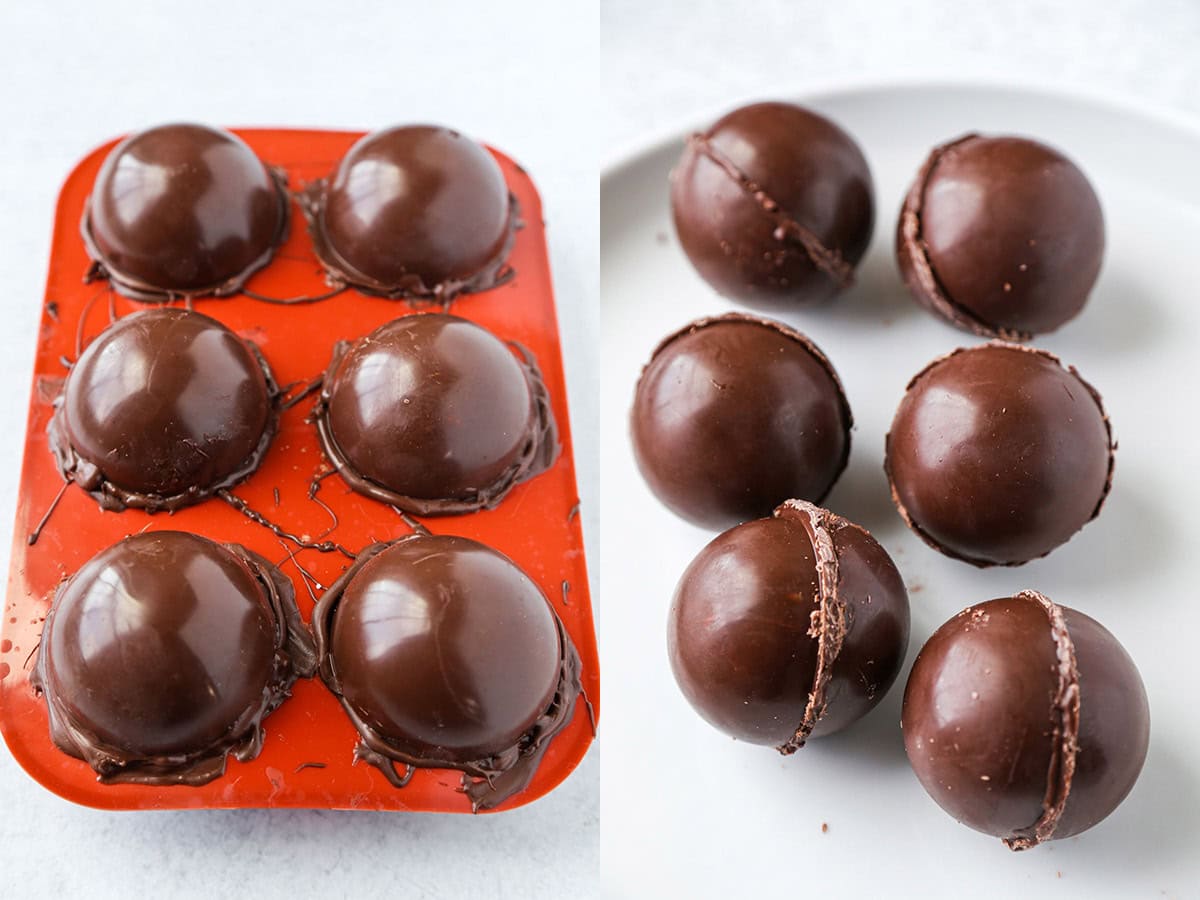 How To Make Hot Chocolate Bombs
Scroll all the way down to the recipe card for the full recipe.
Gather all of your kitchen equipment and ingredients.
Place the chocolate in a microwave-safe bowl and microwave until it's melted. You will do this in 30-second intervals first, followed by 15-second intervals.
Add a little chocolate to each cavity and use the pastry brush to spread the chocolate.
Put the molds in the freezer until the chocolate has set.
Add a second layer of chocolate to the cavities – do this one cavity at a time this time since the chocolate will set faster.
Return the molds to the freezer for a few minutes until the chocolate has completely set.
Fill half of the chocolate spheres with equal amounts of hot chocolate mix and mini marshmallows.
Gently pop the empty chocolate spheres out of their cavities and leave them there.
Reheat the leftover chocolate and pipe some along the seam of each semi spheres filled with cocoa powder and marshmallows (there should be six).
Top them with the empty chocolate semi spheres to create chocolate balls. Add more chocolate to the seam if needed to perfectly seal each ball. Let them set completely before decorating.
Decorate them with your favorite sprinkles, a drizzle of chocolate, etc…
When it's time to serve them, heat some milk until very hot. Place a chocolate bomb in a mug and top with 1 cup of milk. Do the same for the remaining 5 chocolate balls. Enjoy!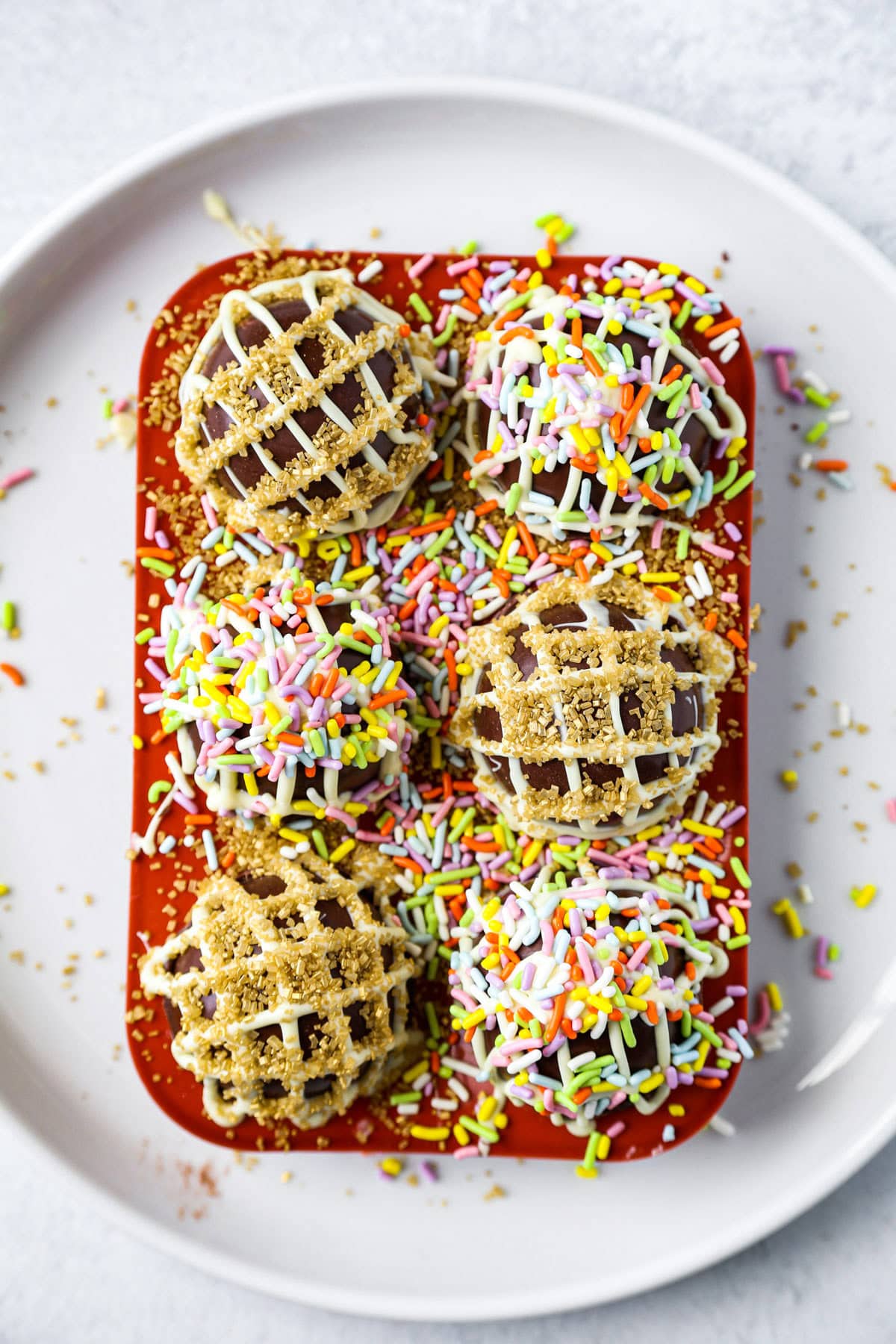 I Don't Feel Like Making Them From Scratch. Where Can I Buy Them?
Hot chocolate bombs have become so popular that they are fairly easy to find. You can find basic ones at retail store chains such as Target and Walmart, or shop at Neiman Marcus and William Sonoma for some that are more unique and intricate (and more expensive).
Making hot chocolate spheres at home is inexpensive and I find that they also taste better. They also make a wonderful gift that everyone is sure to love.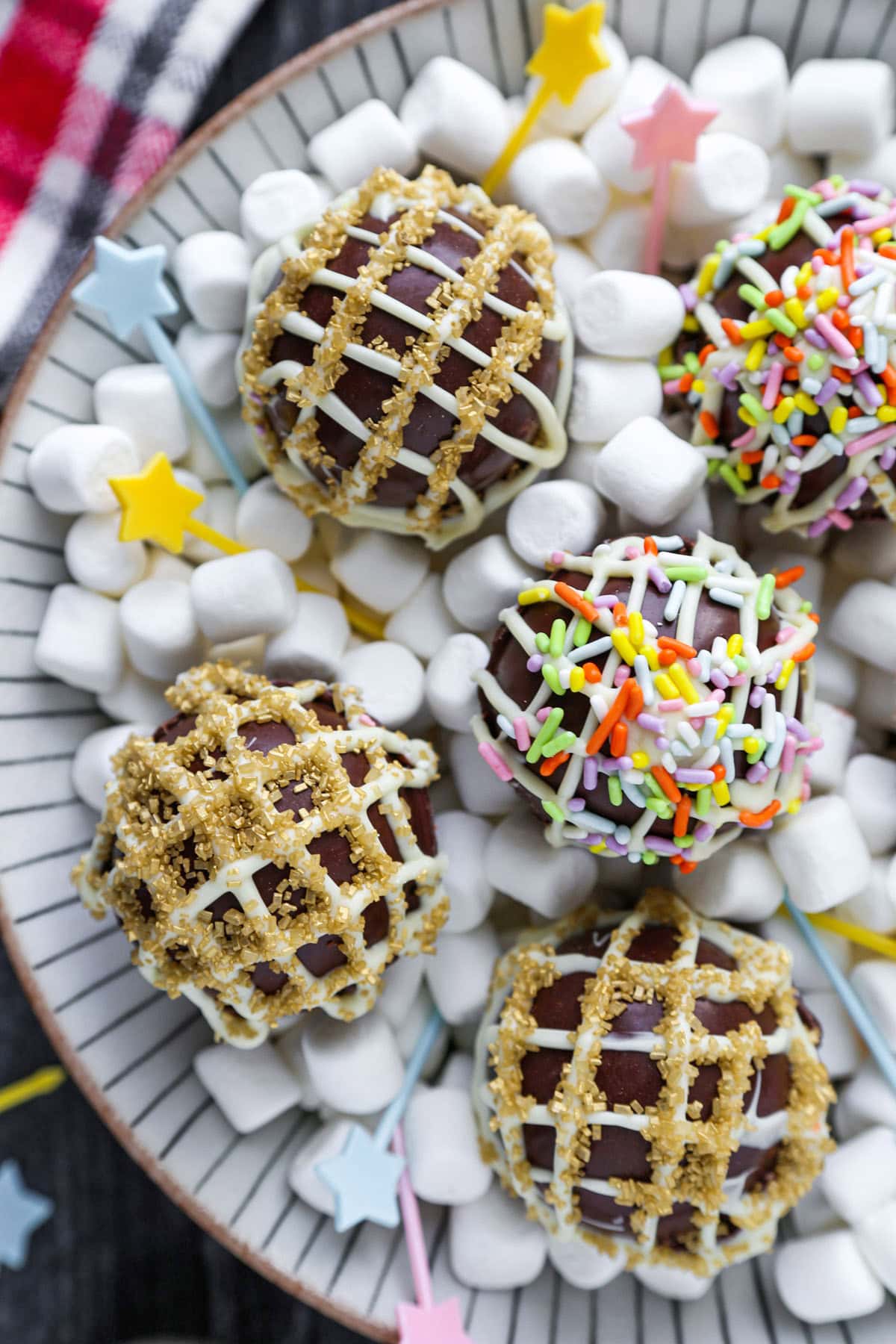 How To Store Hot Cocoa Bombs
You can make hot chocolate bombs days before serving them. And as long as they are stored properly, they will look just as beautiful as the day they were decorated.
Hot cocoa bombs should be stored in a dark, cool, and dry place. The easiest way to ensure they will retain their shape is to put them in the fridge in a storage bag or an airtight container. You can leave them in your pantry or on your kitchen counter so long as there is no access to direct sunlight or warm temperature.
Sun + heat + chocolate = melt. You know that already 😉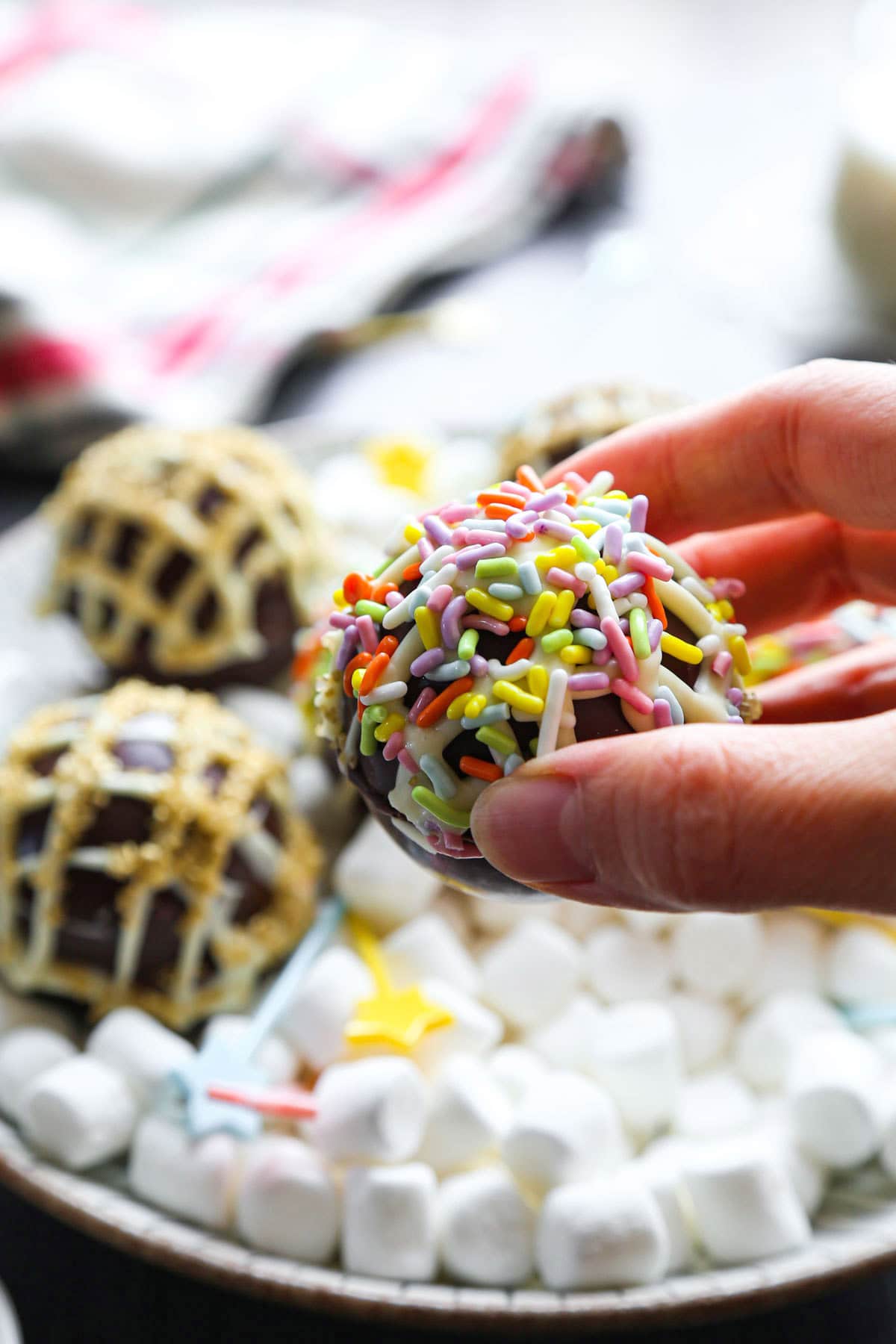 How Long Do They Last?
If they are properly stored in the fridge, these hot chocolate balls should last for months.
However, just like with all chocolate, they will lose moisture the longer they go uneaten, and will start to look old. Because of that I would recommend eating them within a month for the best taste.
Other Delicious Festive Recipes You Might Like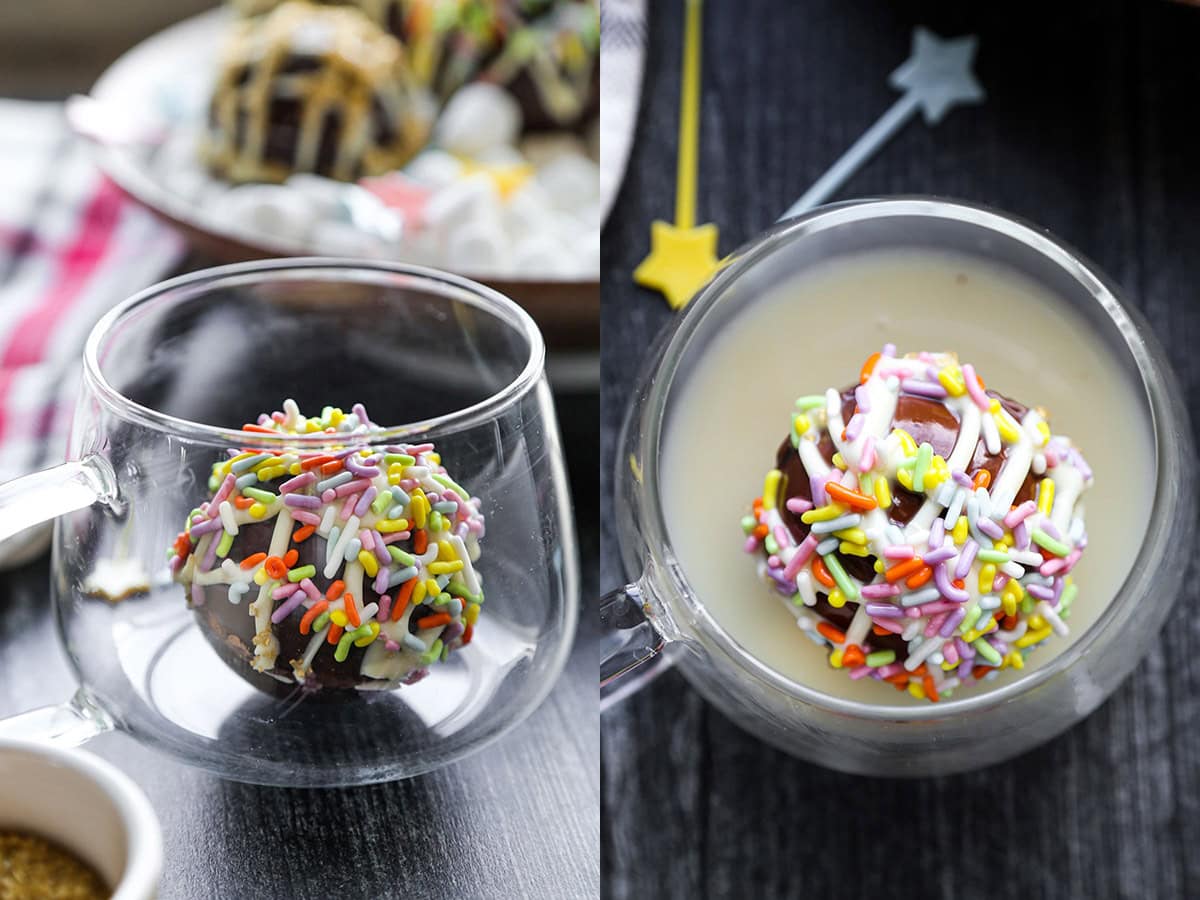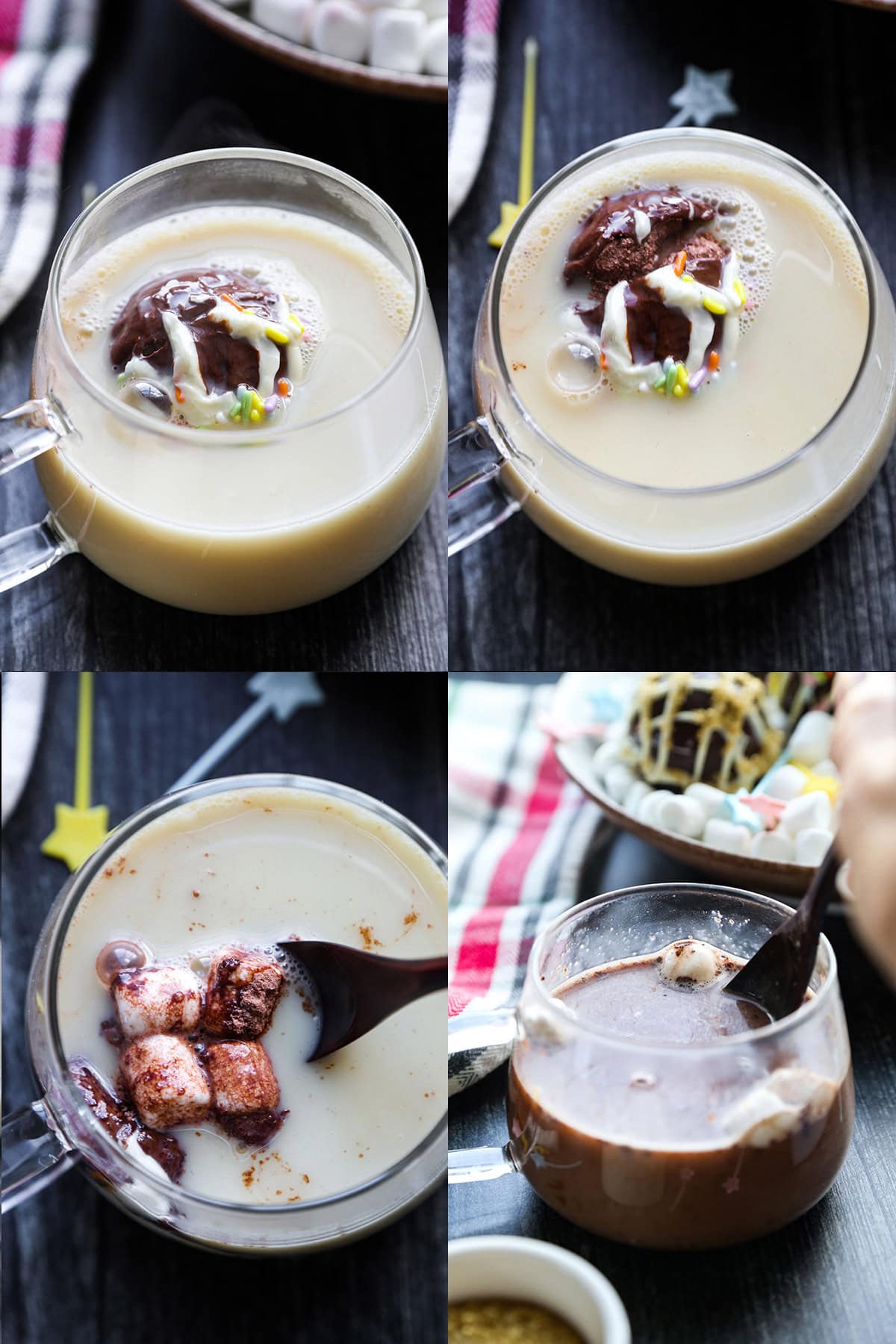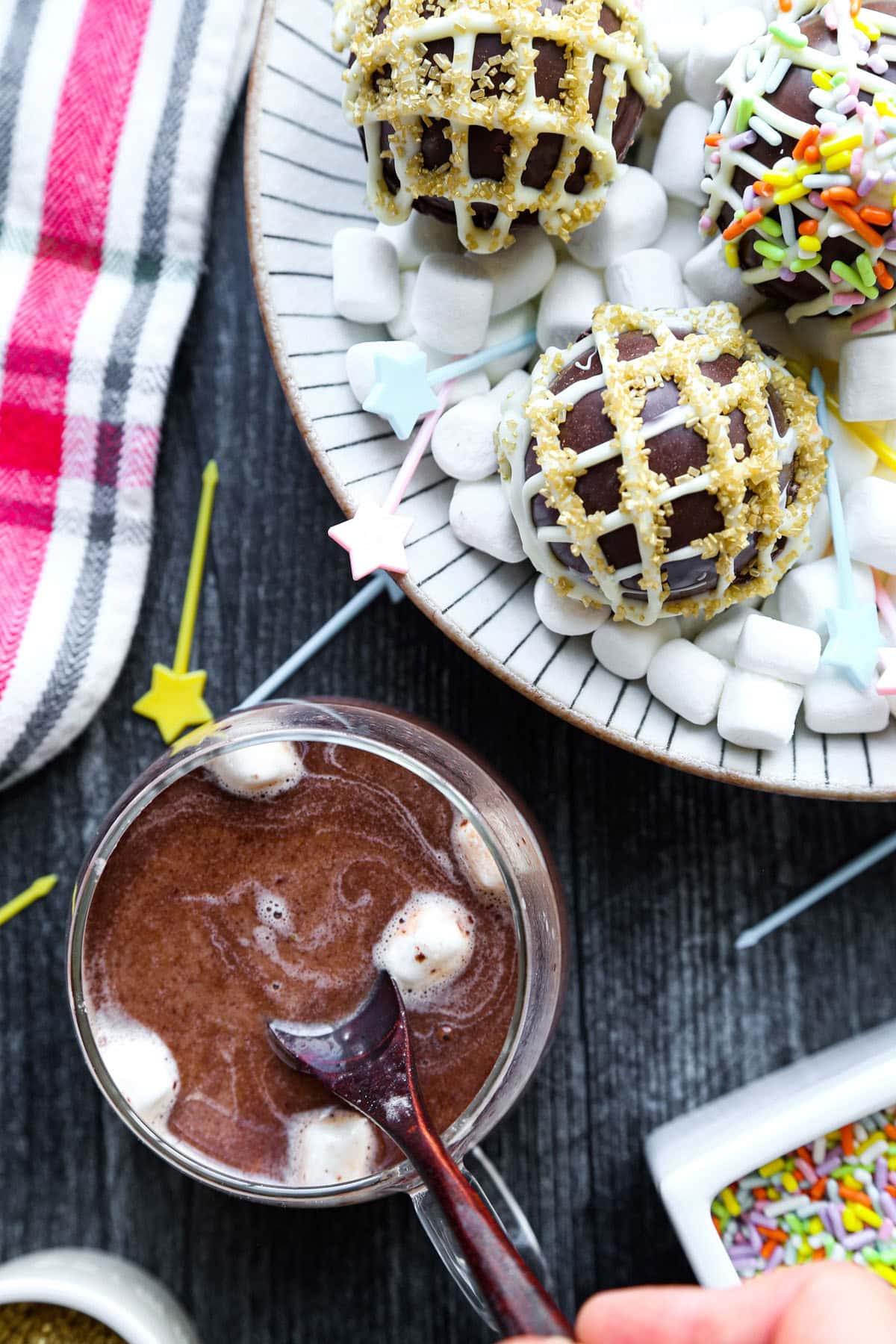 Did you try this hot chocolate bombs recipe? Are there changes you made that you would like to share? Share your tips and recommendations in the comments section below!
Print
Hot Chocolate Bombs
Serve these delicious chocolate bombs with a hot cup of milk and watch them melt. Enjoy the most decadent cup of cocoa you've ever tasted!
Author: Caroline Phelps
Prep Time:

15 minutes

Cook Time:

none

Total Time:

prep + passive time: 1 hour

Yield:

6

hot chocolate bombs

1

x
Category:

Dessert

Method:

N/A

Cuisine:

American

Diet:

Vegetarian
Equipment
Medium microwave safe glass bowl
Round chocolate mold (half spheres)
Pastry brush
Piping bag (optional, for decorating)
Latex gloves (optional but good for avoiding fingerprints on the chocolate balls)
Ingredients
10

ounces

(about 283g) melting chocolate or semi-sweet chocolate chips or bars of your choice

6 tablespoons

chocolate milk (hot cocoa) powder

1/2 cup

mini marshmallows

6

cups

milk or unsweetened oat milk
Decorations such as cake sprinkles, white chocolate drizzle, etc… I used white chocolate, gold sprinkles, and color sprinkles
Instructions
Chop the chocolate and place it in the glass bowl.
Microwave the chocolate at 50% for 30 seconds. Stir and microwave again at 50% for 30 seconds. Stir and microwave for 15 seconds. Keep repeating in 15-second intervals until most of the chocolate has melted. Be careful not to overcook the chocolate. If only a few pieces haven't melted, take the bowl out and keep stirring until they eventually melt.
Spoon about 2 ½ teaspoons to each cavity of the mold and use a pastry brush to spread the chocolate evenly, until the entire surface of each cavity is covered. Going a little over the edges is okay.
Put the mold in the freezer for 5 to 10 minutes, until the chocolate has set.
Take the mold out of the freezer and add 1 teaspoon of tempered chocolate to each cavity, brushing all the way up to the side and slightly over the edges. Do this one at a time! This is to prevent the chocolate from setting too quickly.
Freeze again for 5 to 10 minutes, until the chocolate has set.
Take the mold out of the freezer and fill half of the chocolate half spheres with equal amounts of mini marshmallows and hot cocoa powder
Gently push the empty chocolate half spheres out of their cavities and leave them on top of the mold.
Reheat the remaining chocolate in the microwave at 50% power, for 15 seconds. Stir and repeat until the chocolate has melted. Again, be careful not to over microwave it. The remaining few lumps will eventually melt when you stir the chocolate.
Put on your latex gloves and transfer the chocolate to a piping bag. Cut a small opening and pipe along the edges of the half spheres containing the marshmallows and cocoa powder.
Take the empty chocolate half spheres and place them on top of the marshmallow and cocoa mix filled cavities, gently pressing them so they can seal with the melted chocolate. You should have 6 perfect chocolate balls.
At this point, while the melted chocolate seam is still a little soft, you can add sprinkles to cover the seam or gently smooth out the edges by running your finger across the seam, or just leave it the way it is. .
Let the chocolate bombs fully cool and set.
Decorate your chocolate bombs with cake sprinkles or however you like to serve them. I personally melted some white chocolate that I piped over each choco bomb, in a crisscross design, and topped with sprinkles.
Store them at room temperature until you are ready to serve them (within 24 hours is preferable). Pop them out of their cavities and place one chocolate bombs per mug, for a total of six mugs.
Heat one cup of milk or oat milk for each mug, until very hot.
Pour the hot milk over the chocolate bomb and watch it dissolve. Stir until the cocoa powder has completely and enjoy!
Notes
Store these chocolate bombs in an airtight container or storage bag. They can be refrigerated for up to 6 months but are best enjoyed within a month of making them.
Nutrition
Serving Size:

1 hot chocolate bomb with milk

Calories:

349

Sugar:

38.4g

Sodium:

316.9mg

Fat:

18.6g

Saturated Fat:

9.9g

Unsaturated Fat:

0.6g

Trans Fat:

0g

Carbohydrates:

46.5g

Fiber:

4g

Protein:

5.4g

Cholesterol:

0mg
Keywords: Christmas, Thanksgiving
Recipe Card powered by