Indulge your sweet tooth while keeping it low sugar with this nutty and delicious Homemade Granola Bars Recipe. Just 25 minutes from start to finish. Yum!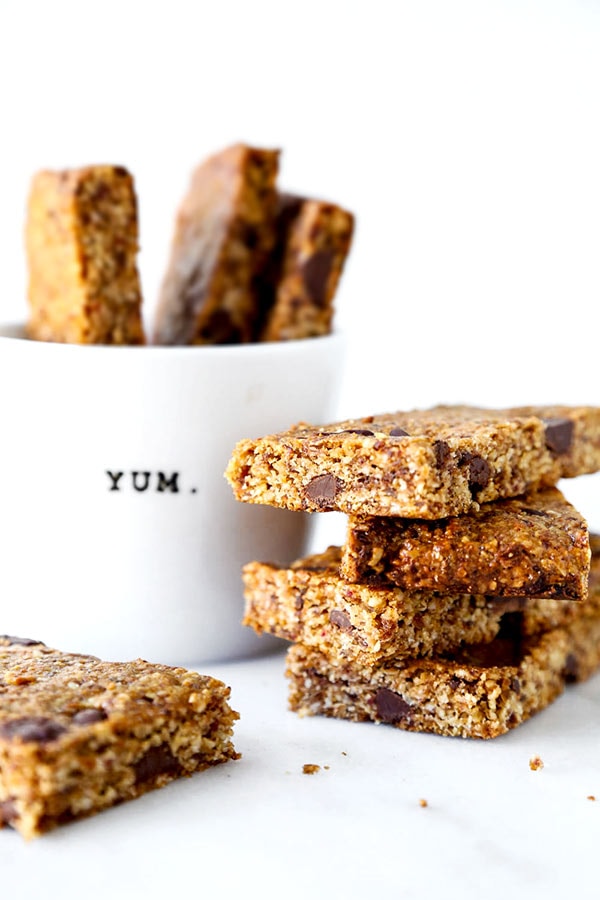 "No sugar?" Ben asked, mouth full – eyebrows raised. "Like, none at all?
"Well, the chocolate chips have some already," I said. "But other than that, nope."
Earlier in the day he had said he thought that homemade granola bars might just have all the flavor of sawdust. I think he actually used the words 'healthy oat bar' with his eyes playfully rolled back pretty far back.
I took the fact that he grabbed a second homemade granola bar, before even finishing the first, as a sign that he didn't mind me swapping out sugar for raw honey, maple syrup and dried fruit.
Then I took a bite – and lemme tell you – it was so good!
Low Sugar Doesn't Mean No Flavor
I think you'll agree with me that it's THE BEST when you can make a sweet treat a little healthier without sacrificing flavor.
Well, as it turns out, there are a ton of easy ways to step back from sugar without turning snack-time into a bummer!
Good news on that front! Today I'll show you a healthy trick for making the best granola bars in your own kitchen.
Now, whether you decide on calling them oatmeal bars, cereal bars or oatmeal breakfast bars is totally up to you. However, regardless of the name, the resulting taste will be a total hit!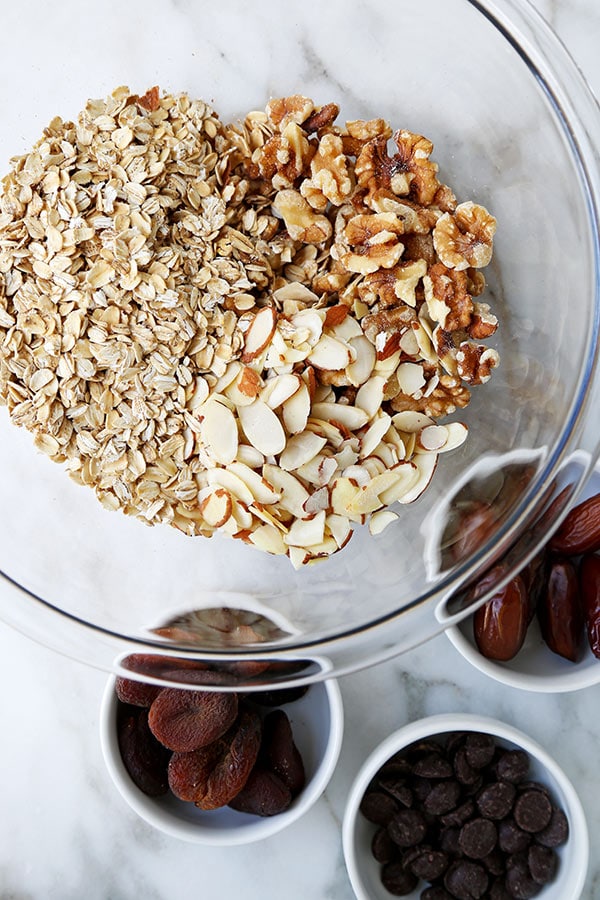 Are Granola Bars Healthy? 
The other day, I was searching around for a good energy bar recipe. I wanted to whip something up that would be a nourishing snack. You know, a portable treat that might defeat the afternoon sleepiness that can set in after lunch, but before the workday is finished.
I was shocked by how much sugar most healthy granola bars recipes call for.
Obviously, I grew up thinking granola bars were reasonable healthy. And they can be.
But many of the pre-made bars in the sporty packaging are loaded with more fat and sugar than I'd care to ingest, unless it's a decadent dessert at an amazing French restaurant.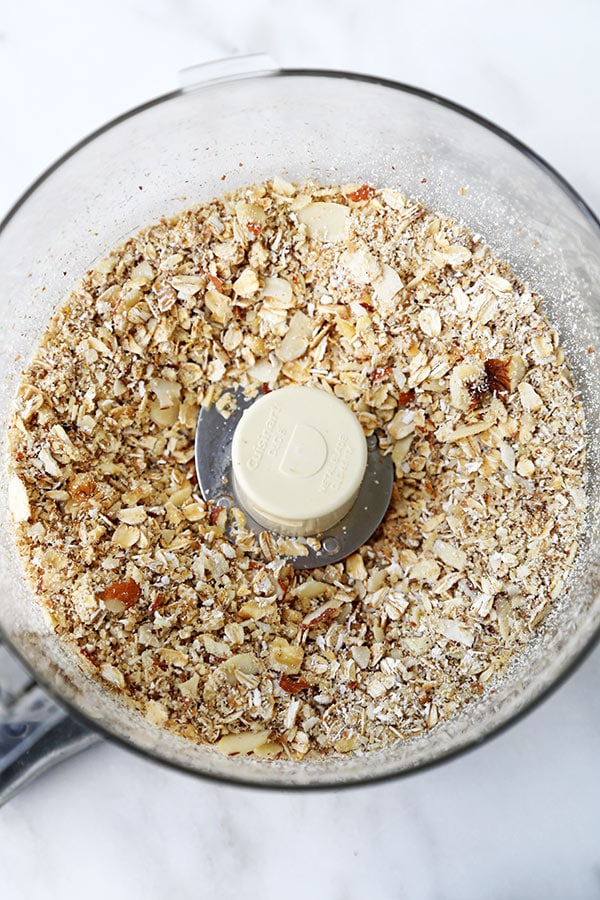 How to make granola bars
This healthy granola bars recipe is one of those things that is sooo simple to whip up. There are just a few quick steps to follow you you're done!
I put the walnuts and almonds in the blender first and pulse until they're broken up. Then, I just start adding rolled oats and dried fruit and pulse until the whole mixture has a broken-up, yet rustic texture to it.
A word of advice:
Don't pulverize the mixture to dust in your blender or food processor. Chunky might be a good adjective to think about when approaching the nuts / oats / dried fruit mixture.
Then, everything goes to a mixing bowl. And, after a quick bake, you're ready to dig in.
These healthy granola bars are all about taking as few steps in the kitchen as possible – that's for sure!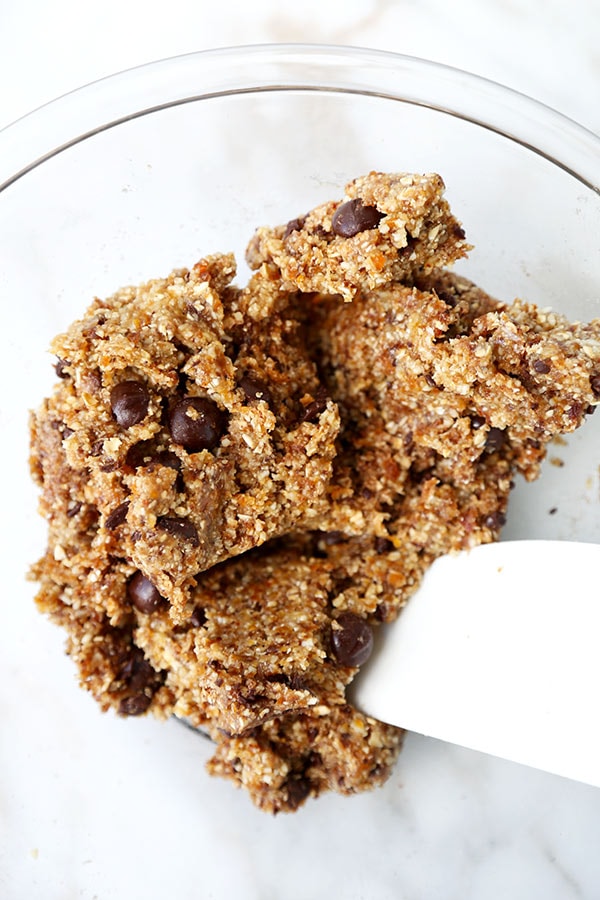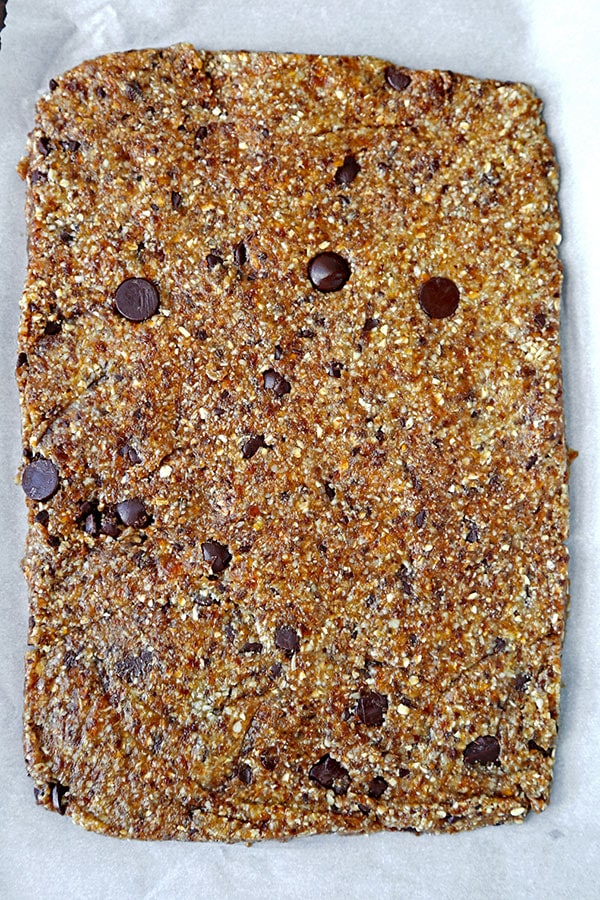 Homemade is So Much Better
The best thing about this low sugar granola bar recipe is that – aside from a small amount of sugar in the chocolate chips – the sweeteners are totally natural.
I just love cooking with raw honey and maple syrup. They bring a more subdued and complex sweetness to the table than regular sugar.
Now, I'm not opposed to using sugar at all. In fact, my sweet tooth is usually the one in charge 🙂
But it's nice to have alternatives to sugar for some recipes – while keeping the full flavor aspect intact!
Heck, they're the healthiest granola bars I've ever had. And the biggest bonus is that they taste amazing.
Ben even came back for a third granola bar before he had finished chewing the second.
Victory!
How about you? What's an ingredient you've swapped out in one of your recipes that turned out as good, if not better, than the original? I'd love to hear about it in the comments below!
Other simple and delicious snack recipes: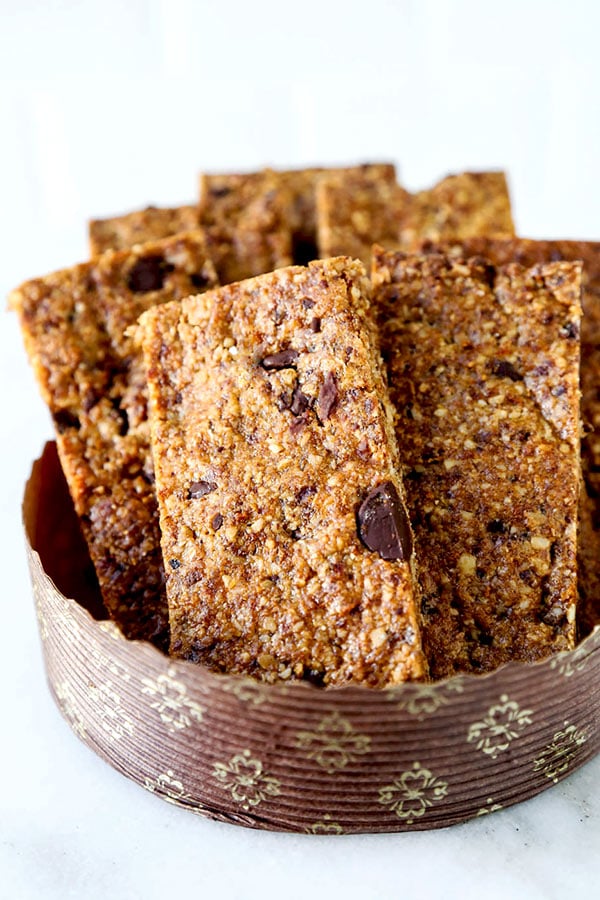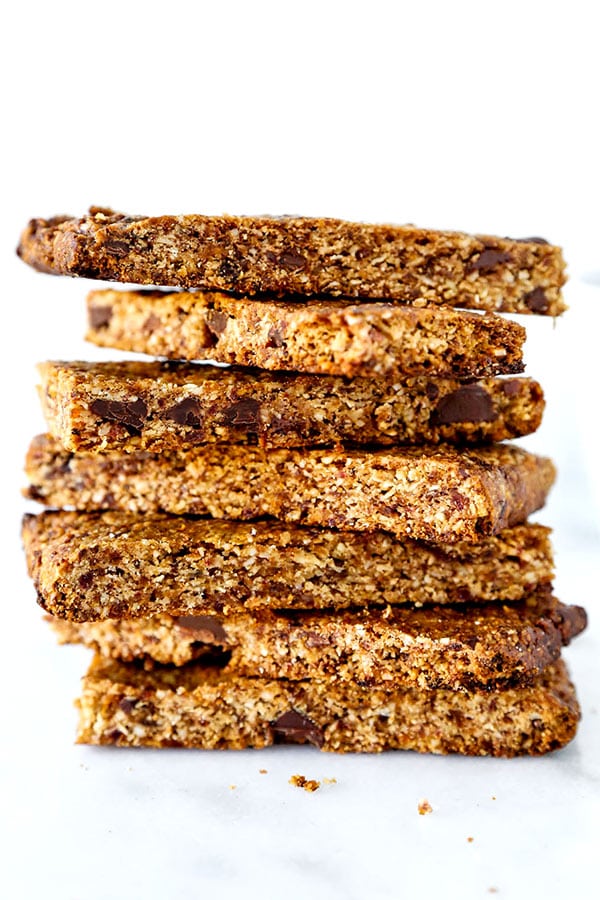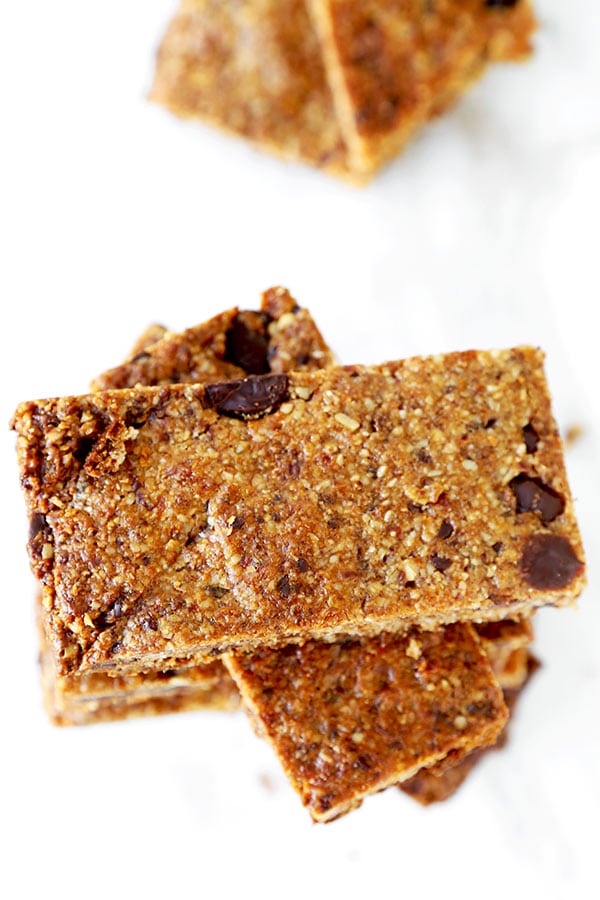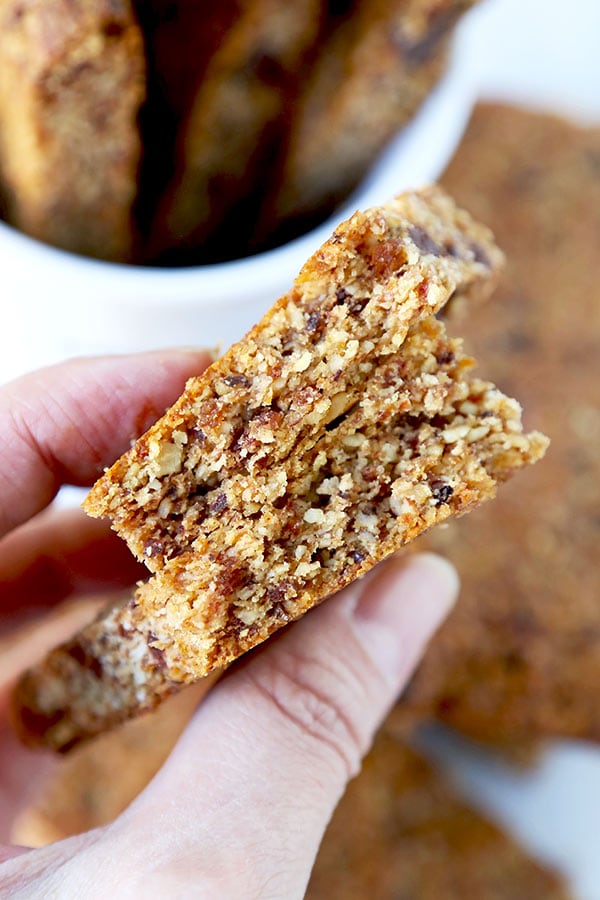 Did you like this Healthy Granola Bars Recipe? Are there changes you made that you would like to share? Share your tips and recommendations in the comments section below!
Print
Healthy Granola Bars
These granola bars are not only healthier than store bought granola bars, they also taste so much better!
Author: Caroline Phelps
Prep Time:

5 minutes

Cook Time:

20 minutes

Total Time:

25 minutes

Yield:

10

bars

1

x
Category:

Snacks

Method:

Baking

Cuisine:

American
1 cup

walnuts

1/2 cup

sliced almonds

3/4 cup

rolled oats (quick cooking oats)

7

dates (pitted)

1/2 cup

dried apricots (about 12, chopped)

1/4 cup

dark chocolate chips

4 tablespoons

raw organic honey

2 tablespoons

100% pure maple syrup

1.5 teaspoons

vanilla extract
pinch of salt
Instructions
Preheat oven to 350Fº.
Put walnuts, almonds and rolled oats in a blender and briefly pulse until oats are broken up.
Add dates and apricots and blend until texture is the same as nuts/oats mixture.
Transfer to a mixing bowl and add remaining ingredients. Mix well until the mixture clumps.
Spread the mixture on a cookie tray (covered with parchment paper) and shape into a large rectangle or the shape you would like your breakfast bars to be.
Bake for 15 minutes for chewy and tender, 20 minutes for crunchy.
Take out of the oven and slice into bars. Let cool and serve.
Notes
These healthy granola bars will keep stored in an air tight container, in a cool place, for up to 5 days.
Nutrition
Serving Size:

1 bar

Calories:

256

Sugar:

27.7 g

Sodium:

1.9 mg

Fat:

11.8 g

Saturated Fat:

2 g

Carbohydrates:

36.6 g

Fiber:

4 g

Protein:

4.5 g

Cholesterol:

0 mg
Keywords: recipe, vegetarian, dessert
Recipe Card powered by