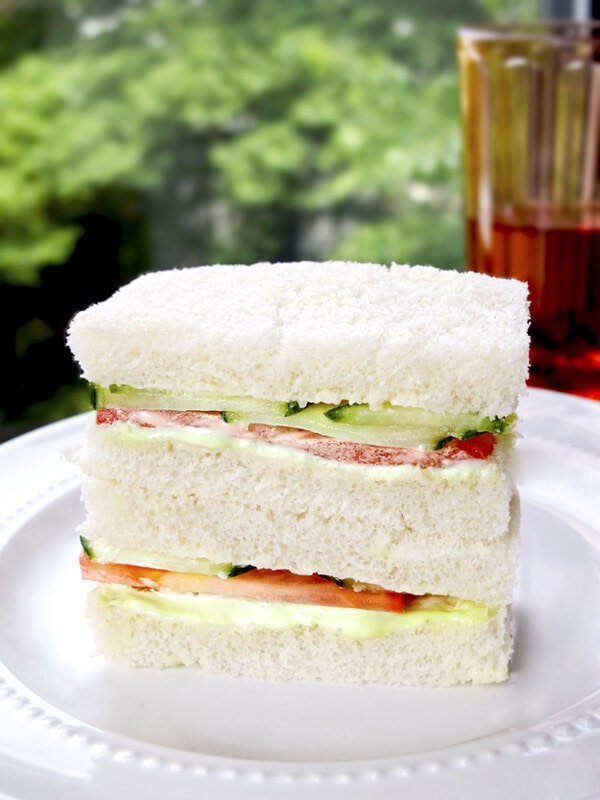 Japanese Finger Sandwiches
Cucumber tomato finger sandwiches were something my mother used to make during my childhood, as a snack. I remember thinking cucumber was an odd ingredient to use because it's so watery and plain.. I couldn't understand either why she cut off the crust as it was my favorite part of the bread (I'll tell you why later). But no matter what I thought of her preparation, her finger sandwiches were seriously delicious! My mother's finger sandwiches are a great example of what happens when East meets West, and how something as simple as cucumbers and tomatoes stuck between two boring white slices of bread, can taste and become addictive. She took a popular and delectable Western snack, and made it even better. Finger sandwiches a la Japonaise!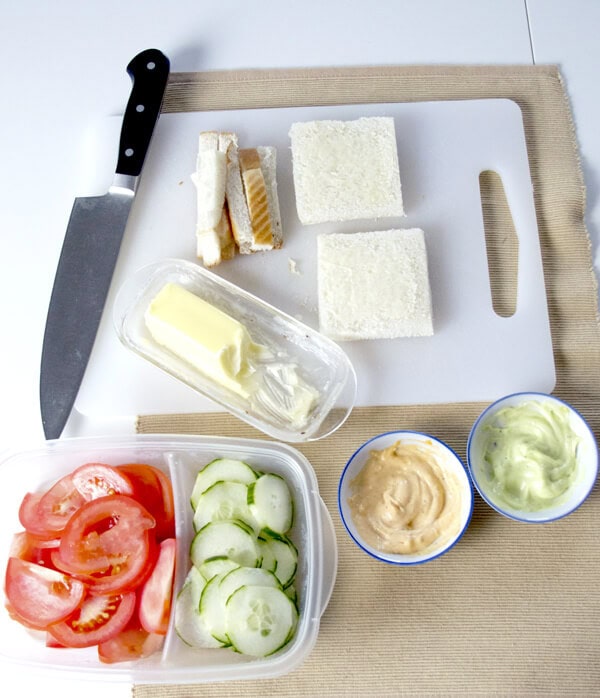 White bread gets a bad rep for being over processed and containing zero nutrients. I avoided eating my childhood's bleached slices up until last week. You see, when I crave something specific, I want the REAL thing. I could've used whole grain bread but why concern myself over eating just one dish that may not be filled with nutrients? My life is about balancing good and bad, and avoiding extremes. Getting giddy over creamy durian ice cream or introducing my favorite fat loaded Montreal poutine to my husband, are some of my favorite moments in life. Actually, any time I eat poutine is a happy moment in my life.. All that gravy slowly being poured atop perfectly deep fried golden french fries and covered with squeaky cheese..
But you're probably wondering why my mother excelled at making finger sandwiches…
The explanation is pretty straight forward: Bread crust isn't very popular in Japan. Go to a Seven Eleven in Tokyo and you'll find pre-made strawberry jelly sandwiches.. Without any crust. Bakeries all across Japan sell finger sandwiches in clear plastic containers.. Without any crust. My mother didn't grow up with bread crust and it's safe to say she was never a fan of any type of crust, including pizza crust. But lucky for her, I hung back until she was done with her anti-crust meals and happily munched on them with a little ketchup. I'll eat anything!
For these finger sandwiches, I'm giving you two mayo options: Wasabi flavored mayo or sri racha. Ben like sri racha, I like wasabi. It's whether you prefer heat in your throat or nose.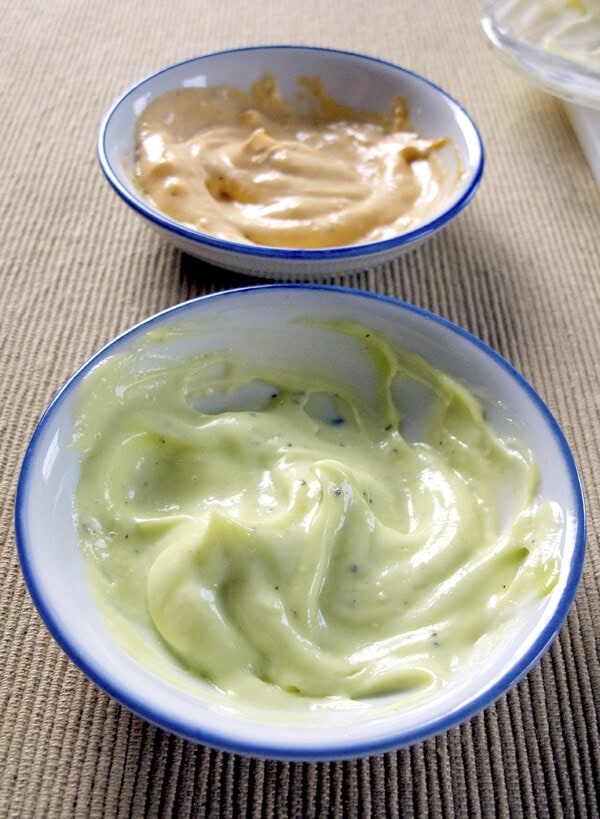 Print
Finger Sandwiches with Wasabi Mayo
Finger sandwiches with a twist! Add wasabi or sriracha mayo to these crustless sandwiches and be ready to wow your guests!
Prep Time:

10 minutes

Total Time:

10 minutes

Yield:

8

sandwiches

1

x
Category:

snack, sandwich
16

slices sandwich bread

1

large tomato (cored and thinly sliced)

1

English cucumber (thinly sliced)
butter
salt and pepper (to taste)
Wasabi mayo:
2 tablespoons

mayonnaise

2 teaspoons

wasabi paste
Sriracha mayo:
2 tablespoons

mayonnaise

2 teaspoons

sriracha sauce
Instructions
Mix wasabi and mayo in a small bowl until well blended. Set aside and do repeat the same step for the sriracha mayo.
Making the sandwiches:
Cut the crusts off the sandwich bread.
Spread butter on each slice of bread and a little wasabi mayo (or sriracha mayo).
Put two layers of tomatoes on the bread and add two layers of cucumber on top. Season with salt and pepper and finish by topping with another slice of bread.
Recipe Card powered by