Learn how to grow your blog by using Tailwind to double, even triple your traffic! Become a Pinterest champion by following these steps and watch your traffic improve in a matter of weeks!

Disclosure: This post contains affiliate links, which means I may receive a small commission, at no cost to you, if you make a purchase through a link.
How To Double Your Traffic With Tailwind
As with most bloggers, Pinterest is one of my biggest sources of traffic – second one to be exact (after Google searches). I use it every time I publish a new post, whether it's recipes or blogging tips and I also use it to revive old ones. I get a lot of engagement from it and that's because I'm consistently pinning, even though I'm rarely on it.
Every month I receive around 110,000 page views from Pinterest which accounts for just under a third of my traffic!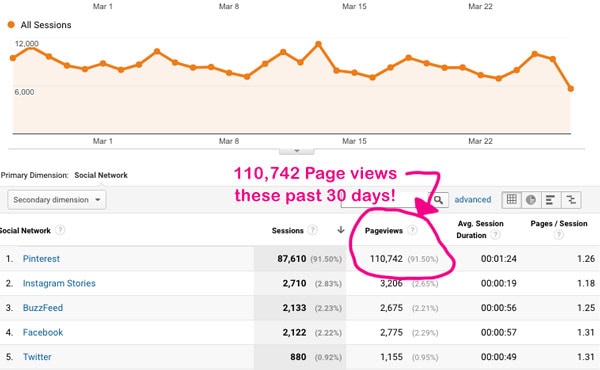 For the longest time I didn't take Pinterest seriously thinking it was just another social media platform. But it turns out I was completely wrong and was missing on lots of traffic and opportunities for exposure.
What is Pinterest?
First of all, Pinterest isn't a social media platform.
It's the third biggest search engine (visual search engine) online behind Google and YouTube!
What this means is you can get a TON of traffic from it by sharing beautiful images, infographics, collages and messages such as inspirational quotes.
Pins are More Powerful Than Tweets and Facebook Shares
This is absolutely true!
A pin is 100 times more spreadable than a tweet or a Facebook share!
Plus, the traffic never stops coming because your images are constantly being shared. Compare this to the shelf life of a tweet (25 minutes) and a Facebook post (less than 2 hours) and it's easy to see why everyone should consider adding Pinterest to their marketing campaign.
To give you an example, this is a sponsored post I created and shared on Pinterest in 2015. Since then it has been shared over 160,000 times! And because it was such a big success, I was hired to create 10 more tofu recipes for the same brand!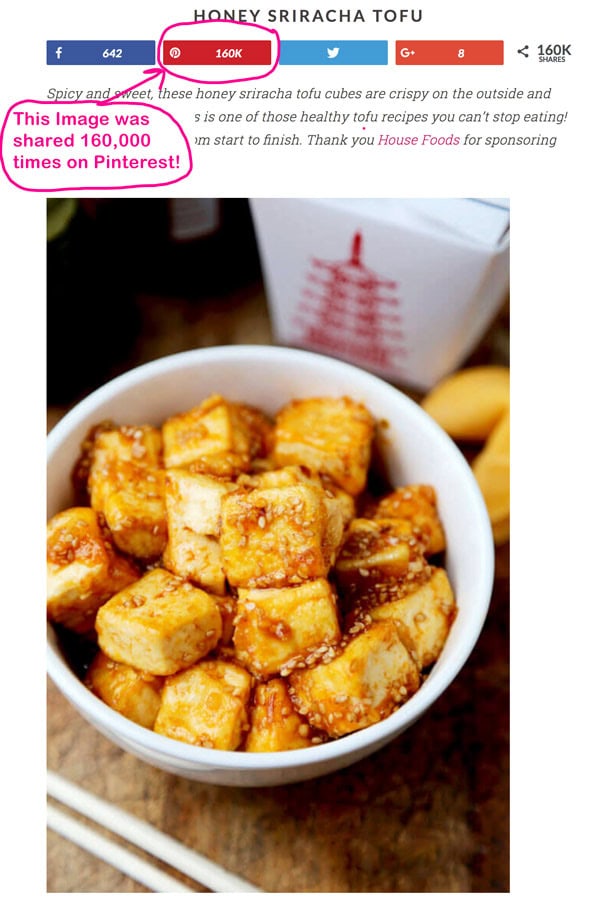 If you are serious about starting a blog or growing your current blog, using Pinterest should unquestionably be part of your marketing strategy.
This is especially true if your blog is about education (how to posts for example), planning, DIY, fashion, food, health, mom stuff and inspiration.
Not only can you get a massive boost in traffic, you can also sell products and make good money!
But that's another post and right now we are focusing on getting you set up so you can get more traffic to your blog 🙂 .
In order to rank high in searches, Pinterest looks for pinners who are active at both pinning their own content and sharing those from others. In fact, I think the ratio is somewhere around 20% your own and 80% others.
Because of that, building a strong presence on Pinterest can take up a few hours a day, every day. And that can feel overwhelming when your schedule is already packed.
And that's why using a tool like Tailwind can be a life saver.
I signed up with Tailwind May 31st, 2015, when I decided to get serious about Pinterest.
I needed to find a way to grow my blog since traffic has stalled and remained at around 150,000 monthly page views. I had heard amazing things about Tailwind from other bloggers so I gave it a try. It turned out to be one of the best decisions I ever made for my blogging career!
Because of Tailwind, my Pinterest traffic nearly doubled in a matter of weeks and tripled in just 6 months!
And the tofu post that got shared over 160,000 times? That was because of Tailwind too 🙂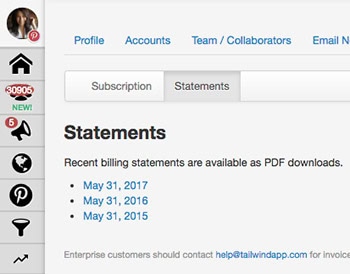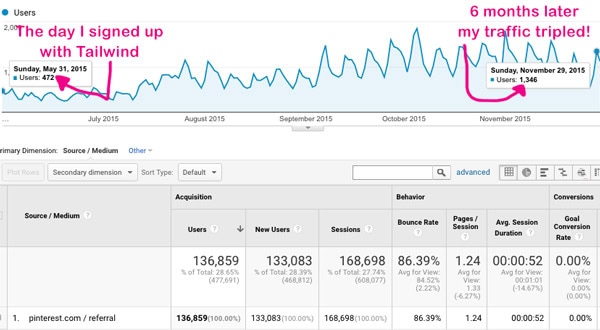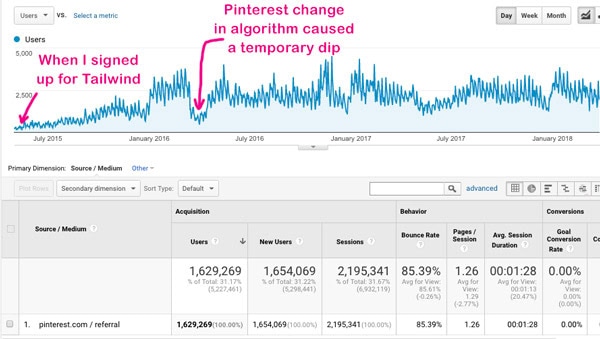 These are my personal results, but Tailwind also publishes the Typical Results of Tailwind for Pinterest Members every year, so you can see exactly what the average growth rate looks like for their members!
So What the heck is Tailwind?
Tailwind is a Pinterest and Instagram marketing tool that schedules posts and pins to go out at certain times during the day so you can get traffic all around the clock, even in your sleep. It can also schedule pin weeks ahead of time, freeing you up from having to be physically active on Pinterest every day.
Ben and I are about to go to Europe to celebrate our 10th wedding anniversary so I have scheduled 3 weeks worth of pins to go out. This means I won't have to worry about Pinterest at all and still get the same amount of traffic coming to my blog!
How hard is it to use?
Not hard at all!
The interface is very easy to navigate and there are a ton of free video tutorials to help you set up an account, use each function and join Tribes.
Tailwind also offers courses!
You can learn how to plan a Pinterest marketing strategy and how to use Pinterest to grow your sales.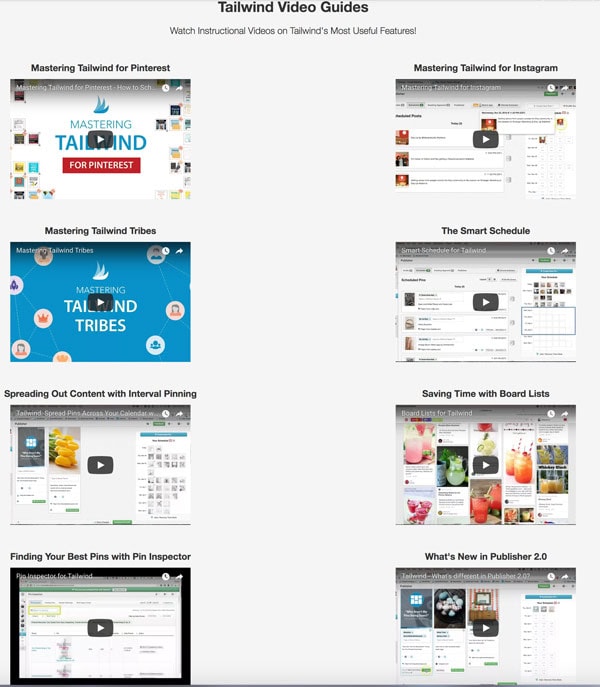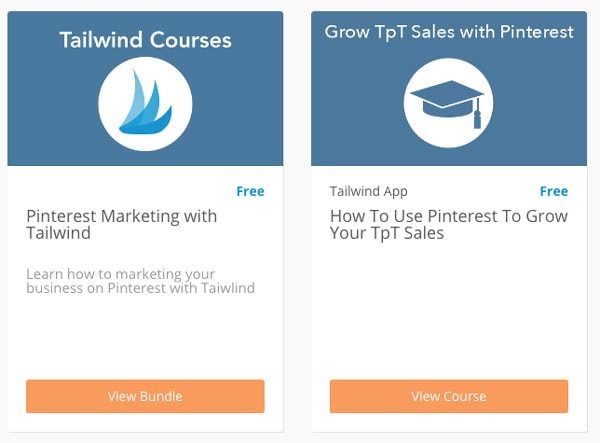 Tailwind Tribes
You are going to love this!
Tailwind Tribes is a tool that enables you to meet and grow with other bloggers who post the same type of content as you. You can add your own content to a Tribe and have others view, schedule and share your content to their own audience. You can also create your own Tribe and invite others to join.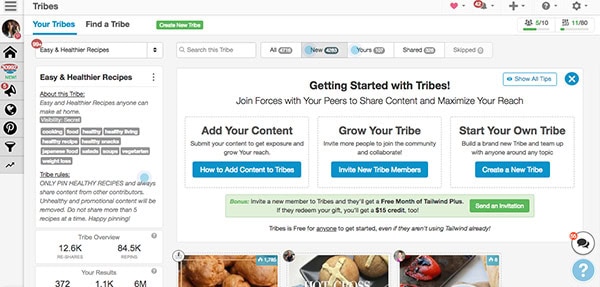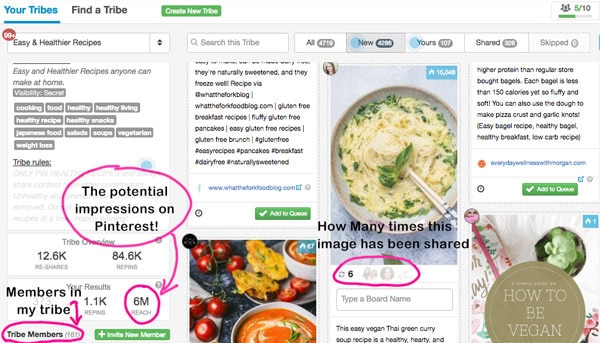 It's very similar to group boards on Pinterest and private groups on Facebook.
This is really helpful because everyone is pinning each other's content, therefore broadening the potential for repins. When you pin directly from Pinterest, there is no guarantee that the favor will be returned, which can be a bummer if you are consistently pushing certain bloggers. With Tailwind Tribes you are guaranteed a few shares.
It's also a great tool to socialize with other bloggers and to see what type of posts are popular within your field (by looking at the blue flame icon on the top right).
Smart Calendar
After using Tailwind for a couple of weeks, it will optimize your schedule based on when your audience is most engaged.
This is important data that helps your content get more exposure and repins. I saw an increase in traffic just a few days after I followed their suggestions!

Tailwind is going to display in white, the times your pins receive high engagements and suggest you add these timeslots to your smart calendar.
All you need to do is click them and they will automatically appear in your pin scheduler.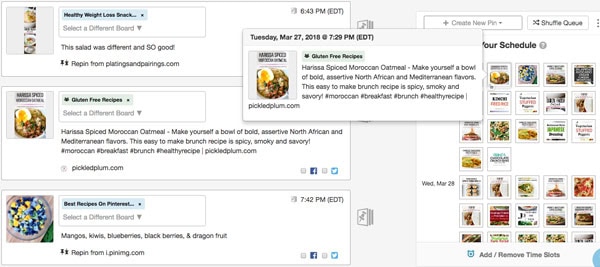 In the image above you can see the pins that are scheduled to go out at the times set by your smart calendar. You can shuffle your pins if you see the same one taking up a whole row.
You can also remove pins, edit the description of a pin or add or change a link.
This is extremely useful if you have forgotten to add a link to your pin in the draft section. Without a link, a pin has no value because it points to nothing, it's just a pretty image. I hate to admit it but I do forget to add links regularly, especially when I'm tired and dazed from staring at a screen for too many hours.
This feature saves my butt every time!
Pin Inspector
The pin inspector is an area where you can see which pins are being shared the most so you can repin them to get more traction.
Even though Pinterest doesn't consider itself a social media platform, some of the rules to being successful at it are very similar. Just like with Facebook, it's important to keep track of pins that do well and reschedule them to boost your profile.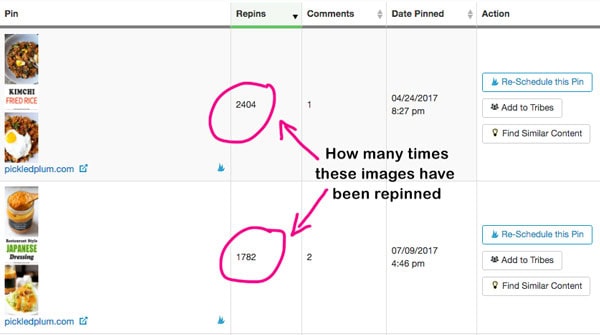 From there you can click on Re-Schedule this Pin and save it as a draft if you want to re-pin on multiple boards (which I always do). You also have the option to add these pins to Tribes or find similar content.
Tailwind Browser Extension
Installing the Tailwind browser extension makes pinning effortless. The browser extension lets you easily create multiple repins from any site with one click – including repins on Pinterest.
This is a huge time saver!
Let me show you how I do my schedule and how easy it is.
First I go to Pin Inspector and choose ten pins with high engagement. I make sure those pins haven't gone out in at least 10 days so viewers don't get bombarded with the same images over and over again.
Then I go to Pinterest and type in the search box general words like Gluten Free Recipes, Soups, Salad, Vegan Recipes, etc… One at a time of course! Once the search comes back with results, I click on the Tailwind extension and this is what happens:

Here is where you select pins to schedule by clicking on the ones you like. Click Go Schedule and you will be taken to the next page.
Choose the boards you want the pins to appear on and click Schedule All.
The reason why I pick words based on diets and ingredients like Gluten Free, Vegan, Tofu is because I have boards created for these types of pins. This makes it easy to pin several images on the same board because they fit one specific category.
By choosing the same category (gluten free for this example) I scroll down, choose one or many gluten free boards and I'm done! This way I can schedule 20 images with just one click!

That's it! Now repeat the same with different categories to fill your smart calendar and make sure you don't forget about your own content!
Tailwind will give you suggestions of pins that receive a high amount of shares. These are good to add to your calendar because remember, the higher the engagement, the better for your profile.

Analytics
Lastly, Tailwind offers in depth analytics and insights so you can see what's working and what's not.
What's interesting about Pinterest is how the amount of followers a person has has no bearing on the amount of traffic he/she can get. It's the amount of Repins that has a big impact. As you can see, I don't have a ton of followers but look at how many repins I've received in just 31 days!
You will also be provided with:
Virality Score – How much your pins are being repinned across you profile.
Engagement Score – How much interaction your pins are receiving.
Engagement Rate – How well your content is resonating with your audience.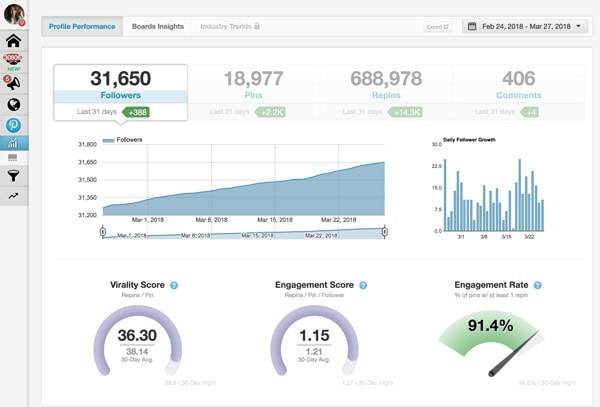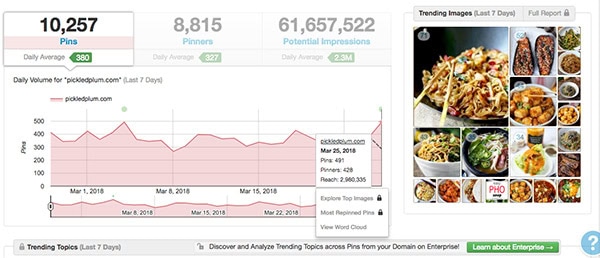 How much is Tailwind?
You can get a free trial version that allows you to pin up to 100 pins before you have to join.
The cheapest option after that is $9.99/month which is what I have and what most, if not all bloggers have.
Tailwind is an essential tool to have if you are serious about Pinterest marketing. The potential for traffic and sales are huge!
Since using Tailwind, not only has my traffic spiked, so have my earnings!
Ready to increase your traffic? Click here to get started and happy pinning!
More posts about Blogging: