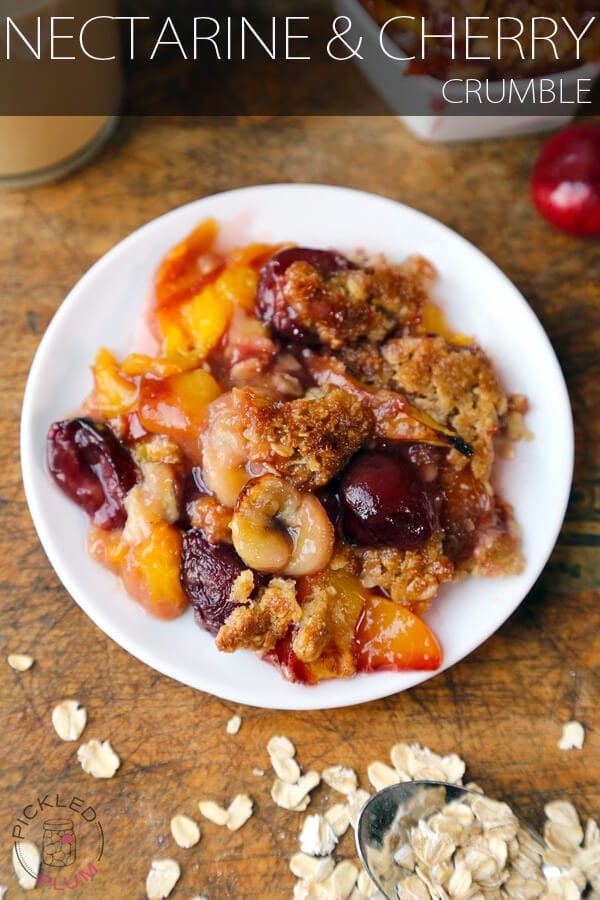 Cherry Crumble with Nectarines and Bananas
I don't bake desserts very often but when July comes, my mind goes straight to crumble. And I somehow doubt I am the only one thinking along those lines – don't we all go crumble crazy in July? All my favorite fruits are in season; cherries, berries, peaches and nectarines, peaking and bursting with sweet and tart flavors, begging to be baked under a crispy oatmeal and butter blanket. Apples, your turn will come soon but for now it's time to make a cherry crumble with juicy golden nectarines.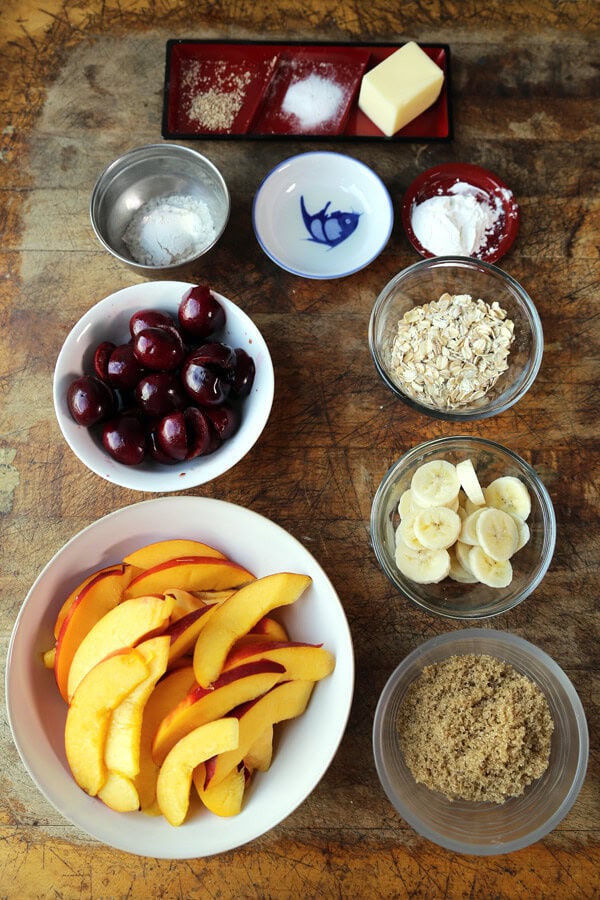 I also added a banana to this recipe which initially made me wonder if I wasn't making a huge mistake – would it turn all mushy and gross? My wish was for the banana to bring a creamy element to the cherry crumble but I am still a novice when it comes to desserts, so I threw everything in the oven and kept my fingers crossed hoping it would work… And it did! Phew!
Actually, the banana was so good that I wrote myself a note: "make blueberry and banana crumble topped with toasted almond flakes on top." I have a sneaky feeling it's going to turn out really, REALLY yummy. What do you think? 🙂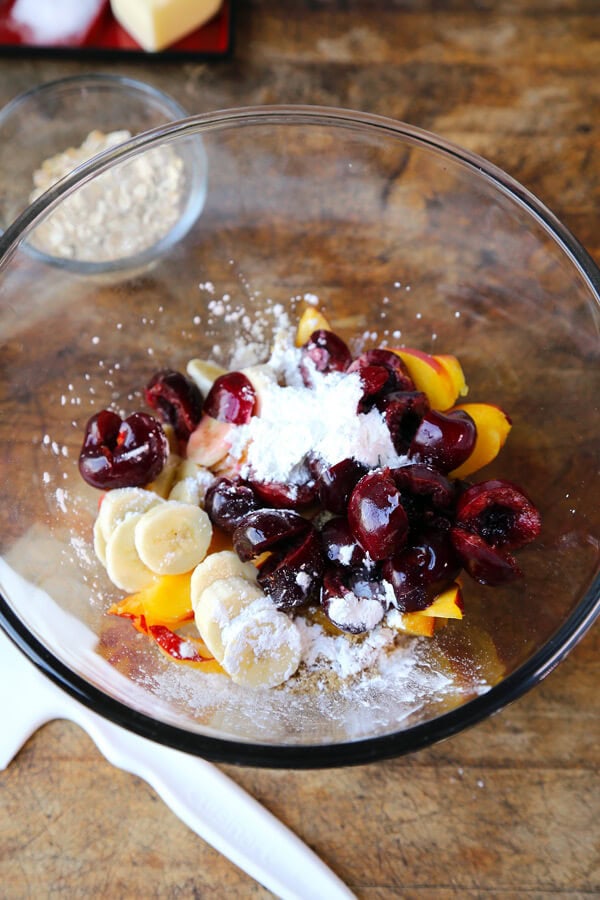 Another interesting tid bit about this particular cherry crumble story is that I love fresh cherries but hate them in any other forms. They automatically remind me of cough medicine and I hate the taste so much that Ben knows to never every buy anything cherry flavored (including Pepto Bismol Ben!) So why did I pick cherries to make a crumble you wonder? Because I had a bunch of them in the fridge that were about to go bad. We had them fresh in a bowl for dessert two nights in a row so it was time for something a little different and more 'desserty'.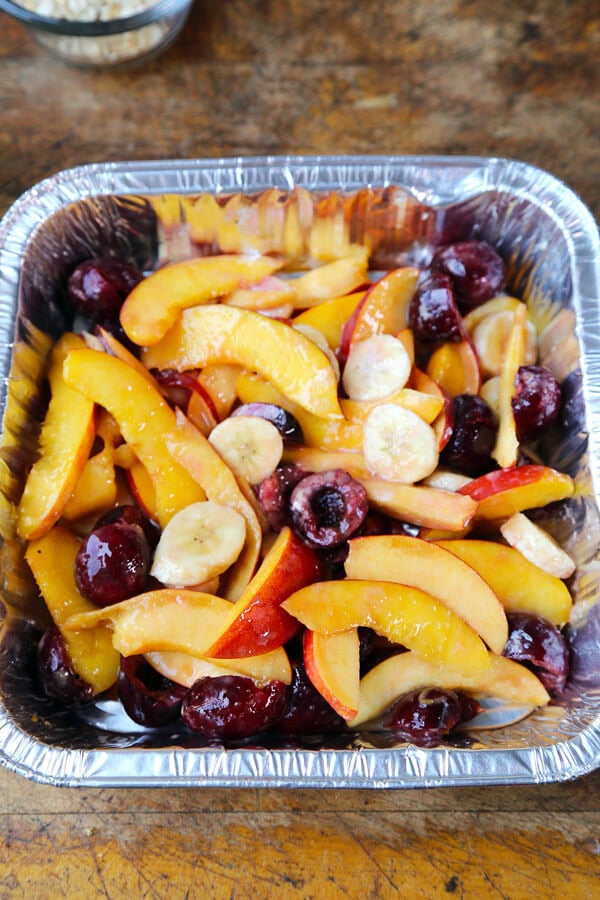 I figured if I didn't put too much sugar (there's only 2 tablespoons in the filling) I could avoid a cloyingly sweet, maraschino style cherry crumble. The dessert came out tasting delicious and perfectly balanced. Not too much crumble to feel major guilt after a plate full of it, but enough to compliment the fruit filling.
This is my kind of cherry crumble: Sweet, tart, warm and crispy.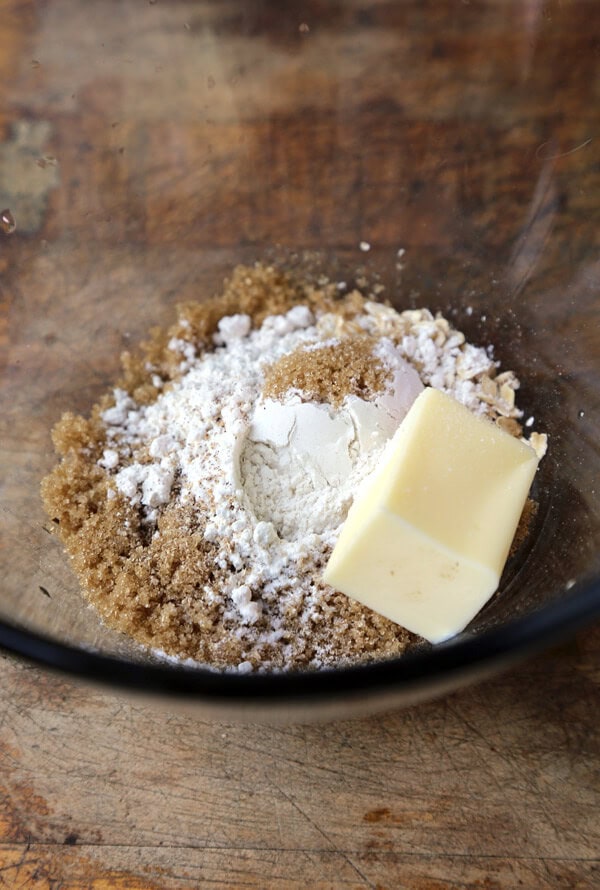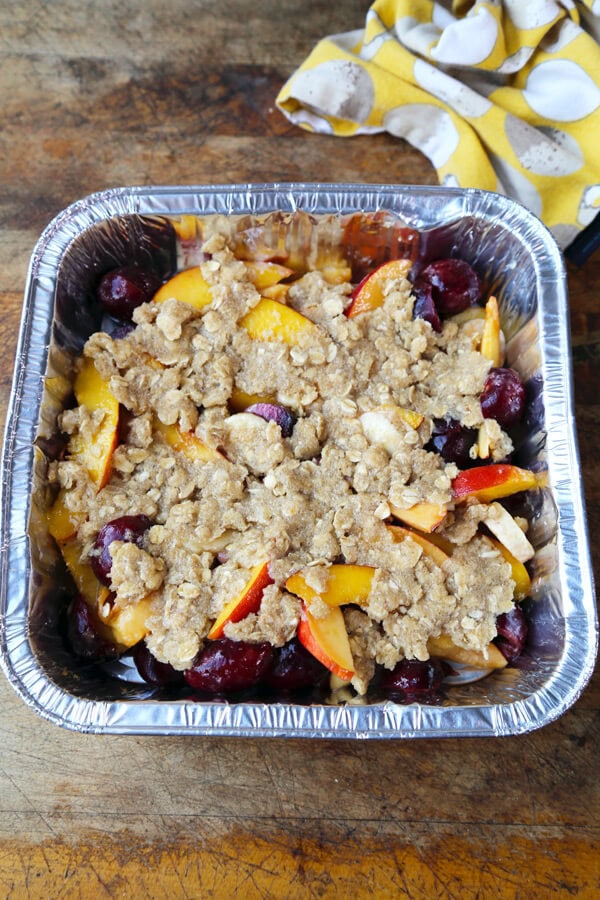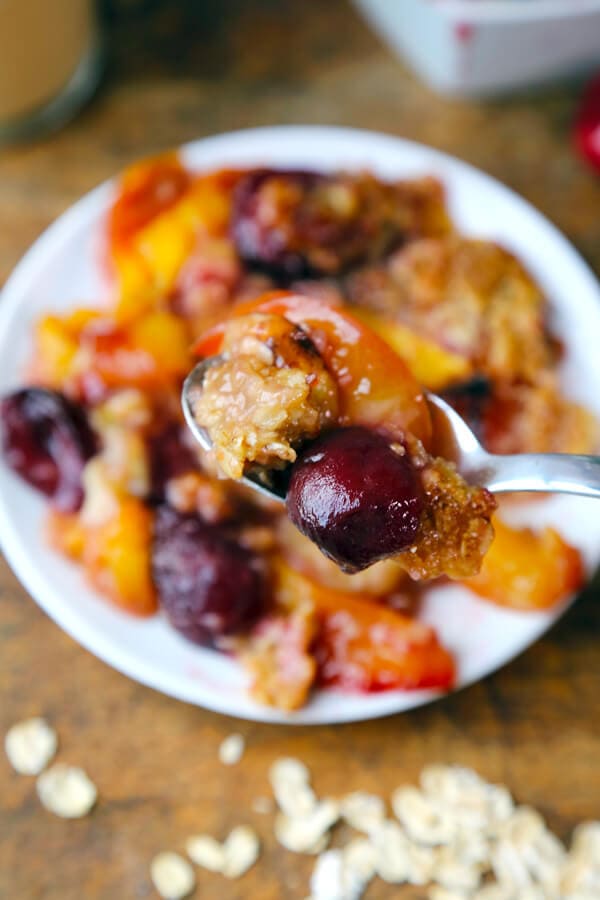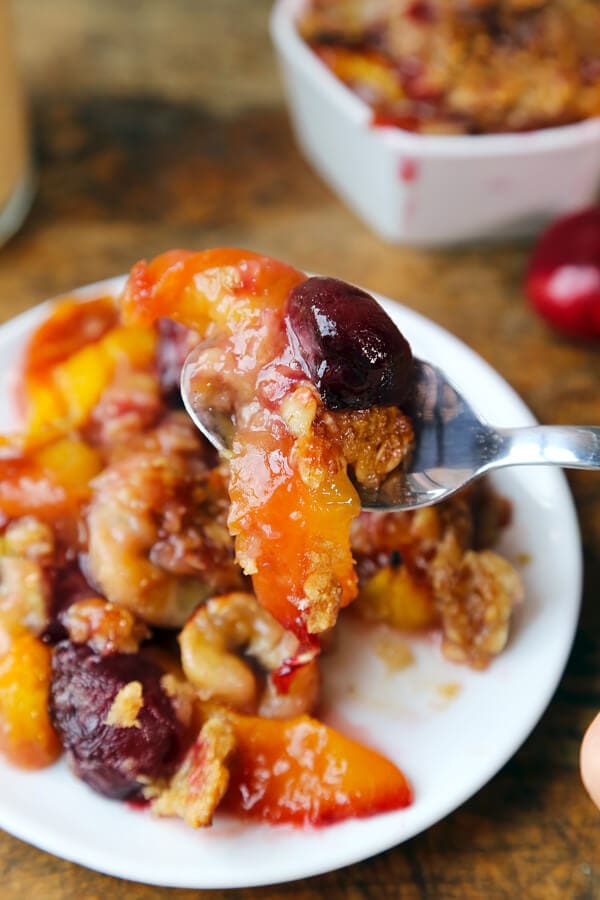 Print
Nectarine and Cherry Crumble
A delicious summer fruit crumble with fresh cherries, nectarines and banana.
Prep Time:

10 minutes

Cook Time:

44 minutes

Total Time:

54 minutes

Yield:

4

people

1

x
Category:

Dessert

Cuisine:

American
For the filling:
2

nectarines (pitted and sliced into thin half moons)

1 cup

cherries (pitted, about

12

cherries)

1

banana (peeled and chopped bite size)

1 teaspoon

lemon juice

1 tablespoon

cornstarch

2 tablespoons

brown sugar
For the crumble:
1/4 cup

+

2 tablespoons

brown sugar

1/4 cup

rolled oats

2 tablespoons

all-purpose flour

1/4 teaspoon

nutmeg (optional)

1/2 teaspoon

kosher salt

3 tablespoons

butter
Instructions
Preheat oven to 375Fº.
Put all the ingredients for the filling in a large bowl, mix well and layer in an oven proof dish or aluminum container.
Put all the ingredients for the crumble and use your fingers to break the butter, mixing well until all the ingredients are clumped together.
Break up and add on top of the filling, covering as much of the top as possible.
Cook in the oven for 40 minutes.
Broil for 4 minutes until crumble is golden brown. Serve.
Recipe Card powered by