Best 4th Of July Backyard Recipes
*This post may contain affiliate links. Read my disclaimer here.
This year, run your cookout like a pro with some of the easiest and Best 4th of July Backyard Recipes.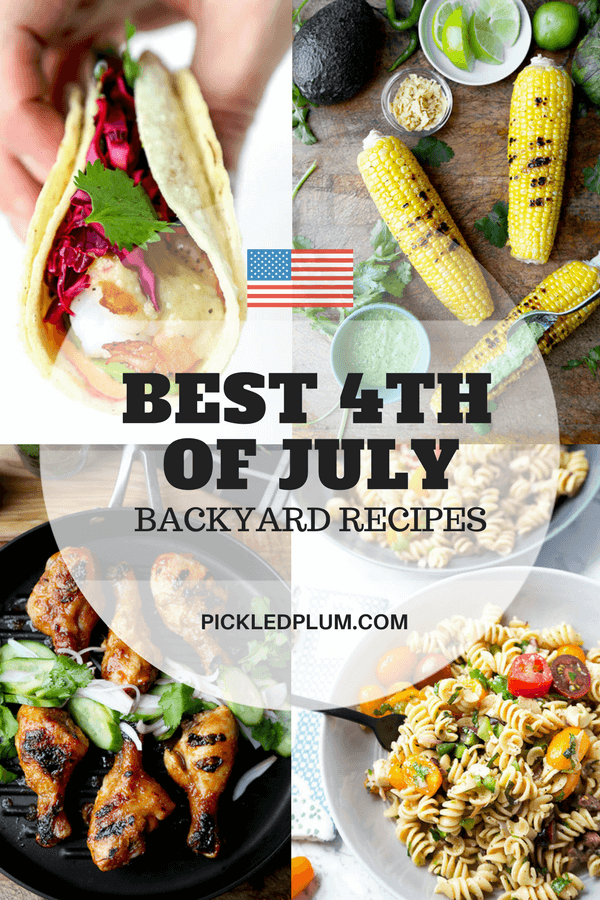 Best 4th of July Backyard Recipes
As someone who loves backyard BBQs and cookouts in the park as much as I do, the 4th of July is holiday perfection in my book! When the sun is shining brightly, I can't think of anything better than firing up the grill with family, friends and neighbors. It's prime summer! A loaded up paper plate and a frosty beverage with your besties can really do wonders for erasing the stresses we all face in everyday life. Go ahead – kick your shoes off and get those toes in the grass. And while you're at it, take a pass (or three) through the sprinklers. Trust me, you'll be glad you did. Your job on the 4th of July is to relax, eat well and find a prime bit of real estate for your lawn chair! Don't worry about what to bring to the cookout. That's my job. And I've got you covered! Here are a few of my favorite 4th of July backyard cookout recipes.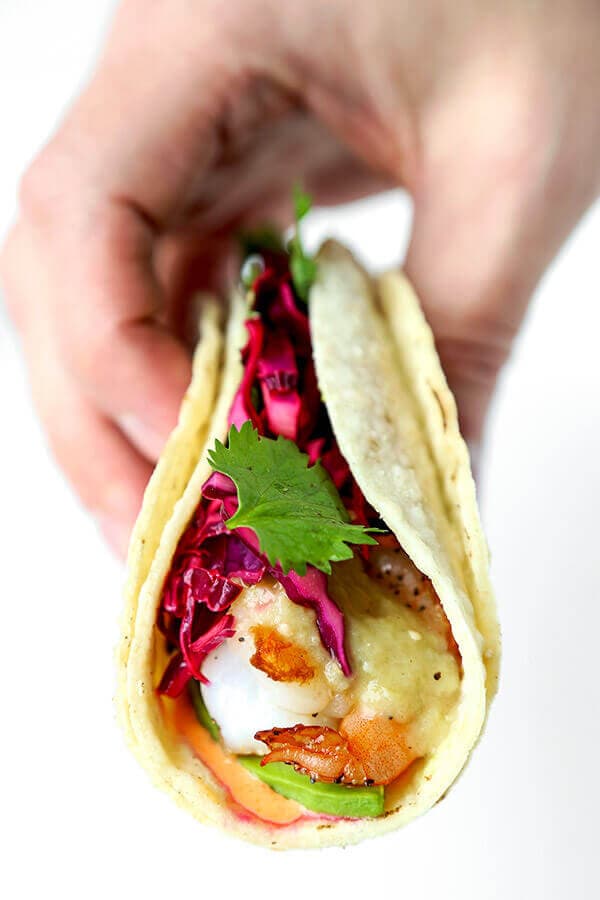 This addictive shrimp taco recipe is not only loaded with bright, assertive flavors – it's super easy to make. Sriracha mayo has a kick that is equal parts spicy and cooling, and the shredded purple cabbage brings the crunch. The bright tomatillo salsa pulls it all together with tangy panache. Plus, there's pretty-much nothing better than shrimp that has been given a sweet and savory caramelized exterior on the grill. YUM! GET THE RECIPE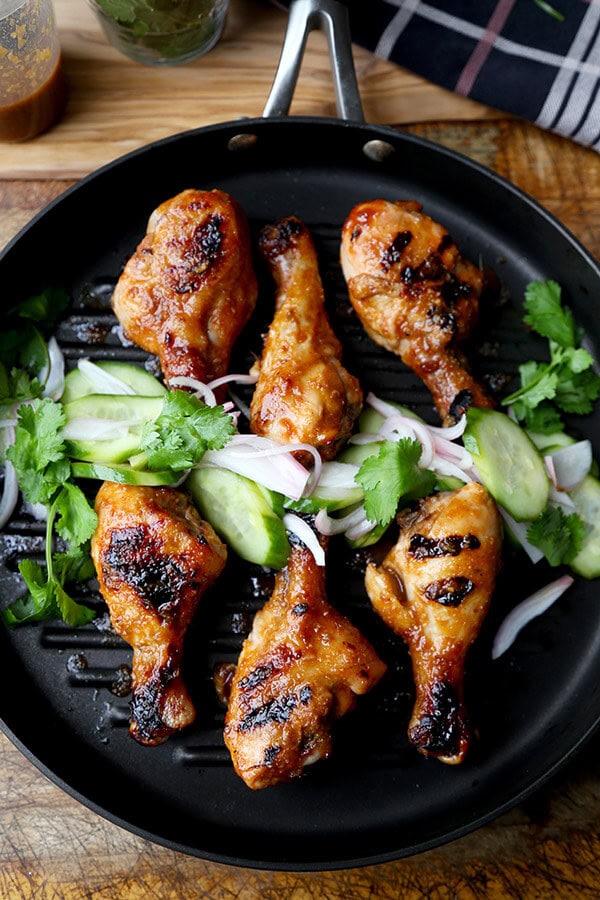 Here's a chicken preparation that absolutely needs to make an appearance in your backyard. Seriously – this smoky, tangy and sweet drumsticks recipe will be the talk of the BBQ. A bright cucumber and shallot salad is the perfect flavor counterpoint. Might want to ration these out. They're gone in a flash every year at our place! GET THE RECIPE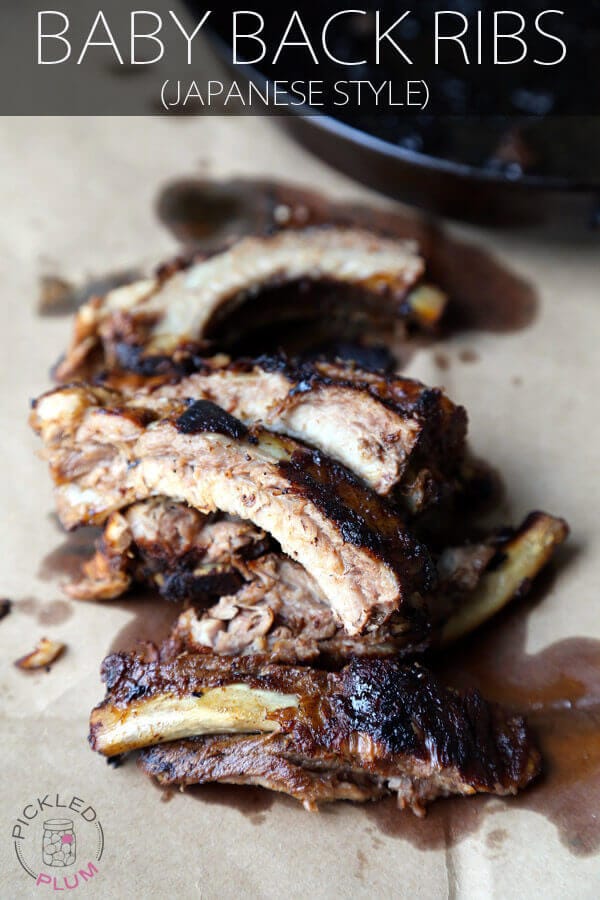 Cook them in a pan or get them going on the grill. The cooking method you choose won't change the fact that these are some seriously delicious ribs! Tender, but not fall-off-the-bone (think the texture of Chinese spare ribs), the secret to the amazing flavor is in the marinade. It's not often that soy sauce and ketchup meet in a recipe – but these are no ordinary ribs!  GET THE RECIPE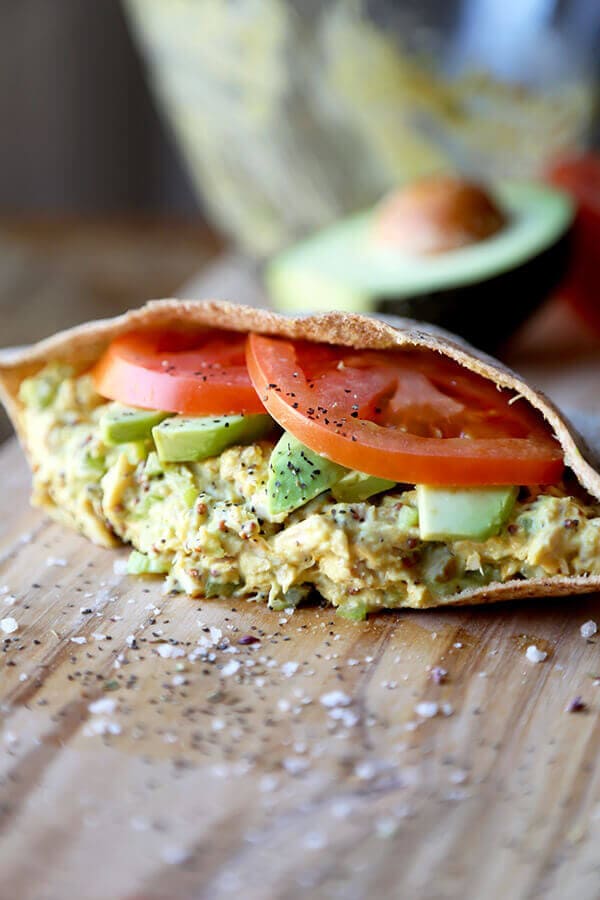 Wait – tuna salad!? Yep. It's that delicious. This is based on my Mom's amazing tuna salad – and I think you'll be shocked at how fast these sandwiches fly off the plate. Plus, this crunchy, creamy, tangy and savory tuna salad is ready in no time. So you can spend more of your day doing the things that count, which is… um… mainly eating and drinking 🙂 GET THE RECIPE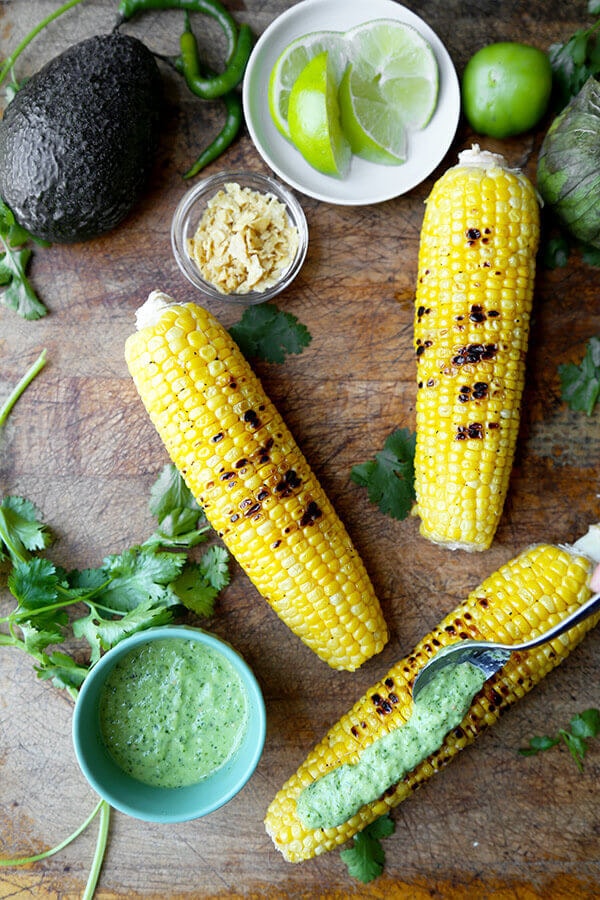 Ah… it's the age old question: What do tomatillos, tortilla chips and grilled sweet corn all have in common? If you said 'summer eating bliss,' then you win all the things. The natural sweetness of corn plays so nicely with a sear from a charcoal grill. Once you coat the kernels with a spicy, creamy and bright tomatillo salsa (and dust with crushed tortilla chips), regular corn will never be quite the same. GET THE RECIPE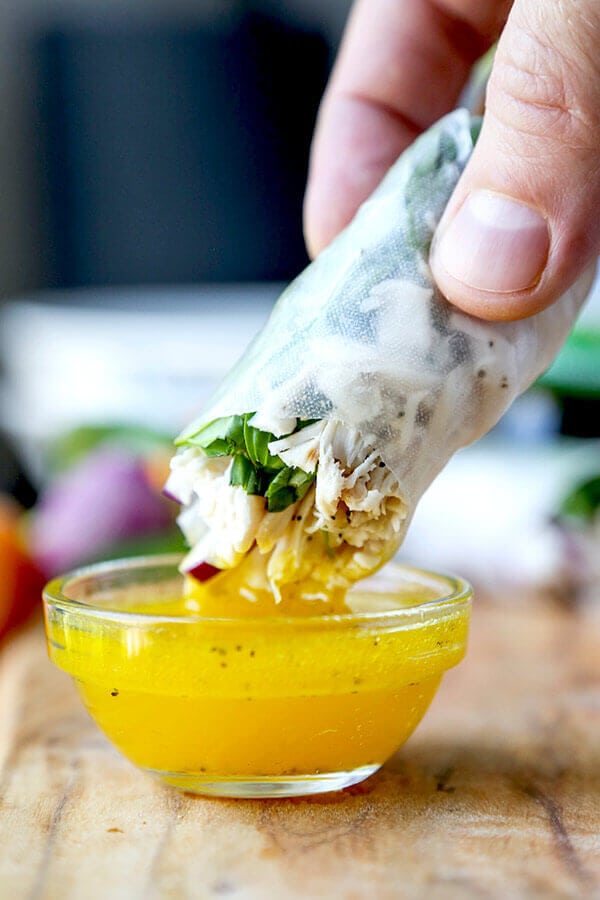 Only six ingredients are needed for this fun and delicious recipe that showcase the flavors of Italy, wrapped in a Vietnamese cloak. Savory, citrusy, peppery and aromatic – this is summer eating at it's best. Cannot find kumquats? No need to panic. Kumquats can easily be substituted for freshly squeezed orange juice or lemon juice as the tropical element in the bright dipping sauce. GET THE RECIPE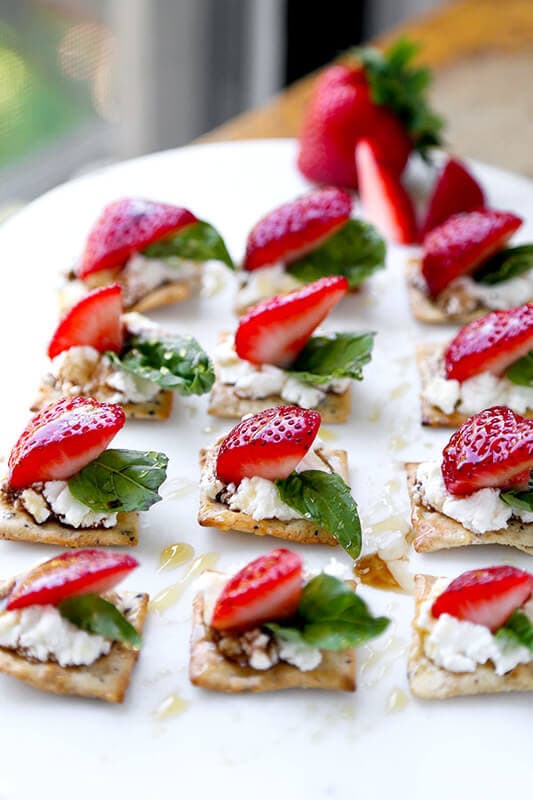 Hors d'oeuvres at the BBQ!? Heck yeah! Strawberries and ricotta are sorta food-BFFs as far as I'm concerned. Salty cracker: check. A drizzle of balsamic and chopped basil round out the flavor profile and create a snack that everyone at the backyard cookout will be packing away with abandon. GET THE RECIPE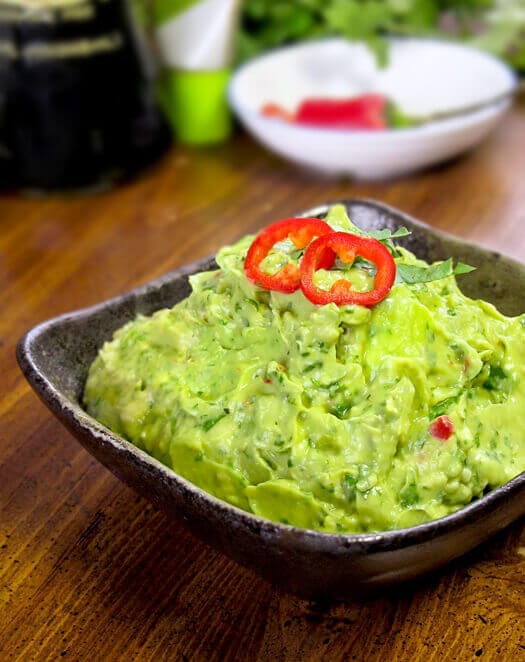 I have to give props to Chef Morimoto for the inspiration to put soy sauce and wasabi in an avocado dip in the first place. Almost like a food gateway drug, once I tried it the first time, it was almost impossible not to do it in the future. It is THAT good. The familiarity of spicy jalapeno and bright cilantro still make it guacamole – but with a majorly delicious Asian twist! GET THE RECIPE
This is that salad you bring to the cookout that gets as many oohs and aahs as the burgers and ribs. Heirloom cherry tomatoes, and basil bring fragrance and summer color to the mix, while Parmesan and kalamata olives impart unreal umami. The flavor secret weapon, however, is the homemade Italian dressing (you'll never buy another bottle of the store bought stuff after you've tried this one)! GET THE RECIPE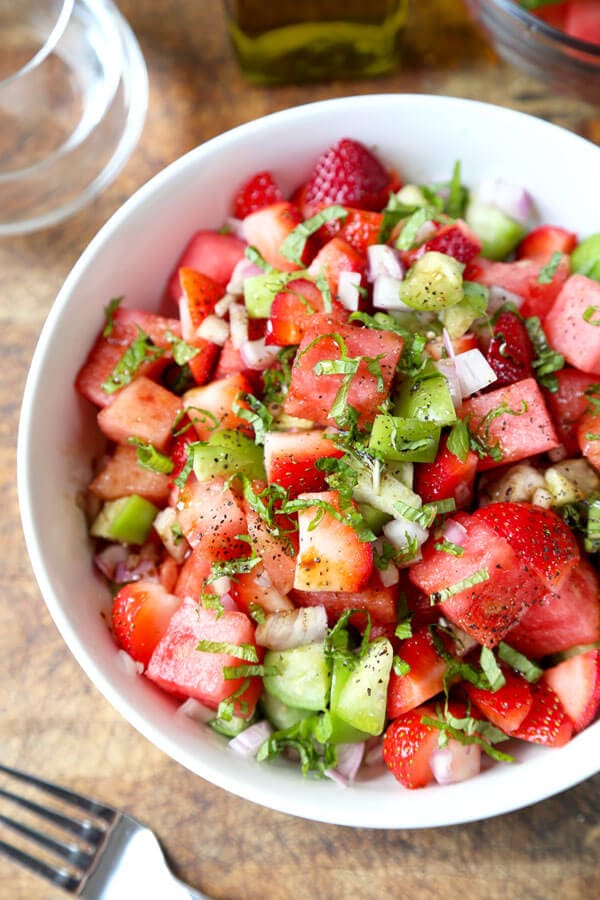 You know when you watch a recipe video on Facebook and it looks super easy… until you try to actually make the darn thing? Well, watch the video for this sweet, tart and cooling summer salad. I promise – it's absolutely as easy as it looks. Bonus: this colorful fruit salad will help quench your sun-drenched summer thirst! GET THE RECIPE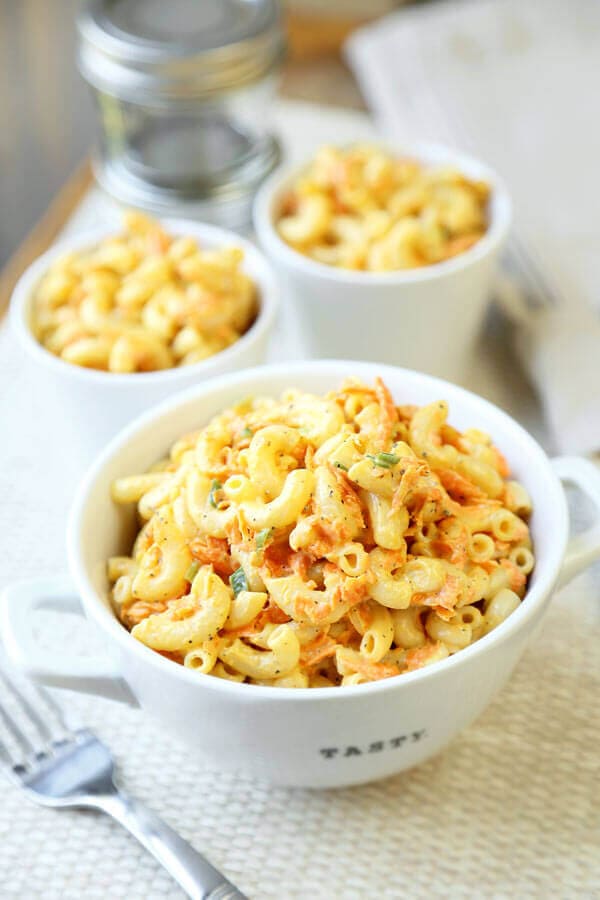 A summer cookout practically DEMANDS there be a creamy macaroni salad of some sort in attendance. It's in the rule-book! While some recipes might be a little taxing on the waistline, this healthier version calls for light mayo, Greek yogurt and a touch of milk. The resulting sweet creaminess will have your BBQ buddies convinced it's the OG, full-fat version. Your secret is safe with me! GET THE RECIPE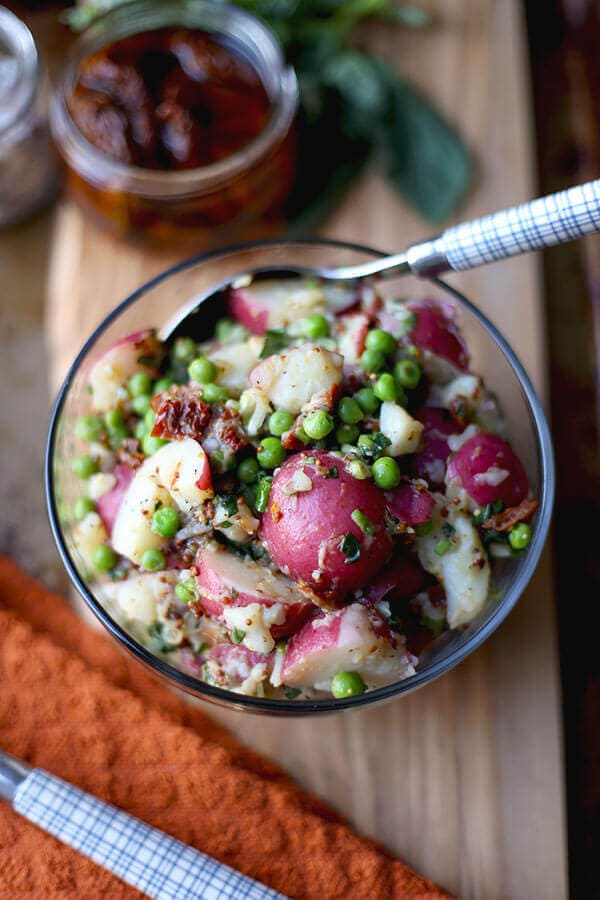 I love potato salad! Add a few sun-dried tomatoes to the mix and I'm in heaven. The pop of green peas and the zing of mustard round out the flavor profile of this red potato salad. All cookouts need a potato salad of some sort. Bring this healthy and delicious recipe, and be the BBQ hero. GET THE RECIPE
Through extensive summertime research, I have concluded that lemonade is the best! Super scientific, I know. What isn't the best is when lemonade is sweeter than a can of soda. A little sweetness is totally necessary – but the most important aspect of a good lemonade (in this humble scientist's opinion) is tartness. This is a pucker worthy, minty lemonade recipe that won't pack on unwanted calories! GET THE RECIPE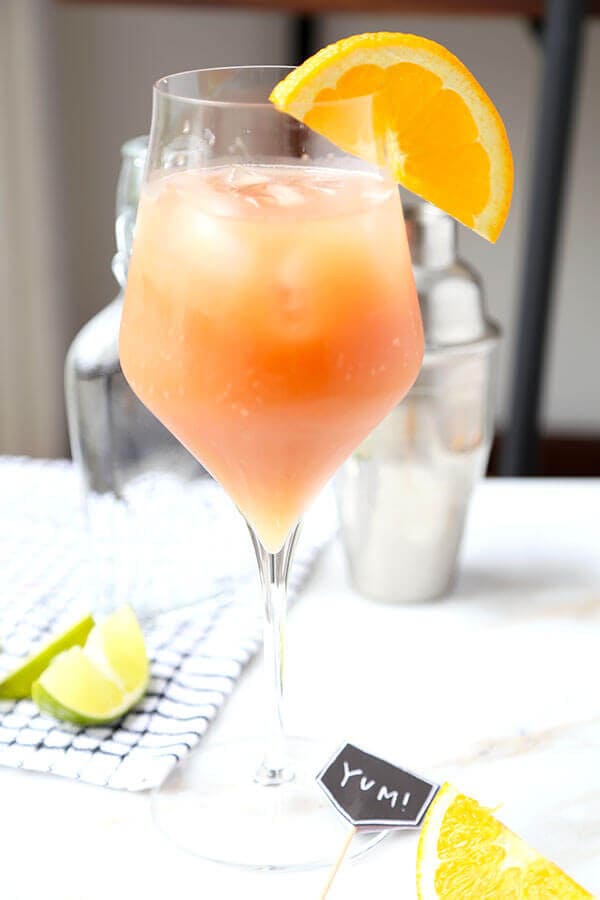 With the color of a sunset – and a tropical, fruity punch – this sex-on-the-beach recipe is a no-brainer for your summer cookout. Sure, a drink known for it's spring break roots isn't always my first choice of cocktail. But when it tastes this good, I'm all in! There's a reason this fruity summer refreshment is synonymous with sun, sand and water. Delish! GET THE RECIPE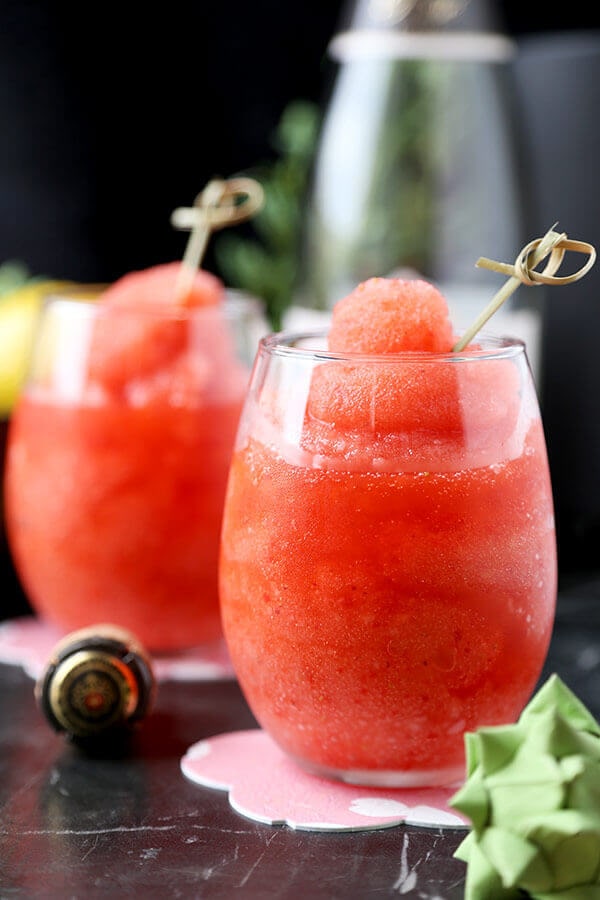 Similar in many ways to a frozen strawberry daiquiri, but made with rosé wine instead of rum, these bright, slushy treats will be super popular at the cookout. I mean, what's better than pureed strawberries and rosé? Answer: not much 🙂 GET THE RECIPE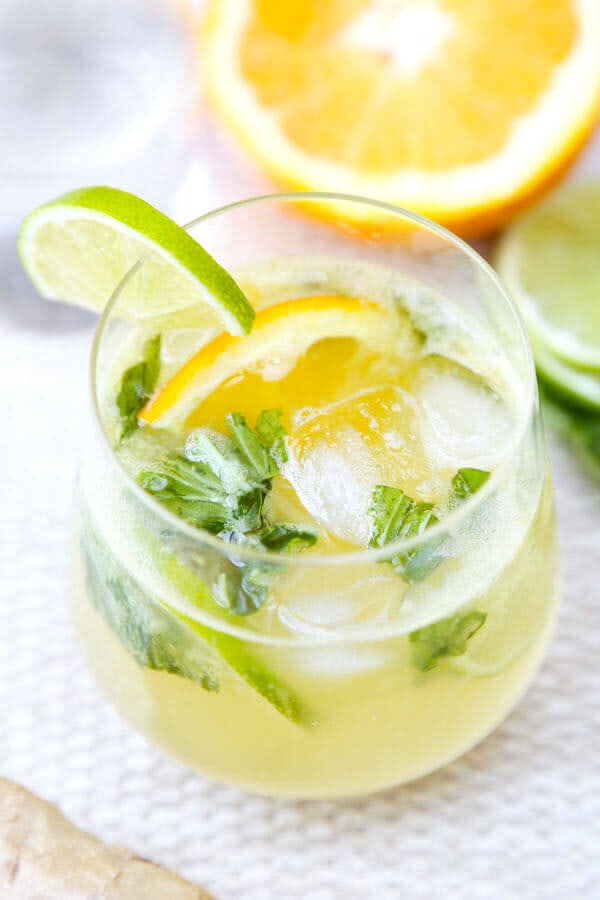 Loaded with the bite of freshly grated ginger and fragrant muddled basil, this is a cocktail that makes everyday feel like Saturday! Make the base ahead of time, and when your guests arrive just add vodka and soda. Easy! Not many adult beverages have a thirst-quenching quality to them, however this one most definitely does. Careful… They go down easy! GET THE RECIPE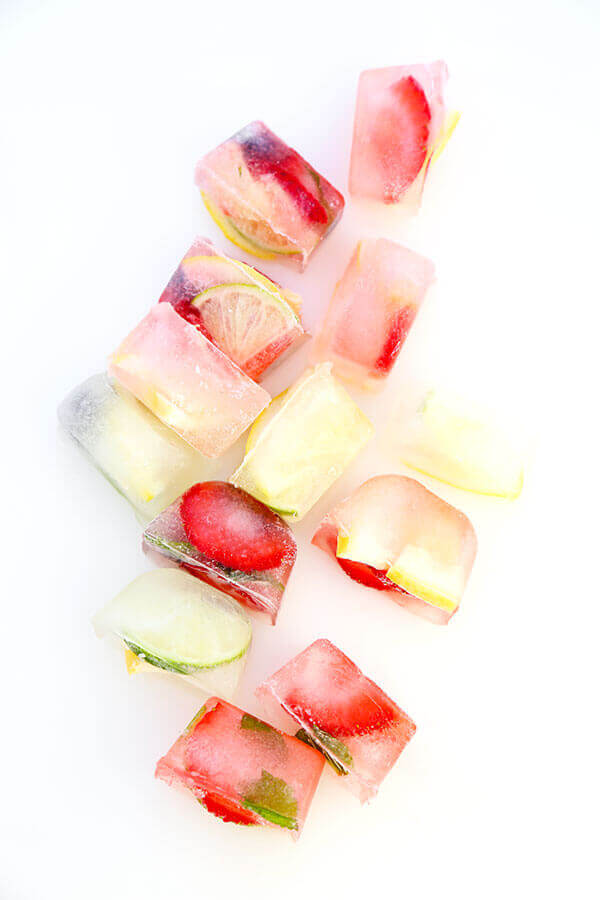 Delicious in a cocktail, or in a refreshing glass of plain ol' water, these fruit loaded ice cubes are the easiest thing you'll prep for your 4th of July cookout. As they melt, they impart hints of tropical goodness to your beverage of choice without becoming overwhelming. Best part: there's no set recipe. The fruit you love best is the fruit you use in your ice cubes! GET THE RECIPE
Pickled Plum is a participant in the Amazon Services LLC Associates Program, an affiliate advertising program designed to provide a means for sites to earn advertising fees by advertising and linking to amazon.com.