Offer a fun and creative way to eat veggies! This an easy Japanese style bagna càuda that doesn't require any heat or fondue sticks. Stacking the cubed vegetables in the shape of a Rubik's cube is a sure way to impress anyone who's coming to dinner tonight! Ready in 18 minutes from start to finish.

Japanese Bagna Càuda
I think you'll agree with me when I say:
I'm not ready for hearty stews, hot chocolates and the days getting shorter.
Is summer really over?
Not for me. I'm putting together a few more cold dishes before the warm season packs its bags and says goodbye, until next year folks. I'm squeezing out the last bit of it with a light and colorful vegetable bagna càuda recipe.
This way I can pretend to be on vacation somewhere in Italy, with the warmth of the sunshine on my cheeks. I imagine a car weaving down a winding road, Ben is at the wheel while I'm listening to the latest pop music hits. The wind in my hair is also blowing away my troubles, leaving only thoughts about food and what type of wine to drink on my mind. It's a glorious day. Summer is not ending, it's just beginning.
Sometimes food can elicit some pretty serious daydreaming on my part, especially when a dish is unique to a particular region. Such is bagna càuda, a dish that hails from the mountainous region of Piedmont in Italy. Surrounded by the Alps, Piedmont is bordered by France, Switzerland and the Italian regions of Lombardy, Liguria and Aosta Valley.
The food in Piedmont is rich and savory so it can pair well with the heavy Nebbiolo wines, which are local to the region. Famous foods such as:
Tajarin – yellow, egg rich, ribbon-like pasta served with meat ragu or butter and sage.
Agnolotti – small ravioli style pasta stuffed with veal, pork, beef, and rabbit or vegetables.
Cheeses. Piedmont is famous for their Montebore, Robiola and Bra Duro.
And of course the staple of the region, bagna càuda.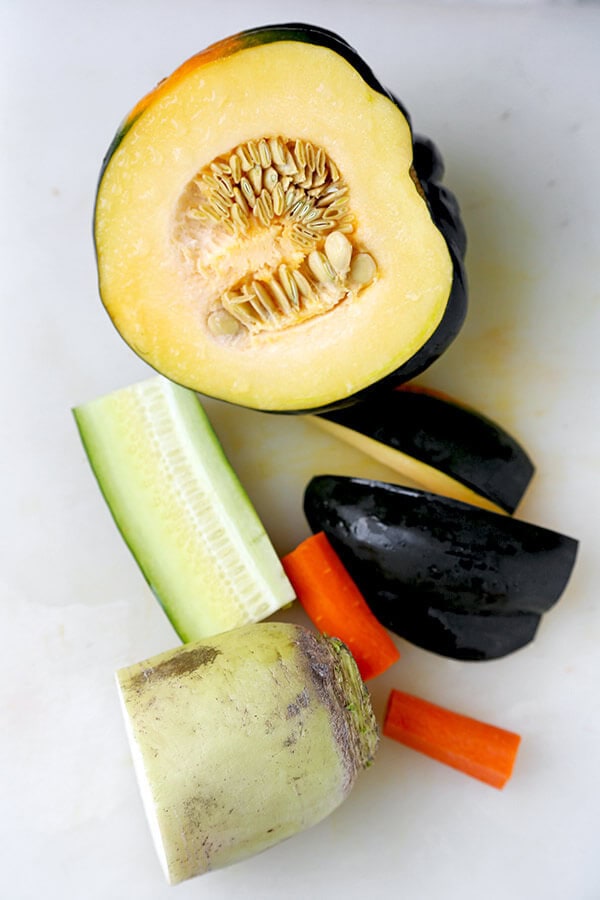 What is Bagna Càuda?
Bagna càuda is a warm sauce or dip made with anchovies, olive oil, garlic and butter, and served with raw and cooked vegetables. It's very similar to a fondue except that it's traditionally served as a snack or appetizer. Some say bagna càuda was prepared for wine workers after the harvest, as far back as the Middle Ages. It was served to celebrate the "new," freshly pressed wine. The literal translation means 'hot bath.'
The original recipe calls for the dipping sauce to be served warm, but because I don't have a fondue pot, I had to make some minor changes. I've swapped the butter for cream so that the sauce can be served cold and preserve the same creamy texture. My recipe is adapted from a Japanese cookbook I purchased during my last visit in Tokyo. It's also the reason why I've added the adjective to the title. That's about as Japanese as the recipe gets 😉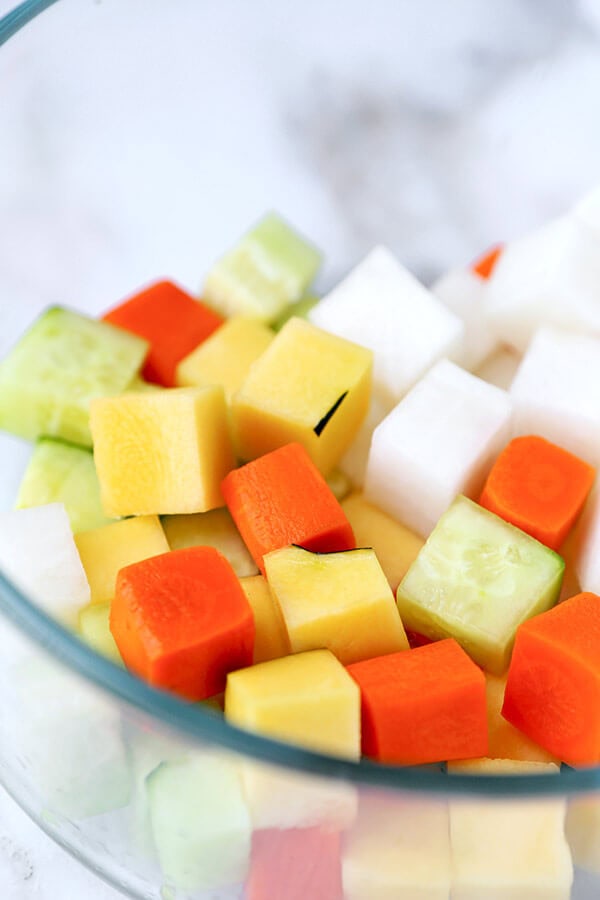 Serving this dish with cubed vegetables is optional. The reason why I chopped mine this way simply was for esthetic purposes. I wanted the images to have a wow effect since my goal is to entice you to give this recipe a try!
Why?
Because it's really yummy!
However,  if you find the chopping process too time consuming, vegetable sticks are just as good and satisfying. Here's my advice – if you are making this for yourself or your family, go with veggie sticks. Hosting a dinner party? Go with the cubes.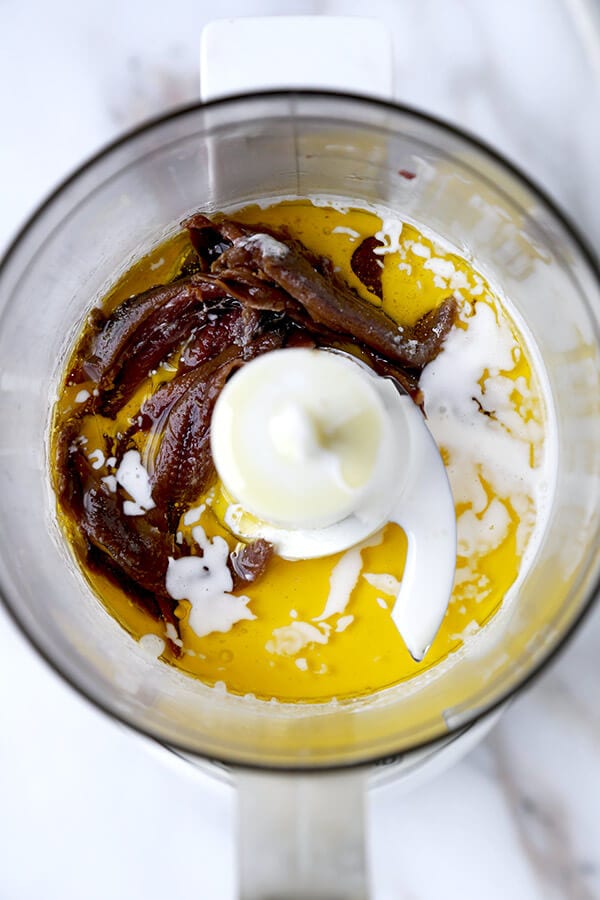 Is it really fishy?
Well, yes. It's a dip made with lots of garlic and anchovies so I don't advise making this if you are having a first date with someone. Also, if you're not too fond of strong salty flavors, you might want to shelf this recipe.
On the other hand, if you really enjoy the taste of anchovies, then this recipe will put you on cloud nine. It's a pungent food lover's dream dish!
Other delicious vegetable recipes: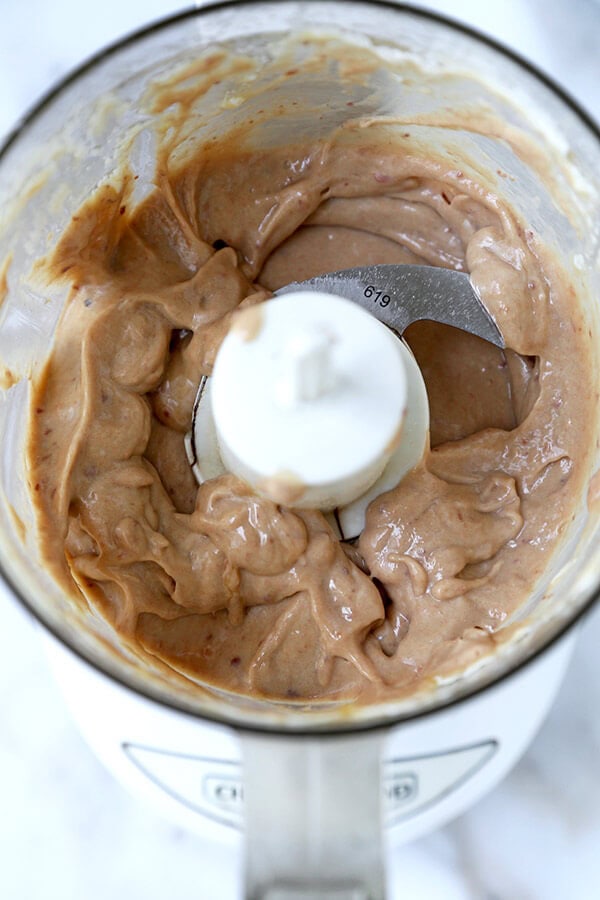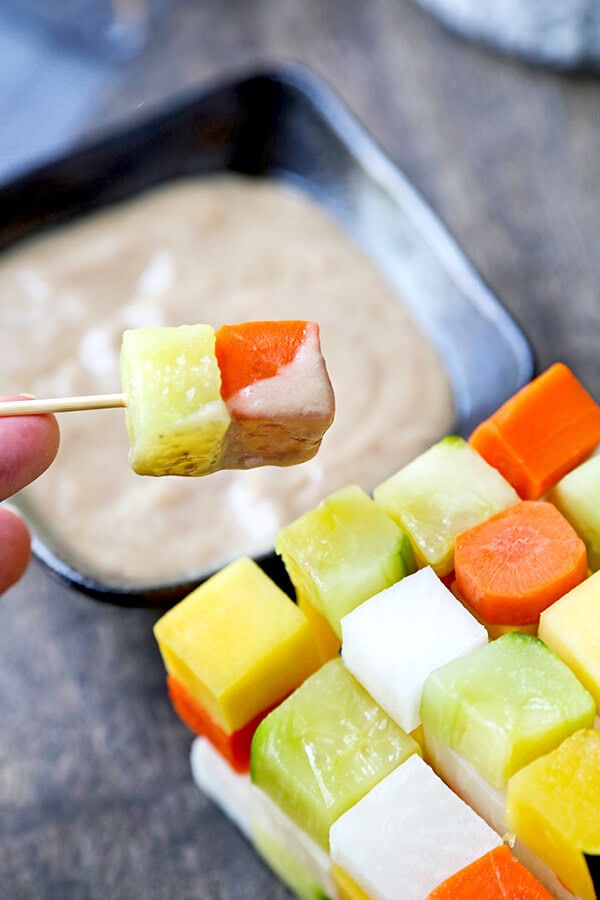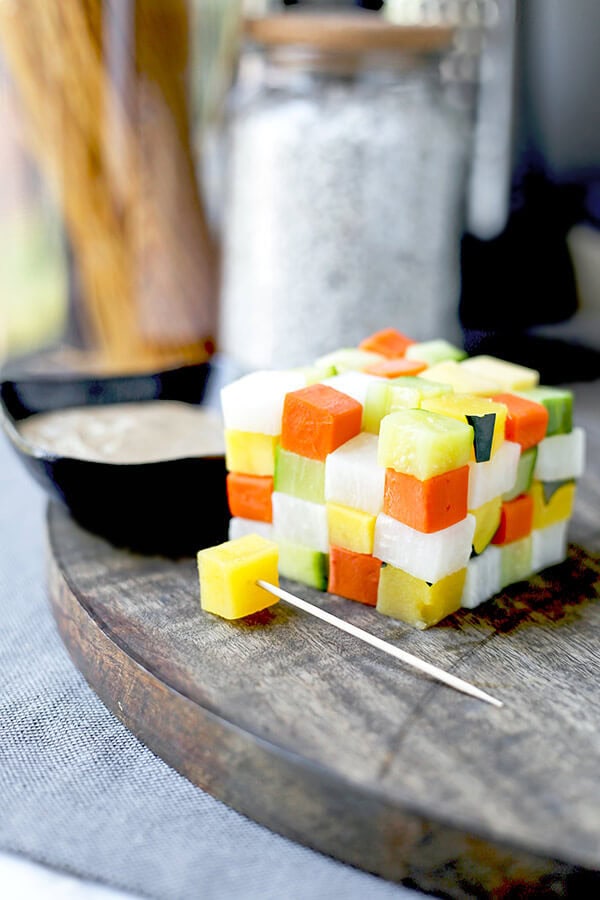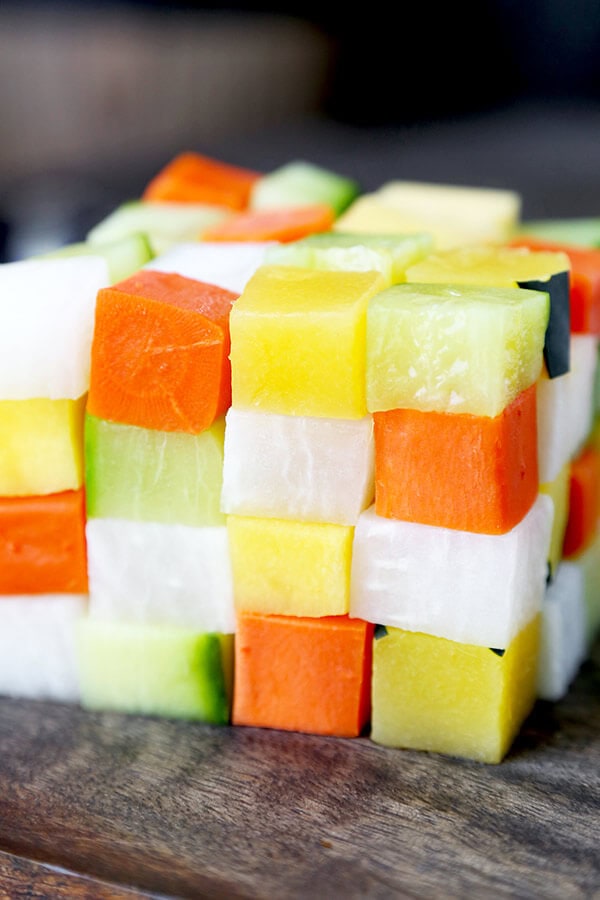 Did you like this Easy Vegetable Bagna Càuda Recipe? Are there changes you made that you would like to share?
Print
Veggie Cubed Bagna Cauda
A classic Spanish dish with a Japanese twist!
Author: Caroline Phelps
Prep Time:

15 minutes

Cook Time:

3 minutes

Total Time:

18 minutes

Yield:

2

people

1

x
Category:

Appetizer

Cuisine:

Japanese
1

clove garlic (peeled)

1/4 cup

extra virgin olive oil

56 grams

anchovy fillets in oil (patted dry)

1/4 cup

heavy cream

120 grams

carrot (peeled)

120 grams

English cucumber

120 grams

daikon (peeled)

120 grams

kabocha squash
Instructions
Blend garlic, olive oil and anchovies in a blender until smooth.
Transfer to a bowl and whisk in cream until mixture has emulsified. Transfer to a dipping bowl and set aside.
Cut vegetables into even bite size cubes and put in a microwave safe container. Alternatively, you can chop the vegetables into sticks.
Close with a lid or seal with plastic wrap and microwave on high for 2-3 minutes, until vegetables are softer but still yielding a crunch.
Transfer vegetables to a plate and build a cube by piling on different colors. Skip the building step if you are serving vegetable sticks.
Serve with bagna cauda sauce.
Notes
Bana cauda is best served fresh.
Keywords: recipe, side, snack, easy, healthy
Recipe Card powered by