A bright and pillowy soft Spring Pea Pancakes Recipe. These small savory pancakes have the verdant pop of fresh green peas. Find out how to choose the best fresh peas – and info on frozen vs fresh spring peas. It's springtime on a plate!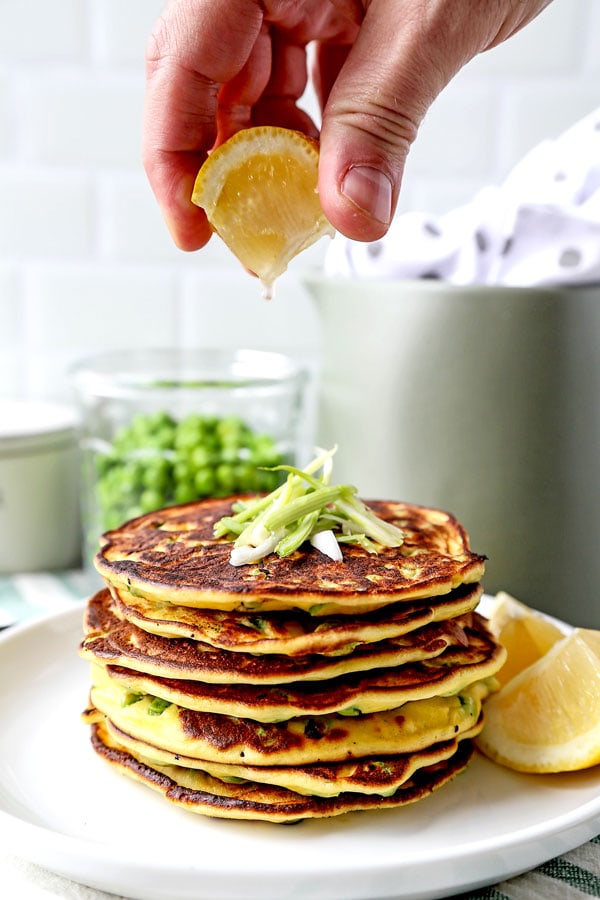 Spring Pea Pancakes
Spring has sprung!
After a slooooow start here on the East Coast, the trees are blooming, the birds are singing – and the honey bees are buzzing on their noble journey.
Spring also means that the fresh peas at the farmer's market are at their peak perfection!
There's nothing more exciting to me on a sunny Saturday than to take a trip to an outdoor veggie bazaar. Selecting the best the season has to offer – and then trying to come up with recipes to use all that gorgeous produce is kinda my very own honey-bee-like mission.
And I take it seriously!
You see, I love all fresh veggies – but spring peas hold a special place in my heart because the season is so short and fleeting (more on that in a sec).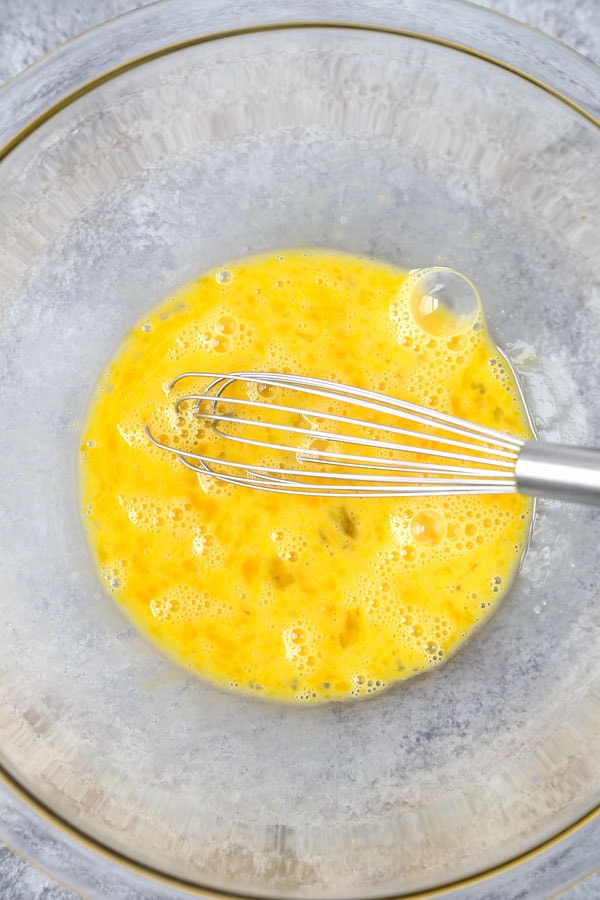 Seriously – I love peas in my paella, peas in my potato salad – and what would a yummy fried rice be without the verdant, light pop of the green pea!?
I'm sure you'll agree with me though that, aside from a simple pea salad or a snap-pea stir fry, there aren't nearly enough pea recipes where the pea actually takes center stage.
Good news on that front, friends!
Today, we'll be whipping up light and fluffy spring pea pancakes that showcase the green pea in all its springtime glory!
However, it doesn't have to be springtime to make these pea loaded homemade pancakes.
I look forward to telling you why these can be made in any season!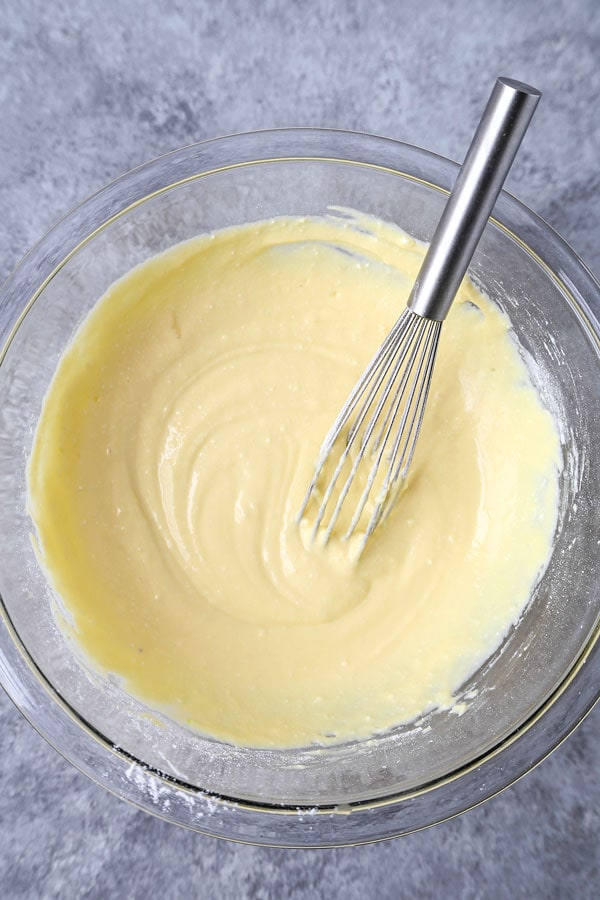 When is pea season?
Just as our heavy coats and long underwear go into storage for the year, green peas are starting to come into their own.
Starting around the very end of April through the early summer months, peas are at their height of freshness.
There's a delicate and tender crunch to perfectly fresh peas that is just so out of this world!
It's quite unfortunate then that the natural sugars that make fresh peas so sweet and bright start to convert to starch pretty much as soon as the pods are picked.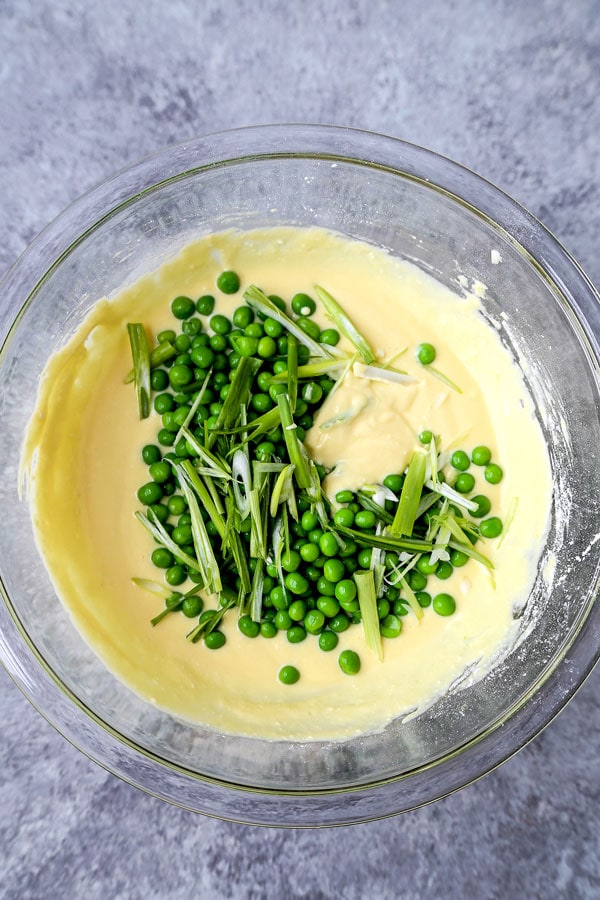 How to choose the best green peas
When looking for peas at a farmer's market or grocery store, look for bright green pods.
Is 'squeaky green' a thing? Ha! Look for a shiny uniformity in the pods.
Now, if the pods look withered, it might be best to move on to another bunch.
Same if the pods are bulging or splitting. That means that the peas are probably too old and have become starchy.
You should be able to lightly shake a pea pod and not hear a ton of movement inside. Fresh spring peas are plump, and probably packed in there pretty well. If you hear significant rattling inside pod, the peas may be on the dry side.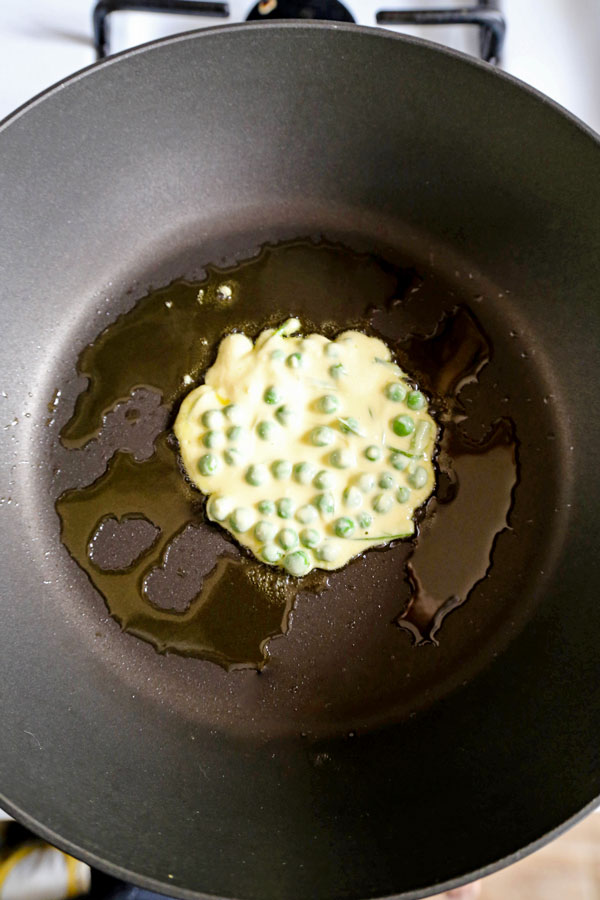 Nothing better than fresh green peas… er, well, frozen is pretty good too
Once you've experienced the perfect, little verdant pop of spring peas, it's something you're going to want again and again.
Unfortunately, since pea season is so short – and because green peas start to get starchy and hard a few short days after they're picked – you'll want to do one of two things.
When whipping up these spring pea pancakes from scratch, you'll either want peas that were picked recently (like today or yesterday)…
… Or you'll want to use frozen peas.
Now, let's get this out of the way: fresh peas are the best. No question about that.
However, green peas freeze and thaw much better than most other vegetables.
Accordingly, that $32 risotto with fresh sweet peas you ordered at that fancy restaurant in January likely utilized frozen peas.
Yep, I know, seems like false advertising, right?
But freezing fresh peas and then using them after a thaw is infinitely better that using week-old 'fresh' (never frozen) peas that have likely turned to hard little starchy bummers 😉
Therefore, when whipping up these spring pea pancakes from scratch, you'll want peas that are super fresh, or peas that were frozen at their peak of freshness.
So, basically, if it's pea season, hit the market, STAT!
If it's the other ¾ of the year, frozen isn't so bad.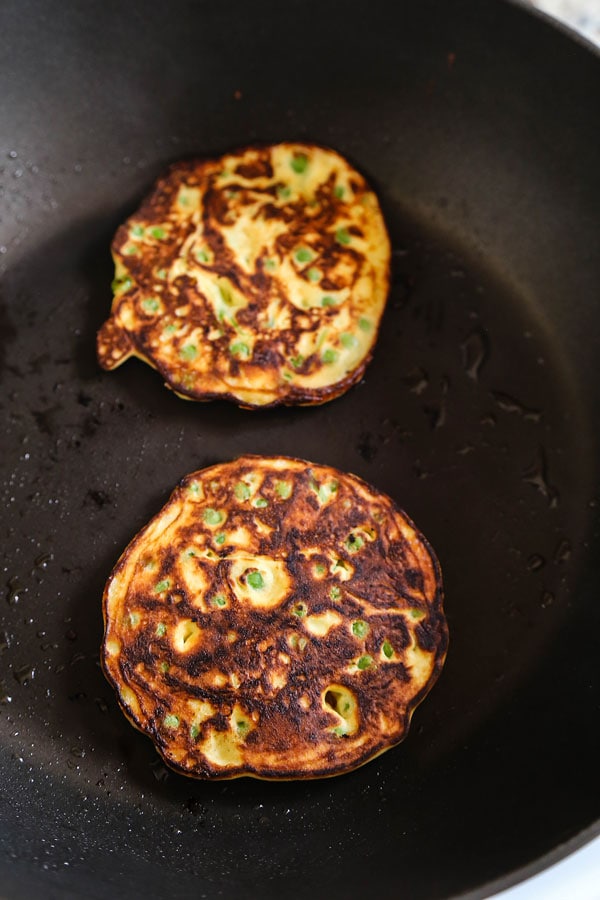 How to make the pea pancakes batter
Now the fun begins! It's a breeze getting a light batter together for this lovely green peas recipe.
Seriously, you'll only need five minutes to mix up a batter for these pea pancakes that manages to showcase the light flavors of both the pancakes and the fresh peas.
First, crack three large eggs into a mixing bowl and add two tablespoons of olive oil.
Next, add your lemon juice, ricotta cheese, flour and a pinch of salt and give it all a good mix.
Once the batter is reasonably smooth, add your fresh peas (if you're using frozen, make sure they're thawed) and scallions and fold them in.
And that's it for the batter!
Yep – mega easy 🙂
As you can tell from the ingredients list, while this recipe is meat-free, these aren't vegan pea pancakes.
The ricotta cheese lends a super airy fluffiness to the batter that is tough to replicate.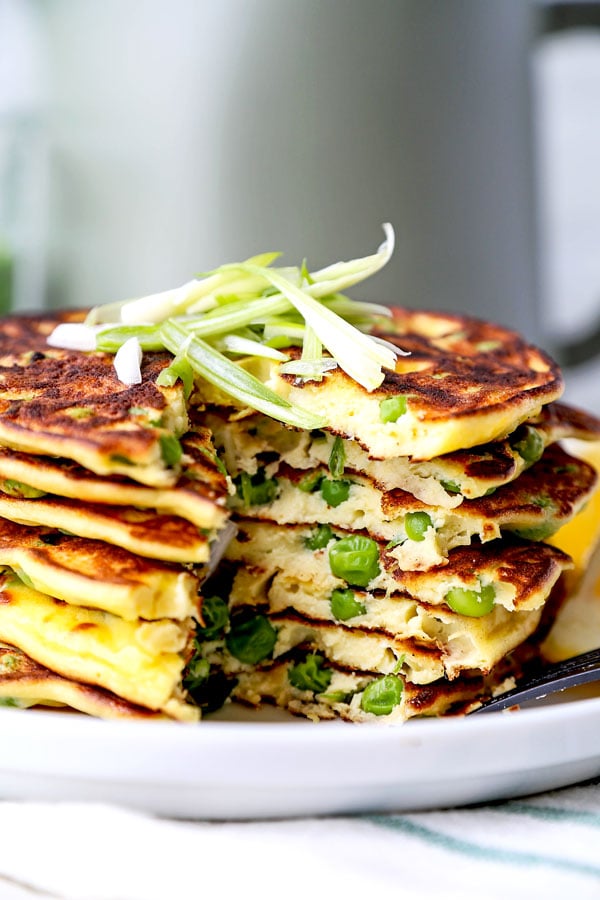 How to make pea pancakes
Now, all that's left is to get a large pan going over medium heat and add a drizzle of olive oil to coat the bottom.
Getting hungry?
I know I am!
Once the oil is hot, use about a quarter cup of batter to make each pancake. Don't over crowd your pan! Two or three pancakes per batch is probably the sweet spot.
Overcrowding your frying pan with too many pancakes can lower the overall heat, and prevent the browning that makes these pea pancakes so texturally awesome.
Cook for about 2-3 minutes on each side – and flip once golden brown. Then plate them up!
I LOVE a squeeze of lemon atop a yummy stack of pea pancakes. But I also found that a drizzle of balsamic vinegar really added an understated sweetness to the whole mix.
The pop of the green spring peas is such a fun textural element inside the fluffy pancakes. And the pancakes themselves are pillow soft.
You KNOW the interplay of sweet from the peas and savory from the pancakes is right in my wheelhouse from a flavor perspective.
Whether you eat these for brunch on a bright spring day after a trip to the farmer's market – or in the dead of winter with fresh peas of the frozen persuasion, you're gonna probably want seconds.
YUM!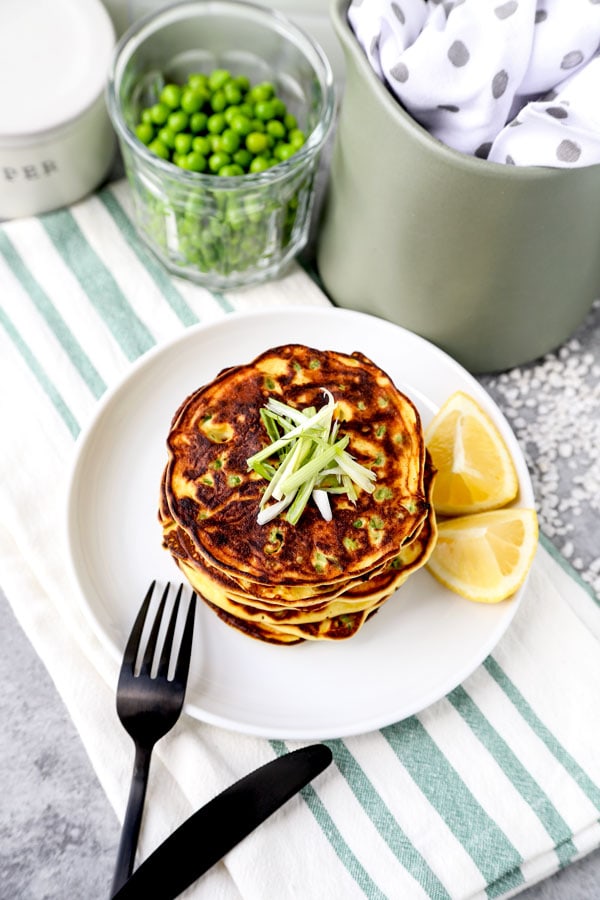 A delicious sweet peas recipe. An easy pancake recipe.
I'm such a sucker for recipes that hit two important criteria before I even start the cooking process.
They're such simple questions, they almost don't bear repeating. However, since we're on the subject…
… Here are the two questions I subconsciously ask myself before starting any project in the kitchen:
Q: Will it be delicious? A: It better be. I love experimenting (and sometimes weird combinations turn out to be the best ones). But if I'm not reasonably convinced it's going to turn out tasty, well that's a complete non-starter.
Q: Will it be easy? A: I sure hope so. Again, I've been known to take on some epic, tough recipes. But, I gotta say, I totally look forward to the easy ones. And if it's a busy weeknight, you better believe I'm going with easy over complex 🙂
Luckily this bright and healthy pea pancakes recipe lands squarely in both the delicious and easy categories.
So, anytime I consider getting started on these spring pea loaded fluffy pancakes, it's a task I actually look forward to from a cooking and eating standpoint.
That's a win/win for sure!
What about you? Is there a mental checklist you go through before starting a cooking project in your home kitchen? I'd love to hear about it in the comments section!
Other simple, delicious and bright veggie-forward springtime recipes: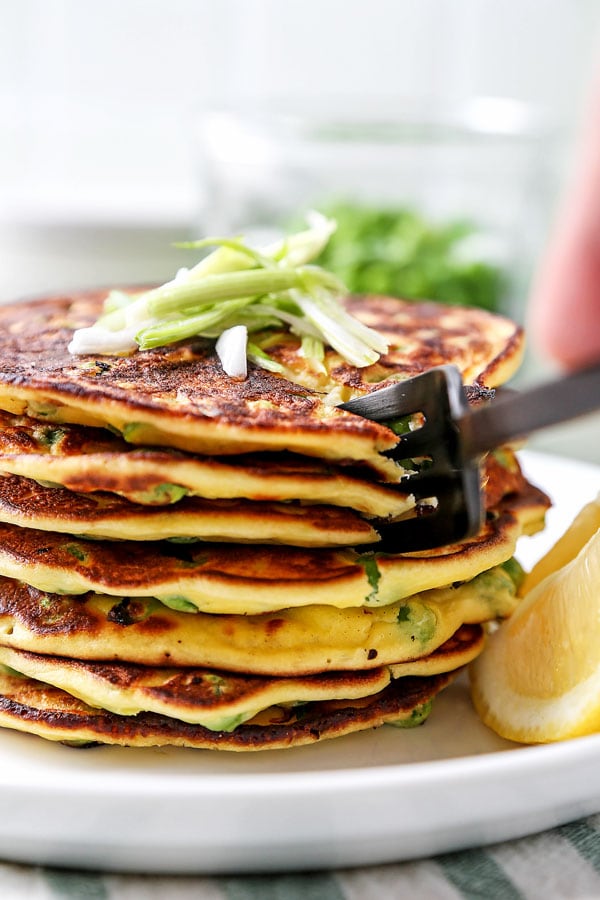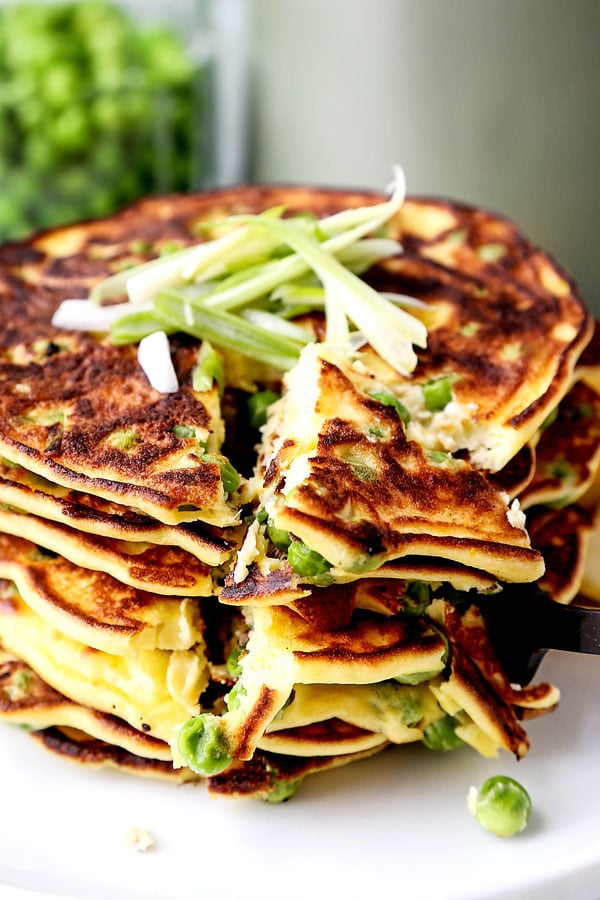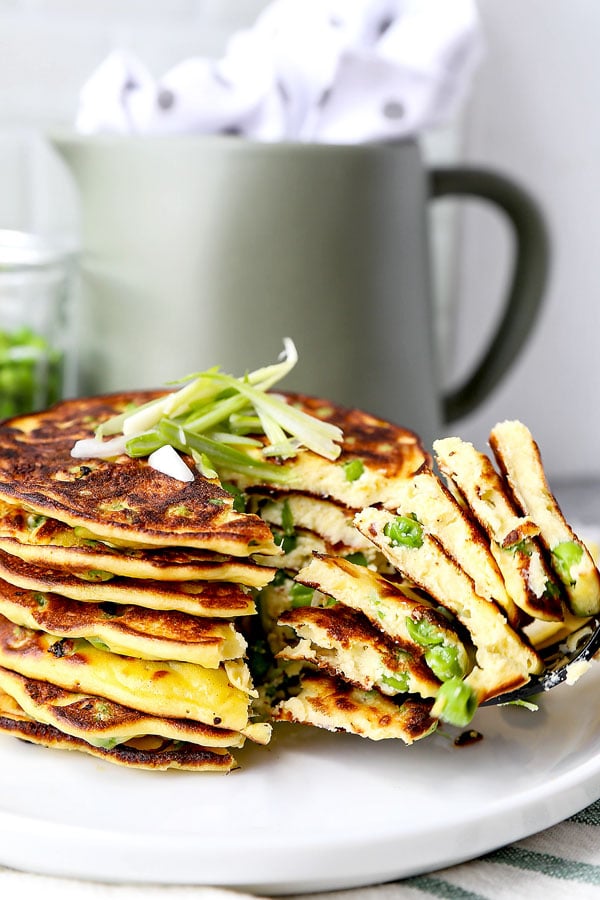 Did you like this Spring Pea Pancakes Recipe? Are there changes you made that you would like to share? Share your tips and recommendations in the comments section below!
Print
Spring Pea Pancakes
Light and fluffy pea pancakes drizzled with fresh lemon juice.
Author: Caroline Phelps
Prep Time:

5 minutes

Cook Time:

5 minutes

Total Time:

10 minutes

Yield:

6

pancakes

1

x
Category:

Breakfast

Method:

Pan frying

Cuisine:

French
3

large eggs

2 tablespoons

olive oil (plus extra for for frying)

1 teaspoon

lemon juice

1 cup

low fat ricotta cheese

1/4 cup

all-purpose flour
pinch of salt

1 cup

fresh peas – or frozen peas (thawed)

2

scallions (sliced into thin strips)
lemon wedges or balsamic vinegar (for serving)
Instructions
Whisk eggs, 2 tablespoons olive oil, lemon juice, ricotta cheese, flour and salt.
Add peas and a scallions and mix well.
In a large pan over medium heat, add olive oil.
When the oil is hot, add batter to skillet (about 1/4 cup per pancake), spreading the batter into mini pancakes. Be careful not to overcrowd the pan as this lowers the temperature of the pan (2-4 pancakes per batch is good).
Cook on each side for 2-3 minutes, until the pancakes are golden brown.
Transfer to a plate and serve with lemon wedges or a drizzle of balsamic vinegar.
Nutrition
Serving Size:

1 pancake

Calories:

170

Sugar:

1.5 g

Sodium:

101.3 mg

Fat:

10.5 g

Saturated Fat:

3.5 g

Carbohydrates:

9.6 g

Fiber:

1.2 g

Protein:

9.6 g

Cholesterol:

105.8 mg
Keywords: recipe, brunch, crepes
Recipe Card powered by