Looking for something a little spicy with authentic Southeast Asian flavors? Try this delicious kabocha squash and adzuki bean soup! With a kombu, chili paste and fish sauce broth, it's love at first sip! 

Spicy Kabocha Squash And Adzuki Bean Soup
I have a major weakness for Southeast Asian flavors.
You know, the combination of pungent, sour, spicy and savory that can only be found in that specific part of the world? I could have it every day.
What's even better is when it's presented in a super healthy form so I can have bowls and bowls of it, without having to worry about how many calories I'm scarfing down.
The first time I made this spicy kabocha and adzuki bean soup was the day I received Lucky Peach's Vegetable Power in my mailbox. One of the recipes was – you guessed it – a kabocha and adzuki bean soup!
It looked so stinky and amazing I made it for dinner that night.
Am I telling you that stinky is amazing?
Yes! When it comes to certain foods, like blue cheese and dishes using fish sauce, I say bring on the stink!
The soup came out good – a little bland to my liking but it was no big deal. I made a few changes to suit my taste buds and now I'm completely addicted to it!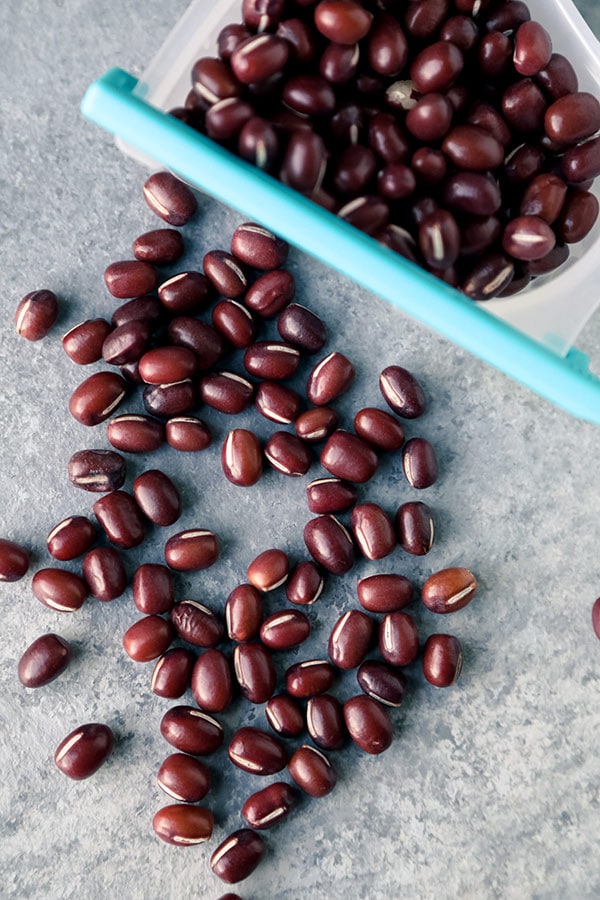 Adzuki Beans (アズキ)
Adzuki beans (アズキ or 小豆) also called azuki or aduki beans, are small, red beans often used in Japanese and Chinese cooking. They are most often used in desserts, mashed and mix with sugar to create a sweet paste.
I've eaten adzuki beans most of my life since it's one of my mother's favorite dessert foods. I grew up with mochi filled with adzuki bean paste, green tea and adzuki popsicles, shave ice topped with adzuki beans and sweet adzuki bean soup. But my all time favorite adzuki bean based dessert is taiyaki, a fish shaped wafer filled with adzuki bean paste. Yum!
Using adzuki beans in a savory dish was a first for me.
I was very happy to see that the results were just as delicious as the sweet kind! The taste of the beans is very subtle and doesn't distract from the overall Southeast Asian flair of the soup. They add a slight nuttiness while making the soup more hearty.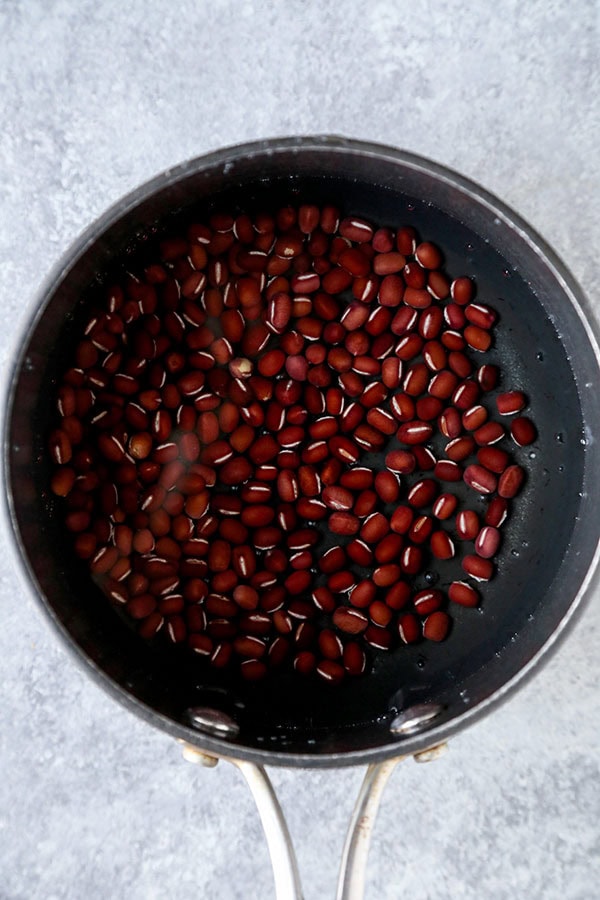 Adzuki Beans – The Most Nutritious Beans
The health benefits of adzuki beans are pretty spectacular. Considered to be a superfood, adzuki beans are an excellent source of potassium, magnesium, protein, folate and iron. They are healthier than other beans because they have a higher concentration of nutrients and minerals.
Adzuki bean can improve overall health by building muscle mass (high in protein), reducing the waistline (they help you feel full longer), fighting heart related diseases and managing blood sugar levels (diabetes).
One cup of adzuki beans contains 294 calories and only 0.2 grams of fat, which make them the ideal ingredient for weight loss!
Where to buy adzuki beans
Adzuki beans are fairly easy to find these days. You can find them canned or dried in Asian supermarkets, in the bulk bins at Whole Foods (that's where I get mine), at natural food stores or online (Amazon).
How to cook adzuki beans
I've noticed that a lot of recipes mention soaking adzuki beans anywhere from 2-8 hours.
While this may work for them, I don't bother with that process since adzuki beans don't require soaking.
In a pot, use two parts water with one part adzuki beans and bring to a boil. Cover, lower the heat and simmer for 45 minutes to an hour. Drain the beans and that's it!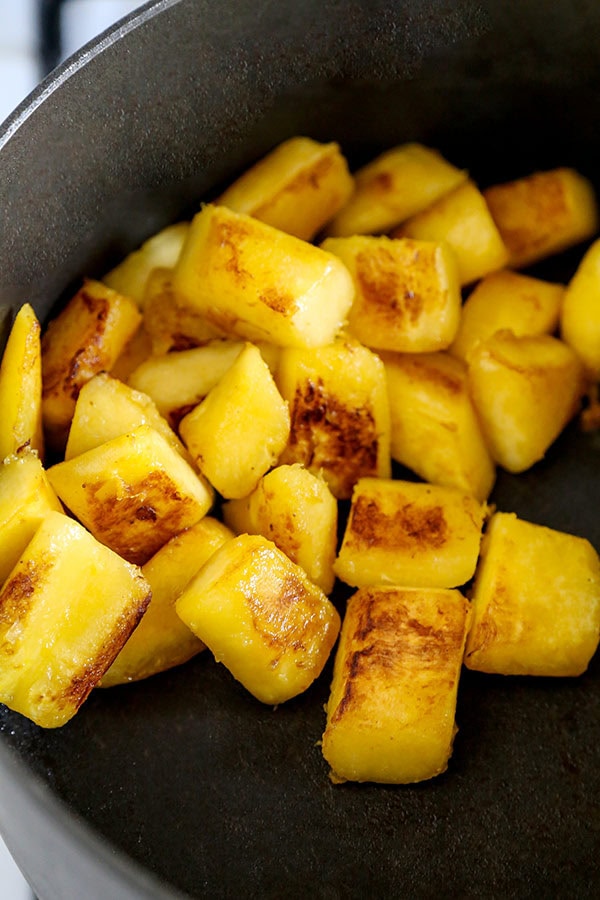 What is a good substitute for adzuki beans?
You can use red beans if you cannot find adzuki beans.
However, if you are substituting them for a dessert, you may need to add more sugar to achieve the same taste as adzuki beans are naturally sweeter.
So many beautiful ingredients in this soup
One of the things I love about this soup is how nutritious it is.
This spicy kabocha and adzuki bean soup contains three superfoods – adzuki beans, goji berries and watercress. It's a supersoup!
The addition of kabocha squash and pumpkin seeds make it the perfect fall/winter soup to enjoy with a side of fried rice or homemade dumplings (gyoza).
This spicy kabocha and adzuki bean soup will keep refrigerated for up to four days.
Other deliciously healthy and comforting soups: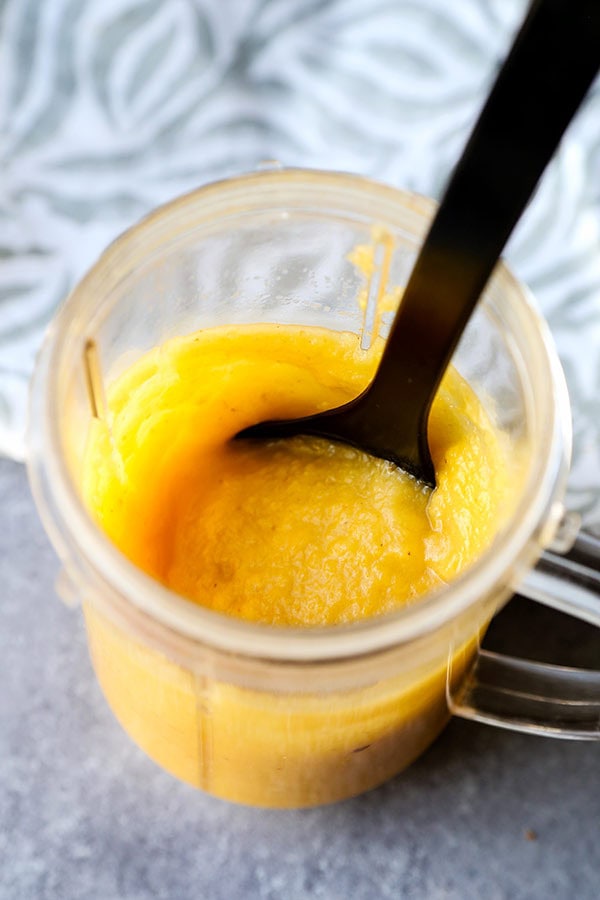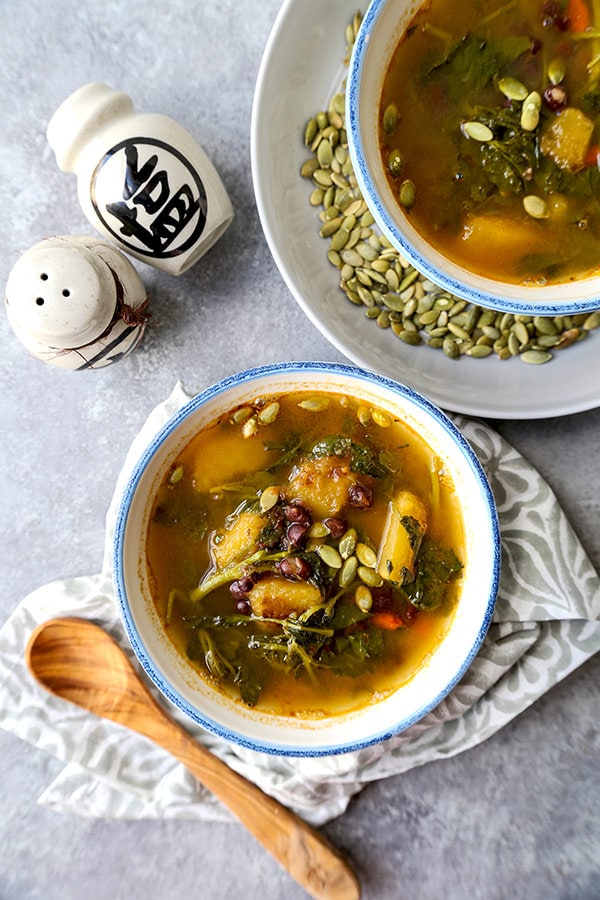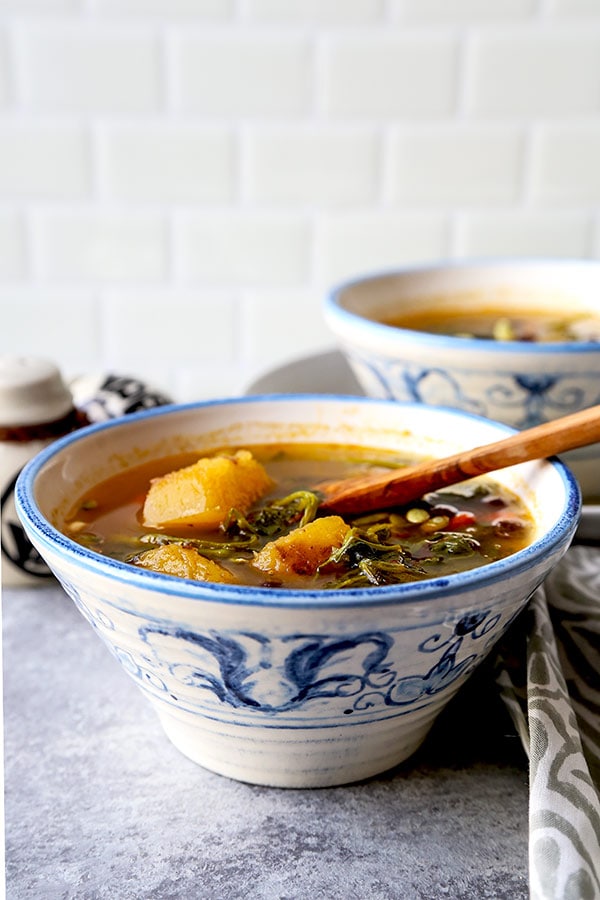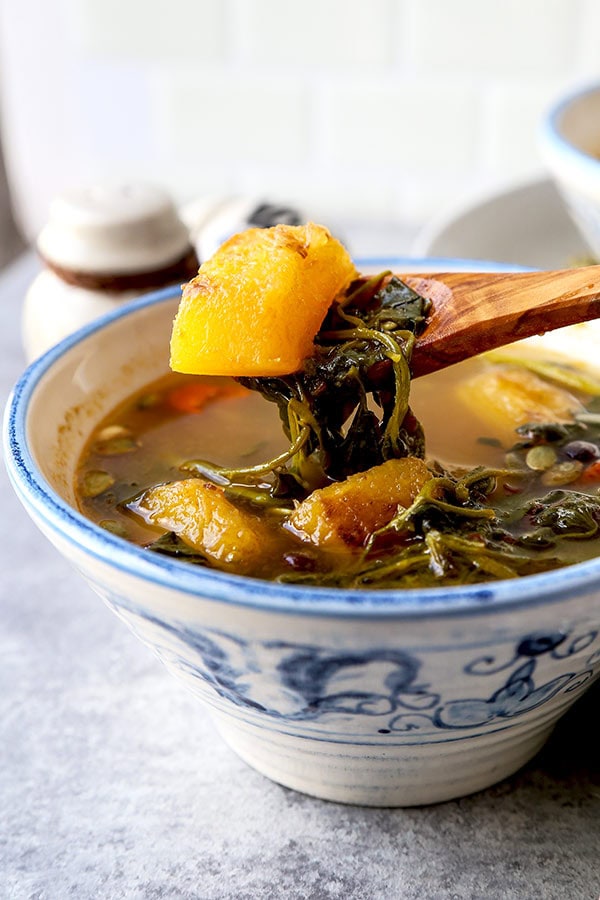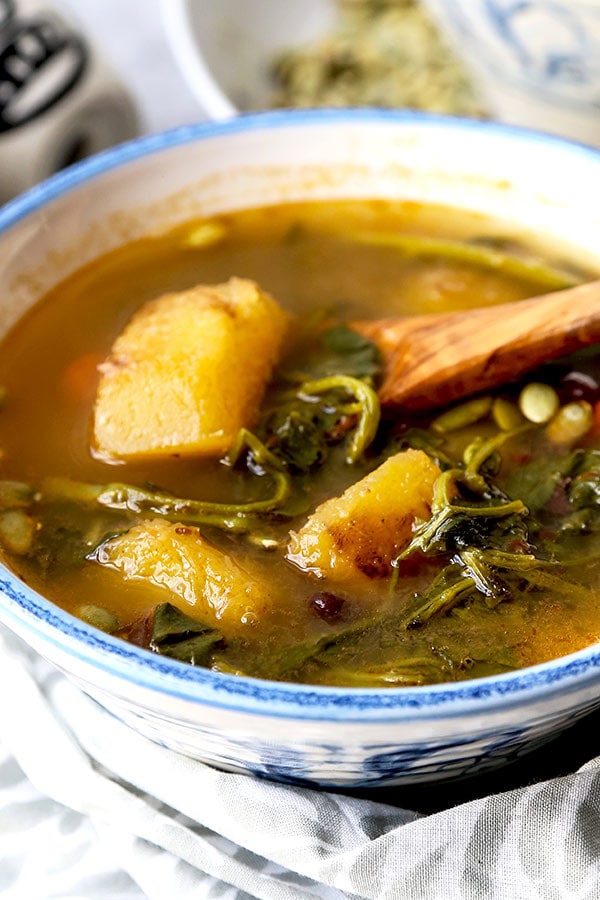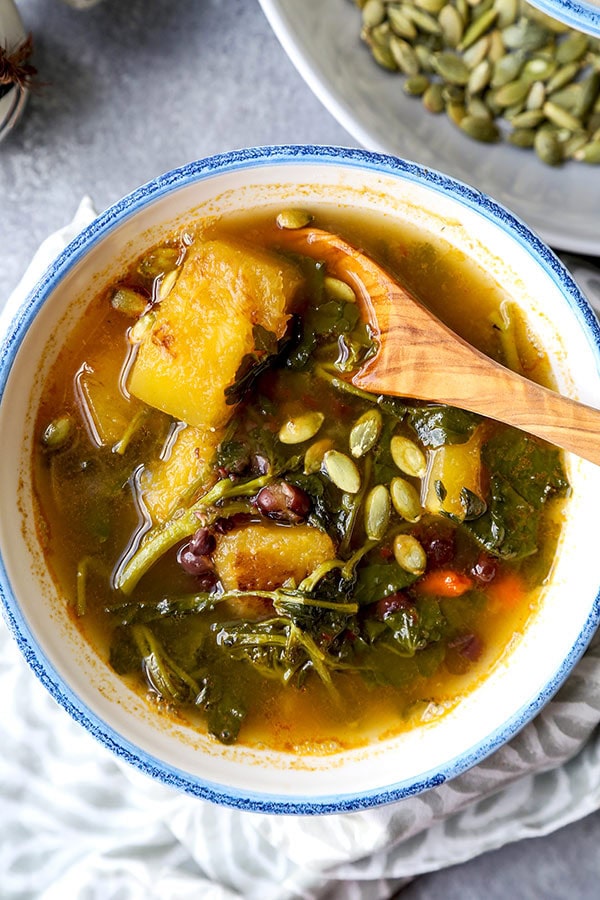 Did you like this Spicy Kabocha Squash And Adzuki Bean Soup Recipe? Are there changes you made that you would like to share? Share your tips and recommendations in the comments section below!
Print
Spicy Kabocha Squash And Adzuki Bean Soup
This is unique looking and tasting soup is pungent, savory and really, really comforting!
Author: Caroline Phelps
Prep Time:

10 minutes

Cook Time:

75 minutes

Total Time:

85 minutes

Yield:

4

people

1

x
Category:

Soups

Method:

Boiling

Cuisine:

Asian
1/2 cup

dried adzuki beans

1 tablespoon

extra virgin olive oil

1/4 teaspoon

kosher salt

1/2

pound kabocha squash or acorn squash (peeled, seeded and chopped bite size)

5 1/2 cups

water

1 tablespoon

chili paste such as sambal oelek

1

4-inch square kombu (dried kelp) (optional)

4 ounces

watercress (chopped)

1 tablespoon

pumpkin seeds

1 tablespoon

goji berries (optional )

2 tablespoons

fish sauce

1 tablespoon

soy sauce
Instructions
Place adzuki beans in a pot with 3 cups water and bring to a boil. Lower heat and simmer for 45 minutes. Drain beans and leave them in the strainer.
In a large pot over medium high heat, add olive oil and when oil is hot, add squash and salt and cook for 8-10 minutes, until squash is caramelized and golden brown. Transfer squash to a bowl and set aside.
In the same pot over medium heat, add water, kombu, adzuki beans and sambal oelek. Stir, bring to a boil and lower the heat to a simmer. Cover and cook for 20 minutes on low.
Add watercress, cover and cook for 10 minutes.
Put half of the cooked kabocha squash in a blender along with 1/3 cup water. Blend until smooth and add to the soup pot along with the remaining kabocha squash, pumpkin seeds, goji berries, fish sauce and soy sauce.
Stir, season with salt and pepper and serve hot.
Nutrition
Serving Size:
Calories:

159

Sugar:

2 g

Sodium:

1074.7 mg

Fat:

4.7 g

Saturated Fat:

0.7 g

Carbohydrates:

23.9 g

Fiber:

4.4 g

Protein:

7.6 g

Cholesterol:

0 mg
Keywords: recipe, vegetarian, appetizer, healthy
Recipe Card powered by