This is a delicate Japanese rice and egg soup in a light dashi broth. This make a wonderful side dish that's healthy and comforting.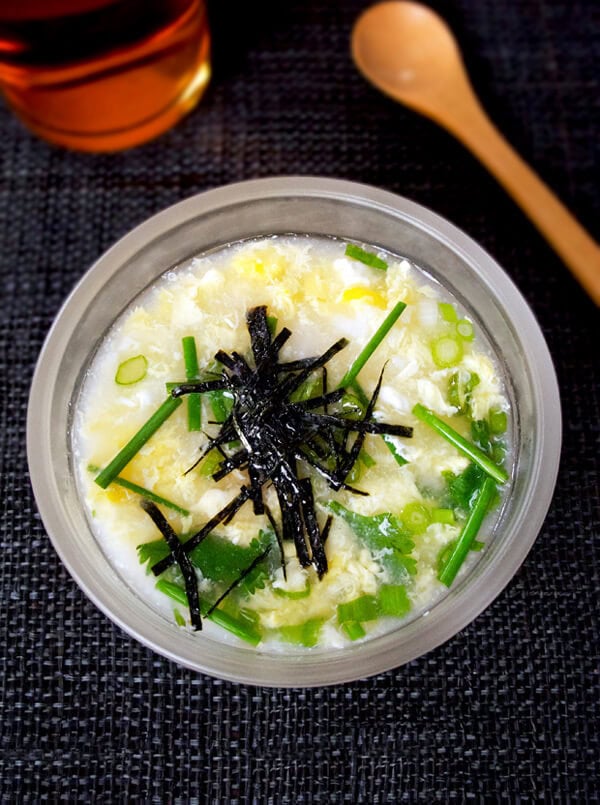 Sushi Rice Egg Drop Soup
This is a very simple rice egg drop soup, but with very distinctive flavors. Instead of using simple white rice we're using.. vinegar flavored sushi rice. Salty, slightly acidic and with toppings that are bright and refreshing, this soup is incredibly satisfying on a hot summer day (I served it with little tea sandwices). Hot soups are often served in Asia because they are believed to cool you down by affecting the blood flow. By allowing your body to sweat, the evaporation process causes a cooling effect. It sounds crazy but it does work!
Yes, you'll spend a few minutes sweating your butt off slurping hot liquid but you'll soon feel cooler and re-energized. Another popular way to keep cool is to wrap a soaking wet cold towel on your head. That didn't work for me though – the squatting on the ground with a cigarette in my mouth look wasn't very flattering.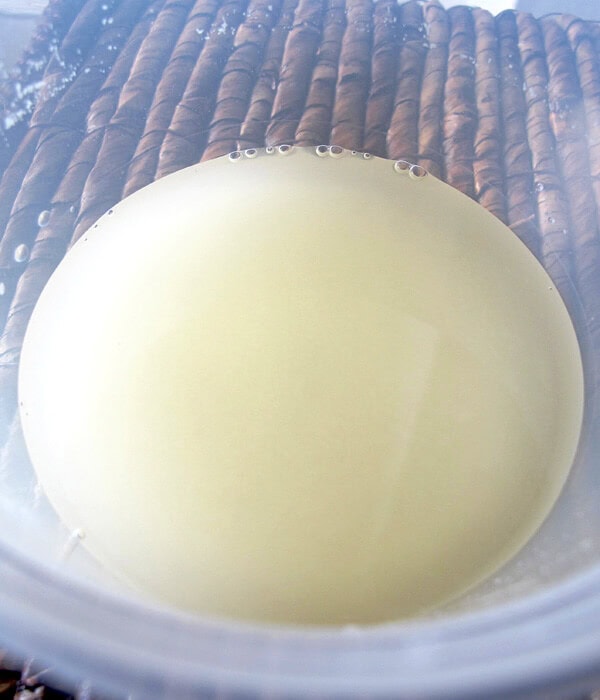 Salty, acidic and slightly sweet, sushi rice vinegar is easy to make and can keep in the fridge for up to 2 months.
Leftover rice used to mean fried rice – easy, super yummy and quick to prepare (I use Japanese fried rice mix – So good!!) But there's nothing light about fried rice so it's nice to have another option for days when I feel a bit bloated (ladies, you know what I'm talking about).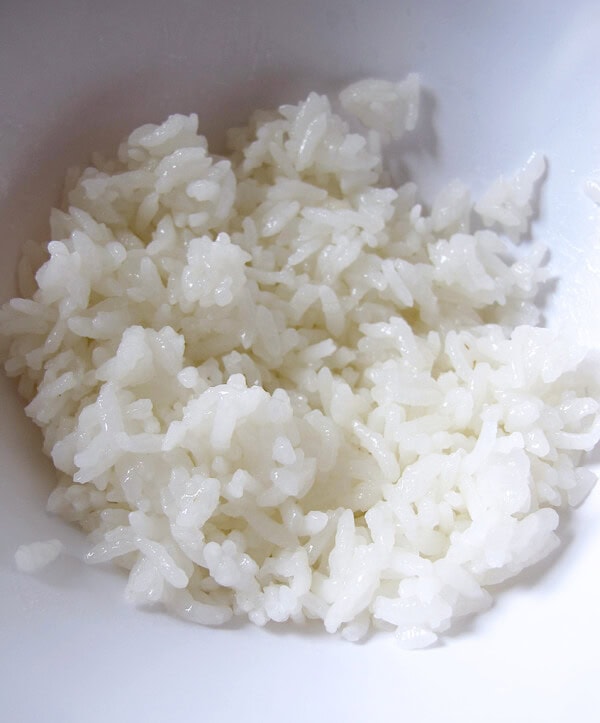 I adapted this recipe from Morimoto's cookbook. When we think of Morimoto, the first thing that comes to mind is 'Iron Chef' and his talent for cranking up stunning and complex dishes. But what I'm slowly discovering as I'm working my way through his cookbook is his talent for keeping things simple, while still using his creative genius and coloring outside the lines.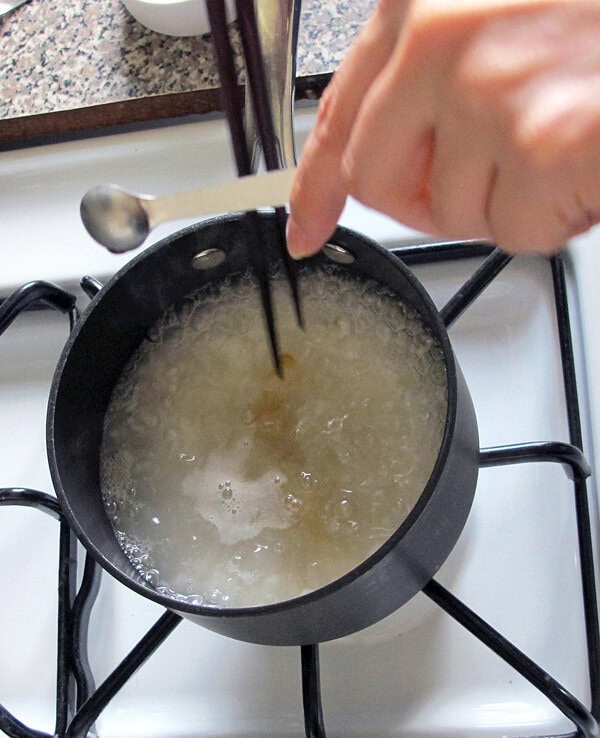 This sushi rice egg drop soup recipe is so quick to make you'll think you've missed a step along the way. The simplicity of it is what makes this rice creation so good. It's pure and only showcases the good, savory flavors of Japan.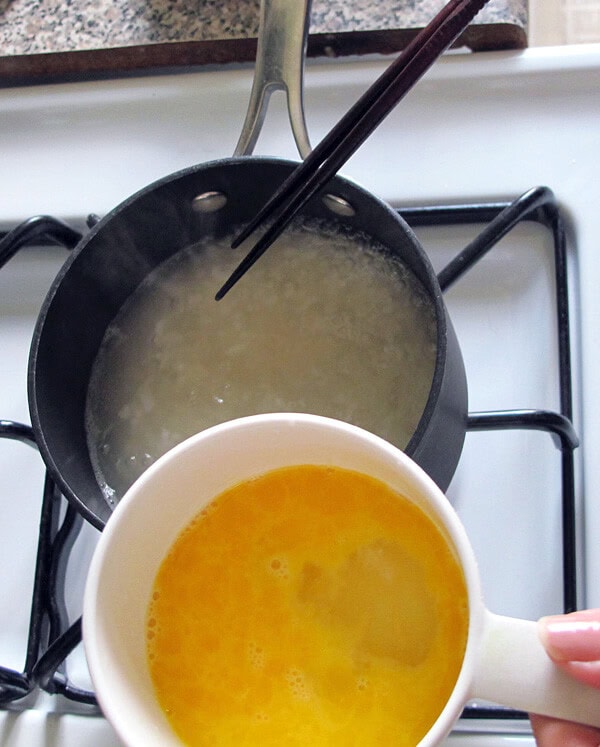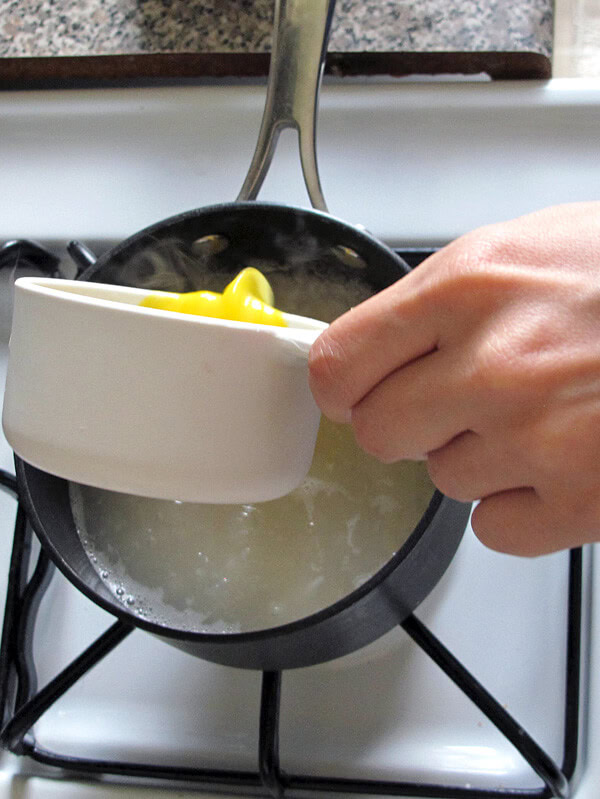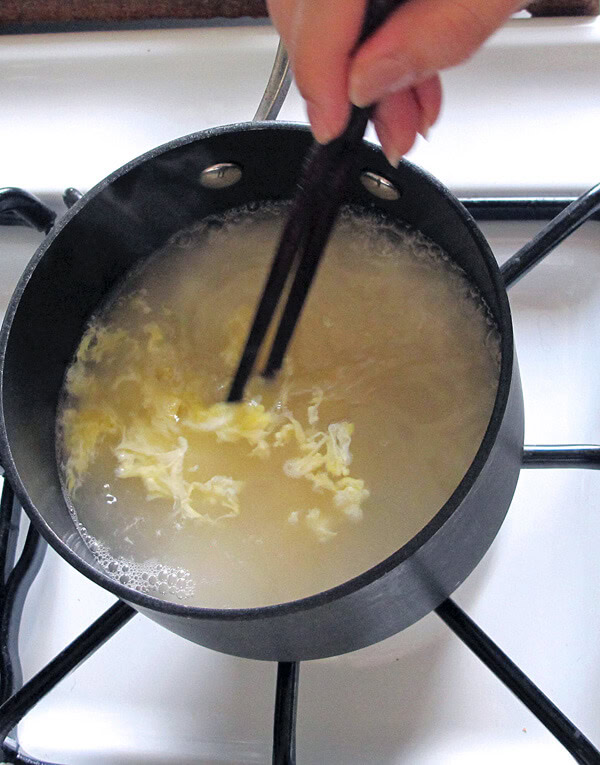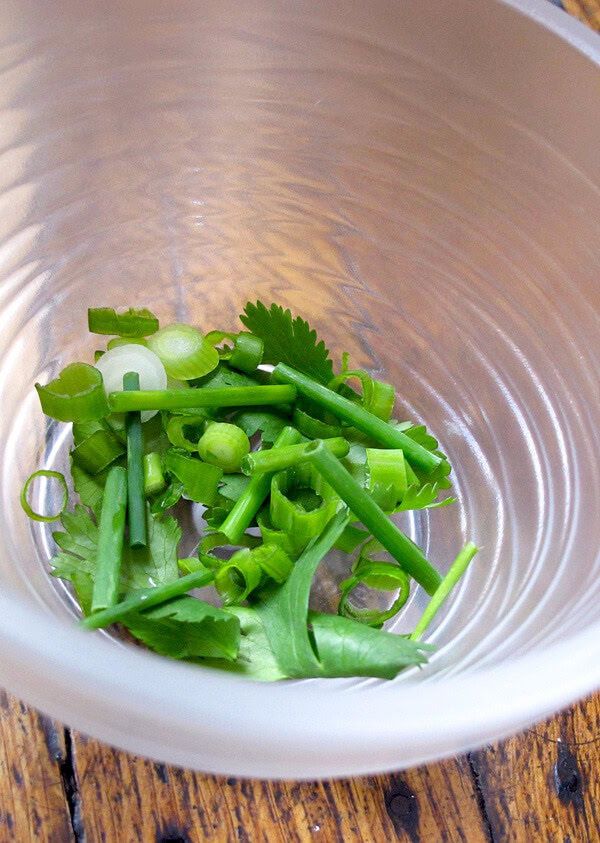 Print
Sushi Rice Egg Drop Soup
Simple Japanese rice soup with eggs, cilantro and scallions in a light vinegar, sake broth.
Prep Time:

10 minutes

Cook Time:

8 minutes

Total Time:

18 minutes

Yield:

4

people

1

x
Category:

Soup

Cuisine:

Japanese
1 1/2 cup

cooked Japanese rice

3 tablespoons

rice vinegar

3 1/2 cups

dashi broth

2

eggs (beaten)

2 teaspoons

light soy sauce
For the sushi rice vinegar:
2 tablespoons

sake

2 tablespoons

rice vinegar

2 tablespoons

sugar

1 tablespoon

salt
Toppings:
2 tablespoons

scallions (finely chopped)

2 tablespoons

chopped cilantro (roughly chopped)

2 tablespoons

chives (roughly chopped)
shredded dried seaweed (nori)
Instructions
Zap the cooked rice in the microwave for a few second, until hot. Pour the sushi rice vinegar over the rice and mix well with a spoon.
Heat up the dashi broth in a medium size pan until very hot. Add rice, stir and bring to boil.
When the water is boiling, lower heat, cover and let simmer for 6 minutes. Pour light soy and stir well.
Turn off the heat, pour the beaten eggs and leave for 10 seconds. Slowly stir with chopsticks or a fork to break up the egg mixture. Don't over stir, a short swirly motion should be enough.
Put the toppings (except nori) at the bottom of each bowl, divided evenly. Pour the soup and top with shredded nori. Serve immediately.
Notes
You can add a little wasabi or ichimi for heat.
Nutrition
Calories:

201

Saturated Fat:

1
Recipe Card powered by