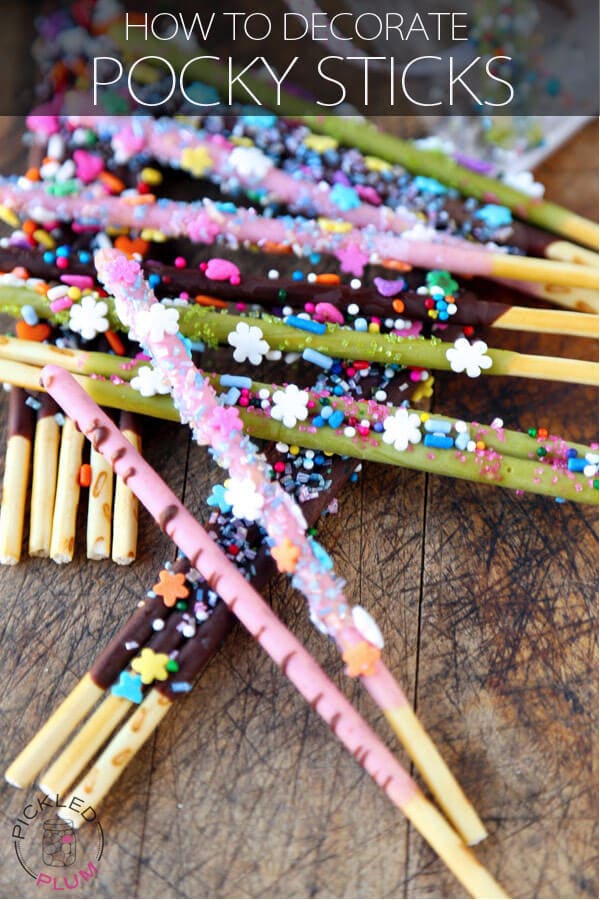 How To Decorate Pocky Sticks
Pocky sticks are one of Japan's most popular snacks and have been a personal favorite of mine for years. When Glico USA contacted us to see if we could create some fun videos using Pocky sticks (Ben is the one in charge of the video division at Pickled Plum), it was like a childhood dream of mine had come true. Yes, of course we will! Next thing you know, a huge box filled with about 100 small boxes of milk chocolate, strawberry and matcha flavored Pocky sticks arrived at our door step. The little kid in me wanted to dive in and open them all! But I resisted the temptation and instead put my thinking cap on, had a few conversations with Ben and the lovely Yokosan, sales planner at Glico USA, and decided on making a video about decorating Pocky sticks. Here it is!
Initially I was quite nervous about making Pocky sticks look pretty since I'm not the daintiest of women. I've been told so many times to be more gentle whenever I slam shut a car door (it's not a Sherman tank!) that making anything requiring a delicate hand scares me a little. But it ended up being fun and easy, and they tasted great too!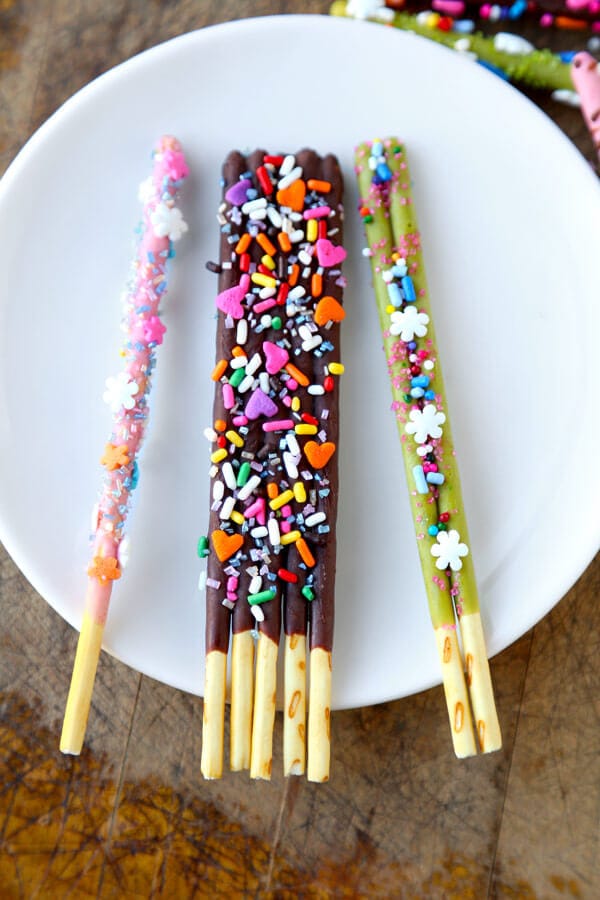 You can adorn Pocky sticks for different occasions – pink glitter and flowers are perfect for girly parties (stir your martini with a Pocky stick!), while using lots of bright colors can be a festive way to offer them at a kid's birthday party. The right presentation can also make Pocky sticks stand out! Putting them in champagne flutes for grown up parties adds a classy element and make a chic center piece. Sticking a couple of Pocky sticks in a clear plastic bag tied with a bow looks great taped or attached to a present. The options are endless and you will have a blast thinking of all the things you can do with Pocky sticks.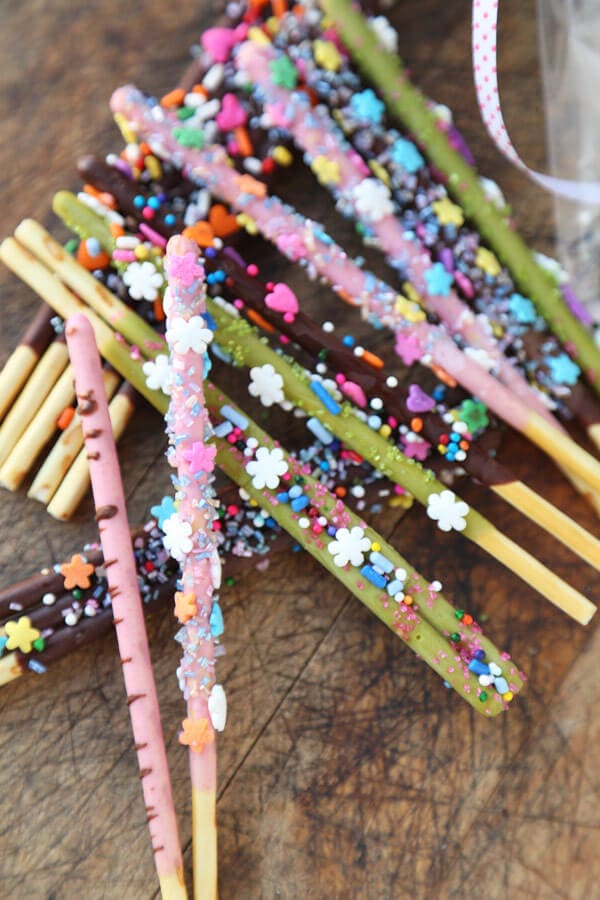 The creative process is very simple; bring one cup of water to a boil, add 5 tablespoons of sugar and stir until the sugar has dissolved. Turn the heat off and let cool for about five minutes. Transfer to a cup about the height of a Pocky stick and dip the chocolate portion into the syrup. Count to five, take the Pocky stick out and start decorating. You can use your fingers although I find it much easier to apply the small decorations with tweezers. Put the decorated Pocky sticks in the fridge for a few minutes, until they are completely dry. Now all that's left to do is place them on a plate or a cup, or eat them straight out of the fridge! Itadakimasu!
Pocky sticks are fairly easy to find, they are sold in most Asian grocery stores, specialty shops or you can buy them online here on Amazon. For cake  decorations, you can get them at Walmart, Target, Sur La Table or in the baking section at supermarkets.