Korean dramas are all the rage these days but did you know that Japan also has some great television programs? Here are nine funny, serious, romantic, and yummy Japanese Dramas you can stream online.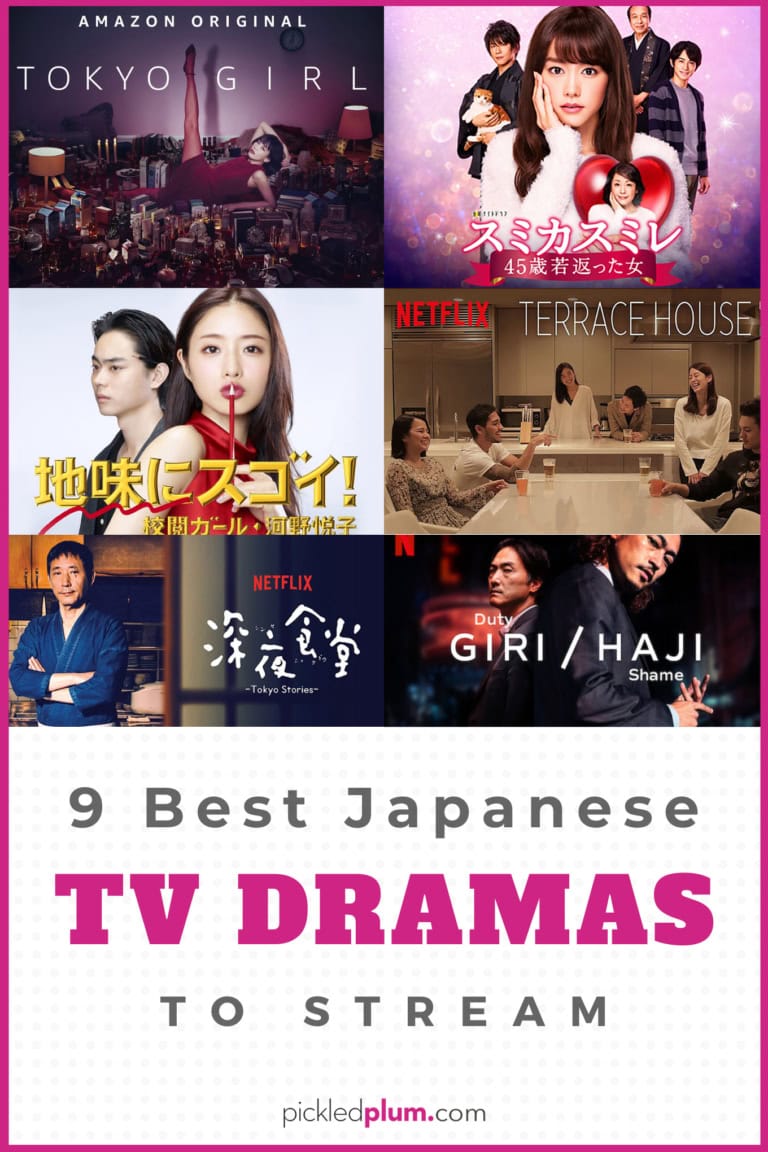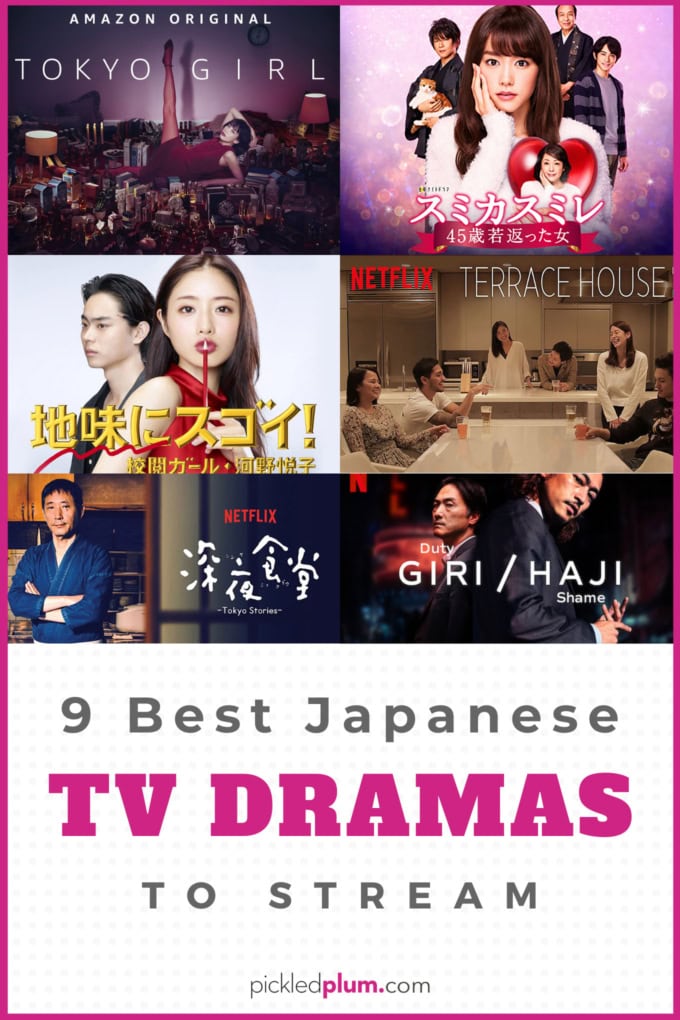 I go to Japan once a year to visit my mother and when I'm there I spend many of my evenings watching Japanese television. It's something I've loved since the very first trip I took there at the age of four.
There's something addictive about Japanese tv – maybe it's the cheeky humor and over the top reactions, maybe it's the bright costumes and cheesy love stories, or maybe it's all the close up food shots they are so good at capturing. Whatever it is works for me and thanks to the popularity of Korean dramas, Japanese tv shows are now making their appearance on streaming sites such as Netflix, Amazon Prime, and Viki.
One thing I've noticed though is that many shows available here aren't as good as the stuff you see in Japan. I'm guessing it has to do with the tv stations licensing rights. What this means is that we must go through a handful of bad shows before we find one worth watching. The Japanese dramas I picked for this list are ones I think are just that – worth watching.
Some of them are serious and complex while others are romantic fluff, funny, and querky. There's something for everyone here so I hope you will enjoy some of my recommendations.
Tokyo Girl (Amazon Prime)
Tokyo Girl is the story of Asami, a small-town girl, who moves to Tokyo at the age of 23 in search of a better life. Asami's dream is to climb the social ladder and become someone who is envied by other women. The show follows her career and personal life struggles until she turns 40. The show is intelligent, beautifully written and filled with scenes that will make you look at your own life's decisions.
I thoroughly enjoyed Tokyo Girl, I watched the entire season in one sitting and was blown away by the realness of the storyline. The first episode is a little slow but keep on watching because it gets really good. I'm hoping they are working on a second season as I would love to know what happens to Asami as she gets older! Watch it now
Lady Girls (Amazon Prime)
This is another show I thoroughly enjoyed but not because of its well written storyline. I have to admit that the show is pretty cheesy and the plot pretty weak. But I found the relationship between the girls endearing and the no-nonsense situations they found themselves in, entertaining. It feels like a romantic comedy following the lives of three women who are good friends, a really cute cat, and three potential suitors.
If you cringe at the sight of big reactions (Japanese actors tend to act a little too big sometimes), then this may not be for you. This is for fluffy romantic movie lovers who don't care if sometimes the storyline doesn't make much sense. Watch it now
Terrace House (Netflix)
My guilty pleasure.
I've been addicted to Terrace House ever since the first episode aired in the fall of 2015 on Netflix. The first couple of episodes were very slow to get into because the series doesn't have a plot. You are basically watching six people in their 20s sharing a house and trying to figure out their career and love life. It's like The Real World minus the stupid comments, mean jabs and embarrassing fights. Now you may think a reality show without fights is boring to watch but it turns out that it's not. Not at all.
Watching Terrace House is almost therapeutic because it actually feels good to watch people treat each other with respect. There is of course a little drama but nothing that compares to what we see on US reality shows. Each issue is tackled politely and in a mature way. The housemates help each other by taking turns in the kitchen to cook yummy looking food (close up food shots aplenty) and clean the house.
It's a slow burn but once you get into it you won't be able to stop watching. Watch it now
Midnight Diner: Tokyo Stories (Netflix)

Japanese food lovers, this is the show for you!
I always make sure to have a few Japanese snacks on hand before I start a new episode of Midnight Diner. The show is about a late night diner, opened from midnight until 7AM, where people from all walks of life gather for a bite to eat. The owner, referred to as Master, cooks comfort food requested by the patrons and listens to their stories.
Each episode focuses on a character's personal story and the connection it has to a specific dish. We follow the character's story in and out of the diner while the patrons bond over the dish. At the end of the episode, the patrons wave to the camera and give tips on how to perfect the episode's dish.
It's a beautifully written show with heartfelt stories. There are some stunning shots of Tokyo at night as well which always makes me miss Japan. Watch it now
Japanese Style Originator (Netflix)
If you are a fan of Japan and love learning about Japanese tradition, art, and food, you are going to love this show.
Each episode dives deep into a topic that comes with a few questions a panel of guests have to answer. Topics such as chopsticks etiquette, tastiest snacks to eat at summer festivals, traditional Japanese architecture, best side dishes for rice, spending the night at a buddhist temple, popular spring foods, and so much more are covered.
There's currently only one season available but the good news is that it's a long one with 54 episodes. Watch it now
Giri / Haji (Netflix)
Giri Haji is actually a British television series but I've added it to this list because it's so Japanese that it could have been produced in Japan. This is a thriller set between Tokyo and London where a Japanese cop goes looking for his missing brother who is accused of murder and has ties to the yakuza. The story is much more complicated than the short synopsis I'm giving you but since I want to avoid spoilers I'll leave it to that. You'll just have to watch the show.
The story alone is worth watching the show for but I also enjoyed the cinematography and acting. There are some cool split screen shots, animated sequences, and impressive choreographed gunfights. Watch the show
Overprotected Kahoko (Viki)
Cute, funny, and deeper than you would expect, Overprotected Kahoko is the story of Kahoko Nemoto, a 21-year-old university student who has spent her whole life being catered to by her mother. Naive and spoiled, Kahoko doesn't know how to do simple things such as cleaning the house, washing dishes, or picking up her own clothes. She is the princess of the house and can do no wrong in her father's eye.
Then one day, Kahoko falls madly in love with a boy who grew up living a completely different life than hers. When she decides to step out into the real world her family life begins to fall apart. Her mother, who is also her best friend, cannot cope with her departure while her father doesn't know what to do with himself. The plot of the story was more complex than I expected which made me come back for more and more. Watch it now
Pretty Proofreader (Viki)
28-year-old Etsuko Kono is a fashion lover who dreams of one day becoming the editor of a fashion magazine. She's applied for the position several times but keeps on getting rejected. Then one day, Etsuko interviews for a position at a well known publishing house and gets the job. The only problem is that she's been assigned to the proofreading department, which is not what she was hoping for.
Undeterred, Etsuko puts on her best outfits and decides to make the most of her somewhat boring, unglamorous job. She takes proofreading to new heights and sticks her nose in all sorts of situations. This is a fun, heartwarming show that romantic comedy lovers will enjoy. Watch it now
Sumika Sumire (Viki)
Another fun and heartwarming drama, this story follows the life of Sumika Kisaragi, a 65-year-old woman who works at a flower shop owned by her family. As a young girl, Sumika dreamed of going to college but couldn't as she had to take care of her injured grandmother. As time went by, she continued working for the family business and subsequently cared for her ailing parents. Sumika never had the time to date and because of that, never had a boyfriend.
Then one day, Sumika wakes up to find herself in a 20-year-old's body. Will she finally get to live the life she always wanted?
This show will make you smile ear to ear, root for Sumika, and forget about real life. Watch the show