Surprise your kids with a Halloween School Lunch worth gawking at! Not only is it fun and colorful, it's also packed with nutritious ingredients (let's keep that between us, adults 😉 )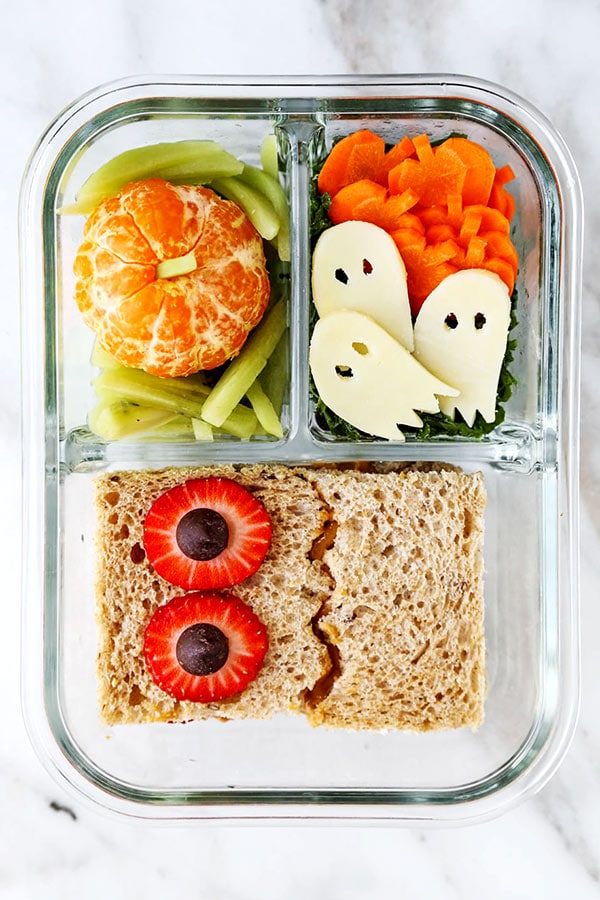 Healthy Halloween School Lunch
Ah Halloween!
I love walking down the street and seeing children dressed in colorful costumes, smiling from ear to ear. Every year, Ben and I dress up to partake in the Halloween parade and celebrations in our neighborhood. Last year, even mayor de Blasio joined the party and showed up dressed as a New York Yankee player!
There is so much happiness in the air, it's impossible to feel anything else but pure glee!
For kids, it's that time of the year when they are allowed to go a little nuts on candy and chocolates. They get to take to school the coolest sweets they collected during trick or treat time, and show them off to their classmates.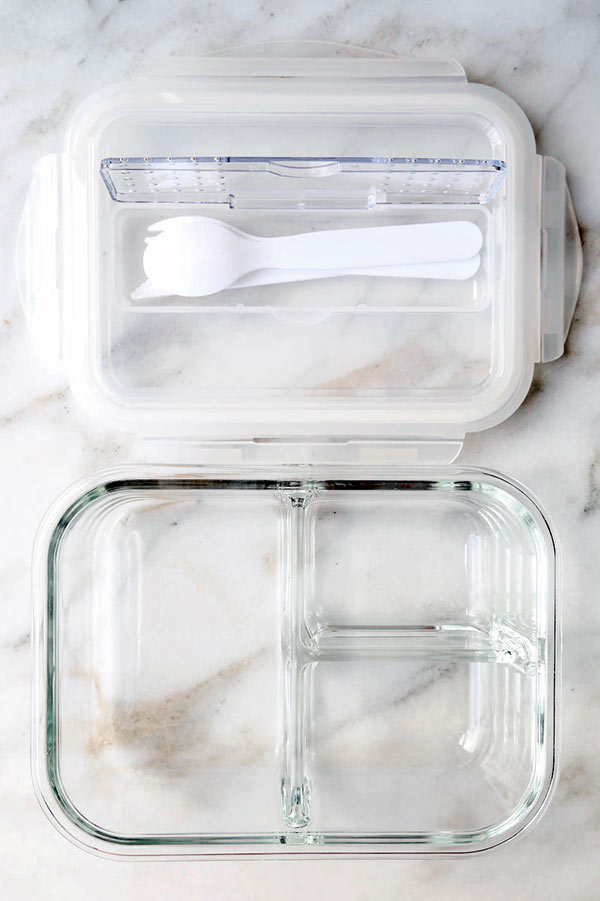 This got me thinking – why not make a Halloween themed lunch for your kids to take to school? Fill it jam-packed with nutrients so they get a boost of vitamins and dress it up in Halloween characters. This way, you get to feed your kids something healthy while they get to tell friends how cool mom or daddy is!
I sat on this project for a few days, searched the web for ideas and recipes children would enjoy eating. After trying a couple of different combinations, I settled on fruits, a sweet kale salad, and a peanut butter, strawberry and honey monster sandwich. Sounds too healthy for kids to like? Maybe, but the simple sweet flavors will win them over!
I also kept your busy schedule in mind – this healthy Halloween school lunch only takes 15-20 minutes to put together. Ready? Let's get started!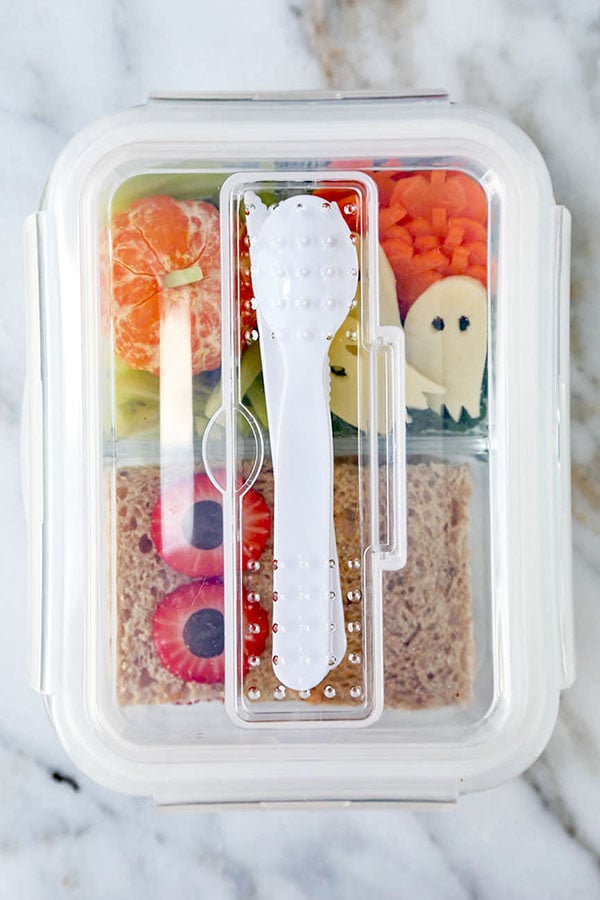 For those who are wondering about the glass food storage in the pictures – I got them on Amazon, here. Now bear in mind that these are glass food storage and not plastic, which means they are considerably heavier to carry. But since I've been making a conscious effort to stop using plastic bags and lowering my carbon footprint, I'm also trying to steer clear of plastic made products.
Kale Salads Are Not For Kids
This one is!
The reason I chose kale is because you can dress up the salad the night before and not have to worry about it in the morning. It's ready to go, plus, you too can take it to work because it's absolutely scrumptious!
I'm keeping it very simple; carrots shaped like mini pumpkins, white cheese shaped like ghosts (cheddar or parmesan cheese), black beans and shredded kale. The dressing is a mix of olive oil, lemon juice and maple syrup.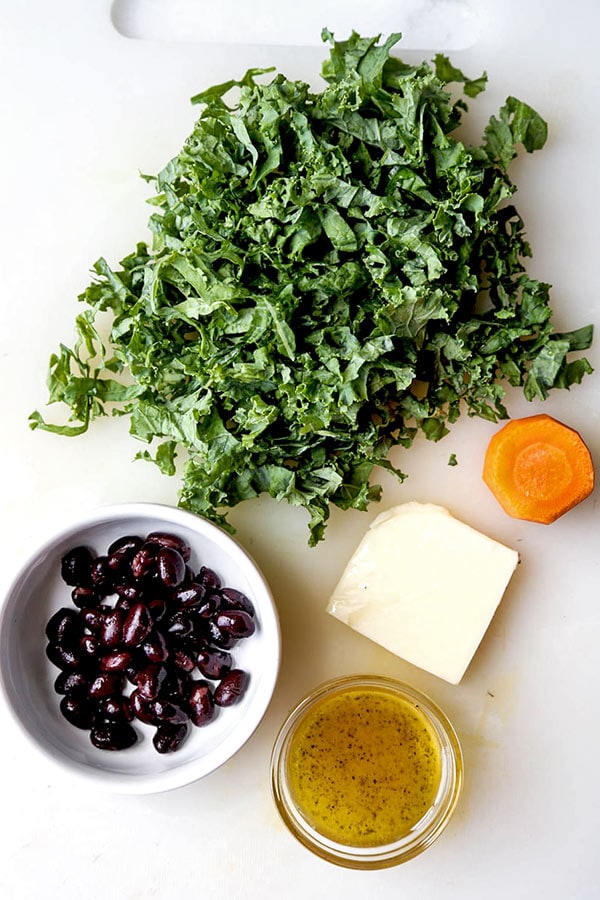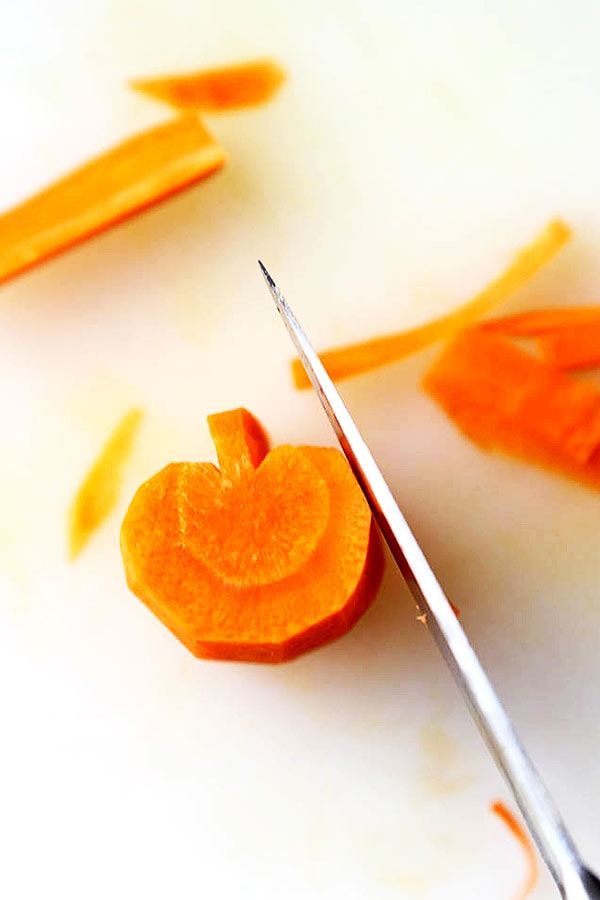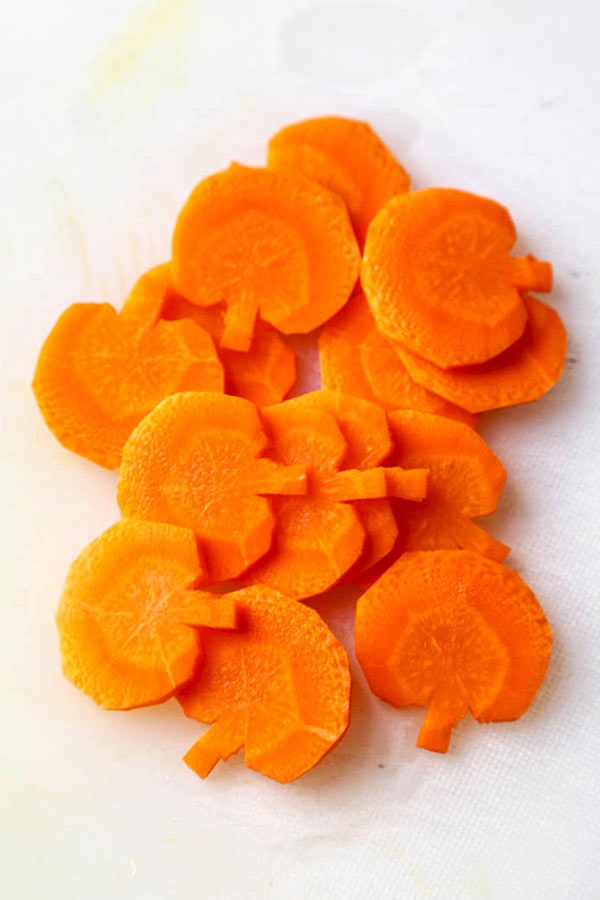 Citrus For Pumpkin
This is so simple yet so adorable! I peeled a mandarin orange (or you can use a tangerine or an orange) for a pumpkin and cut kiwi into strips. The kiwi strips are made to look like squiggly green worms or grass.
Finally, I cut a small piece of kiwi to act as the stem for the pumpkin.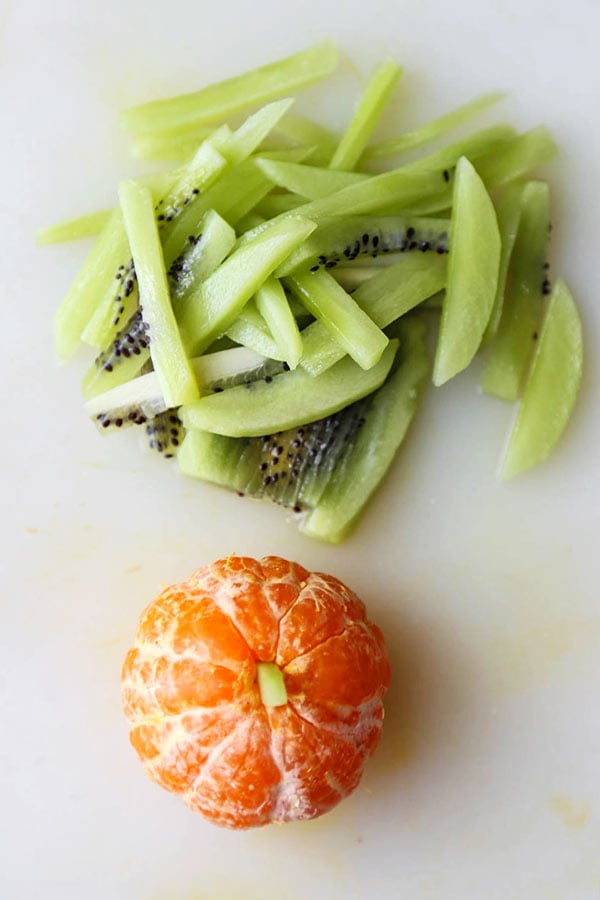 Monster Sandwich
Again, very easy!
I used two slices of whole grain bread and cut off the crust on both slices. I then cut a zig zag pattern across the center of each slice and spread a layer of natural creamy peanut butter and raw organic honey on all four zig zag pieces. This prevents the bread from going soggy once I add the strawberries. Top with a few slices of strawberries and close the sandwich. Place two strawberry slices on top of the sandwich with two dark chocolate chips – to make eyes.
That's it, lunch is ready to serve!
Other healthy kid friendly recipes: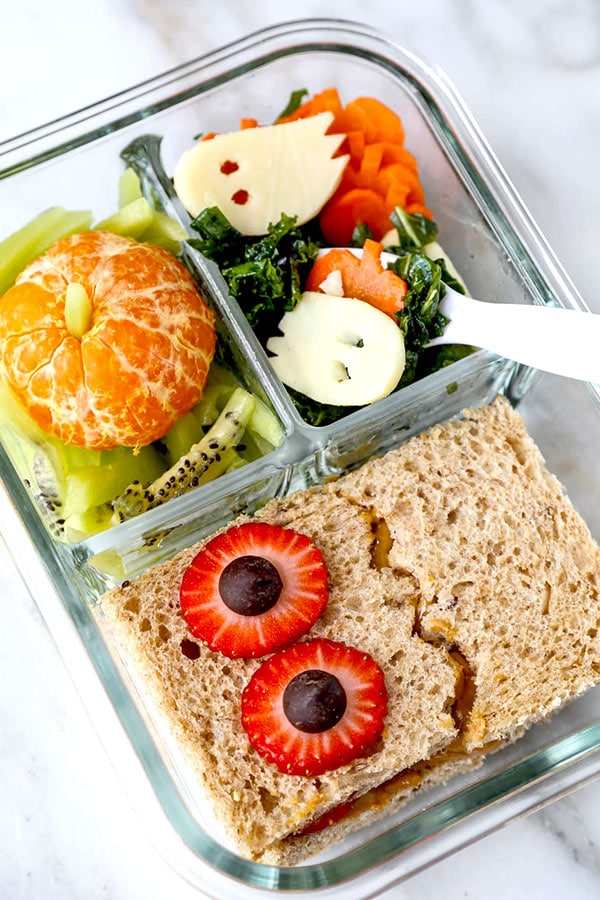 Did you like this Healthy Halloween School Lunch Recipe? Are there changes you made that you would like to share? Share your tips and recommendations in the comments section below!
Print
Healthy Halloween School Lunch
Introduce your kids to healthy meals by making them fun to eat, like this easy Halloween school lunch!
Author: Caroline Phelps
Prep Time:

15 minutes

Total Time:

15 minutes

Yield:

1

school lunch

1

x
Category:

Lunch

Cuisine:

American
Ghosts and pumpkins kale salad
3/4 cup

kale (shredded)

1

large carrot (it's easier to carve the carrot if it's bigger, but you will only need a small piece)
white cheddar or parmesan cheese

3 tablespoons

canned black beans (rinsed and drained)
salad dressing
1 tablespoon

extra virgin olive oil

1 tablespoon

fresh lemon juice

1 teaspoon

100% pure maple syrup
salt and pepper (to taste)
Green worms and pumpkin
1

mandarin, tangerine or small orange (peeled)

1

kiwi (peeled and sliced into thin strips)
Monter sandwich
2

slices whole wheat or whole grain bread
raw organic honey
natural creamy peanut butter

2

strawberries (thinly sliced)

2

dark chocolate chips
Instructions
Ghosts and pumpkins kale salad
Add shredded kale to a mixing bowl.
Put all the ingredients for the dressing in a container and close with a lid. Shake vigorously and pour over the shredded kale. Toss well and add to one of the smaller compartments of the lunch box. Add black beans and set aside.
I recommend waiting until the next day to add the remaining ingredients.
Green worms and pumpkin
Place the kiwi strips in one of the smaller compartments of the lunch box and add mandarin orange. Top the mandarin with a small piece of kiwi. This will be the stem for the pumpkin.
Monster sandwich
Cut the crusts off both slices of bread.
Using a paring knife (a pointed steak knife also works), cut a zig zag pattern across both slices of bread, widthwise.
Spread honey and peanut butter on all four pieces of bread.
Top 2 pieces with sliced strawberries and close the sandwich with the remaining 2 pieces. Add the sandwich to the largest compartment and make the eyes of the monster by laying 2 slices of strawberries topped with 2 dark chocolate chips.
Keywords: recipe, kid friendly, Halloween, snack, sandwich
Recipe Card powered by