Pillowy and tender pan-fried shrimp gyoza served with a fiery Szechuan Spicy™ Sauce. Thank you House Of Tsang for sponsoring this post!

There is a first time for everything and last week, I made my very first batch of gyoza. As daunting as making dumplings seemed, it's something I always wanted to make from scratch. And if I had known they were this easy to make, I wouldn't have waited this long.
Not only was making gyoza effortless, it was a lot of fun too! I really enjoyed the act of spooning a little filling into a paper thin piece of dough, folding its edges and watch it turned into a beautiful half moon pillow. Spoon, fold, repeat, spoon, fold, repeat.
There was a zen like element to making gyoza – my body and mind developed a rhythm that was in perfect harmony. Gyoza and meditation, who knew they went so well together!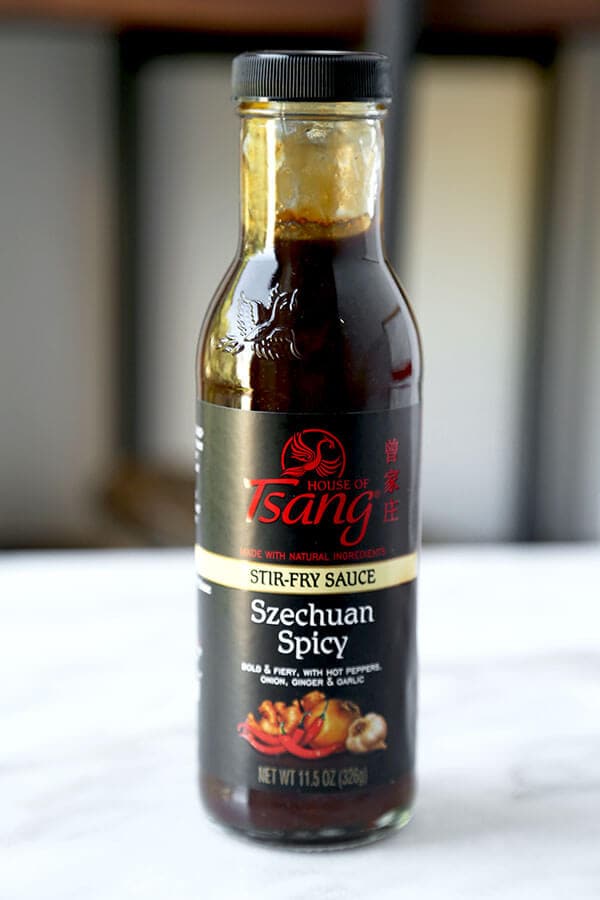 My love for gyoza goes all the way back to my childhood during a summer spent in Japan at the tender age of four, where I also discovered an appetite for pickled plums!
I would spend the mornings in my grand father's bonsai garden playing with snails, glass beads, and pretending to be a princess lost in an enchanted world.
I've always enjoyed spending time alone with my thoughts and dreams, a trait I surely picked up from my mother. I sipped on mugicha (iced barley tea) and snacked on dried squid until it was time to eat lunch.
Most of the time lunch was served at my grandparents (where we stayed the entire summer) but once in a while we, the kids, would decide on where to eat. While my Japanese cousins were all about burgers and fries, my brother and I only had eyes for one place; Ringer Hut.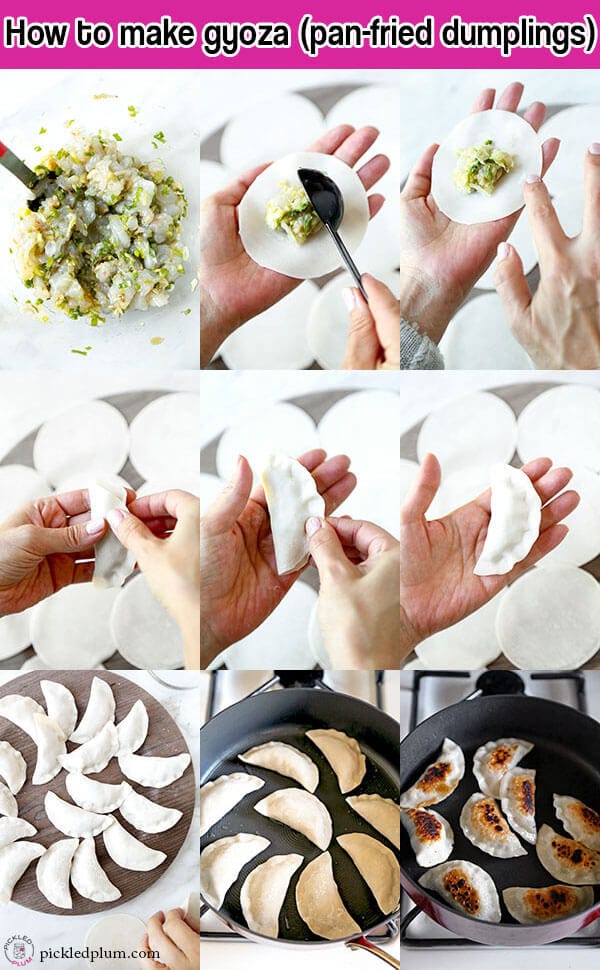 Ringer Hut is a Japanese restaurant chain that serves Champon, a noodle soup similar to ramen that comes topped with a mountain of stir fried vegetables, and a side plate full of gyoza.
Discovering gyoza was about as exciting as finding out that cookie dough ice cream really existed – our tastebuds couldn't stop dancing while our brains fired the word YUM at top speed, non stop.
It was the best lunch I ever had as a little girl and still remains a favorite every time I go back for a visit.
Some things never change; the menu is still the same and though my grandparents are no longer around, my mother and I (and now Ben too!) still like to sit at our favorite corner booth and order the lunch special.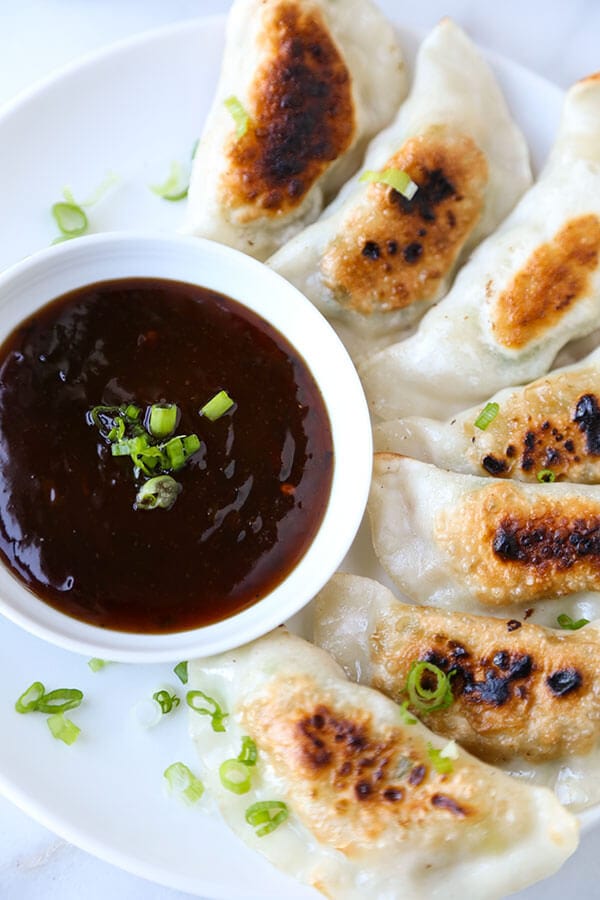 Most gyoza recipes contain ground meat of some sort. This one doesn't. Instead, I've used a mix of fresh and dried shrimp to complement the sweet and spicy Szechuan sauce that comes with the dumplings.
A good dipping sauce is essential to the success of the dish. While the shrimp gyoza are excellent on their own, serving them with a side of House Of Tsang's Szechuan Spicy™ Sauce takes them to a whole new level!
Sweet but not too sweet (it tastes like a mix of oyster and hoisin sauce) and with an added kick of heat, it's the perfect sauce to use for dipping.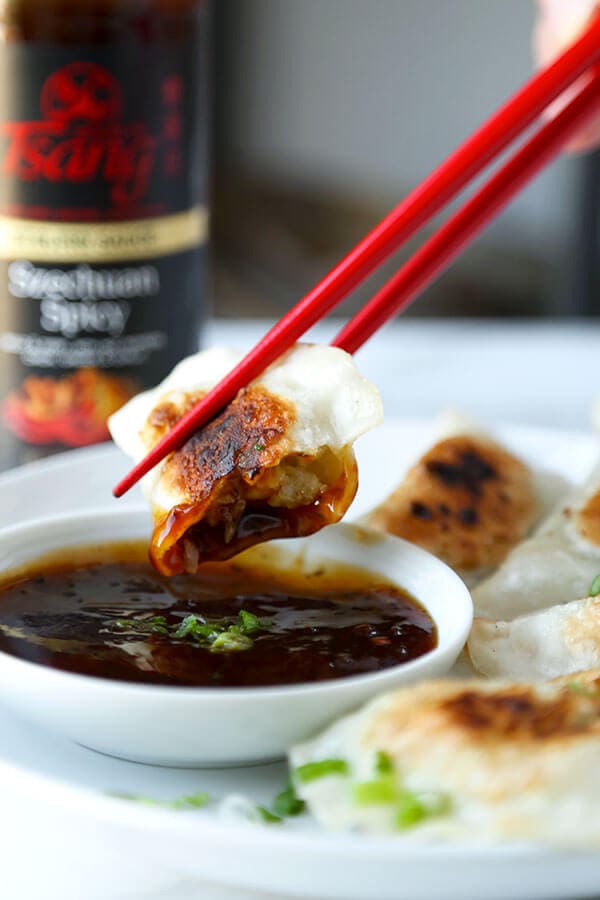 What I also love about this particular sauce is that it can be used in stir fries and so much more! I love, LOVE the fact that this Szechuan Spicy™ Sauce is packed with flavor – I can clearly taste onion, garlic, ginger, hot pepper, rice vinegar and an ingredient that's often missing in many pre-made sauces: sherry wine.
Sherry wine is quite unique in taste and is present in many traditional Chinese dishes. Without it, you lose the depth of flavor or that special element that makes Chinese food taste so good.
This recipe makes about 20 dumplings. They can easily be frozen and saved for later. You don't have to thaw them before cooking either – just heat up your pan with a little oil as you normally would and follow the step listed in the recipe.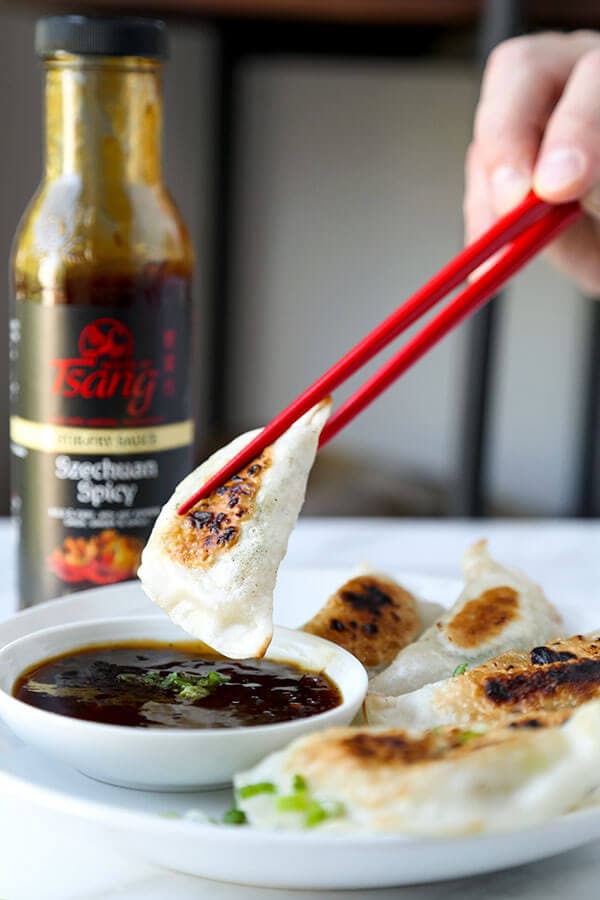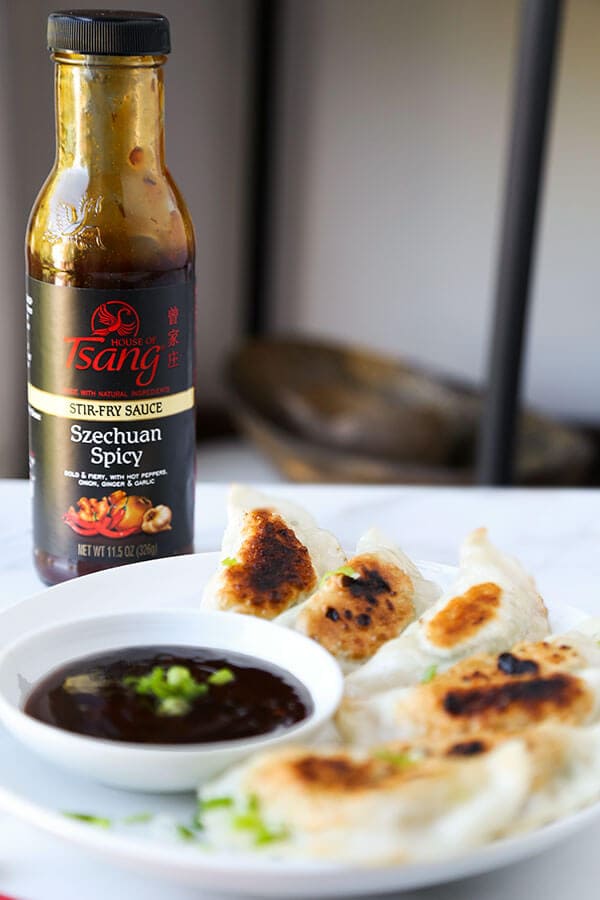 Did you like this Shrimp Gyoza Recipe? Are there changes you made that you would like to share? Share your tips and recommendations in the comments section below!
---
Print
Shrimp Gyoza (Pan-Fried Dumplings)
Pillowy and tender pan-fried shrimp gyoza served with a fiery Szechuan spicy sauce.
Author: Caroline Phelps
Prep Time:

20 minutes

Cook Time:

7 minutes

Total Time:

27 minutes

Yield:

18

dumplings

1

x
Category:

Appetizer

Cuisine:

Chinese
1 cup

cabbage (shredded and finely chopped)

1/4 teaspoon

salt

4

stalks scallions (finely chopped)

2

cloves garlic (peeled and minced)

1/2

pound shrimp (peeled, deveined and finely chopped)

1 tablespoon

dried baby shrimp

1/2 teaspoon

soy sauce

1 teaspoon

sesame oil

1/2 teaspoon

sugar

1/2 tablespoon

potato starch or corn starch

1/4 teaspoon

salt

1/4 teaspoon

black pepper

18

–

20

2-inch wonton wrappers

1 tablespoon

neutral oil such as vegetable or canola

1/4 cup

water
House Of Tsang Szechuan Spicy™ Sauce for dipping
Instructions
Put 1/2 teaspoon salt and cabbage in a bowl and toss well. Let sit for 15 minutes.
Squeeze out as much liquid as you can from the cabbage, using your hands, and return to bowl.
Add scallions, garlic, shrimp, soy sauce, sesame oil, sugar, potato starch, salt and pepper and mix well, using your hands. Set aside.
Place wonton wrappers on a work surface.
To make the gyoza, scoop out about 1 tablespoon of filling and place in the center of each wrapper. Dip your fingers in water and run them through the edges of the wrappers – one at a time.
Fold the wrappers over the filling in half moon shapes and gently pinch the edges to seal.
In a large pan over high heat, add neutral oil and when the oil is hot, add dumplings in a single layer. You may need to do this in batches.
Fry for one minute and add water. Shake the pan a little and cover with a lid.
Cook for 5-6 minutes, until the bottoms are golden brown and crispy and water has evaporated.
Turn the heat off and transfer to a plate.
Serve with a side of House Of Tsang Szechuan Spicy Sauce.
Nutrition
Serving Size:

1 dumpling

Calories:

103

Sugar:

0.4 g

Sodium:

251.7 mg

Fat:

1.1 g

Saturated Fat:

0.3 g

Carbohydrates:

17.4 g

Fiber:

0.7 g

Protein:

5.4 g

Cholesterol:

23.2 mg
Keywords: recipe, side dish, dim sum, Japanese, Asian, dumpling
Recipe Card powered by