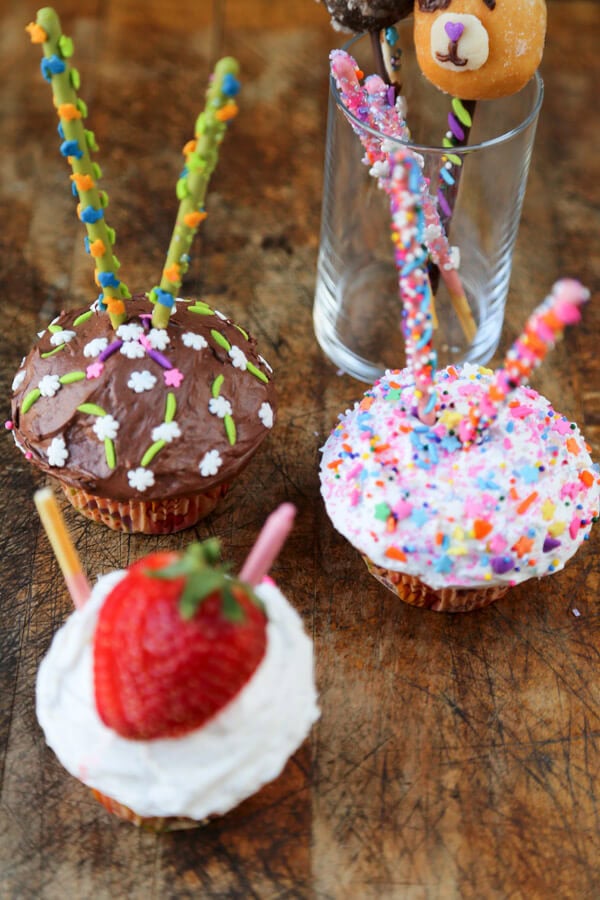 Dessert Pocky Sticks
What do you do when Glico USA mails you a box filled with Pocky sticks? You eat them straight out of the box – yes, that's pretty obvious, but you also have fun with them! Ben and I have been working on a couple of video projects with Pocky to show viewers how to use Pocky sticks in fun and creative ways. It's not just a chocolate covered stick, Pocky can be a blank canvas for so much more!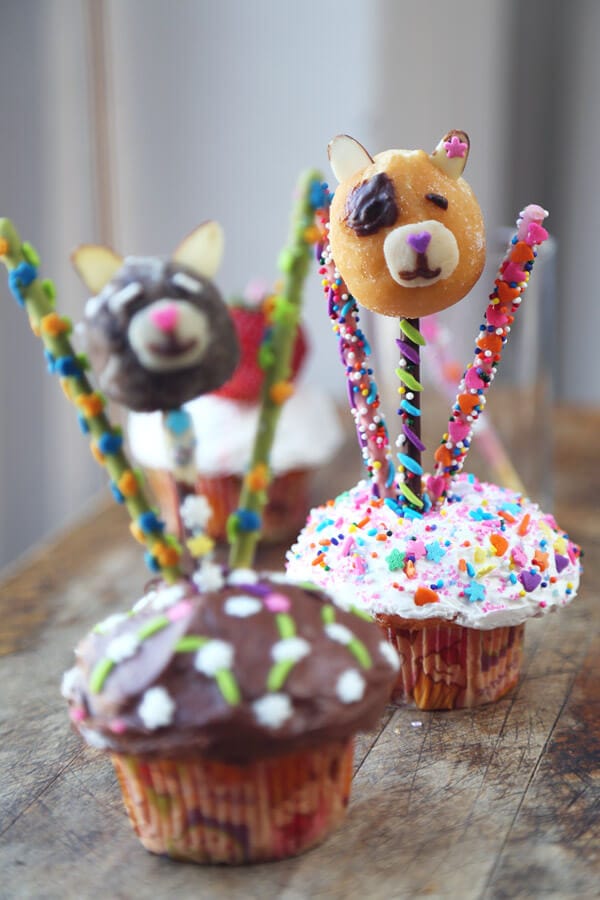 Since we already have a video demonstrating how to decorate Pocky sticks, this time we show you how to use them as decorations for cupcakes for a major wow effect. We also used donut holes (Munchkins) as heads, to create these impossibly adorable Pocky cats!
Click on the video below for a quick tutorial or scroll down to read the steps.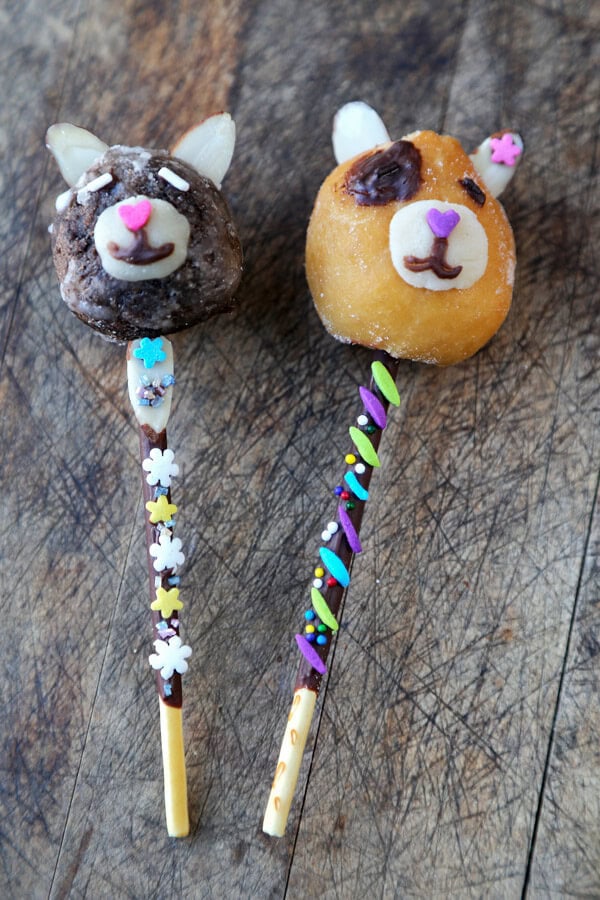 How to make Pocky Cats 
Pick up some donut holes and make a hole in the bottom of the donut with a chopstick.
Insert a Pocky stick.
Stick shaved almonds in the top for ears.
Take a small bit of marzipan, mold into a small circle and affix it to the donut for the muzzle.
Grab a chopstick or toothpick and draw the mouth using melted chocolate. You can either draw the eyes with the same melted chocolate or use sprinkles.
Decorate the Pocky sticks with your favorite cake decorations and let them dry in the fridge for a few minutes before serving. This process ensures the sprinkles will firmly stick to the cats.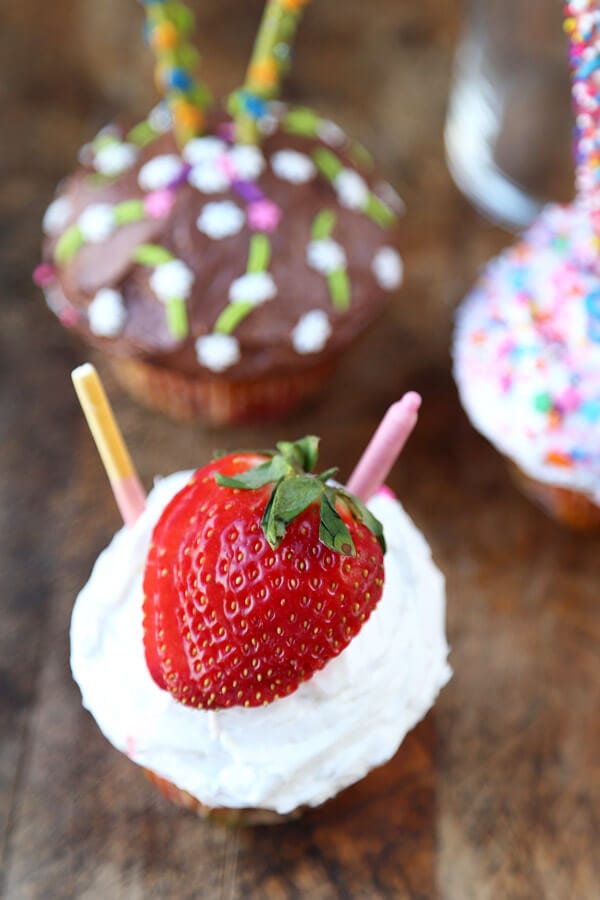 How to make strawberry cupcakes with strawberry Pocky straws
Use vanilla or strawberry flavored cupcakes and ice them with vanilla frosting.
Slice a strawberry starting at the tip and move down into the berry stopping just before reaching the cap. Don't slice through the strawberry!
Repeat the same step until you have four or five petals and fan them out using your fingers.
Gently place the strawberry on top of the cupcake.
Grab one strawberry flavored Pocky stick and break it in half.
Push the sticks into the cupcake, one on each side of the strawberry. Serve.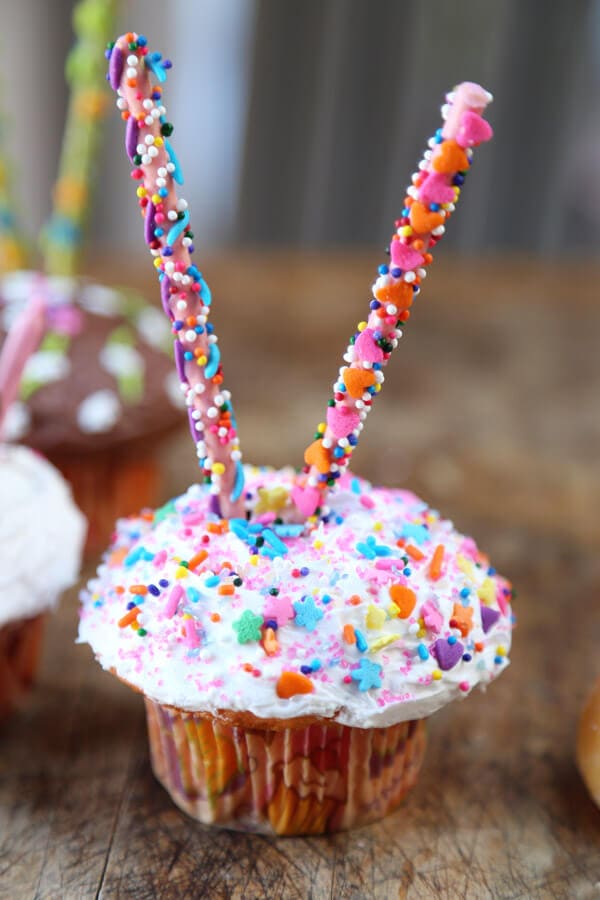 How to make flashy deco Pocky cupcakes
Instead of fresh fruit, cover your cupcakes with plenty of sprinkles.
Grab two deco Pocky sticks (watch how to make deco Pocky sticks) and stick them in like rabbit ears.
Put the cupcakes in the fridge for 5-10 minutes to cool and dry the frosting. This process ensures the sprinkles will firmly stick to the cupcakes.
As you can see, Pocky is not just a snack. What you do with it is limited only by your imagination. So have fun!