Learn how to boil, bake, mash, steam and microwave sweet potatoes any way you want with this quick how-to guide.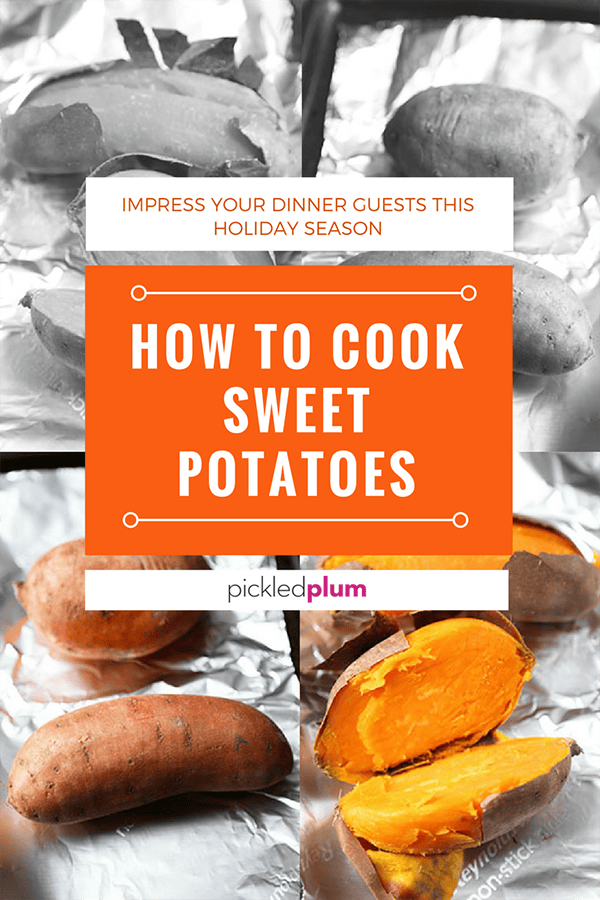 Cooking with sweet potatoes is no easy feat.
I've previously served half baked sweet potatoes and burned oven fries to a table full of less than happy guests. I got so frustrated mishandling this orange root vegetable that I pushed it aside for months before finding out there are easy tricks to cooking a perfect sweet potato.
Since then, I've shared with friends and family, the tricks I've learn to making tender, caramelized sweet potatoes that work like a charm. And since I have a food blog I figured it would only make sense to share them with you too!
Follow these easy tips and you too will be the envy of home chefs in your neighborhood this holiday season.
Sweet Potato vs Yam

Do you ever wonder if you are actually cooking with yams or sweet potatoes? Or if a yam is the same thing as a sweet potato?
I did.
A lot.
So often in fact that I had to go on the internet to do some research and find out what the real deal was with these colorful root vegetables.
It turns out that sweet potatoes and yams…

Are not even related!
Plus, they have very little in common.
Yams come from Asian and Africa and are related to lilies. They are drier and starchier than sweet potatoes and aren't sold in many grocery stores (you'd have to visit a specialty store to find them). Their exterior is a brown, bark like color while the flesh is white, purple or a mix of both.
Sweet potatoes on the other hand come from morning glory. They are the ones you see in grocery stores and can come in a variety of colors – orange, white, yellow, purple, red or brown.
One way to tell them apart is by looking at the ends. The ends of sweet potatoes are tapered, almost pinched, while the shape of a yam is more tube like.
5 Easy Tips To Cooking Beautiful Sweet Potatoes

Tip #1 – Slash deep cuts across sweet potatoes.
This helps the sweet potatoes cook faster and more evenly.
Tip #2 – Brush the skin with a little oil.
This prevents the skin from drying when the potatoes have to bake in the oven for a considerable amount of time.
Tip #3 – Let the sweet potatoes rest in the oven for 10-15 minutes.
Once you are done roasting your sweet potatoes, turn the oven off and leave them in for an additional 10-15 minutes. This ensures that the potatoes are cooked through, sweet and tender.
Tips #4 – The longer sweet potatoes cook at a lower temperature, the better they will taste.
Between 135ºF and 170ºF is ideal according to food scientists. The longer the sweet potato stays around that temperature, the more starch will get converted to sugar. But since this method takes too long in the day to day life – especially during the holiday season when the oven is needed for many other dishes – between 300ºF and 350ºF is the recommended temperature.
Another option is to cook your sweet potatoes in a crock pot or slow cooker. This way you can let them reach their perfect texture without having to worry about oven space and temperature control. Scroll down to see the recommended time and preparation.
Tip #5- Pick thinner sweet potatoes for better texture.
When cooking with sweet potatoes, choosing thinner ones pay off on all levels. What happens is the center cooks at the same rate as the rest of the body. The result is a tender, evenly cooked and caramelized sweet potato.
---
Healthy Sweet potatoes

Not only are sweet potatoes delicious, they are also super healthy! Just take a look at all the nutritional benefits you will get from munching on these:
You only need to eat 1/4 of a potato to get your daily intake vitamin A.
They are lower in calories but very filling. One sweet potato only contains about 104 calories. This is great news for people who are looking to shed a few pounds!
They help maintain lower blood pressure while protecting against certain types on cancers.
They are packed with potassium, vitamin C and vitamin B6.
They are high in fiber, which is good for digestion and to lower blood glucose levels in people who suffer from diabetes.
---
How To Cook Sweet Potatoes
How to bake sweet potatoes
Cooking sweet potatoes in the oven is very easy! Brush the exterior with a little olive oil, place them on a cooking tray and bake at 400ºF for 40-50 minutes. Test their doneness by sticking a fork or knife in the center. Turn the oven off and leave them in for an additional 10-15 minutes for best result.
Baked sweet potato recipes:
---
How to boil sweet potatoes
This is for 1 pound sweet potatoes (about 3 cups, chopped).
Peel the sweet potatoes and cut into bit size cubes. Fill a pot half full of water and add a pinch of salt. Bring to a boil and add sweet potatoes. Cover, lower the heat and simmer for 10-12 minutes. Drain well and let cool for a few minutes before using.
For mashed sweet potatoes, boil for an additional 5-1o minutes, until very tender. Drain well, transfer back to the pot and mash using a potato masher or a fork.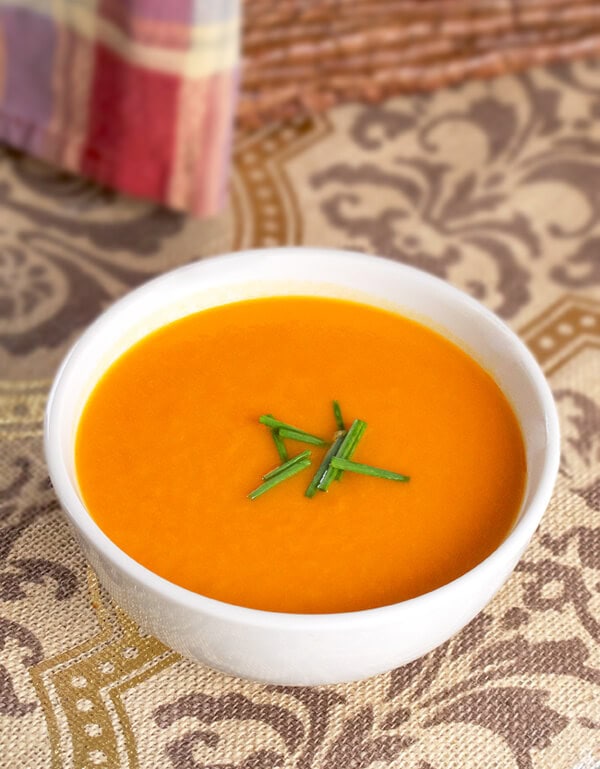 Boiled and mashed sweet potatoes recipes:
---
How to Steam Sweet Potatoes
Fill the bottom of a steamer with about 2-3 inches of water. Peel sweet potato and slice into 1-inch thick pieces. When the steamer is ready, add pieces, cover and steam for 7-10 minutes, or until the potato slices are tender.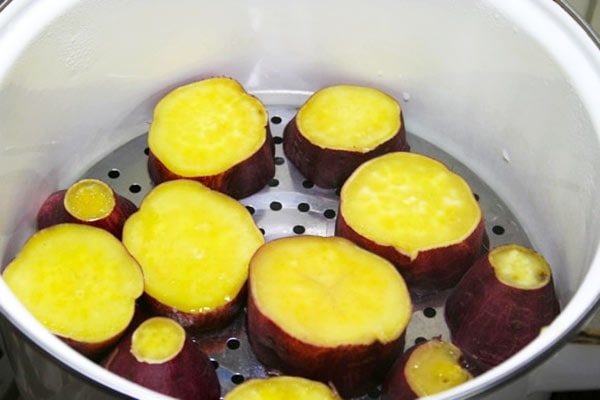 Steamed sweet potato recipes:
---
How to cook sweet potatoes on the stove (pan fry)
Chop the sweet potatoes into bite size pieces. In a pan over medium high heat, add 1-2 tablespoons olive oil (or other oil) and when the oil is hot, add potatoes. Sautee for 8-10 minutes, until the outside is a caramel/dark orange color and the inside is tender. Season with salt and pepper and serve.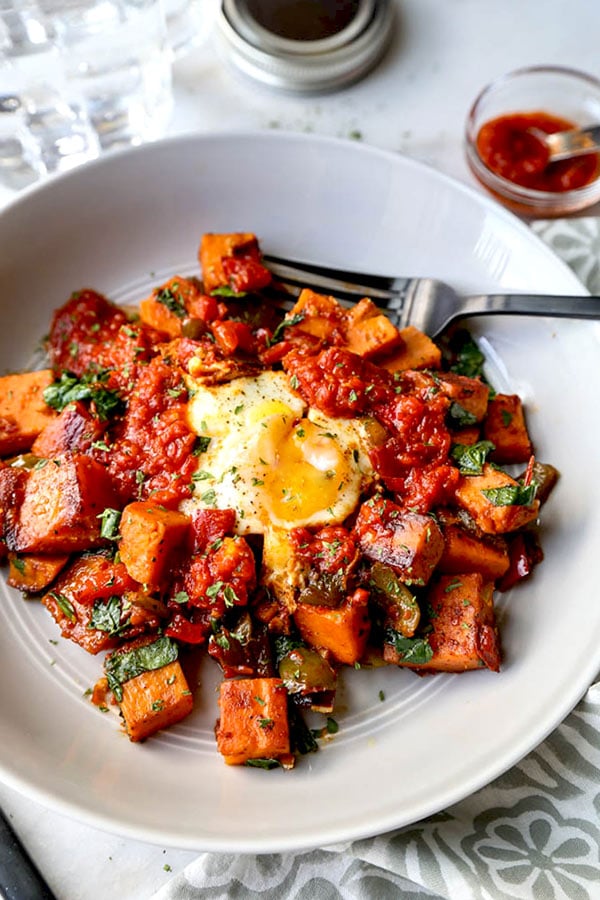 Sautéed sweet potatoes recipes:
---
How to cook sweet potatoes in the microwave
Prick holes throughout the sweet potatoes using a fork and microwave on high for 4 minutes. Flip it over and microwave again for 4 minutes. Check the doneness by piercing the potato with a knife. If it goes through easily it's ready, otherwise microwave for an additional 2-3 minutes.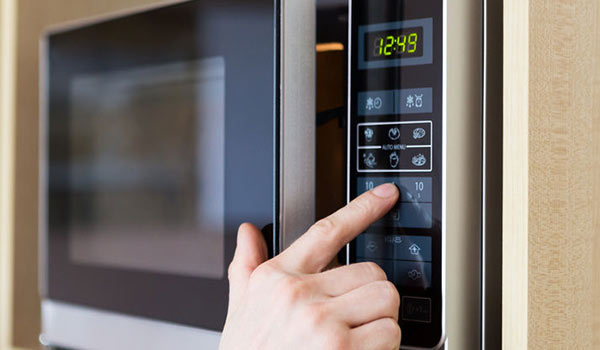 ---
How to cook sweet potatoes in a crock pot
This may be the tastiest way to prepare sweet potatoes (and the easiest).
This is for 4-5 sweet potatoes.
Scrub the potato skin well so that no dirt is left. Place potatoes in a crock pot and cook on low for 6-7 hours (covered), or until you can pierce through the potatoes easily.
Crock pot sweet potato recipes:
---
How to Make Sweet Potato Fries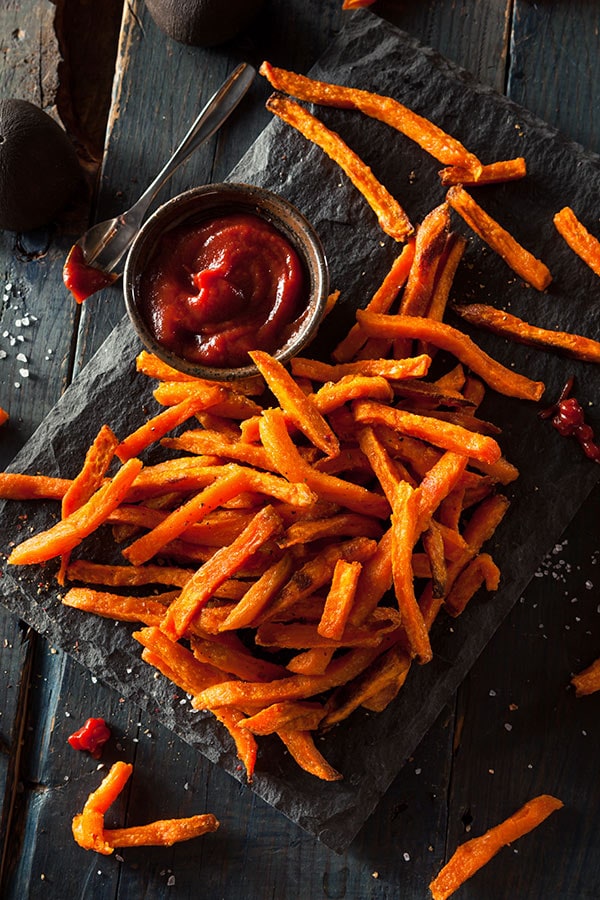 These directions are for 1 pound of sweet potatoes.
Preheat oven to 400ºF.
Cut the potatoes into matchsticks – about 1/4 to 1/2-inch thick. Toss the sweet potatoes with 2 tablespoons of olive oil and sprinkle sea salt on top. You can use all kinds of seasoning to play with the flavors here. I like to add a little cumin and chili powder and plenty of ground black pepper!
Cover a baking tray with aluminum foil and spread the sweet potatoes, laying flat. You may need two baking trays for this. Bake for 25-30 minutes, flipping them over halfway through.
---
How to Make Candied Sweet Potatoes
Recipe is below!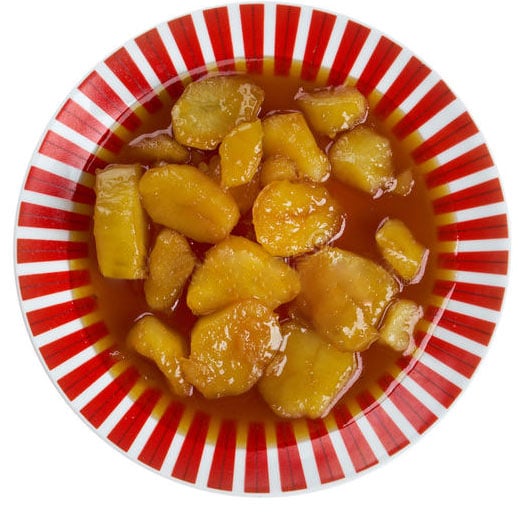 Print
Healthier Candied Sweet Potatoes
Prep Time:

15 minutes

Cook Time:

60 minutes

Total Time:

75 minutes

Yield:

4 people
Ingredients
2 pounds sweet potatoes
2 tablespoons brown sugar
2 tablespoons 100% pure maple syrup
2 tablespoons 100% orange juice
2 tablespoons butter
2 tablespoons olive oil
1/2 teaspoon salt
Instructions
Preheat oven to 375ºF.
Peel the potatoes, slice it in half lengthwise and chop into 1-inch thick pieces.
Put the potatoes in a pot and add enough water to cover the potatoes. Bring to a boil, reduce heat to medium and cook for 7 minutes.
Drain and let cool for a few minutes. Transfer sweet potatoes to a baking dish and lay them flat.
Put sugar, maple syrup, orange juice, butter and olive oil in a microwave safe container and zap for 15 second. Stir until sugar has dissolved. Microwave for an additional 5-10 seconds if the sugar isn't melting.
Pour sugar mixture over the potatoes and bake for 30 minutes, until sauce is thicker and bubbly. Serve.