Affiliate marketing courses are essential for people looking to make money online. In this post I share with you the two courses that helped me turn my blog into a six figure business.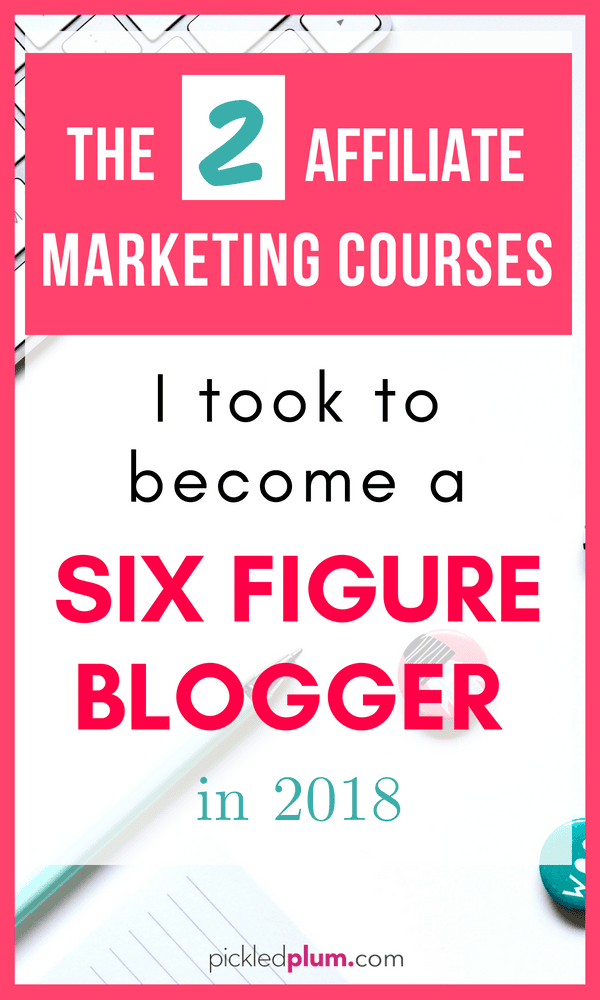 Some people make a fortune blogging. Others make enough to live comfortably. And others, yet, struggle to make ends meet.
I was in the last category for about four years of my life (as a blogger), and I can't tell you how frustrating that was. There I was, working so hard – putting in as many hours as the successful bloggers were – only to make a fraction of their salary.
I spent way too much time comparing my blog to bigger blogs, and I can't tell you how demoralizing that was. It made me feel like a complete failure.
In 2013 I made $693.32 for the whole year.
In 2014 I made $2,386.57 for the whole year.
People seemed to like my food but I wasn't getting a lot of page views. So I became convinced that having a ton of traffic was the secret to earning a big income. After all, that seemed to be the general consensus out there in the blogging world.
So in 2015 and 2016, I decided to buckle down and throw all of my energy into growing my traffic. I worked non stop publishing posts and making sure they were search engine optimized.
I was a crazy person.
At one point I was shooting and publishing recipes every other day, working 70 hours a week and only taking two days off a month. I walked around with a permanent stiff neck and an inflamed shoulder.
I ate, slept and breathed traffic.
My goal was to get to 1 million page views per month.
But that never materialized.
In 2015, I received around 117,000 monthly page views and made $10,863.49 for the whole year.
Then in 2016 my blog reached a new high. I received around 275,500 page views per month, with March being the highest at 371,000 page views. I finished the year with $37,560.48 in my pocket.
I had almost tripled my earnings from the previous year – not bad!
Things were finally starting to look up, so I felt pretty confident that I had cracked the code to running a successful blog. Suddenly my goal of getting to 1 million views per month didn't seem so out of reach.

But then in the spring of 2016 Pinterest updated their algorithm and my traffic started to dip. Group boards were now on the chopping block and no longer showing up in people's feeds. This resulted in less views and visits to my blog.
So even though my traffic was consistently growing through organic searches, I was losing about the same amount on Pinterest.
The growth totally stopped.
You have got to be kidding me.
I felt like I had tried everything in my power to make my blog succeed but nothing was working. I had poured blood, sweat and tears into Pickled Plum and to see it stall was heart breaking. Devastating.
A Brand New Chapter For Pickled Plum
That whole theory that you need an insane amount of traffic to make good money wasn't working for me.
I was completely burned out and over it.
So I started looking for other, more practical ways to earn a good living – without having to focus on page views.
That's when I found a post written by Michelle Schroeder-Gardner of the blog, Making Sense of Cents. In it, she talks about how she found success by focusing on marketing instead of numbers.
Michelle makes around $100,000 PER MONTH!
I can't tell you how surprised I was when I saw that Michelle gets around 400,000 page views per month. That's a lot less than you would expect from someone earning so much money!
What struck me the most is that both of us had about the same amount of traffic and yet, here she was, making 32 times more money than me!

This was a game changer.
I realized I was going about it the wrong way.
I was so obsessed trying to grow my traffic that I was missing out on all the ways I could earn more money with the traffic I already had.
That's when I decided to stop focusing solely on page views and learn as much as possible about affiliate marketing.
The Proof is in the Pudding
After following Michelle for a few weeks, I decided to go ahead and purchase her course – Making Sense Of Affiliate Marketing. In it she teaches the basics of affiliate marketing, strategies to promote affiliate products on your blog and a lot more. Scroll down for an in-depth review of this course.
It took me all of two days to get through it. I was so excited I couldn't wait to start implementing her ideas!

Fast forward >>> One month later and I had earned an extra $1,000 in affiliate sales. I'm not joking, this really happened. Just look at the charts below.
This was the only time in my blogging career that I saw my earnings increase this fast.
I was pumped!
To keep the momentum going I decided to take Create and Go's Six Figure Blogger course, since it came highly recommended among bloggers in Michelle's private Facebook Group.
This course, created by Alex and Lauren – owners of the health blog Avocadu and Create and Go – dives deep into affiliate marketing (how to create sales centered content), and teaches people how to sell digital products and create your own product(s) from scratch (eBooks and eCourses). Scroll down for an in-depth review of this course.
This is a big and rich course filled with unique tips and step by step guides.
Quite frankly I've never seen anything like it.
Alex and Rachel don't keep any secrets. They share everything they have learned, along with all the tools they use to be so successful (they made over $800,000 last year!). It's all out there for us to take and use to our advantage.
After implementing the tools I learned from both courses, my earnings jumped from $37,560.48 in 2016 to $127,000 in 2017!
And so far 2018 is looking like it's going to be even better!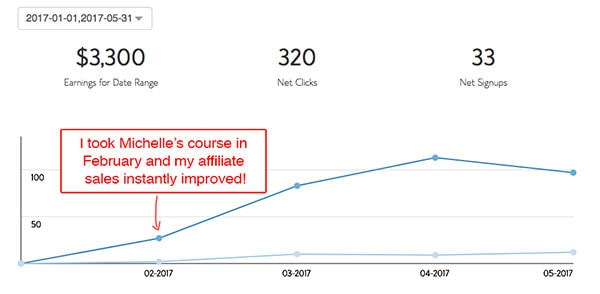 Since taking these courses, I realized that I'm surely not the only blogger who has experienced frustration over monetizing her blog. Marketing is a completely different beast than content creation, and let's face it…
Those who are good at it reap all the benefits.
If you are struggling to make money online, like I did for so long, then it's time for you to make some changes.
I get it, it's frustrating. Like I mentioned, I was there for a good four years and it sucked.
But, listen, it doesn't have to be that way. You can double or triple your income in just one year if you work on your marketing skills.
The good news is you don't need a ton of traffic to make a decent living. What you need are tools to help you plan your posts – and to learn to strategize about the ways your blog can make money.
The bad news is you will have to spend a little money to make more money.
But… wait for it… the other good news is you can later claim these courses as business expenses 🙂

What is Affiliate Marketing?
According to Wikipedia: affiliate marketing is a marketing arrangement by which an online retailer pays a commission to an external website for traffic or sales generated from its referrals.
Basically, it's when a person like you or me makes a commission from selling products that aren't ours (third party). It's like working in a retail store and promoting a brand you love – like Prada – and making a commission when you sell one of their purses.
The only difference is you are doing it online, and you are your own boss.
It's up to you to promote the products effectively, while following the requirements each company has (for example: clearly disclosing the fact that your post contains affiliate links, which I do in all of my posts).
Commissions vary per company. Some pay extremely high – up to 50-75% of the total sale of the product – while others companies like Amazon will only pay around 6%.

Best Affiliate Marketing Courses
The reason I'm recommending these two particular courses is simple. It's because they work.
Believe me when I say that I've taken many courses and bought plenty of eBooks which claimed to be able to double my traffic – or go from $0 to $100,000 in just a few months. Often I find they offer nothing new that hasn't already been written about all over the internet. And the tips don't work.
Their sales pitch is enough to make me want to purchase their product. But, at the end of the day, I'm left feeling like I got cheated. I always feel like there is a valuable piece of information missing and that I'm only getting half of the information and insights I was promised.

Not with these two courses.
Michelle, Alex and Rachel go out of their way to teach bloggers how to become successful marketing machines – and are also there to answer your questions. They don't hold back on anything, and share their own marketing plans to make sure you get similar results.
That's why I'm recommending these courses – because they deliver on their promise.
Both courses also go a step deeper to explain in detail what makes people click the purchase button. This is incredibly helpful because it made me see that I was doing things out of order.
And that alone negatively impacted my sales strategy.
Each course is unique in its own way. So if you decide that you would like to try both, you don't have to worry about getting a lot of repeat information. One is more geared toward beginners while the other is for intermediate to advanced bloggers.
Here are my two reviews.

Making Sense of Affiliate Marketing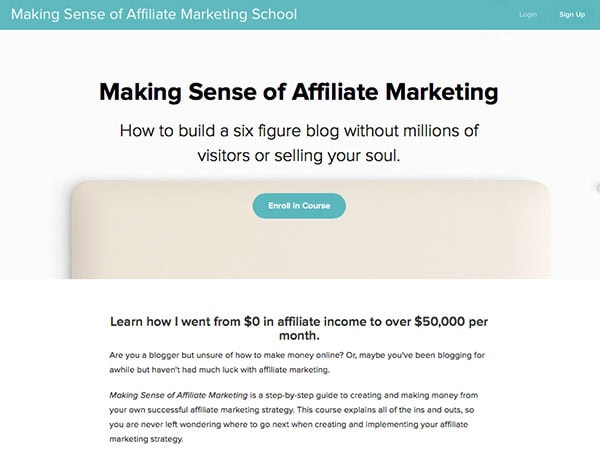 What it is: Affiliate marketing for beginners.
How much it costs: $197 (Once you buy it, it's yours to keep it forever. There are no time limits.)
Making Sense Of Affiliate Marketing is a course created by Michelle Schroeder-Gardner who runs the personal finance blog, Making Sense of Cents.
In this course Michelle shares all the different methods she uses to make money through her blog, and how to do the same for your own blog.
She strongly believes that if you're not earning money through affiliate marketing, you are leaving money on the table.
I took the course after seeing how successful Michelle is at selling affiliate products (she makes around $100,000 every month!), and wanted to learn from the best in the industry.
This course is great for beginner bloggers because it teaches you from the ground up, how to set your posts up so you can make money as soon as you get a little traffic. It's also good for more advanced bloggers like me, who are looking to improve their conversion rate – and increase the amount of passive income earned through affiliates.
What the course includes
6 modules and over 30 lessons related to affiliate marketing
You can see a full sized version of the lessons on the Making Sense Of Affiliate Marketing page.
Michelle takes the time to go through every single step so the reader can understand exactly how effective affiliate marketing works. She does a great job of illustrating that affiliate marketing is much more complicated than just slapping a link in a post.
If that were the case, we would all be rich!
She taught me marketing strategies that have been proven to work – while, at the same time, forcing me to think about which products would be a good fit for my blog, and the best ways to promote them.
Printable worksheets
There are over 15 printable worksheets (I highly recommend you use these since they will become part of your marketing plan). With these, you can participate during the lessons by entering your own information and ideas.
This means that, by the time you finish the course, you will have an affiliate marketing plan ready to fire up!
Access To Facebook Mastermind Group
I think being part of the Facebook group alone is worth the money.
I'm usually not a big fan of Facebook groups, but I have to give credit to Michelle for possibly creating the best and most helpful group ever!
I've seen questions about blogging being answered better there than anywhere I've seen online. Everyone in this group is active and supportive – including Michelle who is on it regularly.
There is a FREE group coaching session two Saturdays a month, hosted by Michelle. Here, you can ask her any questions related to your business, the course material, your affiliate strategy, blog, and so on. I've been taking advantage of these sessions to pick her brain. I look at it as the equivalent of hiring a specialist to help me figure out how to make my blog succeed!
Bonus Pinterest course on how to grow your Pinterest traffic
This course is taught by Pinterest consultant Rosemarie Groner, who also runs the blog The Busy Budgeter.
She has been actively helping bloggers increase their Pinterest traffic – and was generous enough to share her Pinterest Strategy Guide with the students of the Making Sense Of Affiliate Marketing course. The same guide for this lesson is available on her blog for $136.
What the course doesn't include
Videos.
I usually like it when courses offer videos, but I didn't feel like this one needed any. I was able to get through the material swiftly because it was well written and concise.
Who is Making Sense Of Affiliate Marketing For?
Beginners and advanced bloggers who haven't had much success selling affiliate products.
Even though I knew a good amount of the information included in the course (I've been blogging for 7 years after all), it was worth spending the $197 to discover a couple of areas I was failing at marketing. After implementing some of her ideas, my sales dramatically increased less than a month after taking the course.
If you feel like there is more you could learn about affiliate marketing, I think this course will help you.
Who is Making Sense Of Affiliate Marketing NOT For?
Bloggers who have a strong background in online marketing, or those who already have experienced moderate success with affiliate products.
The course is a basic overview of affiliate marketing – so I don't recommend taking the course if you consider yourself super knowledgeable in this area already.
Is it worth the money?
Yes. I know for a fact that I wouldn't be where I am without this course.
My brain doesn't think in dollar signs. Since I'm more of a creative person, I needed someone to show me exactly, step by step, how to create posts that convert into sales.
With Michelle's course I was able to make my money back, plus an additional $800 in profit, one month after taking the course.
I feel like I got my money's worth because I walked away with two essential tips that changed the way I now structure and write my posts.
My earnings have been steadily increasing since taking the Making Sense Of Affiliate Marketing course.

Six Figure Blogger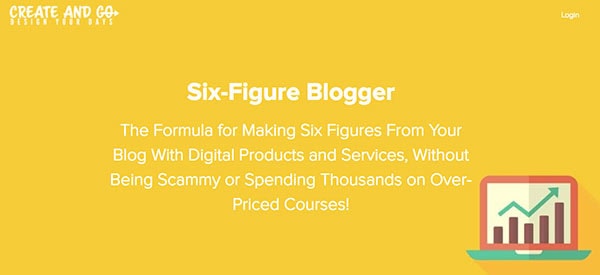 What it is: This course is specifically about monetizing a blog through selling products and services (both affiliate marketing and/or your own products).
If you've started a blog, and have made your first bit of income ($0-$1,000), but are looking to expand that growth – then this is the course you should consider taking. Six Figure Blogger is NOT suitable for brand new bloggers.
How much it costs: $297 (Once you buy it, it's yours to keep it forever. There are no time limits.)
Six Figure Blogger is a course created by Alex and Rachel who run the health food blog Avocadu – and Create and Co, a website with blogger resources. They are quite well known in the blogging industry for having some of the best courses.
I found them through Michelle's private Facebook group after reading a thread started by a member that was looking to take additional classes focusing on online marketing. Six Figure Blogger kept popping up in the group thread as the best one, so I checked them out. I recognized them right away.
You see, I had heard of Avocadu's success – their health food blog makes about $28,000 every month – so I was surprised to learn they also offered courses on marketing.
Oh, and here is another interesting tidbit: just like Michelle, their sites don't get a ton of traffic and yet they managed to make over $800,000 last year!
Do you see a pattern developing?
These people are marketing geniuses.
I hesitated for a few days before actually pulling the trigger. It's an expensive course. I had just finished Michelle's course, so spending an additional $297 seemed like a lot of money.
But, at the same time, I realized that I needed to change my blogging tactics since nothing had worked well until I took Michelle's class. I figured another highly recommended marketing class couldn't hurt. So I bit the bullet and started the lessons.
What the course includes
Six Figure Blogger is a much more intensive course than Making Sense of Affiliate Marketing. It took me a long time to go through all the material. There was so much to learn!
Alex and Rachel cover A LOT of ground.
I put together an image of the modules and lessons (available below) but I recommend you visit their page to get the full sized version.
The course offers so much information that it's next to impossible to absorb everything the first time through. I plan on revisiting this course over and over to get the most out of it.
What you get:
Most of the course consists of videos – all of them very well made.
Step by step tutorial on how to create an automated trust funnel
Learn how to turn your new subscribers into customers in less than a week through the use of email. Templates are available, as well as a step-by-step lesson on how to create opt-in forms and a post-purchase funnel.
Step by step tutorial on creating an eBook from scratch
Alex and Rachel share the exact formula they used to launch 5 successful products. Everything from creating a name for your product, to outlining your product – and even finalizing the design – is covered in this section.
Step by step tutorial on creating an eCourse from scratch
This tutorial demonstrates the exact system Alex and Rachel use to launch their eCourses (including this eCourse).
How to design high converting sales pages
Everything is broken down, step-by-step, from the headline to sub-headline and body copy. They even throw in sales page templates.
Selling via affiliate marketing
Learn how to effectively sell products that aren't yours through the creation of blog posts, emails and videos.
Private community access through their Facebook group
I find this community to be less active than Michelle's, but I've also been guilty of not getting really involved.
However, everyone in the community is helpful. Rachel takes the time to write long replies to anyone who has questions related to blogging. In fact, they helped me figure out this whole GDPR mess I was having so much trouble understanding!
Continued Course Updates
This is so great, because the internet is a fickle beast. So much seems to change super quickly that it's sometimes hard to stay ahead.
I think it's amazing that Alex and Rachel keep track of changes and make updates to their courses accordingly – so that what we learn remains current and effective.
Printable templates
Print and use these templates to create your own email trust funnel, eBook, eCourse, etc.
What the course doesn't include
Help on how to grow your blog traffic. If growing your traffic is something you are currently more interested in, I recommending trying Pinterest Traffic Avalanche.
A lot of reading material. 90% of this course is video based.
Who is Six Figure Blogger For?
Intermediate bloggers who have already made a little income ($0-$1,000), but are looking to expand that growth.
Bloggers interested in creating their own digital products such as an eBook or eCourse.
Who is Six Figure Blogger NOT For?
Beginners who are still learning WordPress and haven't driven any traffic to their blog yet.
If you are interested in learning about how to successfully build and launch your blog on WordPress, the Launch Your Blog course would be a better option.
Is it worth the money?
Absolutely, unequivocally yes.
If you are serious about affiliate marketing, or want to learn how to successfully create and sell your own products, this course will help you tremendously.
There are no other courses like Six Figure Blogger out there – and at $297, it's a steal.
You would have to pay thousands of dollars to take this type of class in a college or university setting.

And, there it is! Hopefully this information will be helpful in your quest to successfully integrate affiliate marketing into your own blogging strategy.
Trust me, I know how hard it can be to stare up at that mountain and wonder how I'll ever get out of the valley.
I'm confident that these eCourses can help by providing some of the steps you can use in your own climb towards the top!
If you are thinking about starting a blog but feel intimidated with all the steps needed to get started, check out my post on how to start a WordPress blog.